Archive for March, 2011
15 items.

Movie Review: Evangelion 2.0 – You Can (Not) Advance (2011)
Director: Masayuki, Kazuya Tsurumaki
Official Website
Plot: Where to begin….?
The second in a four movie series providing a new ending to the Evangelion saga. While the first flick followed the events of the anime series rather closely, this movie deviates quite a bit. But I'll get into that in a moment.
After having saved Tokyo-3 (and the world) from the onslaught of the Angels in the first flick, Shinji Ikari has fallen into a routine of sync practice with his Eva (a giant robot he pilots to battle big monsters called Angels), and his schoolwork. Still living with Misato (his commanding officer) and having a slightly better relationship with Gendo (his estranged father), Shinji's world has never really been better.
Then his world gets rocked by one event after another. Beginning with the loss of Unit-04 in the USA, causing the Euro division to send a new pilot to Japan. This won't come as a surprise to anyone, as the brash Asuka Langley Shikinami makes a grand entrance (completely different from the series) and becomes the third pilot for Nerv in Japan. What follows is a series of comedic events that mirror Shinji's arrival in Tokyo-3, and a budding love triangle between Rei (another Eva pilot), Asuka, and Shinji.
However, when a new pilot (Mari) secretly arrives in Japan with her own agenda, and Misato's old college flame (Kaji) delivers a secret package to Gendo, suddenly the Angels increase their rate of attack on the Nerv headquarters.
Ultimately, Shinji must make the decision to protect what he loves most – even if that means losing everything he's gained – and make the ultimate sacrifice to save those closest to him.
***SPOILER WARNING***
This flick deviates quite a bit from the series, especially with the introduction of a new Eva pilot who's in the flick so little, I'm questioning why she's in it at all.
These deviations aren't bad, per se, but it has put the series back at square one. Like when I first watched the Neon Genesis Evangelion anime series, I once again am questioning everything I thought I knew and am trying to put the pieces back together again.
"Where does the movie deviate?" you ask. Well, let me tell you:
1) Eva Unit-05: In the series, the Marduke Report was pulling students from Shinji's school to be assigned as pilots, and Toji was secretly chosen to pilot Unit-05. In exchange, Toji's sister (injured in an previous Angel attack) would be taken care of by Nerv doctors. However, Toji's Eva unit is attacked by an Angel "virus" and transforms into another Angel that Shinji must battle. When Shinji refused to fight, Gendo activates the Dummy Plug system (a type of auto-pilot) and Eva-01 beats the crap out of Unit-05, crushing the entry plug with Toji inside.
In the movie the same events happen…only instead of Toji, it's Asuka in Unit-05. Apparently, there's a treaty that says a single country can only have three Eva pilots, so her Eva is put into storage while she test pilots this new unit. The scene is significantly less emotional and disturbing in the flick, which was a little disappointing.
2) Because of the above mentioned event, there's no chance for Shinji and Asuka to have to "live, sleep, and eat together" to battle the Angel twins like in the series. However, I didn't feel like this was missing from the flick per se, since they replaced it with –
3) – the love triangle. In the manga series they developed the relationship between Shinji and Rei more, and they hinted this would deepen in the second movie. And it does. In fact, Asuka and Rei start battling for Shinji's affections – with food! It helps to get to know these characters more, and it fun to see unfold.
4) Supporting characters stories are summarized this time around. For example, they sum up Misato's origin with her father in a few brief words and a hazy flashback that would probably confuse anyone who hadn't seen the series. Many of the supporting characters are taking a back seat to the kids in these flicks – which is fine, but it really means these movies are more compliments to the original series, than a spiritual successor or outright replacement.
5) Mari, the new girl, pilots Eva-02 and transforms it into 'Berserk' mode with just a thought. This takes the place of the otherwise disturbing scene from the series where Shiji merges with 01 and starts eating an Angel. Instead, Mari gets her ass handed to her and Shinji has to come in and save the day. This causes –
6) – Third Impact. While it didn't happen until the End of Eva movie, the timetable here has certainly been pushed forward. The reveal of Kaoru at the end of the first flick showcases that Seele's timetable has been pushed forward considerably, and whatever Mari's role in that may be has yet to be revealed completely. However, since we know so little about Gendo and Seele, it's difficult to pick a side – or even know why or how their goals differ.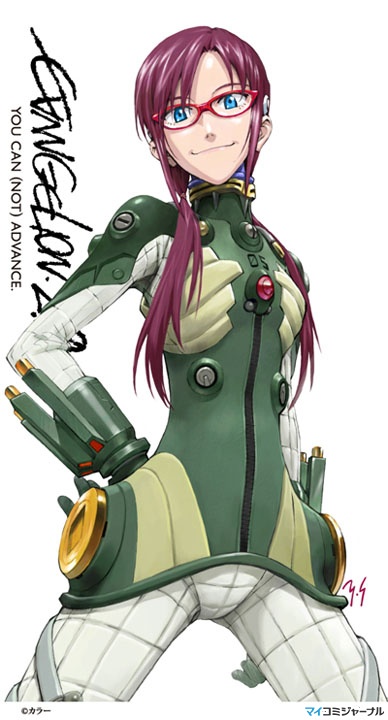 These changes aren't bad, they just don't quite fit into what I had imagined the rebuild would be. I had thought (I had hoped) it would answer all our questions and provide a nice neat package instead of the crazy and deranged (and dare I say, angry?) ending we got in End of Eva. I'm all for the psychological aspect of the series and the social, mental, and spiritual journey that Shinji had to take, but also want to make sure we get answers about the Human Instrumentality Project, Seele, and why Gendo's goals differ (and how he found out what their goals were in the first place).
Basically, I wanted more Eva – and in that respect, the movie hasn't disappointed. However, while I could follow the first movie and fill in the blanks with what I knew from the series, the second movie was a kick in the face. It takes you right back to where you were when you first watched the show – frustrated and confused – which is all fine and dandy, but again wasn't what I expected the new flicks to be.
So let's cast that aside for a moment and talk about the movie itself. The thing is GORGEOUS. The entire time I watched it I was like a kid in a candy store. Everything in the movie is top quality, from the animation and (Japanese) voice acting, to the music and CG.
There were a few moments where the story dragged a bit, but we got to see new aspects of this world (a restored ocean field trip with the kids and Kaji), we get to see the people interacting and going about their day in Tokyo-3 (a montage scene, but helps establish setting), and we get to know the kids more as people, and not just their psychosis. This is, of course, a bit of a trade off.
So my summary of the flick: awesome, but not as cool as the first movie. The change in direction and the faster timetable of Seele does make for an interesting twist, but again this feels more like a companion to the series than a replacement for it. In fact, with the fact the ocean's red (like at the end of End of Eva), I wouldn't be surprised if this world is somehow the result of Third-Impact….
But I digress. Hardcore Eva fans, go out and buy the thing (it's $14 at Best Buy this week), and people unfamiliar with Eva may want to go buy the series first. Because chances are you'll be totally and completely lost.
Also, there's a slightly different version of "Beautiful World" during the end credits. Clearly this song has become their new "Fly me to the Moon," which I don't mind at all. In fact, I like this song better.
Here's some fun bonus materials for the making of junkyard chase: the designing of the logo.
I knew I wanted to use two different fonts: one for each word in the title. The word "Junkyard" I wanted to be textured, rusty, or something that kind of visually suggested the location. The word "Chase" I wanted to be kind of fast looking or cybernetic, to imply the action and the fact that it's a sci-fi story (one of the main characters is a robot, after all).
So I came up with a concept page, like below.
I submitted these to my group of friends to see their thoughts. Ultimately there were a few combinations I hadn't thought of before, and I made adjustments accordingly.
The collaborative process of comics doesn't have to be limited to the writer / artist relationship. There are several blogs of professionals out there where you can bounce designs off and receive some constructive feedback. However, you always need to be careful when putting your work out there to make sure no one steals it.
While your fellow writing buddies may be your good friends and best critics, they're also the competition. It's a tricky balance to know what to let them know and what to get their feedback on, and what to keep from them entirely.
I won't begin to say what you should and should not give away to them, but use your best judgment.
Anyway, this finishes up the blog series for this particular story. Should be updating web comics again now, so be on the lookout for those.
Later!
After submitting the files to the printer you wait to receive the box. That glorious box filled with your sweat and hard work. And when it arrives you take it upstairs and it's like your birthday. A big smile falls over your face. And you open the thing like a kid in a candy store and hold aloft over your head in triumph.
I've talked to many of my other professional writers friends and asked, "Is there a more satisfying feeling than holding your own work in your hand?" My buddy Russell Lissau had a great response to this:
"Yes. Going into a comic store and seeing your book in someone else's hands."
So the book is finished and available at local Chicago comic stores and conventions I'm attending (see the convention and signing schedule in the upper right corner of this website). I'm working on getting a store up on this site so it can be purchased over the internet as well.
Be sure to tell your friends to check out this awesome book. It's a fun short story with a full copy of the script and Jeong's original pencils in the back, so creators can see how the comic was made and use it as a template for their own comic-making.
There are a few things I neglected to talk about in this blog series that I may go into in the next few posts, such as designing the logo and creating the cover.
I hope you've all enjoyed the making of junkyard chase blog series so far, and if there's enough of a response I may do another one for the next book I do. Thanks for all of your continued support, and I look forward to making many more comics in the years to come.
-T
So now that we've selected a printer, we sometimes find that each of them have some different requirements. In Minute Man's case, they requested that I pre-press my .pdf documents (the final file I send to them for printing) to account for the fact that the book will be saddle stitch and not perfect bound.
"Wait a second, bald man…you lost me."
If some of you are saying this while scratching your heads right now, let me back up a second.
There are several kinds of binding for your print books, and I'll talk about the two most common to the comics industry below:
1) Saddle Stitch: This is the staple format you see with your monthly comic floppies. No doubt many of you have recreated this binding at home with homemade comics back when you were little (or are still doing it today – some people I know do this with their convention sketch books to save money).
The trick with Saddle Stitch binding is that you're not printing on a single page (front and back), but you're actually printing on 4 pages at once. So you have the following pages all in one:
Front:
First page, last page
Back:
Second page, second to last page
The trick here is to make sure the odd numbered pages are always on the right when submitting your final document to the printer. Numbering your pages may help with keeping them in order (which, for this project, I didn't do).
2) Perfect Bound: This is the format of graphic novels, which have pages that are two sided glued into a center binding. This format I find to be a little easier to pre-press because you just have to account for the front and back of a page. However, trying to do something fancy like spreads can get tricky, especially since sometimes your artwork can get buried in the gutter of the binding.
There are a ton of resources on the internet on binding and pre-pressing your materials if you want more detail, or feel free to ask a question in the comments below.
Suffice it to say, since Junkyard Chase is such a short story, doing the saddle stitch pre-press work didn't take very long. Since Jeong had already sized the pages to meet the print specs (remember, we looked these up a few posts back), all I had to do was make sure they were to spec, then align them so they would print correctly.
First and last page on the front, second and second to last page on the back, etc….
After you get the files in the format the printer wants, send them off via whatever method they prefer to receive them (Minute Man has an FTP site for larger files like this), and they send a confirmation e-mail with approximately how long the job should take.
And then four weeks later, we have…well, we'll talk about that next time.

Friends and family:
This is just a quick reminder that I'll be appearing at COMIX REVOLUTION in Mt. Prospect, Ill., on Saturday, March 26, to celebrate the release of HOPE: THE HERO INITIATIVE, a graphic novel anthology benefiting the Hero Initiative charity.
With me will be fellow comic-book creator Russell Lissau (Shrek, Batman Strikes), a good friend and regular convention partner. We'll be signing copies of HOPE: THE HERO INITIATIVE, as well as copies of last year's all-ages hit READING WITH PICTURES and our other various comics. And if you ask nice, we'll doodle in your sketchbook, your notebook or any other kind of book with blank pages you put before us.
We'll be at Comix Revolution from 2 to 4 p.m. The store is in downtown Mt. Prospect at 115 W. Central Road. For more on the store, visit http://www.online-revolution.com/.
Thanks for your continued support,
Trevor
So we have our final pages (and boy do they look spiffy). Now it's time to find someplace to print them. Being new to the production side of things, this was kind of a new process for me…but thankfully one that was easy enough to pick up on.
Knowing that I wanted to print this piece from the start, I went and got a standard comic size dimensions and sent those to Jeong early on while he was building the pages. An easy access (and free) template for various standard page sizes can be found here.
I knew I wanted to make a standard comic size book (as opposed to a manga book), so I put those dimensions into my favorite program and made sure the pages Jeong sent to me fit. Then I got to lettering.
I won't bore you with the details of lettering, as this is a very important process and one that you would typically use a professional letterer for your books. For this project, I took on the task myself. If you're interested in some lettering tips, let me know and I can make another series of blogs about that later.
So for self publishers there are a few default places to go for printing. I like to get quotes from several printers, figure out who can give me the most competitive pricing, and go with them. Some places will give you discounts the larger quantity you order. More copies of the book mean bigger discounts, but you don't want to sit on inventory for a long time, so it doesn't make sense to order thousands of copies just so you make more money per copy of the book.
I knew I wanted the book to be around $3 per copy – cheap, so kids could buy it with their own money if they wanted to. So I had a cost per book in mind while reaching out to these sources. Below is a list of the printers, and some of my experiences with them.


Ka-Blam: Typical first place print on demand people go. They're helpful and make a quality product. Their pricing is pretty flat, however, so your cost per unit is going to be the same if you order 1 or 100 copies of your book. My first @$$hole! book had a small print run from Ka-Blam.


Minute Man Press: A chain of stores that have some pretty good turn arounds and negotiable pricing options. They'll work with you to get the quality you need at the price you want – although sometimes it means doing some more pre-production work yourself. My second run of @$$hole! was printed through them, and they were the printer I finally selected for this project due to bulk order discounts and quality printing.

Lulu: Lulu's really used more for books, but can be used for comics. Back when I lived in Ann Arbor I knew several people who used lulu for their own POD projects, and the quality was very high.

Cafe Press: Lots of people use cafe press, perhaps a little less now than they used to. Not because there's anything wrong with them, but because there are so many other options out there. I encourage you to include them in your bidding process, though, since they do make good stuff.

Lightning Source: A buddy of mine uses Lightning Source for all of his printing. What's nice about them is they 1) include a UPC (bar code) in the purchase order, 2) put your books on amazon.com for you, and 3) offer discounts for repeat business. I found their specs to be a little confusing, so I haven't used them yet, but I do agree the quality of their product is high and you get some great benefits if you print with them.
So how do you select a printer? I look for a few qualities:
1) Competitive pricing. If a printer is less expensive (or is offering bulk discounts), chances are they're at the top of my consideration set.
2) Turn-around times: How fast can they print and deliver this project to me? This is important, especially if you're trying to restock between shows or signings. If a printer takes 18 days to turn something around, and another only takes 14, then I don't have to do the math for you to say who's better in my mind. (Hint: it's the 14 days…less is more).
3) Flexibility: What kind of additional offers or benefits does the printer allow, such as discounts for reprint printing jobs? Chances are my initial print run isn't going to last me until the end of time and I'm going to need to print again, but some printers charge a "set up fee" for repeat business. This has never made sense to me, and printers who do this are almost instantly off my consideration list.
Once you've selected a printer, you then have to prep your files a bit to send. Each printer has a different set of requirements for their files, so we'll go over some pre-press information next time.
So Jeong and I agreed on the layout pages, and now was the time for him to move onto the pencils (and eventually, the finished pages).
So Jeong went to work, and this is where the role of writer changes slightly to the role of "project manager." You check in with Jeong, see if there are questions, review the work as it comes in and provide any feedback – but at this point, changes should be pretty minimal, since we've already done our heavy lifting changes in the earlier stages.
Since our earlier conversations had been detailed and Jeong understood exactly what I was going for in the story, getting to the final pages was very quick and easy.
So after all of this work is compiled, he sent over the .jpgs to check out and approve the final artwork. Upon approval, he sent the finished hi-res files ready for me to take to the printer. Below is an example of Page 3 in it's final form.
Now that I had received the final pages, since I was self-publishing this comic, it was time for me to get to work on finding a place to print this thing. There are several places to look (a few defaults I have that make the process quicker for me), and we'll be reviewing that next time.
We have our artist and they've provided our character designs. Now it's time to get into the meat of the project – making comic pages. But how do you communicate the story you want to tell to your artist? This is where that script we wrote a few steps back comes into play.
The script contained every action, motion, sound effect, etc that I wanted to communicate to Jeong. While the script is your primary communication tool to the artist, there are sometimes details that are difficult to communicate – and this is where tools like Skype (or the phone) can come in handy.
Based on the script, Jeong started to put together what are called layout pages.
I won't make you relive the full script for our favorite example page (page 3), but I'll show an segment of it for reference:
PAGE 3 panel 1: Horizontal panel with a large open space to the left. The dog stands on the edge of the cliff of scrap on the right of the panel, looking like he's about to try to jump
down.

1. ROBOT (off panel): Do not jump, you have so much to live for.
From this direction in the script, Jeong knows he has to make room for the action and the dialogue, and keep the action flowing in a way that's natural for the reader's eye. Not wanting to burden himself with a lot of excess detail on something that may not make sense (or agree with the vision the writer has for the story), Jeong makes a page layout to show the general actions taking place and approximate dialogue placements for the letterer.
Below is the example:
While the final artwork will not include the balloons (that's the letterists job, which I'll be taking the role of for this particular project), it's a good idea to know where that dialogue is going to fit on the page.
For this particular page I thought Jeong was spot-on with the layouts, and I gave him the green light to go into the pencils. But what if something had needed tweaking? Either something I saw or something he noticed?
Well, that happened on another page of this very story, actually.
Just like with this page, Jeong sent through the layouts and they looked fine – but I wasn't getting the feeling I wanted from the page. He and I spoke about it, and together agreed that there needed to be a slight rewrite in order to make the page stronger.
After a tweak or two, he sent back some revised layouts (the benefit of layouts is the artist doesn't have to spend a ton of time on them, and can get them to the writer pretty quickly for review), and eventually we settled on a final layout.
Next, Jeong got the okay to go ahead and start with the pencils on the final pages. We'll cover that in our next update.
Now that we've selected an artist (in this case, Jeong Mo Yang), we start the collaborative process.
The first step Jeong and I took were in character designs. I had my list of characters and the setting, so based on that I reached out for some quick character concept artwork to see what his thoughts were on the visual look-and-feel of the characters.
The first design he sent was based on my description of the robot character (originally called JON-E V, a combination of my love of the movies Short Circuit and Wall-E).
Below I've included my original description of the characters (from earlier steps, while putting together my own internal documents), followed by Jeong's designs for them. As a testament to his creative genius, the guy even included a textured background resembling crumpled paper (alright, it was crumpled paper – but it was still a great touch and one we both agreed should be included throughout). Seriously, I love collaborating with awesome creators!
JON-E: A security robot for the junkyard, JON-E is an older model and has been fixed several times by spare parts found around the junkyard. There may be some wear and rust around the joints – he's not this year's model, after all. He's a very pleasant machine, and enjoys working the beat. Because he's a blue-collar worker, he probably has a set of overalls or a hat – something like a junkyard worker would wear. I see him as having legs, so he can easily get around the piles of junk. He tries to keep everyone and everything out of the junkyard for their own safety.
The Dog: A year old Golden Retriever, this dog is full grown but has the energy of a puppy. He enjoys playing, and thinks that playing in the junkyard is a fun game. Always with his tongue sticking out, tail wagging high in the air, and a smile on his puppy face.
So now we have our characters, it's time to move onto the meat of the story…starting with the layouts!
So you're a writer with little to no art skills, or you just want to use someone else's artwork for your comic (like me). This means you need to find, recruit, and work with an artist.
This entry in the "Making of" series will focus on the first two points: finding and recruiting an artist.
It's never been easier to find an artist than it is today, especially with this crazy invention called "the internet." Artists are everywhere, and unless they're shy (or crazy), they want people to see their artwork.
Where are some places they hang out? Chances are they have their own online portfolios, so a quick google search for "comic artist" or some such variation of that could help make some discoveries. Deviantart.com is another place where artists like to showcase their work. Social networking sites such as facebook, drunkduck, or even myspace (although maybe less so these days) can be other places to find an artist that matches the style you're going for in your storytelling. Maybe a friend or classmate could also work with you on a story.
Then there's networking.
Going to comic conventions is another great place to meet artists, and being a professional comic creator myself, I also have an entire library of artists through my writing friends. One of them is Jeong Mo Yang who I've met at a few shows, and several of my friends have used for their comics.
Jeong has a very kinetic style of art (ie: there's a lot of motion in his characters) and I knew that with a physical comedy book like this, that was going to be important. Plus, my friends have ranted and raved about his ability to work fast, meet deadlines, and turn around an awesome product.
Without getting ahead of myself, the man did not disappoint.
So before I reached out to Jeong I wrote down a quick synopsis – a summary of the story highlighting the key points and events – to get him excited about it and sign him on.
It's a good idea to have a synopsis or a pitch ready for recruiting an artist (or sending to an editor, if you want to get published). Just a quick summary of the story, a breakout of the characters, and maybe your outline of what happens in the story. We have all that – we did it earlier – so this is easy to put together and send out.
It's also a good idea to be willing to pay your collaborators.
Professionals are people who get paid for doing a job, and if you want top-quality artists to work with you, then you need to be willing to pay them. I've worked with other artists with various payment methods – we both get the .pdf at the end and make money off our own sales, we co-share the rights to the story, we pay on a per-page basis, we pay on a flat project fee.
Depending on how much you care about the story or characters you're creating, some of these methods above may be more or less desirable. I recommend keeping the rights yourself and paying your collaborators – keeps things simple later down the road.
After agreeing on a budget for the project, Jeong signed on and we were working together. But how did the collaborative process work? We'll review that next time, folks.