Archive for February, 2014
8 items.
February 28th, 2014
|
by Trevor

Albert the Alien and friends are in trouble!
The robo-hall monitors have been taking orders from someone other than the locker thief all along, and their new orders are "get them!"
Miranda's camera is crushed, robots are flying through walls, and yes – total chaos has ensued. However, in that chaos it looks like the wall was smashed next to that mysterious alien looking door. What could be inside the room, I wonder?
We'll find out in the next thrilling update of Albert the Alien!

February 26th, 2014
|
by Trevor

The locker thief's motivation is revealed, as well as how the secret tunnels were discovered. However, there's another twist in store for Albert the Alien and his group of friends….the locker thief isn't the one pulling the strings!
My original direction for this story was to turn the locker thief into a permanent villain – someone that Albert had been friends with, but then turned against Albert because he didn't back him up. However, after spending some more time with him, I realized that I liked Martin quite a bit and didn't want to turn him into a villain. He was just a kid, pushed into a tight spot who made a few bad calls. I think we've all been in that spot before, and Martin learning a valuable lesson was more interesting to me than him turning against Albert in future stories. He could act as a vehicle for other kids to realize their mistakes and work to correct them – instead of just being angry all the time.
But who is really behind these robo-hall monitors? We'll find out before the end of the chapter! See you next time!
February 21st, 2014
|
by Trevor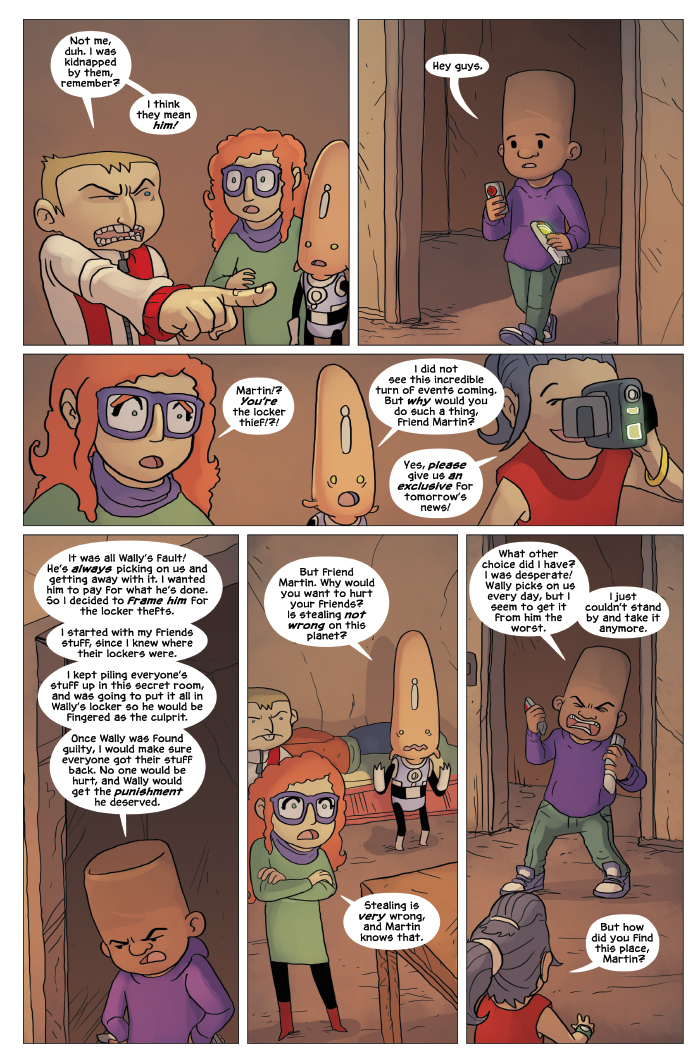 The locker thief is revealed in today'sAlbert the Alien!
Who would have thought that one of their own, one of Albert's first friends, would have done something so evil? While his actions have strong motivation behind them, it doesn't make them right. And I think he knows that. But how did he come up with this scheme? And how did he discover this room and these tunnels? We'll find that out next week.
February 19th, 2014
|
by Trevor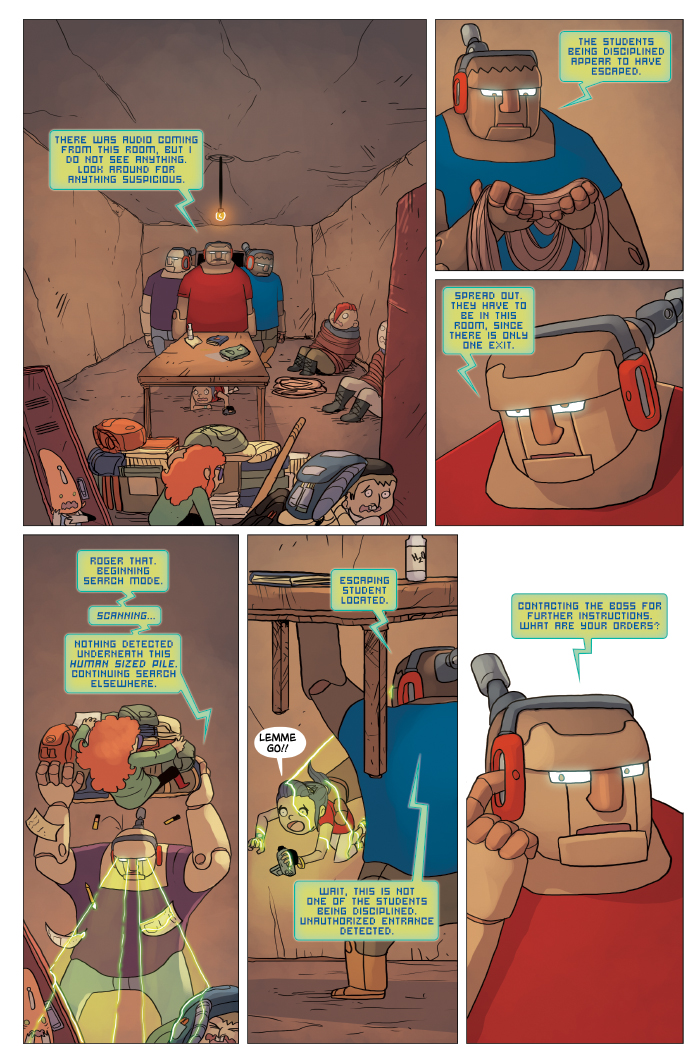 It's time for another Albert the Alien update, and boy do we have a big one!
Albert and crew are stuck in the room with the robo-hall monitors, hiding from their searching electronic eyes! Thankfully, they're not super bright – missing Gerty completely behind a pile of locker stuff. Miranda, however, was not so lucky in her hiding spot. Now the kids are found out, but how will they deal with this situation – and who is the boss of these mechanical monstrosities?
We'll find out these answers and more in the next thrilling update of Albert the Alien!
February 14th, 2014
|
by Trevor

It's Friday, and Albert the Alien has made a new discovery in today's latest page!
Wally and his goons were taken into a room with a mysterious object located in the corner on the wall. In fact, it appears to be some kind of alien door. But what would an alien door be doing in the school? And how did it get there? We'll find out those answers later in the series – for now, the kids need to figure out what they're going to do, since it sounds like the robo-hall monitors are coming back!
Have a great weekend!
February 12th, 2014
|
by Trevor

It's Wednesday, but wait – there's good news: Here's another brand new Albert the Alien!
As the kids continue down the hallways behind the hallways, they uncover the hiding place of the stolen goods! The locker thief has definitely been using this space to store their loot. But what could be going on with Wally and his goons in the other room? We'll find out on Friday with the next Albert the Alien!
The inspiration for the hallways behind the hallways came from my real-life experience. My father was an administrator at a school that had secret tunnels behind the walls of the school, and certain lockers (and other entrances) that were blocked off and off-limits to prevent anyone from gaining entrance. Some of them lead to hidden rooms, abandoned pools, or even took you clear across the city. The building had been used in the Underground Railroad, I had been told, and this always stuck with me as so awesome.
I got access to the tunnels and secret passages – some leading me up to the roof of the school, which was like a castle – but not just my boyhood sense of exploration enjoyed this. I was walking through a piece of history. It was like I was touching something that happened so long ago, but it wasn't in a museum. It was real. It was right in front of me. And I could explore it!
There will be many more mysteries and adventures to be had with this school, and we'll find out one of them on Friday. See you then!
February 7th, 2014
|
by Trevor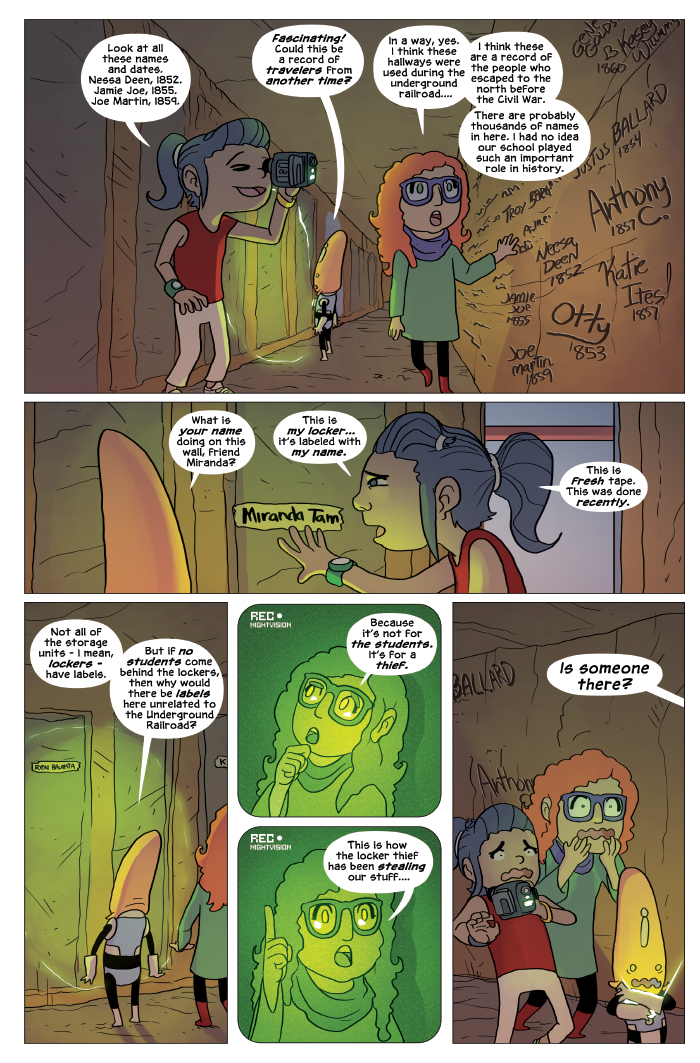 Ahhh, the way I love to end my week: another awesome Albert the Alien!
The kids discover several things about the hallway behind their lockers:
1) It played a role in the Underground Railroad, an important part of American History
2) It's also being used by the Locker Thief, whomever they may be
3) They're not alone in these tunnels….
We'll find out more about what's going on next week, as Albert the Alien continues to update every Wednesday and Friday!
February 5th, 2014
|
by Trevor

The latest Albert the Alien we finally see the true inside of the mysterious Locker #13, but like last time it just leads to more questions. Questions we will be answering in this chapter….
So the Superbowl was the other night, and they had a slew of new comic related movie trailers coming out. I'm super excited for Captain America 2: The Winter Soldier, as I loved the first Cap flick. Super fun, exciting, and entertaining. Chris Evans did a great job of channeling Steve Rogers on the screen, and I can't wait to see him in the modern world. Should be another fun ride.
We're going to have a couple of big announcements for Albert in the next few weeks and in the coming months. 2014 is going to be the year of Albert the Alien!