Archive for May, 2018
10 items.
Art by: Nicholas Raimo
Written by: Trevor Mueller
Price: $1.99
Lilly is a girl with supernatural powers and an unhealthy obsession with the lead singer of a band. Will she kill her way to some backstage passes, or will someone kill her first?
This 8-page short story was originally submitted as part of the Dark Horse Comics anthology CREEPY, and comes with 12 pages of bonus features including:
1) The Writer's Process: beat sheets, outlines, and script pages
2) The Artist's Process: layouts, pencils, and inks
The perfect book for aspiring creators to learn how to make their own comics!
Art and Story by: Trevor Mueller
Price: $0.99
Trevor was just an ordinary video-game playing nerd when he met Susie, a demon from Japan that is even more of a slacker than he could ever be.
When his absent mindedness causes him to forget his girlfriend's 21st birthday, Trevor and Susie must venture into the depths of retail hell to find her the perfect gift.
Hounded by pedophilic hobos and horny high schoolers, Trevor must overcome his traumatic past that has given him "mall-o-phobia" for the last decade and become the perfect boyfriend that he knows he can be.
Nominated for several web awards, @$$hole! is a hilarious teen comedy filled with adolescent humor, pop-culture references, and even a little of that mushy stuff.

Art by: Gabriel Bautista, Jr.
Written by: Trevor Mueller
Price: $9.99
ALBERT THE ALIEN is the first foreign exchange student from another planet…and he's in big trouble!
After having been on Earth for several months, Albert is still causing havoc in the most hilarious and entertaining ways. A trip to the city space program turns into an adventure when Albert launches himself into space. A sleepover turns into a nightmare when he transports his friends into an online video game. And his first Halloween has Albert turning trick or treaters into the monsters they dressed up as.
But secrets also abound in Albert's world. His home stay family may not have told him the truth about first contact with aliens. And their family secrets may hold the key to the mysterious alien door in the basement of the school!
Art by: Gabriel Bautista, Jr.
Written by: Trevor Mueller
Price: $1.99
Albert's exploits during Halloween reach the ears of the US Government, who have decided his adventures are too dangerous. They come to Heston Heights to stop Albert and his friends from having anymore adventures. Will Albert be allowed to stay on our planet, or will the strange alien transmissions from another world draw him away from Earth forever?
Art by: Gabriel Bautista, Jr.
Written by: Trevor Mueller
Price: $1.99
Albert and Gerty have discovered a secret in the back yard of the Greyson home. Something they have kept for decades. Gerty's parents try to explain the secrets they have kept from their kids, and how this secret will change Albert's world – and our planet – forever.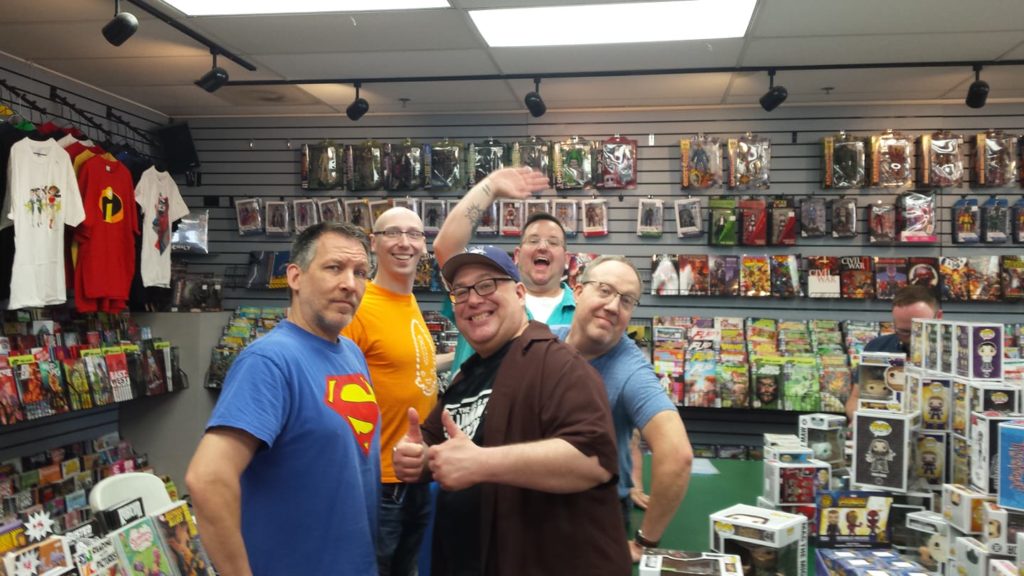 The first Saturday in May is Free Comic Book Day – a day where comic book stores offer up free comics (of select titles) and local creators, like myself, come out to do sketches for kids and give away from freebies of our own – and also sell some of our comics. This year I returned to Dreamland Comics in Libertyville, IL – a local independent comic store that I've done a number of events at, and who have some of the coolest customers in the north suburbs of Chicago. And like last year, the crowds were incredible.
I was joined by fellow comic creators Jeff Balke (colorist), Mark Stegbauer (Ghoul Scouts), and Russell Lissau (The Batman Strikes), who all had their own books and freebies to give out. I was pushing my Albert the Alien series – which had the new volume 3 out in print – since the store was sold out of their copies. The day went by super fast. We were there from open at 10am until about 3pm, and the traffic in the store never died down. There was a constant line out the door, and fans clamoring for the latest releases – as well as very excited about what we were selling. I personally had a record sales day, which was a great way to start my weekend.
I also made some purchases from the store, needing to complete my collection of Invincible trade paperbacks (my favorite superhero book), as well as starting my collection of Invader Zim comics (man, I loved that show).
If you missed out on FCBD, don't worry – it happens every year, the first Saturday in May. And next year, I'll be back doing another fun event! Be on the lookout!
Art by: Gabriel Bautista, Jr.
Written by: Trevor Mueller
Price: $1.99
Albert's Halloween nightmare continues with Wally getting his hands on the alien Controller, accidentally bringing one of the Mummy King minions back to life! Can Albert and his friends navigate the haunted house of horrors before the Mummy King is brought back to life?
Art by: Gabriel Bautista, Jr.
Written by: Trevor Mueller
Price: $1.99
Trick or Treat! It's Halloween in Heston Heights, and Albert is not used to our customs. He decides to "trick" all of the visitors to the house, transforming them into the monsters they dressed up as for the holiday. Transformed into their own costumes, Albert and friends must undo the damage before Halloween is ruined forever!
Art by: Gabriel Bautista, Jr.
Written by: Trevor Mueller
Price: $1.99
Albert's first sleepover is anything but ordinary. When there are not enough controllers to play online video games, Albert zaps his friends into the game – just as it is being hacked by a cheater! Can Albert and friends stop the cheater and beat the level before morning?
Art by: Gabriel Bautista, Jr.
Written by: Trevor Mueller
Price: $1.99
During a "bring your kids to work" day trip, Albert and Gerty are accidentally shot into space in a new kind of rocket ship. While stuck in space, they pick up a strange transmission from an alien communication device. Can they get back on solid ground before they run out of air? And who is sending these strange alien transmissions?