Archive for 'comic review'
4 items.
December 27th, 2010
|
by Trevor

Comic Review: The Walking Dead
Writer: Robert Kirkman
Artist: Tony Moore (issued 1-6), Charlie Adlard (issues 7-present)
Plot: [WARNING, THE FOLLOWING CONTAINS SPOILERS FOR THE WALKING DEAD COMIC SERIES]
Rick Grimes was an average sheriff in an American town with a wife and little boy when he was shot and fell into a coma. Upon waking up he finds that he's been left alone in the hospital. Oh, and there's a zombie apocalypse going on in the world.
Suddenly Rick is on a quest to find his family, which he does. They have joined a rag-tag band of characters lead his Rick's old partner, Shane. Turns out that Shane's been keeping Rick's family safe while he's been out…in more ways than one. Yuppers, he's hooked up with Rick's wife Lori, and Rick's completely ignorant to it. Now that Rick's back, Lori returns to him – which sets Shane off in a big way. A crazy way.
Carl, Rick's little boy, saves his father by shooting Shane when he goes into a crazy rage.
After that, the group searches for a safe place, going from town to town trying to avoid the zombies and looking for food. They eventually come upon a prison where they meet some inmates and set up shop. The place is fortified, stocked with food, and still has electricity – which is everything you want in a place surrounded by zombies. But then the group meets their neighbor, an insane man named The Governor. He captures several of the survivors and cuts off Rick's hand, as well as brutally rapes one of the women from the group. Eventually they escape (with the woman slicing off several "parts" of the Governor), but they are followed back to the prison where they have to make their final stand.
During the conflict the outer fence is breached, and the group decides it's time to cut their loses and run. Unfortunately during their escape, Lori is fatally wounded and dies.
Rick, Carl, and the remainder of their group continue to find a safe place to call their own, and search for months. Some of the group members leave, some die, some go crazy, some hook up. Eventually they stumble upon a town of people who have walled themselves into a community. It seems safe enough, but Rick suspects something sinister. Rick decides it's not good enough to leave this community to the musing of it's current leader – he needs to protect it himself, by force if necessary.
###
This is just a summary of the plots from the first 60 or so issues of the comic, which is an epic journey of the human condition and what it takes to survive in a world where everything you know is gone…or is trying to eat your brains. But it raises an interesting question about what you an an individual would do in a seriously pure survival situation like that.
The focus of the story from month-to-month is on the characterization and how they work together to overcome their basic humanity and desperate situations to survive, and the drama that ensues. And there is a lot of drama. I think I can count on one hand the number of times a zombie has killed someone in this comic, but it would take three people's fingers and toes to count the number of times someone has been killed by a living / breathing person.
The slower pace may not appeal to every reader, but it certainly appeals to me. I love the depth we get from these characters through the range of emotions they go through – and they do go through a range. Kirkman puts in some truly heart-wrenching moments in this book that will rip your guts out and feed them to you. Literally.
I read these books in trade format, which can get a little slow in a single sitting. There's a lot of recap in every issue so the monthly readers don't get lost (and new readers can play catch up), which can get old 5-6 times per collected trade. But it's easy enough to overlook if you're prepared for it.
The series has become incredibly popular, even spawning a TV series on AMC. I've only watched the pilot, but it seems like a pretty fun show. If it's anything like the comic, though, expect it to be a little slow but focus more on characterization and the relationships between characters than anything else.
If you like classic George Romero horror flicks, zombie survival stories, characterization and deep multi-dimensional characters, or even just human dramas, you need to be reading this comic every month. And if you're just a casual comic reader, you should certainly check it out at the library or something.
And if you only like superhero comics, well…then you should still read it, since it made zombies popular again – which Geoff Johns included in the Blackest Night story for Green Lantern. So yeah, read it!

November 17th, 2009
|
by Trevor

Comic Review: The Dreamer
Writer / Artist: Lora Innes
Publisher: IDW
Website: www.thedreamercomic.com
Plot: Beatrice is your average teenage girl who wants to get the lead in the school play and to date the cute boy. But when she falls asleep she dreams about living a life during the Revolutionary War. As she delves deeper into the life of the characters fighting to create an independent nation, she starts to question if she truly is dreaming…or if there's something else going on.
Lora Innes is the twice-Harvey Award nominated (and winner of multiple other webcomic awards) writer and artist of The Dreamer, and also a good friend of mine. Her pages are absolute gold, and you can see her style evolve even within the first six issues collected in her first trade from IDW. The characters are interesting and believable, the dialogue is delivered realistically, and the level of detail put into the outfits – in both modern times and the past – are absolutely spectacular. Whenever Bea dreams is when this comic shines, and it's a fascinating and historical ride.
Lora balances tense dramatic scenes, action, and even a little comedy into the mix for a story that spans the ages. By the end of the first book you want to know not only what's going on with Bea and her time-spanning dreams, but also how her trips may affect her in the present.
Lora has also just started a charity auction (which includes Thom Zahler, Barb Jacobs, Alan Evans, myself, and about 50 other creators) to create a wallpaper to help raise money to put a stop to human trafficking (AKA: modern day slavery). She has some frightening statistics and a personal story about it on her website, so be sure to check it out and help contribute.
September 10th, 2009
|
by Trevor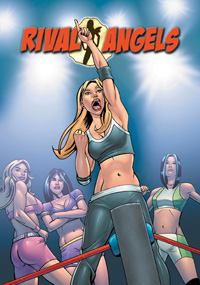 Comic Review: Rival Angels vol. 1
Writer / Artist: Alan Evans
Website: www.rivalangels.com
Plot: Sabrina "Ultragirl" Mancini is a professional female wrestler who gets bumped up from the developmental league to the professional division and is forced to live with three other female wrestlers, nick-named the "Upstarts." Her roommates are "The Definition of Technician" Krysten Moline, Aussie babe Brooke Lennox, and Sun "Lil Dragon" Wong. Sabrina finds that playing in the major league is a new game for her, and that her opponent in the ring isn't the only hurdle she has to overcome. Filled with nail-biting edge of your seat action, intense drama and some hilarious moments, this comic has everything you'd want from a story and more!
Even though it's a webcomic, the first graphic novel collection is available here. Whatever he's charging for it, it's worth the price of admission.
Ignore the fact that Alan and I are now friends and are both attending Mid-Ohio Comic Con in October – I was a big fan of this comic long before I even knew who Alan was, and I don't like wrestling. What I like is the kind of action and pacing that his stories provide, and the interesting and dynamic character relationships that he provides. It's interesting to see these girls interaction outside the ring one way, but when they're all thrown into a free-for-all ring match to see who will participate in a TV tournament, there's no holding back.
Each of the girls has a very distinct personality. Sabrina is overconfident and a little bit of a showboat to the fans. Krystin is a powerhouse with a fan following due to her technical moves. Sun is a firecracker that is quick and likes to get the drop on her opponents (or as she likes to call it, "ninja'd!"). And Brooke is a little talent bombshell that has seduced her way to the top, and will stop at nothing to get what she wants…no matter who stands in her way!
It's no secret to people who follow the comic on Drunk Duck that I'm a huge fan of Brooke's, and in fact I have stated many times over that her and I will date her! Alan, being the cheerful sport that he is, was kind enough to give me a cameo appearance in the comic poking fun at my fictional online relationship with another web comic artist, BetaJess (see the 2008 and 2009 Drunk Duck Awards presentation for Best Romance Comic). He tells me that another cameo may be in the works down the road….
If you love action, strong women kicking ass, and some fun plot twists and turns, be sure to check out Rival Angels on the web and purchase the graphic novel for your bookshelf! And I'm not just saying that as a fellow creator, but as a huge fan!

Comic Review: Bloody Pulp (Zuda)
Writer: Jorge Vega
Artist: Jeff McComsey
Plot: This is the house that Pulp built and the house rules are simple: NO ONE LEAVES. Ever. BLOODY PULP is the story of John "Pulp" Polpowski, a nightmare for hire who leads a dangerous double life — secretly moving the men and women he's been paid to kill to a remote safe house far from the syndicate controlled streets of 1930's Kansas City.
The 8 page preview is available on Zuda.com, and is currently ranked in the #1 spot (but it's a tight race for #1). Jorge is a personal friend of mine, and an amazing writer. His first graphic novel, Gunplay from Platinum Studios, was fantastic and the fact that he was not given the opportunity to finish the trilogy is a tragedy. His other works from Two Fisted Press include Ghost Village and 9-Months.
The set up for this comic (the 8 page preview) is absolutely gruesome and fantastic. And in order to win the competition, Jorge needs your votes and faves! Unfortunately, this requires signing up for the free comic service that is zuda.com (not because it's a bad service, but because it requires about 1-2 minutes of your time). Fortunately, it gives you access to a boat-load of free web comics that are professionally done and allows you to support what you like. And that support could help land someone (cough cough, Jorge Vega, cough cough) a paying gig supplying more pages for Bloody Pulp on zuda.com.
So do me (and Jorge) a favor, and go sign up and vote / fave the comic already! Because I want to know how this thing ends. And if you read the free 8 page preview, then you will too!