Archive for 'conventions'
124 items.
February 25th, 2016
|
by Trevor
We have some convention appearances coming up in March that we're super excited to announce!
Anime Milwaukee (Milwaukee, WI), March 11-13
I'll be a returning guest of honor at this very fun anime show. I've been coming to this show since it was held on a college campus, and have proudly watched it grow into a massive show filled with amazing guests and attendees. It's a great way to start the con season, and I highly recommend attending.
C2E2 (Chicago, IL), March 18-20
Once again I'll be running the Reading with Pictures booth (#441) at this incredible mid-west show. I'll also be staying in the city this year, so there will be time for hanging out after hours! Hope to see you there.
Anime Boston (Boston, MA), March 25-27
Last year, Anime Boston was my biggest show (in terms of sales), and this year it's poised to crush last year's numbers. This con is now on my must-go list. The attendees are amazing, the panels are standing room only, and everyone is excited to learn about making comics! I made some great friends there last year, and I look forward to seeing them again this year, and meeting even more new folks!
October 14th, 2015
|
by Trevor
New York Comic Con (NYCC) has become the largest comic convention in the country (as of last year, 2014). It continues to be a beast of a show (in a good way), with some of the most amazing and exhausting experiences of my creative life. It's an experience to strive for, an experience to love, an experience to fear (there's nothing wrong with a healthy amount of fear), and an experience to cherish forever.
Without fail, every year at NYCC gets bigger and better. I meet fans, new and old, I make new friends, I see creators I've idolized or always wanted to meet, I learn new things about comics (and myself), I see good friends, I explore New York City, and I have a life-changing experience every year I attend. It is not a show to be missed. And this year, it all started after 3 days away at a work-summit in Lake Tahoe….
THURSDAY:
I couldn't sleep during my flight from LAX to JFK, which wasn't a surprise to me. I have difficulty sleeping in ideal conditions, and a plane is far from ideal for sleeping. My flight from Reno had been delayed 5 minutes, in an already tight connection in LAX, and we spent another 15+ minutes taxiing to the terminal. Everything had been working against me to catch this connecting flight, but despite all of those odds I had made it with 2 minutes to spare before they closed the doors.
Since I couldn't sleep, I decided to watch movies. Terminator 5: Genysis and Avengers 2: Age of Ultron kept me company during the flight. I was tired, but also excited. NYCC is always a trip, and I got to stay with my good friends Karl Custer (Uncle Yo) and his gal, Cat.
The flight landed at 6:30am local time, and I walked to the AirTram to catch a train to Queens. I had sent a box of books to Karl earlier in the week, and I needed to drop my stuff off before I made my way to the Javits Center to set up for the con. Thankfully, New York City has extended the 7 train to arrive pretty darn close to the Javits. In previous years, you'd have to get off at Time Square and walk 8+ blocks (like, the long blocks) to get to the show, which would have been a pain with luggage and a 30 lbs box of books.
So I dropped off my stuff, grabbed the books, and was off to the Javits.

The Javits Center
The Javits Center is on the other side of Manhattan from Queens, but with the install of the new stop at the end of the 7 line, it has become extremely easy to get to now. While on the train, I even ran into Josh Elder (Scribblenauts: Unmasked), my good friend and the founder of the Reading with Pictures non-profit I was there to help. Josh and I got in together and got our badges, and began setting up the table and talking about goals and initiatives for the weekend. Before too long, the doors were opening and we were a go for business.

The Reading with Pictures table, ready for sales

The Reading with Pictures crew, Trevor and Josh, ready for a weekend of awesome!
The sales started and started strong, which is always encouraging. And with this being the first NYCC for Albert the Alien volume 1, it was super exciting to see readers old and young respond so positively to the book.
As the day went on, our volunteers eventually showed up. They were coming from UNICEF, and had been working with Josh and others at RWP to set up some very special events for the show. The volunteers were young, eager, and very enthusiastic about being at the con and learning how to pitch the books. They were also experts at talking about the UNICEF initiative we were doing, and directing people to our panels throughout the weekend so they could learn more about it.

Trevor and the UNICEF team, running the table
As the day went on, I received a special delivery from my printer for Albert the Alien volume 2: An advanced copy of the book! I finally had something to show people for pre-orders, and also to show editors the quality of the book we were putting together.

A special surprise delivery: Albert the Alien v2 advance copies
After the show ended, there were a number of after-parties I was invited to. However, since I hadn't slept in over 48 hours, the thing at the top of my mind was sleep. We took the 7 train back to Queens and grabbed a bite before drifting off into a much-needed sleep.
FRIDAY:
I got up much earlier than I wanted to (but hey, someone's gotta run the booth), and jumped on the train with Karl to the show. We made a quick stop to grab some breakfast at a little place he knows called "Butcher's Bakery," which has these amazing meat-filled breakfast sandwiches. Super filling, and exactly what you need before you start a long day on the floor.

Breakfast of champions…with high cholesterol
After a very hearty breakfast, it was time to get selling. We had some volunteers show up early, so it was game-on from the word go! It was a good thing I had that filling food, too, because the opportunities to get away from the table (even for a quick break) were very small. Sales were through the roof! We were moving copies of the books left and right, driving e-newsletter sign ups, and telling people about our latest projects left and right. Josh was running the panels, and as they ended the traffic to the table increased significantly! It was almost a breathless experience, where you were constantly talking to people about the books and the organization. People were THIRSTY for it. And the kids were super excited about the anthology, as well as the Albert the Alien book.

The view from the table – when traffic was light
After a whirlwind of a day, the group decided to walk to a near-by diner and grab some food. The place was close to the convention center, so it was packed with cosplayers. Somehow they got us seated rather quickly, and before we knew it we were munching on burgers and fries. Unfortunately, there was some confusion with our orders, and the staff charged us for things not ordered (or didn't deliver food that was ordered). After fixing the bill, we all went our separate ways.
I headed back to Karl's, thinking I may hang out with a friend who lives in the city that night. I was looking forward to seeing her and catching up, but at the same time I was still recovering from not sleeping the other night. Thankfully, we rescheduled for the next day and I was able to get to bed early.
SATURDAY:
By now, Karl and I had our morning routine down to a science. We got on the train, and I went to the convention center to set up while he grabbed breakfast. Cat came with me to help volunteer at the booth, and also to check out the con a bit. As soon as the show opened, it was absolute chaos – commerce chaos! Albert the Alien sold out before noon. We were quickly running out of copies of Reading with Pictures. Whoopie Goldberg walked past the table. It was nuts!

Reading with Pictures and Unicef – partners in comics! Comics Uniting Nations is coming soon (for free)
Eventually we had enough volunteers at the table (and enough books sold), I felt confident to walk the floor for a bit. I took some time to walk through Small Press (and I saw some actors from Marvel's Agents of SHIELD signing at their booth), said hi to some friends, and then made my way down to artist alley. Artist Alley is a place where I can spend tons of hours without wasting any time, because I know so many people in there. It takes me hours to get through a single isle sometimes. This time I tried to keep it quick, though, so I could get back to the table before close. I stopped by several friends's booths, including my Albert the Alien artists who were attending.

The Albert the Alien team. From left to right: Ali Cantarella, Trevor Mueller, Ashley Erickson, Gabo
Around the time the main floor closed, I headed back to close up the table and headed back to Queens to grab some dinner with Karl and Cat. We ordered Thai food in and relaxed, watching a few hilarious episodes of some TV shows on Netflix. Eventually I got a call from an old friend who wanted to catch up, and I met her for some drinks before heading back to Karl's for much needed sleep.
SUNDAY:
Morning came much too soon on the final day of the show, but adrenaline and the promise of sleeping in my own bed that night kept me vertical and got me through the day. Also, most of the books were sold out at this point, so that was a positive. I stayed at the table for a few hours, but eventually turned it over to the volunteers so I could say my goodbyes in Artist Alley.
I gave myself a little more than two hours to say goodbye to everyone I knew in AA, and it was just enough time (after I skipped 8 tables, since I didn't want to interrupt any sales). I also got to meet a few new faces, including Laura Braga! I'm a huge fan of her work on Witchblade, and I'm so happy for her success on Invincible Iron Man and some of the new DC titles she's working on.

Hanging out with the very lovely and talented Laura Braga (Witchblade, Invincible Iron Man)
After making my way through AA, it was time to go back to the table and pack up. Thankfully, just about everything was sold and I was able to fit the few remaining books in my luggage before taking off for the airport. The train and bus was much easier than my normal method of trying to grab a cab downtown (and much less expensive, I do admit), and before I knew it I was at my terminal and through security. I have a post-con relaxation ritual, which involves a meal and a drink at a place in the airport. Mostly, it involves not standing (I rarely if ever sit during a con).

Post-con airport food and drinks…because HUNGRY!
After a short plane ride back to Chicago, I took the train to my stop and walked the rest of the way home (since the buses weren't running; thanks, Chicago).
New York Comic Con is and continues to be the biggest and best show I attend all year. It's a madhouse of sales, celebrities, and good people. It's an expensive show to attend, don't get me wrong, but worth it in every way possible. Thank you to UNICEF, Reading with Pictures, our volunteers and helpers, the entire staff of NYCC for putting together such an incredible event, and all of you – for making this weekend another unforgettable experience.
September 24th, 2015
|
by Trevor
My journey back to a fantastic convention, Mid-Ohio Con (now called Wizard World Columbus), was a little unique this year. In year's previous, I would travel with my good friend Alan and his wife Tracie, and we would stay with our friends Lora and Mike Innes. This year, none of those people were attending the show. Alan and Tracie were celebrating her birthday (the show was Halloween weekend last year, so the timing didn't work for them) and Lora and Mike are touring the United Kingdom (thanks for all the country-side photos from the land that invented the genre of Fantasy, guys!).
No, this year was different. I was on my own, and had to make my own way to the show, entertain myself during the off hours, and yes – get myself back home after an exhausting weekend of selling comics.
If that riveting intro didn't wow you, then know this: comics were sold, and hilarious things happened. That said, let's jump into the review of the weekend….
THURSDAY:
I got up early and went to the car rental place to pick up my economy rental – the car that would be my ride for the weekend. Thankfully I wasn't traveling with other people, because I packed a lot of inventory (last year's sales at this show were phenomenal, so I wanted to ensure I had enough stock to not sell out before Sunday this time).

The rental car…which I have dubbed, "Debbie."
The drive from Chicago to Columbus is about 6 hours, but also includes a time change (Chicago is central time zone, while Columbus is eastern time zone…so it's an hour ahead). I drove south on I-65 to Indianapolis, and then straight east on I-70 until I reached my destination. There's not a lot to see in the mid-west, but you do pass a rather impressive wind farm. This ride also gave me a great opportunity to list to some CDs I burned years ago, but hadn't listened to since I moved to Chicago.
Before I knew it, I arrived in Columbus (despite my GPS not working after a few dozen miles, which made the straight shot to the convention center much appreciated). Navigating the city wasn't too difficult, so I parked the car, checked into my hotel, and went in search of dinner.

North Market – where EVERYONE must go when you visit Columbus, OH
My first year attending this show, my friends who lived in Columbus showed me the wonder that is North Market. A collection of little shops and places to eat, this shop has a wondrous variety when looking for something specific. Jenni's Ice Cream, Polish food, smoked meats, Indian, sushi – this place has it all.
Craving some comfort food, I went to the Polish place and ordered a Kielbasa sandwich. The girl working the booth noticed my last name and asked if I was of German decent. I commented that my mother's side was Polish, and she went back and made sure my perogies were from the bottom of the pan – buttered, warm, and delicious!

I ordered the Kielbasa sandwich with 3 perogies, because I'm part Polish…and they're DELICIOUS

The hotel room. Pretty standard fair.
After a quick dinner, I went to the convention center (conveniently attached to the hotel I was staying in), and checked into the artist alley to drop off my things. I had brought a lot of inventory and displays with me (two walking trips worth), so I wanted to make sure I had it at my spot so I didn't have to worry about it the next day.
I then walked around the downtown area for a bit, dodging Taylor Swift fans (she was playing a concert that night) and ultimately stretching my legs after sitting in the car for so long. However, I didn't want to stray too far, and most of the people I knew were not arriving at the show until the next day, so eventually I went to the bar to unwind a bit, and then went back to my room to watch a movie on my iPad before falling asleep.

How to avoid getting asked for money on the streets? Dress like a bum who spent the last 6+ hours in a car

Enjoying adult beverages after a long first day
FRIDAY:
I almost never sleep on the first day of a show (it's the excitement!), so I got up early even though the show didn't start until 3pm that afternoon. I decided to do what I normally do the first day of a show: I went to the gym. I won't lie, I was secretly hoping that Mike Tyson or someone famous would be in there working out, but alas they were not. I did my workout routine, went back to the room for a quick shower, and then headed downstairs to the restaurant for a big breakfast.

Post-work / pre-con first day breakfast. Because it's probably the last meal I'll have before dinner today
After breakfast, I went to the floor to set up my table. I was in the first row, table A51, right next to Brad Guigar (www.webcomics.com, Evil Inc) and Nate Lovett. I had plenty of time to set up, so I played with a few configurations – eventually settling on the below.

The table set up. I sold out of most of this by the end of the show
As people I knew arrived, they would swing by the table to say hi. I worked on some signs and sketch cards while I waited for the show to open, and then started selling once it did. Sales were lighter on Friday (there was another Taylor Swift concert later that night, plus school, plus people getting out of work), but attendance was still decent and I managed to exceed last year's Friday sales.
Around 5:30pm, I went to a panel I had been invited to sit on with Danny Fingeroth (Spider-Man), Barbara Slate (Betty and Veronica), and Victor Dandridge (Wonder Care presents The Kinder Guardians) talking about Writing Comics. Danny started by showing some examples of scripts and script formats, talking about the role scripts play to editors and artists, and then we opened it up for Q&A with the audience. It was interesting to hear the different perspectives from all of the creators on the panel, and I found that because I worked on self-publishing and indie work, I had some unique perspectives to throw into the mix. The panel was well attended for a Friday, and the questions were very engaging – talking about working with artists, finding artists, and the process for writing stories.

The Writing Comics panel crew. From right to left: Danny Fingeroth, Victor Dandridge, Barbara Slate, and me!
After the panel ended, I went back to the floor to finish off sales before the show ended. After shutting down the table, I headed to the hotel bar (the hotel restaurant closed after a certain time, but the bar served food) and ordered a drink. I was quickly joined by Barbara Slate (from the panel), who asked to join me for dinner. Of course I said yes, because she was a really cool person, and she told me she was also treating Danny – who joined us shortly after that.
We ordered food and had an enjoyable conversation about conventions, comics, and how Danny got involved with Wizard. Danny was doing a lot of back-to-back shows, which can get exhausting, but he was excited because he got to go to new places and was seeing new creators all the time. After a few hours of hanging out, we paid our checks and went our separate ways for the night. I returned to my room to start a movie (I was too tired to finish it), and then drifted off to some much-needed sleep.

Come buy comics from this guy in artist alley
SATURDAY:
I got up earlier than I wanted to, showered, and headed down to the ground floor to grab a quick bite on my way to the floor. Saturday is the long day, and typically has the highest sales of any day of a convention, so it was going to be a doozy.

Grabbing a quick bite before the show starts
I set up and began my day of sales, going through most of my box of Albert the Alien volume 1 I had brought. Albert was a breakout success at this show last year (premiering at this con, in fact), and many fans who picked it up last year were eager to pre-order the next volume (out in November). I also had a preview of the book available, which people enjoyed thumbing through.
Around 2:30pm, I went to a Webcomics Roundtable panel lead by Brad Guigar. We talked about the changing landscape of digital comics, the use of ad blocker, and the advantages of crowd-funding sites like Patreon. We then opened it up for questions from the audience, helping them with any hurdles they had with launching or maintaining their own webcomics.
After the panel, I returned to the table to finish the day of sales. After the floor closed, I met up with my friend Dirk Manning, who was organizing a large group to go to out to German Village and get some delicious sausages. I piled into the car with Dirk and crew, and we met up with the rest of our party of 14 to enjoy a fun evening together.

Out in German Village with Dirk Manning and friends
After we were done with dinner, one of the girls in the group had started to get loopy. I made sure she made it back to her hotel okay, and then headed back to my room to finish off the movie I had started the previous night. It wasn't long after that I fell into a deep (and much needed) sleep.
SUNDAY:
The final day of the convention was upon us, and as I packed up my room and checked out of the hotel, I realized that I was going to miss Columbus. I headed to the show floor and set up for the final day of sales.

Albert the Alien selfie!
Sunday was a bit slower this year, compared to last, but still had a lot of families and good cosplays. I was even visited by my buddy Eric Palicki, who is always good to connect with. As the day went on and attendance started to dwindle, I started to pack up a little early so I could get back home a bit earlier. After a long weekend of fun and sales, I wasn't looking forward to the 6+ hour drive back to Chicago. I finished packing up, said my goodbye to friends new and old, and got into my rental car for the trip back.
Mid-Ohio Con was and continues to be a fun show, with lots of energy and excitement. The staff puts together a fantastic event, and the attendees are very energetic and enthusiastic to hear pitches, ask questions during panels, and yes – make purchases. I look forward to returning to Columbus again for another con soon.

Doing what I do best – selling comics!
September 2nd, 2015
|
by Trevor
Every year I try to do different conventions, so as to mix up where I go and the audience I reach with my books. It also keeps things fresh for me, which is always nice to try something new. This year, I decided to give Count-i-Con a try.
A smaller convention located in Grayslake, IL, the show is on it's second year and was a lot of fun. Very family friendly, with plenty to do for con-goers (and people who are new to cons). The show is also only two-days, so you don't have to take time off from work or commit an entire weekend to enjoy the show.
Let's dive into some details on the weekend.
SATURDAY:
Since the show starts at noon, I actually got the chance to sleep in a little for a Saturday at a convention. I left my place with the car fully packed, and drove north towards the County Fairgrounds, where they held the con this year. The drive was uneventful, and I got there in plenty of time to set up – and even say hi to a few people.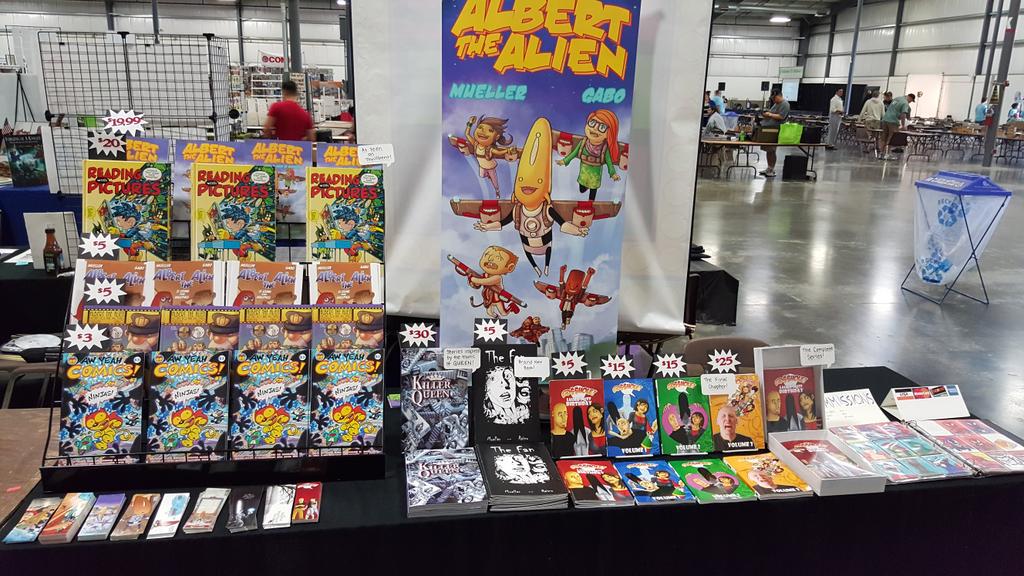 The table set up, and ready for commerce!
I was joined by friends Russell Lissau (Old Wounds), and Mark Stegbauer (Survival), and we were set up in artist alley. Gabo was also there, but set up in the main isles of the show floor, with a super sweet corner booth.

Pitching the books
It didn't take long for the doors to open and people to start coming in. Since our tables were opposite the doors, it did take a while for them to filter back to us, but once they were there the sales started coming in. The crowd was very positive and eager to hear pitches, and check out all of the cool stuff we had for sale.
I was also joined by my mother's best friend, Deb, and her daughter, Celine. This was Celine's first convention, and she came dressed in costume (and placed in the top 10 of the costume contest). She brought a bunch of her friends, as well, and they stopped by the table throughout the day. We made plans to go to dinner together later that night.

Went out to dinner with some first-time con-goers
I wasn't super familiar with the area, so we let Google Maps tell us what our dinner options were. We found a Chili's near my hotel, and headed that way. We sat at several tables, and talked anime and comics with both Celine and her friends, as well as the parents. One of the parents was dressed up as Seven of Nine from Star Trek: Voyager, which was pretty awesome.
The girls had a blast, but since they were headed back to Michigan that night, we called it early and sent them on their way. I retired to the hotel with Russ and Mark, enjoyed some post-con drinks at the bar, and then headed to bed.
SUNDAY:
I woke up and headed to the gym for a quick pre-con workout (not my full routine, but a little something to get some energy for the day). After the gym, the guys and I headed to a nearby diner for some much-needed breakfast.

I'm here to sell comics and chew bubblegum. And I'm all out of bubblegum.

Breakfast with some handsome / hungry guys

Ole skillet – spicy eggs and jalapenos.
After food, we went to the con to set up. I chatted up Ashley Witter (Squariors), who I know back from my days of posting webcomics on Drunk Duck. It was fun catching up with her, and we made plans to talk more about the glory days of webcomic making and the fun community Drunk Duck had in our day.
But now it was time to get the sales on, so I headed back to table and started my day of selling. Sunday was noticeably slower than Saturday, but traffic kept picking up as the day progressed. I eventually decided to take off a little early (mostly because my wife wanted to go see a movie), and packed it in.
Count-i-Con was a fun alternative to the larger comic shows that I go to, and focuses on the actual comic creators (and not the TV celebrities). It was refreshing to be at a show where people were there for the comics, and not for other reasons. It was a lot of fun, and I hope to be invited back again next year.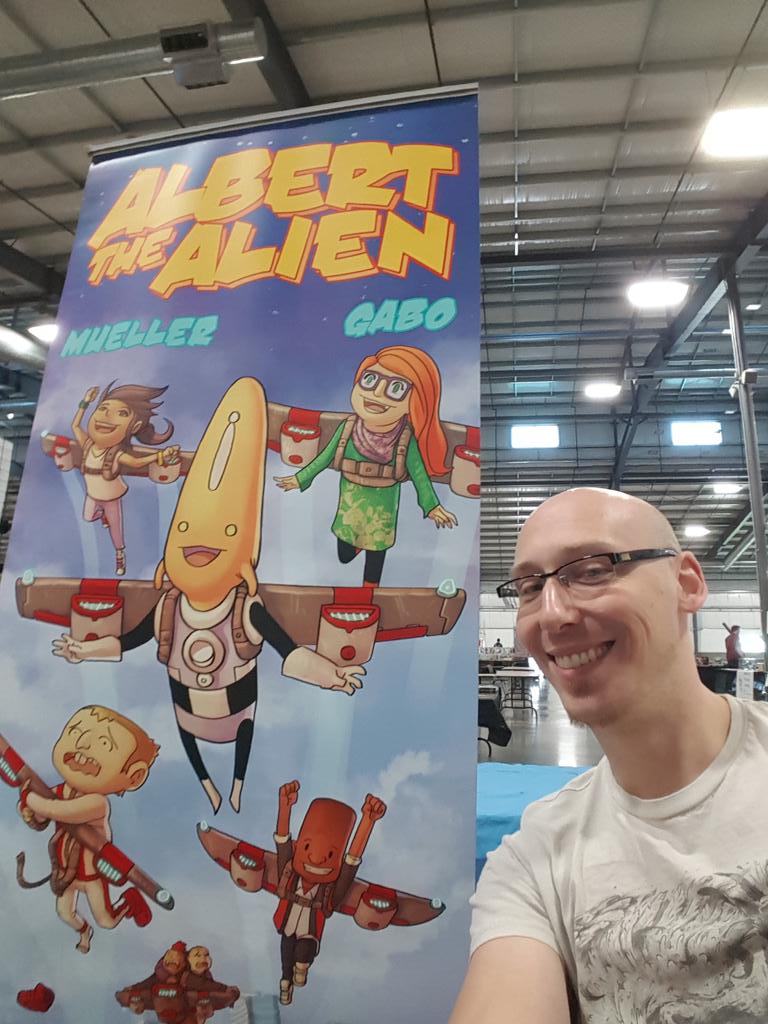 Come buy comics from this guy, next con you see him at!
This past weekend was the epic weekend called Anime Iowa. I enjoy attending the smaller shows like this, since it allows more opportunity and time to connect with the fans and the other guests. And Anime Iowa provides those opportunities in spades. They treat their guests and attendees extremely well, and everyone is in high spirits and having a fun time.
So with that said, let's hop right into the recap of the weekend.
THURSDAY:
After work, I hopped in a cab and headed over to the airport to grab my flight to Cedar Rapids, IA. The flight out was uneventful, but I had a very pleasant conversation with a girl from England who was on holiday and visiting family. She wasn't really into the whole comic or anime scene, but we did find some common ground in our love of music, movies, and traveling around. I also met one of the other comic guests while I was boarding, a guy named Chris Malone (who works on the Archer series on FX).
I was surprised to be greeted not only by my normal escort Mel, but also the Con Chair herself, Jen! It was a veritable party as all of the planes arrived at the same time, and we grabbed out gear and headed out towards the con.

Chris Malone and I (two of the comic guests) on our way to the con! It was a "Novembromance" in the making.
At the hotel we got into our rooms, unpacked, and walked around – myself being the veteran, I showed Chris and Brooke Stephenson (another comic guest, and coming in all the way from Japan!) all of the short cuts around the hotel. We eventually grabbed a liaison to take us out to buy some snacks and beverages, and were back in time for a night cap.
I stayed up with April and Bethany, mutual friends of mine from Samurai Dan and Lady Jillian. It was great to get to catch up – and also an opportunity to actually talk to them. Our past get-togethers were always between panels or after events, when I was already pretty sleepy.
I had some guest obligations that night before bed, including a staff meet-up in the con suite. All of the guests were present, and it was an opportunity to meet all of the other guests (and say hi to guests I already knew). One of the Japanese guests, Nabeshin, translators hadn't shown up yet. However, Brooke speaks fluent Japanese (having lived there for the last 11 years), and the two of them got along swimmingly. Nabeshin seemed to be very pleased there was someone there he could talk to and hang out with.
Eventually, I went back to the room and went to bed. I didn't want to overdue it on the first night, after all.
FRIDAY:
I got up earlier than I wanted to (I was up late the previous night), and went to the gym. I like working out on Fridays at a con because 1) the show typically starts a little later in the day, so I don't have to get up SUPER early, 2) working out gives me a boost of energy, and generally puts me in a good mood, 3) the gym is usually empty at a show – but this time, there were some people in there working out.

Brunch at Perkins
After working out, I grabbed April and Bethany and we went to a local diner called Perkins for breakfast. The meal was enjoyable, and it was nice to get to catch up with them some more. They were doing a routine for the Masquerade half-time show, involving whip tricks and spinning weighted sticks. It's a very impressive routine, and they were going to practice some new tricks during the show today (the Masquerade was Saturday night). It started to rain outside, and because I wanted to dry off before I set up, we decided to walk back and head up to the room for a quick change.
After that, I headed down to the show floor where they had put all of the comic guests next to each other – except for Brooke. She was over by the cosplay guests. Well, this didn't make a lot of sense in my mind, and together her and I moved her table next to mine. I was sandwiched between the other two comic guests, which was nice. This way, we could watch each other's tables during panels or breaks.
We also had a chance to chat and connect a bit. I found out that Brooke and Chris are also November birthdays, so we started calling ourselves the "Novembros," and coming up with funny handshakes and head nods as our nonverbal way of saying "sup?" to each other. Were got a big kick out of it.

All set up to sell comics!
The floor opened and we started selling our books. Pitches were flying left and right, and money was exchanging hands. At some point, someone pulled the fire alarm and we had to quickly cover our products and go outside. Thankfully they let us back in rather quickly, but it didn't make a lot of sense to set back up since we had opening ceremonies shortly after that.

Another satisfied customer – @$$hole! box set sold!

Hanging out with Brooke Stephenson (another comic guest) during opening ceremonies!
Opening ceremonies ended, and we all headed back to the floor but unfortunately we had noticed a change in tone and pace. People weren't buying as much as they were earlier in the day. Sales were lower than expected because of it (this seemed to apply to everyone in the Marketplace), but I was still in high spirits. It was only the first day, and there were plenty of opportunities for more selling in the days to follow.
I didn't have any panels that night, so I was free to go grab dinner with April and Bethany. We decided to go to the restaurant in the hotel, which has some very tasty dishes. They were kind enough to buy dinner for me, which was much appreciated.

Enjoying dinner with April and Bethany
After dinner, I tried to meet up with Chris and Brooke, who had gone to a local pub for dinner. Unfortunately we weren't able to meet up for a planned artistic session, so instead I hung out with April and Bethany some more before going to sleep.
SATURDAY:
Saturday morning I got up as late as I could, but still managed to grab some breakfast before the floor opened up. I was surprised to find myself the only comic guest on the floor for a while, but then it dawned on me that the other guests had panels in the morning.

Breakfast of champions – fuel to get through a full day of selling
My first panel wasn't until the afternoon that day (Self-publishing 101), and both Chris and Brooke joined me for the panel. It was refreshing to get some new perspectives and insights on their experience. Chris works in a very indie style of comic making, literally stapling his comics at his table. Brooke had insight into the Japanese self-publishing market, and the differences between selling at conventions there vs here. It was a very informative and fun panel, and always a blast to learn more about how other people are making their own comics – and teach techniques to other aspiring creators. There's no one right way to make comics.

Buy books filled with this cute alien from this smiling bald man
After the panel we returned to the floor, and my focuses shifted to commissions. I had forgotten that Anime Iowa was such a strong commission show, and I was heads down for most of the day working on sketch cards (and a lot of 8x10s). Unfortunately I was so busy with them I neglected to take a lot of photos, but topics included Link and Zelda, a self-portrait of a girl and her boyfriend, several characters from video games including Final Fantasy VII's Zack, Dragon Age Inquisition's Cassandra, and so many more.
After the floor closed, we had several hours to kill before the con was buying us dinner (in exchange for attending a sponsors and guests Cards Against Humanity game), so Brooke and Chris retired back to my room where we snacked on some chips and hung out. We talked about the craft of comics, our approaches, and started bonding over stuff going on in our lives.
Time flew by very quickly, and we went to the event. Dinner was some a BBQ place that everyone seemed very excited about, and the food was tasty. All of the guests were in a single room, and we split off into smaller ground and rotated among groups of CaH players. It was a fun time, but after a short while I started not feeling very well. On the third rotation, Brooke pulled me aside and said she also wasn't feeling so well. We bailed on the next game and went back to our respective rooms, and I was temporarily ill. Once I was done, though, I felt fine – so it must've been something I ate. I rested for a while and drank a lot of water, trying to hydrate up.
After that, I wondered around the con a bit, checking out the rave and the other late-night events. Time flew past, and I eventually went to bed (much later than I should have, especially considering I had a 9am panel the next morning).
SUNDAY:
The alarm went off, and I quickly got ready and ran downstairs for the panel (Making Webcomics). The panel started with 3 people in attendance, so I got started and kept it pretty informal. Over the course of the hour, however, the group grew to about 30 people. Chris also eventually joined me, since he has a webcomic series, and it was great to get his insight into his process and approach as well.
When the panel ended, I quickly went to the sponsor brunch (where guests and sponsors get to enjoy a meal together). I was hungry after last night, and still very thirsty. I consumed my meal, chatted with some attendees, and then headed to the floor to continue selling. More commissions started rolling in, and I even got to meet a fellow Thrillbent contributor who does a lot of coloring work. It was fun to catch up with her, and she even requested a commission sketch card.
During this time, Chris went to grab some breakfast and Brooke still hadn't shown up yet. Alexis Tipton, one of the voice actor guests, was walking around and she hung out behind the table with me for a while. Eventually she started conducting business on her phone and I worked on commissions, and then we returned to our conversation about cons, attendees, and our approach to panels (speaking of which, she had to run off to her final panel of the weekend).
The hours flew by, and Brooke eventually showed up to finish off the last day of sales. We all continued selling our wares and goofing around behind the tables until the final call was issued, and the floor closed and we all had to pack up.
It was bittersweet. Anime Iowa has given me some incredible networking opportunities, but more importantly it's introduced me to some very close friends. People I otherwise would have never had the opportunity to meet. Since this was the last meeting of the Novembros (Mel was also a November birthday, so our party continued to grow), we decided to commemorate this with one last selfie!

The "Novembros!" From left to right: Brooke, Mel, Chris, and myself
I went to closing ceremonies briefly, said a few words of thanks on the stage, and then headed off to catch my flight back to Chicago.
Anime Iowa was an absolute blast! Seriously, if you're looking for a fun show with lots of opportunities to meet and talk to guests, as well as good food and good times, I highly recommend this show. It was my third year in a row as a guest at the show, and I really hope to be back again next year.
July 4th is a time of fun, family, BBQ, and explosions in the United States. That's right, it's independence day!
But instead of celebrating my freedom in this country by blowing up a portion of it with loud / colorful devices of destruction, I decided to be productive and attend a convention instead! Hanging out with friends, fans, and selling comics…yeah, it's not too far off from what everyone else was doing. Minus the selling comics thing, maybe. But anyway, here's the weekend I had:
THURSDAY:
I had a half day working from home, so after I finished up my daily duties I grabbed my (ridiculously heavy) luggage and headed out to Rosemont. The blue line is a straight shot out there from my place, and after a short train ride I walked to the hotel to get my badges and drop off my stuff. The guests had space set aside for them against the far wall of the convention, and I quickly set down my stuff and ensured the comic guests could all be next to each other.
After that, I headed to the hotel room and started doing some sketch cards. I was premiering some new designs (Furiosa, and Spider-Gwen), and needed to put the finishing touches on them. After a little bit, my good friend and fellow comic guest Russell Lissau (OLD WOUNDS, THE BATMAN STRIKES) arrived and we grabbed some food and hung out at the bar. He was soon followed by Steve Horton (AMALA'S BLADE) and Steve Wallace (NO COUNTRY FOR OLD KOBALTS). The gang all hung out at the bar, and then retired to one of our rooms to catch up and hang out. I went to bed kind of early because I wanted to hit up the gym the next day.
FRIDAY:
An early morning work out is how I like to start my first day of a convention. It gives me energy, wakes me up, and keeps the adrenaline going from the night before. The gym is usually empty when I do a convention – I've noticed the gym is particularly barren at anime shows – but this time the gym had a handful of people.
After the workout and a quick shower, I met the comic guests downstairs for a hearty breakfast, and then we went to the floor to set up.

Table set up for Anime Midwest

The comic guests of Anime Midwest. From left to right: Russell Lissau, some creepy bald guy, Sean Lindsay, Steve Horton, and Steve Wallace
Fridays are usually strong sales days for me. I have a lot of friends and fans visit, but particularly this Friday I was selling the new Albert the Alien trade, as well as several box sets for some of my other series. It was a great strong start to the weekend, and exceeded my sales expectations for the day.
We broke down a little early before the floor closed, since we had panels to do. The guys regrouped at the bar for a quick drink while pizza was being delivered, but I spent the evening chatting with my friend Lauren (Geek Girl Chicago). I ended up having dinner with her instead of pizza with the guys – mostly because we were both talking about my favorite video games, and our favorite experiences in the Fallout games. We were both psyched for Fallout 4, and couldn't wait for the game to hit!
After dinner, I headed downstairs for our first panel of the night – Writing Comics! We did it Q&A style, fielding questions from the audience. It was a well-attended panel, and the fans appreciated learning everything we could share about our experiences working in comics.

Russell, Steve, and Steve (and myself, taking the photo) doing a "Writing Comics" panel
After that panel there was a little more downtime before my final panel of the night, Self-Publishing 101. I took the panel solo, talking about how to make comics yourself. It was a fun time, another great opportunity for attendees to ask questions, and I even got topics about selling strategies and self-promoting / branding at a convention.
After the panel ended, it was time to relax in the room for a bit. I got a phone call from my buddy that was crashing with us this weekend that he had arrived, let him into the room and the group of us crashed almost immediately. It had been an exhausting first day, but also a great one!
SATURDAY:
Morning came earlier than any of us wanted, I think, but we got up and had some breakfast before opening our tables to the masses of the show. Traffic was a little light in the morning, but that was partly due to the fact that many attendees were up late at the dance the previous night (and also partially due to some movie premieres that were happening that morning).
During the slower period, I was able to hang out with my Albert the Alien artist Gabo, as well as our new artist friend Ali Cantarella (The Hasty Pastry). She loves baking, and made me a very tasty cookies and cream rice krispie treat! It was as delicious as it sounds.

Ali Cantarella made me a cookies and cream rice krispie treat. It was as delicious as it sounds!
At noon I had a panel called "Kickstarter for Beginners," and I invited Ali to join me on the panel since her book was also funded through the platform. The two of us fielded questions and talked through our approaches to crowd-funding, and how we ran our campaigns. It was very insightful, and she had some great insights from her experience. People in the audience were asking about Kickstarter in general, but some wanted to know how to fund their own projects (and most of them were not comic related, which was interesting).
After the panel, traffic had picked up dramatically and books were flying off the table. I sold through all of my box sets for @$$hole!, and also sold through all of my Killer Queen anthology books. I didn't think those wold move, since they're pricey books, but they flew off the table. People loved them!
I also started selling through copies of The Fan, my first horror book. A lot of people who bought it the previous day even came back to ask when the next one would be coming out (the answer: there's no planned sequel, but I do plan to partner with artist Nicholas Ramio again soon).

Someone bought a box set. These sold super well throughout the weekend…until I sold out!
Towards the evening, traffic started to slow again as attendees started making their way towards panels or dinners. But since I was next to the Channel Awesome crew, it was a fun opportunity to goof around and make some funny jokes. The bulk of us were in a (not kid friendly) web movie called Dragonbored, about a guy so obsessed with a video game that he brings his character out into the real world. Think "Last Action Hero" meets "Conan The Barbarian," but intentionally funny.
We started coming up with goofy story ideas for the sequel (and since the star, Doug Walker, wasn't at the show – we decided it would be like a direct-to-DVD sequel with goofy cheesy story and focus on the supporting cast, instead). The story went something like this:
Worried about his friend, Malcolm downloads Karl from the Skyguard game on his mobile game app. However, he accidentally brings something else from the game back with him. Now the two must partner together to defeat this new game evil, and put everything right.
Scenes we discussed occurring included:
– Karl and Malcolm having to battle a giant off-screen monster
– Fard and Trevor, trying to fire each other
– Brian going back in time to find the programmer who disappeared in the post-credits scene, and deciding he never wants to come home again…until he discovers there are no hot pockets in the past!
– A phone call appearance by Rachel Tietz
– Somehow bringing the intro character (Rob Walker) back, possibly as a background character or cameo
Suffice it to say, we had a lot of fun coming up with ideas and taking pictures.

Hanging out with Fard and Karl – great guys, who're super funny

Hanging out with the Channel Awesome crew (and somewhat of a Dragonbored reunion). From Left to right: Fard Muhammad, Malcolm Ray, me, Karl Custer, Brian Heinz, and Lewis Lovhaug

Dragonbored 2 fun: Malcolm downloads Karl from the mobile game app

Dragonbored 2 fun: Karl covers up product placement while Malcolm reacts to something off-screen
After the floor closed, it was time for a quick bite of dinner before running off to my final panel of the evening: An Evening with Trevor Mueller. This hour-long panel is an opportunity for me to relax with fans, have fun, and tell goofy stories for an hour. I told some fan-favorites (most of the audience were new faces, so that worked out well), and I topped it all off with showing some of the fake movie trailers we made for our wedding. Voice actor Eric Stewart caught the last 10 minutes or so of the panel, and opened his panel saying how funny it was. It was a great compliment, and left me feeling great for the rest of the evening.
After the panel ended, it was time for some late-night relaxation. I went to the green room and hung out in there for most of the night, catching up with fellow guests Spike Spencer, his wife Kim (and talking about her great new projects!), Eric and some of the 4Star guys. A woman named Highwire was our liaison, and she bar tended the room – making some very tasty peach flavored drinks. I even popped into the rave for a little bit, but didn't stay too long. I did have another day of sales ahead of me, after all.
SUNDAY:
The final day of the show always starts with a slow morning. Not necessarily in terms of traffic (although, that was the case since the show was premiering another movie Sunday morning), but because Saturday was a late night and you're typically pretty tired. It's also a little bittersweet, because you know at the end of the day that the weekend is over and tomorrow you have to go back to the real world.
But I digress – we had a quick breakfast and headed to the floor for a morning of sales. I was mostly sold out by this time, but was able to move a few more books before packing it in for the day.

Come buy comics from this handsome guy
Overall, Anime Midwest was a really fun time. They had a killer guest lineup this year, well attended panels, and there's always a lot of fun and energy!
This past weekend was C2E2, short for Chicago Comics and Entertainment Expo, and it was another incredible year of awesomeness! I had a bunch of buddies come in and crash with me Thursday night, so on Friday is when the real festivities began. I'll start there….
FRIDAY:
In the morning we all got up super early (so early, in fact, that some of my guests had already left to go set up their table). We had a quick bite of breakfast and then headed over to the show floor where, much to my surprise, we didn't have a table! This isn't uncommon, as the 10×10 spaces don't typically come with a table. Sadly, I had thought we were getting one, and hadn't brought mine from home. But thankfully after a few quick calls and some paperwork, we had a table just in time for set up before people started streaming into the show.

The Reading with Pictures booth, in all it's glory!
I started my day of sales, and sell hard I did. Thankfully, we had a few friends and volunteers to help out at the table as well. We were also doing a charity pub crawl, which we were promoting throughout the weekend as well. So there was much promoting going on – about the educational non-profit that is Reading with Pictures, about our books and initiatives, and about the other books we had on the table – namely, Albert the Alien!

Some good looking' guys at the Reading with Pictures booth. From left to right: Steve Horton, Alan Evans, and Trevor Mueller

Pizza face masks! We were giving these away as part of our pub crawl charity event
Because I was primarily helping out at the non-profit booth all weekend, I had been asked to try to make a lot of my personal sales for the weekend pre-orders. I talked to a lot of fans in advance of the show to secure commissions, book orders, and other revenue-driving items. I was worried this may not be a success, but much to my surprise people were really into it. In fact, some kept coming back to order more commissions over and over again. Here are some examples of what I did for the show on Friday….

A fan posed for a commission of him hulking out…

…and received THIS!

Posing with Rachel – who had a sweet sword!

Evil Kitteh commission of a fan's boyfriend's cat as a super villain

Chung Li vs Agent May commission (they were both played by Ming Na, who was at the show)

Spock sketchcard commission
The convention was a big success, with a lot of interest in the organization and in attending our pub crawl for charity. After a few hours I finally got a chance to break and walk around a bit. I had a great meeting with some publishers and editors, and got to shake hands with a few really cool people (my friends at Aspen, buddies at Penguin and Zenoscope, and a slew of others).
After a few hours, the floor finally closed and a group of us got together for our annual sushi tradition. Heading to my favorite sushi joint in the city, we all piled into cars and cabs and made our way to grab some affordable and delicious food! We were even joined by some new friends, which is great – you always bond best with people over good food.

Dinner at Niu with Blake and Carolyn Packard

John Bivens drops some hilarious jokes at dinner
After a nice long dinner, it was finally time to return home and get some much-needed sleep. We were all pretty tired and it was only the first day of the show. Tomorrow would be the biggest day of crowds and potential sales, so we all wanted to be on our a-game.
SATURDAY:
Saturday started off with a sprint and kept getting faster as it went. The pre-orderers kept coming by to get the stuff they wanted, or to get some books – the sales kept coming and it was awesome! I also got a slew of commissions throughout the day, including…

Harley Quinn commission

Goku God commission
…and many more!
Thankfully there was a little time to pull away from the table (since I had some handy-dandy volunteers helping us out at the table). Garret showed up in an Iron Fist cosplay, and we even got some of my friends and cosplay fans to help promote the charity events.

Even Buddy Christ was helping us out with the charity event!
But there was also time for fun and games, which is what helps us get through the long days at a convention.

Having fun with John Bivens between sales at the RWP booth
A slew of cosplayed friends stopped by the table, and some of their outfits were super inventive and awesome. I took a few pictures of the cosplayers (not something I normally do, but I couldn't help it – they spend so much time on their outfits, the least I can do is take a picture and talk about it a little). Below are some of the cool ones from my friends who stopped by.

Slave Chung Li and Pimp Jabba

Mockingbird from Agents of SHILED (her Hydra outfit)

Captain America made an appearance at the table

Some more fun cosplayers – and good friends of mine – in their awesome outfits!
I eventually got a chance to step away from the table for a bit and go out to Artist Alley to see friends and colleagues. It always takes me FOREVER to get through artist alley because I know so many people. I think it took about 3-4 hours and I was only halfway through the hall. But I would have to return the next day, because at that point I needed to return to the RWP table and give some relief to our fine volunteers and helpers.
After the floor closed we all packed up and headed to ChinaTown where we enjoyed some fine food and good company. We were joined by the Walkers from Nostalgia Critic fame, as well as a bevy of other artists and writers from the show. The night ended late again, with us headed back to my place for much needed sleep. At this point I had started to lose my voice, so tomorrow was going to be an interesting day.
SUNDAY:
Sunday morning was a slower morning in the household, because one of my house guests had left the day before, and another was leaving for home right after dropping me off. The show floor was quiet as I walked in and started setting up, and chatted up a few folks I hadn't had a chance to speak to previously. I even had a few friends stop by the booth with their kids.
Sunday is kids day, and for most creators that means lower sales. Unless, like me, you make a kid's comic book. Then Sundays are awesome! I had kids running up to the table shouting "ALBERT! LOOK, MOMMY, IT"S ALBERT! I WANT ALBERT!" Such a great feeling!

Hanging out with the fine folks of Kiren Rise

Posing with Sera McClain, who has appeared in Albert the Alien!

The Judges approve of Albert the Alien!
After only a few hours, even though I brought another half box of books from home to some additional online pre-orders I had received, we were eventually sold out completely. I shut down the table, left a sign thanking everyone for their support, and went to walk the show floor and complete my run around artist alley.
The previous day I had only made it about half way through the alley, and this morning the traffic was a little easier to navigate (the other side of the show where I had been the other day was where all the big kid's creators were, so I'm sure those isles were packed). I talked to some friends, exchanged some books with some people, and generally rubbed elbows, shook hands, and kissed babies (not really).
A friend of Albert the Alien artist Gabo had some really cute figurines on display, which I tried to text and convince my wife we needed in our place. She's tolerated my collection of comics and movies, but she told me she draws the line at figurines. I think I can sway her eventually…


Chubby Batman is the coolest!

Hanging out with the very talented Eric Palicki!
After a few hours the show floor finally closed, and it was time to pack up and head home. I could barely keep my eyes open when I got home, because the weekend was so awesome. A very special thank you to all of the staff and volunteers at ReedPOP for another fantastic year of partnership between you and Reading with Pictures. Thank you to the ALA for being awesome partners to our non-profit, and for being great table neighbors throughout the weekend. And thank you to all of the friends and fans who supported me this weekend with your company (and your hard-earned dollars). You guys are why I do this too many weekends out of the year. And I love you for it!
I was invited out to Anime Boston as a featured artist of the show. It was my first time at Anime Boston, and my goodness was it an amazing time! They do shows a little differently than how we do them in the mid-west, which isn't a bad thing by any measure, and in fact actually resulted in some great fan interactions, amazingly attended panels, and yes – killer sales!
THURSDAY:
Thursday night after work my wife and I made our way to the airport to catch our flight to Boston. My wife was coming in from the north, and I was coming in from the loop – but somehow we arrived at the airport at the same time and met up in the security line. We didn't plan this, I swear.


My travel snacks!
After going through security and finding our gate, we grabbed a quick bite to eat (actual food, not just my travel snacks) and then waited for our flight. I typically download a movie or play a game while I fly (I would write, but I get motion sick if I write or read while in transit), and this time I enjoyed X-Men 5: Days of Futures Past.
We checked into the hotel, dropped off our stuff, and decided to have a little snack before heading for bed. Thankfully, the restaurant bar was open and the kitchen stays open late. We ordered some sweet potato fries, beverages, and had fun unwinding after our flight. We did have an early day the next morning, however, so we went to bed soon after.

I'm a sucker for sweet potato fries!
FRIDAY:


Our hotel room was on a corner of the building. Here's the view from one side….

…and the view from the other side.
Super early in the morning we went down to the FedEx to grab our shipped boxes, and then went to grab breakfast real quick before heading to the convention for set up. For artists, you have to go through two registration processes: the general badge registration to get into the con, and then again in artist alley once you get in. This is a little different from what I'm used to, but I guess it makes it easier for security to identify who belongs where and when (because artists need to have access to artist alley prior to everyone else so we can set up). This process was pretty seamless, however, so no complaints about this change here – and if it makes security's job easier, I'm all for it.

All set up and ready for business!
I set up with Beth's help, and then she went to go have fun in the city and I stayed to work on selling books. I brought what I thought was going to be too many books, and was kind of nervous about being able to move this much inventory. But thankfully, I was greatly mistaken.
As the afternoon went on, traffic in artist alley came in fits and spurts. Since the dealer's room was on another level of the convention center, I assume people kept going between the two or attending panels from some of the guests. There were the usual slow periods – typically around lunch or dinner – but the location of the convention is perfect because it's attached to a mall. Attendees don't have to go far to get a quick bite and then can come back to the show! This is another magical thing about Anime Boston.
So as the day kept going, it eventually came time for my first panel of the weekend: self-publishing 101. I invited my good friend Sean Lindsay (Spinnerette) to be on the panel with me, and together we hiked to the other side of the hallway for the panel.
Anime Boston also did a fantastic thing with their panels: they allowed for 30 minutes in between them so breakdown and set up. We walked in about 10 minutes early, and I approached a room I quickly questioned if the previous panel had ended yet. Why? Because the room was full of people. Like, "there was a line outside the room and they weren't letting more people in because of fire code" full. The guy hosting the room breathed a sigh of relief when we showed up, saying, "I was wondering if you were going to show up." We were 10 minutes early, and it took us only a few minutes to set up. I opted to start early, but then was quickly told that, no, we had to wait for the hour mark to start. Not a problem: I'm a professional. I told some jokes for a few minutes to keep people entertained.

My "Self-Publishing 101″ panel attendance. Standing room only. They had to turn people away at the door.
When the time came we started the panel, and in my usual fashion it was a mix of entertainment, information, and then leaving time at the end for questions. It was also a great chance for me to be on a panel with Sean. Sure I've been on panels with him before, but usually with other people. This time I got to moderate a bit and ask him some things about his comic-making past and present, and take insights from that and apply them to the panel topic and each sub-topic. There was actually some coverage of our panel here, and after the panel I had a lot of people thank us for the great insight. If I come back again next year, I may do this panel again – and maybe some about Kickstarter, making webcomics, or another educational panel.

A sketch of Sean Lindsay and myself during the "Self-Publishing 101″ panel
After the panel we sold for a bit, and then returned to our respective tables to continue selling on the floor. Anime Boston's artist alley is open from 10am-10pm (12 hours! Which is a lot, compared to the usual 8 hour artist alley in the mid-west), but I must say by this point in the night I was pretty tired. And hungry. But I'm glad I stuck around until about 9:30pm, because half of my sales for the day occurred after the dealer's room closed at 7pm.

Ronald McJoker bought a box set!
I was exhausted, but really happy with the sales I had. Plus the fans I had met were super awesome! Anime Boston was off to a stellar start.
After 9:30pm, however, traffic slowed enough where I felt confident in being able to close down the table and then Beth and I went to dinner. We went across the street from the mall to a seafood place, and ate our hearts out with some of the best-tasting shrimp and fish I've had in my life. And it didn't break the bank, either!
By the end of dinner it was going on midnight, and we had been up since 6:30am that morning. It was a fantastic first day of the show, but we were definitely ready for bed.
SATURDAY:
We got up and met the Lindsay's for breakfast at a favorite spot of theirs, and then went to the floor to set up before the 10am start time. I'm glad I was there at the launch of the floor, because I immediately started selling. I'm sure there were some people for who Saturday was their first day, and you could tell from the eagerness and excitement in their eyes as they looked around the room. Artist alley was mostly prints, with a few artists selling books, but I don't think anyone had the books display I did…and mine was starting to dwindle. Clearly my concerns about bringing too many books was unfounded; now I was concerned I hadn't brought enough books!

Day 2 table set up: the stacks are noticeably smaller (because I was selling out of books)
Almost immediately once the doors opened, too, I sold my other box set (never thought I would move these at this show to a new audience, but again – Anime Boston attendees love new stuff!). I also sold out of my copies of KILLER QUEEN (the most expensive single book on my table), and that was the strong start to a great day of selling.

Another box set sold, another satisfied customer!
The afternoon got a little slow, but people kept coming by to look at the sketch cards. They weren't finding a lot of the anime characters they wanted, so I reminded them that I do commissions on them. Upon checking my sketch card stash, however, I realized I brought illustration board instead of the regular bristol cards. I decided not to charge extra for this, and suddenly commissions started flying in.

Sketch card commission: a character from Fairy Tale

Sketch card commission: Sailor Jupiter

Sketch card commission: GIR

Sketch card commission: I can't remember this character's name….

Sketch card commission: Psylocke
I spent the bulk of the afternoon working on the sketch cards, while also moving books, and eventually sold out of even more books on my table! It was an incredible day!
Around 8pm I had another panel to do (my "Evening with Trevor Mueller" panel), and I left Beth to hand out the remaining commission cards to people who hadn't picked them up yet. The panel room was "closed" because they were doing sound checks, which was unfortunate because apparently some people thought that meant the panel was cancelled and went away. Thankfully there were about 20 people waiting to get in, and I asked the room to let the people in to wait (they don't care if they hear people say "test" into a microphone a bunch of times). We started the panel soon after that, and the audience was in stitches! Some of the stories I told were the tried and true fan-favorites, but no one in Boston had heard them before and they were having a blast listening to my embarrassing stories about myself, working in comics, and attending conventions as a guest. If you were there, you understand the hilarity that proceeded. If you missed it, shame on you – but you can probably catch it again next year.

After the panel ended I went back to the floor for a little bit to try to grab some last-minute sales, and also to wait for the Lindsay's to finish up their day of selling before we all went out to dinner. They knew a local burger place nearby, and we all went and breathed a collective sigh of relief as our food and drinks arrived. We had all had an amazing day and a great weekend, and we only had one more day left to go!
SUNDAY:
Morning came quickly and we went back to the Lindsay's favorite place for breakfast where we had a hearty meal, and then rushed off to set up the table before the floor flooded with the final day of attendees.

Breakfast…with a smile!
I was mostly sold out of books by this point, which was a great problem to have. And in fact I sold out of the remainder of my Albert the Alien trades before noon! With the bulk of my trades gone from the table, and most of my other series volume 1 already gone from earlier in the weekend, there wasn't much left to do but talk to fans and hang out, shop a bit in artist alley, and plan to bring more books next year when I do this show (because I will be doing this show again next year).
Around 2pm, Beth and I packed up and said our goodbyes and headed to the airport to catch our flight home. Anime Boston was an amazing weekend filled with great fans, amazing volunteers and staffers, and fantastic sales! I highly recommend this show to people looking to attend an anime convention, because while they may do some things differently from the mid-west, that's not a bad thing by any measure. And whatever they're doing translates to happy attendees, amazing attendance at panels, and high sales on the floor! Thank you so much for the great weekend, Boston!
Earlier in the year I had the pleasure of being invited to attend the first annual Chicago Fan Fest, hosted by Wizard. It was a fun two-day show in Rosemont at the convention center, and people were in high spirits. I even got to table next to my ALBERT THE ALIEN artist Gabo.

Ren, Gabe, and myself at Chicago Fan Fest!
Sales were surprisingly good throughout the weekend. I say surprisingly, only because first-time shows tend to have lower attendance and therefore lower sales. But Wizard did a good job of filling the hall with people – especially on Saturday.
Even though the isles were wider at this show, attendees were in high spirits and open to purchasing new types of comics (the kind of comics I sell). There were also a lot of families there, parents with their kids, and people who generally enjoyed comics, TV shows, and geek culture. It's always nice to attend a show with people in high spirits.

The table setup
Sunday was a bit slower, but they always are. It was a chance to actually get to walk around the floor and bit, say hi to my comic creator friends, and see some of the celebrities they had guesting at the show. I even met a convention model posing as a character from one of the creator's properties. They were both pretty nice people.

One of the con models posing as a fictional character from someone's comic!
All in all, Chicago Fan Fest was a lot of fun and a great introductory convention for first-time con-goers and families looking to expose their kids to comics and geek culture. It's also a fun show for people looking to meet celebrities and attend another show in the area because, come on – they're a lot of fun!
February 24th, 2015
|
by Trevor
Valentine's Day weekend I spent with some of the most awesome convention attendees, staffers, and volunteers a guy could ever hope to work with – much less actually get to work with! That's right, I'm talking about my triumphant return to Anime Milwaukee!

Here is where you could find me (more or less; they did move us down a bit) at the convention. Great positioning!
Last year myself, Alan Evans (Rival Angels), and Russell Lissau (The Batman Strikes, Old Wounds) were all put on rotation with the show. This is very common, as it allows a convention to refresh their guest list and keep programming fresh and new. However, I really missed the show (I've been a guest of the show for the last 4-5 years with Alan), and so did the guys. And at every Anime show I attended I kept running into the convention heads, and they kept asking, "Why didn't you come last year?" And I would say, "You put me on rotation." And they would say, "Well, let's fix that." And so we did. And all was good again.
So sit back, relax, and enjoy my recounting of an amazing weekend at Anime Milwaukee!
THURSDAY:
From work I took the AMTRAK train up to Milwaukee, which was a nice relaxing ride. The last time I took the train wasn't good, because they wouldn't let me board unless I was 10+ minute early. Well, this year I was definitely 10+ minutes early, so no issues getting on the train. I sat back and watched Guardians of the Galaxy on my iPad during the 1.5 hour trip. Before I knew it, I had arrived.
Now, Milwaukee isn't too far north from Chicago, so the weather isn't very different. That said, it was still bloody cold up there. So the 4+ blocks I had to walk from the train station to the hotel were EXCRUCIATING. My hands and face took the brunt of it, despite having a hat and gloves on. It was the wind that really did it.
In any case, I got into the hotel and found con-ops so I could check in and drop off my stuff. Low and behold, Russell had arrived almost exactly the same time I had. And by the time I had dropped off my stuff in my hotel room, Alan had also arrived. The three of us were pretty hungry, so we hopped into a cab and drove to a nearby casino for dinner.

Anime Milwaukee signage at the hotel. You have now arrived!
The Casino was not good. Granted, I'm not a big gambler, but that wasn't my issue with the place. The problem was that they allowed smoking indoors. For someone who is allergic to smoke, who dislikes the smell (and let me tell you, it's potent for everyone else who doesn't smoke. Trust me – we can smell it), it was rather fowl. We walked through the entire place (since the restaurants are on the far side of the building), and eventually settled on the burger place they had in there. Thankfully, they had some kind of super mega air filters in the place, because it smelled much less. It was at least tolerable. It may also have been all of the greasy / delicious fried food.
After dinner, Russell and Alan decided they wanted to play some craps. I've never been able to figure this game out, but the two of them made a little money. Eventually the smoke even got to them, though, so we took off back for the hotel.
Back at the hotel, we all regrouped in Russell's room for some beverages. Eventually our friend Sandi showed up, and she proceeded to give us all manicures (a pastime that Russell loves to do before a convention). I was really just in it for the hand scrub and arm massage she threw in – and also to hang out with Sandi, of course, because she's awesome – and it was a nice night of hanging out.
By the time we were done with the manicures, it was already 1am and it was past time to go to bed.
FRIDAY:
Friday morning Alan and I got up early to start working out at the gym. I love doing this at shows for the boost of energy, so I look and feel better, and also because, well…there's almost never anyone in the gym at the conventions. However, this show was quite different. There were a handful of kids who came in to work out, as well as some women I didn't recognize (I'm assuming they were just at the hotel, and were not attending the con). However, one of the voice actor guests, Bryce Papenbrook, eventually came in to do some running on the treadmill. I somewhat recognized him from the website, but left him alone so I could finish my routine.
The free-weights in the gym had to have been brand new and unused, because whenever you picked them up the grips were so sharp they cut into your hand. It was rather painful, and made me wish I had a pair of workout gloves. I've not really encountered this before at a gym, but I sucked it up and continued with my routine all the same. I was quite relieved when I was done, though, and I had texture on my hands for the rest of the day. My hands felt like they were on fire!
After a quick shower, we went downstairs and met Russell and Shana for some breakfast across the street. The diner had some cheap breakfast specials, which were tasty but not very filling. Still, food is food.
After breakfast, we had some time to kill so Russell and Alan went back to the Casino to try their luck, and I went back to my hotel room to relax a bit and do some writing. After a while I started to get anxious for the show, so I decided to take my stuff down to the floor and set up a little early. I figured I could at least walk around and chat up some people I may know from the con circuit.

Trevor's booth is set up and ready to sell some comics!
When I got down to the floor, however, I discovered they had moved our tables around a bit. Thankfully this was quickly and easily remedied, and within a few minutes my table was next to Russell and Alan's again. When I received the text they had returned, I told them to come on down and start setting up – and I started to walk the floor and check out some of the other vendors and artists.
I chatted up a few friends, looked at the usual assortment of wall scrolls, plushies, figurines, and yes – tons of anime – and eventually made my way back to my table before the VIPs entered.
This was the first show I was using some new signage my wife had designed and made for me, and it looked great. I thought it gave the table a respectable and professional look – and it was much better than my handwritten signs on sticky-notes.

Check out the sweet new signage – compliments of my beautiful and talented wife!
I also had a lot of books new to this show (@$$HOLE! volumes 2-3, KILLER QUEEN, READING WITH PICTURES volume 2, and ALBERT THE ALIEN volume 1) and I was also premiering a brand new book (my first horror book), THE FAN. That's a lot of new books!

More of the new signage – highlights the awesome new books on the table! By the end of the show, we were almost sold out of everything!
The con floor opened, and sales started quick and maintained strong throughout the first day. I even sold out of ALBERT THE ALIEN volume 1 (thankfully, my wife was showing up on Saturday with more copies), and almost sold out of READING WITH PICTURES volume 2. THE FAN was also selling like hot cakes. I couldn't keep that book on the table. As a guy who has primarily written comedy, and most of my fans are people who like to laugh, I was amazed at the positive reaction to the book.
A little before the floor closed we shut down so we could grab a quick bite to eat before panels. We ordered some Thai food from the place across the street, and I went to get it while the group headed to the Green Room to relax a bit. We chowed down, shared our meals with each other, and had a fun and relaxing time before we left for our panels.
First up was MAKING WEBCOMICS PART 1, which Alan was kind enough to let me sit on with him. We went through our usual talk about why digital distribution is helpful, talked about how to set up some basic webcomic elements, and then did something new. Alan wanted to brainstorm a webcomic we could launch for the next WEBCOMICS panel that would occur tomorrow. It was a fun exercise, with people coming up with the elements of story (characters, conflict, environment, etc). It got people really energized about the story, and wanting to come back for more.

Trevor, Alan, and Russell drop wisdom bombs on the audience during the Writing Comics panel.
After that panel, we all went to our WRITING COMICS panel. Russell took the reins and really lead the discussion (it was his first panel of the weekend, and the dude's been published by DC comics…so he's got some good advice). It was a good time.
After the panel we were free for the rest of the night, so we headed to the hotel bar and hung out with Shana, Sandi, and Elaine (our handler for the weekend. The joke was that we don't actually need a handler – we're professionals, we know how to get to our panels on time and sell at our booths – but Elaine is also awesome, and we were so happy to have her). After a bit of hanging out, we headed for bed.
SATURDAY:
We got up earlier than I would have wanted and headed down for breakfast. We ate at the Hyatt buffet, which was expensive but tasty. Elaine and her husband joined us, and we chatted the morning away talking about our sales from the previous day and what our goals were for today. Also, my wife and Alan's wife were showing up today, so it was going to be an amazing day.

This man is ready to sell some comics!
Beth texted me at the end of breakfast, and I collected her and together we went to the floor to set up. She also liked the way the new signs looked on the books, and her restock of ALBERT THE ALIEN was much needed after having sold out on the first day. Together we sold a bunch of books throughout the day, she learned some of the new pitches, and we generally had a fun time together. My wife doesn't always enjoy the conventions – it's not really her thing – but I do enjoy having her at the table.
As the day pressed on, sales continued strong. We had a slight lull in the traffic around lunch time, which is pretty typical, but overall sales were solid and strong. I almost sold out of THE FAN again, which was incredible!
We had to shut down our tables a little early again this time to do MAKING WEBCOMICS PART 2, which Alan and I lead and continued the story from the previous panel (about Harold the Dragon Princess, a 25 page comic about a princess who's turned into a dragon and has to drink the magic milk to turn back. However, she's being stopped by her evil uncle the magician, and a storm that she can't fly through to reach the floating island where the magic milk is located). We had a lot of fun with the crew, and then headed up to the Green Room for some dinner.

Now THAT's a big pretzel….
We had ordered some delicious food, including one of the largest pretzels I've ever seen, and hung out until we had to book it for our next panel: BREAKING INTO COMICS.
This panel was a little more balanced, with each of us taking our turn to tell our stories and how we got to where we are in the comic industry. Thankfully we each know each other's stories pretty well, so we could set each other up pretty well to keep the conversation flowing. Russell and I even did our bit on how to meet editors and exchange contact information. It was a very informative time.

Alan tells the folks what page his bio is on in the brochure. It's on page 20, in case you were wondering.
After that panel ended, however, I had to book it to my next panel which was pure fun: THE EVENING WITH TREVOR MUELLER. It's an hour of me telling goofy stories and generally having a fun time with the audience. The panel before mine was running a bit long, however, due to technical issues when they set up. It gave me a chance to take a break and relax a bit before the panel, and about 10 minutes later we were able to get started. This delay in start time did impact the attendance at the panel in the beginning, unfortunately, however by the end we did have a much larger group.
I went into my fan-favorite stories, with everyone in stitches the whole time. Stories about meeting famous creators, embarrassing myself in front of my comic book idols, and why you shouldn't watch horror movies when your college roommate is on something in the other room. Yeah, it was a good time.
After the panel ended, we headed for the bar and had some drinks to relax. Unfortunately the kitchen closed early (like 11pm!), and I was starting to get hungry. Thankfully, Elaine my handler was there. I did something I've never done before – I asked my handler to do something for me. I asked what nearby places were open that we could order food from and bring back here. We found a sushi place nearby, made an order, and walked in the freezing cold (it was cold even with our coats) to get the food and bring it back to the Green Room.
The voice actors were hanging out in the Green Room as well, unwinding after their long day, too. I shared some of my favorite whiskey – Elijah Craig – and hung out until way too late in the evening.
SUNDAY:


The view from the hotel. Who wants to read the paper while they enjoy their sausage?
I woke up not feeling so great. I was pretty tired, since I hadn't really slept the whole weekend, and could barely eat any food at breakfast. I'm pretty sure it was exhaustion I was feeling, but who knows – late night thai food may also not have been sitting well with me. As the morning pressed on I felt better quickly, and sales continued to be strong up until the end of the show. Fans who said they would come back actually came back to buy stuff – which is always awesome!

A fan bought the limited edition box set of @$$HOLE!, including all of the books, bookmarks, and some original art. Plus, I drew all over the box! How sweet is that?
When the show ended we all parted ways, heading home as it started to snow outside.
Anime Milwaukee is how I've usually started my convention season (although one show beat it out this year as my first show of the year), and it was a strong start indeed! Great fans, amazing guests, and fantastic people who run the event. Special thanks to all of the volunteers, staffers, and loyal friends I've made at the show. You guys make everything awesome!