Archive for 'Life'
37 items.
So one of the projects I've been working on is writing a series of fake movie trailers for my wedding. I'm used to writing comic scripts, so thinking visually is nothing new – however, a shooting script is quite different from a comic script.
In a comic, there's no actual motion. So you can plot by panel, and control the flow of time with the kind of panel you use. However, with a shooting script you have to control the flow of time in real-time – with dialogue, images, whatever.
You also establish tone very differently, since trailers are a medium in motion and also engagement more senses – namely, visual and auditory. You can reply on tone of voice, tone of music – and you can change tones very quickly and quite differently.
So adopting to the new techniques has been an interesting and fun challenge, to be sure. A few friends of mine are working on the shooting scripts, which I'm sure will change radically on the day of shooting. Carl had already done a series of movie trailers (my favorite is embedded below), and he said a lot of improv was thrown in. And since we want these trailers to be funny (or so over the top they're comical), I imagine a lot of improv will be used again.
The man's done it before, and I love movie trailers – so I'm sure we'll put together an entertaining product. I'll be sure to share once we have stuff to share.
This recipe was super awesome, but honestly I would change a few things about it. I'm not normally a seafood guy, so limiting that taste appeals to me. I would use less clam juice, and instead of canned crab I would use fresh lobster. Also, I would skip the tarragon completely (use chives or green onion, instead). I'm not a fan of it.
Creamy Crab Bisque
INGREDIENTS:
4 tbsp unsalted butter
1 cup diced leeks
1/2 cup diced carrots
1/2 cup diced celery
1 tbsp tomato paste
1/4 cup all-purpose flour
1 cup dry white wine
2 cups bottled clam juice
3 cups half and half
1/4 cup dry sherry
salt and pepper to taste
3 cans jumbo lump crab meat
INSTRUCTIONS:
1) Melt butter in a large pot over medium heat. Add leeks, carrots, and celery; sweat until carrot softens, about 8 minutes. Stir in tomato paste and cook 1 minute. Add flour and cook 1 minute.
2) Deglaze pot with wine and simmer until nearly evaporated. Whisk in clam juice, half and half, and sherry. Cook bisque just until it boils, stirring occasionally, then season with salt and pepper.
3) Off heat, puree bisque with a handheld blender.
4) Heat bisque over medium just until foam subsides, about 5 minutes
5) Divide bisque among soup bowls. Top each serving with crab, and garnish with tarragon
February 27th, 2013
|
by Trevor
Barley and Potato Soup
INGREDIENTS:
10 cups low-sodium vegetable broth
1 cup dry pearled barley
1 lbs red-skinned potatoes, quartered
1 cup sliced carrots
1 cup sliced fennel bulb
1 cup sliced leeks
1 package arugula (5 oz)
2 tbsp chopped fresh dill
2 tbsp fresh lemon juice
1 tsp kosher salt
black pepper to taste
lemon zest
INSTRUCTIONS:
1) Boil broth and barley in a large pot over high heat. Once boiling, reduce heat to medium and simmer 50-55 minutes
2) Add potatoes, carrots, fennel, and leeks and simmer until fork-tender, 15-20 minutes
3) Stir in arugula, dill, lemon juice and salt. Season soup with pepper and garnish each serving with lemon zest
February 26th, 2013
|
by Trevor
Beth and I love to cook, and so my mother got us Cuisine Magazine. We found some excellent recipes in there and tried them out over the weekend.
Asparagus Wraps with Proscuitto & Marinated Mozzarella
INGREDIENTS:
1/2 cup Italian salad dressing
1 tsp dijon mustard
8 oz fresh mozzarella, sliced (at least 8 slices)
1 lb fresh asparagus, trimmed
1 tbsp olive oil
salt and pepper
4 flour tortillas
12 thin slices prosciutto
INSTRUCTIONS:
1) Preheat oven 425 degrees
2) Whisk Italian and dijon mustard together, then pour over mozzarella slices in a shallow dish. Turn mozzarella to coat with marinade. Set mozzarella aside to marinate while preparing asparagus
3) Toss asparagus spears with oil and season with salt and pepper; transfer to a baking sheet. Roast asparagus until crisp-tender (approx 8-10 minutes).
4) Heat a large nonstick skillet over medium high
5) Brush inside of the tortillas with the marinade, then top with 2-3 slices marinated mozzarella, 3 slices proscuitto, and a quarter of the asparagus.
6) Tightly roll up wraps; brush outsides with marinade. Brown wraps in hot skillet (I used a George Forman grill) until golden and mozzarella slightly melts. Remove wraps and slice in half on the bias.
February 7th, 2013
|
by Trevor
So, it's been a crazy week. I'm recovering from the Norovirus (a horrible, painful stomach bug), which has definitely made things complicated. However, it hasn't slowed me down, and that's a good thing.
Enough about being sick. Let's talk about awesome stuff going on:
NEW JOB:
I start my new job on Monday. I'm super excited for this challenging opportunity and advancement. I don't normally talk about work on my blogs, so don't expect any details, but I like to keep you guys in the loop on the goings on in my life. This is obviously a big change, and hopefully a positive opportunity.
AW YEAH COMICS:
Art and Franco launched their Kickstarter campaign for Aw Yeah Comics, a new kid-friendly self-published comic line that will be distributed through their store (and online and at conventions). In less than 24 hours, they already raised their goal of $15k, and now on day three they are blowing away their push goals in incredible and amazing ways!
If you like funny books, all-ages comics, or want to support some really awesome creators, definitely support their efforts. Below is the video.
ALBERT THE ALIEN:
I'm continuing to plug away on the scripts, as well as the website. The scripts are coming quick and easy, but the website is something new for me. I'm struggling in a few areas, but should have this thing ready to launch in time for the webcomic to go live in March.
If you check it out now it won't look like much. Content will obviously be king, but I also want the site to have a pleasing visual look to it, and make it super easy to navigate. It's a work in progress.
CONVENTION PREP:
I'm gearing up for my first appearance this year, Anime Milwaukee! I'll be a guest along with friends and fellow comic creators Russell Lissau (Shrek, Strawberry Shortcake) and Alan Evans (Rival Angels).
It's a fun way to start the year, so I hope to see you guys there! I'm going to be telling some new stories in panels, as well as having a grand ol' time with attendees throughout the weekend.
February 5th, 2013
|
by Trevor
So several people have been e-mailing me asking me what's up. This site (which used to update 2 webcomics during the week, reviews every week, and then blog posts every other week) has gone from basically updating every day of the week to updating sparatically. I apologize for this. Allow me to shed some light on what's been going on in the background.
ALBERT THE ALIEN:
First and foremost, I'm still hard at work on the Albert the Alien webcomic series launching sometime in March of this year. Not only am I scripting the first four issues before we launch, but I'm also trying to build the site myself – something I've never tried to do before.
Additionally, Gabe and I are putting the finishing touches on the RWP volume 2 pages. That book is slated to come out sometime late this year.
This project is going to be my primary focus this year in terms of comics. And let me tell you, it's going to be AWESOME.
WEDDING:
I've also been plugging away at wedding planning. We're about 9 months out from the date, and already we have secured our reception hall, DJ, church, bridal party, and hotel. In the next month or so I'm trying to finalize contracts with the photographer, rent my tux, and finish up any number of other things that I'm not even aware need doing yet.
CONVENTIONS:
Because of the wedding, I am doing less convention appearances this year. However, I may supplement that with some additional library and in-store appearances. We shall see. Below is the currently confirmed list of guest appearances in 2013:

Anime Milwaukee
Milwaukee, WI
February 15-17
C2E2
Chicago, IL
April 26-28
ACEN
Rosemont, IL
May 17-19
Anime Mid-West
Rosemont, IL
July 5-7
Anime Iowa
Coralville, IA
July 26-28
Wizard World Chicago
Rosemont, IL
August 8-11
OTHER PROJECTS:
On top of the regular comic projects and the pending ones, I've also been working on some other projects. Some of which I can talk about, and others I'm not allowed to mention yet.
The first is the Top Cow Talent Hunt, which ended in December. Top Cow has said they will be announcing the winners (2 writers, 2 artists) sometime in February. However, with 1,100 entries to go through, it's likely this process may take a while. I have my fingers crossed that my pitches win, but we shall see. I'll likely post some details on my pitch submissions sometime in the near future for reference and learning.
Additionally, I have some other top-secret pitches I'm working on. Since I'm not planning to do a lot of self-publishing this year (I'm trying to afford a wedding and launching a webcomic, after all), I need to find some other ways to get my name in print this year. And these other pitches will hopefully accomplish just that.
THE DAY JOB:
And this will be the first official announcement on the internet…. After 3 wonderful years at OMG, I have been offered an opportunity at another agency working on a high profile account. It's a promotion, which means more pay but more responsibility.
A new challenge and an opportunity for advancement was something I just couldn't pass up, so while it's a little bitter sweet that I'm leaving my current agency, I am excited (and frightened) by the prospects that await me in this new opportunity.
###
I appreciate all of the support you have shown me over the years, and I appreciate your continued support as I tackle what will likely be a very rewarding but challenging year.
January 25th, 2013
|
by Trevor
I found this recipe here, and decided to give it a try at home.
Now, I will say two things about this recipe up front:
1) It was damn time-consuming to make. In fact, I gave up after the first rack was full and decided to stir-fry the remaining chicken, add broccoli, and use the sauce.
2) It was damn tasty! And I mean the breaded stuff, the way they want you to make it below.
If I could do it again, I would apply this coating to a full chicken breast and add in coconut flakes. Something about breaded coconut chicken just sounds awesome. Bake that, add the sauce to the side, slice and serve with stir-fried veggies – bam! You have an awesome meal.
I will also say I added broccoli to this recipe, which worked out pretty well. Just stir-fried with the chicken and then added to the sauce.
Vegetable oil spray
1/4 cup all-purpose flour
3 large egg whites
5 cups (5 ounces) Kellogg's Corn Flakes cereal, finely crushed
1 1/2 pounds boneless, skinless chicken breasts, trimmed of all visible fat, cut into 1-inch pieces
1 2/3 cups water
1/3 cup low-sodium soy sauce
1/4 cup apricot jam
3 tablespoons hoisin sauce
2 tablespoons cornstarch
1 tablespoon balsamic vinegar
2 teaspoons canola oil
4 garlic cloves, minced
1 tablespoon grated fresh ginger
1/4 teaspoon red pepper flakes
1. Adjust oven rack to upper-middle position and heat oven to 475 degrees. Line rimmed baking sheet with aluminum foil, top with wire rack, and spray rack with oil spray. Spread flour into shallow dish. Whisk egg whites until foamy in second shallow dish. Spread Corn Flakes crumbs into third shallow dish. Pat chicken dry with paper towels. Working in batches, dredge chicken in flour, dip in egg whites, then coat with Corn Flakes, pressing gently to adhere; lay on prepared wire rack.
2. Spray chicken with oil spray. Bake until chicken registers 160 degrees and coating is brown and crisp, 12 to 15 minutes.
3. Meanwhile, whisk water, soy sauce, apricot jam, hoisin, cornstarch, and vinegar together in bowl. Heat oil in 12-inch skillet over medium heat until shimmering. Add garlic, ginger, and pepper flakes and cook until fragrant, about 1 minute. Whisk in soy sauce mixture, bring to simmer, and cook until thickened, about 2 minutes. Remove from heat, cover, and keep warm.
4. When chicken is cooked, return sauce to simmer over medium-low heat. Add cooked chicken and toss to coat. Serve.
January 11th, 2013
|
by Trevor
January 11th is National Human Trafficking Awareness Day.
Human Trafficking won't end until awareness is raised, and people like you and me take a stand. Learn more here. (Note: contains adult themes and actual accounts of sex slavery.)
There *will* be a 2013 Comic Creators for Freedom Drive, but we will be holding in on International Abolition Day (December 2nd) rather than National Human Trafficking Awareness Day (January 11).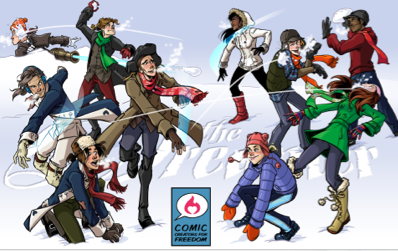 If you make a donation to any organization who is a part of this fight on January 11th and forward Lora Innes your receipt, she'll send you one of the Dreamer short stories and 2012 The Dreamer Cast Snowball Fight wallpaper back as a Thank You for helping out in this important cause!
A few of our favorites are Love 146 (International), Gracehaven (Ohio), and GEMS (New York City).
November 28th, 2012
|
by Trevor
When I got back from Kollision Con on Sunday, I was too tired to take any kind of pictures…however, I needed to make some dinner. Below is the recipe and instructions for making my new favorite soup:
INGREDIENTS:
14 oz kielbasa, half-moon sliced
2 tbsp unsalted butter
1 cup diced onion
1/2 cup diced celery
1/2 cup diced bell pepper
2 tbsp minced garlic
1/8 tsp cayenne pepper
1 sprig fresh thyme
1 dried bay leaf
1 cup dry wild rice
2 tbsp all-purpose flour
1/2 cup sherry
6 cups low-sodium chicken broth
4 cups diced butternut squash (1 1/4 lbs)
1/2 cup heavy cream
salt, pepper, and tabasco sauce to taste (but I didn't need any)
INSTRUCTIONS:
-Cook kielbasa in a dutch oven or large pot over medium-high 5-6 minutes. Transfer kielbasa to a paper-towel lined plate.
-Melt butter in same pot, then stir in onion, celery, bell pepper, garlic, cayenne, thyme, and bay lead; saute until onion is translucent, 4-5 minutes. Stir in rice, then stir in flour to coat
-Deglaze pot with sherry, scraping up browned bits; cook until thickened, about 2 minutes. Add broth and kielbasa, bring to a boil, and reduce heat to medium-low. Cover pot and simmer soup until rice is nearly cooked, about 1 hour.
-Add squash, cover, and cook until squash is tender, about 10 minutes more. Stir in cream, then season soup with salt, black pepper, and tabasco
November 16th, 2012
|
by Trevor
Sadly no comic update this week again. Sorry about that, but I've been playing some serious catch up on other projects. Plus, you know…the whole engagement thing from last week.
So I have a habit of hinting at projects I'm working on but don't go into a lot more detail than that. Sometimes I can't go into detail. The project isn't announced yet, or is in the early stages of development and requires a lot of work. Sometimes I'm not even 100% sure it's going to be completed – which has happened to me more than a few times this year.
However, there are some big projects I'm working on right now that I can go into a little bit of detail on, several of which will be coming out next year.
PROJECT 1: Reading with Pictures volume 2


Coming out in 2013, RWP vol 2 (also called The Graphic Textbook) will feature an original story written by me, and illustrated by the very talented Gabriel Bautista. As with our past collaborations, this will be another Albert the Alien story, and will be about learning figurative language.
Albert is such a fun character to write, and the world he inhabits is our world – but through the filter of his eyes, it's our world to the nth degree. A hyper-realized version of our world, where everything is awesome and exciting. The ordinary becomes extraordinary, the mundane becomes insane. You get the idea.
Gabe and I are hard at work on the pages, and I will be sharing samples once they become available. And we have a lot more Albert planned for 2013, including….
PROJECT 2: Albert the Alien the webcomic


I seriously love Albert the Alien, and working with Gabe. And if I can do both, then bonus!
Gabe and I have been hashing out the details all year for the continuing adventures of Albert the Alien. And while we still don't have everything finalized just yet, we do know we're going to be launching him as a webcomic series starting sometime in 2013.
I have so many adventures I want to tell with this character, and Gabe's style and input are so critical to making Albert's world a fun and real place. It's a 1980s cartoon version of our world, with all the fun and nostalgia I had growing up as a kid. But hyper-realized, because Albert can do so many things that I could only dream of – and still dream of today.
There will be a larger narrative that flows throughout the various stories, but we'll be telling shorts, one-shots, and longer-form stories with the characters. We'll also be introducing new main characters to help flesh out the rest of the cast, many of which will be making an appearance in the RWP story.
We're still in the early stages of this project, where I'm finishing the scripts and Gabe will be getting started on the pages before the end of the year (depending on his schedule, of course).
This is a very exciting project, and I'm really looking forward to giving you guys more information on it when it becomes available. Please continue to be patient as we put together this project.
PROJECT 3: Top Cow Talent Hunt
For those of you looking to break into the industry, but not sure how to do it, Top Cow is holding a Talent Hunt running until December 31. They're looking for two artists and two writers for a one-shot or mini-series to come out in 2013. And I'm submitting!
There are a bunch of rules surrounding this contest, but ultimately it's going to come down to skill, professionalism, and having a very strong pitch.
While I can't get into details on what I'm pitching, with whom, or anything beyond the fact that I'm working on it, I would like to share the information next year after they make their announcements. Whether I get in or not, I would like to use the experience from it and help teach you guys what I did, why I did it, and (if I get in) how I did it. Or, if I don't get in, how I would have done it differently.
It sounds like this is going to be an annual thing, so there's definitely an opportunity for some new talent to be discovered. Are you the next Michael Turner, or Ron Marz? Test your mettle by participating in this very fun (but very challenging) opportunity.
PROJECT 4: Wedding Planning
If you missed the good news, I proposed to my girlfriend earlier this month. So this means we're going to be getting married next year (sorry, single ladies). However, this also means a lot of wedding planning.
Now granted this is a new project, and I will definitely be keeping you updated as we progress through the steps. Right now we're trying to establish a budget, guest list, wedding party, and find a short list of venues where we would like to get married and host the reception. However, I'm told there's a lot more work to follow.
PROJECT 5: Convention Appearances
I keep my convention and signing appearances in the upper left side of the website (no seriously, check it out). While I only post my announced / confirmed appearances, I am constantly working with various conventions, libraries, and schools on my appearance schedule.
Most of my shows tend to be around the mid-west, although I'm working to expand that list. The trick is that attending shows if I'm not a guest is fiscally difficult. It's like a vacation, but I'm working. Most of the shows I attend, I have been invited by the show and am a guest – so the show is paying for my appearance in part or in full.
If you would like me to attend a show in your town, or your favorite show you travel to, please reach out to the show and ask them to invite me as a guest. I would love to speak to them about partnering together and potentially appearing at their convention.
###
So, there are more projects in the works, but unfortunately I can't talk about them just yet. But when I can, I will definitely let you know. Until then, have a great weekend, and I hope to see you at a convention appearance soon!