Archive for 'Uncategorized'
451 items.

We have launched the Kickstarter campaign for ALBERT THE ALIEN VOLUME 2: THE SUBSTITUTE TEACHER FROM PLANET X!
As a supporter of the first Kickstarter campaign, we wanted to give you early access to Albert's next graphic novel adventure, which takes place one week after the first collection. If you support this next volume, you can gain even more awesome rewards, including:
– Copies of ALBERT THE ALIEN VOL 2 (available in both print and digital, or both)
– New original stories by guest artists that you (or someone you know) can appear in
– Opportunities to appear in the ALBERT THE ALIEN webcomic series, and part of the volume 3 collection
– And so much more!
So what are you waiting for? Check out the Kickstarter for ALBERT THE ALIEN VOLUME 2 right away! And please tell your friends and family about it, too!
December 12th, 2013
|
by Trevor
Comic Creators For Freedom!
In years past, I've participated in the very worthy cause raising awareness of modern-day slavery known as Human Trafficking. Children are being trafficked and raped daily and slavery is one of the darkest stories on our planet. This physical, mental and emotional trauma can leave children broken and scarred for life. Love146 works toward the abolition of child sex slavery and exploitation through Prevention and Aftercare programs.
This year comic creators assembled under Lora Innes and Crystal Yates and together with 166 other comic creators, we got together and made a huge wallpaper spotlighting one of our characters in their awkward school picture! Albert is headlining our submission, and if you donate any amount you get a wallpaper download of all of the awkward school photos!

January 18th, 2013
|
by Trevor
As the child of two teachers, education has always played a very important role in my life. I've always been encouraged to study hard, get good grades, and enjoy my educational experience.
As such, when I was given the opportunity to join Reading with Pictures – a non-profit organization getting comics into classrooms – I jumped at the idea of combining my two lifelong passions: education and comics.
Reading with Pictures has done so much for me:
1) Introduced me to so many wonderful and supportive people
2) Partnered me with fellow Albert the Alien creator, Gabrial Bautista
3) Given me my first professionally published project
4) Set me up with numerous speaking engagements, convention appearances, and opened doors for me I'm probably not even completely aware of
5) So many more things that I can't even begin to start listing here
With education playing such a crucial role in my life and my work, I can't help but pay attention when awful situations happen in schools. The latest of which was a tragedy beyond measure, and something this country will not soon forget.
So when Reading with Pictures posted the below press release, asking for all-ages comic donations, I had to participate.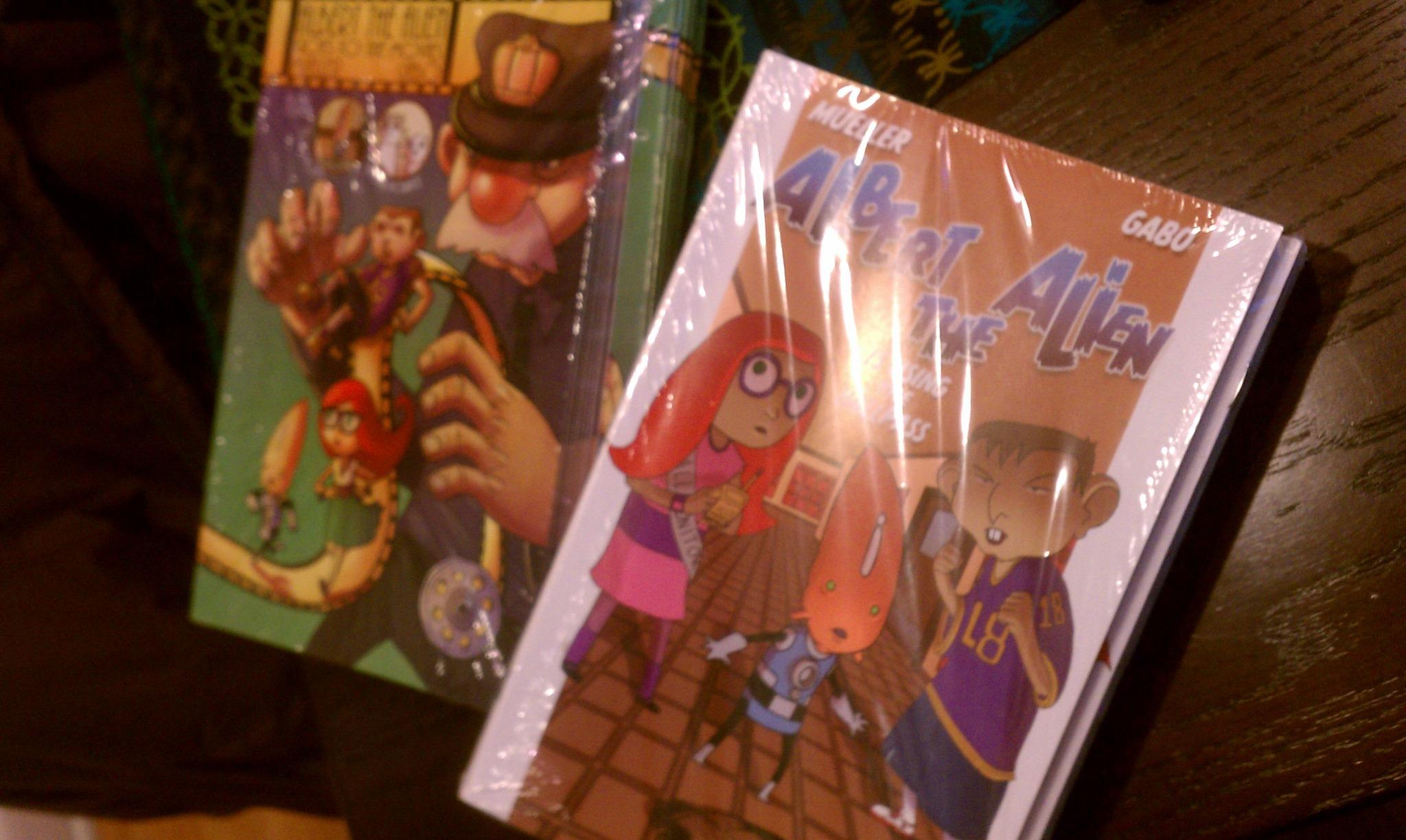 Both Gabe and I feel for the families affected by this horrible tragedy, and as such we have donated a large supply of Albert the Alien comics to the kids of Newton through Reading with Pictures.
Below is the full press release, and they are still accepting donations of comics for the families. If you have some all-ages comics you would like to donate, please e-mail RWP at the below e-mail address.
Our thoughts and prayers go out to the families affected by this terrible event, and I hope our donation can somehow help to brighten someone's day.
###
We at Reading With Pictures reacted to the tragic news coming from Newtown, CT with the same sense of loss and sadness that everyone else felt. As a nonprofit organization with a special tie to education and schools, to see the bond of safety and trust punctured was absolutely heartbreaking.
The outpouring of support all across the nation has been inspirational and we want to help in our own small way. An important time of happiness between families is reading together and we want to put together a collection of kid friendly comic books to send to the families in Newtown, CT.
We'll be working with connections we have in that community to coordinate the best possible direction for this donation but we wanted to ask for your own help in this comic book drive.
If you have any children's comic books to donate or want to assist in this, please email info@readingwithpictures.org
Due to increased interest, we will accept donations through the end of January 2013. Please keep the following in mind:
1. We want children's comic books only. Nothing scary, violent, suggestive in anyway. We will be scanning all donations to ensure the content is appropriate.
2. If possible, try to donate a few sets so we can spread them out among families
3. Your donations are tax deductible and we will provide all donors with a tax receipt
4. Reading With Pictures will attempt to document as much as possible the donation's progress up until we send it but after that, we will want to respect the Newtown, CT community's privacy
From all of us at Reading With Pictures, thank you so much for not only your compassion and caring but also believing in the power of comic books in creating community.
Update #1
We received our first donation yesterday! We'll be cataloging each comic and making sure its all kid friendly, but at first glance it looks absolutely great!
We're also just waiting to hear from our contact at Sandy Hook Elementary after reaching out. With everything that's been going on, as well as school typically being out for holiday break, we are confident in hearing something concrete in the new year.
Reading With Pictures will also be donating a whole box of the anthology to this effort.

Movie Review: The Avengers (2012)
Director: Joss Whedon
Cast: Robert Downey Jr., Chris Evans, Mark Ruffalo, Chris Hemsworth, Scarlett Johansson, Jeremy Renner, Tom Hiddleston, Clark Gregg, Samuel L. Jackson
Plot: Bringing together the team of Iron Man (Downey Jr), Hulk (Ruffalo), Thor (Hemsworth), Black Widow (Johansson), Hawkeye (Renner), Captain America (Evans), and Nick Fury (Jackson), this Marvel movie is an action-packed superhero flick that sets the bar high for superhero movies.
The plot starts off with Loki (Hiddleston) in space talking to some nasty aliens. They want to go to Earth and steal back the cosmic cube from the Captain America movie, which they will use to conquer the planet. When they attack a SHIELD base, Director Nick Fury puts into motion a desperate plan to unite the worlds most powerful heroes into a single team called The Avengers.
However, things don't always go as planned, and the members of the team don't always get along. Additionally, Nick Fury has some secrets of his own that may jeopardize the safety of the group.
When all hell breaks loose, can this team of rag-tag heroes band together and save the Earth?
Epic in every sense of the word, The Avengers is not only a successful superhero movie – but a successful superhero cross-over movie. Filled with exciting action and plenty of awesomeness – and, surprisingly, a bit of comedy. It's the most fun I've had in theaters since Hellboy 2, and damn – much more epic.
My only concern would be for people unfamiliar with the previous movies of the individual characters (Iron Man 1-2, Incredible Hulk, Thor, and Captain America: The First Avenger) since there's no real attempt to establish the characters in this flick – it just assumes you know who they are and runs with it. It works well for someone like me, who is intimately familiar with the movies and the comic characters. And it seemed to work well for everyone else in the theaters as well. But I could see someone who had skipped one or more of those movies being confused by parts.
The plot is simple: bad guy wants to acquire object of immense power to conquer the world. We've seen this before, but it works well here. There's so much this movie has to balance already, throwing in additional plot twists would just throw the audience for a loop that was unnecessary.
Instead, the movie lets the characters and the action pieces drive the movie, and they do it well. The characters all get (mostly) equal moments to shine, and are all utilized in a very well balanced way. You can tell the writers love these characters as much as the audience (or more), and are very careful to make sure no one gets cheated out of any screen time.
The exception here is Hawkeye, who only appeared briefly in Thor. I think his role for the first 2/3 of this movie was a little unnecessary, but I'm sure it was done because of the already character-heavy cast they had to balance. He gets some great moments to shine, but gets the least amount of screen time and mostly acts as a tool to develop Black Widow further, herself only having appeared in Iron Man 2 for a bit.
However, the show is easily stolen by Ruffalo's Hulk. Having the most difficult shoes to fill, since he's stepping into a role that has had not one but two movies that were not box office successes (personally, I enjoyed the Ed Norton flick), and also having to be the third actor in as many movies. On the heels of the announcement that there will be no more Hulk movies (although, after Ruffalo's performance they may change that – and he is signed to do 6 movies total), his was the role that could have easily been tossed aside or fallen flat on it's face.
Fortunately, Ruffalo pulls off the most interesting Hulk to date. Balancing the techno-babble well and also the smashing. It helps that he has a stellar cast to use as a sounding board, since a solo-Hulk movie without him busting stuff up isn't very interesting. In this movie, there's plenty to keep you interested until Hulk comes out to "play," and the smashing begins!
And when he comes out, oh…it's awesome!
As with previous Marvel movies, there's not one but two post-credit scenes – one of which may set up the next movie.
Overall, The Avengers is a cinematic achievement the likes of which movie goers haven't seen yet. It's an event movie. It's big in every sense of the word. Entertaining throughout. And totally worth seeing in theaters.
I highly recommend you go see this movie!

January 11th, 2012
|
by Trevor

Ha ha ha ha, an angel and a devil. On the shoulder. Seem strange enough to you? Of course, they did make an appearance on the cover, so this shouldn't exactly come as a surprise.
These two characters will play a significant role in the remainder of this story arc, and they're a lot of fun to write. They were a lot of fun to play as, too. The truth of the matter is, I figured out while making this particular comic that @$$Hole! has a strength and a weakness: it's a one man show.
This is a difficult thing to do from a writing perspective, but also a fun challenge. Especially when you present the opportunity to play multiple characters. Especially such different characters.
So enjoy the ride, as there's plenty more to come!

Movie Review: Evangelion 2.0 – You Can (Not) Advance (2011)
Director: Masayuki, Kazuya Tsurumaki
Official Website
Plot: Where to begin….?
The second in a four movie series providing a new ending to the Evangelion saga. While the first flick followed the events of the anime series rather closely, this movie deviates quite a bit. But I'll get into that in a moment.
After having saved Tokyo-3 (and the world) from the onslaught of the Angels in the first flick, Shinji Ikari has fallen into a routine of sync practice with his Eva (a giant robot he pilots to battle big monsters called Angels), and his schoolwork. Still living with Misato (his commanding officer) and having a slightly better relationship with Gendo (his estranged father), Shinji's world has never really been better.
Then his world gets rocked by one event after another. Beginning with the loss of Unit-04 in the USA, causing the Euro division to send a new pilot to Japan. This won't come as a surprise to anyone, as the brash Asuka Langley Shikinami makes a grand entrance (completely different from the series) and becomes the third pilot for Nerv in Japan. What follows is a series of comedic events that mirror Shinji's arrival in Tokyo-3, and a budding love triangle between Rei (another Eva pilot), Asuka, and Shinji.
However, when a new pilot (Mari) secretly arrives in Japan with her own agenda, and Misato's old college flame (Kaji) delivers a secret package to Gendo, suddenly the Angels increase their rate of attack on the Nerv headquarters.
Ultimately, Shinji must make the decision to protect what he loves most – even if that means losing everything he's gained – and make the ultimate sacrifice to save those closest to him.
***SPOILER WARNING***
This flick deviates quite a bit from the series, especially with the introduction of a new Eva pilot who's in the flick so little, I'm questioning why she's in it at all.
These deviations aren't bad, per se, but it has put the series back at square one. Like when I first watched the Neon Genesis Evangelion anime series, I once again am questioning everything I thought I knew and am trying to put the pieces back together again.
"Where does the movie deviate?" you ask. Well, let me tell you:
1) Eva Unit-05: In the series, the Marduke Report was pulling students from Shinji's school to be assigned as pilots, and Toji was secretly chosen to pilot Unit-05. In exchange, Toji's sister (injured in an previous Angel attack) would be taken care of by Nerv doctors. However, Toji's Eva unit is attacked by an Angel "virus" and transforms into another Angel that Shinji must battle. When Shinji refused to fight, Gendo activates the Dummy Plug system (a type of auto-pilot) and Eva-01 beats the crap out of Unit-05, crushing the entry plug with Toji inside.
In the movie the same events happen…only instead of Toji, it's Asuka in Unit-05. Apparently, there's a treaty that says a single country can only have three Eva pilots, so her Eva is put into storage while she test pilots this new unit. The scene is significantly less emotional and disturbing in the flick, which was a little disappointing.
2) Because of the above mentioned event, there's no chance for Shinji and Asuka to have to "live, sleep, and eat together" to battle the Angel twins like in the series. However, I didn't feel like this was missing from the flick per se, since they replaced it with –
3) – the love triangle. In the manga series they developed the relationship between Shinji and Rei more, and they hinted this would deepen in the second movie. And it does. In fact, Asuka and Rei start battling for Shinji's affections – with food! It helps to get to know these characters more, and it fun to see unfold.
4) Supporting characters stories are summarized this time around. For example, they sum up Misato's origin with her father in a few brief words and a hazy flashback that would probably confuse anyone who hadn't seen the series. Many of the supporting characters are taking a back seat to the kids in these flicks – which is fine, but it really means these movies are more compliments to the original series, than a spiritual successor or outright replacement.
5) Mari, the new girl, pilots Eva-02 and transforms it into 'Berserk' mode with just a thought. This takes the place of the otherwise disturbing scene from the series where Shiji merges with 01 and starts eating an Angel. Instead, Mari gets her ass handed to her and Shinji has to come in and save the day. This causes –
6) – Third Impact. While it didn't happen until the End of Eva movie, the timetable here has certainly been pushed forward. The reveal of Kaoru at the end of the first flick showcases that Seele's timetable has been pushed forward considerably, and whatever Mari's role in that may be has yet to be revealed completely. However, since we know so little about Gendo and Seele, it's difficult to pick a side – or even know why or how their goals differ.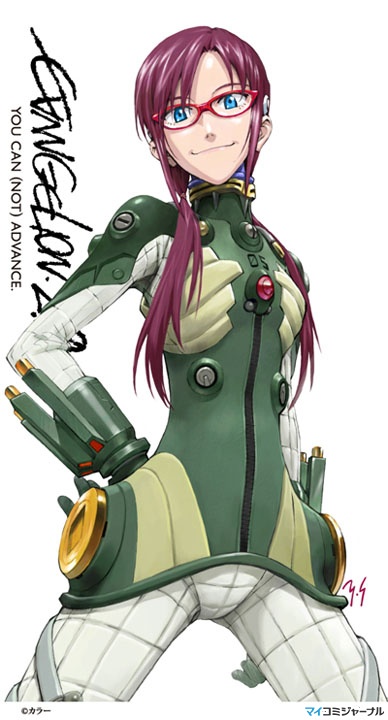 These changes aren't bad, they just don't quite fit into what I had imagined the rebuild would be. I had thought (I had hoped) it would answer all our questions and provide a nice neat package instead of the crazy and deranged (and dare I say, angry?) ending we got in End of Eva. I'm all for the psychological aspect of the series and the social, mental, and spiritual journey that Shinji had to take, but also want to make sure we get answers about the Human Instrumentality Project, Seele, and why Gendo's goals differ (and how he found out what their goals were in the first place).
Basically, I wanted more Eva – and in that respect, the movie hasn't disappointed. However, while I could follow the first movie and fill in the blanks with what I knew from the series, the second movie was a kick in the face. It takes you right back to where you were when you first watched the show – frustrated and confused – which is all fine and dandy, but again wasn't what I expected the new flicks to be.
So let's cast that aside for a moment and talk about the movie itself. The thing is GORGEOUS. The entire time I watched it I was like a kid in a candy store. Everything in the movie is top quality, from the animation and (Japanese) voice acting, to the music and CG.
There were a few moments where the story dragged a bit, but we got to see new aspects of this world (a restored ocean field trip with the kids and Kaji), we get to see the people interacting and going about their day in Tokyo-3 (a montage scene, but helps establish setting), and we get to know the kids more as people, and not just their psychosis. This is, of course, a bit of a trade off.
So my summary of the flick: awesome, but not as cool as the first movie. The change in direction and the faster timetable of Seele does make for an interesting twist, but again this feels more like a companion to the series than a replacement for it. In fact, with the fact the ocean's red (like at the end of End of Eva), I wouldn't be surprised if this world is somehow the result of Third-Impact….
But I digress. Hardcore Eva fans, go out and buy the thing (it's $14 at Best Buy this week), and people unfamiliar with Eva may want to go buy the series first. Because chances are you'll be totally and completely lost.
Also, there's a slightly different version of "Beautiful World" during the end credits. Clearly this song has become their new "Fly me to the Moon," which I don't mind at all. In fact, I like this song better.
So we have some ideas about characters and location, but no real specifics. I like to start to get the idea of the characters in my head at this stage, so I can further develop their motivations and hopefully make the storytelling process a lot easier.
It's good practice to take a character, develop them and give them consistent motivation, and then put them in a situation and let the story unfold before you.
So I need a chaser, a chasee, and it has to take place at a junkyard.
Instantly my mind goes to the chaser first – perhaps this character works in the junkyard and has to keep people out to keep them safe from all of the dangers. However, this person needs to be able to take a lot of physical abuse without taking any actual damage – thus keeping the story light-hearted and fun.
Suddenly the sci-fi nut in me kicks in and I instantly think "robot security guard." He can patrol day and night without getting tired, he can rebuild parts of himself from the scrap around the junkyard, and most importantly – he can get popped on the head with heavy objects and be fine in the morning.
So my chaser is established: he's a robot that works in the junkyard and has to keep people out because the junkyard's not safe. But what about the chasee?
I started brainstorming ideas on who (or what) could be breaking into the junkyard. Sure, it could be a person trying to get their car out of impound, or some kids just thinking the junkyard was cool – but I wanted something different.
While walking home from the grocery store I saw a sign on the side of someone's fence that said "Beware of dog," and I remembered that dogs often patrol junkyards. Plus, dogs are man's best friend (and everyone likes dogs, right?). Why not have a dog sneak into the junkyard? And what do dogs like to do? Eat, sleep, and play. Maybe he's a puppy who wants to play with someone, and he thinks the robot chasing him is a game – thus keeping the dog (and the story) fun and innocent.
It's not something I've ever seen done before, so why not use it in my story?
So my chasee is a puppy that's gotten into the junkyard and wants to play with someone.
So I have my two characters with their distinct motivations, which will drive the story through our environment. Now I just need to come up with the series of actions that will take place during the story….
January 24th, 2011
|
by Trevor
Last year I participated in the Comic Creator's Alliance (CCA), founded by Lora Innes (The Dreamer). This non-profit runs from January 11 – January 25 to raise money to fight human trafficking. Most of human trafficking is sexual slavery, and it's important that this is stopped – which is why I participate in the fund raiser every year without hesitation.
Last year we raised over $10,000 for the CCA, and 100% of those proceeds went to help stop human trafficking. This year we're doing it again, and there's only ONE DAY LEFT to donate to the cause.
Any donation is accepted, and for your donation you receive an awesome one-of-a-kind poster from 100s of web comic and professional comic artists from around the world. Below is a promotional video with more information.
If you want an awesome poster AND the chance to make the world we live in a better place, be sure to donate to this awesome cause today.
January 12th, 2011
|
by Trevor

"Never doubt that a small group of thoughtful, committed citizens can change the world. Indeed, it is the only thing that ever has." -Margaret Mead
Tuesday, January 11th is National Human Trafficking Awareness Day. In honor of the event, I teamed up with the Comic Creator's Alliance–a group of over 100 comic book creators (both web and print!) who volunteered our artistic talents to raise money and awareness for this cause. You may not know it, but there are currently 27 million enslaved people worldwide- more than double the number of enslaved Africans during the trans-Atlantic slave trade. UNICEF estimates that 1.2 million children every year are sold into slavery, most of it sexual. The US Department of Justice estimates 16,000 victims of human trafficking are brought into the United States every year. Unlike slavery in the 19th century, what is happening today is happening in secret. It won't end until awareness is raised, and people like you and me take a stand.
So here's what we did: each creator contributed an original drawing of one of our own female characters, and combined them into a single image! This year's theme was "The Brady Bunch." There is so much going on in this image–you can look at the wallpaper for a long time and still find something new! All of the artists included in the drive are amazing and some of the fan favorites are: Scott Sava (The Dreamland Chronicles), Adam Hughes (Star Wars, Wonder Woman), Sarah Ellerton (Inverloch), Bryan Glass & Victor Santos (Mice Templar), Beau Smith (Wynonna Earp: The Yeti Wars), Billy Tucci (Shi), Mookie (Dominic Deegan), Crystal Yates (Earthsong), Lora Innes (The Dreamer), Thom Zahler (Love and Capes), and Alison Action (Bear Nuts). View the full listing of contributors here: http://comicalliance.weebly.com/the-people.html.
Donate today to download this unique, once-in-a-lifetime wallpaper. Or, this year you can buy a print! The Donations Drive will last for two weeks, from January 11th – 24th. All proceeds will be split evenly between Love 146 and Gracehaven House- two organizations working on rehabilitation of victims and prevention of this crime.
To learn more about the CCA and to donate visit www.comicalliance.weebly.com. To learn more about the problem, visit http://love146.org/slavery. (Note: contains adult themes and actual accounts of sex slavery.)

December 9th, 2010
|
by Trevor
In January, I'll be taking part in a fundraiser event called the Comic Creators Alliance: Fighting Together to End Human Trafficking. Last year 87 comic creators united to create one desktop wallpaper image featuring all their different characters, and together raised $10,000 for the purpose of fighting Human Trafficking! I've been asked to take part this year, so I'll be adding (fill in the name of your character) to the wallpaper along side everyone else.
What is Human Trafficking? Human Trafficking is a sanitized term for slavery. There are over 27 million people enslaved in the world today, and most if it is young girls being sold into forced prostitution–both over seas and yes, in the United States. In the United States there are only 39 beds at facilities for victims in the entire nation–and at least 16,000 people being trafficked into the US from other countries each year! Not to count the domestic victims already living here.
The money that the CCA raised last year was split between two organizations, one global–Love 146, and a local shelter trying to get up and running–Gracehaven in Ohio. (Toledo, Ohio is one of the largest trafficking hubs in the U.S.) Both organizations were able to expand their particular fights against this heinous problem in 2010. Love 146 is setting up Task Forces around America, local groups of concerned citizens bringing the fight and awareness to their own corners of the nation. Internationally, Love 146 set up the Cambodia Border Officers Project . This is total prevention: officers patrol the border crossing, looking for possible victims and the kids they rescue will never know the horrors they might have. Gracehaven used our funds in the ongoing renovations that are necessary to bring the house up to code–plumbing and air conditioning were installed, along with two new bathrooms. They hope to be up and running soon but must first have six months of operating expenses in the bank. They are currently at one fifth of their goal–let's see what we can do to help them!
If you're a creator and would like to participate, the deadline for contributions is December 31st. Email ComicCreatorsAlliance@gmail.com to be added to the list. And the Donations Drive goes live January 11th on National Human Trafficking Awareness Day and will last for 2 weeks. See you then!