Comic Preview: Magical Natalie
Magical Natalie
TITLE: Magical Natalie
GENRE: Supernatural mystery
ARTIST: Katie Fleming; COLORS: Jason Lewis; LETTERS: TBD
RATING: Teen / Young Adult
STORY:
Mayhem, mysticism, and murder. Just another day in Vegas. And for young lovers Natalie – a magician who has achieved a huge viral sensation using feats of real magic – and Lulu – the lead singer of a metal band – it's a golden opportunity for these women to find out what they're really made of.
After becoming a viral sensation with her online videos and local performances of magic, Natalie's agent puts her on tour. The first stop: Las Vegas, the city of magic and sin! Traveling with her partner, Lulu, the two prepare for their first performance to a sold out show. However, tragedy strikes when one of the show managers is killed on stage, and it looks like murder. Natalie and Lulu chase the killer, only to discover they're not human – they're a demon!
Caught in a battle between good and evil, mysticism and mayhem, and love and loyalty, Natalie and Lulu are challenged to solve the murder of their friend. Could the first stop on their world tour be their last?
WHY THIS STORY:
I am always looking for a creative partner to help co-craft a story that they are interested in drawing. We asked ourselves, "what are other creators not doing right now, and what kind of story would we want to tell?" Being LGBT, Katie wanted to get past the typical stories about love and identity, and instead challenged me with a great question: "Why can't we just have a bad ass like Buffy the Vampire Slayer, but she's gay?"
The opportunity quickly revealed itself: a story featuring LGBT characters focused on a fun adventure story with characters already in an established, healthy relationship. They have a shorthand, playful nick names, and the tension is more about the mystery than on their relationship status or finding their identity. These women know who they are, are comfortable with it, and it lets us just dive right into the tale.
Katie's art is such a breath of fresh air, and she has a style that reminds me of classic Japanese scroll art, and we're telling a very modern story that works beautifully with it. Below are the first 8 pages of art (without letters), as a preview for what is coming next!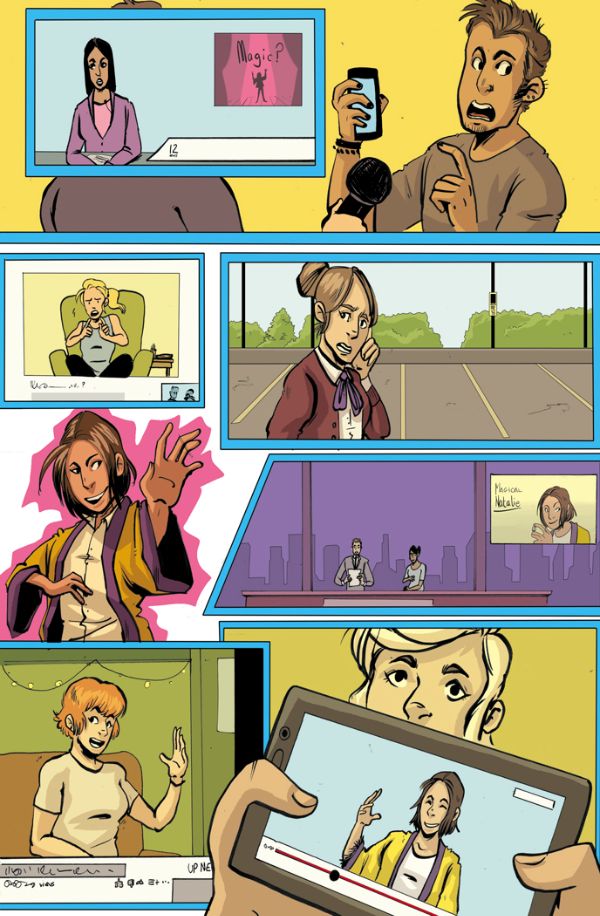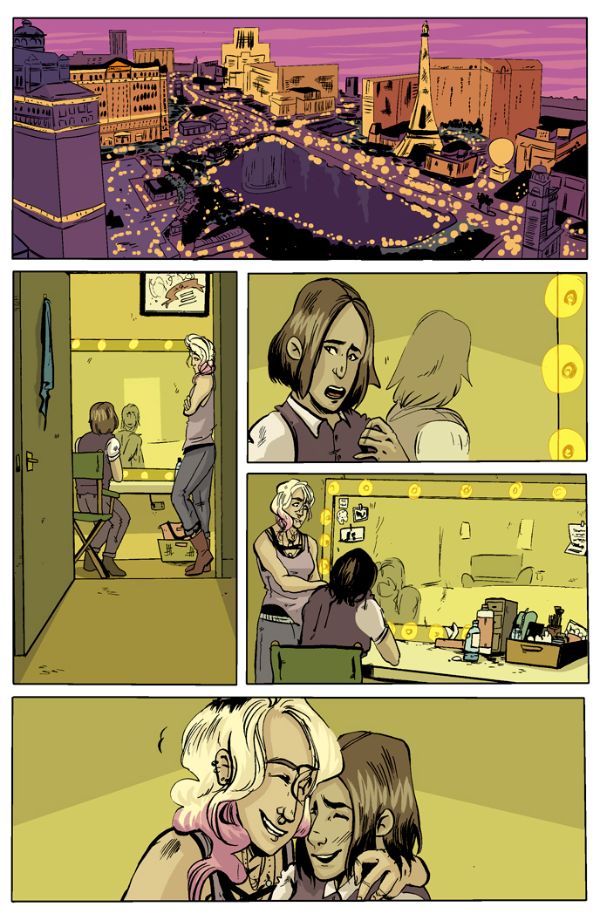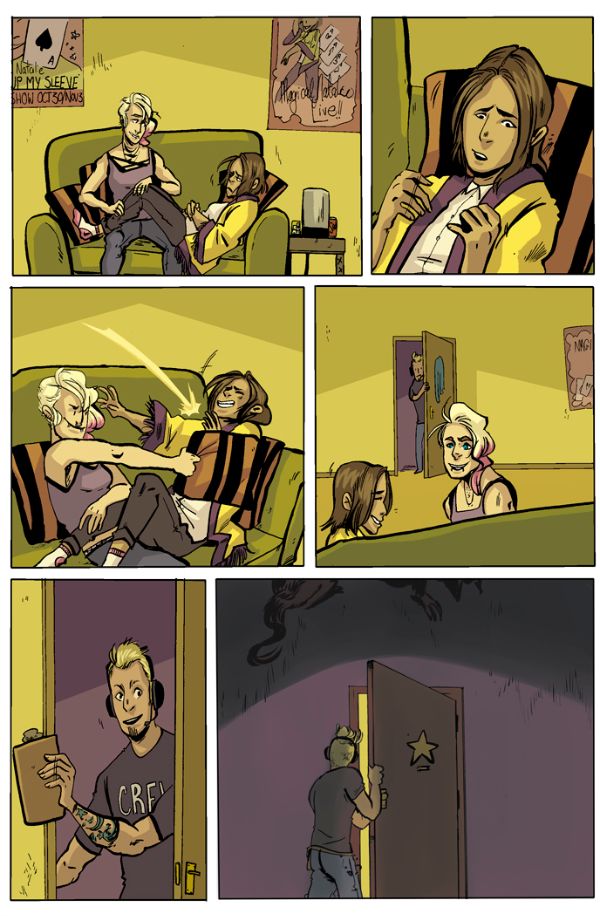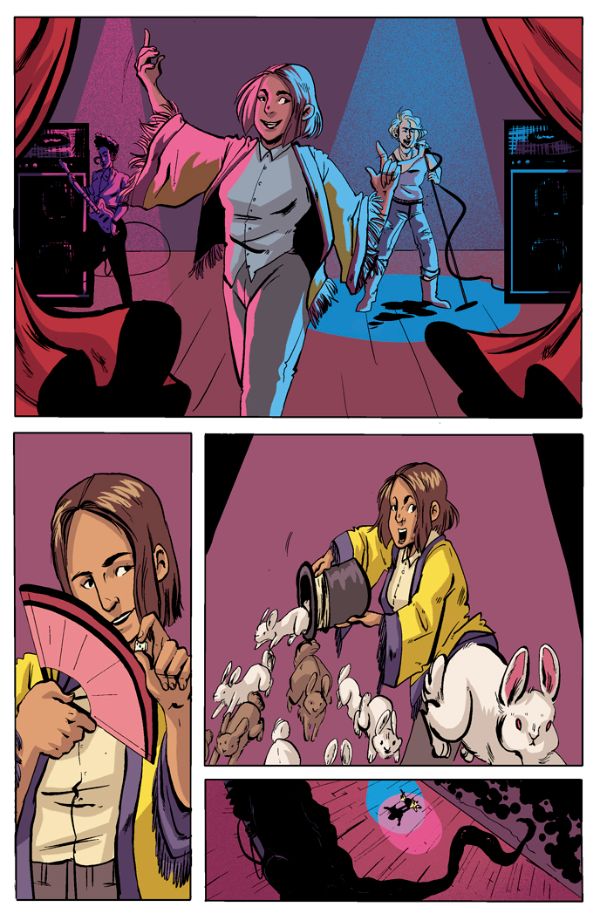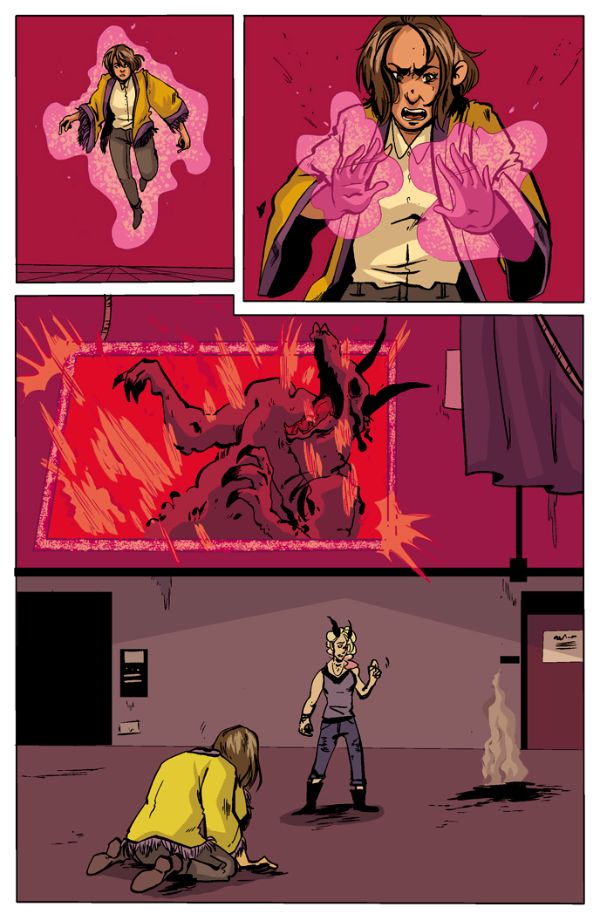 Want to see more?
Like seeing previews, behind the scenes making-of commentary and videos, or my creative process? We review all of these things on my Patreon page.
WHAT'S PATREON? Patreon is a crowdfunding site where fans can pledge money monthly to get exclusive access to creators work. While Kickstarter is for one-and-done projects (like a specific graphic novel), Patreon is more for on-going projects (like making comic series, or multiple series…which is what I'm doing right now).
If you pledge as little as $1 per month, you can get access to the posts right now.
Pledge today, and let me know what you think of this new series.