Posts Tagged 'acen'
37 items.
On New Years Eve I received some terrible news, that 2017 was not done taking just yet. My good friend, Gyu Sup Lee, left this world far too soon.
For those of you unfamiliar with Gyu (and trust me, you would know if you had met him), he was former guest relations with ACEN (which is how we met), and was a huge supporter of comics, artists and creators, and a fantastic friend. He was also a big goofball. And any time he came to visit me at a show, he would always bring him homemade lemon bars and brown-butter brownies.
He was not blood, but he was family.

Trevor, Beth, and Gyu
While many in a time of loss like this tend to focus on the would've, could've, should've, I find that to be a black hole that fills with despair the deeper you go. Instead, I like to focus on the good times. Any memory of Gyu from anyone you ask is universally positive. If he was around, it was impossible for you to not be smiling or laughing. He loved anime, video games, board games, and always supported his friends in their projects and activities.
He helped fund my Albert the Alien Kickstarters (all three volumes), and will have an appearance in the current chapter, which will be collected in Volume 4. It saddens me to think that he will not get to see those scenes. To read the role I wrote specifically for him. To hold that book in his hands. But I digress – focus on the positive.

Gyu, Trevor, Beth, and Russell at Marc and Trish's wedding
Gyu left a legacy behind that will forever be associated with that positivity. I will remember his dirty jokes, his delicious cooking, his love of craft beer and whiskey, and how he embraced everyone like they were close family; full body, strong grip, and with the feeling he would never let you go.
I often think back on Neil Gaiman's Sandman when someone is taken from this world too early: "You lived what anybody gets, Bernie. You got a lifetime. No more. No less."
I will never forget the my life journey while Gyu was riding shotgun. Hanging his head out the window. Sticking out his tongue. Probably telling a dirty joke.
I'll miss ya, buddy.

Gyu Sup Lee, probably not wearing pants, 1983-2017
Continuing with the summary reports of the cons (as opposed to the full convention reports, because I had fallen behind on my blogging, focusing instead on making comic content these past few months). ACEN is a legacy convention for me – something that holds a special place in my heart for personal reasons, and I have a lot of fun at the con. Usually I'm a guest, but this year I traveled in every day from home with my buddy Alan Evans (Rival Angels), who was staying with me for the weekend. Because of that, the usual after-con shenanigans were a bit more subdued (and didn't go nearly as late into the night), but part of that is also because I'm exhausted all the time. Because I have a baby.
But enough about me. Let's talk about this con!
FRIDAY:
Alan and I headed to the con to set up our tables, which were right next to each other but on the far back wall from the entrance to artist alley. We spent the day selling our wares, talking about comics, and also meeting several of the convention guests – who popped up at the table to introduce themselves because they heard we were good guys on facebook (or were old friends, stopping by to say hi). I love connecting or reconnecting with friends. Local artists (who were not set up at the con, but were hanging out that weekend) also stopped by. I even ran into a few Channel Awesome fans who recognized me from the videos I had been in.
After the show, we headed back to my place for some dinner and hanging out.

The table is all set up and ready to sell comics to the masses!
SATURDAY:
The big day. We did our sales thing, but also some panels throughout the day. The first panel of the weekend, "How to Make Your Own Comics and Manga," had a great crowd who was very engaged with the content. However, at one point during the panel, some guy asked if he could add a few thoughts onto one of our answers. Now, sometimes I'll let people do this, since they may have an experience we can comment on or that helps enrich the panel discussion, but this time I was mistaken. We had a guy try to Bogart (eg: steal) our panel. He walked right up to the front of the panel and started introducing himself as some video game maker, then turned to ask if he should have a microphone. "That depends on how long you think you're going to be talking," I replied, which was my polite way of saying, "No, and you should go sit down now." He gave a short speech that contradicted the entire point of the panel, to which Alan and I had to quickly recover and then move on to the next question.
What surprised me was that he tried to do this again at the end of the panel, but I shut him down. After the panel ended, he came up during our signing and wanted to know if it was okay that he had "participated" like that. "A lot of people like it when I join in their panels," he said. I told him it was not cool, that it was not his panel (if it was, he would be listed on the panel schedule), and that I was a professional – not a fan, not an attendee, but a professional in this topic – and ACEN wants me giving this panel, and you're not on it. He didn't show up to the announced 6pm panel, thankfully.
We did more selling, then came back to the same room for a "Making Webcomics" panel, which was tons of fun.
After the show, Alan and I grabbed some dinner and headed home to watch crappy horror movies (a convention tradition of ours).

Alan Evans (Rival Angels) and myself, hanging out at the table

Some guy tried to Bogart one of my panels….not cool, dude
SUNDAY:
The final day of the show is always exhausting (mostly because 2+ days of selling all day is a lot of work, but also because late nights + early mornings = tired Trevor). Alan and I did our thing, but packed up a bit early to try to beat the traffic on our way out. We did get in a few goodbyes for friends at the show, but had to be quick about it. All in all, it was another good time, and another successful weekend!

Goofing around on the final day before selling the rest of the books I brought
January 13th, 2017
|
by Trevor
I'm back, and we're still making comics. Sorry for being silent for so long, but I've been focused on Albert the Alien, my Patreon, and putting together convention appearances for 2017. I'm doing less cons in 2017, due to having a newborn, but will be back to full force in 2018.
That said, below is a list of the confirmed appearances I have for 2017 so far:
Forrest Park Library FlipCon
Forrest Park, IL
January 14
Anime Milwaukee
Milwaukee, WI
March 17-19
Anime Boston
Boston, MA
March 31-April 2
C2E2
Chicago, IL
April 21-23
Free Comic Book Day – location TBD
Illinois
May 6
ACEN
Rosemont, IL
May 19-21
Wizard World Chicago
Rosemont, IL
August 24-27
New York Comic Con
New York, NY
October 5-8
The final day of a convention is always the hardest to get up for. It's been a lot of fun, but exhausting. You're tired. You're sleep deprived. You've been going to bed too late and getting up too early. But adrenaline is still pumping through the veins, despite your voice being nearly gone from talking over all the noise. And on top of all that misery, you don't want it to come to an end. But it has to. All things, even good things, must end.
SUNDAY:
Morning. Breakfast. Drive to the con. Set up. The morning tasks of a con tend to be rather routine. But it's when those doors open and people start pouring in that everything changes. Sunday was surprisingly my strongest day of the show, with a lot of sales coming in (last-minute shoppers), and a handful of commissions. The day felt a lot shorter than it was, mostly because I was heads down working on sketch cards and full-sized commissions. But it did eventually come to a close, and we packed up a bit early to beat the rush exiting the con and the hotels (which sadly meant not a lot of time for goodbyes).

Trevor, Alan, and Ren – hanging out behind the tables on the final day

Batman v Spider-Man sketch card commission

Sophia the First commission
Alan drove me home, picked up his stuff and we said our goodbyes. And I started to unpack and relax a bit. But then I got a text from my good friend, and fellow comic creator Russell Lissau. Russell didn't have a table at ACEN this year, but had hung out with us Friday night, and he was wondering how things went. I invited him over to chat about the con, and also to partake in some grilling delicious goodness.
Nothing helps you relax after a con like good friends and good food. I marinated some pork chops (in olive oil, vinegar, and some seasonings), and threw some brats on as well (jalapeno, and Jim Bean bourbon flavored). Russ brought some side dishes, buns and veggies (which we put in foil and cooked with garlic and basil butter) and we made a meal out of it. Russ hung out for a few hours and then we parted ways (I was exhausted, but not so tired that I couldn't watch the Game of Thrones episode I had recorded).
How do you typically unwind after a con? What's your post-con ritual?
ACEN was – once again – a blast. I hope to come back again next year, and who knows…maybe there will be a few surprises in store for next year, too!

Post-con grilling, a great way to unwind (and not just immediately pass out from exhaustion)
└ Tags:
acen
,
alan evans
,
anime
,
anime central
,
anime con
,
batman
,
brats
,
butter
,
commissions
,
convention
,
garlic
,
grilling
,
pork
,
princess sophia the first
,
rival angels
,
russell lissau
,
spider-man
The weekends at Casa Del Mueller usually have a late start to them (for me, anyway…my wife's a morning person), but convention weekends don't allow for things like "sleeping in." No, when you have to be at the convention center before 10am, set up and ready to spend the entire day behind the table selling, you don't get to hit the snooze button. I usually only hit it twice, but this was not a luxury I would be afforded this weekend.
Do you snooze? If so, how often do you hit the button? Do you listen to radio or the buzzer?
SATURDAY:
We arrived at the convention center just in time to set up before the flood of people came in for the largest day of the show. An ocean of people washed through the isles of artist alley, making it difficult even for people who wanted to stop and shop to do so. But despite all that, Alan and I were at the ready to talk to them, answer their questions, and yes – pitch our books.
And pitch we did.

Alan Evans (Rival Angels) and I, ready for another day of selling comics

"May the Schwartz be with you!" What's your favorite line from Spaceballs?
By the time 6pm rolled around, my voice was almost gone. And even though the floor was open for another half an hour, we had to pack up and get ready for our back-to-back panels. Panel room 6 was ours for the next two and a half hours, and we were going to own the room in the only way we knew how: by providing fun and educational content for the attendees.
First up was a panel about How to Make Comics, which was really about self-publishing. We had a nearly full room, despite starting a little late (the previous panel ran long, and there was no buffer between panels for them to pack up and for us to set up). We also had to compete with the karaoke going on in the next room over, which became the subject of many a joke during that panel. When a duo started singing "Bring Me to Life" by Evanscence while Alan was giving insightful tips about making comics, I started repeating the main points in the same manner as the song. The audience was in stitches.
The bulk of the time was spent answering questions, mostly story related. We did get a question about how to make comics, which Alan answered about storytelling and I answered from a production standpoint. All in all, it was an incredible panel – which ended with some sales before our next panel in the same room.
Most people stayed for the Making Webcomics panel, despite us being up against the Rave, Soap Bubble, and some other panels from the voice actor guests. Thankfully, the karaoke next door had died down at this time, so we were able to get rowdy and loud with the audience.
Like the last panel, it was mostly Q&A with a lot of fun in the mix. Alan and I provided informative but entertaining answers throughout, and everyone had a fun time. A lot of fun was had, and we even stayed after the panel to answer questions in the hallway (and to sell some of the comics).
After the panel, we hiked to the car and headed back to my neighborhood to buy some pizza and hang out at my place before crashing.
It was a late Saturday, but probably not as late as most. What do you do on Saturdays at cons? How late do you typically stay up?
Spring is the time of year that brings more temperate temperatures, some warmer sun (but a little rain, too), and yes – Anime Central! The second largest animation convention in the country, and one of my favorite shows to attend, is back. And this year, thanks to less hiccups than last year, I was finally able to attend. My buddy, Alan, has secured tables for us, and we were right smack in the middle of artist alley (my first time being in artist alley, since in year's past I had been a guest of the show). ACEN was a unique experience because of this, but one worth doing.
Why was ACEN worth it to me? Well, because it holds a special place in my heart. I get to see friends I only get to see at this show, sure, but also the attendees are just awesome. Everyone's in good spirits, the panels have great attendance and engaging questions, and the cosplay – my goodness – there's some talent right there. What do you love most about ACEN?
FRIDAY:
Alan drove in super early on Friday and we packed up the car with my stuff and headed to the con. We only had 2 hours to get there, park, get our badges, and set up. Thankfully, there were no delays along the way and we got there with plenty of time to set up before the doors parted and the sea of people washed over us.

All set up for selling at table E9-E10, Anime Central 2016
I had all of my books on the table, and was excited to see how the new stuff might go over. ACEN has historically been a strong show for some of my older books, since I've been coming here since I started my career in comics, but the new books were quite different in tone. Thankfully, I was not disappointed to see that they were a hit with this crowd, as well.
The crowd of people continued throughout the day, with very few gaps in traffic on the floor. Not having attended this show in years, I'm never quite sure what people do during the day. There are viewing rooms, panels, video games, cosplay meet ups and more – but there's also shopping! What do you do when you attend a con? What sticks out to you or is something you look forward to every year?
After the floor closed, we broke down and headed to the Hyatt bar for a meet-up we had scheduled with our friends and fans. People had been wanting to hang out with us, and since we weren't staying at any of the con hotels this year, this was our opportunity to do it. And it was a huge hit! We had probably 15-20 people at the event by the end, and we had some drinks (and some food), and had a blast hanging out and chatting. It was relaxing, and a fun way to kick off the convention weekend.

Photo-bombing my own after-con get-together
At the end of the hang out, we headed downtown to grab dinner at Pony (a pub in my old neighborhood, with some fantastic burgers and tacos), and then loaded up on Jenni's Ice Cream (a favorite of Alan's) before heading back to my house for sleep.
Day one was down, but we still had the biggest day ahead of us….
Anime Central (or ACEN, as it's often called) is the 3rd largest anime convention in North America, and I have had the distinct privilege of being a returning guest of honor for 6 years in a row. ACEN is a lot of fun, I call it "the con that never sleeps," and it's set the bar for how well they treat their guests year after year. It's seriously my favorite show, and this year was no different. Let's dive right into the events of the weekend….
THURSDAY:
The day before the show started I headed over the convention center to say hi, get my badges and agenda for the weekend, and to hang out at the Hyatt restaurant and get a little comic work done. I brought along the iPad, which has become my favorite portable tool for working on scripts on the go. It's light, portable, and the keyboard case I bought for it is very easy to use.

Working on the next Albert the Alien script at the bar before the show
I also had a chance to pay a little homage for a friend of mine who isn't with us anymore. My friend Kim brought me to my first ACEN back in college, and after we graduated it was the one time in the year we got to hang out. Unfortunately, Kim passed away from epilepsy several years ago, and so I decided to honor her memory this weekend in a few ways. This was one of them, but the other would happen Friday night during the Panel that Shall Not be Named. More on that in a little bit….

One for me and one for absent friends
I was visited by a lot of friends while I sat the restaurant, and had a few drinks and meals with them as they came and went. I eventually got my room key and checked in, and my wife dropped off the rest of my stuff not long after that (thank you, honey, for driving my heavy stuff so I didn't have to carry it on the train). Towards the end of the evening I went to the Green Room for their industry mixer, meeting all of the guests who had arrived by that point and mingling a bit. However, I also got invited to go see Godzilla opening night in IMAX 3D. I'll post a review about the movie at some point in the near future, but I can say this – DON'T GO SEE IT IN IMAX 3D. Not worth the extra money.
After the movie ended I went back to the hotel and went to bed. ACEN is an exhausting weekend that often results in me losing my voice, and I wanted to get as much rest as I could.
FRIDAY:
Friday morning started off early, with me hitting up the gym with my fellow ACEN workout buddy Jessie Pridemore. Jessie and I have somehow just met in the gym over the last several years at this show, and this year I decided to reach out to her and make it an official meet up. The two of us motivate and push each other, help each other out with spots and whatnot, and ultimately get to hang out and have fun before the show starts. Plus, working out first thing in the morning tends to make me feel energized for the rest of the day. And I had a LONG day ahead of me.
I took a quick shower, went down for breakfast, and met up with fellow comic guest Josh Elder (Scribblenauts, Mail Order Ninja). We were both there representing Reading with Pictures as the educational guests of the show, and after breakfast our handler escorted us to opening ceremonies. We sat through the introductions before we had our chance to go up on stage and give our pitc – the beginning of which I gave Josh a hug and whispered "Hail Hydra" into the microphone. Sadly, I don't know that anyone actually heard the exchange over the applause.
We pitched ourselves and our panels, and then headed straight out to the floor to set up. The convention floor was set up a little differently this year, with an Industry section up front and Artist Alley behind it. This is not unlike how Reed sets up their shows, and it created some good flow overall for the floor. Unfortunately the vendor who set up by us had a 13 foot tall vertical display banner, so our tables were a little obscured and this hurt sales for the first day.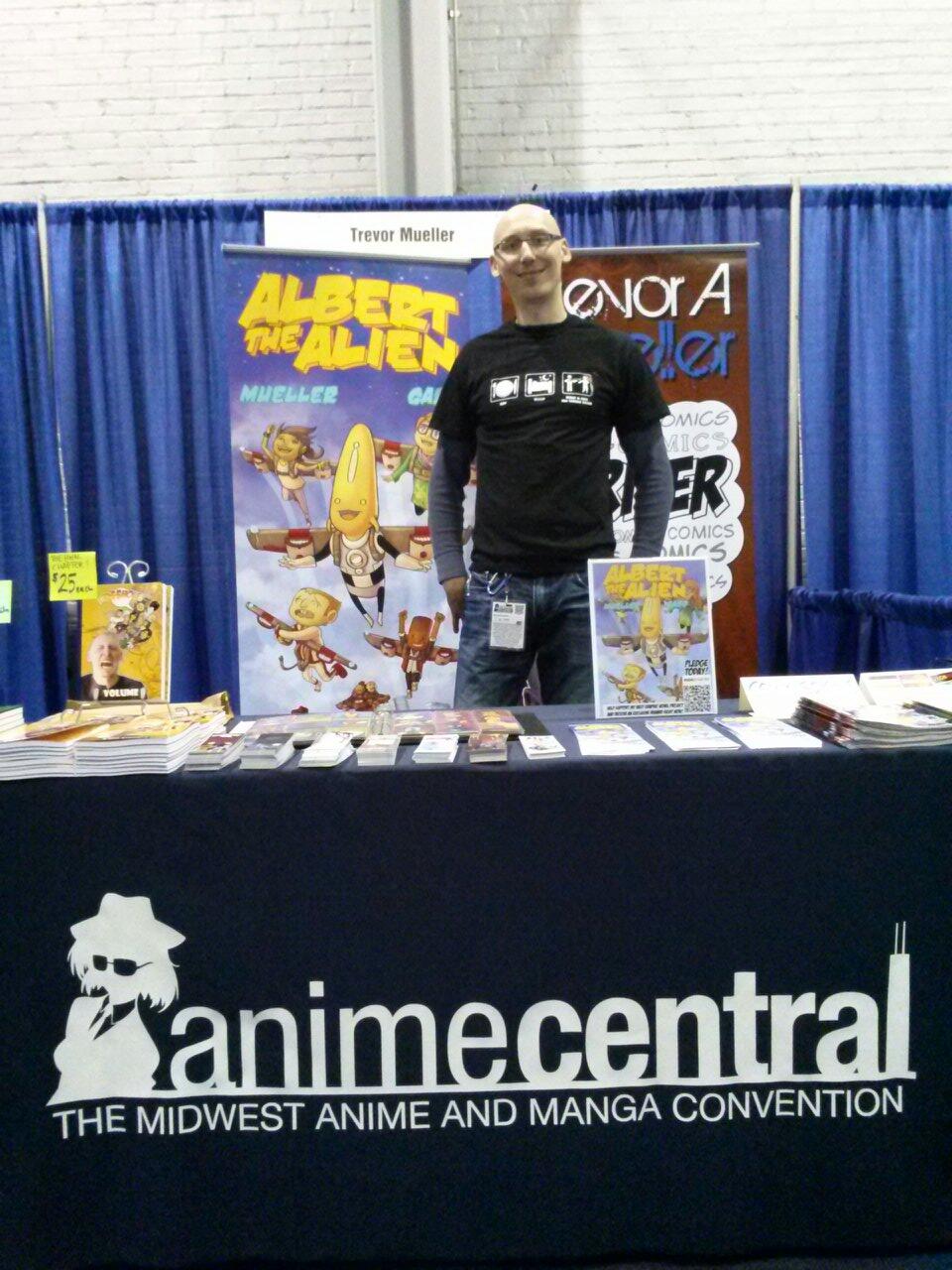 The booth set up (original location)
Josh primarily worked on some comics and I sold to anyone who came by (when they came by), but I spent most of the day trying to figure out how to move us closer to or inside of Artist Alley. Eventually my artist Gabo offered me a half table, and I decided to take him up on it on Saturday.
Our primary goal during the weekend was really to promote the new Kickstarter we had launched for Albert the Alien. Kickstarter campaigns are a lot of work, and being unable to tweet and promote because of the event could have hurt the campaign. But we turned it into a positive by handing out some vertical fliers with QR codes that linked directly to the pledge page, and to incentivize pledges during the weekend by offering an ACEN exclusive reward (which was a mystery prize).

The Albert the Alien Kickstarter promotional handouts given out at ACEN
I also had a few new book products on the table, including the final chapter of @$$hole! and the new limited edition box set.

The limited edition box set
After AA closed, Josh and I headed up to PDR (where they serve guests meals) to grab a quick bite before our panels started. During that time, my wife showed up so she could enjoy a bit of the show with us as well.
All of our panels were in panel room 3, and they were often back to back – so it was very easy to get comfortable in the room and switch off back and forth with each other. Our first panel was an introduction to Reading with Pictures, which was did together. Josh talked more about the organization and it's goals, and how it was founded. I talked more from a content creation standpoint, and what it was like to create stories that contained educational content but also had a fun adventure story. As always, we worked off of each other well and gave a very informative and entertaining panel that the attendees really enjoyed.
After that, Josh gave a panel about working on licensed properties – including his latest work on Scribblenauts for DC. After his panel ended, however, I got to move into the main event – The Panel that Shall Not be Named.
This is a panel ACEN has me do every year, and has a lot of history at the con. It's a ton of fun, but this year I decided to mix it up a bit and make it 100% brand new. I can't say what happens in that room (you have to be there to experience it), and the title alone usually draws about half of the crowd, but I like to mix it up so it's something new for the people who do come back each time. This time I even threw in a few curve balls and told a story about my friend Kim, which had some of the people in the audience in tears. Hell, I was tearing up telling the story. But I recovered with a few additional fun stories about how I met my wife and how I proposed….and then showed them some of the fake movie trailers from our wedding.
After the panel I bum rushed it to the improv panel (the same folks put it on at Con Alt Del, and it was a fun time) and I jumped in for a few quick skits. I was only there for about 10 minutes, however, before the panel ended. I had done some skits with this same troupe during Con Alt Del late last year, and they were a lot of fun. They also offer improv classes, for anyone who's interested to join.
After that, we went back to the hotel room to go to bed. I had been at the gym by 7am that morning, and we went to bed around 1am – and I had to start my day with a 9am press call on Staurday. As I said, the show's a lot of fun – but you do have to work, too.
SATURDAY:
Saturday morning I got up, grabbed a quite bite of breakfast, and ran to the press event. It was a group of about 6-10 people asking questions about Reading with Pictures and educational comics. As the Marketing Director for the organization, I answered their questions well and then met up with Josh to hit up the floor. My friend Anna joined us when Beth went home (her first anime convention), and we relocated to Gabo's half table in artist alley to help increase sales.
Sales were quite a bit stronger in AA, and it was nice to be around other creators for a while. We sold our hearts out, and then went to grab a quick dinner between AA hours and our panels.

One of the ACEN exclusive Kickstarter rewards – these were very popular
Josh started off the evening of panels with his "Case for Comics in the Classroom" panel, talking about the benefit comics bring to education and the unique way they can be leveraged in an academic setting. After that, I jumped straight into my "Making Time for Making Comics" panel, which was essentially about time management. Making time for your creative projects. As someone who has made a career out of planning, project and time management have been critical to me in both comics and my career, so it's something I had a lot to talk about. And it was a great panel with a large audience and a lot of engaging questions – and some strong sales after.
After that, Josh and I both did a "Breaking into Comics" panel talking about our two very unique stories and how we've both walked different paths to getting where we are today. It was a great chance to share some funny and insightful stories from conventions, as well as some more engaging questions from the audience. It ended with a standing ovation and a 45 minute buying and signing line – which I've never had before! Since we were the final panel in the room, though, we were able to go longer, which was great.
We skipped the 18+ Cards Against Humanity panel (which I've done before, and it's a lot of fun, but it was going to end in 10 minutes) and instead dropped our stuff off at the room, said goodnight to Anna, and then headed up to the Green Room to hang out. It was Josh's birthday, so I interrupted everyone and lead them in singing him happy birthday. There was much cake and merriment after, and long conversations late into the morning. Around 3am we all headed back to the room and went straight to sleep.

Another original from Gabo for the Kickstarter promotional exclusive to ACEN
SUNDAY:
The final day of the show was a slightly later start for us. We had some quick breakfast, and then I headed back to my half table to sell my heart out on the final day. Sales were similar to the previous day, but we did have a lot of interest in the Kickstarter from people who had stopped by earlier. They wanted the exclusive, which was a 3-panel strip you could only get at the show, with an area for Gabe to draw an Albert commission on the back. We gave out about 7-10 of these at the show, so it was definitely worth it.
Eventually Beth showed up to help out, we kept selling until the very end, and before I knew it the convention was over. We broke down, said our goodbyes, went into the hotel to validate our parking (and say thank you to all the staff and volunteers who helped make this weekend possible), and then headed home.
ACEN is a convention that never sleeps (and I never sleep at it), and it's a lot of hard work. But it's a really fun weekend, and it's a show I hope to continue to guest at for years to come!
2014 is off to a (cold) start, and I'm still finalizing my convention appearances for the year. However, at this time the below shows are confirmed for 2014.
C2E2

Chicago, IL

April 25-27
ACEN

Rosemont, IL

May 16-18
Anime Mid-West

Rosemont, IL

July 4-6
Anime Iowa

Coralville, IA

July 25-27
Wizard World Chicago

Rosemont, IL

August 21-24
New York Comic Con (NYCC)

New York City, NY

October 9-12
Mid-Ohio Con
Columbus, OH

October 31-November 2
A few of my regular shows have been cut back this year, since I'm on rotation (a typical thing for conventions to do every year or so, to keep their guest roster fresh). However, I'm also putting a few back on the list – and I'll have a number of new books out this year to boot!
More shows may be added later this year as I keep having conversations with the conventions. If there's a show where you would like to see me make an appearance, please reach out to the convention and ask them to contact me about appearing.
Looking forward to seeing you in 2014!
└ Tags:
acen
,
anime
,
anime central
,
anime conventions
,
anime iowa
,
anime midwest
,
appearances
,
c2e2
,
comic conventions
,
comics
,
conventions
Last weekend was another awesome and amazing ACEN – this third largest animation convention in the country, and my favorite convention to attend as a guest. It's also a very strong sales show, and has a very enthusiastic fan base. This was my 5th year as a guest at the show, and the experience just keeps getting better every year.
THURSDAY:
After work, I headed over to the convention center from downtown Chicago. During my walk from the train to the hotel I was recognized by several fans and attendees, all of whom were in good spirits for the impending fun that would occur this weekend.
Upon arriving at the show, I went to con ops to get my badge and room keys, dropped off my stuff, and headed to dinner with the other comic guests including Russell Lissau (Strawberry Shortcake, Shrek), John Bivens (Comic Book Tattoo, Reading with Pictures), and his wife, Mallory. Steve Horton (Amala's Blade) showed up a little later. After dinner, we headed up to V to enjoy some drinks with the other guests and some of the ACEN staff. Then it was off to bed because – silly me – I decided working out in the morning would be a fun way to start the day on Friday.

Mallory poses with her delicious baked goods, celebrating Russell's birthday
FRIDAY:
6:30am rolled around, and our alarm sounded. Since I'm in wedding boot camp, I'm trying to go to the gym 2-3x per week so I'm…less skinny for my wedding. Bivens was kind enough to join me, and we did a full arms and shoulders workout for an hour. We were joined by Jessie Pridemore, who handles the masquerade for the show every year – and has some amazing cosplays!
After the workout, we showered and headed to breakfast – and then headed to the floor to set up for our weekend of selling. There was some confusion on our location on the floor, but after a quick conversation with the appropriate people we were able to locate to the correct location – which totally rocked! Sales were extremely high on Friday, with volume 2 of my latest book selling insane amounts! Always a good thing.

Russell Lissau is ready for commerce, baby!
After the floor closed, we headed off for a quick dinner before heading to our panels for the evening. Russ and Steve had a Superman vs Batman panel, which was standing room only and had a line waiting to get in. During the panel, Steve's wife showed up to celebrate their 10 year anniversary in front of a crowd of a hundred people. It was really cute, and I was glad to play a role in their special day.
After their panel ended, I headed to Bivens Drawing Comics panel already in progress. Gabe had joined him, and the two were having a great time giving an entertaining and educational panel about visual storytelling and pacing. After their panel ended, I had about 20 minutes before my Panel That Shall Not Be Named. This has been a convention staple, and usually has a full room. This year the show gave me a very large room for the panel, and it was pretty full for the entire duration of the hour. The panel was a ton of fun, and a great way to end the night on a high note.
After the panels the group headed up to V for more drinks and hanging out, and then headed off to bed.
SATURDAY:
Breakfast was the order of the morning, with some delicious gourmet buffet-style with fresh fruit and juice. A solid breakfast makes for a solid day, so after we headed to the floor to get to selling. Traffic on Saturday was record-breaking for ACEN, with a huge number of attendees coming in to shop and buy and check things out.

Between sales there's always time to make silly faces
Friday sales had been so strong, Saturday seemed to lag a little – which was surprising. However, this was more than made up later in the evening after the panels. There was a lot of interest in the new books on the table, including the launch of the Albert the Alien webcomic series. Lots of new fans and friends were made as books were flying off the shelf – including my remaining copies of Reading with Pictures volume 1 (now out of print).

Trevor, selling some comics
However, Saturday was a ton of fun – with the group getting a chance to be goofy behind the tables, as well as checking out the fantastic cosplays people put together for the show. Some seriously artistic and creative people out there.
After the floor closed, we all headed to dinner – enjoying some 18 year old scotch and delicious food. We then headed off to our Making Comics panel – which was an all comic guest panel Q&A about making comics. Some excellent questions and hilarious jokes later, the panel was over and it was off to quickly moderate my next panel – Making Webcomics. The rooms for both panels were filled to the brim, and I used the panel as another Q&A format to help answer questions people had about their own webcomics – or the process in general.
After the panels, I headed up to V for a final night of hanging out with good company. I got to chat with Brad Swaile until all hours, enjoy some tasty beverages, and laugh until I had no voice.
SUNDAY:
Sunday saw a 9am press call, which was well attended and we got some great questions. The group all had specialties to focus on, and input to each of the questions. After the press call, it was time for our final breakfast together- followed by a bum rush to the floor for the final day of selling.

John and Mallory pose in front of their booth at ACEN 2013
Sunday is family day at shows like ACEN, and this is when Albert the Alien tends to shine. I almost sold out of my entire stock, some from families and some from panel attendees from the previous nights of the show. I sold out of Junkyard Chase and one of my Albert books before the end of the day. All in all, the show was fantastic.
After the show, Beth showed up to come get me and we packed the car and headed out to dinner with the gang. We were joined by Sean and Sara from Spinnerette and connected on how well they did during the weekend, on the next show we would all be doing together (Anime MidWest), and on how we can connect outside of the shows a bit more (Ravinia has Lord of the Rings the Two Towers in August with live orchestral accompaniment).
Once again, ACEN sets the bar high for a fun weekend and a great convention. I would like to thank the staff and volunteers for putting together a phenomenal show; the fans I've made who continue to support the work, tell their friends about me, and attend my panels; and my amazing friends, without their support I would not be able to do what I love so much. You guys all rock, and from the bottom of my heart, I thank you!

Trevor stands by his books – figuratively and literally
###
On a sullen note, this was the very first ACEN I attended that my friend Kim was not there. For those of you who missed the post last year, my friend Kim first introduced me to ACEN and it was the annual opportunity to see her and hang out. Unfortunately, Kim passed away last year from epilepsy. It was difficult for me throughout the weekend not to reflect on her passing, but Kim would not have wanted the weekend to be tainted by her not being there.
When her mother commented on my Facebook page to say that Kim was there in spirit behind me saying "good job," I knew that wouldn't be true. Kim would have been running around the show in cosplay, soaking up the sights and having a blast! That's the kind of awesome girl she was, and her energy and enthusiasm is what I will remember for the rest of my life.
I miss you, Kimby. You are loved!
ACEN panel schedule:
FRIDAY:
Trevor and the Panel that Shall Not be Named
WHEN: 9:30pm-10:30pm
WHERE: DaVinci A-B (Hyatt)
WHAT: Nor described
SATURDAY:
So you Want to Make Comics
WHEN: 8:15pm-9:15pm
WHERE: Narita A-B (Hyatt)
WHAT: Russell Lissau, John Bivens, Steve Horton and Trevor Mueller will answer all your questions about writing, drawing and the business of comics. It's never been easier or more fun to make comics, but there's a lot of work that needs to be done, too.
Making Webcomics
WHEN: 9:30pm-10:30pm
WHERE: Vienna (Hyatt)
WHAT: Comic guest Trevor Mueller has been making webcomics for almost 10 years. He discusses the different formats, how to get set up with a website (especially if you don't know how to make your own), ways to promote your work and build a community, and answers your questions about making you webcomic a success on the web.