Posts Tagged 'albert the alien'
124 items.
February 16th, 2018
|
by Trevor
We end this incredible week with the announcement of Albert the Alien volume 1: New in School launching on Comixology (can you tell I uploaded these in a relatively close order?). This volume was nominated for a Harvey Award for BEST ONLINE COMIC in 2015, and Gabe and I couldn't be more proud of this project.
Lettered by: Gabriel Bautista, Jr.
Colored by: Gabriel Bautista, Jr.
Art by: Gabriel Bautista, Jr.
Written by: Trevor Mueller
Price: $5.99
Albert the Alien is just a normal everyday kid…from another planet! He's come to Earth to learn about humans as the first intergalactic foreign exchange student. And when Albert's involved, even the ordinary becomes extraordinary!
When Albert first arrives in school, items start going missing from the students' lockers – and the school bully blames the new alien kid. With the help of his new friends, Albert must solve the mystery of the locker thefts and prove his innocence!
Overcoming giant alien mecha school supply monsters, alien jello blobs with a taste for humans, and the government agents sent to keep an eye on him, Albert's first week in school on Earth is anything but ordinary!
February 15th, 2018
|
by Trevor
Lettered by: Gabriel Bautista, Jr.
Colored by: Gabriel Bautista, Jr.
Art by: Gabriel Bautista, Jr.
Written by: Trevor Mueller
Price: $0.99
During a hall monitor meeting, Gerty Greyson – Albert's homestay sister – notices the rest of the kids acting strangely. Turns out they are being controlled by an alien headpiece that turns them into zombies! Gerty and Albert must find out who is brainwashing the students and save them from the diabolical force – and at the same time, solve the mystery of the school locker thefts!
February 14th, 2018
|
by Trevor
Albert the Alien is coming at your fast and furious! Chapter 3 has gone live on Comixology, and it's one of our best stories to date!
Lettered by: Gabriel Bautista, Jr.
Colored by: Gabriel Bautista, Jr.
Art by: Gabriel Bautista, Jr.
Written by: Trevor Mueller
Price: $0.99
During an astronomy project, the kids discover a large UFO headed towards Earth. If it hits, it will destroy the planet. Upon learning of this object, however, the US government panics and sends in their specialists who are suspicious of Albert, and everything not human. Getting ready to say goodbye to everyone and everything they've ever known, the kids prepare for the end of all life on our planet. However, at the last possible second, Albert finally gets a glimpse of the object – and what is coming is so much worse than anything the kids could have expected.
February 13th, 2018
|
by Trevor
Albert the Alien continues to update on Comixology, with chapter 2 launching in the traditional vertical format.

Lettered by: Gabriel Bautista, Jr.
Colored by: Gabriel Bautista, Jr.
Art by: Gabriel Bautista, Jr.
Written by: Trevor Mueller
Price: $0.99
During lunch, Albert's favorite alien snack starts eating the kids lunches – and all of the food in the school. The more it eats, the larger it gets until it's too big to be contained by the building. Can Albert and his friends save their school before the end of their lunch break?
February 12th, 2018
|
by Trevor
My comic Albert the Alien volume 1 is NOW available on ComiXology Submit! You can now get the complete collected edition (including all of the bonus stories and art), or the single issues, to take with you on the go. Be sure to check it out!

CHAPTER 1:
Albert's is just an ordinary everyday kid – from another planet! On Albert's first day of school, his alien school supplies attempt to conquer our educational system. Lead by the nefarious Laser Pen, they eventually form into a mechanized alien school supply monster! Can Albert and his new friends figure out how to defeat them and save their school?
Lettered by: Gabriel Bautista, Jr.
Colored by: Gabriel Bautista, Jr.
Art by: Gabriel Bautista, Jr.
Written by: Trevor Mueller
Price: $0.99
October 27th, 2017
|
by Trevor
THURSDAY:


The Reading with Pictures table is all set up and ready to sell

Smiles that broad, you know it had to be the first day of con
FRIDAY:


Day 2 we tried a slightly different table configuration
SATURDAY:


Can I take this dragon home with me? Please?

Waiting for this party to get started. And eating breakfast. That's important

Joined by Rebekah Ward, one of our volunteers from last year – now making it as a student of journalism

Albert the Alien pins, in the wild

Hanging out with my friend Carrie, who runs her own booth selling merch she makes by hand!

The Javits at night
SUNDAY:


Last day of the con. Can you tell I haven't been sleeping?

Ran into my buddy Victor Dos Santos in artist alley!

The very talented Laura Braga flew in all the way from Italy for the con! Her artwork is stunning!

We sold out before the end of the con! That's the dream!

Thank you, New York Comic Con! It's been a blast!
February 13th, 2017
|
by Trevor
January 17th, 2017
|
by Trevor
2016 was not a huge year in comics for me, but it was a huge year for life events. Beth and I bought a house and moved to the suburbs, found out we were pregnant, and then had a beautiful baby girl. I also traveled the world for work, visiting countries like Mexico, Singapore, Malaysia, Thailand, Vietnam, Philippines, and China.
If that wasn't enough, I also did a bunch of awesome stuff for comics:
2016 COMICS (and other) PROJECTS COMPLETED:
– LOS OJOS (Pop! Goes the Icon)
– OMEGA COMICS PRESENTS vol 2 (Pop! Goes the Icon)
– Albert the Alien webcomic updated every Wed and Fri without missing a single update; and also, that Harvey Awards nomination (www.AlbertTheAlien.com)
– Over 16 convention appearances
– Zootopia prequel comic (unpublished)
– 5-7 pitches for publishers (unpublished)
– Like 12 other unpublished projects
– Several Nostalgia Critic videos, including Batman V Superman
– Several Awesome Comics episodes, including hosting the Batman '66 debate
– Reprising my role as Lex Luther in the Channel Awesome Christmas Snydering production
2017 COMICS GOALS:
– ALBERT THE ALIEN vol 3: HOME LIFE (Kickstarter will launch in February)
– More episodes of the NC and Awesome Comics, I'm sure
– Starting a video series for my Patreons, maybe syndicated on my YouTube page
– 1-2 untitled self-published graphic novels
– 3-5 pitches for publishers, minimum
– 5 convention appearances (and maybe a few panels and single-day library shows)
– I'm cutting back on cons in 2017 because of the baby, but will kick it back up again in 2018
– Maybe start a prose novel…just because
September 4th, 2015
|
by Trevor


Below is the list of the very awesome and supportive people who made Albert the Alien volume 2 a reality, but supporting us on Kickstarter. Without their support, Gabo and I wouldn't be able to do what we love doing – telling stories about a cute little alien student from another planet. From the bottom of our hearts, thank you so much for your support.
Please note these names are in alphabetical order, and based on Kickstarter user names (so some are just first names, or pseudonyms).
Alan Evans
Alicia Vonderharr
Allison Adams
Andrea Laidlaw
Andrew Hernandez
AnimeLover
Ashley Turner
Barry Chapman
Beth Mueller
Beth Camero
Bob Eddy
Bradley Walker
Brandon Viruet
Camilla Zhang
Carl Kloster
Cheryl Fisher
Chris Brown
Cody Dolan
Comfort & Adam
Cornelia Haggart
Crissi & Ed Boland
Dave Swartz
Dianne Noonkester
Donald Ferris
Effie Covganka
Elisabeth Sampon
Eric Beasley
Eric Palicki
Erica Hampton
Erin Walker
Ethan Daniels
Evan Ritchie
Fred Van Lente
gabo
Gene Ha
Gregory Noonkester
Holly Christine Brown
J Kevin Carrier
Jack Gulick
Jackie Healy
Jacob Halton
Jacqueline Lord
Jaroslaw Ejsymont
Jason Crase
Jason O'Connor
Jeff Buckner
Jeff Metzner
Jessica Panza
Jim McClain
John MacLeod
Jon Scrivens
Jorey Worb
Josh Elder
Joshua Todd Crowther
Joyce Vivirski
Julie Kurzawski
Kat Kan
Kate Tilton
Kimen
Madalyn Winans
Marc Fishman
Maria Abdul Hack
Megan Sprecher
Melissa Tidd
Melissa Wong
Marie Hln
Mike Innes
Michael Boeke
Michael Vincent Bramley
Mike Jakubowski
MONICA ATKINS
Nate Mueller
Neal Bailey
Nick Centofante
Nicole Bell
Rachel Ambrozewski
Rene Castellano
Rick Savage
Robert
Robert Jarosinski
Rudy Hernandez
Russell Nohelty
Ryan Kopf
Sally Ransford
Sara Parks
Sasha Arnkoff-Thompson
Scott Heinowski
Sean Gregory
Shawn Pryor
Steve Wallace
Susie Berneis
Taki Soma
Team Kirin Rise
Thomas Atkins
Tom Orr
Tom Stillwell
Wendy Duplechain
Zach Miller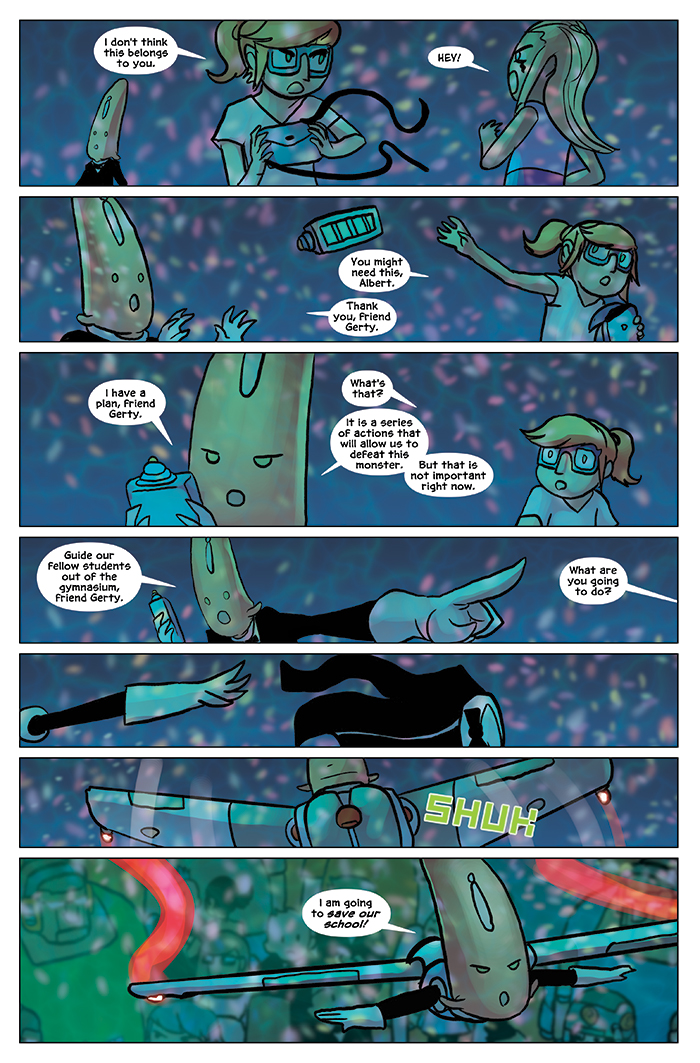 We did it! Albert the Alien volume 2 has been successfully funded on Kickstarter. Gabe and I are going to focus on putting this awesome graphic novel together over the next several months, and then get it off to the printers in time for holiday delivery. We'll also make some pre-orders available in case you missed the Kickstarter, so stay tuned for that!
Want to see the next page early? Vote now and see the next page of Albert the Alien!
We're doing some conventions in July! First up is Anime Midwest (July 3-5) in Rosemont, IL. I'll be a returning guest of honor, along with some other amazing guests (seriously, you need to check out this guest list)! I will be spending most of my time in artist alley selling comics and art, however I'll also be doing some panels throughout the weekend:
FRIDAY
– Writing Comics (panel room 3): 8:00pm – 9:00pm
– Self Publishing 101 (panel room 2): 10:30pm – 11:30pm
SATURDAY
– Kickstarter for Beginners with Trevor Mueller (panel room 4): 12:00pm – 1:20pm
– An Evening With Trevor Mueller (panel room 4): 7:30pm – 8:30pm
###
Additionally, I'll be appearing at Anime Iowa (July 24-26) in Coralville, IA as a returning guest of honor. This con is super fun, lots of great energy, and has some incredibly awesome staff and volunteers putting together a super fun show.
FRIDAY:
–Sponsor Meet and Greet 8-10pm Mainstage
SATURDAY:
–Self Publishing 101 3-4pm Programming 1
SUNDAY:
–Making Webcomics 9-10am Programming 2