Posts Tagged 'albert the alien'
137 items.
The first appearance of our main character: Albert the Alien!
The student paparazzi, lead by student reporter Miranda Tam, are documenting his first steps inside of the school. Albert is a seriously fun character to write because he's just a normal everyday kid – but he's just different enough to be a little strange. This is often the way I felt as a kid growing up – being into comics, cartoons, video games and other things that the normal or popular kids thought were nerdy. Back when "nerdy" meant "not cool." Now, with the popularity of video game systems and comic book movies, I think it may be a little different story. Maybe.
"Take me to your teacher" is probably my favorite line from Albert in the first issue. It's like the cliche alien line "take me to your leader," but just different enough to have charm and be cute and funny. Which is what Albert is – unintentionally funny and odd.
In fact, upon telling the class a little about himself, they're not really sure how to react. Or what he even said, exactly. The only person who has an opinion at this point is Wally – the school bully. And let's be honest, Wally's feelings are probably not towards the positive end of the spectrum.
Another fantastic update goes live on Friday! Be sure to come back and check it out!
Happy Friday! Not only is it the end of the week, but it's also time for another Albert the Alien update!
Today's update has Gerty and Wally going head to head – and also introduces another character, Martin MacFly. Martin is a parody of – yes, you guessed it – Marty McFly from the awesome and amazing movie series Back to the Future. What I love about Gabe's design is that he both modernized the outfit of Marty (played by Michael J Fox in the movies) enough to be his own character, but kept enough of the color scheme and outfit choices so as to be recognizable.
So far all of the kids we've met have one thing in common: They get picked on by Wally.
However, the last panel suggests we're about to meet our new student… And we will, when we update next week!
###
I am attending C2E2 this weekend in Chicago! You can find me at the Reading with Pictures booth (#1330) again, selling copies of the anthology (as well as Albert the Alien and Junkyard Chase).
We will also be doing a live reading on Sunday on the Variant Stage from 1:15-2:15pm, showing off some of the new RWP volume 2 material. Including the brand new Albert the Alien story specifically written for this new Graphic Textbook.
There will be a lot of fun and exciting things going on, so I hope to see you all there!
Here we see Heston Heights Middle School for the first time, slightly modeled after Jackson High School in Jackson, MI. I liked the gothic architecture of the building – something kind of old school. There's just something awesome about a big old school building. We will likely be modernizing the school throughout the series, however in it's current state it's pretty normal.
We get introduced to several characters on this page:
1) Gerty Greyson – who will become one of the main characters moving forward. She's a little nerdy, but also not afraid to stand up for her friends and voice her opinions.
2) Wally McNally – the school bully, and all around mean kid.
We also see the teacher, which was one of our sponsor spots auctioned off on our facebook page before the comic went live. The teacher is actually retired middle school language teacher Joyce Vivirski!
We will be announcing several other paid appearance opportunities for the second issue soon, so be sure to "like" the facebook page and stay tuned for updates. So if you (or someone you know) would like to appear in an issue of Albert the Alien, we can definitely make that happen. However, appearance opportunities are limited – so be sure to act fast when they pop up.
Gabe and I are prepping for C2E2 this weekend in Chicago. If you're coming to the show, be sure to swing by the Reading with Pictures booth (1330) in the small press area and say hello!
###
Trevor and Gabe will be attending C2E2 this weekend in Chicago! They are manning the Reading with Pictures booth (#1330) again, selling copies of the anthology (as well as Albert the Alien and Junkyard Chase).
They will also be doing a live reading on Sunday on the Variant Stage from 1:15-2:15pm, showing off some of the new RWP volume 2 material. Including the brand new Albert the Alien story specifically written for this new Graphic Textbook.
There will be a lot of fun and exciting things going on, so we hope to see you all there!
I will be attending C2E2 this weekend in Chicago! I am manning the Reading with Pictures booth again, selling copies of the anthology (as well as Albert the Alien and Junkyard Chase).
We will also be doing a live reading on Sunday on the Variant Stage from 1:15-2:15pm, showing off some of the new RWP volume 2 material. Including the brand new Albert the Alien story specifically written for this new Graphic Textbook.
There will be a lot of fun and exciting things going on, so I hope to see you all there!
A new page for Albert has gone live. Check it out here.
We open our story inside the studio for the morning student announcements, with student reporter Miranda Tam.
Miranda was a fun character to create, since her name is a combination of elements from my favorite science fiction movie: Serenity. Serenity was the motion picture that wrapped up the canceled Fox series Firefly, created by Joss Wheddon. Joss even directed Serenity, which is an action romp with cowboys in space. It may sound bizzare, but it's actually pretty awesome.
"Miranda" was the name of the planet the crew visited in the movie (no spoilers)
"Tam" was the last name of Simon and River, two main characters from the series
Additionally, the name of the town (Heston Heights) is a play on actor Charlton Heston, who was in some of the most famous science fiction movies of all times including the original Planet of the Apes! The school mascot is also The Ape, so I'm sure we'll have fun with that in later adventures.
There will be a lot more fun little references throughout this webcomic series for sci-fi fans, however they won't be necessary to know to enjoy the story.
After summer vacation, coming back to school was a very strange feeling. On the one hand, I remember being excited for a new year of hanging out with my friends every day and wearing new outfits and learning new stuff. On the other hand, it meant summer was over – and there would be homework and studying again. I enjoyed learning, and wanted to learn as much as I possibly could. I just didn't enjoy homework or studying.
Thankfully my parents encouraged me to study hard, and helped me with my homework when I needed it. I got through school with good grades, and – more importantly – some important study and time management habits that I still use to this day.
As an adult, I do miss learning in an academic environment a bit. But I don't miss studying and homework.
Welcome to the First page for Albert the Alien! An all-ages sci-fi / comedy / adventure story from the minds of Trevor Mueller (that's me) and artist Gabriel Bautista.
Albert is just a normal every day kid…from another planet!
This project has been a long time coming, with Gabe and I having first teamed up on the character in 2009 for the Reading with Pictures volume 1 anthology (which came out in 2010, and was nominated for two Harvey Awards).
Gabe and I loved the character so much that we teamed up again in 2012, producing two stand-alone print adventures for Albert (available for sale in our store). However, I kept wanting to go back to the well and tell more stories with the character. The more I thought about it, the more I wanted to build his world and expand his friends. I wanted to play more in the world Gabe and I were building, and tap into my inner child to write a really fun story – something that I would have enjoyed watching every Saturday morning growing up.
Then the story hit me, and I pitched the idea to Gabe. And he loved it!
Over the next year, we started crafting the story you are about to experience: Albert the Alien is New in School!
This 4 chapter adventure will showcase the events over Albert's first week or so of school. Each chapter will have a fun stand-alone adventure, but also an over-arching story throughout that binds the 4 chapters together and further dives into the world of Albert the Alien.
The webcomic will update every Wednesday and Friday with a new page, and blog updates throughout the week as well. We would also love you to share this with your friends and family, and remember: it's all ages (recommended for readers 7+).
There's also a Facebook Fan page, so feel free to check out this site and the facebook page for the latest news, events, and cool stuff going on in the world of Albert the Alien!
Welcome to the world of Albert the Alien, and thank you for checking out the site. Stay tuned for the first page of his adventure on Friday! We hope you enjoy this as much as we have.
You've no doubt heard me talking about all of these projects I have in the works, and the big one I keep talking about is Albert the Alien webcomic series (launching later this month). However, I do have a laundry list of other projects on my plate as well:
1) Albert the Alien (webcomic): The all-ages sci-fi adventure story will be like a Saturday morning cartoon, featuring funny jokes and hilarious misadventures. I've been talking a lot about this project in other posts, so I won't get into too many details here – but it's pretty awesome and exiting news!
2) @$$hole! volume 2 (graphic novel): Still working on the subtitle for this collection while I continue to put the book together, but because of popular demand I have pushed forward the production of this graphic novel. This will collect the next several story arcs (approximately 120 total pages, including new and bonus content), including the award-nominated photo story arcs (@$$hole was the winner of best photocomic award in 2011).
3) Aw Yeah Comics: Art and Franco recently had a hugely successful kickstarter campaign raise over $47k to fund their self-published all-ages book called Aw Yeah Comics, based on original characters they created for their kid-friendly comic store in Skokie, Il. Both creators had approached me to pitch last year during conventions, and so I did. And recently I received confirmation that my story was accepted! Working with Gabriel Bautista (my Albert the Alien artist) to create a fun 5 page story to appear in their book.
4) And a few other super secret projects still in the works….
Suffice it to say, there's plenty going on from the comic front to keep me busy. When I'm not working and, you know – planning a wedding.
Hope to see you guys at a convention soon, and hopefully will have some of these projects to share!
Progress is being made on the Albert the Alien webcomic front, still pacing to launch late this month. The scripts for the first three issues is done, and I'm still plugging away on issue 4 script – which would conclude the first story arc. Gabe is hard at work on the art duties, and the pages he's turning in are looking nothing shy of AMAZING.
Don't believe me? Here's a preview:

We held a little auction to have fans appear in the first issue, which was pretty successful. We may continue to sell some appearances in some of the later issues, if there's interest.
Additionally we're working hard on the website. I was going to try to do this thing myself, but my time has become rather limited lately so I had to outsource. But,I have outsourced to the best. My goal is to keep the functionality of the site basic, so it's easy to navigate.
There will be several sections available at launch:
1) ABOUT: A section about Albert the Alien, as well as the creators – myself and Gabe.
2) CAST: A page that lists out the major players in the plot, so it's easily accessible to new readers on the fly
3) STORE: There will be a store available at launch, so fans can pick up the currently printed self-published stories. As well as some other goodies Gabe and I will be selling. Gabe will also be selling commissions for limited periods of time through the store, and we will make announcements when those are available
Again, trying to keep it pretty simple and easy to navigate out the door. I'm sure we'll add some more pages as time goes on.
While we continue to work on the website, feel free to check out the Official Facebook Page for Albert the Alien. Once the landing page is up and running, I'll be providing links to that as well.
###
I have a few appearances coming up in the next few months:
1) C2E2
Chicago, IL
April 26-28
I'll be running the Reading with Pictures booth in small press, selling copies of the anthology as well as Albert the Alien. We will also be doing a live reading on Sunday on the Variant Stage from the new anthology, as well as some new Albert the Alien material.
2) Free Comic Book Day
Pretty sure I'll be returning to Comix Revolution in Mount Prospect, IL. I've been there the last two years, and have done pretty well for myself at the show. Additionally, they let me DJ the event – so there's good tunes while you check out the books in the store!
3) ACEN
Rosemont, IL
May 17-19
I'll be returning to Anime Central for the 5th year in a row as a guest of honor. I love this show. It's seriously my favorite show to attend throughout the year, and we'll have some big announcements, fun panels, new stories to share, and yes – comic-related hijinks throughout the entire weekend! Look for me in artist alley during the day, and then I'll be doing panels at night. Hope to see you there!
February 15th, 2013
|
by Trevor
I'm attending Anime Milwaukee this weekend as a guest of honor. However, that doesn't mean that "THE WORK" stops just because I'm at a convention. I wanted to share some finished pages for the in-progress Albert the Alien story that will appear in Reading with Pictures volume 2: The Graphic Textbook.
The story is called "It's a Figure of Speech," and it's about how English is a second language for Albert. Because of this, he takes figurative speech literally.
This story will appear in the RWP volume 2 book that was successfully funded through Kickstarter, and is due out later this year. Enjoy!
January 18th, 2013
|
by Trevor
As the child of two teachers, education has always played a very important role in my life. I've always been encouraged to study hard, get good grades, and enjoy my educational experience.
As such, when I was given the opportunity to join Reading with Pictures – a non-profit organization getting comics into classrooms – I jumped at the idea of combining my two lifelong passions: education and comics.
Reading with Pictures has done so much for me:
1) Introduced me to so many wonderful and supportive people
2) Partnered me with fellow Albert the Alien creator, Gabrial Bautista
3) Given me my first professionally published project
4) Set me up with numerous speaking engagements, convention appearances, and opened doors for me I'm probably not even completely aware of
5) So many more things that I can't even begin to start listing here
With education playing such a crucial role in my life and my work, I can't help but pay attention when awful situations happen in schools. The latest of which was a tragedy beyond measure, and something this country will not soon forget.
So when Reading with Pictures posted the below press release, asking for all-ages comic donations, I had to participate.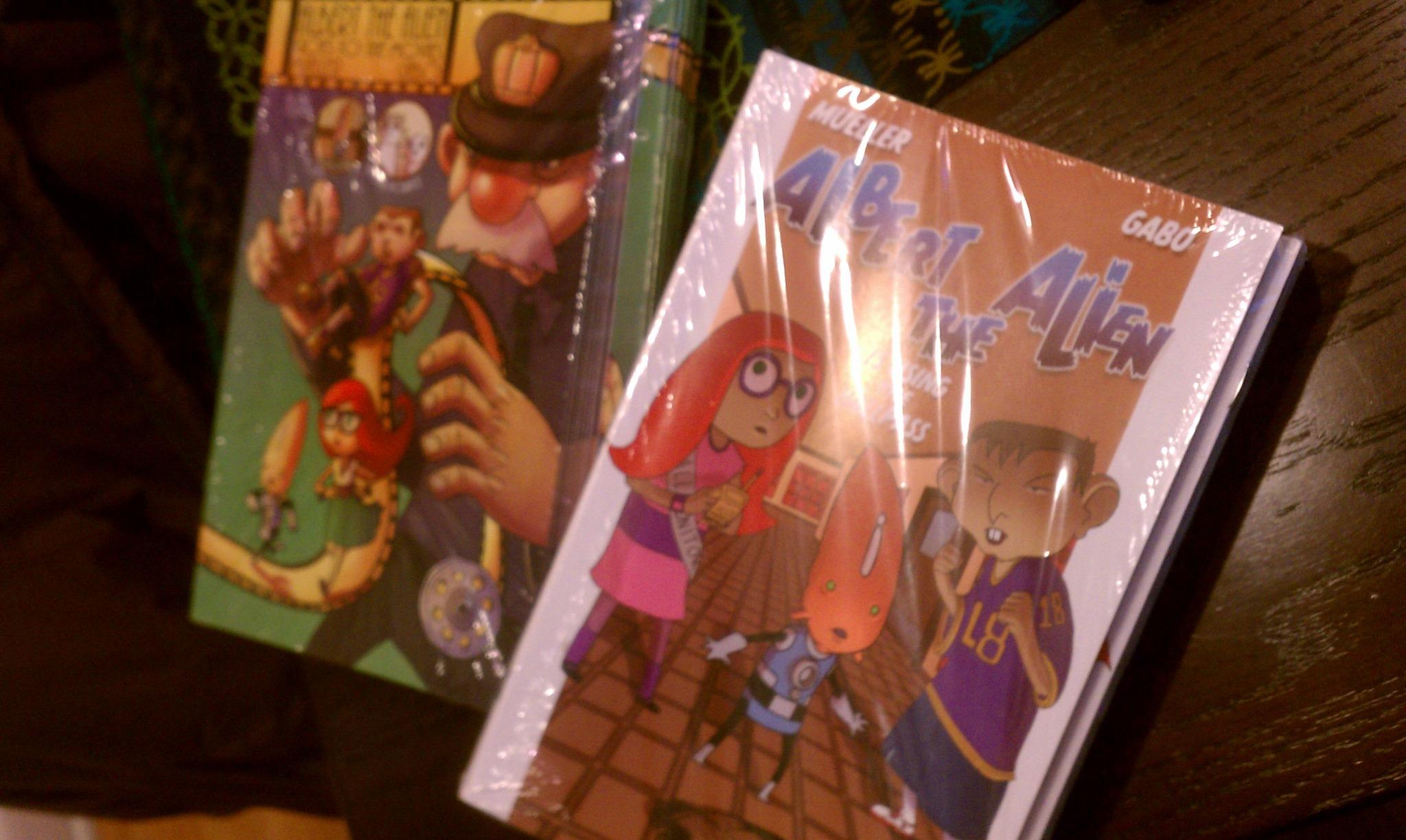 Both Gabe and I feel for the families affected by this horrible tragedy, and as such we have donated a large supply of Albert the Alien comics to the kids of Newton through Reading with Pictures.
Below is the full press release, and they are still accepting donations of comics for the families. If you have some all-ages comics you would like to donate, please e-mail RWP at the below e-mail address.
Our thoughts and prayers go out to the families affected by this terrible event, and I hope our donation can somehow help to brighten someone's day.
###
We at Reading With Pictures reacted to the tragic news coming from Newtown, CT with the same sense of loss and sadness that everyone else felt. As a nonprofit organization with a special tie to education and schools, to see the bond of safety and trust punctured was absolutely heartbreaking.
The outpouring of support all across the nation has been inspirational and we want to help in our own small way. An important time of happiness between families is reading together and we want to put together a collection of kid friendly comic books to send to the families in Newtown, CT.
We'll be working with connections we have in that community to coordinate the best possible direction for this donation but we wanted to ask for your own help in this comic book drive.
If you have any children's comic books to donate or want to assist in this, please email info@readingwithpictures.org
Due to increased interest, we will accept donations through the end of January 2013. Please keep the following in mind:
1. We want children's comic books only. Nothing scary, violent, suggestive in anyway. We will be scanning all donations to ensure the content is appropriate.
2. If possible, try to donate a few sets so we can spread them out among families
3. Your donations are tax deductible and we will provide all donors with a tax receipt
4. Reading With Pictures will attempt to document as much as possible the donation's progress up until we send it but after that, we will want to respect the Newtown, CT community's privacy
From all of us at Reading With Pictures, thank you so much for not only your compassion and caring but also believing in the power of comic books in creating community.
Update #1
We received our first donation yesterday! We'll be cataloging each comic and making sure its all kid friendly, but at first glance it looks absolutely great!
We're also just waiting to hear from our contact at Sandy Hook Elementary after reaching out. With everything that's been going on, as well as school typically being out for holiday break, we are confident in hearing something concrete in the new year.
Reading With Pictures will also be donating a whole box of the anthology to this effort.