Posts Tagged 'albert the alien'
119 items.
Anime Central (or ACEN, as it's often called) is the 3rd largest anime convention in North America, and I have had the distinct privilege of being a returning guest of honor for 6 years in a row. ACEN is a lot of fun, I call it "the con that never sleeps," and it's set the bar for how well they treat their guests year after year. It's seriously my favorite show, and this year was no different. Let's dive right into the events of the weekend….
THURSDAY:
The day before the show started I headed over the convention center to say hi, get my badges and agenda for the weekend, and to hang out at the Hyatt restaurant and get a little comic work done. I brought along the iPad, which has become my favorite portable tool for working on scripts on the go. It's light, portable, and the keyboard case I bought for it is very easy to use.

Working on the next Albert the Alien script at the bar before the show
I also had a chance to pay a little homage for a friend of mine who isn't with us anymore. My friend Kim brought me to my first ACEN back in college, and after we graduated it was the one time in the year we got to hang out. Unfortunately, Kim passed away from epilepsy several years ago, and so I decided to honor her memory this weekend in a few ways. This was one of them, but the other would happen Friday night during the Panel that Shall Not be Named. More on that in a little bit….

One for me and one for absent friends
I was visited by a lot of friends while I sat the restaurant, and had a few drinks and meals with them as they came and went. I eventually got my room key and checked in, and my wife dropped off the rest of my stuff not long after that (thank you, honey, for driving my heavy stuff so I didn't have to carry it on the train). Towards the end of the evening I went to the Green Room for their industry mixer, meeting all of the guests who had arrived by that point and mingling a bit. However, I also got invited to go see Godzilla opening night in IMAX 3D. I'll post a review about the movie at some point in the near future, but I can say this – DON'T GO SEE IT IN IMAX 3D. Not worth the extra money.
After the movie ended I went back to the hotel and went to bed. ACEN is an exhausting weekend that often results in me losing my voice, and I wanted to get as much rest as I could.
FRIDAY:
Friday morning started off early, with me hitting up the gym with my fellow ACEN workout buddy Jessie Pridemore. Jessie and I have somehow just met in the gym over the last several years at this show, and this year I decided to reach out to her and make it an official meet up. The two of us motivate and push each other, help each other out with spots and whatnot, and ultimately get to hang out and have fun before the show starts. Plus, working out first thing in the morning tends to make me feel energized for the rest of the day. And I had a LONG day ahead of me.
I took a quick shower, went down for breakfast, and met up with fellow comic guest Josh Elder (Scribblenauts, Mail Order Ninja). We were both there representing Reading with Pictures as the educational guests of the show, and after breakfast our handler escorted us to opening ceremonies. We sat through the introductions before we had our chance to go up on stage and give our pitc – the beginning of which I gave Josh a hug and whispered "Hail Hydra" into the microphone. Sadly, I don't know that anyone actually heard the exchange over the applause.
We pitched ourselves and our panels, and then headed straight out to the floor to set up. The convention floor was set up a little differently this year, with an Industry section up front and Artist Alley behind it. This is not unlike how Reed sets up their shows, and it created some good flow overall for the floor. Unfortunately the vendor who set up by us had a 13 foot tall vertical display banner, so our tables were a little obscured and this hurt sales for the first day.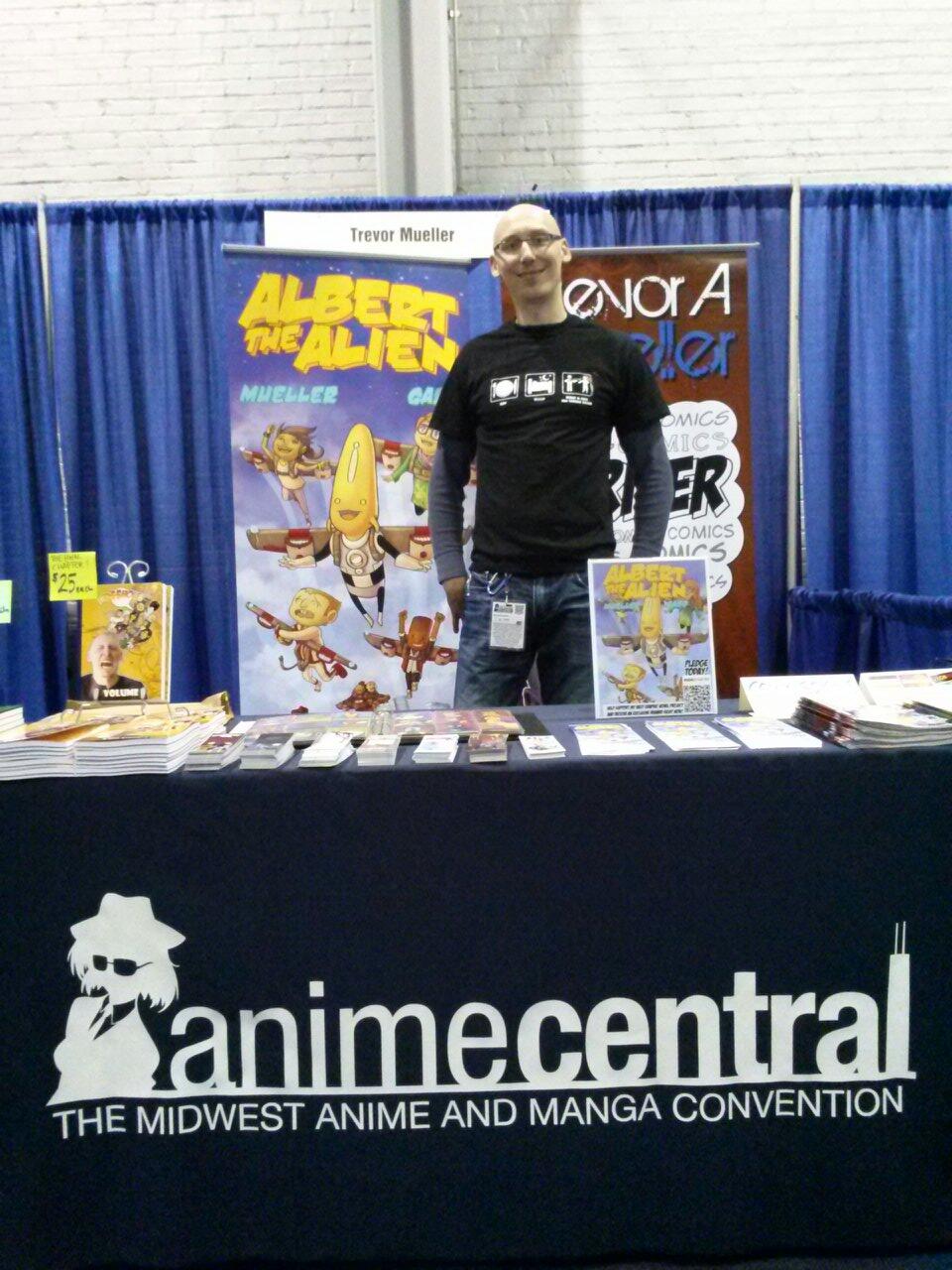 The booth set up (original location)
Josh primarily worked on some comics and I sold to anyone who came by (when they came by), but I spent most of the day trying to figure out how to move us closer to or inside of Artist Alley. Eventually my artist Gabo offered me a half table, and I decided to take him up on it on Saturday.
Our primary goal during the weekend was really to promote the new Kickstarter we had launched for Albert the Alien. Kickstarter campaigns are a lot of work, and being unable to tweet and promote because of the event could have hurt the campaign. But we turned it into a positive by handing out some vertical fliers with QR codes that linked directly to the pledge page, and to incentivize pledges during the weekend by offering an ACEN exclusive reward (which was a mystery prize).

The Albert the Alien Kickstarter promotional handouts given out at ACEN
I also had a few new book products on the table, including the final chapter of @$$hole! and the new limited edition box set.

The limited edition box set
After AA closed, Josh and I headed up to PDR (where they serve guests meals) to grab a quick bite before our panels started. During that time, my wife showed up so she could enjoy a bit of the show with us as well.
All of our panels were in panel room 3, and they were often back to back – so it was very easy to get comfortable in the room and switch off back and forth with each other. Our first panel was an introduction to Reading with Pictures, which was did together. Josh talked more about the organization and it's goals, and how it was founded. I talked more from a content creation standpoint, and what it was like to create stories that contained educational content but also had a fun adventure story. As always, we worked off of each other well and gave a very informative and entertaining panel that the attendees really enjoyed.
After that, Josh gave a panel about working on licensed properties – including his latest work on Scribblenauts for DC. After his panel ended, however, I got to move into the main event – The Panel that Shall Not be Named.
This is a panel ACEN has me do every year, and has a lot of history at the con. It's a ton of fun, but this year I decided to mix it up a bit and make it 100% brand new. I can't say what happens in that room (you have to be there to experience it), and the title alone usually draws about half of the crowd, but I like to mix it up so it's something new for the people who do come back each time. This time I even threw in a few curve balls and told a story about my friend Kim, which had some of the people in the audience in tears. Hell, I was tearing up telling the story. But I recovered with a few additional fun stories about how I met my wife and how I proposed….and then showed them some of the fake movie trailers from our wedding.
After the panel I bum rushed it to the improv panel (the same folks put it on at Con Alt Del, and it was a fun time) and I jumped in for a few quick skits. I was only there for about 10 minutes, however, before the panel ended. I had done some skits with this same troupe during Con Alt Del late last year, and they were a lot of fun. They also offer improv classes, for anyone who's interested to join.
After that, we went back to the hotel room to go to bed. I had been at the gym by 7am that morning, and we went to bed around 1am – and I had to start my day with a 9am press call on Staurday. As I said, the show's a lot of fun – but you do have to work, too.
SATURDAY:
Saturday morning I got up, grabbed a quite bite of breakfast, and ran to the press event. It was a group of about 6-10 people asking questions about Reading with Pictures and educational comics. As the Marketing Director for the organization, I answered their questions well and then met up with Josh to hit up the floor. My friend Anna joined us when Beth went home (her first anime convention), and we relocated to Gabo's half table in artist alley to help increase sales.
Sales were quite a bit stronger in AA, and it was nice to be around other creators for a while. We sold our hearts out, and then went to grab a quick dinner between AA hours and our panels.

One of the ACEN exclusive Kickstarter rewards – these were very popular
Josh started off the evening of panels with his "Case for Comics in the Classroom" panel, talking about the benefit comics bring to education and the unique way they can be leveraged in an academic setting. After that, I jumped straight into my "Making Time for Making Comics" panel, which was essentially about time management. Making time for your creative projects. As someone who has made a career out of planning, project and time management have been critical to me in both comics and my career, so it's something I had a lot to talk about. And it was a great panel with a large audience and a lot of engaging questions – and some strong sales after.
After that, Josh and I both did a "Breaking into Comics" panel talking about our two very unique stories and how we've both walked different paths to getting where we are today. It was a great chance to share some funny and insightful stories from conventions, as well as some more engaging questions from the audience. It ended with a standing ovation and a 45 minute buying and signing line – which I've never had before! Since we were the final panel in the room, though, we were able to go longer, which was great.
We skipped the 18+ Cards Against Humanity panel (which I've done before, and it's a lot of fun, but it was going to end in 10 minutes) and instead dropped our stuff off at the room, said goodnight to Anna, and then headed up to the Green Room to hang out. It was Josh's birthday, so I interrupted everyone and lead them in singing him happy birthday. There was much cake and merriment after, and long conversations late into the morning. Around 3am we all headed back to the room and went straight to sleep.

Another original from Gabo for the Kickstarter promotional exclusive to ACEN
SUNDAY:
The final day of the show was a slightly later start for us. We had some quick breakfast, and then I headed back to my half table to sell my heart out on the final day. Sales were similar to the previous day, but we did have a lot of interest in the Kickstarter from people who had stopped by earlier. They wanted the exclusive, which was a 3-panel strip you could only get at the show, with an area for Gabe to draw an Albert commission on the back. We gave out about 7-10 of these at the show, so it was definitely worth it.
Eventually Beth showed up to help out, we kept selling until the very end, and before I knew it the convention was over. We broke down, said our goodbyes, went into the hotel to validate our parking (and say thank you to all the staff and volunteers who helped make this weekend possible), and then headed home.
ACEN is a convention that never sleeps (and I never sleep at it), and it's a lot of hard work. But it's a really fun weekend, and it's a show I hope to continue to guest at for years to come!

It's Wednesday, and we get to see the 7th grade student play in today's Albert the Alien: Romeo and Juliet – IN SPACE!
Even though the setting has changed, the kids are still speaking in the old English original text of the play. This is basically a sci-fi twist on the series, not unlike how Baz Luhrmann set it in modern times in the 1996 movie with Leonardo DiCaprio and Claire Danes. With the show being sold out for the first time here, this clearly has worked on the local population of Heston Heights – or maybe it's just the fact there's an alien in it that's drawing them in. Either way, sales are good for earning money for the school programs.
So will Gerty get her first kiss on stage? Come back Friday to find out!
In case you didn't hear, we've launched a Kickstarter campaign to fund Albert the Alien Volume 1: New in School as a graphic novel! Please check it out, pledge today (the popular reward levels are disappearing quickly), and help spread the word by telling all your friends and family about the project! Together we can make an amazing graphic novel filled with the webcomic series we all enjoy, as well as a ton of bonus content only available in this exclusive print edition!
Please pledge today!
Albert the Alien's first adventure, New in School, has finished. And to collect it into an awesome graphic novel, we've launched a Kickstarter campaign to help raise the funds needed to print and ship the book directly to readers like you!
The book will be over 132 full-color pages, featuring:
- Albert's complete first adventure, New in School
- A forward by comic legend Mark Waid
- The original Reading with Pictures story, featuring Albert's first adventure (currently out of print)
- Bonus stories exclusive to this print edition
- Sketches, character designs, and more bonus material!
Pledge today, and you'll gain access to the update feed which will feature exclusive behind-the-scenes content like:
- The making of the book
- Behind the scenes making of the bonus stories from industry professionals
- Videos, interviews, and bios on all the creators involved in the project
- And so much more!
How can you help make this awesome book a reality? There are two ways:
1) Pledge to help fund the campaign (if you can). Pledge any amount you want, or pledge at a reward level to receive cool gifts. You only get charged if the Kickstarter is a success. If the Kickstarter doesn't reach it's goal, then you don't get charged at all.
2) Help spread the word and increase awareness of the campaign. Tell everyone you know on your personal websites, social media sites, or via e-mail.
To make it even easier for you, I've included some examples for things you could post. Feel free to cut and paste them:
FACEBOOK / WEBSITE:
Do you like graphic novels or fun adventure stories? Trevor Mueller is making his next graphic novel, Albert the Alien, and raising the funds for it on Kickstarter. It's an all-ages adventure story about the first intergalactic foreign exchange student and his adventures on Earth! Click the link below to check it out:
https://www.kickstarter.com/projects/trevoramueller/albert-the-alien-vol-1-new-in-school
There's going to be 132 full color pages including bonus stories from guest comic artists. He's going to have a lot of unlockable reward levels, special bonus content, and stretch goals to help make this campaign totally awesome. Please check out the campaign, and if you like what you see, please pledge to help make this graphic novel project become a reality!
TWITTER:
Hey guys, check out the @kickstarter for @trevoramueller & @galvosaur's graphic novel Albert the Alien: https://www.kickstarter.com/projects/trevoramueller/albert-the-alien-vol-1-new-in-school
Thanks so much for your support over the years, and I appreciate you taking the time to help me spread the word about Albert the Alien. Together, I know we can make this Kickstarter an amazing success, and put an awesome graphic novel together.

Happy Friday! And oh my goodness, does Gerty have a dilemma in today's Albert the Alien!
Do you remember your first kiss? I don't remember when or where, sadly, since it was so long ago, but I do remember who. I used to "date" the neighbor girl growing up, and we were going to get married and live in a tree house in our parent's back yard. That dream lasted until she moved away – which was right when I was about to go into sixth grade. You see, even though we lived right next door, she went to a different school and was a year older. My getting into sixth grade was an opportunity for us to finally be in the same school together, and we could actually be that cute couple that dated since they were little kids.
However, as I said, she moved to another state and we kind of lost touch over the years. I do see her on occasion now, and we still get along – we have tons in common. But sadly, the child-like dream of living in our parent's back yard in a tree house has since faded. But she was my first kiss.
Who was your first kiss? Do you remember where or when you had it?
Next week, a few announcements:
1) The Kickstarter campaign to fund the Albert the Alien Volume 1: New in School graphic novel will launch! We're going to be collecting all 100 pages from the webcomic, plus additional bonus stories! Be sure to pledge to the Kickstarter to see all the awesome updates, unlockable reward levels, stretch goals, and more! We'll post a link once the campaign goes live.
2) Anime Central is our next convention appearance! ACEN is the 3rd largest animation convention in the country, takes place in Rosemont, Il on May 16-18, and is my absolute favorite show of the year. Gabe will be in Artist Alley, and I will be a returning guest of the show! I'll have a number of panels throughout the week (my panel schedule will be posted closer to the event date), as well as a number of books for sale. And commissions – did I mention Gabe and I will both be doing commissions?
We'll also be doing some special fundraising activities for our Albert the Alien Kickstarter! The Kickstarter campaign starts at ACEN, and there will be a special prize for people who pledge at the show!
Here's the panel schedule for the weekend (more may be added at random):
FRIDAY:
Introduction to RWP – 7pm – Panel Room 3
The Panel That Shall Not Be Named – 10pm – Panel Room 4
SATURDAY:
Time Management – 8:30pm – Panel Room 3
Breaking Into Comics – 9:30pm – Panel Room 4
Many of you are aware that Albert the Alien updates on this site every Wednesday and Friday, and also updates on Mark Waid's THRILLBENT site every Tuesday.
For anyone unfamiliar, THRILLBENT is Mark Waid's digital distribution site where he (and other top creators) get to play with digital format and storytelling in new and unique ways. Albert is the only all-ages property on the site currently updating for free (they also have Art and Franco's Aw Yeah Comics series available in their store).
THRILLBENT is a fun way for me to deconstruct and tell Albert's story in a different way, and the reveal of the locker thief was a prime example of that. So we're going to deconstruct that sequence and how it's viewed on the two sites.
SPOILER WARNING – IF YOU HAVEN'T READ ALBERT THE ALIEN CHAPTERS 1-4 YET, WE'RE ABOUT TO GIVE AWAY A BIG MYSTERY HERE.
When we did the big reveal of the locker thief on AlbertTheAlien.com, we did so in a typical comic way. Sure, we could have emphasized even more with a full or half page splash, but we just simply didn't have the room to increase the drama. It looked like this:
ALBERTTHEALIEN.COM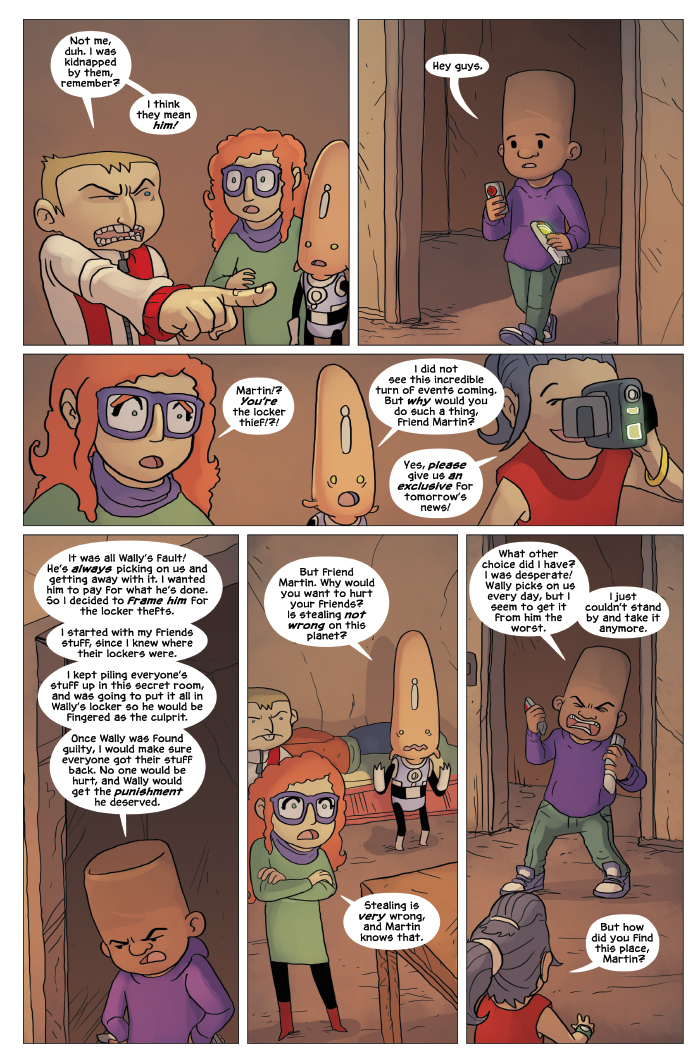 However, when we did the Thrillbent.com update, I wanted to really go all out and increase the tension and drama of the moment. This allowed me to play and be a little creative with the pacing. Thrillbent works kind of like a slideshow – you can reveal as much as you want when you want. This is unlike a comic page where the reader absorbs a page a panel at a time – but let's be honest here, your eye will jump ahead sometimes, which can ruin the reveal.
For Thrillbent's sequence, I wanted to really blow this up. So I took some assets from earlier pages and edited them into the sequence, and then chopped up other panels to make the reveal more like a slow pan up the character – like in a movie.
This is what the sequence looked like for Thrillbent:
THRILLBENT

The extra shot of Wally came from a panel on Page 5 of this chapter, but I just edited the background to match the new scene. The other assets came from the same page, but were chopped up into smaller panels that revealed just a little bit each time. A little teaser, if you will. Until the final reveal of who the character is – and then we go back to the shocked expressions of Albert the Gerty.
This was a big moment for them – this is their best friend! It's a betrayal, and something I really wanted to drive home. And it's also one of the things I love about Thrillbent – it gives me an opportunity to play with the pacing and the reveals a little bit in this way.
So which sequence did you prefer? Are you a fan of Albert on his own site, or on Thrillbent – or both? Let me know in the comments below.
February 12th, 2014
|
by Trevor

It's Wednesday, but wait – there's good news: Here's another brand new Albert the Alien!
As the kids continue down the hallways behind the hallways, they uncover the hiding place of the stolen goods! The locker thief has definitely been using this space to store their loot. But what could be going on with Wally and his goons in the other room? We'll find out on Friday with the next Albert the Alien!
The inspiration for the hallways behind the hallways came from my real-life experience. My father was an administrator at a school that had secret tunnels behind the walls of the school, and certain lockers (and other entrances) that were blocked off and off-limits to prevent anyone from gaining entrance. Some of them lead to hidden rooms, abandoned pools, or even took you clear across the city. The building had been used in the Underground Railroad, I had been told, and this always stuck with me as so awesome.
I got access to the tunnels and secret passages – some leading me up to the roof of the school, which was like a castle – but not just my boyhood sense of exploration enjoyed this. I was walking through a piece of history. It was like I was touching something that happened so long ago, but it wasn't in a museum. It was real. It was right in front of me. And I could explore it!
There will be many more mysteries and adventures to be had with this school, and we'll find out one of them on Friday. See you then!
January 31st, 2014
|
by Trevor

Today's Albert the Alien shows the inside of the mysterious Locker #13!!!!
But wait, what's this? It just looks like a normal, empty (dirty and unused) locker! How can that be?
Gabe and I had a funny conversation when he sent me this page, which went a little something like this:
TREVOR: Ha ha ha, I think it's funny that Albert can hack the locker combination when it's not networked – too funny.
GABE: well I figure it's being used by what's his name – maybe he's got some locking mechanism I don't know haha-
GABE: sonic waves created by the computer shifted the keys inside the locking mechanism – hahah
TREVOR: We can easily sum it up like this: it's ALIEN science! The usual laws of physics and logic don't apply.
So, to anyone out there who was wondering how Albert used a holographic computer to hack and unlock / open a physical (and non-networked) locker, there's your explanation.
So what's the real story with Locker #13? We'll find out next week! And please come back every Wednesday and Friday for more Albert the Alien!
January 24th, 2014
|
by Trevor
It's Friday, and that means another awesome Albert the Alien update!
It's fun to know that Wally doesn't let his short stature dissuade him standing up to the hall monitors, who are significantly taller than him. Wally can be an entertaining character to write because of these traits. And we'll explore his goons, Lugg and Ugg, in later stories for sure. Why would they follow someone who's so self-centered? So mean? We'll find out those answers for sure, but first we have more important questions for this story arc:
What is going on with the mystery locker?
Who's stealing from the kid's lockers?
Who are these robo-hall monitors, and why are they in the school?
We'll find out all these answers and more, later this chapter! Tune in next time, every Wednesday and Friday, for more Albert the Alien!
January 22nd, 2014
|
by Trevor
Happy middle of the week day (also known as Wednesday), and welcome to another installment of Albert the Alien!
There's a lot going on in this page, but my favorite part is Wally trying to shift the blame on Albert – and then Gerty getting back at him by saying that Albert has diplomatic immunity. Even though Wally doesn't say the same thing, what he does say "automatic impunity" technically means something similar. I'm sure this was unintentional on Wally's part, but I still found it hilarious. Almost as hilarious as when he finds out what it means, and then he covets it for himself.
Wally is an easy character to write. He's very selfish, and therefore can always be expected to look out for himself. Or try to shift the blame away from himself. That said, there's some large shadows looming in the final panel of this page – and it seems like they may be coming for Wally. The only way to find out for sure is to come back here Friday for the next installment of Albert the Alien!
January 17th, 2014
|
by Trevor
It's Friday, and that means's the weekend's right around the corner. But before we get there, we get to enjoy another update of Albert the Alien!
Today's comic features a little lesson about history. The Underground Railroad, and the importance it played in American History. No doubt you've learned about it in school, and I wanted to include a little bit of history in Albert the Alien (he did first appear in an educational anthology of comics, after all).
The teacher in today's update is a sponsored appearance by Daniel Wojcik. I met Dan while I was a guest at Anime Iowa, and we had many interesting (and late night) conversations about comics, anime, and yes – teaching! I'm a product of two teachers, so education has always been super important to me, and I was so happy that Dan agreed to support Albert with this appearance.
If you would like to appear in a future issue of Albert the Alien, we will be announcing future appearances soon! Please come back every Wednesday and Friday for another update!
Until then, have a great weekend!

Character design for Daniel Wojcik's sponsored appearance.