Posts Tagged 'albert the alien'
137 items.
January 17th, 2017
|
by Trevor
2016 was not a huge year in comics for me, but it was a huge year for life events. Beth and I bought a house and moved to the suburbs, found out we were pregnant, and then had a beautiful baby girl. I also traveled the world for work, visiting countries like Mexico, Singapore, Malaysia, Thailand, Vietnam, Philippines, and China.
If that wasn't enough, I also did a bunch of awesome stuff for comics:
2016 COMICS (and other) PROJECTS COMPLETED:
– LOS OJOS (Pop! Goes the Icon)
– OMEGA COMICS PRESENTS vol 2 (Pop! Goes the Icon)
– Albert the Alien webcomic updated every Wed and Fri without missing a single update; and also, that Harvey Awards nomination (www.AlbertTheAlien.com)
– Over 16 convention appearances
– Zootopia prequel comic (unpublished)
– 5-7 pitches for publishers (unpublished)
– Like 12 other unpublished projects
– Several Nostalgia Critic videos, including Batman V Superman
– Several Awesome Comics episodes, including hosting the Batman '66 debate
– Reprising my role as Lex Luther in the Channel Awesome Christmas Snydering production
2017 COMICS GOALS:
– ALBERT THE ALIEN vol 3: HOME LIFE (Kickstarter will launch in February)
– More episodes of the NC and Awesome Comics, I'm sure
– Starting a video series for my Patreons, maybe syndicated on my YouTube page
– 1-2 untitled self-published graphic novels
– 3-5 pitches for publishers, minimum
– 5 convention appearances (and maybe a few panels and single-day library shows)
– I'm cutting back on cons in 2017 because of the baby, but will kick it back up again in 2018
– Maybe start a prose novel…just because
September 4th, 2015
|
by Trevor


Below is the list of the very awesome and supportive people who made Albert the Alien volume 2 a reality, but supporting us on Kickstarter. Without their support, Gabo and I wouldn't be able to do what we love doing – telling stories about a cute little alien student from another planet. From the bottom of our hearts, thank you so much for your support.
Please note these names are in alphabetical order, and based on Kickstarter user names (so some are just first names, or pseudonyms).
Alan Evans
Alicia Vonderharr
Allison Adams
Andrea Laidlaw
Andrew Hernandez
AnimeLover
Ashley Turner
Barry Chapman
Beth Mueller
Beth Camero
Bob Eddy
Bradley Walker
Brandon Viruet
Camilla Zhang
Carl Kloster
Cheryl Fisher
Chris Brown
Cody Dolan
Comfort & Adam
Cornelia Haggart
Crissi & Ed Boland
Dave Swartz
Dianne Noonkester
Donald Ferris
Effie Covganka
Elisabeth Sampon
Eric Beasley
Eric Palicki
Erica Hampton
Erin Walker
Ethan Daniels
Evan Ritchie
Fred Van Lente
gabo
Gene Ha
Gregory Noonkester
Holly Christine Brown
J Kevin Carrier
Jack Gulick
Jackie Healy
Jacob Halton
Jacqueline Lord
Jaroslaw Ejsymont
Jason Crase
Jason O'Connor
Jeff Buckner
Jeff Metzner
Jessica Panza
Jim McClain
John MacLeod
Jon Scrivens
Jorey Worb
Josh Elder
Joshua Todd Crowther
Joyce Vivirski
Julie Kurzawski
Kat Kan
Kate Tilton
Kimen
Madalyn Winans
Marc Fishman
Maria Abdul Hack
Megan Sprecher
Melissa Tidd
Melissa Wong
Marie Hln
Mike Innes
Michael Boeke
Michael Vincent Bramley
Mike Jakubowski
MONICA ATKINS
Nate Mueller
Neal Bailey
Nick Centofante
Nicole Bell
Rachel Ambrozewski
Rene Castellano
Rick Savage
Robert
Robert Jarosinski
Rudy Hernandez
Russell Nohelty
Ryan Kopf
Sally Ransford
Sara Parks
Sasha Arnkoff-Thompson
Scott Heinowski
Sean Gregory
Shawn Pryor
Steve Wallace
Susie Berneis
Taki Soma
Team Kirin Rise
Thomas Atkins
Tom Orr
Tom Stillwell
Wendy Duplechain
Zach Miller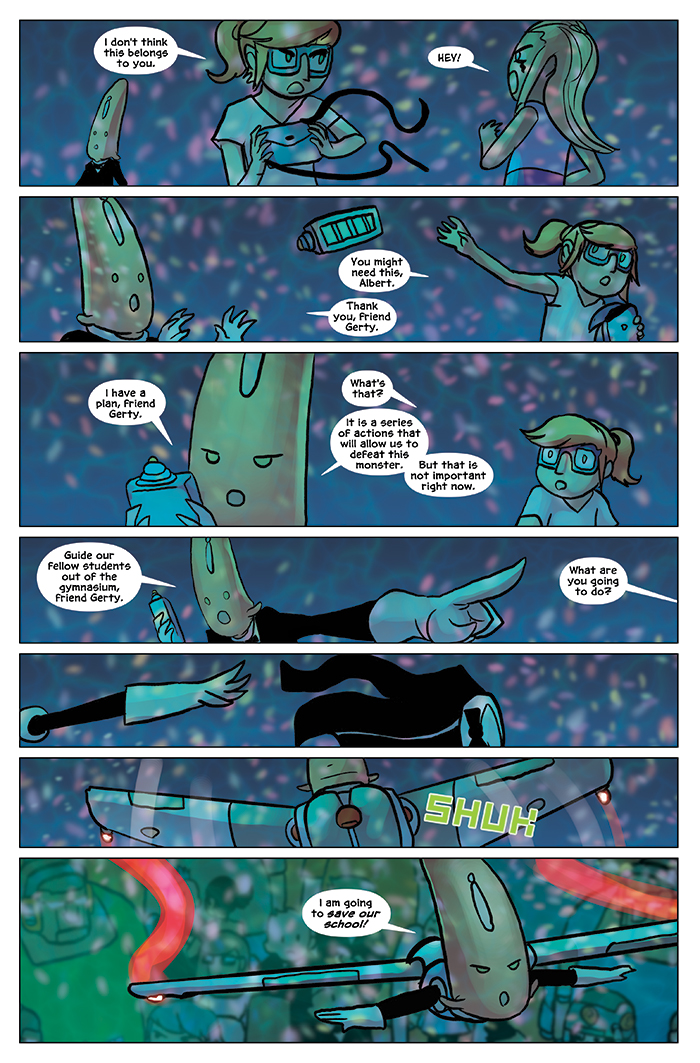 We did it! Albert the Alien volume 2 has been successfully funded on Kickstarter. Gabe and I are going to focus on putting this awesome graphic novel together over the next several months, and then get it off to the printers in time for holiday delivery. We'll also make some pre-orders available in case you missed the Kickstarter, so stay tuned for that!
Want to see the next page early? Vote now and see the next page of Albert the Alien!
We're doing some conventions in July! First up is Anime Midwest (July 3-5) in Rosemont, IL. I'll be a returning guest of honor, along with some other amazing guests (seriously, you need to check out this guest list)! I will be spending most of my time in artist alley selling comics and art, however I'll also be doing some panels throughout the weekend:
FRIDAY
– Writing Comics (panel room 3): 8:00pm – 9:00pm
– Self Publishing 101 (panel room 2): 10:30pm – 11:30pm
SATURDAY
– Kickstarter for Beginners with Trevor Mueller (panel room 4): 12:00pm – 1:20pm
– An Evening With Trevor Mueller (panel room 4): 7:30pm – 8:30pm
###
Additionally, I'll be appearing at Anime Iowa (July 24-26) in Coralville, IA as a returning guest of honor. This con is super fun, lots of great energy, and has some incredibly awesome staff and volunteers putting together a super fun show.
FRIDAY:
–Sponsor Meet and Greet 8-10pm Mainstage
SATURDAY:
–Self Publishing 101 3-4pm Programming 1
SUNDAY:
–Making Webcomics 9-10am Programming 2
This past weekend was C2E2, short for Chicago Comics and Entertainment Expo, and it was another incredible year of awesomeness! I had a bunch of buddies come in and crash with me Thursday night, so on Friday is when the real festivities began. I'll start there….
FRIDAY:
In the morning we all got up super early (so early, in fact, that some of my guests had already left to go set up their table). We had a quick bite of breakfast and then headed over to the show floor where, much to my surprise, we didn't have a table! This isn't uncommon, as the 10×10 spaces don't typically come with a table. Sadly, I had thought we were getting one, and hadn't brought mine from home. But thankfully after a few quick calls and some paperwork, we had a table just in time for set up before people started streaming into the show.

The Reading with Pictures booth, in all it's glory!
I started my day of sales, and sell hard I did. Thankfully, we had a few friends and volunteers to help out at the table as well. We were also doing a charity pub crawl, which we were promoting throughout the weekend as well. So there was much promoting going on – about the educational non-profit that is Reading with Pictures, about our books and initiatives, and about the other books we had on the table – namely, Albert the Alien!

Some good looking' guys at the Reading with Pictures booth. From left to right: Steve Horton, Alan Evans, and Trevor Mueller

Pizza face masks! We were giving these away as part of our pub crawl charity event
Because I was primarily helping out at the non-profit booth all weekend, I had been asked to try to make a lot of my personal sales for the weekend pre-orders. I talked to a lot of fans in advance of the show to secure commissions, book orders, and other revenue-driving items. I was worried this may not be a success, but much to my surprise people were really into it. In fact, some kept coming back to order more commissions over and over again. Here are some examples of what I did for the show on Friday….

A fan posed for a commission of him hulking out…

…and received THIS!

Posing with Rachel – who had a sweet sword!

Evil Kitteh commission of a fan's boyfriend's cat as a super villain

Chung Li vs Agent May commission (they were both played by Ming Na, who was at the show)

Spock sketchcard commission
The convention was a big success, with a lot of interest in the organization and in attending our pub crawl for charity. After a few hours I finally got a chance to break and walk around a bit. I had a great meeting with some publishers and editors, and got to shake hands with a few really cool people (my friends at Aspen, buddies at Penguin and Zenoscope, and a slew of others).
After a few hours, the floor finally closed and a group of us got together for our annual sushi tradition. Heading to my favorite sushi joint in the city, we all piled into cars and cabs and made our way to grab some affordable and delicious food! We were even joined by some new friends, which is great – you always bond best with people over good food.

Dinner at Niu with Blake and Carolyn Packard

John Bivens drops some hilarious jokes at dinner
After a nice long dinner, it was finally time to return home and get some much-needed sleep. We were all pretty tired and it was only the first day of the show. Tomorrow would be the biggest day of crowds and potential sales, so we all wanted to be on our a-game.
SATURDAY:
Saturday started off with a sprint and kept getting faster as it went. The pre-orderers kept coming by to get the stuff they wanted, or to get some books – the sales kept coming and it was awesome! I also got a slew of commissions throughout the day, including…

Harley Quinn commission

Goku God commission
…and many more!
Thankfully there was a little time to pull away from the table (since I had some handy-dandy volunteers helping us out at the table). Garret showed up in an Iron Fist cosplay, and we even got some of my friends and cosplay fans to help promote the charity events.

Even Buddy Christ was helping us out with the charity event!
But there was also time for fun and games, which is what helps us get through the long days at a convention.

Having fun with John Bivens between sales at the RWP booth
A slew of cosplayed friends stopped by the table, and some of their outfits were super inventive and awesome. I took a few pictures of the cosplayers (not something I normally do, but I couldn't help it – they spend so much time on their outfits, the least I can do is take a picture and talk about it a little). Below are some of the cool ones from my friends who stopped by.

Slave Chung Li and Pimp Jabba

Mockingbird from Agents of SHILED (her Hydra outfit)

Captain America made an appearance at the table

Some more fun cosplayers – and good friends of mine – in their awesome outfits!
I eventually got a chance to step away from the table for a bit and go out to Artist Alley to see friends and colleagues. It always takes me FOREVER to get through artist alley because I know so many people. I think it took about 3-4 hours and I was only halfway through the hall. But I would have to return the next day, because at that point I needed to return to the RWP table and give some relief to our fine volunteers and helpers.
After the floor closed we all packed up and headed to ChinaTown where we enjoyed some fine food and good company. We were joined by the Walkers from Nostalgia Critic fame, as well as a bevy of other artists and writers from the show. The night ended late again, with us headed back to my place for much needed sleep. At this point I had started to lose my voice, so tomorrow was going to be an interesting day.
SUNDAY:
Sunday morning was a slower morning in the household, because one of my house guests had left the day before, and another was leaving for home right after dropping me off. The show floor was quiet as I walked in and started setting up, and chatted up a few folks I hadn't had a chance to speak to previously. I even had a few friends stop by the booth with their kids.
Sunday is kids day, and for most creators that means lower sales. Unless, like me, you make a kid's comic book. Then Sundays are awesome! I had kids running up to the table shouting "ALBERT! LOOK, MOMMY, IT"S ALBERT! I WANT ALBERT!" Such a great feeling!

Hanging out with the fine folks of Kiren Rise

Posing with Sera McClain, who has appeared in Albert the Alien!

The Judges approve of Albert the Alien!
After only a few hours, even though I brought another half box of books from home to some additional online pre-orders I had received, we were eventually sold out completely. I shut down the table, left a sign thanking everyone for their support, and went to walk the show floor and complete my run around artist alley.
The previous day I had only made it about half way through the alley, and this morning the traffic was a little easier to navigate (the other side of the show where I had been the other day was where all the big kid's creators were, so I'm sure those isles were packed). I talked to some friends, exchanged some books with some people, and generally rubbed elbows, shook hands, and kissed babies (not really).
A friend of Albert the Alien artist Gabo had some really cute figurines on display, which I tried to text and convince my wife we needed in our place. She's tolerated my collection of comics and movies, but she told me she draws the line at figurines. I think I can sway her eventually…


Chubby Batman is the coolest!

Hanging out with the very talented Eric Palicki!
After a few hours the show floor finally closed, and it was time to pack up and head home. I could barely keep my eyes open when I got home, because the weekend was so awesome. A very special thank you to all of the staff and volunteers at ReedPOP for another fantastic year of partnership between you and Reading with Pictures. Thank you to the ALA for being awesome partners to our non-profit, and for being great table neighbors throughout the weekend. And thank you to all of the friends and fans who supported me this weekend with your company (and your hard-earned dollars). You guys are why I do this too many weekends out of the year. And I love you for it!
I was invited out to Anime Boston as a featured artist of the show. It was my first time at Anime Boston, and my goodness was it an amazing time! They do shows a little differently than how we do them in the mid-west, which isn't a bad thing by any measure, and in fact actually resulted in some great fan interactions, amazingly attended panels, and yes – killer sales!
THURSDAY:
Thursday night after work my wife and I made our way to the airport to catch our flight to Boston. My wife was coming in from the north, and I was coming in from the loop – but somehow we arrived at the airport at the same time and met up in the security line. We didn't plan this, I swear.


My travel snacks!
After going through security and finding our gate, we grabbed a quick bite to eat (actual food, not just my travel snacks) and then waited for our flight. I typically download a movie or play a game while I fly (I would write, but I get motion sick if I write or read while in transit), and this time I enjoyed X-Men 5: Days of Futures Past.
We checked into the hotel, dropped off our stuff, and decided to have a little snack before heading for bed. Thankfully, the restaurant bar was open and the kitchen stays open late. We ordered some sweet potato fries, beverages, and had fun unwinding after our flight. We did have an early day the next morning, however, so we went to bed soon after.

I'm a sucker for sweet potato fries!
FRIDAY:


Our hotel room was on a corner of the building. Here's the view from one side….

…and the view from the other side.
Super early in the morning we went down to the FedEx to grab our shipped boxes, and then went to grab breakfast real quick before heading to the convention for set up. For artists, you have to go through two registration processes: the general badge registration to get into the con, and then again in artist alley once you get in. This is a little different from what I'm used to, but I guess it makes it easier for security to identify who belongs where and when (because artists need to have access to artist alley prior to everyone else so we can set up). This process was pretty seamless, however, so no complaints about this change here – and if it makes security's job easier, I'm all for it.

All set up and ready for business!
I set up with Beth's help, and then she went to go have fun in the city and I stayed to work on selling books. I brought what I thought was going to be too many books, and was kind of nervous about being able to move this much inventory. But thankfully, I was greatly mistaken.
As the afternoon went on, traffic in artist alley came in fits and spurts. Since the dealer's room was on another level of the convention center, I assume people kept going between the two or attending panels from some of the guests. There were the usual slow periods – typically around lunch or dinner – but the location of the convention is perfect because it's attached to a mall. Attendees don't have to go far to get a quick bite and then can come back to the show! This is another magical thing about Anime Boston.
So as the day kept going, it eventually came time for my first panel of the weekend: self-publishing 101. I invited my good friend Sean Lindsay (Spinnerette) to be on the panel with me, and together we hiked to the other side of the hallway for the panel.
Anime Boston also did a fantastic thing with their panels: they allowed for 30 minutes in between them so breakdown and set up. We walked in about 10 minutes early, and I approached a room I quickly questioned if the previous panel had ended yet. Why? Because the room was full of people. Like, "there was a line outside the room and they weren't letting more people in because of fire code" full. The guy hosting the room breathed a sigh of relief when we showed up, saying, "I was wondering if you were going to show up." We were 10 minutes early, and it took us only a few minutes to set up. I opted to start early, but then was quickly told that, no, we had to wait for the hour mark to start. Not a problem: I'm a professional. I told some jokes for a few minutes to keep people entertained.

My "Self-Publishing 101″ panel attendance. Standing room only. They had to turn people away at the door.
When the time came we started the panel, and in my usual fashion it was a mix of entertainment, information, and then leaving time at the end for questions. It was also a great chance for me to be on a panel with Sean. Sure I've been on panels with him before, but usually with other people. This time I got to moderate a bit and ask him some things about his comic-making past and present, and take insights from that and apply them to the panel topic and each sub-topic. There was actually some coverage of our panel here, and after the panel I had a lot of people thank us for the great insight. If I come back again next year, I may do this panel again – and maybe some about Kickstarter, making webcomics, or another educational panel.

A sketch of Sean Lindsay and myself during the "Self-Publishing 101″ panel
After the panel we sold for a bit, and then returned to our respective tables to continue selling on the floor. Anime Boston's artist alley is open from 10am-10pm (12 hours! Which is a lot, compared to the usual 8 hour artist alley in the mid-west), but I must say by this point in the night I was pretty tired. And hungry. But I'm glad I stuck around until about 9:30pm, because half of my sales for the day occurred after the dealer's room closed at 7pm.

Ronald McJoker bought a box set!
I was exhausted, but really happy with the sales I had. Plus the fans I had met were super awesome! Anime Boston was off to a stellar start.
After 9:30pm, however, traffic slowed enough where I felt confident in being able to close down the table and then Beth and I went to dinner. We went across the street from the mall to a seafood place, and ate our hearts out with some of the best-tasting shrimp and fish I've had in my life. And it didn't break the bank, either!
By the end of dinner it was going on midnight, and we had been up since 6:30am that morning. It was a fantastic first day of the show, but we were definitely ready for bed.
SATURDAY:
We got up and met the Lindsay's for breakfast at a favorite spot of theirs, and then went to the floor to set up before the 10am start time. I'm glad I was there at the launch of the floor, because I immediately started selling. I'm sure there were some people for who Saturday was their first day, and you could tell from the eagerness and excitement in their eyes as they looked around the room. Artist alley was mostly prints, with a few artists selling books, but I don't think anyone had the books display I did…and mine was starting to dwindle. Clearly my concerns about bringing too many books was unfounded; now I was concerned I hadn't brought enough books!

Day 2 table set up: the stacks are noticeably smaller (because I was selling out of books)
Almost immediately once the doors opened, too, I sold my other box set (never thought I would move these at this show to a new audience, but again – Anime Boston attendees love new stuff!). I also sold out of my copies of KILLER QUEEN (the most expensive single book on my table), and that was the strong start to a great day of selling.

Another box set sold, another satisfied customer!
The afternoon got a little slow, but people kept coming by to look at the sketch cards. They weren't finding a lot of the anime characters they wanted, so I reminded them that I do commissions on them. Upon checking my sketch card stash, however, I realized I brought illustration board instead of the regular bristol cards. I decided not to charge extra for this, and suddenly commissions started flying in.

Sketch card commission: a character from Fairy Tale

Sketch card commission: Sailor Jupiter

Sketch card commission: GIR

Sketch card commission: I can't remember this character's name….

Sketch card commission: Psylocke
I spent the bulk of the afternoon working on the sketch cards, while also moving books, and eventually sold out of even more books on my table! It was an incredible day!
Around 8pm I had another panel to do (my "Evening with Trevor Mueller" panel), and I left Beth to hand out the remaining commission cards to people who hadn't picked them up yet. The panel room was "closed" because they were doing sound checks, which was unfortunate because apparently some people thought that meant the panel was cancelled and went away. Thankfully there were about 20 people waiting to get in, and I asked the room to let the people in to wait (they don't care if they hear people say "test" into a microphone a bunch of times). We started the panel soon after that, and the audience was in stitches! Some of the stories I told were the tried and true fan-favorites, but no one in Boston had heard them before and they were having a blast listening to my embarrassing stories about myself, working in comics, and attending conventions as a guest. If you were there, you understand the hilarity that proceeded. If you missed it, shame on you – but you can probably catch it again next year.

After the panel ended I went back to the floor for a little bit to try to grab some last-minute sales, and also to wait for the Lindsay's to finish up their day of selling before we all went out to dinner. They knew a local burger place nearby, and we all went and breathed a collective sigh of relief as our food and drinks arrived. We had all had an amazing day and a great weekend, and we only had one more day left to go!
SUNDAY:
Morning came quickly and we went back to the Lindsay's favorite place for breakfast where we had a hearty meal, and then rushed off to set up the table before the floor flooded with the final day of attendees.

Breakfast…with a smile!
I was mostly sold out of books by this point, which was a great problem to have. And in fact I sold out of the remainder of my Albert the Alien trades before noon! With the bulk of my trades gone from the table, and most of my other series volume 1 already gone from earlier in the weekend, there wasn't much left to do but talk to fans and hang out, shop a bit in artist alley, and plan to bring more books next year when I do this show (because I will be doing this show again next year).
Around 2pm, Beth and I packed up and said our goodbyes and headed to the airport to catch our flight home. Anime Boston was an amazing weekend filled with great fans, amazing volunteers and staffers, and fantastic sales! I highly recommend this show to people looking to attend an anime convention, because while they may do some things differently from the mid-west, that's not a bad thing by any measure. And whatever they're doing translates to happy attendees, amazing attendance at panels, and high sales on the floor! Thank you so much for the great weekend, Boston!
December 23rd, 2014
|
by Trevor
My final convention appearance of 2014 was a chance to go out in style, and style is exactly what happened this weekend at the show. It's the second year I've been a guest at Con Alt Delete, and the show has experienced some amazing growth and changes in that short period of time. So without further delay, let's check out what happened this weekend:
THURSDAY:
The day before the show, I headed out to Rosemont to check into the show and drop off my stuff. I wasn't going to be able to stay up too late since I had to work a half day on Friday, but I wanted to show my face and say hello to everyone. I went back to my condo to grab my next load, and crashed soon after that. Really it was a short opportunity to say hi to people before the chaos of the weekend had a chance to start.
This year CAD moved to Rosemont's Hyatt hotel, which holds a special place in my heart. I love this venue for cons, and I know it like the back of my hand. When people tell me what room my panel is in (by the room name), I know where that room is located. I know where the hotel rooms are. And I love the atmosphere and accessibility of the hotel. It was a fantastic place to move the show to, and I was very excited for the weekend.
FRIDAY:
Friday morning I headed out to work a half day, but then went straight back to the con to set up. I was there about the time the doors opened, set up quick, and started selling. Albert the Alien artist Gabo was set up next to me, so it was a fun time conversing with him and catching up in between sales.
At one point we were collected for Opening Ceremonies, and got to hang out with some of the other guests of the show including voice actors like Todd Haberkorn, Sonny Strait, and Eric Stuart. We also got to see Samurai Dan and Lady Jillian, two of my favorite convention friends. Gabe and I were some of the last guests called to the stage, so I made sure to poke a little fun at our panels and our status ("We all know who you're here to see: us!" — "The con that's so awesome they got not just one, but two bald guests" — "Watch out, folks, or North Korea will hack your phones this weekend and censor all your anime!"). The audience was in stitches.
The floor was open until 8pm, which only gave us a little time to grab grub before Gabe's first panel (which was right before mine, in the same room). We went up to the Hyatt Red Bar for some food with some of Gabe's friends. This group of girls are students at the college Gabe graduated from, and occasionally goes back to teach at, and they were pretty cool. One even bought us dinner, which I thought was really sweet.
After dinner we bum-rushed down to the room to set up for Gabe's panel, which was on digital coloring. The guy started his career doing coloring, and still does it for a lot of his projects including Albert the Alien and The Life After.
After Gabe's panel was my Evening with Trevor Mueller panel. Since the group was largely unfamiliar with me, I went into some of the fan-favorite jokes and stories – which always get a laugh. I even ended with some fake movie trailers from my wedding, which have gone over really well with audiences at this panel.
After the panel ended, we went to the Green Room to hang out with some of the voice actors. It was a nice way to unwind after the long day, and Sonny and Gabe were able to bond over their mutual "love" of coloring techniques. It was fun to listen to them geek out over something like coloring, which I have a very basic knowledge of how to do, but they went super in-depth together. It was the nerdiest conversation I couldn't contribute to all weekend.
After the relaxing chat, we all headed to bed.
SATURDAY:
Saturday morning Gabe and I got up really early and headed to the Hyatt gym. As expected, no one else was in the place, and so we had our run of the machines. I love working out in the morning of a con since it helps give me a boost in energy. It also gives me an appetite, which is why we quickly met for breakfast after the workout.
The Hyatt has a very tasty (but expensive) breakfast buffet. Thankfully drinks are included, however, so I was able to get some OJ (great after a workout), and carb and protein up for the day. After breakfast, we headed down to artist alley to set up for the day. Saturday traffic was greatly increased over Friday (not uncommon at a convention), but sales were also much higher (always a pleasant thing).
Around 11:30am I had a panel about Making Webcomics, which I combined with some topics on Self-Publishing (since Sonny Strait was doing a few webcomic panels throughout the weekend, and I didn't want to steal his thunder). It was a bit of a Q&A session, with some very insightful questions from people about digital distribution, update schedules, pacing and buffers, best practices, and how to find creative collaborators. It was a fun time, and after I had a few people follow me back to the table and make a few purchases.
The day continued with a few commissions. One person wanted a Raven from Teen Titans, which I knocked out for her pretty quickly. Another fan wanted a Loki, and she was kind enough to let me take a picture and gave permission for me to post them.

Loki commission sketch card

Another satisfied customer
Gabe ordered some Chinese food for the group off GrubHub, which sounded plenty tasty. None of us had brought snacks, so we were pretty hungry as the day went on. The food arrived and we ate at our tables during the last hour of the floor. Since the floor opened a little earlier in the day, it closed a little earlier too. Which was nice, because it gave us a break. We went back to Gabe's room and popped on the TV while we started to doze off a bit.
Around 8pm, we all headed downstairs for Gabe's last panel of the weekend, which was on Time Management. I sat on it with him, providing some advice from my own perspective – as well as my usual brand of informative humor.
After the panel we had a few fans stick around to ask us some questions, and then I met up with my friend Lauren. I met her through a mutual friend (Johnny Young Bosch of Power Rangers and Eyeshine fame – good taste in friends!) a number of years ago, and she came to hang out a bit and check out some of the panels and bands. We were able to catch the last few chords of V is for Villains concert, and then headed over for the Cards Against Humanity panel that Dan and Jillian lead every year. It's seriously my favorite panel, and I look forward to it every convention I do with them.
The panel lasted until 12:30am, and then we all headed over to the Green Room to unwind a bit and chat with staffers and friends. We had some extremely nerdy conversations about How I Met Your Mother, Star Trek, anime, and a number of other topics. After an hour or so in the green room, we dispersed our separate ways and not too long after went to bed.
SUNDAY:
I woke up not feeling quite right, which didn't make sense to me. My stomach hurt a lot, and I couldn't quite figure out why. I took a quick shower and felt worse. I decided to skip breakfast and muscle through it, continuing to hydrate. When I got to the floor, Gabe told me he got hit last night with the same thing (and was still feeling it), and his brother got sick this morning. We had all gotten food poisoning from the Chinese food we had ordered the night before!
As the day went on I kept feeling worse and worse. My wife showed up to hang out, and I got a little food in my system, but as the hours went by my pain increased. It got to the point where I couldn't stand up straight anymore. As much as I hated to do it, I eventually went to find a staffer to ask if it was okay for me to take off early. I was in no shape to participate in my guest duties, much less interact with the fans and attendees of the show. Upon talking to a staffer, I was surprised to hear that several of them had been hit by something similar. "Chinese food?" they asked. We weren't the only ones who got sick.
I went home that night and passed out immediately. It took a good 24-48 hours to fully recover from the food poisoning, which was a bummer.
Despite the unexpected food poisoning, Con Alt Delete was a fantastic show and a lot of fun to go to. We saw a lot of first-time con-goers, a lot of people celebrating their birthdays or being rewarded by their parents for good grades, and just generally awesome people having a fun time. It was a lot of fun to hang out with Gabe and Ren all weekend, to see friends both old and new, and to participate in some seriously fun and informative panels.
If you're looking for a fun low-key con to hit up before the holidays next year, I highly recommend Con Alt Delete! And I hope to see you there!
November 25th, 2014
|
by Trevor

As you know, the Albert the Alien volume 1: New in School book was a labor of love from both myself and artist Gabo. But we couldn't have done it without the support of our very awesome backers from Kickstarter!
As promised to our High Five and above reward tier, below is a list (in alphabetical order, by backer name) of all of the awesome people who pledged to make Albert the Alien's first adventure in print a reality. We couldn't have done this without their help. Thank you so much! It's rare that people are able to make dreams come true, but through the power of your support you made our dream of Albert the Alien come to life. And now it's available for everyone to enjoy with us!
Adam Block
albone
Alexander Duchnowski
Alicia Pamperin
Alicia Vonderharr
Allison Adams
Amy Hopkins
Andrew Hernandez
Andrew Hoag
Andy Owen
Anita Xue
Anna P Gustafson
arnold shunneson
Ashley McLaughlin
Benjamin David
Beth
Beth Camero
Bradley Hatfield
Brent Meske
Brent Stringer
Brian Grabinski
Brian Heinz
Brian Schwanwede
Brittney Scott
Bruce Nelson
Bryan Q. Miller
Carl Kloster
Cindy Chu
Cody Dolan
Colin Lyons
Comfort & Adam
Connor Heckler
Corin Barsily Goodwin
Cornelia Haggart
Craig Engler
Craig Soffer
Dan Morrill / Comics Forge
Danai Samuriwo TenniswithD
David Gruba
derek duff
Dianne Mueller Bette
Dianne Noonkester
Dirk Manning
Effie Covganka
Elisabeth Sakla
Elizabeth Boyce
Ellen Knuth
Emily Van Camp
Eric Palicki
Eric Sword
Erica Hampton
Erin Molburg
Erin Tufano
Erin Walker
Frannie Bear Turner
Fred Van Lente
gabo
Gabriel Aragon
Gabriel Chia
Gene Ha
Gregory Noonkester
Gyu Lee
Hansel
Holly Christine Brown
Ian Ally-Seals
Jack Gulick
Jacob Halton
Jacob Way
James Corey
Jamie Karas
Janet Swanson
Jarrett Moore
Jason A. Quest
Jason Copland
Jason Crase
Jason W. Gavin
Jayma O'Connor
Jaysin Osterkamp
Jeff Buckner
Jeff Metzner
Jennifer Blake
Jennifer Sample
Jeong Mo Yang
Jessica
Jim McClain
John Chambers
Jon Scrivens
Jonathan Gall
Joseph Tinaglia
Josh Elder
Joshua Fialkov
Joyce Vivirski
Julie Kurzawski
Justin Castaneda
Justin Knorr
Kat Kan
Kay Fredericks
Kelly Wolschon
kenneth kahn
kerin schiesser
Kevin Kingston
Kristjan Wager
Krystal Carr
Lauren
leah kasle
Linda Powell Spaulding
Lisa Singh
Liz Kim
Lori Matsumoto
Marc Fishman
Mark Stegbauer
Marlene Weintraub
Mat Elfring
Matt Nelson
Matthias Kraft
Megan Henderson
Megan Sprecher
Melissa Tidd
Melissa Wong
Mike Innes
Michelle Gosse
Michelle Travis
Mike Ambs
Natasha LaMothe-Mason
Nate Mueller
Patricia Jenatsch
Paul Storrie
Phil Mueller
Pui Che
Ray B.
Rene Castellano
Richard Noonkester
Robert Jarosinski
Rochelle Pinon
Ron Svoboda
Roshawn Rochester
Russell Lissau
Russell Nohelty
Saeri Geller
Sally Ransford
Sam Chen
Samuel Miller
Sandy Lu
Sara Parks
Scott Heinowski
Scott Sandler
Sean Forney
Sean Gregory
Sebastian Ortiz
Sheila
Sho
Stephen Morris
Steve Wallace
Steven Blackburn
Susie Berneis
Taki Soma
Team Kirin Rise
Thomas Haymes
tiffany campbell
Trish
Vernon Welles
Victoria Noonkester
Wade Goyens
William Gottfried
Zach Miller
Zeev Walny
November 11th, 2014
|
by Trevor
Halloween weekend I had the distinct pleasure of spending at a convention in Columbus, OH, which was Mid-Ohio Con (also called Wizard World Ohio). I wasn't able to attend this show last year (because I was getting married), but it's a fun show with a very positive group of attendees who are eager to listen about your projects. Plus, I have friends I only ever get to see at this show – so it's a very special weekend for me, indeed!
THURSDAY:
While the show doesn't start until Friday, Columbus is quite a distance from Chicago, so my buddy Alan Evans (Rival Angels) and his wife, Tracie, picked me up and we all drove (almost non-stop) straight through to the convention center. The ride was long, but a fun time to catch up and hang out – talk about comic projects, stuff we're doing, and life in general. Alan and Tracie have been close friends of mine for some time now, and it's always great to get to connect with them.
Upon arriving we stopped for lunch at North Market, which is right across the street from the convention center. The place is filled with different small shops and eateries, and is just a cool spot to check out. We grabbed some BBQ at a vendor set up in there, and enjoyed some lunch before unpacking our stuff at the convention center.
After unpacking, we called our local friend Lora Innes (The Dreamer). Lora puts us up every year, and I've been friends with her almost as long as Alan and I have known each other (and they met each other before they met me). We were all webcomic creators on a site called Drunk Duck (now The Duck), which is a collective of independent webcomic creators. They all host their comics on the site, participate in forums and helping each other produce better comics. We all became quick friends.
It was Halloween in Lora's neighborhood, and we handed out candy while her husband (Mike) returned home from work, and while we ran out to grab some pizza for the group for dinner. Mike is a great guy, super friendly, and also incredibly smart. The guy does all of the design and coding work for Lora's website, as well as develops apps and websites in his professional day-job.
We chatted the night away, hanging out and catching up as if no time had passed between the last time we hung out. But eventually we did have to go to bed – there was a convention to go to tomorrow, after all.
FRIDAY:
The first day of the show didn't start until later in the afternoon, so we decided to start our day with some DDP Yoga. Alan is a huge fan of wrestling and MMA, and one of the fighters has their own yoga DVDs called DDP Yoga. I had never done it before, but Alan, Lora, and myself decided to start our day off right with some yoga moves. It was a fun way to warm up (and wake up) in the morning. I often find that exercising before a show helps give me more energy, and since there wasn't a gym nearby this was a great alternative.
After everyone showered and packed up, we headed downtown but didn't go to the show yet. We decided instead to check out the Will Eisner exhibit at the Cartoon Library and Museum. I'm not going to lie – I was wicked jealous that Chicago didn't have a cartoon library when I saw this place. It was pretty awesome.

Ohio has a Cartoon Library / Museum? I want one of these, too!

The Spirit!

An original Will Eisner page
For those of you who don't know who Will Eisner is, I highly recommend reading up on him. Will Eisner was a pioneer in visual narrative and sequential storytelling, and it was incredible to get to see some of his original pages (some of which were never even published). His pencils, his inks, his corrections – all of it helps to better understand his process. And their exhibit is absolutely stunning. I highly recommend going to see it – and did I mention, it's free?
After the library, we headed to the show to set up our tables. Thom Zhaler (Love and Capes), Lora, Alan, and myself were all in a row. I love tabling next to my friends because 1) you get to hang out with your friends, and 2) you have someone to give you some coverage if you need to walk away for a restroom break or something. I always have more fun at a show when I get to exhibit next to friends.

The table is all set up and ready for commerce!
The show floor layout is more like what a comic convention layout should be: with vendors in front, artists in the middle, and celebrities / actors in the far back. This helps to draw traffic through the entire convention floor, instead of putting artists in the back (cough cough Wizard World Chicago) and not placing celebrity artists throughout the alley, where there's nothing to draw the attendees. Mid-Ohio is a much smaller show than Chicago, granted, but this is a layout done right – and thankfully, it worked this weekend!
I expected Friday sales to be pretty low (heck, looking at my numbers from the last time I was there, Friday was pretty low). We had some things working against us:
1) It was Halloween
2) School's in session
3) It was a work day
4) Friday was a shorter con day
Any of these things could be bad, but despite this the sales for the day were pretty solid. Lots of people bought copies of the books (including the new Albert the Alien vol. 1: New in School graphic novel that we premiered at the show), and lots of people were in a very positive mood. Often at a show you'll find people "just looking," who don't even want to be pitched to, but Mid-Ohio had people who were "just looking" but they were still interested in your pitch. This was very refreshing.
After the show ended, the gang broke down and headed to a restaurant for dinner. We met up with some additional friends and ate (what I thought was a very small portion for the price, and I'm from Chicago) some very delicious food. After we headed back to the Innes house for a night of storytelling and hanging out with friends.

Hanging out with President George Washington and the gang at the Innes' household
SATURDAY:
The show opened earlier, so it was a bit of a rush to get out of the house in the morning and get to the show on time. Thankfully, we didn't encounter any issues with traffic on our way in (although parking was a slightly different story), and were able to set up before the VIPs started walking around. The first few hours of the day were pretty slow, and had me a little nervous about the day. But then things turned around – BIG TIME.
Saturday has been a strange outlier for me lately, with Friday sales being stronger than Saturday (not something that's typical in the convention scene). However, this Saturday broke that trend very quickly. In fact, by mid-day I had sold out of almost all of my trades, leaving me with 2 copies of Albert the Alien and 1 copy of Killer Queen (Reading with Pictures was sold out by end of Saturday).
At 11am I went to the panel Thom invited me to, along with Lora and Alan, about self-publishing. It was a fun time, getting to discuss different approaches to publishing your work. With Thom and Lora primarily publishing their work through IDW these days, Alan and I talked about on-going self-publishing options, while they talked about how to migrate your properties to a publisher (and the benefits / detriments of doing so).

At one point I turned to ask what time it was. The answer was visually apparent: Adventure Time!
Around lunch time, Tracie took our orders and ran across the street to grab us some grub so we could keep selling. This is what Saturday at a show should be like – lots of people stopping to check out the books on your table, asking questions about comics (specifically the comics we created), and overall having a great time. People wanted to be there. They wanted to talk to us. And they wanted to buy!
After a killer day of sales, the group broke down and we headed to the Innes' house for some Chinese take out and football. Lora and Mike are big Ohio State fans, and they were playing a game. I don't follow sports at all (and having lived in Ann Arbor, I can't help but feel a certain playful resentment for OSU), but it was a nice way to relax after a day of working hard (and selling out of our stock).
SUNDAY:
The final day of the show is always bittersweet, because we all know the weekend must come to an end. This was no different. It was also bittersweet because, for the first half of the day, no one was buying anything. Now maybe it was because I had pretty much sold out on Saturday (and therefore, wasn't trying as hard), but Sunday is typically buying day. I had some strong deals going to attempt to move some of the smaller books I have, and also to move some of the artwork. I did finally get some commission requests (some of which were a lot of fun, like drawing someone's uncle from a photo on their phone), and that helped make the day pass by.

Sketch card commission: The Flash
About halfway through the day I finally sold out of all of my trades, and most of my floppy comic books. I decided to walk away from the table for a bit and start doing some of my own buying. The crowds were a lot lighter by this time (I think most of the celebrities had taken off by this point), and when I got back to the tables we decided to break down a little early. Most of the floor traffic at this point was exhibitors and dealers looking for things they wanted, anyway.
Before breaking down, however, I did get a pleasant visit from Shelly Block. My second Mid-Ohio Con I was next to Shelly and her husband, Patrick, who both worked at Disney on Duck Tales. They were the sweetest couple, and great table neighbors, and it was awesome to get to catch up with her a bit about their travels and adventures, as well as their experience over the weekend. They also had a stellar time at the show, so hopefully we'll all be returning again next year!
After breaking down, the group loaded up the cars and then headed over to Jenni's Ice Cream, a post-convention tradition that I look forward to every year. Mike and Lora were kind enough to buy me some ice cream as an early birthday gift, and we all hung out for a bit relaxing and decompressing after the weekend. This is the kind of moment that makes shows like this worth it to me. Being able to see people I only get to see once a year, and specifically at this show, and hanging out with them as if no time had passed at all between the last time we hung out. Always a great way to end a show.

Jenni's Ice Cream: a post-convention tradition!
After Jenni's, we said our goodbyes and started our 5+ hour drive back to Chicago.
Mid-Ohio was an absolute blast, and exceeded my every expectation in both fun and sales. It was a great time, and highly recommend coming to the show either as an attendee or as an exhibitor. A smaller artist alley, a strong floor layout, and a great atmosphere and attendee demeanor made for a fantastic weekend. Also, good friends help make for a great weekend, too!

Albert points out an important thing in today's comic. He's an alien. He's not used to our atmosphere and our gravity, so games of skill wouldn't be as fair to him. But it's okay, he has another suggestion on a game of skill anyone can learn: bumper saucers!
What are bumper saucers? Well, I needed to come up with a game they may play out in space. And we'll find out the rules in the next update!
We're also taking pre-orders for the Albert the Alien graphic novel we successfully funded on Kickstarter. Interested in getting your hands on a copy (or another copy)? Click the link to get one today.
September 17th, 2014
|
by Trevor

It's Wednesday, and the kids are undercover at the rival school! They're in enemy territory, and it's very important that no one recognizes them as being from another school – especially not Heston Heights, since they're rivals!
We see some Kickstarter pledge appearances in today's strip from my good friends and brothers in comics, Unshaven Comics. Marc, Kyle, and Matt have been great friends in and out of the convention scene, and we have supported each other's work throughout our years of knowing each other. When they pledged to appear in the story, I asked if they would mind if we used their logo on each of their shirts (since kids don't have beards), and they said that would be awesome!
They also do an awesome podcast that you should totally check out: http://www.unshavencomicsonline.com
This weekend I'll be in Ohio attending Cincinnati Comic Expo! It's my first time attending this show, and I'm looking forward to meeting friends and fans – both new and old. I'll have copies of Reading with Pictures (both the original, and the new Comics That Make Kids Smarter), Albert the Alien, and more! I'll be at table A4 in artist alley. I hope to see you there!
We're also taking pre-orders for the Albert the Alien graphic novel we successfully funded on Kickstarter. Interested in getting your hands on a copy (or another copy)? Click the link to get one today.