Posts Tagged 'albert the alien'
137 items.
Albert the Alien's first adventure, New in School, has finished. And to collect it into an awesome graphic novel, we've launched a Kickstarter campaign to help raise the funds needed to print and ship the book directly to readers like you!
The book will be over 132 full-color pages, featuring:
- Albert's complete first adventure, New in School
- A forward by comic legend Mark Waid
- The original Reading with Pictures story, featuring Albert's first adventure (currently out of print)
- Bonus stories exclusive to this print edition
- Sketches, character designs, and more bonus material!
Pledge today, and you'll gain access to the update feed which will feature exclusive behind-the-scenes content like:
- The making of the book
- Behind the scenes making of the bonus stories from industry professionals
- Videos, interviews, and bios on all the creators involved in the project
- And so much more!
How can you help make this awesome book a reality? There are two ways:
1) Pledge to help fund the campaign (if you can). Pledge any amount you want, or pledge at a reward level to receive cool gifts. You only get charged if the Kickstarter is a success. If the Kickstarter doesn't reach it's goal, then you don't get charged at all.
2) Help spread the word and increase awareness of the campaign. Tell everyone you know on your personal websites, social media sites, or via e-mail.
To make it even easier for you, I've included some examples for things you could post. Feel free to cut and paste them:
FACEBOOK / WEBSITE:
Do you like graphic novels or fun adventure stories? Trevor Mueller is making his next graphic novel, Albert the Alien, and raising the funds for it on Kickstarter. It's an all-ages adventure story about the first intergalactic foreign exchange student and his adventures on Earth! Click the link below to check it out:
https://www.kickstarter.com/projects/trevoramueller/albert-the-alien-vol-1-new-in-school
There's going to be 132 full color pages including bonus stories from guest comic artists. He's going to have a lot of unlockable reward levels, special bonus content, and stretch goals to help make this campaign totally awesome. Please check out the campaign, and if you like what you see, please pledge to help make this graphic novel project become a reality!
TWITTER:
Hey guys, check out the @kickstarter for @trevoramueller & @galvosaur's graphic novel Albert the Alien: https://www.kickstarter.com/projects/trevoramueller/albert-the-alien-vol-1-new-in-school
Thanks so much for your support over the years, and I appreciate you taking the time to help me spread the word about Albert the Alien. Together, I know we can make this Kickstarter an amazing success, and put an awesome graphic novel together.

Happy Friday! And oh my goodness, does Gerty have a dilemma in today's Albert the Alien!
Do you remember your first kiss? I don't remember when or where, sadly, since it was so long ago, but I do remember who. I used to "date" the neighbor girl growing up, and we were going to get married and live in a tree house in our parent's back yard. That dream lasted until she moved away – which was right when I was about to go into sixth grade. You see, even though we lived right next door, she went to a different school and was a year older. My getting into sixth grade was an opportunity for us to finally be in the same school together, and we could actually be that cute couple that dated since they were little kids.
However, as I said, she moved to another state and we kind of lost touch over the years. I do see her on occasion now, and we still get along – we have tons in common. But sadly, the child-like dream of living in our parent's back yard in a tree house has since faded. But she was my first kiss.
Who was your first kiss? Do you remember where or when you had it?
Next week, a few announcements:
1) The Kickstarter campaign to fund the Albert the Alien Volume 1: New in School graphic novel will launch! We're going to be collecting all 100 pages from the webcomic, plus additional bonus stories! Be sure to pledge to the Kickstarter to see all the awesome updates, unlockable reward levels, stretch goals, and more! We'll post a link once the campaign goes live.
2) Anime Central is our next convention appearance! ACEN is the 3rd largest animation convention in the country, takes place in Rosemont, Il on May 16-18, and is my absolute favorite show of the year. Gabe will be in Artist Alley, and I will be a returning guest of the show! I'll have a number of panels throughout the week (my panel schedule will be posted closer to the event date), as well as a number of books for sale. And commissions – did I mention Gabe and I will both be doing commissions?
We'll also be doing some special fundraising activities for our Albert the Alien Kickstarter! The Kickstarter campaign starts at ACEN, and there will be a special prize for people who pledge at the show!
Here's the panel schedule for the weekend (more may be added at random):
FRIDAY:
Introduction to RWP – 7pm – Panel Room 3
The Panel That Shall Not Be Named – 10pm – Panel Room 4
SATURDAY:
Time Management – 8:30pm – Panel Room 3
Breaking Into Comics – 9:30pm – Panel Room 4
Many of you are aware that Albert the Alien updates on this site every Wednesday and Friday, and also updates on Mark Waid's THRILLBENT site every Tuesday.
For anyone unfamiliar, THRILLBENT is Mark Waid's digital distribution site where he (and other top creators) get to play with digital format and storytelling in new and unique ways. Albert is the only all-ages property on the site currently updating for free (they also have Art and Franco's Aw Yeah Comics series available in their store).
THRILLBENT is a fun way for me to deconstruct and tell Albert's story in a different way, and the reveal of the locker thief was a prime example of that. So we're going to deconstruct that sequence and how it's viewed on the two sites.
SPOILER WARNING – IF YOU HAVEN'T READ ALBERT THE ALIEN CHAPTERS 1-4 YET, WE'RE ABOUT TO GIVE AWAY A BIG MYSTERY HERE.
When we did the big reveal of the locker thief on AlbertTheAlien.com, we did so in a typical comic way. Sure, we could have emphasized even more with a full or half page splash, but we just simply didn't have the room to increase the drama. It looked like this:
ALBERTTHEALIEN.COM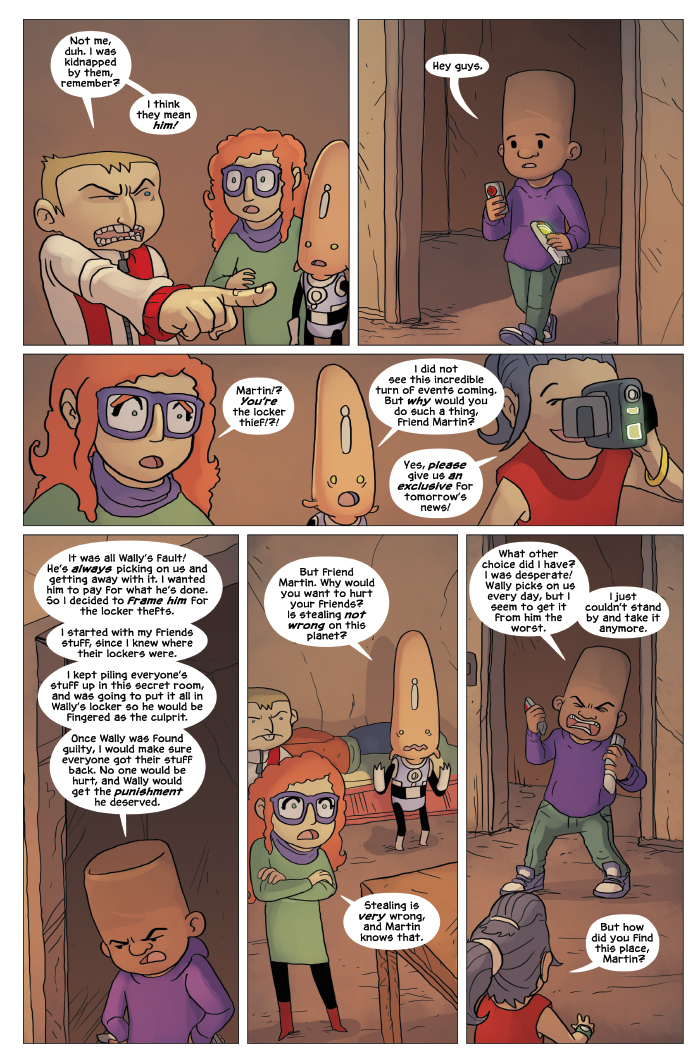 However, when we did the Thrillbent.com update, I wanted to really go all out and increase the tension and drama of the moment. This allowed me to play and be a little creative with the pacing. Thrillbent works kind of like a slideshow – you can reveal as much as you want when you want. This is unlike a comic page where the reader absorbs a page a panel at a time – but let's be honest here, your eye will jump ahead sometimes, which can ruin the reveal.
For Thrillbent's sequence, I wanted to really blow this up. So I took some assets from earlier pages and edited them into the sequence, and then chopped up other panels to make the reveal more like a slow pan up the character – like in a movie.
This is what the sequence looked like for Thrillbent:
THRILLBENT

The extra shot of Wally came from a panel on Page 5 of this chapter, but I just edited the background to match the new scene. The other assets came from the same page, but were chopped up into smaller panels that revealed just a little bit each time. A little teaser, if you will. Until the final reveal of who the character is – and then we go back to the shocked expressions of Albert the Gerty.
This was a big moment for them – this is their best friend! It's a betrayal, and something I really wanted to drive home. And it's also one of the things I love about Thrillbent – it gives me an opportunity to play with the pacing and the reveals a little bit in this way.
So which sequence did you prefer? Are you a fan of Albert on his own site, or on Thrillbent – or both? Let me know in the comments below.
February 12th, 2014
|
by Trevor

It's Wednesday, but wait – there's good news: Here's another brand new Albert the Alien!
As the kids continue down the hallways behind the hallways, they uncover the hiding place of the stolen goods! The locker thief has definitely been using this space to store their loot. But what could be going on with Wally and his goons in the other room? We'll find out on Friday with the next Albert the Alien!
The inspiration for the hallways behind the hallways came from my real-life experience. My father was an administrator at a school that had secret tunnels behind the walls of the school, and certain lockers (and other entrances) that were blocked off and off-limits to prevent anyone from gaining entrance. Some of them lead to hidden rooms, abandoned pools, or even took you clear across the city. The building had been used in the Underground Railroad, I had been told, and this always stuck with me as so awesome.
I got access to the tunnels and secret passages – some leading me up to the roof of the school, which was like a castle – but not just my boyhood sense of exploration enjoyed this. I was walking through a piece of history. It was like I was touching something that happened so long ago, but it wasn't in a museum. It was real. It was right in front of me. And I could explore it!
There will be many more mysteries and adventures to be had with this school, and we'll find out one of them on Friday. See you then!
January 31st, 2014
|
by Trevor

Today's Albert the Alien shows the inside of the mysterious Locker #13!!!!
But wait, what's this? It just looks like a normal, empty (dirty and unused) locker! How can that be?
Gabe and I had a funny conversation when he sent me this page, which went a little something like this:
TREVOR: Ha ha ha, I think it's funny that Albert can hack the locker combination when it's not networked – too funny.
GABE: well I figure it's being used by what's his name – maybe he's got some locking mechanism I don't know haha-
GABE: sonic waves created by the computer shifted the keys inside the locking mechanism – hahah
TREVOR: We can easily sum it up like this: it's ALIEN science! The usual laws of physics and logic don't apply.
So, to anyone out there who was wondering how Albert used a holographic computer to hack and unlock / open a physical (and non-networked) locker, there's your explanation.
So what's the real story with Locker #13? We'll find out next week! And please come back every Wednesday and Friday for more Albert the Alien!
January 24th, 2014
|
by Trevor
It's Friday, and that means another awesome Albert the Alien update!
It's fun to know that Wally doesn't let his short stature dissuade him standing up to the hall monitors, who are significantly taller than him. Wally can be an entertaining character to write because of these traits. And we'll explore his goons, Lugg and Ugg, in later stories for sure. Why would they follow someone who's so self-centered? So mean? We'll find out those answers for sure, but first we have more important questions for this story arc:
What is going on with the mystery locker?
Who's stealing from the kid's lockers?
Who are these robo-hall monitors, and why are they in the school?
We'll find out all these answers and more, later this chapter! Tune in next time, every Wednesday and Friday, for more Albert the Alien!
January 22nd, 2014
|
by Trevor
Happy middle of the week day (also known as Wednesday), and welcome to another installment of Albert the Alien!
There's a lot going on in this page, but my favorite part is Wally trying to shift the blame on Albert – and then Gerty getting back at him by saying that Albert has diplomatic immunity. Even though Wally doesn't say the same thing, what he does say "automatic impunity" technically means something similar. I'm sure this was unintentional on Wally's part, but I still found it hilarious. Almost as hilarious as when he finds out what it means, and then he covets it for himself.
Wally is an easy character to write. He's very selfish, and therefore can always be expected to look out for himself. Or try to shift the blame away from himself. That said, there's some large shadows looming in the final panel of this page – and it seems like they may be coming for Wally. The only way to find out for sure is to come back here Friday for the next installment of Albert the Alien!
January 17th, 2014
|
by Trevor
It's Friday, and that means's the weekend's right around the corner. But before we get there, we get to enjoy another update of Albert the Alien!
Today's comic features a little lesson about history. The Underground Railroad, and the importance it played in American History. No doubt you've learned about it in school, and I wanted to include a little bit of history in Albert the Alien (he did first appear in an educational anthology of comics, after all).
The teacher in today's update is a sponsored appearance by Daniel Wojcik. I met Dan while I was a guest at Anime Iowa, and we had many interesting (and late night) conversations about comics, anime, and yes – teaching! I'm a product of two teachers, so education has always been super important to me, and I was so happy that Dan agreed to support Albert with this appearance.
If you would like to appear in a future issue of Albert the Alien, we will be announcing future appearances soon! Please come back every Wednesday and Friday for another update!
Until then, have a great weekend!

Character design for Daniel Wojcik's sponsored appearance.
January 17th, 2014
|
by Trevor
Another Albert the Alien update featuring — a giant robotic hall monitor!?!
Gerty knows something's not right at Heston Heights middle school, and she quickly follows the suspicious looking "student." But once she turns the corner, the robot has disappeared! Where could it have gone? And what does it have to do with the super secret mysterious locker #13? We're going to find out in this chapter, and it's going to be Albert's wildest adventure yet!
Come back on Friday for another fun update, and another sponsored guest appearance!
January 10th, 2014
|
by Trevor
Happy Friday, and welcome to the next exciting page of Albert the Alien!
Something's wrong in the world of the Hall Monitors, and Gerty seems to have discovered it! One of these hall monitors is not quite right. It's very subtle, I know, but let me know if you see it.
Today's post also features a very special appearance from one of our guest sponsors, Carynne Dati, who sponsored the role of the head hall monitor! Carynne has been a good friend through the convention scene (and is also an avid Ren Faire player, so she gets bonus points for that). Plus, she's totally awesome!

Here's Gabe character design for Carynne's appearance.
If you or someone you know would like to appear in a future issue of Albert the Alien, please stay tuned – we announce appearance opportunities on here all the time.