Posts Tagged 'anime iowa'
5 items.
We had a blast at Anime Iowa this year. It's a fun show in the middle of Iowa, with a killer guest lineup, and one that I continue to enjoy attending. Want to hear all about it (including the adventure I had to endure that almost prevented me from attending?), check out the links below:
– PART 1: Where the weather kept myself, and most of the other guests, at bay. In fact, one guest wasn't able to make it BECAUSE the weather was so bad.
– PART 2: Where the guests and I got rowdy, had fun, went to the pub, and played Cards Against Humanity.
– PART 3: Despite being tired, I lead a 9am panel and sold for an entire day. How did I make it through? Click here to find out.
– PART 4: The final day of the con is always the most exhausting. But despite all that, Steve Blum bought me dinner and kept me company at the airport. Really nice guy.
July is the heart of convention season, and I have some appearances coming up for shows that you will not want to miss! I will be returning as a guest of honor to these amazing shows. We will be doing some panels, filled with my signature brand of education and entertainment. I hope to see you there!
Anime Mid-West
Rosemont, IL
July 8-10
FRIDAY:
– Panel Room 4: Kickstarter for Beginners (9:30pm to 10:20pm)
SATURDAY:
– Panel Room 1: Self Publishing 101 (3:00pm to 4:20pm)
– Panel Room 5: Making Webcomics (6:00pm to 6:50pm)
Anime Iowa
Coralville, IA
July 29-31
SATURDAY:
– Panel Room 2: Starting Your Own Webcomic (9:00am-10:00am)
SUNDAY:
– Panel Room 2: Tabling At Conventions (9:30am-10:30am)
I attend a lot of conventions, and I love meeting fans – both long-time and first-time. And I love making new friends at shows, too. But there's something great about being able to do a show with people you already know, too. Which is why I was so glad I was able to get Uncle Yo and Russell Lissau invited to Anime Iowa this year!
Russell and I are long-time friends and do conventions all the time around Chicago, so it was fun to get to travel with the guy to a show that's not too far away. And Uncle Yo and I have been friends for a number of years, but I didn't get to see him at all last year (because I was only doing a handful of shows, focusing on my wedding). And I'm not even mentioning the other awesome guests they have at this show — so let's hop right into it!
THURSDAY:
After working from home in the morning, I grabbed my stuff and road the bus (and then the train) to O'Hare to catch my flight to Cedar Rapids, Iowa. I went to go check my bag, which contained several new books I've never flown with before. To my surprise, my check bag was slightly over weight, and I started to rummage through to lighten the load. However, while I was pulling out books, several of the TSA agents started asking what I did. "Write comics," I told them. "My latest title is an all-ages comic about the first exchange student from space." I pulled out a few copies for them to look at while I stuffed heavier books in my carryon.
The agents got very interested in this title, asking what age it was for. "Recommended for readers 7 or older," I replied. One of the agents then asked if they could buy one from me right there. I said sure, and two more agents wanted copies for their kids as well.
I wasn't even at the show yet, and I had already sold 3 books.
I made the sales, finished the weight shift, and checked my bag and went through security. I quickly grabbed some lunch and waited for my plane – and my traveling companions!
Russell I knew would be traveling with me, being a local here as well. But I was pleasantly surprised once again on this trip to run into Mimi, who I had met last year at this very same show. Her previous flight had been delayed, and so she was moved to our flight.

Shenanigans on the plane to Iowa!
After an hour delay for our flight, we eventually boarded and started the trip to Iowa. Russell wrote a bit, and I relaxed and watched a movie (Mission Impossible 4: Ghost Protocol, if you're curious).
After about an hour in the air, we touched down and were greeted by our handler for the weekend (and my handler from last year), Mel! She made last year a real treat, so it was great to be paired with her again this year.

Guests arrive at the Cedar Rapids airport – Mimyru, Russell Lissau, and Trevor Mueller
Mel drove us to the hotel where we unloaded our stuff, met up with Uncle Yo, and then we went to grab a bite to eat from the local burger place. It was nice for Russell to get to meet Uncle Yo for the first time, and they hit it off swimmingly – and I was glad to get to catch up with him, since we hadn't hung out in person in almost a year.
After food, we got Mel to drive us into town for some supplies. I needed some new stands for my comics (I didn't bring the new vertical rack, because it's so bulky), and we needed snacks and beverages for the weekend.
After shopping, we headed back to the hotel for a quick meeting with the staff and volunteers (and other guests) to go over the agenda, and then were released to go our own ways. We headed to dinner at the hotel restaurant.

Keep those appetizers coming!
Since the show hadn't officially started yet, and wasn't starting until afternoon the next day, we headed up to the room to listen to some tunes and work. I worked on some pre-commissions and some new sketch card designs, Russell worked on some scripts, and Uncle Yo worked on some new jokes for his stand up routines. Sleep soon followed.
FRIDAY:
I got up early to hit the gym, which is normally empty. Russell went for a swim, but after he left something happened that's never happened to me at an anime show before. Someone actually came into the gym who wasn't just a random person staying at the hotel. A con attendee was trying to do some lifting. I gave some advice on a few items he was doing (the guy was going to hurt himself), and then parted to shower and grab some breakfast with the guys.
The hotel has a pretty good restaurant, so we decided to eat there. I was still hungry after we finished, though, and since we had some time to kill, Uncle Yo and I walked to a nearby Mexican place for an early lunch. It was plenty tasty, and filled us up right for the day.
A quick trip back to the hotel had us setting up in Artist Alley, or as this show refers to it: the Marketplace.

This is a man set up to sell some comics!
We skipped opening ceremonies because sales were so strong, and we didn't want to lose the momentum. Like last year, book sales were okay for me here – but what really sold for me were commissions. And boy, did I get a lot of them!

Squirtle sketch card commission!

Game of Thrones sketch card commission – and she dressed up for the part!

Spider-Man vs Deadpool commission – Epic Rap Battles Style!

Someone wanted a commission of the characters from @$$hole! posed in the classic Star Wars IV: A New Hope poster. BEST FAN EVER!
I spent most of the weekend with my head down working on commissions, which could also be why book sales are lower for me at a show like this. But hey, those pictures aren't going to draw themselves, right?

After the floor closed we only had a small window before our panels. Russell and I had a joint 9:30pm panel on writing comics, which – like last year – was extremely well attended, and filled with some amazing questions. The audience at Anime Iowa is very engaged with the educational panels, and they're very knowledgable and enthusiastic about making comics of their own. In fact, I had someone come up to me from last year with their first book – the 4th time this has happened to me in my time as a guest at conventions! Always a satisfying experience, and one I look forward to having more.
It didn't hurt that their book looks gorgeous!
After the panel we had a few drinks and walked around the con to see what was going on. Our room was on the same side as the back patio, so we heard music late into the night (I almost never sleep at conventions as it is, but booming music until 4am certainly doesn't help sleep happen for me).
Around midnight or so, we wondered into the 18+ Cards Against Humanity panel hosted by Samurai Dan and Lady Jillian. I did this for the first time at this show last year, and it was a hoot – but this year took the cake. The guests on the panel were firing on all cylinders, with voice actors performing the cards – or someone taking off their shirt and dancing with tassels on. We even traded cards so we could trump each other and keep the humor building throughout the evening. We really got into it, and it was an absolute blast!
After being energized like that, we headed to the bar for a quick drink and then it was time for bed.
SATURDAY:
Saturday morning came far too early, and I missed my alarm. Thankfully, Uncle Yo kicked me out of bed about 15 minutes before my 9am Self-Publishing panel was going to start. Unfortunately, the room was locked – so we had to find someone to get us into the room just as the panel time started. Thankfully, I was ready to dive right in – and did so – while I was setting up my books on the table.
Some great questions from familiar faces throughout the weekend, as well as new faces trying their hand and making comics for the first time. Attendance was also extremely high for an early morning panel, which was also awesome.
After the panel I bum rushed to the sponsor breakfast to hang out with some of the amazing sponsors of the show. Attendees, businesses, volunteers, staffers, and fans were among the guests at the breakfast, and I got to hang out and joke around with them while enjoying some tasty eggs and bacon and juice.
After breakfast it was quickly to the floor for much selling and more commissions!

Pocky is all kinds of delicious!

My partner in comics – Russell Lissau!

Working hard on more commissions!
We broke down our tables a little early on Saturday night to grab some dinner before I had to go be a guest judge at the masquerade. Uncle Yo was MCing the event, and it was the first time I've even seen a masquerade – much less judged one. I know from people who have worked them that they're extremely well attended – and also tend to run longer than they're supposed to. However, I was very excited for a fun night of costumes, performances, and hanging out with fans.

Maybe 1/3 of the crowd at the Masquerade Saturday night
I was one of the performance judges, and had to fill out sheets of paper on each person who signed up to be in the performance category. Cosplayers show up in their outfits and pose, or perform a scene (or a song, usually lip-synced) from their favorite game / movie / anime / series / whatever. In between acts, Uncle Yo was entertaining the crowd with jokes and stories that were delivered with a professionalism and polish that puts my panels and speeches to shame. The dude is a true artist of his craft – and he does it WELL!
As expected, the events ran late and the performance judges ran off to go tally our votes on who was the best. There were multiple categories, and we needed a 1st-3rd place (and judge's choice) for each of them:
–novice
–experienced
–master
After about 30-40 minutes of tallying, we knew who our picks were to win, but there was an issue – the costume judges still had about 8+ people to judge before we could report on best in show. We were already running super late (the event was supposed to end around 8:30, and it was already after 9:30pm). Eventually, we came up with a solution – Lucas (one of the other guests of the show, and an awesome voice actor) and I would go on stage and announce the performance winners, hand out our prizes, and then we would announce the best in show winners during closing ceremonies the next day (and on social media).
We went up to the stage and did our announcements. Several of our winners were still being judged on costumes, so they weren't able to go up and get their rewards on stage, unfortunately, but Lucas did a good job of MCing the event and keeping spirits high while I looked pretty and interviewed the winners. It was a fun time.
After that, we headed to the room to relax quickly before heading off to bar. Fans were in abundance (coming and going from the rave), and we chatted them up late into the night. After that, we went to bed for some much needed sleep.
SUNDAY:
The final day of the show started with a delicious buffet breakfast in the restaurant, and then we headed to the floor to set up. Russell had sold out of most of his books by this point in the show, but I still had plenty to sell – and sell I did. No more commissions came in on the final day – it was all about selling the books, and they did go quickly. Many box sets and complete collections were purchased by fans who had stopped by earlier in the weekend, or who had attended panels throughout the weekend.
Around the afternoon, the show started to die down and Russell and I packed up and started saying our goodbyes to our friends – both fans and staff. Everyone made this weekend truly an amazing experience, and one that just keeps building year over year. Not just because the con is growing – but because everyone who's attending this show is just so awesome!
We hopped into the van with Mel and grabbed a quick bite at the airport, and then waited for our plane to come in and take us home. On the ride, Russell slept a bit and I was watching another movie (Inception, in case you were wondering).

Something was really bothering me the whole flight home….
After the plane landed and we grabbed our stuff, Russell and I parted ways with a big hug. It's always a pleasure to exhibit at a show with the man – he taught me everything I know about selling at cons – and it was such a fun weekend. I can't wait for our next show together!
2014 is off to a (cold) start, and I'm still finalizing my convention appearances for the year. However, at this time the below shows are confirmed for 2014.
C2E2

Chicago, IL

April 25-27
ACEN

Rosemont, IL

May 16-18
Anime Mid-West

Rosemont, IL

July 4-6
Anime Iowa

Coralville, IA

July 25-27
Wizard World Chicago

Rosemont, IL

August 21-24
New York Comic Con (NYCC)

New York City, NY

October 9-12
Mid-Ohio Con
Columbus, OH

October 31-November 2
A few of my regular shows have been cut back this year, since I'm on rotation (a typical thing for conventions to do every year or so, to keep their guest roster fresh). However, I'm also putting a few back on the list – and I'll have a number of new books out this year to boot!
More shows may be added later this year as I keep having conversations with the conventions. If there's a show where you would like to see me make an appearance, please reach out to the convention and ask them to contact me about appearing.
Looking forward to seeing you in 2014!
└ Tags:
acen
,
anime
,
anime central
,
anime conventions
,
anime iowa
,
anime midwest
,
appearances
,
c2e2
,
comic conventions
,
comics
,
conventions
I was invited to be a guest at Anime Iowa this year, a 17 year old show located in Coralville, IA. It's a nice sized show (approximately 3,500 attendees) at a gorgeous hotel, and with a very fun and energetic staff. Seriously some of the nicest people I have had the pleasure of working with at a convention.
This year the guest line up included a lot of people I had not met before, but who by the end of the weekend I would become fast friends.
THURSDAY:
I flew out from O'Hare around 11am, arriving very quickly at the airport in Cedar Rapids – which is right down the road from the convention. My liaison met me and several other guests at the airport, and we all piled into the car and drove over to the con. The guests got their rooms and unpacked their stuff, and we decided it was time for food. The group went to a brewery across the circle drive from the hotel, but upon discovering they were out of most of their food and beers, a small group of us went across to the other side of the circle drive to another brewery.
I was join by Jennifer Blake (My Little Pony) and her plus one, Suzanne – who was new to the comic and anime scene. We instantly bonded, since I was in a very similar situation with Beth. The three of us spent a good chunk of the weekend together, hanging out and forming a strong and fast friendship.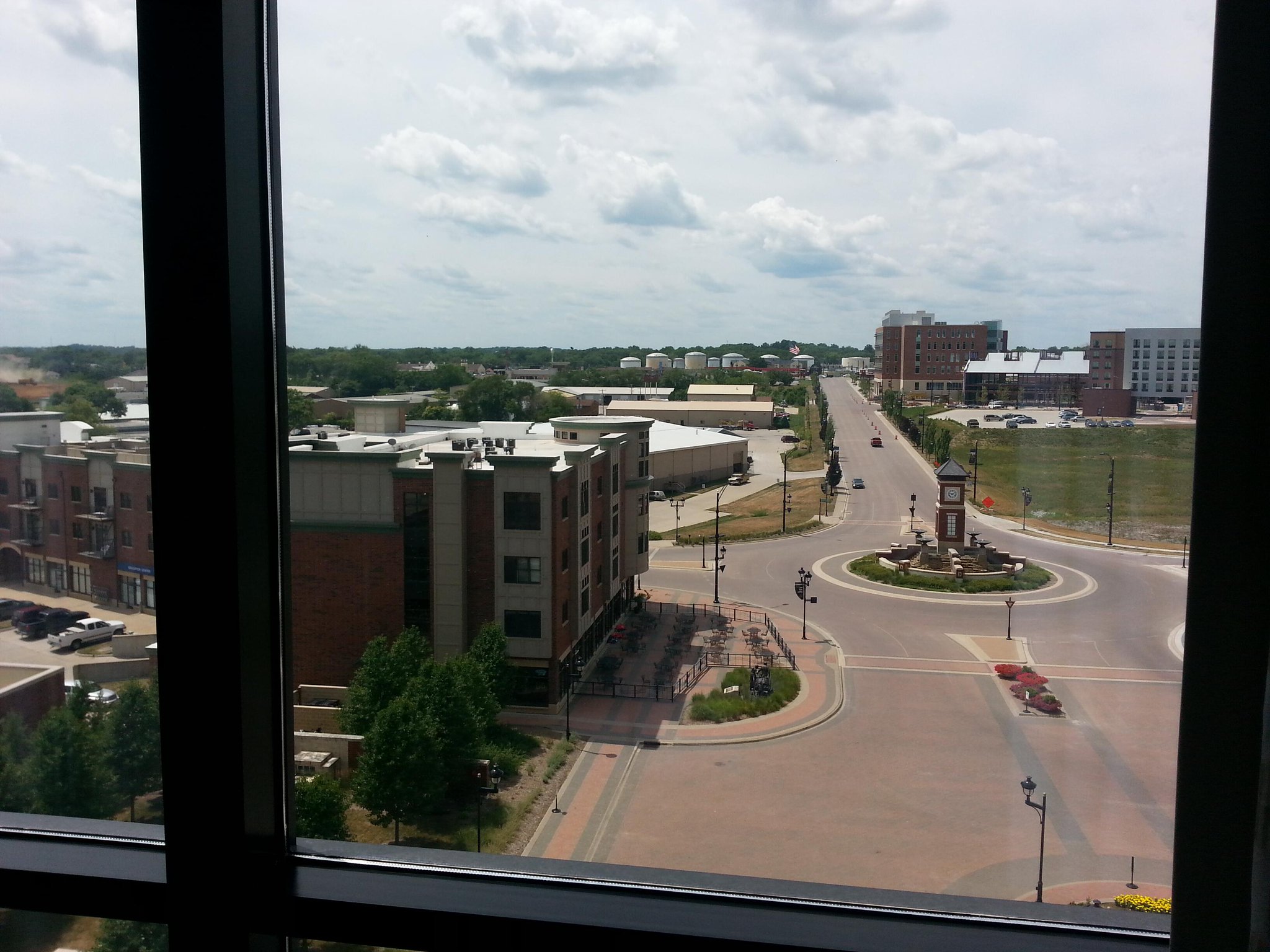 The view from the hotel room, looking out at the circle drive (and the breweries).
After lunch, the group went to the floor to check out the space and tour the convention a bit, and then headed to the store to buy some provisions (apples, snacks, booze, etc), including some much needed art supplies for our table set ups. After that, we had a quick drink and draw in my room – I knocked out 37 new cards, including 16 brand new designs. The girls disappeared briefly to get us some late night dinner (Arby's, so delicious), and then we all went to an all guest meet and greet with the staff and sponsors.
After the meet and greet, I went back to the room to finish up a few cards and then headed straight to bed.
FRIDAY:
Friday the show wouldn't start until 4pm, so there was plenty of time to start the show off right. I opened the day with an hour at the gym. Working out at a show is quickly becoming one of my favorite con traditions. First off, the gym is almost always empty, so there's no worry about having to wait to use a machine or some free weights. Secondly, working out in the morning fills you with energy – so I feel like a million bucks the day I work out, and I'm set to go for the entire day (if not the entire weekend). Thirdly, and this didn't apply to this show, but it's also a great way to connect with some of the other guests if they join you. Some of my comic friends have attended the gym with me in the past, and it's a fun time to hang out and pump some iron (or run on a treadmill).

The booth! And a dude in the corner, trying to charge his cell phone….
After the gym, I headed down to the restaurant in the hotel for breakfast, and then went to set up the table in artist alley (called The Marketplace). I worked on some additional sketch cards for a few hours, and then the show floor finally opened. Traffic was steady for the first hour, and then the guests were called away quick for Opening Ceremonies. The main programming room was filled with attendees eager to check out the guests of the show, hear our opening dialogues, and find out what kind of panels we were giving that weekend. After my stint on stage, I headed back to the show floor to keep selling.
Book sales started off a little slower than usual, but sales for sketch cards and commissions were high. Much higher than previous shows, which helped to offset any revenue from the books. Fans were much younger than shows I typically attend, and many were in cosplay – some even cosplaying as original characters. There's a fine art to crafting a well made costume, and some of the guests there were helping attendee hone those skills even further – and the effort showed in the work.

A commission headshot I did for one of the guests of the show
After the show floor closed, I ran off to grab a quick bite with Jennifer and Suzanne, then headed off to my first panel of the weekend: Making Webcomics. The room was filled with a very attentive and curious crowd, many of whom didn't have a webcomic of their own but were interested in the process and learning about how to make webcomics. After the panel, I headed back up stairs to work on some sketch cards (to fill in the gaps that had formed from the day's sales), and then headed off to bed.
SATURDAY:
I got up early the next morning to grab some breakfast, and then headed off to the floor to set up. The floor opened and waves upon waves of attendees walked the dealer's room, buying up whatever cute stuff they could get their hands on. The books started to sell better, but the art and cards kept moving like mad.
The table was frequented by several of the voice actor guests of the show, and even several of the staffers (and some regular fans, who were excited to see some new books on the table).
I received an e-mail from a buddy of mine who was helping me with some creative projects for my wedding later this year, and started showing some of them off to some fans. "Even though I've only put out 2 books this year so far (and written 6 other stories waiting to be published), I've also made a mini-comic for my wedding invitations and filmed a few special projects – which I'll no doubt show off after the wedding," I kept telling people. I'm not slacking off, I swear.

The cosplaying guest with her commission piece (cosplaying as a different character today, obviously)

Another commission (sketch card, in color) of a fan in his cosplay
At the end of the day, I was approached by the guest relations manager, who asked if I would be willing to help judge the art show. This was apparently something the show was re-introducing, and so wanted some of the guests to be judges of the art. The process took about an hour, and there were a lot of very talented entries in a bunch of different art forms – pencils, digital colors, oil paints, cross-stitch, jewelry making, and many more!

The art show judges
After the art show judging, I ran off to dinner with Jenn and Suzanne. Jenn had her first panel that night, and was a little nervous – but she had a killer game plan for how to rock it. The panel room had a line outside that went around the corner, and the room filled to capacity very quickly – the show immediately announced they would do another panel on Sunday to account for the overflow. Jennifer rocked the panel, talking about how she got started with IDW working on MLP and then opening it up to Q&A. The questions were great, and Jennifer had a ton of fun answering the fan favorite questions. She even made a few announcements IDW authorized her to make earlier that day! It was a huge success, and I left right from there to my Evening with Trevor Mueller panel.

The My Little Pony fan panel was standing room only, with guest artist Jennifer Blake hosting
The Trevor panel was well attended, and I told some new stories that went over well with the crowd (and the handful of people who had heard one or more of these panels before). People had a blast! And I always love giving the panel, so it was a fun time.
After the panel, I returned to my room to get some sketch cards done when I heard a knocking. It was Jennifer, who was excited for her first very successful panel! We celebrated and chatted about the successes, and about how much fun we were having this weekend. She was blown away by the support of the Pony fandom, and super excited to get started on her commissions from earlier that day. I, however, had some other plans. Earlier in the day I had been invited by Samurai Dan and his wife to participate in a 1:45am "Cards Against Humanity" game (that ran until 3am), since none of the other celebrity judges wanted to stay up that late. I was starting to lose my voice and the microphone wasn't working so well in the room, but the crowd was kind enough to quiet down for me whenever I read aloud one of the answers. It was a hilarious time, fun for 18+ attendees (Cards Against Humanity is not a game for kids, FYI).
After the panel I headed upstairs and went straight to bed. I was exhausted, and had one more day to go!
SUNDAY:
I woke up and grabbed some breakfast before the show floor opened, then went to set up. I received a text about a guest / sponsor brunch, and the show found someone to cover my table while I attended and mingled with some sponsors (had I known about this sooner, I would have slept in a bit and opened the table later – the food was great, and the sponsors were all cool peeps). After the brunch ended, I went back to the table to end my weekend with some strong book sales.
What was interesting about the books sales is that no one was interested in just getting a single book – they wanted all the books! It was a great counter-balance to end the weekend strong with the books selling, where the art was selling earlier in the weekend.
Various fans and new friends kept coming up to the table throughout the final day, to buy stuff or say their goodbyes, and before I knew it the show had ended and it was time to close up shop. But not before buying Beth a super secret special present!

The artist guests, from left to right: Jennifer Blake, Suzanne, and Trevor Mueller

Posing with cosplayer and comic fan Sofi!
After the show ended I hung out in the lobby for a few hours, saying goodbye to my new friends and thanking everyone at the show for having me out. I shared a few more wedding related secrets with the group, and then hopped in the car and went to the airport to await my flight back to Chicago.
Anime Iowa was a lot of fun, and while it was a younger crowd it was still a crowd with a lot of energy and passion for anime and comics. They asked great questions during the panels, and bought the books (and the art) from a bald guy many of them had not heard of before. I made some awesome new friends, and had an amazing time all around. I certainly hope to be invited back again next year – and I hope to see you there!

Beth received a gift from the trip – her own stuffed Totoro!