Posts Tagged 'anime milwaukee'
21 items.
February 23rd, 2018
|
by Trevor
Convention season is officially upon us, and has started off with a bang! Anime Milwaukee continues to be my first con of the year, and continues to set the bar – AND HIGH – for the rest of my convention experiences this year. I was a returning guest of honor, and had fantastic panels (with high attendance), and great sales on the floor. The staff and volunteers continue to make an experience worth having – and attendance increased over 10% this year, breaking the 10,000 mark!
A special thanks to all the staff, volunteers, and guest relationships folks who keep bringing me back and giving me a wonderful experience – one I encourage each of you to come have next year! This was my 8th year (out of 11) returning as a guest of honor, and I keep coming back for this same reason: the show is great, and I love being there.
THURSDAY:
After work, I packed up the car and headed over to pick up my buddy (and fellow guest of honor), Russell Lissau and his daughter. It was the first time I was car pooling with him in my new SUV, and I knew I would have enough room for his stuff, but was impressed I was able to fit all my stuff into only half of the trunk. Either my packing skills have gotten better over the years, or this car is much more massive than I originally thought. Or both!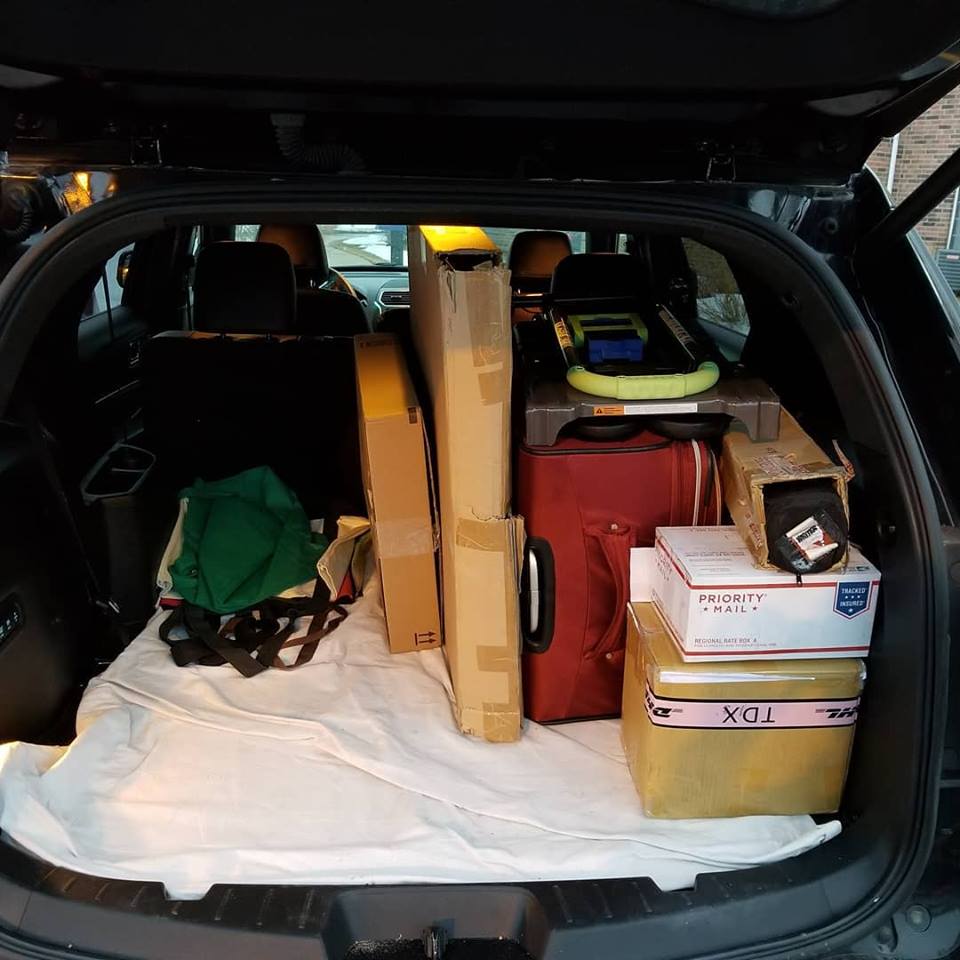 The trunk of the car, saving half of it for my buddy Russell – but was impressed that I was able to fit into half of it
We grabbed a quick dinner at a local burger place, and then headed up to the convention center. In no time at all, we arrived and unpacked. Despite having a dolly this time, it still took me several trips to get my stuff down to the floor (hey, my first year with merch…I'm working on it). Once there, I started to set up that night because I knew I would need a little time to play with the configuration. With a 3 foot book display, and a 14-inch vertical merch display, there wasn't a ton of real estate on the 6 foot table for me to set up all of my stuff…so I'm glad I gave myself the extra time to experiment.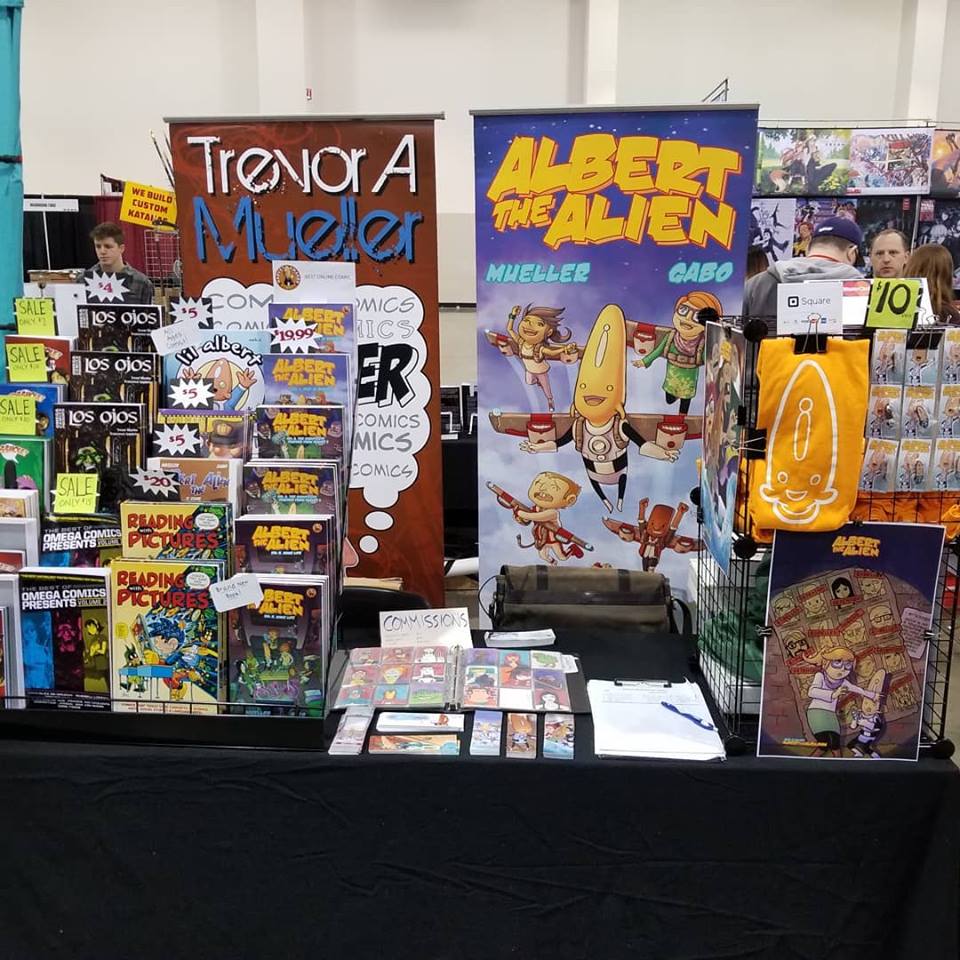 The booth, now with t-shirts, posters, and pins!
After setting up, the group went to the green room and had some food. We met a few of the handlers and some of the Japanese guests, and had a little food, but ultimately went to bed early – which is almost unheard of on a con weekend. But, thankfully, it helped set the tone for what would be an excellent weekend.
How late do you usually stay up at a con?
FRIDAY:
Friday morning we all went to the gym in the morning, including my buddy Russell (who NEVER joins us in the gym). I like to start my weekend with a healthy workout, as it keeps my energy high (and gives me a big appetite for breakfast). We headed over to the restaurant across the street from the hotel for a meal, and then went to the floor to finish setting up our tables before Opening Ceremonies.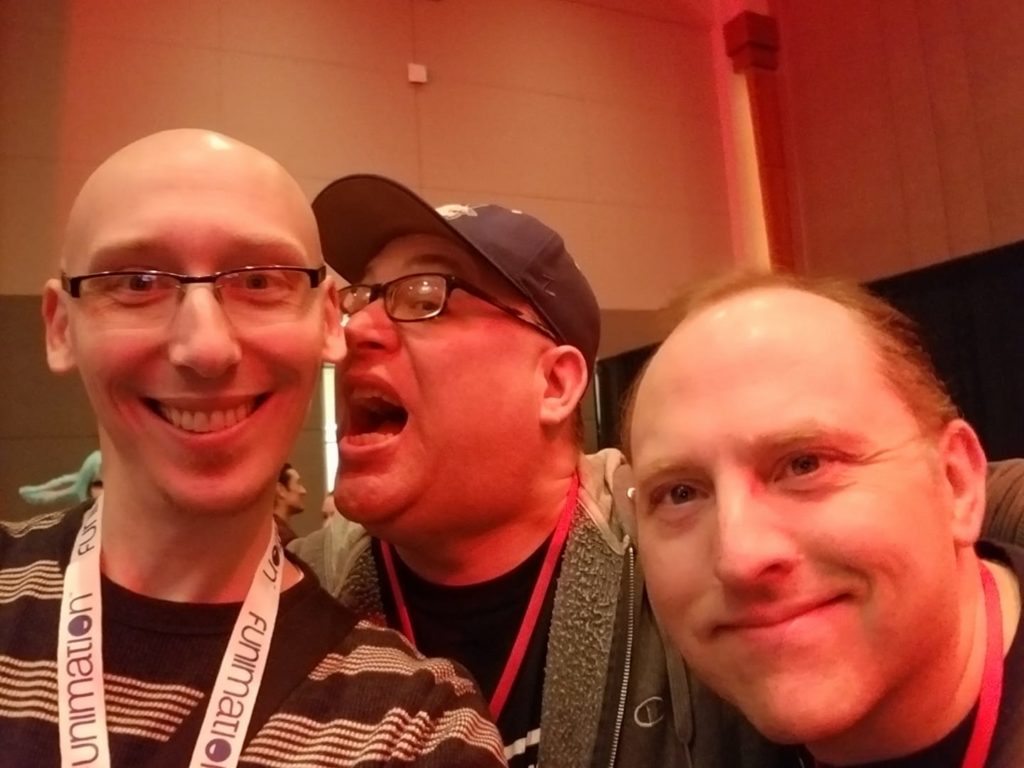 Behind the curtain at opening ceremonies with my comic pals, Russell and Alan
The comics crew headed over to Main Programming for Opening Ceremonies, and got to see the guests – many of which I hadn't seen in ages, and some of which I hadn't ever met before (despite attending multiple cons as guests together). All of the big voice actors were there, many of the cosplay guests where there in costume, and Samurai Dan and his wife were there with the dogs (which is always a hard act to follow on a stage). We all said our hellos, and then Jon St John – the master of ceremonies – introduced us all. He had a teleprompter in front of him with our names and bios (which were also displayed for the audience), but despite that he still got my name wrong, which would become a running gag throughout the weekend.

Opening ceremonies, this bald guy gave a talk for a while. It was fun. He was good looking. You should buy comics from him
After energizing the crowd, we headed back to the floor for finalizing set up and for the flood of people piling into the show. The day went by quick, but was a ton of fun. I also had a Writing for Comics panel at 2:30pm, which followed Alan's first Making Webcomics panel. I arrived a little early, and he handed some tougher questions about overcoming troupes to me. I participated in his panel and had some fun, but then immediately started into my panel. Attendance was solid, and I had some great engagement from aspiring writers (and some artists). After the panel ended, I went back to floor and continued selling until the end of the day.
What kind of programming content do you like to attend? What attracts you to a panel? The topic, or the panelists?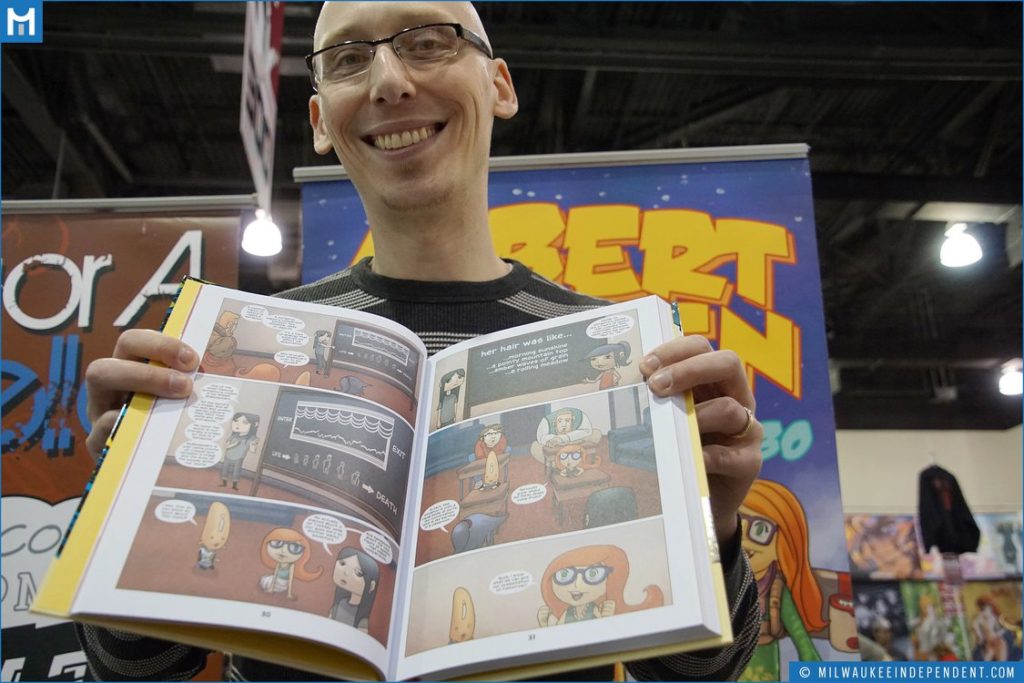 Showing off the product for some photos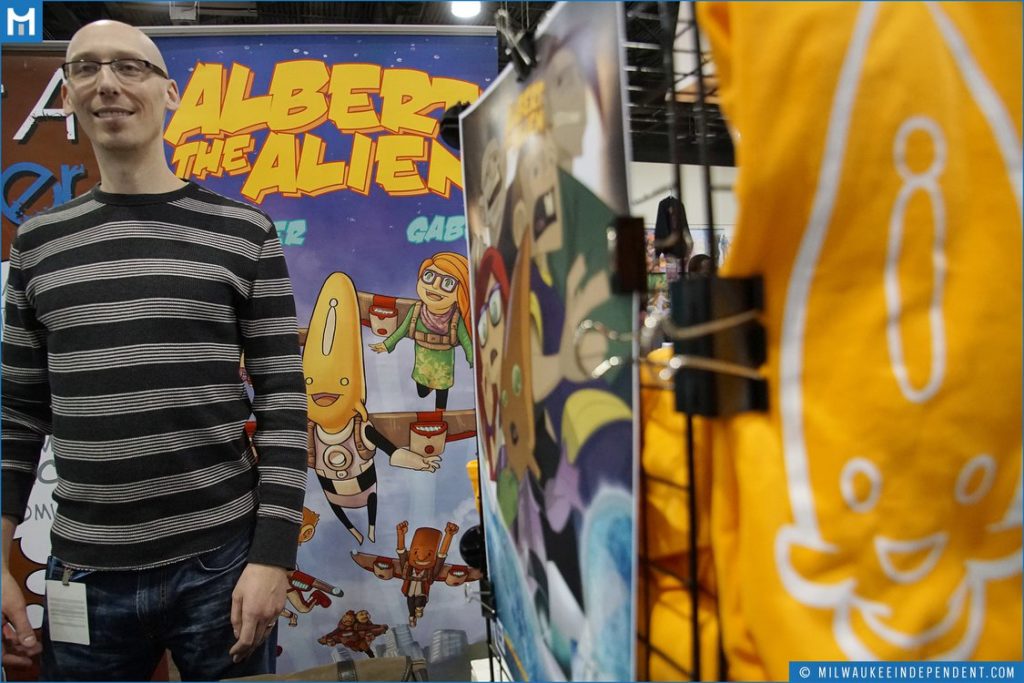 Standing and talking to photographers at the booth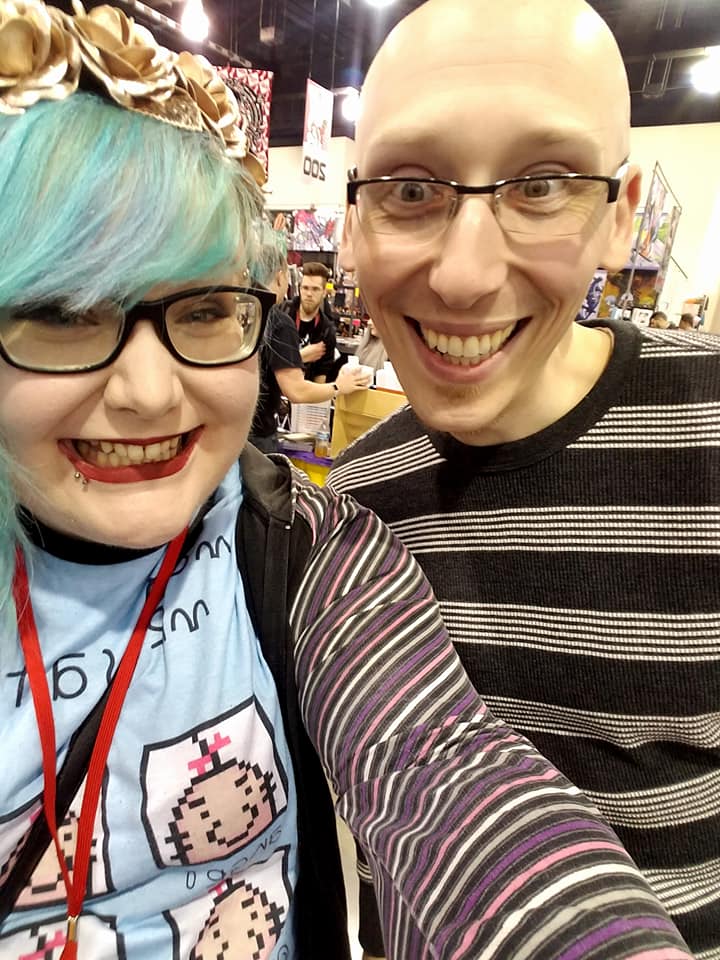 With the ever-incredible Mel!
After the floor closed, we headed to our rooms to grab some food (pizza from a nearby Italian restaurant we've never tried), and then went to the green room for some group toasts. It was the 30th anniversary of Final Fantasy, and many of the voice actor guests had done work for the FF games series. At the same time, we were toasting for our absent friend, Gyu, who has been a major presence in our lives both in and out of the con world. Gyu's absence was celebrated with a few fingers of 30 year old scotch – something he would enjoy – and it was a chance to talk to some of the voice actors I had not had a chance to meet previously.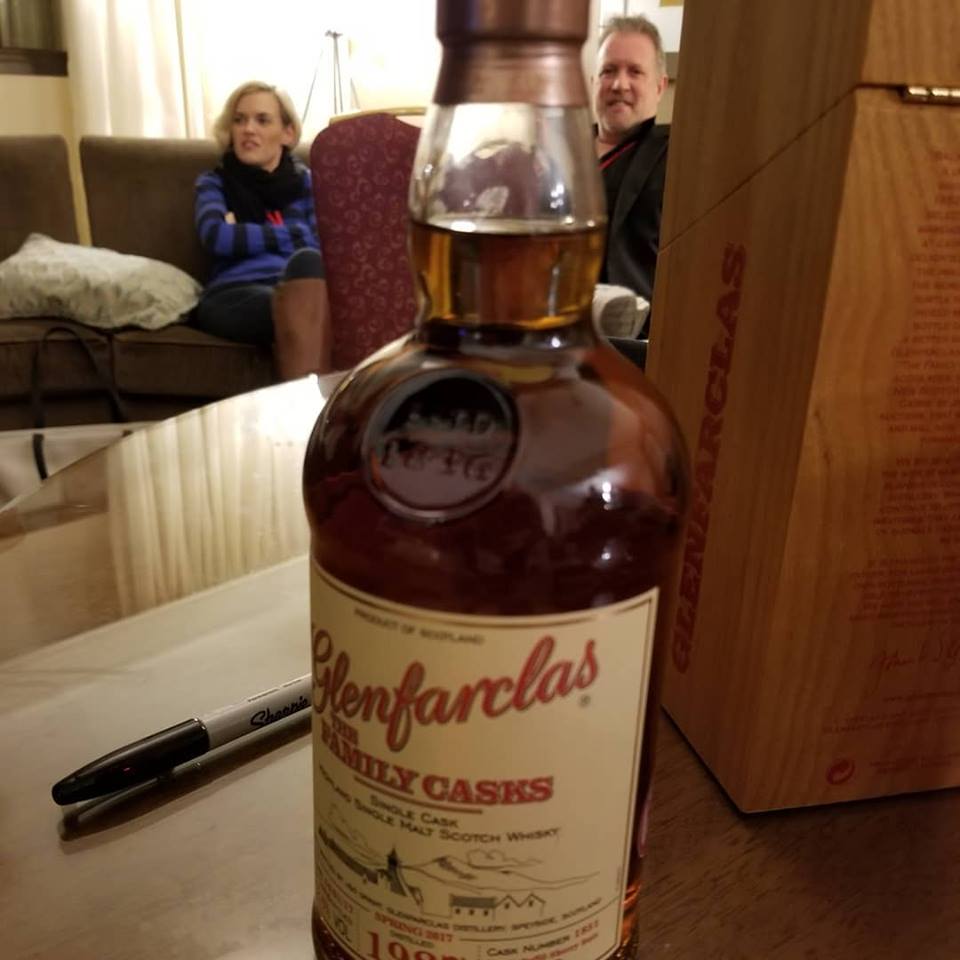 30 year old scotch in the green room, toasting the 30th anniversary of Final Fantasy (with photo bomb by Kari Wahlgren and Jon St John)
After the toast, we went to the VIP event in the top of the hotel, and hung out with fans. I got to talk to Johnny about his new band, and we talked merch (since I've been dabbing in t-shirts and pins, and he's looking at experimenting with some new stuff to sell at concerts and cons), and then we split so we could hang out with the fans. A number of Channel Awesome fans found me and started chatting me up, which was a blast. I got into some very impassioned talks about good and bad movies, which started to make me lose my voice (not good!), so I finished the evening listening to what they enjoyed (or didn't) about certain movies. After the VIP event, we went back to the green room for a quick snack, and then we all went to bed again (rather early by comparison to previous years). The rest was much appreciated.
SATURDAY:
Saturday morning started as all the rest do – got ready, grabbed some grub (this time at the Hyatt restaurant), and then went to the floor to set up and start selling. And sell I did! Man, the crowds were massive and the desire for original art and commissions was high! I loved it!
Around noon or so, Gabe and I went to our How to Draw an Alien panel, and re-arranged the room so it was more appropriate for a workshop. We gathered everyone around a few tables with paper and stuff to draw with, and we started talking about aliens and Gabe's method of design. Then we built our own alien creature together. His name was Bob, and he worked in corporate finance. We then designed his boss – a stop light with each light showing a different emotion. We then opened up the group to free design their own support staff – janitors, HR, marketing, and one guy even made a transportation alien. It was a lot of fun, and we all shared and had a laugh at the fun creations we had made during the class. After, we packed up the room and went back to our tables to keep selling for the day.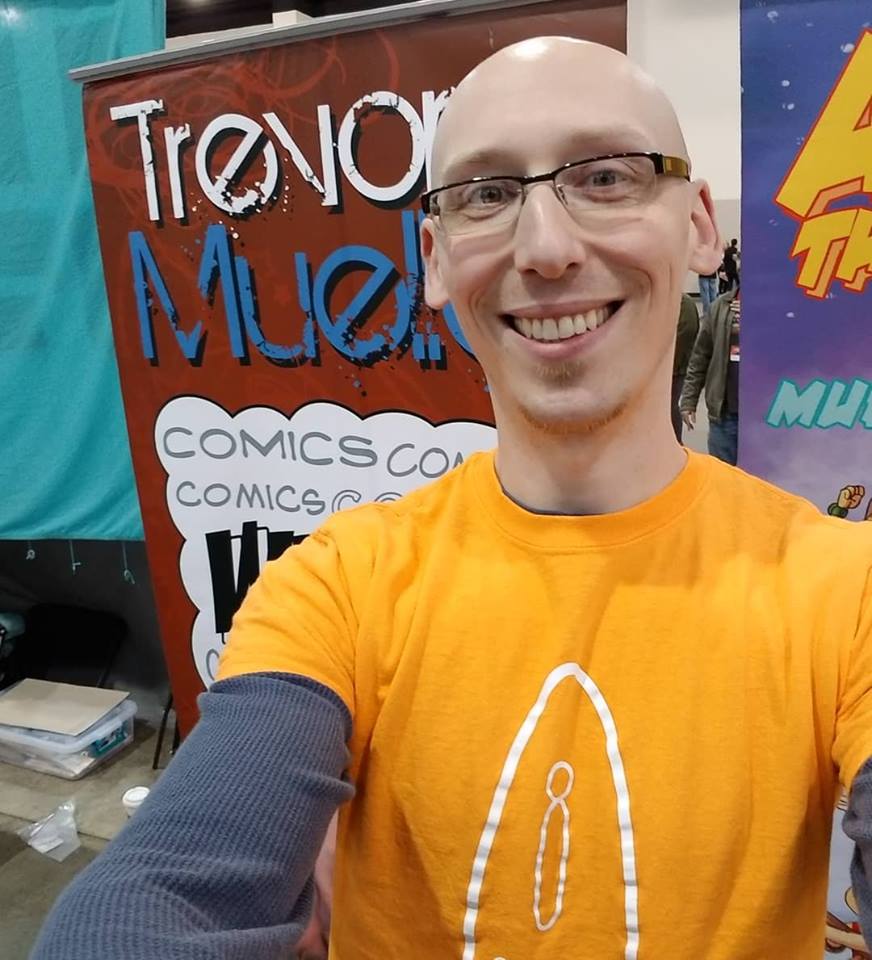 Come buy comics from this man at AMKE 2018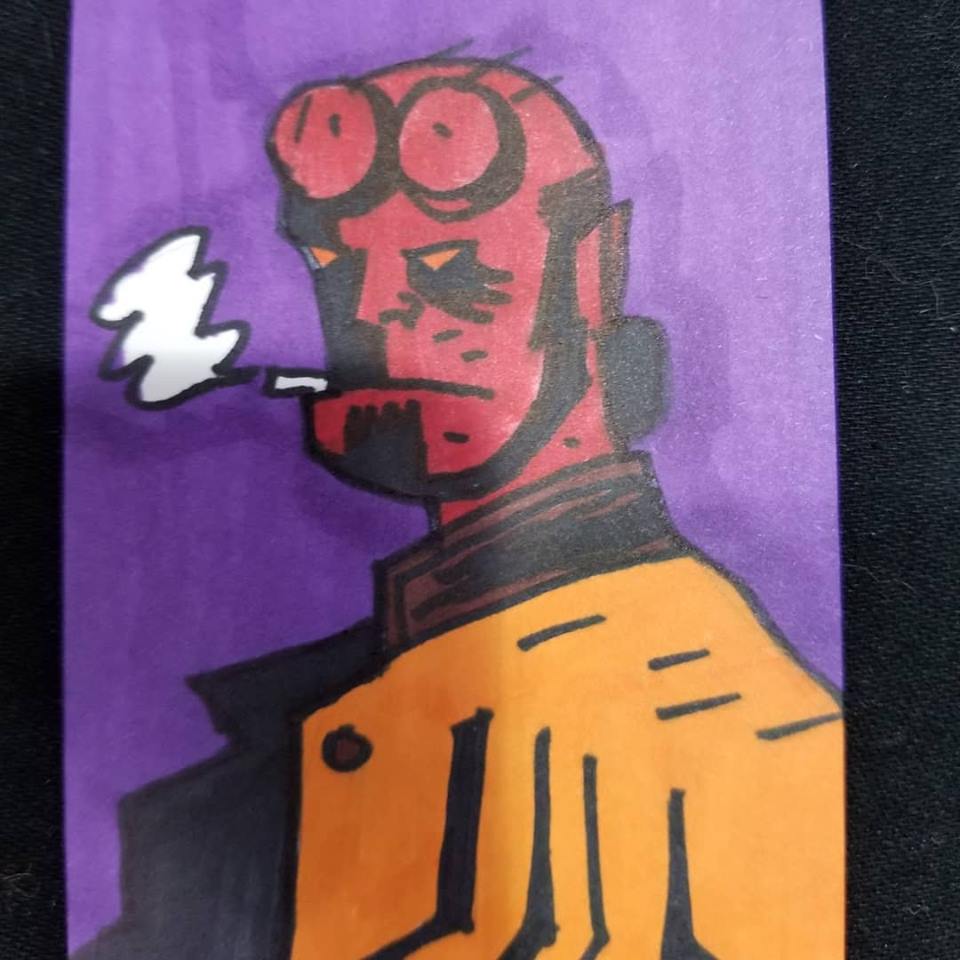 Hellboy sketch card commission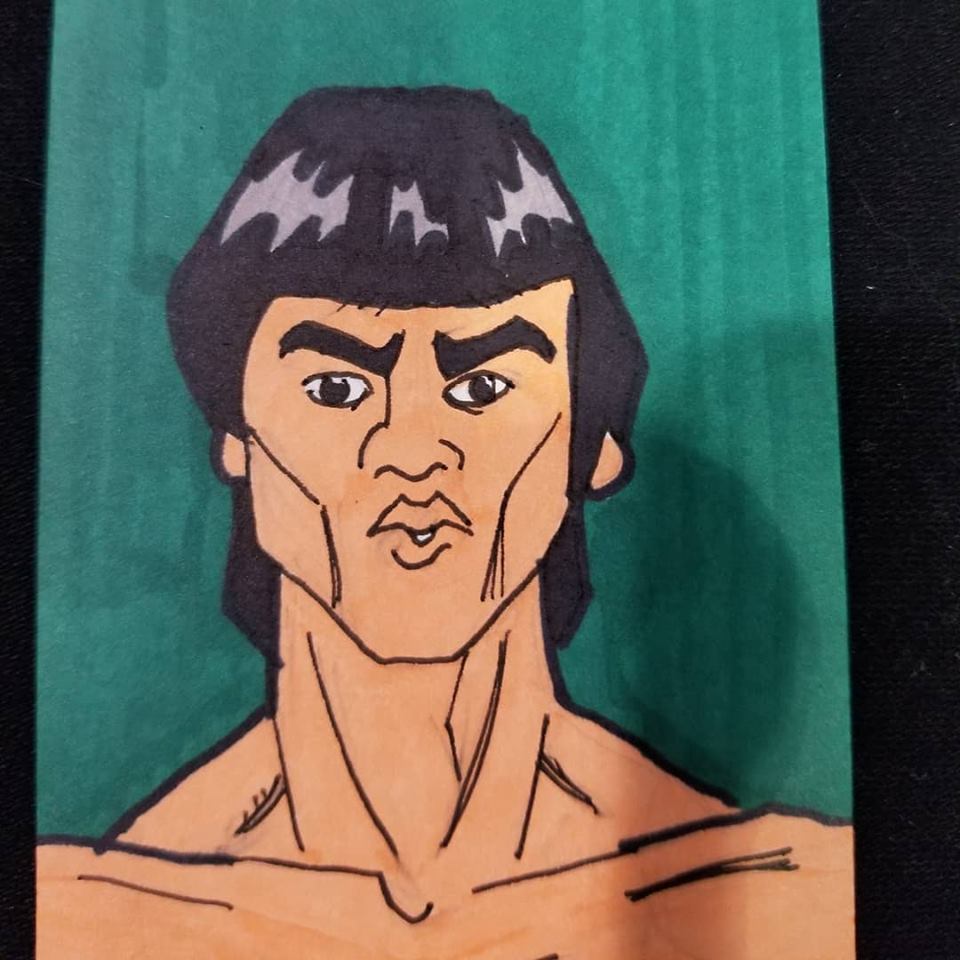 Bruce Lee sketch card commission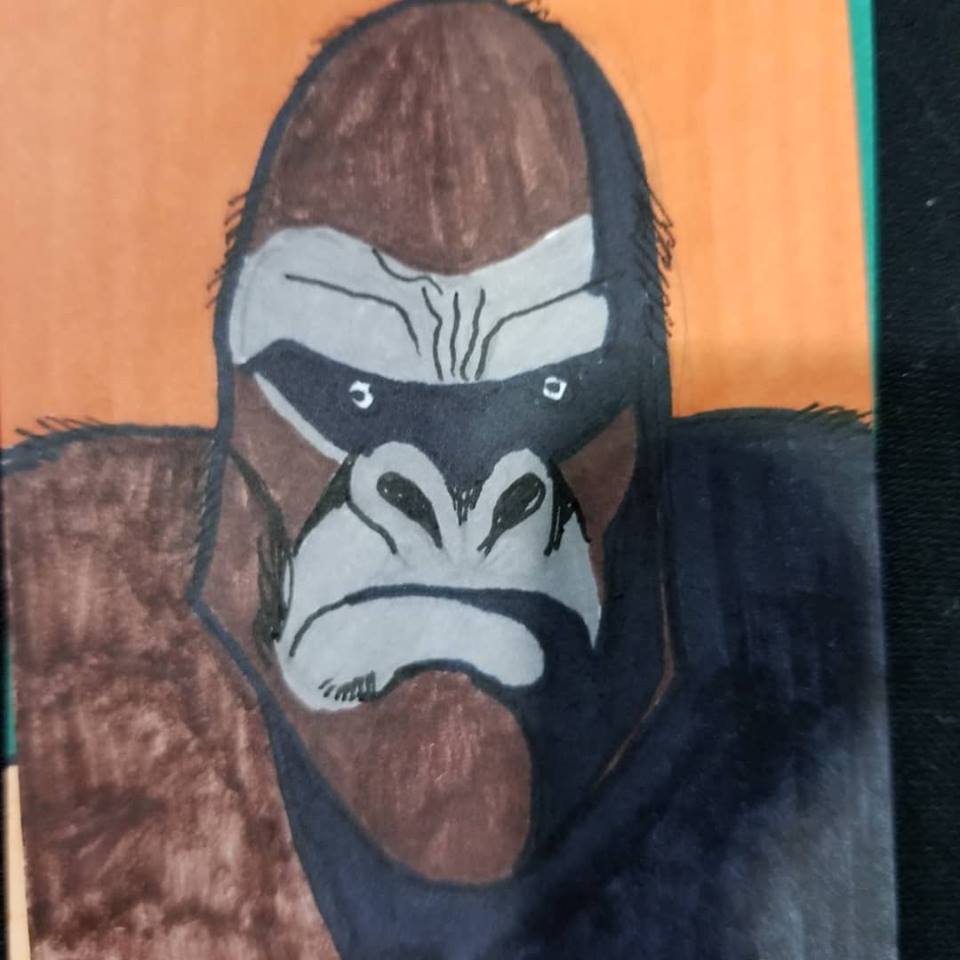 King Kong (from Skull Island) sketch card commission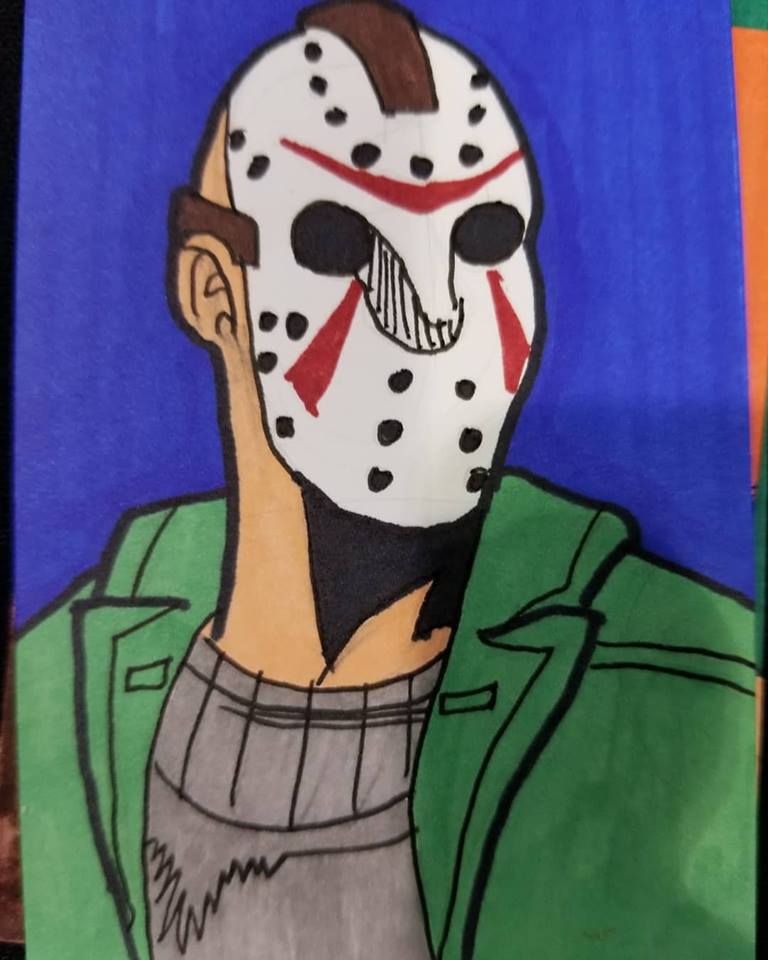 Jason (from MKX) sketch card commission
After the floor closed, I met up with my friend Lauren, who had driven up from Chicago to see me and hang out with our mutual friend, former Power Ranger Johnny Yong Bosch. The group went to the Thai restaurant across the street (a big mistake, because even with reservations we were delayed in being seated, and the service staff was overwhelmed with the volume of patrons). We eventually got through the meal, and headed back to the hotel to have drinks with some staffers who we've been promising to hang out with for some time. Lauren left to hang out with Johnny, who was grabbing dinner with Samurai Dan and his family, while we finished drinks. A homeless entered the hotel and tried to solicit drinks from us, which was not cool, and eventually hotel security scared him off.
After drinks, we went to go play Cards Against Humanity with Dan and Jillian, which ran until a bit after midnight. After, I retired to the green room with Johnny and Lauren to watch some Olympics and keep hanging out. Around 2am, we decided to call it a night. Johnny and I were going to grab breakfast in the morning anyway, which would come far too early for either of our preferences.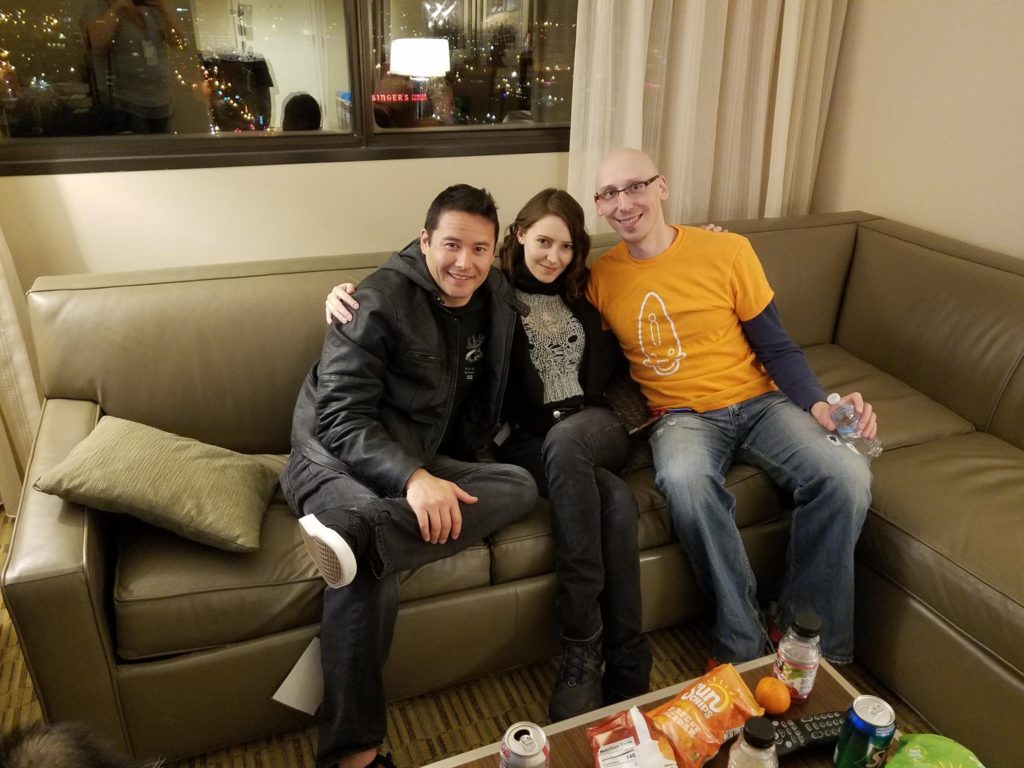 Got to spend a fine evening hanging out with two of my favorite people, Johnny Yong Bosch (Power Rangers) and Lauren Marie
SUNDAY:
I packed up my room and loaded up the car, and then headed to breakfast with Johnny. We talked more about his band and musical experiences, about our families and what cons we enjoyed attending. It was a fun time, and something I don't get to do nearly often enough because of the late nights and tight schedules many cons keep us on. It was very refreshing to get to hang out with my friend and just share a meal. After breakfast, I headed to the floor for a final day of sales – and boy oh boy, did the trend get set early in the weekend, because they were a flood.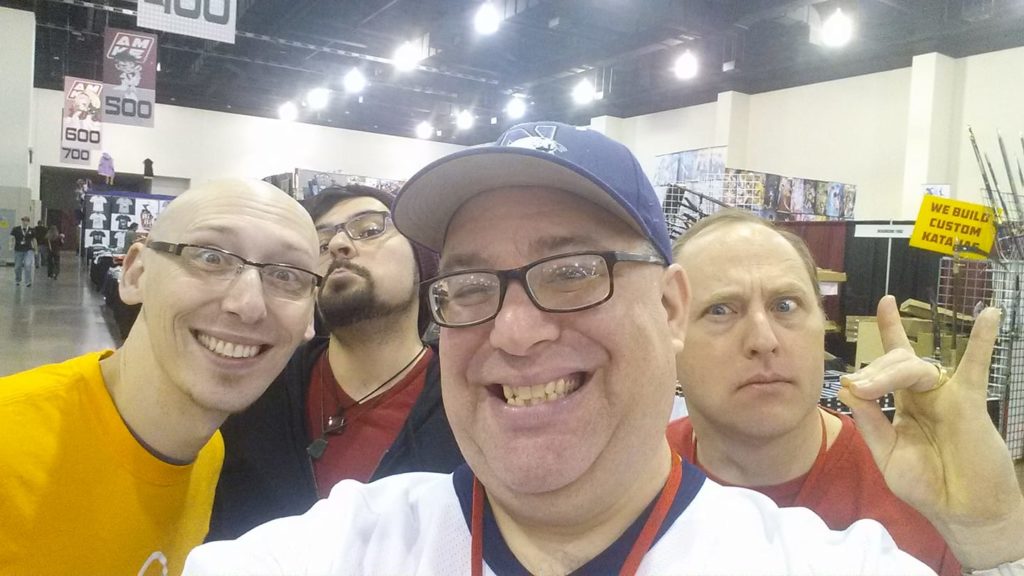 Hanging with the comics crew in artist alley before opening. From left to right: Trevor, Gabo, Russell, and Alan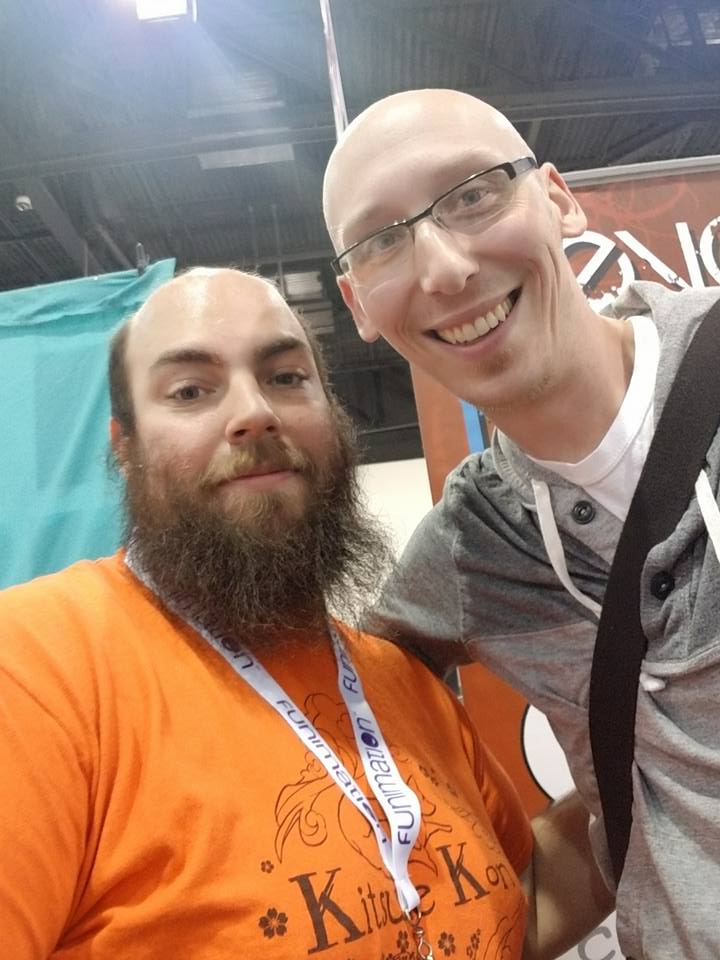 With my buddy Shoulders Hernandez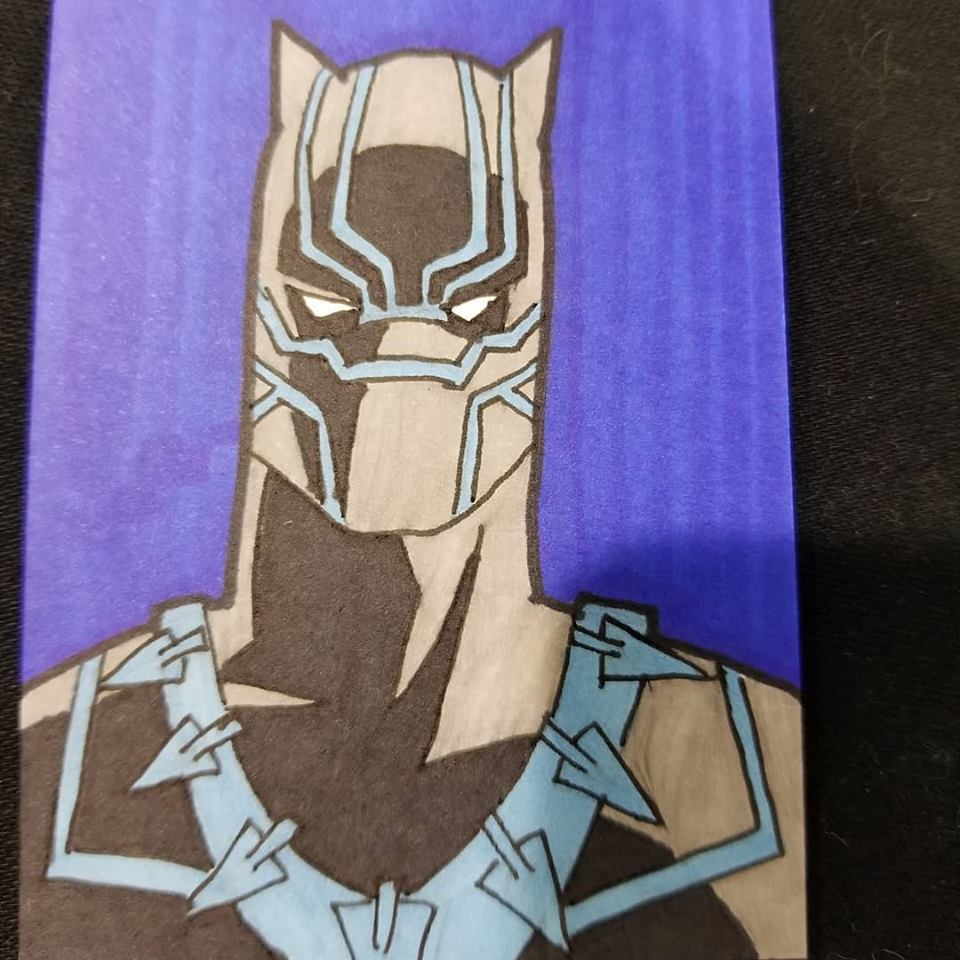 Black Panter sketch card commission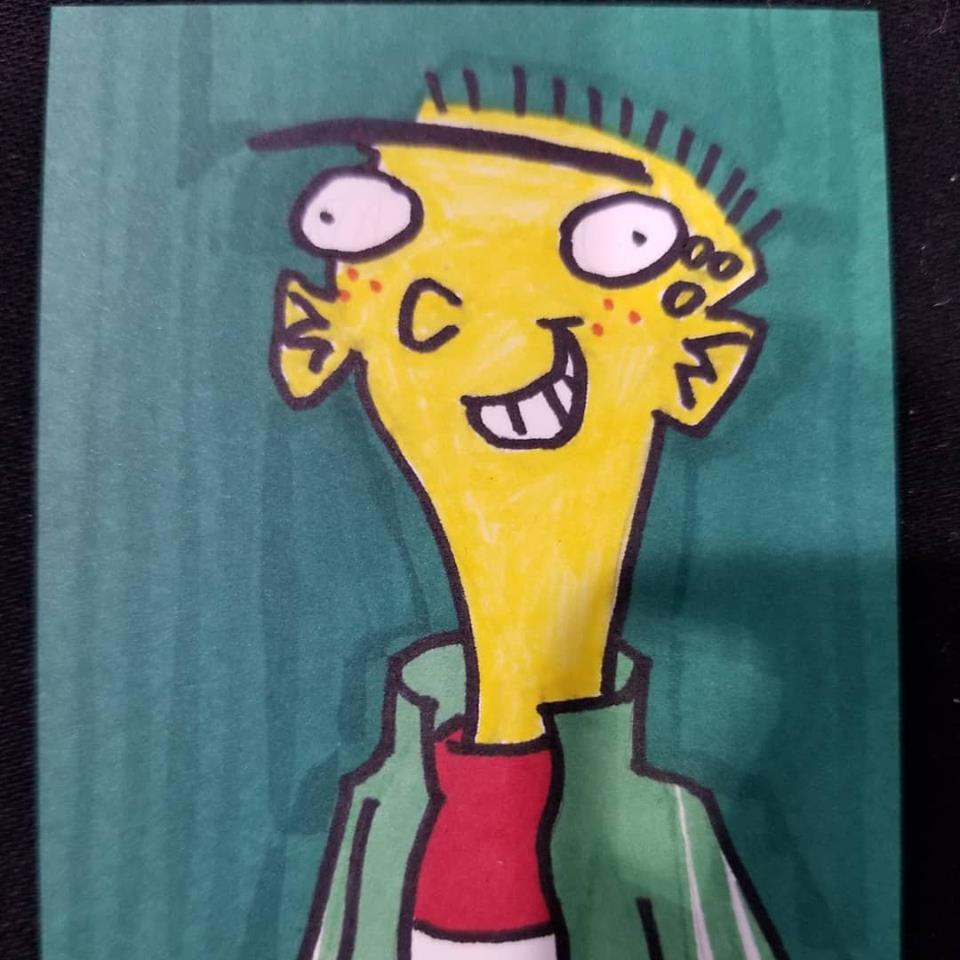 Ed (from Ed, Edd, and Eddy) sketch card commission
Around noon I did my final panel for the weekend, which was Crafting Fictional Worlds. This panel by far had the most attendance of any panel of the weekend, and the group and I had a lot of fun talking about what to reveal and what to imply in stories, how to balance telling vs showing your world through visuals or exposition, and many more topics. I didn't get to answer every question people had at the panel, sadly (if you attended the panel and are reading this, ask me now!), but that's what happens when you have 75+ people in a room and only an hour for a panel.
I returned to the floor for the final hours of sales, and Johnny stopped by to say his goodbyes. I gave him a hug and a pin for his daughter, and then started to pack up my stuff.
Anime Milwaukee was another incredible con, with great attendees, staffers, and volunteers. I'm always incredibly humbled and honored to be invited back, and hope to return yet again next year!
SUNDAY:
The final day of the con had us grabbing breakfast in the green room (they had some delicious fresh apples!), and then heading to the floor for our final set up. The last day of the show is always exhausting, but the excitement of the final day always brings enough energy to muscle through.
We didn't have any panels on the final day, so we were able to just focus on sales and hanging out. Traffic on the floor was still pretty solid, and people were in good spirits – the way you like to see the final day of a con.

The comic book guests of the show, somehow full of energy on the final day!
After several hours of selling, we finished and packed up and began to say our good byes to the staff and volunteers who had made our weekend so great. I even walked around the floor a bit, looking to see if there were any gifts for my daughter (I didn't see anything age-appropriate, but I'm sure she'll want a bunch of stuff when she's old enough to appreciate it).
Thanks so much for another amazing weekend, and a fantastic start to the convention season! I can't wait to be back again next year!

Thanks for a fantastic weekend, Anime Milwaukee. Photo by Tommy Schultz
SATURDAY:
The next morning started like any other day, but would progress quite differently. We attempted to grab breakfast at the diner across the street again, but after waiting over 40 minutes for our order, we had to take off to open our tables. Russell offered to stay behind and pick up our food, which took another 20 minutes or so. Alan and I were open and ready for the masses who piled into the dealer's hall first thing, and started making sales right away. The day flew by quickly, between selling books, chatting with friends who stopped by, and promoting the Kickstarter for Albert the Alien vol 3 (live until March 15).

Kickstarter backers at the con got bonus rewards, as modeled by Alicia
Around 5pm, just before the close of the floor, the group broke down and went to our panel about How to Exhibit at Cons. When we arrived at the room, however, it appeared to be another schedule hiccup. The room was already filled with voice actors doing their bits for a very large crowd, who was having a fun time. Since the schedule didn't list the right now for our panel, and no one was waiting for us, we opted to let the voice actors keep going and instead went to grab some dinner.
Alan took us to a Spy-themed restaurant, which I was not able to eat at due to the wait time (I had another panel later that night). Instead, I went to a local Bon Mi place and went to the green room to eat diner and talk to the staffers up in the room. I enjoyed my sandwich, told some funny stories, and then headed to my final panel for the weekend (which did have a matching schedule on the door to my schedule) about Self-Publishing. We had a nice sized crowd for the panel – a good 30+ attendees – all asking excellent questions and trying to make their own comics. I went on for the full hour, and broke down at the end to grab a quick drink before we did Cards Against Humanity with Dan and Jillian.

Myself and Lady Jillian, getting ready for a night of Cards Against Humanity!

The rest of our guest lineup for CAH. Top: Russell Lissau and Greg Wicker. Bottom: Alan Evans and myself
This panel is a rather private affair, and pictures are almost always forbidden – but we were able to snap a few. They play the game a bit differently than normal – but it's a way that I've grown to enjoy more and more. If you've never attended, you really should – it's a fun time. The panel went until almost 2am, and as soon as it ended I headed up to bed.
What do you do Saturday nights at a con? Are you all about the panels? The viewing room? The dances?
My first convention of the year – which is a show I commonly start my year with – was Anime Milwaukee, and it never disappoints. This weekend is, and does, set my bar for the year on how conventions can and should be run. I love this show. LOVE IT. And I'm going to tell you why: the attendees are awesome. Period.
What do you like most about the cons you attend? What tends to bring you into a show? Guests? Events? Bands? Panels? Word of mouth about the show? Let me know.
That said, let's jump into the con.
THURSDAY:
After work, I picked up my buddy Russell Lissau (another guest of the show, and writer of Old Wounds) and we decided to hang out and grab some dinner locally before beginning our drive north to avoid some traffic. Russell took me to a local Mediterranean place that had some very delicious kabobs and hummus. We sat and caught up, having not seen each other for some time (and not having done a con together for months). Eventually we finished dinner and headed up to the con, which was a much faster drive than we both anticipated.
We got to the hotel and parked, and headed in to get our badges and itineraries for the weekend. We met up with Alan Evans (Rival Angels), who showed us that our rooms were all next to each other (and connected!). We poured some drinks and hung out for several hours, eventually being joined by our good friend Sandi. I didn't stay up too late, because I was exhausted from having the baby at home, but I did stay up later than I expected to.
FRIDAY:
Alan and I got up early and hit up the gym, taking turns and spotting each other in the workout. We had a good hour in the gym, and then headed to our rooms to get ready for the day and headed to breakfast. We went to a local diner across the street, grabbed a quick bite, and then went to the floor to start setting up our tables.

The booth, set up in all its glory!
Our table position was PERFECT. We were just to the right of the main entrance to the artist alley / dealer's area, so we had a lot of main traffic coming past our table. We were very visible from the entrance, and got a lot of spillover because of the extra visibility. Before we started selling, however, it was time for opening ceremonies.
Do you attend opening ceremonies at a con? I find them attended very sporadically, depending on the show – some have incredible attendance, others less so. This show has great attendance at their opening ceremonies.
Many guests were still arriving (or would not be attending for the weekend, due to the massive storms in California cancelling flights). They called the guests up in groups, and so the comic guys all went up together. Despite having agreed to me doing all the talking, Alan said a few words which lead to some awkwardness, and then we went off stage and opened our tables for the start of selling and panels. Well, sort of….
We had received our panel schedules from the guest department, which we were following. However, that schedule did not always match the schedule outside of the rooms. So when I arrived at my 3:30pm Writing for Comics panel, I found someone else already talking in the room and no line waiting for me. When I looked at the panel doors, that scheduled claimed the panel was in another room an hour earlier. I told my guest handler about the snafu, and went back to my table to keep selling. This would become a theme for the weekend, unfortunately, but was really the only hiccup in an otherwise perfect weekend.

Godzilla sketch card commission
About the time the floor was supposed to close, we had another panel – this one was a group panel, about Making Time for Making Comics. Attendance was a bit light, but again – our schedule didn't match the door schedule. But we had a fun time, talked about identifying and removing distractions, and how to prioritize creative projects. After that, we grabbed some dinner and hung out in the green room with the rest of the guests – including an appearance by my buddy Matt Mercer, and Vic Mignogna.
January 23rd, 2017
|
by Trevor
I'll be a returning guest of honor at Anime Milwaukee this year, set up in artist alley selling comics during the day, and also doing panels throughout the weekend.
FRIDAY (2/17):
– Writing for Comics and Manga (3:30-4:30pm) – 202AB
– Making Time for Making Comics (8-9pm) – 202C
– VIP cocktail event (9:30-10pm)
SATURDAY (2/18):
– How to Exhibit at Cons (4-5pm) – 202A
– How to Make your Own Comics and Manga (7-8pm) – 202C
Who will I see there? Which panels are you most excited about?
January 13th, 2017
|
by Trevor
I'm back, and we're still making comics. Sorry for being silent for so long, but I've been focused on Albert the Alien, my Patreon, and putting together convention appearances for 2017. I'm doing less cons in 2017, due to having a newborn, but will be back to full force in 2018.
That said, below is a list of the confirmed appearances I have for 2017 so far:
Forrest Park Library FlipCon
Forrest Park, IL
January 14
Anime Milwaukee
Milwaukee, WI
March 17-19
Anime Boston
Boston, MA
March 31-April 2
C2E2
Chicago, IL
April 21-23
Free Comic Book Day – location TBD
Illinois
May 6
ACEN
Rosemont, IL
May 19-21
Wizard World Chicago
Rosemont, IL
August 24-27
New York Comic Con
New York, NY
October 5-8
2016 is off to a solid start with the first con I usually do during a given year (although this time, they pushed the con back from Valentine's Day weekend to March…so it was warmer outside). Anime Milwaukee is this con that usually starts my con season, and it always sets the bar high. This year was no different, in that respect, and AMKE continues to be a fun and fulfilling convention experience.
THURSDAY:
Thursday after work, I met my buddy (and fellow comic book guest of honor) Russell Lissau at my house, had a quick chat while packing up his car with my stuff, and then we headed on our journey towards Milwaukee. Having moved from the city of Chicago to the northern suburbs, it's now much quicker to get to Milwaukee than it previously was. Almost half the time, in fact. We arrived and unloaded our stuff, and immediately sought out our badges and the other guests (including our good friend and fellow comic book guest, Alan Evans).
It turns out the guests that had already arrived were on their way to dinner as a group, which (since we had eaten before we left Chicago) we were not hungry at this time. We opted instead to stop by the exhibitor hall to drop off our stuff, and have a quiet drink in our room while hanging out. Eventually, our friend Sandi came by and gave us a manicure – which is something that is quickly becoming an Anime Milwaukee tradition, and was much appreciated. Also, I will say that ending your day with a hand massage and cleansing is the perfect way to go to sleep.
FRIDAY:
Friday morning I got up and headed to the gym, where Alan and I started doing our workout routines. Typically at a con, I tend to work my arms only (since I'm standing all day, and I don't need to burn out my legs at the beginning of the weekend), and that's where my focus was – with a mix of push and pull exercises. Eventually, we were joined by voice actor guest Todd Haberkorn. Great minds must think alike, because he was also trying to squeeze in a workout before the first day of con.

Look at this page of good looking guests! From left to right: Stella Chuu, Todd Haberkorn, and some bald guy that writes comics
After the gym and a quick shower, we headed to the green room (a room provided to guests of shows that has refreshments, food, and usually a place to relax away from the con for a while) for some continental breakfast, followed by heading down to the floor to set up our tables. We were on the opposite side of the exhibitor hall from the entrance, basically where we were last year, however I noticed that a lot of the vendors have really started to build their displays vertically. It felt a lot more claustrophobic than it has in years past. Russell, Alan, and myself were all in a row next to each other, which is how we prefer to operate, and we began putting our displays up and readying ourselves for a day of sales.
We were surprised to hear that the show floor didn't actually open until 2pm, since the program guide had said noon. Also, the artist alley outside of the exhibitor room had been in full swing since that morning – sacrificing security of their tables in exchange for longer times to sell. It wasn't so bad, since 2pm was the same start time as last year, but since commerce was happening outside the room, we were very anxious to get started. Plus, I was premiering three new books at the show:
1) ALBERT THE ALIEN vol 2: The next chapter in the first foreign exchange student from space's adventures on Earth.
2) LIL ALBERT: A coloring and activity book of baby Albert's first adventure on our planet.
3) LOS OJOS: A supernatural action story about a contract killer who can see good and evil by looking someone in the eyes.

All set up and ready to sell some comics!
Once the day started and the doors opened, it was a mad house of people and sales. I've been attending AMKE for a long time now, and each year the show grows by leaps and bounds. And sales have grown right along with it.
During the day of selling, Alan and I snuck away back to the green room to grab some sandwiches for lunch. I also participated in some shenanigans with my table neighbors, the Bristol Renaissance Faire. Their table was doing magic tricks, sock puppet shows, and singing drinking songs throughout the day – and it was quite entertaining.

My table neighbors for the weekend: The Bristol Ren Faire!
After the floor closed, the comic group went to the Thai restaurant across the street from the hotel for some dinner. The con used to have two Thai restaurants next door: the good one and the less good one. Unfortunately, the good one closed. The food was still good at the current one, but the service tends to be rather slow. And true to form, it took a while for the food to arrive – but it was warm and delicious, so I can't complain.
After dinner, we headed to the green room again to hang out and see some of the other guests. I texted Sonny Strait, and we had a great conversation about working in comics – and his work coloring for Dark Horse, and some of the projects he's working on. It was also nice to see Brina Palencia again (it had been a few years since we last hung out). We also met cosplay guest Stella Chuu, and chatted with her and one of her friends late into the night.
SATURDAY:
The next morning we headed to the green room for breakfast, and then straight to the floor for the 10am start time. Commerce came in strong and steady, once again, and sales continued throughout the day. Alan and I escaped to the green room for lunch, making our own burritos, and then went right back to the selling.

Briana Lawrence and myself, hanging out on the sales floor!

A cosplay from one of my favorite animes: Elfin Lied!

One of many commission sketch cards from the weekend!

Another sketch card commission!
After the floor closed, we headed to our panels. At 6pm we did a panel about exhibiting at conventions, where we all dropped knowledge bombs about things to bring, priorities in your displays, and how to market yourself to your fans. After that, we had a little time and ran upstairs once again to grab some free food in the green room. My wife also arrived at the con, and was able to grab a quick bite before we had to run back downstairs for our next panel: How to Turn Ideas into Comics. It was an involved discussion about where ideas come from, and how you turn them into stories. Each of the comic guests had very different experiences and techniques for what they do with their ideas, and it was refreshing to do a new panel with the guys.
Immediately after our panels was the 18+ Cards Against Humanity panel, which was a ton of fun and filled with inappropriate jokes and good (or bad, depending on your personality) humor.
After the panel, we headed to the green room for some more hanging out, and eventually Alan and I went downstairs to grab a quite bite with Samurai Dan and Lady Jillian. We were out way later than I expected to be, and I started to get a little tired (I get really quiet when I'm tired). The fact that the time jumped ahead at 2am, due to daylight savings, did not help.
SUNDAY:
The final day of the show was another early start, beginning with breakfast in the green room followed by a day of selling on the floor. Before the con closed, however, we had one more panel to do as a group: Breaking into Comics. We all have very different stories for how we got into the business, and I tried to mix up the questions to things fans ask me all the time – and also to keep it fresh for us.
At the end of the con, it was time to pack up, say our goodbyes, and take the long drive back home.
AMKE was and continues to be the best way to start a convention season. I love this show!

The con even branded the bar. Awesome!
February 24th, 2015
|
by Trevor
Valentine's Day weekend I spent with some of the most awesome convention attendees, staffers, and volunteers a guy could ever hope to work with – much less actually get to work with! That's right, I'm talking about my triumphant return to Anime Milwaukee!

Here is where you could find me (more or less; they did move us down a bit) at the convention. Great positioning!
Last year myself, Alan Evans (Rival Angels), and Russell Lissau (The Batman Strikes, Old Wounds) were all put on rotation with the show. This is very common, as it allows a convention to refresh their guest list and keep programming fresh and new. However, I really missed the show (I've been a guest of the show for the last 4-5 years with Alan), and so did the guys. And at every Anime show I attended I kept running into the convention heads, and they kept asking, "Why didn't you come last year?" And I would say, "You put me on rotation." And they would say, "Well, let's fix that." And so we did. And all was good again.
So sit back, relax, and enjoy my recounting of an amazing weekend at Anime Milwaukee!
THURSDAY:
From work I took the AMTRAK train up to Milwaukee, which was a nice relaxing ride. The last time I took the train wasn't good, because they wouldn't let me board unless I was 10+ minute early. Well, this year I was definitely 10+ minutes early, so no issues getting on the train. I sat back and watched Guardians of the Galaxy on my iPad during the 1.5 hour trip. Before I knew it, I had arrived.
Now, Milwaukee isn't too far north from Chicago, so the weather isn't very different. That said, it was still bloody cold up there. So the 4+ blocks I had to walk from the train station to the hotel were EXCRUCIATING. My hands and face took the brunt of it, despite having a hat and gloves on. It was the wind that really did it.
In any case, I got into the hotel and found con-ops so I could check in and drop off my stuff. Low and behold, Russell had arrived almost exactly the same time I had. And by the time I had dropped off my stuff in my hotel room, Alan had also arrived. The three of us were pretty hungry, so we hopped into a cab and drove to a nearby casino for dinner.

Anime Milwaukee signage at the hotel. You have now arrived!
The Casino was not good. Granted, I'm not a big gambler, but that wasn't my issue with the place. The problem was that they allowed smoking indoors. For someone who is allergic to smoke, who dislikes the smell (and let me tell you, it's potent for everyone else who doesn't smoke. Trust me – we can smell it), it was rather fowl. We walked through the entire place (since the restaurants are on the far side of the building), and eventually settled on the burger place they had in there. Thankfully, they had some kind of super mega air filters in the place, because it smelled much less. It was at least tolerable. It may also have been all of the greasy / delicious fried food.
After dinner, Russell and Alan decided they wanted to play some craps. I've never been able to figure this game out, but the two of them made a little money. Eventually the smoke even got to them, though, so we took off back for the hotel.
Back at the hotel, we all regrouped in Russell's room for some beverages. Eventually our friend Sandi showed up, and she proceeded to give us all manicures (a pastime that Russell loves to do before a convention). I was really just in it for the hand scrub and arm massage she threw in – and also to hang out with Sandi, of course, because she's awesome – and it was a nice night of hanging out.
By the time we were done with the manicures, it was already 1am and it was past time to go to bed.
FRIDAY:
Friday morning Alan and I got up early to start working out at the gym. I love doing this at shows for the boost of energy, so I look and feel better, and also because, well…there's almost never anyone in the gym at the conventions. However, this show was quite different. There were a handful of kids who came in to work out, as well as some women I didn't recognize (I'm assuming they were just at the hotel, and were not attending the con). However, one of the voice actor guests, Bryce Papenbrook, eventually came in to do some running on the treadmill. I somewhat recognized him from the website, but left him alone so I could finish my routine.
The free-weights in the gym had to have been brand new and unused, because whenever you picked them up the grips were so sharp they cut into your hand. It was rather painful, and made me wish I had a pair of workout gloves. I've not really encountered this before at a gym, but I sucked it up and continued with my routine all the same. I was quite relieved when I was done, though, and I had texture on my hands for the rest of the day. My hands felt like they were on fire!
After a quick shower, we went downstairs and met Russell and Shana for some breakfast across the street. The diner had some cheap breakfast specials, which were tasty but not very filling. Still, food is food.
After breakfast, we had some time to kill so Russell and Alan went back to the Casino to try their luck, and I went back to my hotel room to relax a bit and do some writing. After a while I started to get anxious for the show, so I decided to take my stuff down to the floor and set up a little early. I figured I could at least walk around and chat up some people I may know from the con circuit.

Trevor's booth is set up and ready to sell some comics!
When I got down to the floor, however, I discovered they had moved our tables around a bit. Thankfully this was quickly and easily remedied, and within a few minutes my table was next to Russell and Alan's again. When I received the text they had returned, I told them to come on down and start setting up – and I started to walk the floor and check out some of the other vendors and artists.
I chatted up a few friends, looked at the usual assortment of wall scrolls, plushies, figurines, and yes – tons of anime – and eventually made my way back to my table before the VIPs entered.
This was the first show I was using some new signage my wife had designed and made for me, and it looked great. I thought it gave the table a respectable and professional look – and it was much better than my handwritten signs on sticky-notes.

Check out the sweet new signage – compliments of my beautiful and talented wife!
I also had a lot of books new to this show (@$$HOLE! volumes 2-3, KILLER QUEEN, READING WITH PICTURES volume 2, and ALBERT THE ALIEN volume 1) and I was also premiering a brand new book (my first horror book), THE FAN. That's a lot of new books!

More of the new signage – highlights the awesome new books on the table! By the end of the show, we were almost sold out of everything!
The con floor opened, and sales started quick and maintained strong throughout the first day. I even sold out of ALBERT THE ALIEN volume 1 (thankfully, my wife was showing up on Saturday with more copies), and almost sold out of READING WITH PICTURES volume 2. THE FAN was also selling like hot cakes. I couldn't keep that book on the table. As a guy who has primarily written comedy, and most of my fans are people who like to laugh, I was amazed at the positive reaction to the book.
A little before the floor closed we shut down so we could grab a quick bite to eat before panels. We ordered some Thai food from the place across the street, and I went to get it while the group headed to the Green Room to relax a bit. We chowed down, shared our meals with each other, and had a fun and relaxing time before we left for our panels.
First up was MAKING WEBCOMICS PART 1, which Alan was kind enough to let me sit on with him. We went through our usual talk about why digital distribution is helpful, talked about how to set up some basic webcomic elements, and then did something new. Alan wanted to brainstorm a webcomic we could launch for the next WEBCOMICS panel that would occur tomorrow. It was a fun exercise, with people coming up with the elements of story (characters, conflict, environment, etc). It got people really energized about the story, and wanting to come back for more.

Trevor, Alan, and Russell drop wisdom bombs on the audience during the Writing Comics panel.
After that panel, we all went to our WRITING COMICS panel. Russell took the reins and really lead the discussion (it was his first panel of the weekend, and the dude's been published by DC comics…so he's got some good advice). It was a good time.
After the panel we were free for the rest of the night, so we headed to the hotel bar and hung out with Shana, Sandi, and Elaine (our handler for the weekend. The joke was that we don't actually need a handler – we're professionals, we know how to get to our panels on time and sell at our booths – but Elaine is also awesome, and we were so happy to have her). After a bit of hanging out, we headed for bed.
SATURDAY:
We got up earlier than I would have wanted and headed down for breakfast. We ate at the Hyatt buffet, which was expensive but tasty. Elaine and her husband joined us, and we chatted the morning away talking about our sales from the previous day and what our goals were for today. Also, my wife and Alan's wife were showing up today, so it was going to be an amazing day.

This man is ready to sell some comics!
Beth texted me at the end of breakfast, and I collected her and together we went to the floor to set up. She also liked the way the new signs looked on the books, and her restock of ALBERT THE ALIEN was much needed after having sold out on the first day. Together we sold a bunch of books throughout the day, she learned some of the new pitches, and we generally had a fun time together. My wife doesn't always enjoy the conventions – it's not really her thing – but I do enjoy having her at the table.
As the day pressed on, sales continued strong. We had a slight lull in the traffic around lunch time, which is pretty typical, but overall sales were solid and strong. I almost sold out of THE FAN again, which was incredible!
We had to shut down our tables a little early again this time to do MAKING WEBCOMICS PART 2, which Alan and I lead and continued the story from the previous panel (about Harold the Dragon Princess, a 25 page comic about a princess who's turned into a dragon and has to drink the magic milk to turn back. However, she's being stopped by her evil uncle the magician, and a storm that she can't fly through to reach the floating island where the magic milk is located). We had a lot of fun with the crew, and then headed up to the Green Room for some dinner.

Now THAT's a big pretzel….
We had ordered some delicious food, including one of the largest pretzels I've ever seen, and hung out until we had to book it for our next panel: BREAKING INTO COMICS.
This panel was a little more balanced, with each of us taking our turn to tell our stories and how we got to where we are in the comic industry. Thankfully we each know each other's stories pretty well, so we could set each other up pretty well to keep the conversation flowing. Russell and I even did our bit on how to meet editors and exchange contact information. It was a very informative time.

Alan tells the folks what page his bio is on in the brochure. It's on page 20, in case you were wondering.
After that panel ended, however, I had to book it to my next panel which was pure fun: THE EVENING WITH TREVOR MUELLER. It's an hour of me telling goofy stories and generally having a fun time with the audience. The panel before mine was running a bit long, however, due to technical issues when they set up. It gave me a chance to take a break and relax a bit before the panel, and about 10 minutes later we were able to get started. This delay in start time did impact the attendance at the panel in the beginning, unfortunately, however by the end we did have a much larger group.
I went into my fan-favorite stories, with everyone in stitches the whole time. Stories about meeting famous creators, embarrassing myself in front of my comic book idols, and why you shouldn't watch horror movies when your college roommate is on something in the other room. Yeah, it was a good time.
After the panel ended, we headed for the bar and had some drinks to relax. Unfortunately the kitchen closed early (like 11pm!), and I was starting to get hungry. Thankfully, Elaine my handler was there. I did something I've never done before – I asked my handler to do something for me. I asked what nearby places were open that we could order food from and bring back here. We found a sushi place nearby, made an order, and walked in the freezing cold (it was cold even with our coats) to get the food and bring it back to the Green Room.
The voice actors were hanging out in the Green Room as well, unwinding after their long day, too. I shared some of my favorite whiskey – Elijah Craig – and hung out until way too late in the evening.
SUNDAY:


The view from the hotel. Who wants to read the paper while they enjoy their sausage?
I woke up not feeling so great. I was pretty tired, since I hadn't really slept the whole weekend, and could barely eat any food at breakfast. I'm pretty sure it was exhaustion I was feeling, but who knows – late night thai food may also not have been sitting well with me. As the morning pressed on I felt better quickly, and sales continued to be strong up until the end of the show. Fans who said they would come back actually came back to buy stuff – which is always awesome!

A fan bought the limited edition box set of @$$HOLE!, including all of the books, bookmarks, and some original art. Plus, I drew all over the box! How sweet is that?
When the show ended we all parted ways, heading home as it started to snow outside.
Anime Milwaukee is how I've usually started my convention season (although one show beat it out this year as my first show of the year), and it was a strong start indeed! Great fans, amazing guests, and fantastic people who run the event. Special thanks to all of the volunteers, staffers, and loyal friends I've made at the show. You guys make everything awesome!
February 22nd, 2013
|
by Trevor
I've said it before, and I'll say it again: there's no better way to start the convention season than with a show that has shown the growth (and has the fun factor) like Anime Milwaukee. I've been invited back to the show as a guest for the last 5 years, which you would think may burn some people out. However, I have so much fun at this show because of the staff, volunteers, and of course the fans! And this year was no exception.
THURSDAY:
The show invited yet another comic creator this year, my good buddy Russell Lissau (Shrek, Strawberry Shortcake) and so the two of us drove up to stay with our mutual friend / comic creator Alan Evans (Rival Angels). Alan, like me, has been a guest at the show for the last several years, and we always enjoy being invited back.
Russ and I arrived late, but we got to hang out a bit and chat with Alan before slipping off to bed early.
FRIDAY:
After stopping off at Brugger's for some delicious bagel sandwiches, the group of us headed over to the convention center to set up. The show had positioned us in a prime location – right by the main entrance, in a circle of tables. Each of us got a table and a half, which was a nice set up for the amount of books and merch each of us brought to the show.

The table
I had two new books (for the show) in the Albert books, which were strong sellers throughout the weekend. Several people approached me asking about @$$hole! volume 2 (it's coming, I swear…just been sidetracked working on launching the Albert the Alien webcomic series). And I had sold out of Hope by this time, so the table was a little different than in years past.
Alan and I were returning faces, but Russ was new to the show and had a fun time. The show gave us a handler who kept us hydrated, and we also had a block of panels in the same room at night. But I'm getting ahead of myself.
Friday was a decent paced sales day for me, but it always tends to be a little slower than the rest of the weekend. After the floor closed, we stowed the books and headed off to Opening Ceremonies where I got to catch up with Todd Hobbercorn, Chris Cason, and the rest of the voice actor guests. It was great to see them again, and we started coming up with hilarious fictional situations involving our opening ceremonies speeches. Parts of them tend to get incorporated into what we do, but it's also a nice way to unwind before doing something stressful like public speaking.

Opening ceremonies
We went to the Thai place across the street for dinner, and then had to run across the street to our panels. Alan was first, with a Rival Angels panel which was attended by some fans with some great questions. After his panel was my Evening with Trevor Mueller panel, which drew quite the crowd. I told a bunch of new stories involving wedding planning, hitting on fans at conventions (back when I was single, of course), and some of the favorites from previous years. Russell brought the night to a close with a strong showing for his "Writing Batman" panel, which had a number of fans in cosplay attending – and asking some really great questions.
After the panels, we headed back to Alan's and almost went straight to bed. The day had been exhausting, but a great first full day of the weekend.
SATURDAY:
Another fantastic breakfast at Brugger's, followed by getting to the show to set up. Sales were high and heavy throughout the day as we sold our wears, chatting up fans from the panels the previous night. The day saw solid sales from the books, especially for Albert.
After the show ended we ran out to dinner with Alan's wife, but unfortunately weren't able to get into any of the places we wanted. Instead, we went to the other Thai place next to the convention – which was pretty busy. I had to cut and run from dinner to make it to my panel on time, where I talked about Albert the Alien – the origins, what inspired the stories, and the future plans for the character. After the panel, I sat in on Alan's "Making Webcomics" panel, which we've often given together anyway. Panels are easier with other people, so it's always a comfort to have someone else to fall back on or bounce conversations off. Afterwards, we joined Russell for the final panel of the night talking about "Breaking into Comics" – which saw a smaller but highly engaged audience.
After the show we ran out to Oscar's to grab some ice cream, went back to Alan's to hang out with the cats, and then headed off to bed.
SUNDAY:
The final day of the show, and surprisingly we all still had our voices. Another filling breakfast at Brugger's, and we arrived quickly at the show to finish off strong. The group sold merch until just after the floor closed (of course, I escaped from the table for a quick minute to do a little shopping), and made some lasting friendships. After the show ended Russ and I hoped in the car and started off towards Chicago. We went back to his place to hang out with his family a bit, and then Beth came to pick me up – getting home just in time to catch the season finale of Downton Abbey season 3.
All in all, Anime Milwaukee is always a great show to start the convention season with, and sets the bar high for how they treat their guests. I love starting the year with this show, and have been honored to be invited back for the last several years as a guest of honor. I am always humbled and amazed by the support from the fans as well as the volunteers and staffers at the show. And the show has seen consistent growth (3,800 last year, and significantly more than that this year) year after year. I've been honored to be a part of that growth, and hope to continue to do so again.
If you missed Anime Milwaukee this year, you should make effort to attend next year. It's a fun show, a profitable show, and a great way to start the convention season.

Albert helped sell books
February 13th, 2013
|
by Trevor
This weekend I will be a guest of honor at Anime Milwaukee, opening my convention season once again with this fantastically fun show!
For the last 5 years I've opened my convention season with this show, and every year it has set the bar higher and higher. It's a show that has shown consistent growth since the first time I attended (last year they had about 2,500 attendees), and I always sell well at the show.
Last year I got to share a table with Robert Axelrod (Lord Zedd) in Artist Alley, and have dinner with Doug Walker's (Nostalgia Critic) family. With another amazing guest line up this year, I can only imagine what fun the show has in store.
For the most part I'll be located in Artist Alley, selling my plethora of books. I'll have two books new to the show: both Albert the Alien. But when I'm not on the floor (or at the bar), I'll be giving panels! Below is my panel schedule for the weekend:
FRIDAY:
5-6pm: Opening Ceremonies – Main Programming
8:30-9:30pm: An Evening with Trevor Mueller – 101C
11pm-12am: MST – Anime Style – Main Programming
SATURDAY:
7:30-8:30pm: Albert the Alien
As always, I'll have funny stories and insightful anecdotes. And I'll no doubt be making appearances at other panels (after Artist Alley closes for the night) throughout the weekend. There will likely be a whole lot of fun going on this weekend at the show.
I hope to see you there!
Also, if you mention my website (www.trevoramueller.com), you may get a special gift.