Posts Tagged 'anime'
30 items.
I am happy to announce that I will be a returning guest of honor at Anime Midwest this year in Rosemont, Il. The show will take place July 6-8, and boasts some incredible guests (some of which I'm geeking out about to share the stage with, and get to meet this weekend as well). I'm going to be set up in artist alley throughout the day, and will also be hosting some fun panels throughout the weekend. My schedule is below.
Hope to see you at the show!
FRIDAY:
Opening Ceremonies (Grand Stage) – 12:00pm to 12:50pm
Tabling at Conventions (Panel Room 4) – 7:00pm to 7:50pm
SATURDAY:
Crafting Fictional Worlds (Panel Room 4) – 6:00pm to 6:50pm
SUNDAY:
How to make your own comics (Panel Room 4) – 11:00am to 11:50am
February 23rd, 2018
|
by Trevor
Convention season is officially upon us, and has started off with a bang! Anime Milwaukee continues to be my first con of the year, and continues to set the bar – AND HIGH – for the rest of my convention experiences this year. I was a returning guest of honor, and had fantastic panels (with high attendance), and great sales on the floor. The staff and volunteers continue to make an experience worth having – and attendance increased over 10% this year, breaking the 10,000 mark!
A special thanks to all the staff, volunteers, and guest relationships folks who keep bringing me back and giving me a wonderful experience – one I encourage each of you to come have next year! This was my 8th year (out of 11) returning as a guest of honor, and I keep coming back for this same reason: the show is great, and I love being there.
THURSDAY:
After work, I packed up the car and headed over to pick up my buddy (and fellow guest of honor), Russell Lissau and his daughter. It was the first time I was car pooling with him in my new SUV, and I knew I would have enough room for his stuff, but was impressed I was able to fit all my stuff into only half of the trunk. Either my packing skills have gotten better over the years, or this car is much more massive than I originally thought. Or both!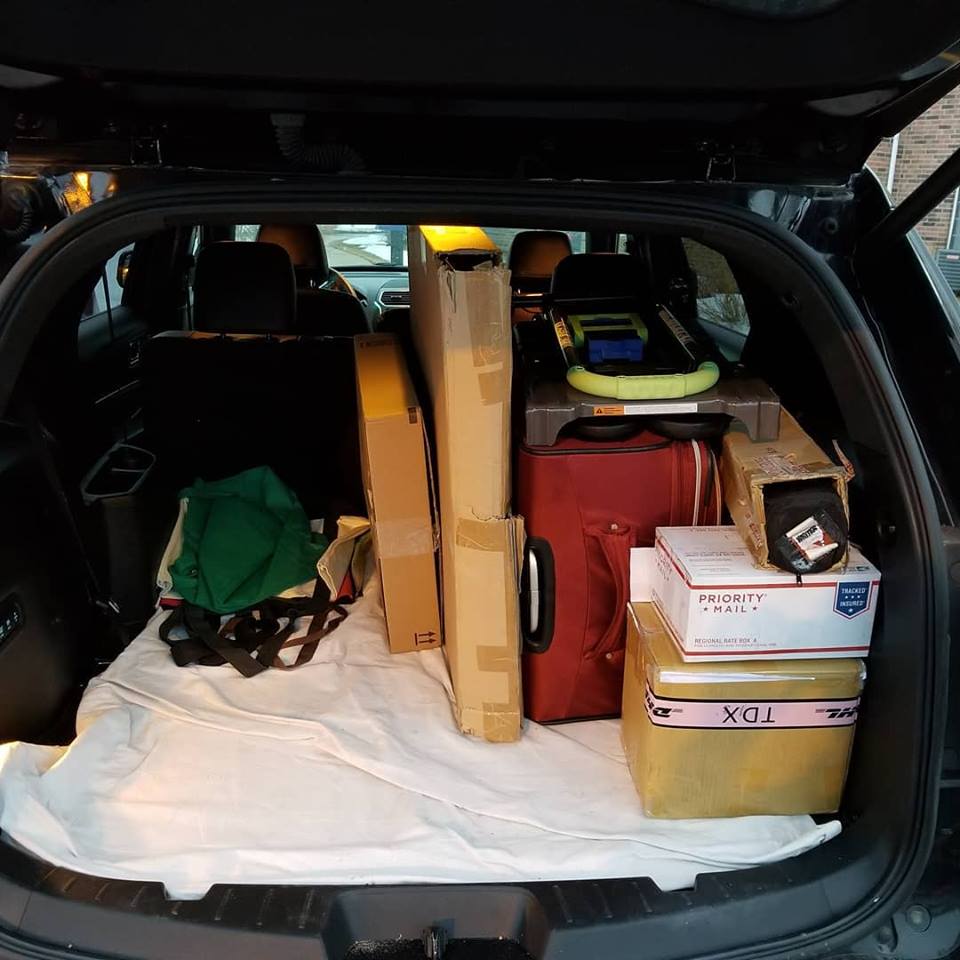 The trunk of the car, saving half of it for my buddy Russell – but was impressed that I was able to fit into half of it
We grabbed a quick dinner at a local burger place, and then headed up to the convention center. In no time at all, we arrived and unpacked. Despite having a dolly this time, it still took me several trips to get my stuff down to the floor (hey, my first year with merch…I'm working on it). Once there, I started to set up that night because I knew I would need a little time to play with the configuration. With a 3 foot book display, and a 14-inch vertical merch display, there wasn't a ton of real estate on the 6 foot table for me to set up all of my stuff…so I'm glad I gave myself the extra time to experiment.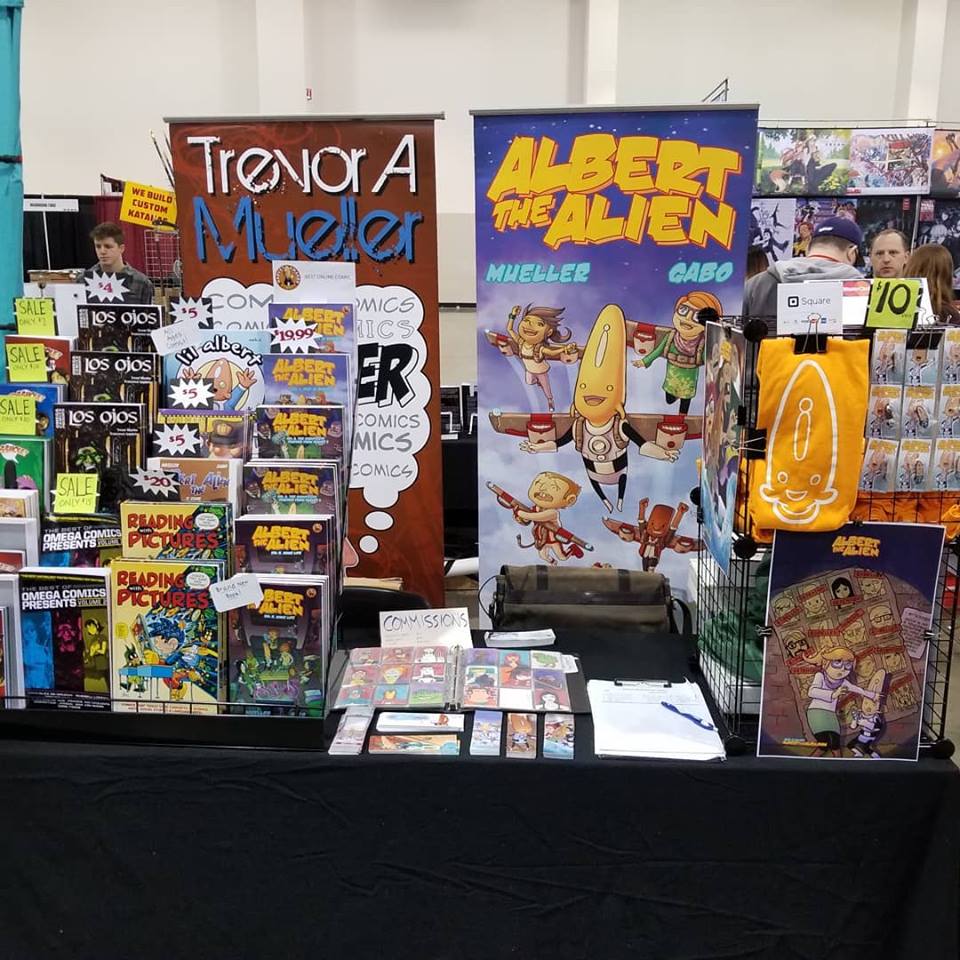 The booth, now with t-shirts, posters, and pins!
After setting up, the group went to the green room and had some food. We met a few of the handlers and some of the Japanese guests, and had a little food, but ultimately went to bed early – which is almost unheard of on a con weekend. But, thankfully, it helped set the tone for what would be an excellent weekend.
How late do you usually stay up at a con?
FRIDAY:
Friday morning we all went to the gym in the morning, including my buddy Russell (who NEVER joins us in the gym). I like to start my weekend with a healthy workout, as it keeps my energy high (and gives me a big appetite for breakfast). We headed over to the restaurant across the street from the hotel for a meal, and then went to the floor to finish setting up our tables before Opening Ceremonies.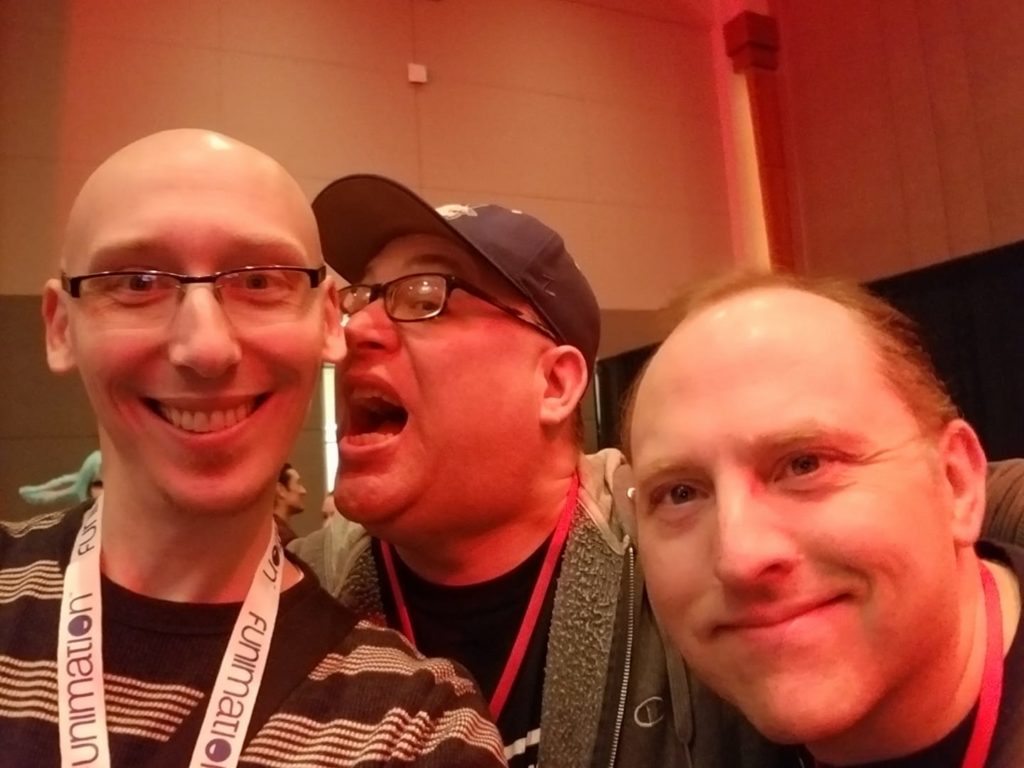 Behind the curtain at opening ceremonies with my comic pals, Russell and Alan
The comics crew headed over to Main Programming for Opening Ceremonies, and got to see the guests – many of which I hadn't seen in ages, and some of which I hadn't ever met before (despite attending multiple cons as guests together). All of the big voice actors were there, many of the cosplay guests where there in costume, and Samurai Dan and his wife were there with the dogs (which is always a hard act to follow on a stage). We all said our hellos, and then Jon St John – the master of ceremonies – introduced us all. He had a teleprompter in front of him with our names and bios (which were also displayed for the audience), but despite that he still got my name wrong, which would become a running gag throughout the weekend.

Opening ceremonies, this bald guy gave a talk for a while. It was fun. He was good looking. You should buy comics from him
After energizing the crowd, we headed back to the floor for finalizing set up and for the flood of people piling into the show. The day went by quick, but was a ton of fun. I also had a Writing for Comics panel at 2:30pm, which followed Alan's first Making Webcomics panel. I arrived a little early, and he handed some tougher questions about overcoming troupes to me. I participated in his panel and had some fun, but then immediately started into my panel. Attendance was solid, and I had some great engagement from aspiring writers (and some artists). After the panel ended, I went back to floor and continued selling until the end of the day.
What kind of programming content do you like to attend? What attracts you to a panel? The topic, or the panelists?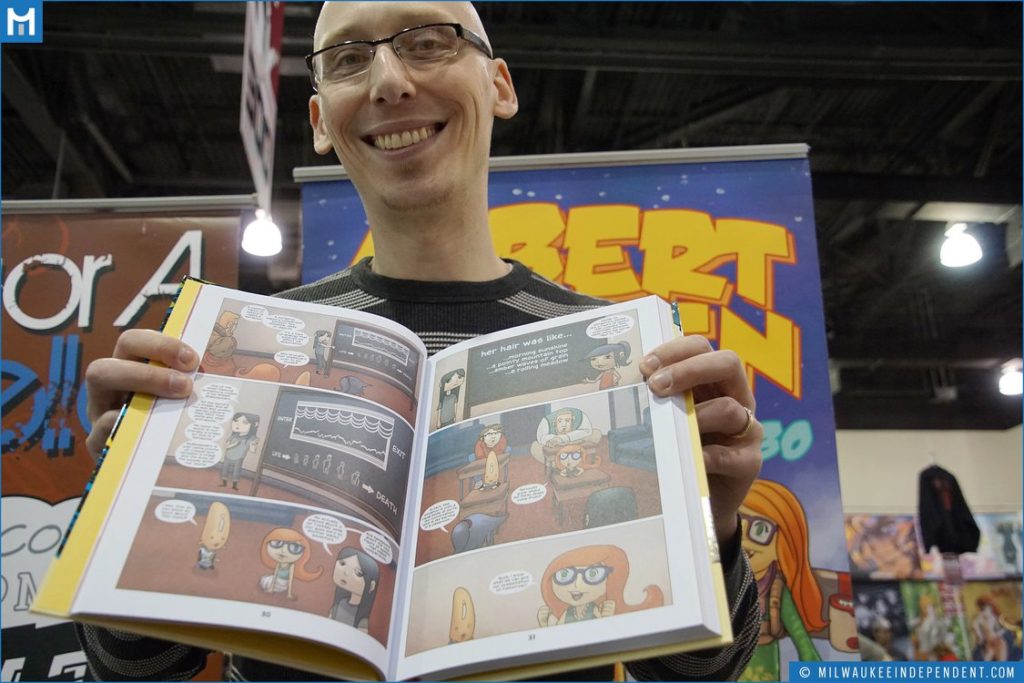 Showing off the product for some photos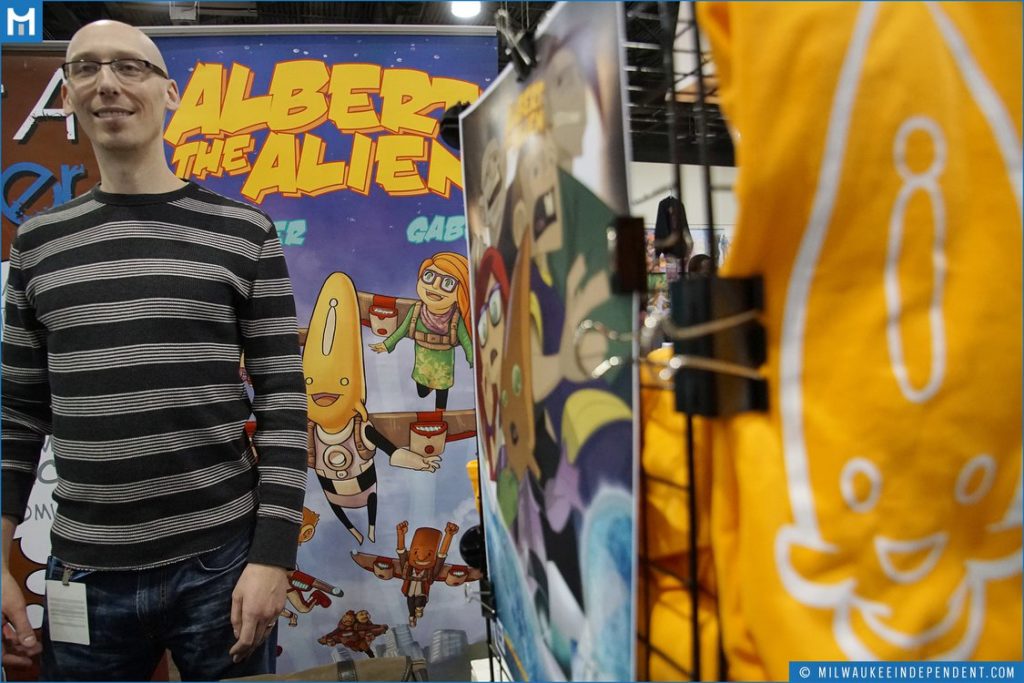 Standing and talking to photographers at the booth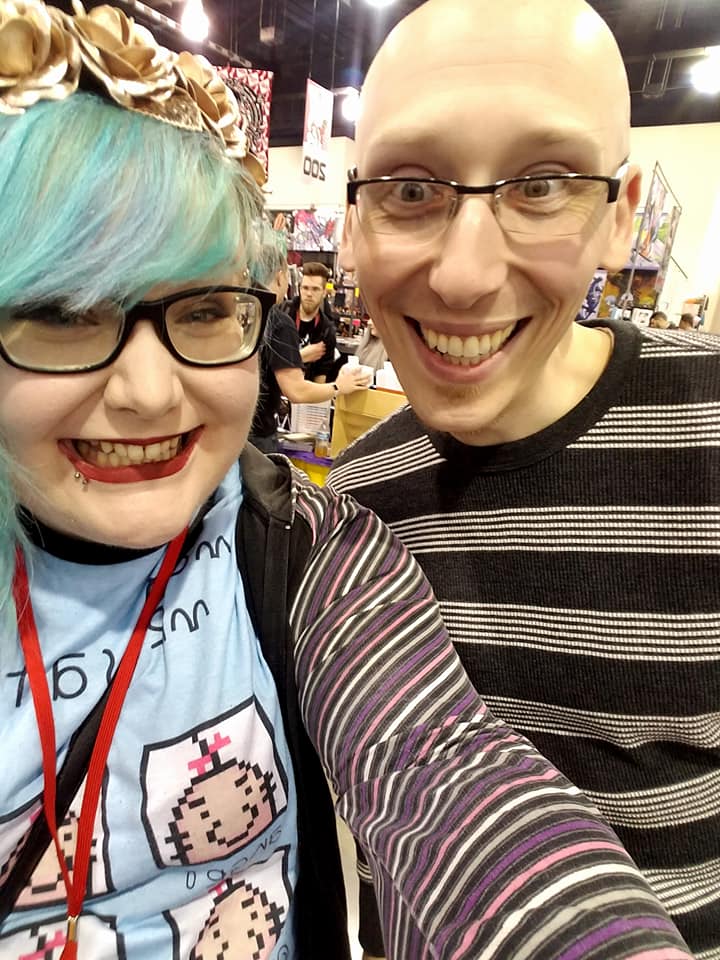 With the ever-incredible Mel!
After the floor closed, we headed to our rooms to grab some food (pizza from a nearby Italian restaurant we've never tried), and then went to the green room for some group toasts. It was the 30th anniversary of Final Fantasy, and many of the voice actor guests had done work for the FF games series. At the same time, we were toasting for our absent friend, Gyu, who has been a major presence in our lives both in and out of the con world. Gyu's absence was celebrated with a few fingers of 30 year old scotch – something he would enjoy – and it was a chance to talk to some of the voice actors I had not had a chance to meet previously.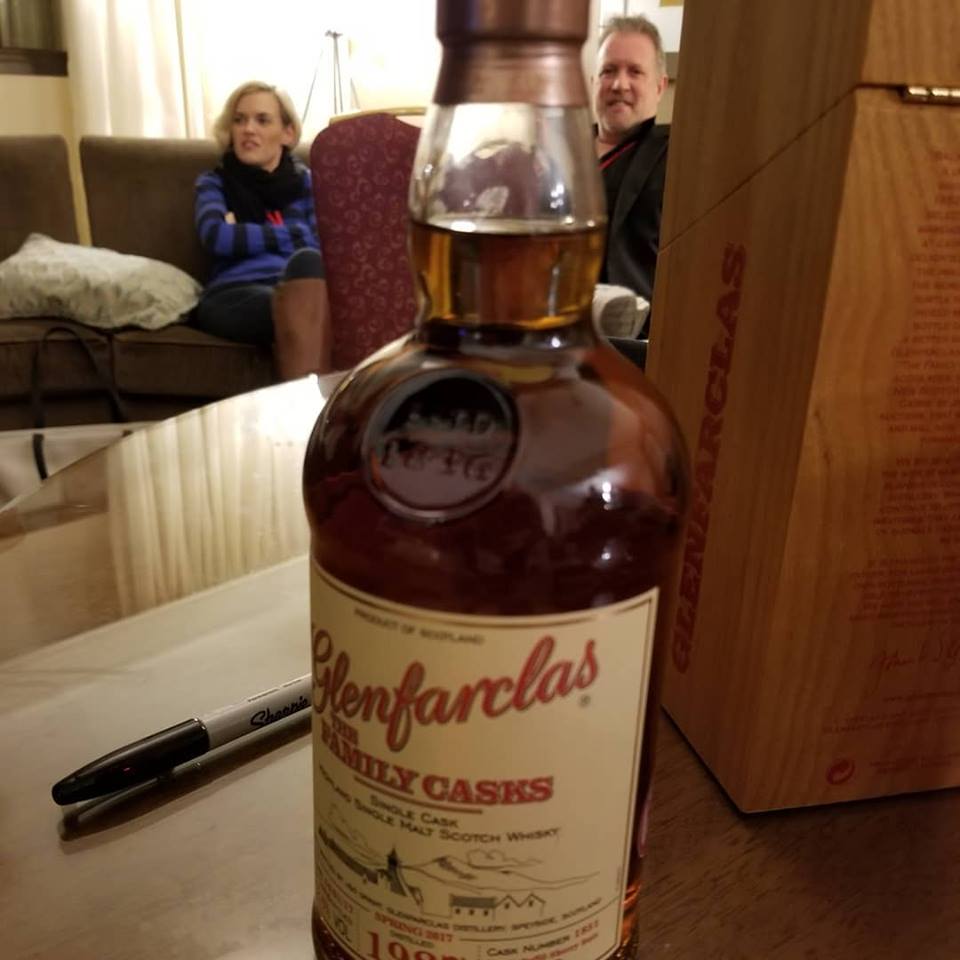 30 year old scotch in the green room, toasting the 30th anniversary of Final Fantasy (with photo bomb by Kari Wahlgren and Jon St John)
After the toast, we went to the VIP event in the top of the hotel, and hung out with fans. I got to talk to Johnny about his new band, and we talked merch (since I've been dabbing in t-shirts and pins, and he's looking at experimenting with some new stuff to sell at concerts and cons), and then we split so we could hang out with the fans. A number of Channel Awesome fans found me and started chatting me up, which was a blast. I got into some very impassioned talks about good and bad movies, which started to make me lose my voice (not good!), so I finished the evening listening to what they enjoyed (or didn't) about certain movies. After the VIP event, we went back to the green room for a quick snack, and then we all went to bed again (rather early by comparison to previous years). The rest was much appreciated.
SATURDAY:
Saturday morning started as all the rest do – got ready, grabbed some grub (this time at the Hyatt restaurant), and then went to the floor to set up and start selling. And sell I did! Man, the crowds were massive and the desire for original art and commissions was high! I loved it!
Around noon or so, Gabe and I went to our How to Draw an Alien panel, and re-arranged the room so it was more appropriate for a workshop. We gathered everyone around a few tables with paper and stuff to draw with, and we started talking about aliens and Gabe's method of design. Then we built our own alien creature together. His name was Bob, and he worked in corporate finance. We then designed his boss – a stop light with each light showing a different emotion. We then opened up the group to free design their own support staff – janitors, HR, marketing, and one guy even made a transportation alien. It was a lot of fun, and we all shared and had a laugh at the fun creations we had made during the class. After, we packed up the room and went back to our tables to keep selling for the day.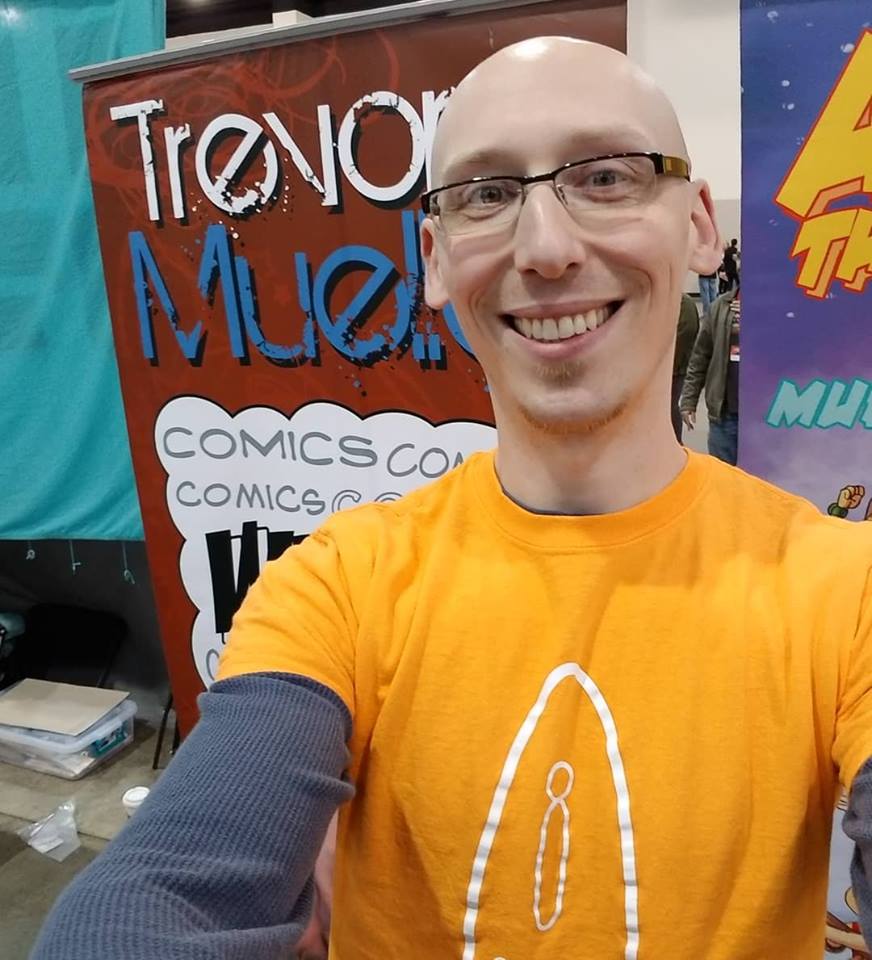 Come buy comics from this man at AMKE 2018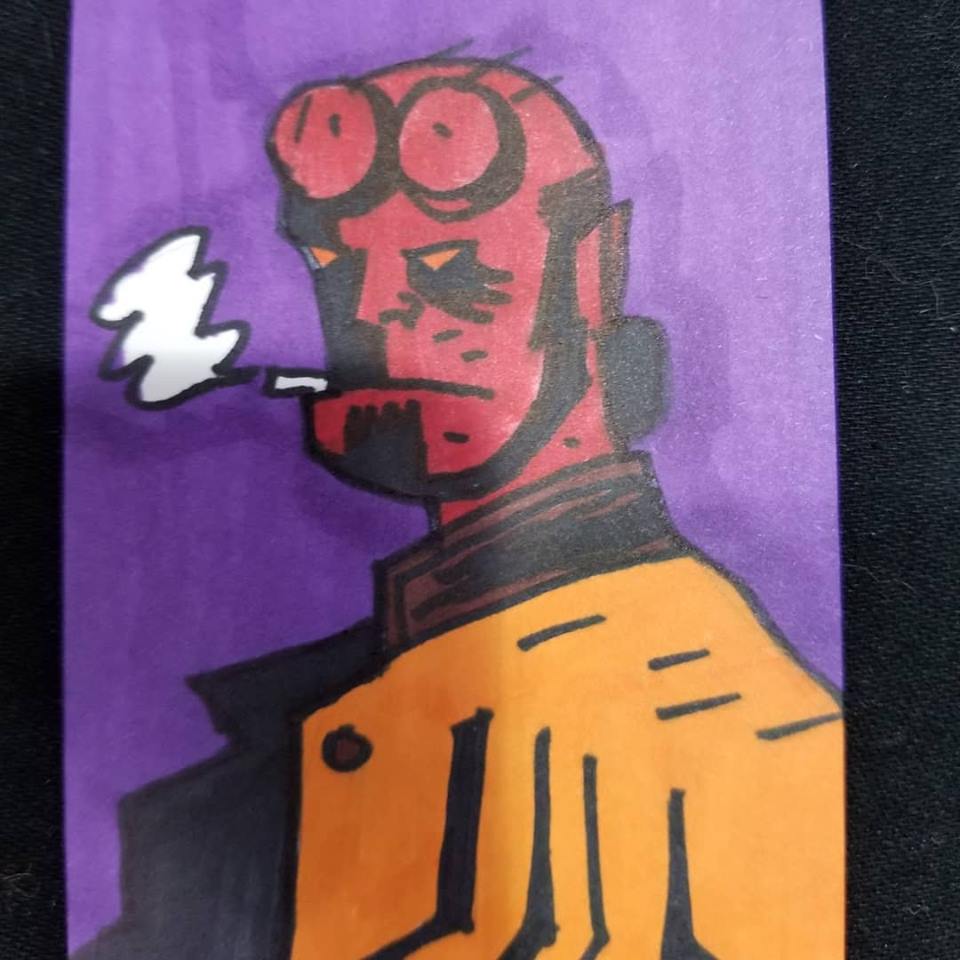 Hellboy sketch card commission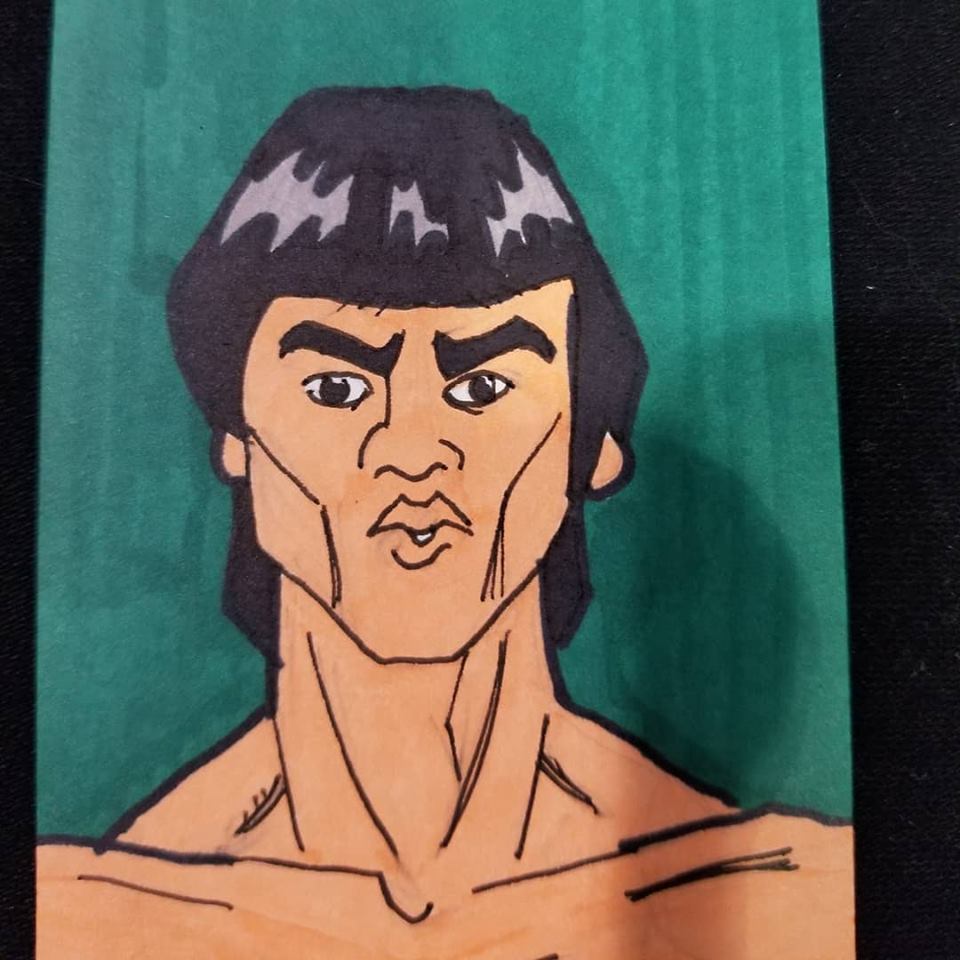 Bruce Lee sketch card commission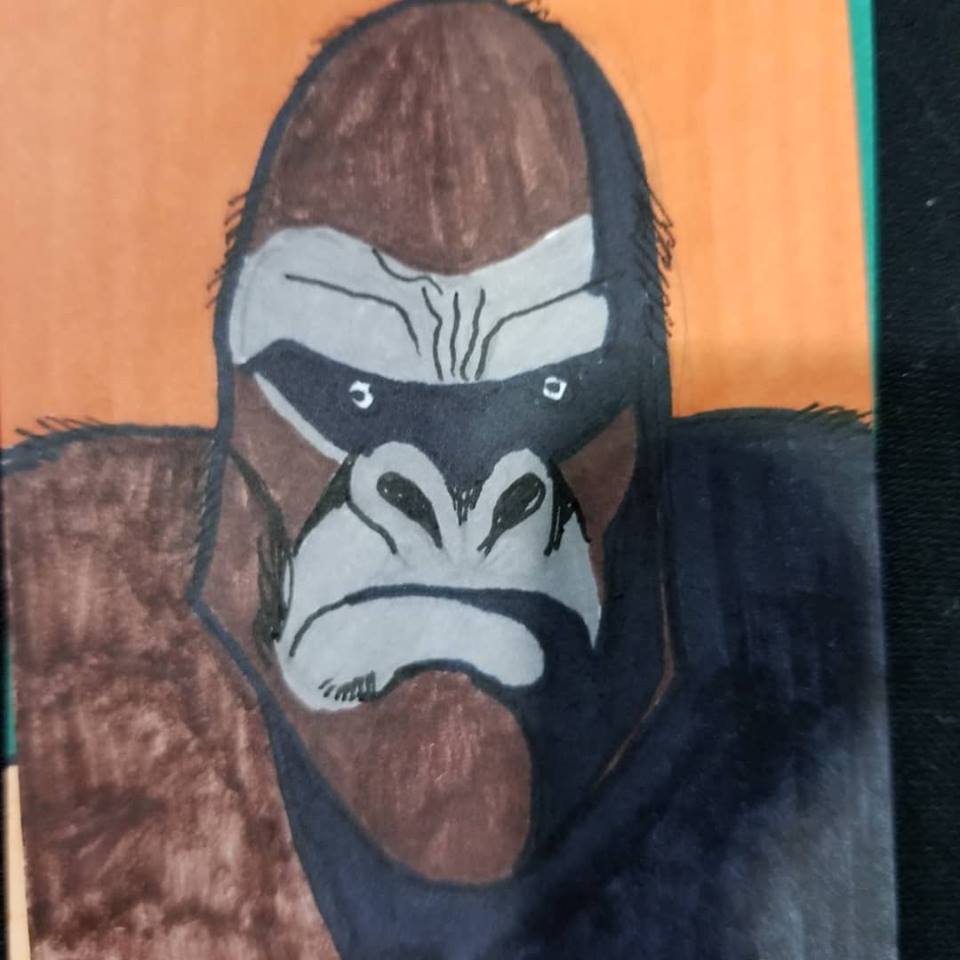 King Kong (from Skull Island) sketch card commission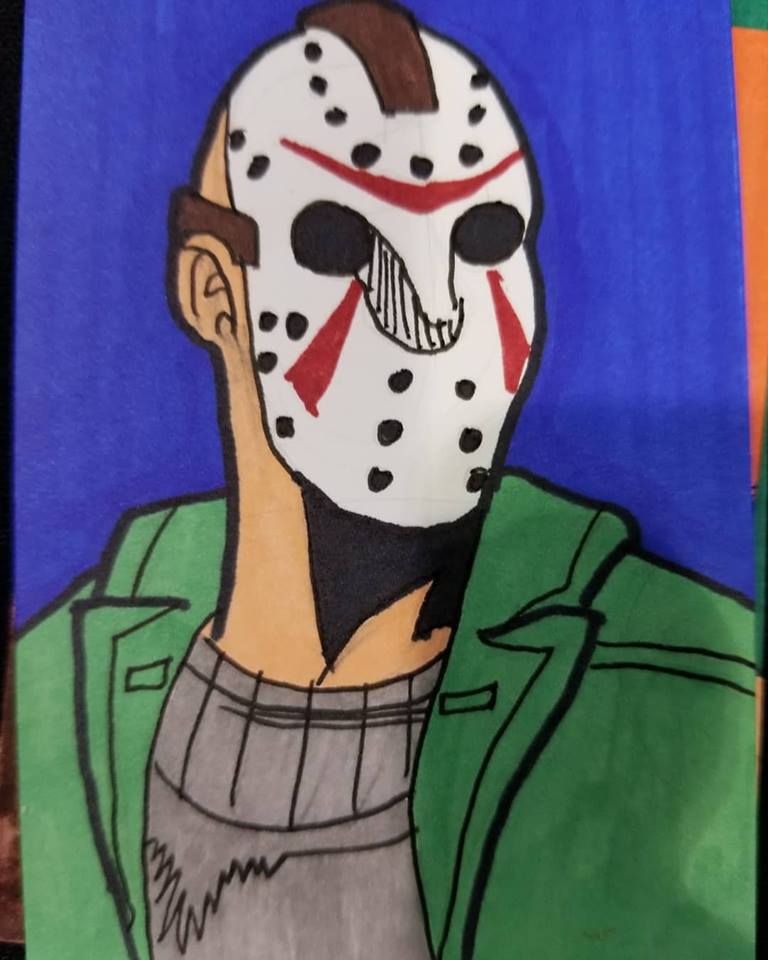 Jason (from MKX) sketch card commission
After the floor closed, I met up with my friend Lauren, who had driven up from Chicago to see me and hang out with our mutual friend, former Power Ranger Johnny Yong Bosch. The group went to the Thai restaurant across the street (a big mistake, because even with reservations we were delayed in being seated, and the service staff was overwhelmed with the volume of patrons). We eventually got through the meal, and headed back to the hotel to have drinks with some staffers who we've been promising to hang out with for some time. Lauren left to hang out with Johnny, who was grabbing dinner with Samurai Dan and his family, while we finished drinks. A homeless entered the hotel and tried to solicit drinks from us, which was not cool, and eventually hotel security scared him off.
After drinks, we went to go play Cards Against Humanity with Dan and Jillian, which ran until a bit after midnight. After, I retired to the green room with Johnny and Lauren to watch some Olympics and keep hanging out. Around 2am, we decided to call it a night. Johnny and I were going to grab breakfast in the morning anyway, which would come far too early for either of our preferences.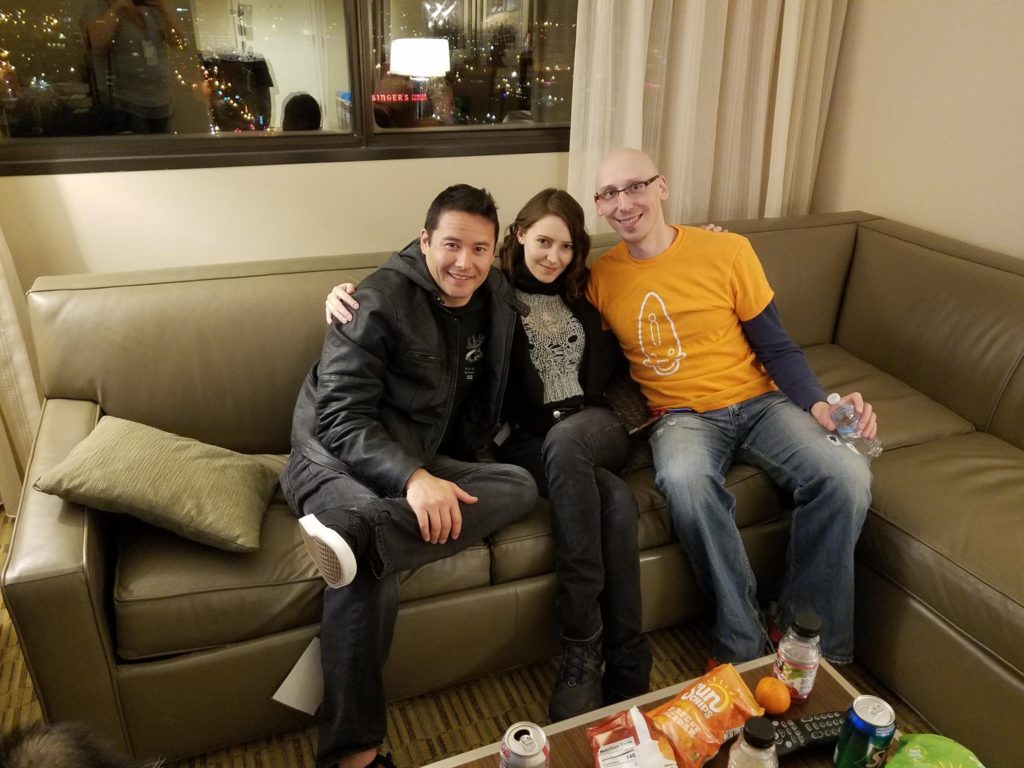 Got to spend a fine evening hanging out with two of my favorite people, Johnny Yong Bosch (Power Rangers) and Lauren Marie
SUNDAY:
I packed up my room and loaded up the car, and then headed to breakfast with Johnny. We talked more about his band and musical experiences, about our families and what cons we enjoyed attending. It was a fun time, and something I don't get to do nearly often enough because of the late nights and tight schedules many cons keep us on. It was very refreshing to get to hang out with my friend and just share a meal. After breakfast, I headed to the floor for a final day of sales – and boy oh boy, did the trend get set early in the weekend, because they were a flood.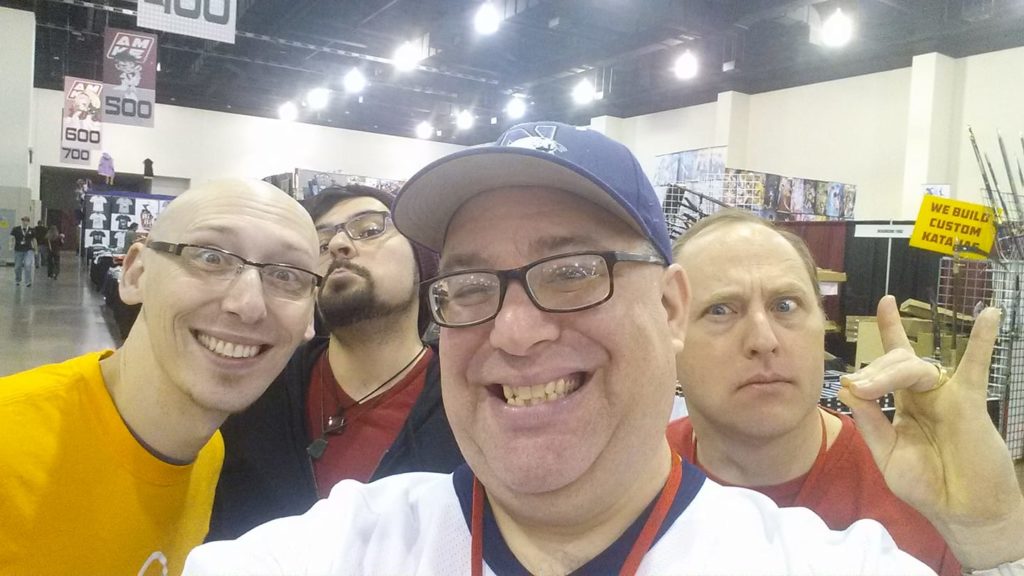 Hanging with the comics crew in artist alley before opening. From left to right: Trevor, Gabo, Russell, and Alan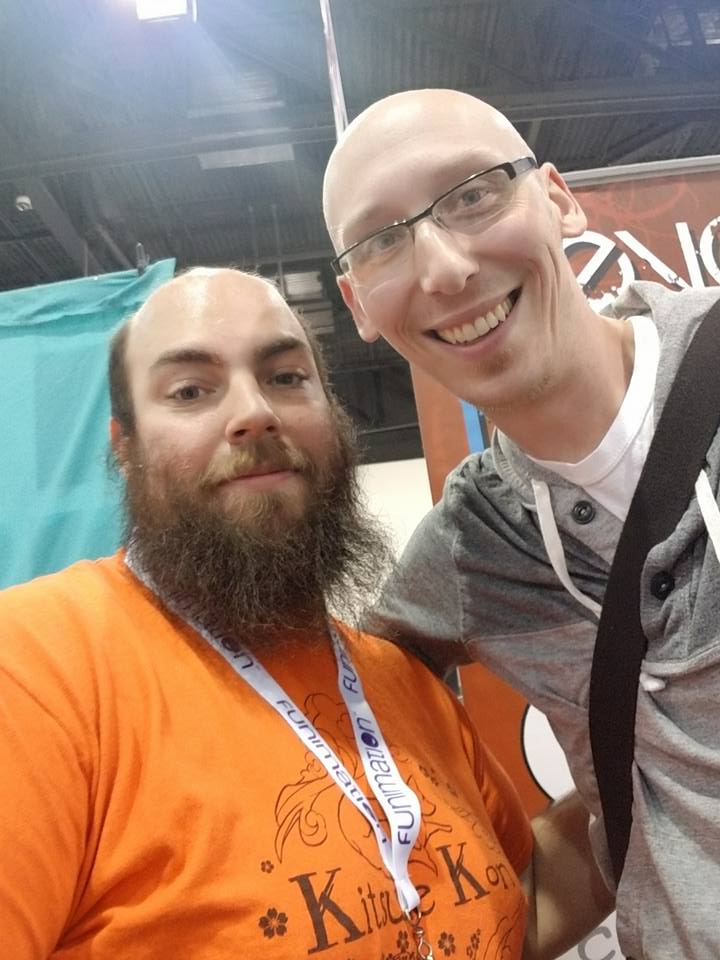 With my buddy Shoulders Hernandez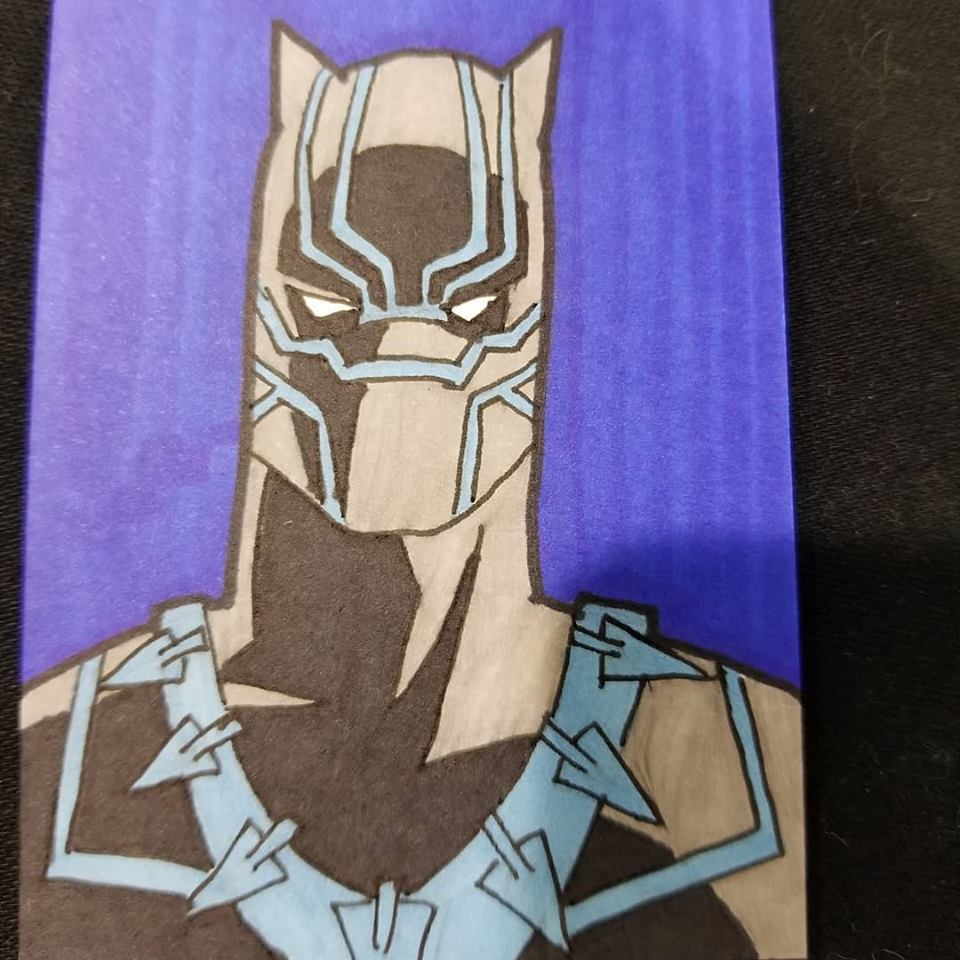 Black Panter sketch card commission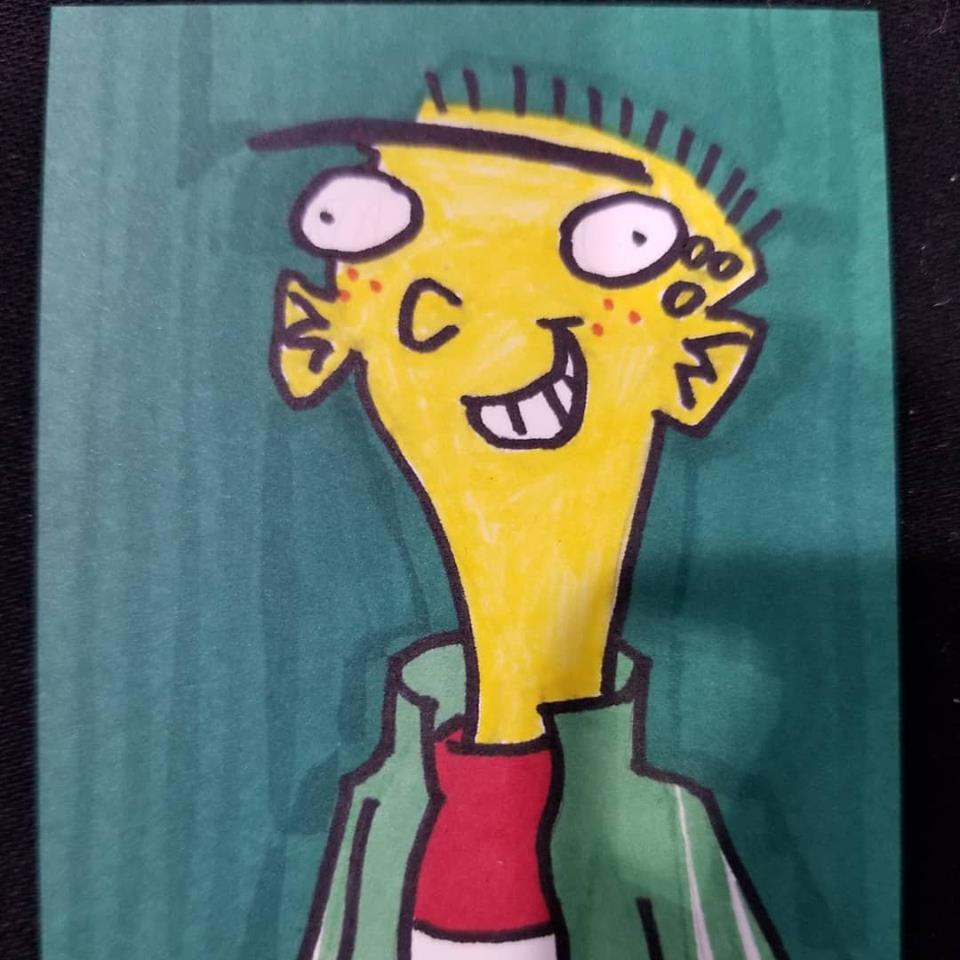 Ed (from Ed, Edd, and Eddy) sketch card commission
Around noon I did my final panel for the weekend, which was Crafting Fictional Worlds. This panel by far had the most attendance of any panel of the weekend, and the group and I had a lot of fun talking about what to reveal and what to imply in stories, how to balance telling vs showing your world through visuals or exposition, and many more topics. I didn't get to answer every question people had at the panel, sadly (if you attended the panel and are reading this, ask me now!), but that's what happens when you have 75+ people in a room and only an hour for a panel.
I returned to the floor for the final hours of sales, and Johnny stopped by to say his goodbyes. I gave him a hug and a pin for his daughter, and then started to pack up my stuff.
Anime Milwaukee was another incredible con, with great attendees, staffers, and volunteers. I'm always incredibly humbled and honored to be invited back, and hope to return yet again next year!
February 7th, 2018
|
by Trevor

Awesome Comics – Favorite Anime
Probably my next favorite topic (besides comics) is anime, although I admit to being a casual consumer of the format. That wasn't always the case. Growing up, I LOVED anime, and would try to get my hands on it anyway that I could. Keep in mind, being the oldest in this video (by many years), coming across anime in my younger days was quite difficult. There wasn't any Adult Swim, no Cartoon Network or anime on streaming video. You had to find some VHS tapes at the local rental place, and they would never (NEVER) have a complete series of anything. You had to scrape and research and find other local stores to see if they had the next video, or go to cons and try to haggle with the VHS vendors to buy complete sets.
And series would rarely if ever make it to TV. Enter Robotech, and my 4 year old self LOVING the series. It was Transformers with a more mature story, more sophisticated characters, and a reason to watch every episode – because it was one big plot.
Now, I know some people think Robotech isn't real anime because it was re-edited from multiple series in the states, once Harmony Gold got the rights to it. However, I've met the guys who own this series, and have talked to the original creators of the Japanese show. The Japanese creators like the USA show better than what they made. And the Harmony Gold folks have a love for the property that parallels my own. They are also fans. And this gives me hope for more Robotech in the future.
SUNDAY:
The final day of the con, I got up and checked out of the hotel, and headed to the breakfast spot I always meet up with friends right by the convention center, my gear in hand. We were joined by Jennifer Brazas, who used to work on comics and now operates her own shop at anime cons. We had a good time fueling up for the final full day of the con, and then headed to the floor for set up and selling.

Curious what the seller side of the table looks like?
I didn't have any panels on Sunday, so it was just friends stopping by to purchase or ask questions. I got to hang out with the staff a bit, who helped coordinate my being there in the first place (and who gave me such a premium spot on the floor), and then started packing up so I wouldn't miss my flight home. I hopped a cab with Krazy Krow and his wife, and we headed to the airport early so we could grab some much-needed dinner and drinks to relax and celebrate our amazing (yet intense) weekend.
We eventually went to our waiting area, and alarms started going off at the airport. We couldn't figure out what was going on, but the planes outside were all stopped as well (there was a massive line of planes on the runway, waiting for their turn to take off). Whatever happened, it delayed all the flights about 30-45 minutes; but thankfully didn't cancel our flight home. We debated going to get foot rubs (standing for a 13+ hour sales floor 3-4 days in a row makes my feet a little sore…am I getting old?), but decided sitting felt too good to get up.
Eventually they started boarding, and we were on our way back to Chicago.

Waiting for the flight home with Krazy Krow and his wife
Anime Boston was, once again, an amazing time. It's an exhausting show, with a long sales floor and an intense schedule, but it's a lot of fun and has an amazing staff that makes you want to keep coming back year after year. I hope to be back again next year!
SATURDAY:
Morning came too quickly, as it often does at a con, and I grabbed a quick bite and went to set up the table. I got a text message from Johnny Young Bosch (Power Rangers), inviting me to hang out that night and grab some dinner. It's been a while since he and I had a chance to hang out and catch up, so I was very interested.

This is the face of a (sleep-deprived) man who wants to sell you some comics
My helpers showed up around noon, and I headed off to my first panel of the day (with my good friend and Spinnerette creator, Krazy Krow), Crafting Fictional Worlds. This was a fun panel, and was the first time I had done it in ages. And the first time I had done it with another creator. Learning about his process, and talking about my own (and how it's changed over time) was a lot of fun, and informative for the audience. We talked about how even worlds based in "reality" (like Batman, or Strangers in Paradise) still need world building. They have rules, and you can't break them or else the reader gets taken out of the story.

Crafting Fictional Worlds panel – standing room only, and (believe it or not) our least attended panel for the weekend
After the panel ended, we headed back to our tables and kept selling. I had a helper get me a little lunch, and then had to pack up again for my final panel for the weekend: Writing for Comics. This is always a fun panel to do (once again, Krazy Krow joined me), since we get to talk about techniques, styles, overcoming plot holes and "writer's block," and talk about our stories. How did we come up with them? Where did the characters come from? And the audience gets to learn about us, our process, and how they need to get started in comics.

My table helpers for the weekend, cosplaying as character from Spinnerette
After the panel ended, we went back to selling at the tables (and managing the hordes of panel attendees who came with more questions, or to buy from the table). The night ended soon enough, with time to break down before heading to the restaurant to meet up with Johnny and Polo (his friend and band member). I walked into the restaurant and found them already enjoying a relaxing beverage, and having ordered their meals. I grabbed the waitress and made my orders, and sat down and chatted them up. Johnny and I did a series of cons together several years back, seeing each other several times a month throughout that particular year. I haven't seen him as much since then, but it was good to get to catch up and talk cons, anime, and his favorite thing to watch on Netflix right now (Samurai Gourmet).
After dinner, I went back to the hotel and tried to unwind by watching some Samurai Gourmet, but the bandwidth wasn't working so well and I gave up trying to stream it after a few tries. I went to bed later than I should have, ready for the final day of the con.
Anime Boston is this recent gem of a con that I was invited to attend two years ago, and was a featured artist two years in a row (something I'm told has never happened before). This year was the first time I was just a regular artist in Artist Alley, but that didn't stop the excellent treatment and amazing staff and volunteers from treating me like family. This was another incredible year for me at this show, and I can't wait to tell you all about it.
THURSDAY:
I flew into Boston early in the morning, giving me plenty of time to get my boxes, grab some lunch, and relax before checking into my hotel. I also had time to get registered, standing in a line for artist alley badges that was quite long. It only took a few trips to get my books over to the convention center, though, and then I left set up for the next morning (hey, it's exhausting to fly). I headed to a local pub and grabbed the tastiest thing on the menu: Beef-tips!

First-night whiskey and coke, a much needed social lubricant

Beef tips with potatoes – the kind of dinner you NEED after a hard move in
I quickly filled up and headed to the local store to grab some snacks for the weekend, and then headed to bed.
FRIDAY:
I got up early in the morning, and since the hotel didn't have a gym, I grabbed breakfast and went to the convention center to set up. I had premium placement – just to the right of the entrance, and impossible to miss as people were walking in. I chatted with the staff of the show as I continued to unpack my books and displays, anticipating a long day of great sales. I was not wrong.

The table, all set up and ready to sell
A little after noon, I started to get ready for my first panel of the weekend: Making Webcomics. I was going to be joined by Spinnerette creator Krazy Krow, and once my helpers showed up to watch the table I ran off to the panel. This panel has always been extremely well attended in years past, and this year was no exception. The room was full before we even got there – over 200 people standing room only, and all eager and excited to learn. We did our usual joking answers, had a lot of fun with the audience, and then invited them back to our tables to buy.
My helpers got me some lunch once I got back to the table, and I kept selling late into the night. During that time, fans new and old stopped by – and I even got a visit from guests of honor Johnny Young Bosch (Power Rangers) and Greg Ayres. Good buddies of mine.
That night I was on my own for dinner, and found a little pub to hang out at and enjoy a meal. I had to go to bed soon after that, though, because a 13+ hour sales floor mixed with early mornings and late nights = a tired Trevor.
Summer time is convention season, and the midwest is a fun place to hit up a good con. And what better named con could there be than Anime Midwest? I was back as a guest of honor at this awesome convention, and we had a blast. Want to know what happened? Well, let's talk about it…
THURSDAY:
After work I headed straight from the office to the hotel to check in, grab some food, and start the weekend of fun and hanging out. The Hyatt was the official con hotel, and I went to Guest Ops and get my badge and room key so I could drop my stuff off in my room. It had been raining earlier that day, and because of the humidity I decided not to go drop my stuff off at the convention center (and it's a good thing I didn't…and I'll tell you why in a second). Instead, I opted to go have dinner at the Hyatt bar, during which time it rained again. HARD. Like, the ceiling was leaking in 2 different places hard. And when I say leaking, I mean it was like a waterfall in at least two places that I could see from where I was sitting with my burger and my drink.
On my way back to the room, a girl I didn't recognize approached me and asked if I knew where Con Ops was located. Apparently her group was one of the burlesque dancers, and they didn't have all of their badges yet, but were told they would be available at Con Ops to be picked up. I chatted her up for a bit while I walked her over to the location, and then parted ways. I went back to my room to relax for a bit, listening to some music and prepping my sketch cards for the show.
My buddy Russell Lissau (Old Wounds, Starwberry Shortcake) eventually showed up, and I came with him to the hotel bar to sit and chat while he had a snack and a beverage. He told me he had tried to go to the convention center and, because of the rain, it had started to flood! This is why I was glad that I didn't go set up when I first got in. Apparently, the water in the convention center went all the way from the loading docks almost as far as our tables. We chatted for a few hours and eventually went our separate ways. Eventually my friend Brooke Stephenson (Fallen) showed up, and I helped her get her badges and drop her stuff off before we headed to the Green Room to hang out with the volunteers and staff.

Novembros reunited. With Brooke Stephenson
Greg Ayers had arrived before too long, and it was great to get to catch up with him. People came and went from the Green Room, and eventually I wandered around with Brooke before we parted ways for the evening.
FRIDAY:
Because I stayed up way later than expected the previous night, I skipped my usual routine of Friday morning workout (which I do regret; it always makes me feel better; energized for the weekend), and headed straight to breakfast. Russell and Brooke were already down there, and I grabbed some quick eggs before heading back to the room to grab my stuff and set up.
The show started around 1pm, and opening ceremonies were at noon, so I wanted to be set up and ready to go prior to the floor opening. Once everything was set, though, it was time to relax and walk around a bit before opening ceremonies.

The booth is all set up and ready for a weekend of selling
During opening ceremonies, it was an opportunity to connect with all of the guests behind the stage. I saw Analise from V for Villains, and also hung out with Samurai Dan and Lady Jillain, and also Chuck Huber. Chuck took off his shirt back stage and made a terrible joke ("Does anyone know a good vet, because these puppies are sick," as he pointed at his arms), which I dared him to say on stage. Which he did. And now I owe that man a drink. They eventually got to my turn to go on stage, but I was being blocked by one of Lady Jillain's Akida dogs. The thing was kind of scared to get off the stage, and it was completely blocking the stairs to get on the stage. So they handed me a microphone, and I started my monologue with, "I want to come on the stage, but there's a terrified dog in the way!" I announced my panels and my location in artist alley, and then headed back to the floor for selling.
And sell we did. People started pouring into the place, including our fellow comic guests Steve Wallace (Reading with Pictures) and Sean Lindsay (Spinnerette). The rest of the day was spent selling, and then we broke for dinner. Steve and I had a panel that night at 9:30pm, right next to the room where V for Villains were playing their concert, which was about Kickstarter for Beginners. Considering the amount of noise we had to deal with from next door, the panel was well attended and very engaging about crowdfunding and Kickstarter.
After the panel ended, we met up with the rest of the group in the Green Room to unwind before going to bed. Friday was an epic start to a great / exhausting weekend, and it would only get better as the weekend went on.
The final day of a convention is always the hardest to get up for. It's been a lot of fun, but exhausting. You're tired. You're sleep deprived. You've been going to bed too late and getting up too early. But adrenaline is still pumping through the veins, despite your voice being nearly gone from talking over all the noise. And on top of all that misery, you don't want it to come to an end. But it has to. All things, even good things, must end.
SUNDAY:
Morning. Breakfast. Drive to the con. Set up. The morning tasks of a con tend to be rather routine. But it's when those doors open and people start pouring in that everything changes. Sunday was surprisingly my strongest day of the show, with a lot of sales coming in (last-minute shoppers), and a handful of commissions. The day felt a lot shorter than it was, mostly because I was heads down working on sketch cards and full-sized commissions. But it did eventually come to a close, and we packed up a bit early to beat the rush exiting the con and the hotels (which sadly meant not a lot of time for goodbyes).

Trevor, Alan, and Ren – hanging out behind the tables on the final day

Batman v Spider-Man sketch card commission

Sophia the First commission
Alan drove me home, picked up his stuff and we said our goodbyes. And I started to unpack and relax a bit. But then I got a text from my good friend, and fellow comic creator Russell Lissau. Russell didn't have a table at ACEN this year, but had hung out with us Friday night, and he was wondering how things went. I invited him over to chat about the con, and also to partake in some grilling delicious goodness.
Nothing helps you relax after a con like good friends and good food. I marinated some pork chops (in olive oil, vinegar, and some seasonings), and threw some brats on as well (jalapeno, and Jim Bean bourbon flavored). Russ brought some side dishes, buns and veggies (which we put in foil and cooked with garlic and basil butter) and we made a meal out of it. Russ hung out for a few hours and then we parted ways (I was exhausted, but not so tired that I couldn't watch the Game of Thrones episode I had recorded).
How do you typically unwind after a con? What's your post-con ritual?
ACEN was – once again – a blast. I hope to come back again next year, and who knows…maybe there will be a few surprises in store for next year, too!

Post-con grilling, a great way to unwind (and not just immediately pass out from exhaustion)
└ Tags:
acen
,
alan evans
,
anime
,
anime central
,
anime con
,
batman
,
brats
,
butter
,
commissions
,
convention
,
garlic
,
grilling
,
pork
,
princess sophia the first
,
rival angels
,
russell lissau
,
spider-man
The weekends at Casa Del Mueller usually have a late start to them (for me, anyway…my wife's a morning person), but convention weekends don't allow for things like "sleeping in." No, when you have to be at the convention center before 10am, set up and ready to spend the entire day behind the table selling, you don't get to hit the snooze button. I usually only hit it twice, but this was not a luxury I would be afforded this weekend.
Do you snooze? If so, how often do you hit the button? Do you listen to radio or the buzzer?
SATURDAY:
We arrived at the convention center just in time to set up before the flood of people came in for the largest day of the show. An ocean of people washed through the isles of artist alley, making it difficult even for people who wanted to stop and shop to do so. But despite all that, Alan and I were at the ready to talk to them, answer their questions, and yes – pitch our books.
And pitch we did.

Alan Evans (Rival Angels) and I, ready for another day of selling comics

"May the Schwartz be with you!" What's your favorite line from Spaceballs?
By the time 6pm rolled around, my voice was almost gone. And even though the floor was open for another half an hour, we had to pack up and get ready for our back-to-back panels. Panel room 6 was ours for the next two and a half hours, and we were going to own the room in the only way we knew how: by providing fun and educational content for the attendees.
First up was a panel about How to Make Comics, which was really about self-publishing. We had a nearly full room, despite starting a little late (the previous panel ran long, and there was no buffer between panels for them to pack up and for us to set up). We also had to compete with the karaoke going on in the next room over, which became the subject of many a joke during that panel. When a duo started singing "Bring Me to Life" by Evanscence while Alan was giving insightful tips about making comics, I started repeating the main points in the same manner as the song. The audience was in stitches.
The bulk of the time was spent answering questions, mostly story related. We did get a question about how to make comics, which Alan answered about storytelling and I answered from a production standpoint. All in all, it was an incredible panel – which ended with some sales before our next panel in the same room.
Most people stayed for the Making Webcomics panel, despite us being up against the Rave, Soap Bubble, and some other panels from the voice actor guests. Thankfully, the karaoke next door had died down at this time, so we were able to get rowdy and loud with the audience.
Like the last panel, it was mostly Q&A with a lot of fun in the mix. Alan and I provided informative but entertaining answers throughout, and everyone had a fun time. A lot of fun was had, and we even stayed after the panel to answer questions in the hallway (and to sell some of the comics).
After the panel, we hiked to the car and headed back to my neighborhood to buy some pizza and hang out at my place before crashing.
It was a late Saturday, but probably not as late as most. What do you do on Saturdays at cons? How late do you typically stay up?
My first convention of the year is a show I wasn't able to do last year because of the wedding, but I was super looking forward to doing. Not only is it a fun time, low-key with lots of opportunity for us guests to interact with friends and fans on the floor, but the guest roster was also all of my nearest and dearest comic book creator friends that live in the local area!
Seriously, we had Alan Evans (Rival Angels), Sean and Sara Lindsay (Spinnerette), Steve Horton (Amala's Blade), Steve Wallace (Reading with Pictures), Russell Lissau (The Batman Strikes, Will), and my partner in comics, Gabo (Albert the Alien, The Life After). We also got to meet Blake Packard (Will) and his wife, as well as hang out with married partners in comics Comfort Love and Adam Withers (The Uniques, Rainbow in the Dark).
If that's not an impressive line up of talent, I don't know what is. So let's get into the adventures of the weekend!
FRIDAY:
Friday morning I packed up the car with my wife and headed out to Rosemont for a weekend of good times and great people. We got in early so we could set up and say hi to everyone, and check out the convention layout. Being in a new location (but one I am intimately familiar with), I wanted to see how Kollision Con decided to use the space and where they decided to put their rooms. They had a lot of fun activities for their attendees: game rooms, video games / arcades, a room dedicated to cosplay photos, tons of panel rooms – and a room where you could hit other people with padded bats!

The comic book guests of the show – all of them my friends, all of them amazing people!
Before the show started, my friends and I took a quick picture in front of our booths and then got behind them to start selling. Traffic was light but steady (it was Friday, after all). Thankfully with smaller shows like this, there's more opportunity to connect with the fans on a more personal level. And that's exactly what we did. It was awesome to see friends and fans alike coming out to the show, catching up after our holiday breaks and our New Years parties and having an opportunity to chill in a fun and social environment, like a convention.
There were also panels throughout the day. I jumped into the Making Webcomics part 1 panel lead by Alan Evans, and joined by myself and Sean Lindsay. We've given the panel before, and we had a small but interested audience who asked great questions.
After the floor closed, the gang went back to one of our rooms and ordered pizza. We had a fun time unwinding after the day (and enjoying some delicious Chicago-style deep dish), and then left to do more panels. I had my Evening with Trevor Mueller panel, which was populated by a loyal group of friends who know my best stories. They started off by doing a bit of a roast – taking over the panel and coming up to the front to tell their favorite stories of mine from cons or other experiences. It was a fresh take on the panel, and a great opportunity for people to rib me a bit in front of an audience. Because they know all of my stories, they also requested their favorite stories – which I was happy to oblige.
After the panel ended, the group split – with some going to the bar to hang out and others headed back to their rooms for sleep. I went to bed, because I wanted to get up early the next morning and go to the gym. Sadly this meant missing the improv that night (which runs from midnight until 2am, and I've done it every year I've attended Kollision Con), but it was a sacrifice I was willing to make.
SATURDAY:
Saturday morning Beth and I got up early and headed to the gym, where Alan was already hard at work on his cardio. Alan usually starts his day with some DDP Yoga, so he had already warmed up, too. Beth hit the treadmill while Alan and I focused on lifting and dynamic resistance exercises. I was working chest, shoulders and arms, while he was working arms. I don't usually work out my legs or do cardio at a con, since I stand all day at the table, but he also got in a little biking before we were done.
After a quick shower, the group met downstairs for some much needed breakfast. Despite the heavy dinner we had the night before, the group was pretty hungry. After breakfast, we headed to the floor to open our tables and get ready for a day of sales.

Beth and I work the booth
Sales were a little lighter for me on Saturday (which was a strange occurrence I had noticed the last few years, since fans typically find me right away and buy on Fridays), but the fans came out strong and we had a blast. I was even invited to participate in a new panel with Comfort and Adam about creating a character. The two started off by giving a presentation on the elements of a character:
– Personality: Who is this character, and how does their image reflect them?
– Simplicity: Is their design easy to replicate (e.g.: would it look good as a character image)?
– Utility: Is their design functional, and does their design have a purpose to it?
After the presentation, the two engaged myself and Alan (as well as the audience) to make a new character right there in the room. It was a fun exercise that had a lot of audience engagement and participation. While we discuss the character, Adam started drawing a sketch of what the character might look like. It was a fun time.
After the panel, we all returned to the floor to keep selling. After the floor closed, the bulk of the group went to the casino to grab burgers (and try their luck at some games of chance) while I went to the restaurant to grab a quick bite with Blake and his wife before my panel.
My next panel was a self-publishing 101 panel, and since the audience was also interested in digital publishing, we talked about both physical and digital opportunities. My motto has always been "it's never been harder to be published, but it's never been easier to make a comic." As someone who has mostly self-published their work, I wanted to provide an opportunity to how to get started, and more importantly how to finish making a comic.
After my panel Blake did a demonstration on oil painting. It was an interesting look at physical coloring (and there were a lot of engaging questions, especially from audience members who are more versed in digital coloring). The theories and approaches appear to be the same, but the execution is quite different – since oil paints are physical.
Blake even called the audience up to do some of the demonstrations, and to see his paint sets and the tools he uses to turn illustrations into stunning pieces of art.

Blake Packard gives an oil painting demonstration – this is my learning face (the face I make when intently learning something new)
After Blake's panel, I went to grab actual dinner with Beth before her panel. Yes, that's right – the wives of comic book creators panel actually happened at this show, and it was amazing!
Sara Lindsay had requested an opportunity to host a panel along with Tracie Evans and my wife, Beth, to talk about what it's like to be married to someone who works on comics. Each brought an interesting and unique perspective to the table:
Beth and I are newlyweds and comics are very new to her (plus I had told her to give me a good ribbing), so her perspective was more focused on the time commitment and the newness of the world of comics to her.
Sara has been a comic fan for a long time, so she talked about her enthusiasm for being on the selling-side of the table and meeting her favorite celebrity creators.
Tracie, having been married the longest, talked about how comics has played a role in their marriage and how she supports her husband in his comic-making endeavors – or how she just shares similar passions in wrestling and helping him with his art.
All had some very insightful things to say, and then took questions from the audience (which was peppered with their husbands and friends), who challenged the girls with questions like, "If you could change anything about your husband, what would it be and why?" or "What kind of crazy con stories do you have about being at shows?"

The first (hopefully of many) "Wives of Comic Book Creators" panel. From left to right: Tracie Evans, Sara Lindsay, and Beth Mueller
After the panel ended, some of the group went to bed and others went to the hotel bar (which was closing) to meet up with some friends. We had tried to get together for drinks throughout the weekend, but unfortunately timing wasn't on our side. Since the bar was closed, we went our separate ways – they went to hang out with their friends, and I went to the con suite to hang out with some of the staffers and volunteers that made this weekend possible.
It was a fun time in the con suite, hanging out with people who I have known for years (having met them through other shows in other roles), and talking about our future cons we're attending this year. I'm looking forward to seeing most (if not all of them) at my next show in February, Anime Milwaukee!
After hanging out for a bit, I headed back to the room to get some much needed rest.
SUNDAY:
The final day of the show started with packing up and grabbing breakfast, and then heading downstairs to the show to set up for the day. The group was pretty tired after the long weekend (late nights will do that to you), but still in good spirits. The weather had turned for the worse, though, with icy conditions and snowfall making some of the guests need to rebook their flights and some of the local guests wanting to take off a little early.
Sales were still on par with where I figured they would be, and I even participated in Alan's Making Webcomics part 3 panel. It was nice to get to hang out with everyone one last time before going our separate ways, and to get some final last-minute sales in before the end of the weekend.
Kollision Con was a lot of fun, and a great con to start off the year doing. The smaller con allowed for more one-on-one interaction with the attendees, more interactive panels, and the opportunity to hang out with friends and fans (as opposed to everyone feeling rushed to get to their next event or table). The new location was much more convenient and accessible from the city, especially for someone who lives off the train like me. And the new venue is one that I frequented often, so it was just like going home again.
Thank you so much to all of the staff and volunteers at Kollision Con for bringing me out again, to my friends and fans (new and old) for supporting me and my work, and to the attendees for supporting the show and attending my panels.