Posts Tagged 'assassin'
24 items.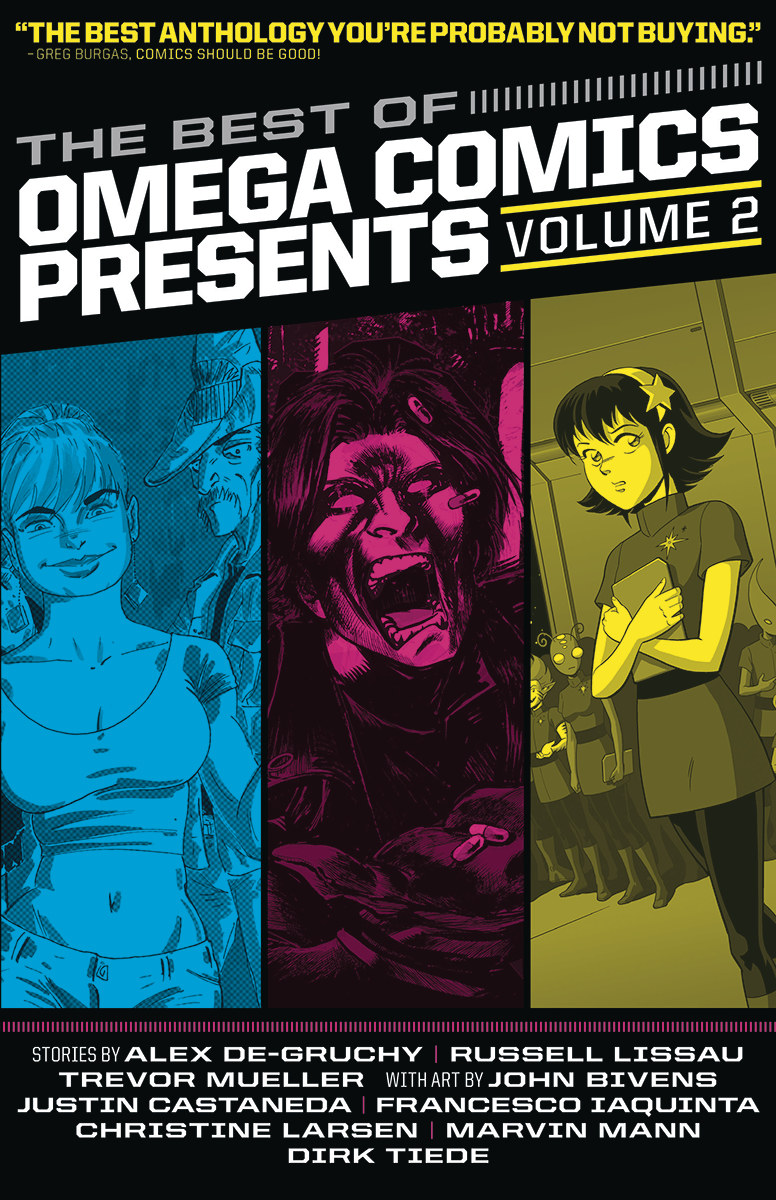 My latest story, LOS OJOS, is being collected in a graphic novel that will be available at your local comic store! Artwork by Francesco Iaquinta. It will be collected with several awesome stories from creators, including my pal Russell Lissau, from publisher Pop! Goes the Icon.
Orders are due July 18, so please order today! DIAMOND ORDER CODE: JUL161850
└ Tags:
assassin
,
comics
,
diamond
,
graphic novel
,
hitman
,
los ojos
,
monsters
,
pop goes the icon
,
pre orders
,
russell lissau
,
trade
,
trade paperback
Temple is going on a temporary hiatus for a while. Both Olivia and I thank you so much for reading and hope that you have enjoyed the stories her and I have been toiling over for the past 2 years. Me telling them with my words, and her telling them with her pictures.
But not to worry, this is not the end…but the beginning!
For now, though, we're taking a break.
Thanks again!
The old man narrator continues to talk to the mysterious person in the room with him. The person he's been narrating to this whole time. Who could it be? We'll find out before this story is over.
The old man narrator reveals that we may have seen him before….but where?
Sorry for not posting last week. Olivia got the page to me on time, but I was swamped and unable to get it posted before Monday. To give her enough lead time on the rest of the pages (story's almost over), I decided to postpone updating.
Here we see more scheming from Cardinal Milikin, with his usual cronies: Malukai and Kidjo (the man with beady eyes).
And who do we have in the folder? It looks like the bandit leader from the original Temple series to me….

More to come next Monday!
So after a night of passionate lovemaking, Seymour and Marielle pack up their things and walk off into the sunset.
Xen makes another appearance (without actually appearing) over the walkie talkie. It seems his lucrative gun trade is making a comeback (since he lost his guns and his operation at the end of Hikari). Obviously he's doing all of this work outside of the Order, since they only use old revolvers and rifles.
This story wraps up in the next few pages, and then I have some announcements to make. Some of them will be good, and others may disappoint some readers. But I assure you that it's all for the best.
Enjoy the rest of your week, and be sure to stop in for @$$hole! on Wednesday and Friday!
Seymour carries Marielle out of the market after her brutal battle against the Bishops.
Their prequel story is almost finished. Hope you all had a great memorial Day weekend.
Marielle starts kicking the crap out of some Bishops, showing off some of her bad ass assassin skills.
###
I'm a guest of honor at ACEN this weekend (in Rosemont, Il), and I'll be sharing that status with comic greats such as Russell Lissau, Josh Elder, The Brothers Moy, Paul Sizer, and Misako Rocks!.
It's a great honor, and I'll be on several panels all weekend, plus attending various events – and will also have a table somewhere on the floor. Be sure to look for me at the show!
A narrow escape from a beating right there, but Seymour and Marielle are not out of the woods yet. This is where the action begins, folks. Time for some ass-kicking!
###
Meanwhile, back in the real world, I've been a busy guy. I just started a new job today at another agency, and I'm super stoked for it. I can't really go into details, but I'm essentially doing the same thing I have been (media planning), but now on a brand new client that really excites me. Opportunity abounds!
Reviews are coming back again. I have a back-log of titles I've been meaning to review for a while now, and they should be coming out on a semi-regular basis again. Sorry for the delays, folks. Life took priority.
Also, I've just joined a paid online dating website. Fingers crossed that the experience is more positive than the free sites have been. Otherwise, I have new content for @$$hole!

Be sure to stop back (or subscribe to the RSS) tomorrow and Thursday for more reviews, and Wednesday and Friday for more comics!
Seymour shopping in the market, unknowingly being watched by Marielle on the rooftops with a sniper rifle. It looks like we're about to find out how strict the Bishops are when they find people armed. Unlike the USA, this world does not have a right to bare arms – unless you join the Bishops.
I hope you had a great weekend (Happy Easter for those of you who practice the Christian faith), and that your week is sunny and awesome!