Posts Tagged 'channel awesome'
15 items.
Convention season is in full swing, and for me that includes both comic and anime conventions. And while the largest anime convention in the country was going on the same weekend on the west coast, nothing beats a fun local convention like Anime Midwest.
I had the privilege of being a returning guest of honor to this incredible show, and not only was this year bigger and better than all previous years, but it was also an amazing fun time. So without further delay, let's jump into the events of the weekend.
FRIDAY:
This year I stayed at home, so Friday morning didn't start with a gym workout but instead a quick trip to the convention center, having packed my car up the night before. Knowing that my new set up requires a bit more time than when I only had books on my table (when I only had books, it took maybe 20 minutes to set up my table…now, it's closer to an hour), I got there early and got the booth set up and ready to go.

The booth is set up
Not long after the table was set up, I headed over to the main stage for opening ceremonies. I ran into Linkara and Brian, and we headed behind the stage with the rest of the guests. I got to see my buddies Chuck Huber, Greg Ayres, Samurai Dan and Lady Jillian, and many more, while we waited to be called and brought out onto the stage. I was the only comic guest who made it to opening ceremonies, so I pitched my panels and got the crowd fired up, and then headed back to my table just as artist alley opened to the public.

Russell Lissau was my table neighbor all weekend
I ran into a lot of returning fans, people wanting the latest books, and even a few new fans while going through a stellar day of sales. Lots of cosplayers and staff stopped by as well, saying hi and getting autographs, photos, and buying books and art.
I closed up the table a bit early because I had to make it to my first panel of the weekend, Tabling at Conventions. I arrived on time, but the previous panel was running a bit over – featuring another guest who was a youtube celebrity. He was encouraging everyone in the room to skip the vendor's hall and come meet him fr autographs in that area. I approached the stage as he was packing up, and he asked what my panel was about. "I'm teaching these kids how to make money in that vendors area you mentioned. Hope you have a great autograph session."
The panel was well attended, and had people interested in starting a business in illustration, jewelry, seamstressing and custom cosplay, and more. The questions were engaging, and I had a lot of repeat visitors at the table throughout the weekend from this first panel thanking me for the advice; and a few who attended my remaining panels throughout the weekend, even though they hadn't been interested in those topics. They just liked the way I talked.
After the panel ended, Russell and I met up for a quick dinner and we headed home. This had been a great first day of the show, but it was only the beginning…and we were not prepared for what the next day would bring us.
SATURDAY:
There's a question among people selling in artist alley: to sell out, or not to sell out? I'm of the mindset that selling out, so long as you're profitable, is not a bad thing. It means less to bring home, and for an away show that's a cost saving measure (because shipping books home costs money). Others know selling out means you missed out on potential sales, which is also true – but I consider that a learning experience for what to pack more of the next year.
Well, Saturday blew my wildest expectations out of the water, and I ended up selling out of almost all of my books. More sales in a single day than I had at the show the entire weekend the previous time. It was overwhelming and amazing at the same time.
I carpooled with Russell that morning, having to restock a few items from the previous day (just to make sure I didn't run out quickly), and we got our tables ready for the day. And boy, what a day it was. Foot traffic was through the roof, with rarely if ever a dull moment on the floor. Lots of visitors from the panel the previous night, and even more returning and new fans coming to buy books.

Ready for round 2!
Across the isle from me was a good friend who has an excellent fitness Instagram (seriously, you should check her out), Kat, and we ended up making silly faces at each other all weekend. She also sells some amazing prints of original characters, and we both commented across the isle from each other about the volume of foot traffic.

Hanging out with Kat, whose table was across from mine all weekend
Towards the end of the show, I closed up a bit early again since I had to run to a panel. I hosted a Crafting Fictional Worlds panel, which was standing room only. Wow, these fans really like their science fiction and fantasy world building. The questions were engaging, we had a lot of fun talking about world building and other topics related to story – setting tone and atmosphere, narrative exposition and how much (or little) to use, how to get characters to fit into your world (or vise versa), and many more topics were covered in this 50 minute panel. At the end, I thanked the audience and headed out with Brian and Linkara to grab dinner.
We headed to a local pub and ordered some food, chatting about social media and comics (they being comic reviewers for YouTube), and having a really fun time.
After dinner, I headed back to the hotel to see if anyone was hanging out in the green room (it was early yet, so no one was really in there yet), so I headed home soon after to see my family.
Saturday had defied all expectations for the show, but Sunday would really solidify this con as legendary for this year.

That's a good looking shirt on that bald guy….
SUNDAY:
Sunday I carpooled with Russell yet again, and we set up our tables and began selling. I didn't stay open too long, though, since I had a panel at noon: How to Make your own Comics and Manga. It's intended to be a self-publishing panel, but a lot of the questions we got were about character arcs, storytelling, formatting, and a few questions about printing options and business budgeting. A fantastic panel, and a lot of people for a Sunday morning. I joked that they either are all morning people, or some of them had just not gone to bed yet.

Exhausted on the final day
After the panel, I returned to the table to end the day strong with sales. I had restocked most of my titles from the previous day, but it didn't matter – by 3pm I had sold out of my restock of books that had sold out the day before. It was NUTS. And I mean that in a good way. I sold through what little stock I had left, and before I knew it the show had come to an end. Russell and I packed up our tables, and headed home.
Thank you so much to the fans, attendees, staff, and volunteers for having me back at the show, and for making that weekend so amazing and incredible. If you would like me to attend a con year you, please reach out to the show and request me as a guest. They listen to you, the fans, and I'd love to come meet you and hang out.
Did you attend the show? If so, what was your favorite part? Did you attend any of my panels? Which were your favorite?
C2E2 continues to be a premiere Chicago comic convention, and 2018 was no different – in fact, it excelled in that area, bringing in some of the top creators in the industry, including the elusive Brian Michael Bendis (who has been on a convention hiatus for, what…a decade?). Suffice it to say, I always have a fun time at this convention – one of the largest in the midwest (at least that I attend, if not THE largest), and it's a great opportunity to see and hang out with a lot of friends.
THURSDAY: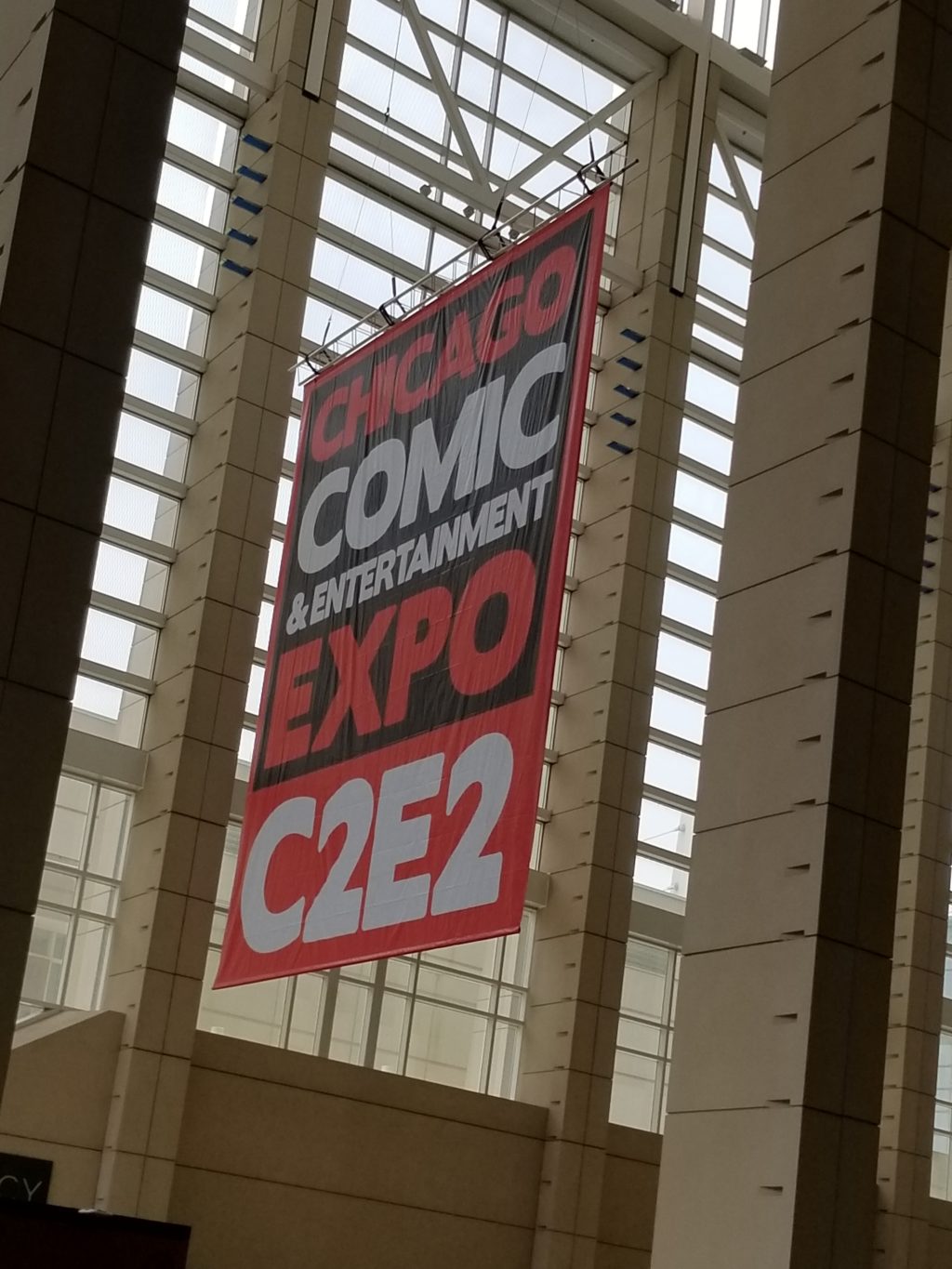 I landed at the airport, coming back from a week long vacation in North Carolina, and immediately ran home to switch some clothes around, and then jumped into the already-packed car and headed to the con before set up times ended. I got in with plenty of time, and thankfully was able to get to my table and drop off all the stuff without any issues. It's always an impressive sight to see this sign hanging in the hall on the walk into the convention floor.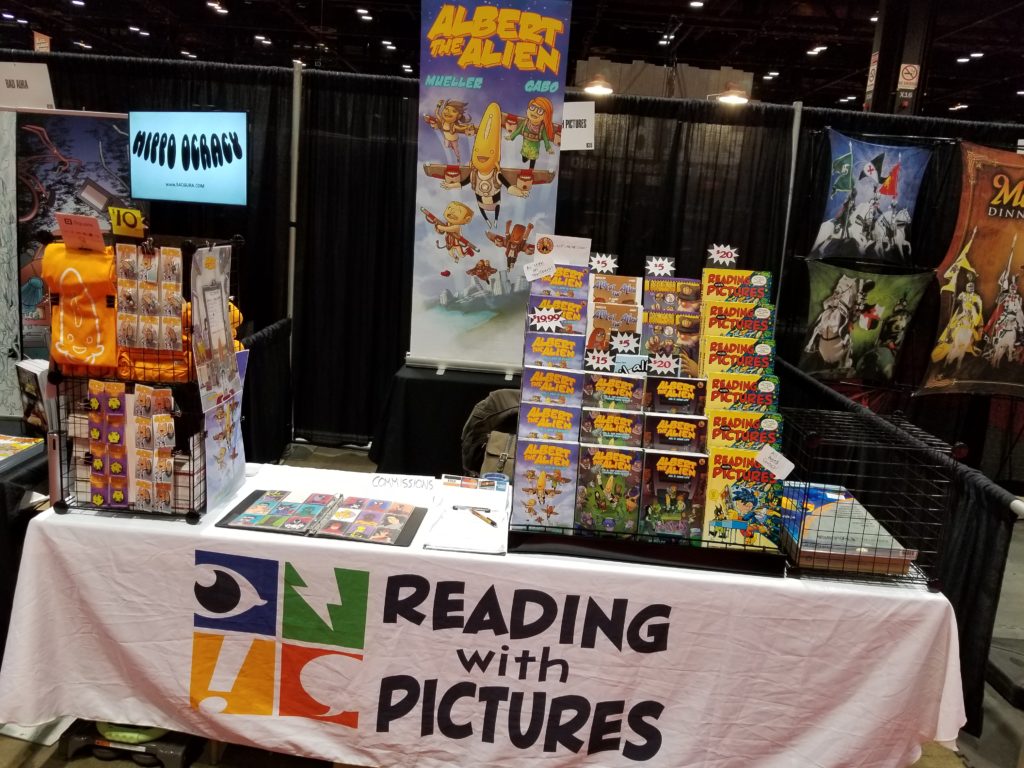 With a little help from my friends Bivens and Mallory, we got most of the table up and ready for the next day. But we were hungry, so we didn't want to stick around too long.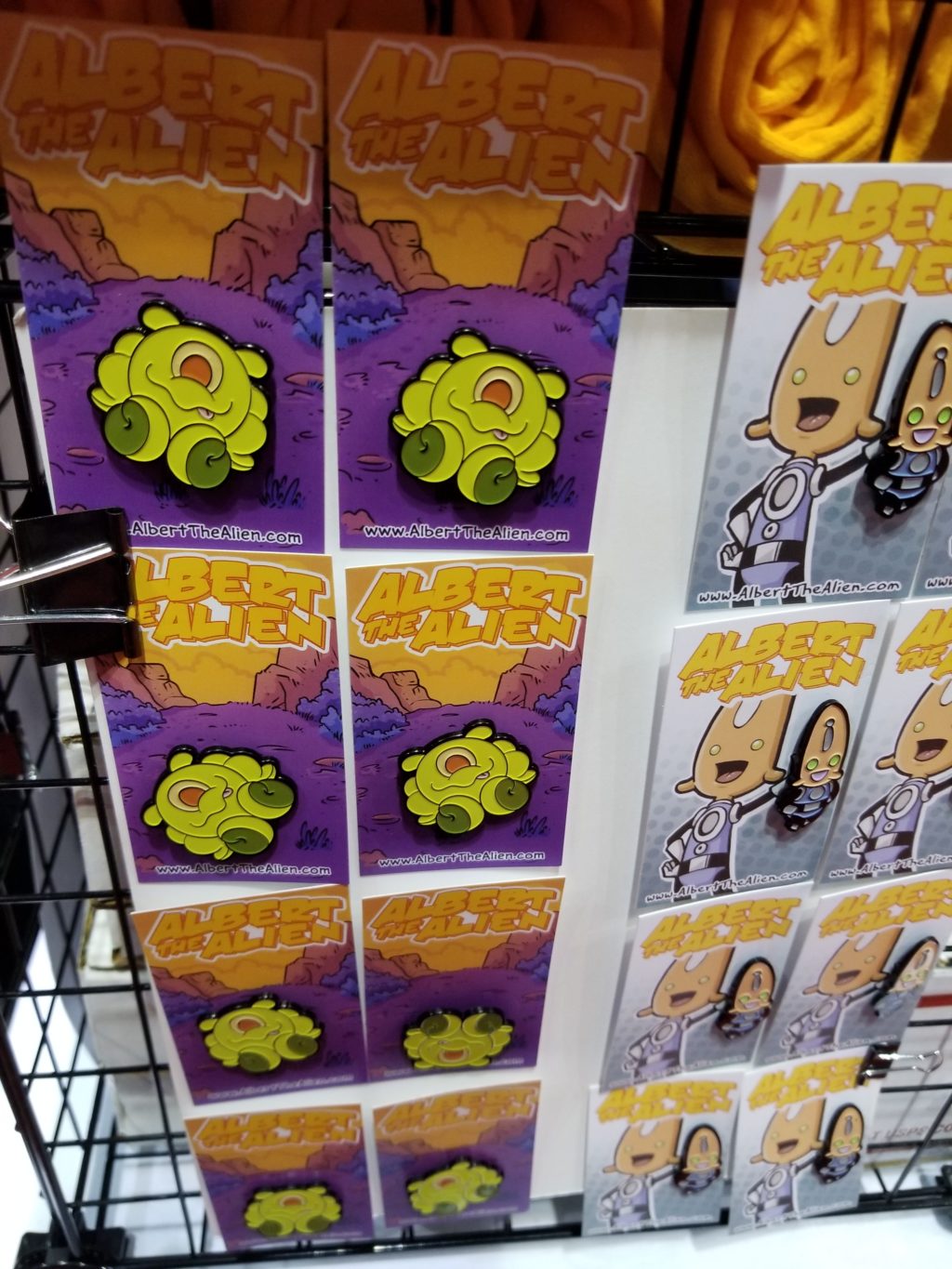 Did I mentioned we premiered some new pins at the con? We did! Albert the Alien's stuffed animal, the Flanxx, is now available for purchase. Love these little pins. Such a cute design from series artist Gabo.
After setting up, Bivens, Mallory and I hopped into a cab and went to our favorite sushi place in the city, called Niu. We actually got there during happy hour, with $6 dark and stormy drinks (which we indulged in quite a few), as well as some discounted sushi rolls. Since the group was just us, we had a chance to talk shop and work through some ideas for a project we've been working on for a while now. It was a fantastic way to start our weekend and our first night – and an early night for us all, since we knew the weekend would be a lot of late nights.
FRIDAY:
The first official day of the con had us on-boarding some new volunteers, and meeting with more friends (but with so much traffic on the floor, it was difficult to take photos of everything). The floor traffic was crazy busy for a Friday, which was a pleasant surprise. I even saw a few big names walking around, like my friend Raina Telgemiere (who was running from signing to panel and back again for what seemed like most of the weekend).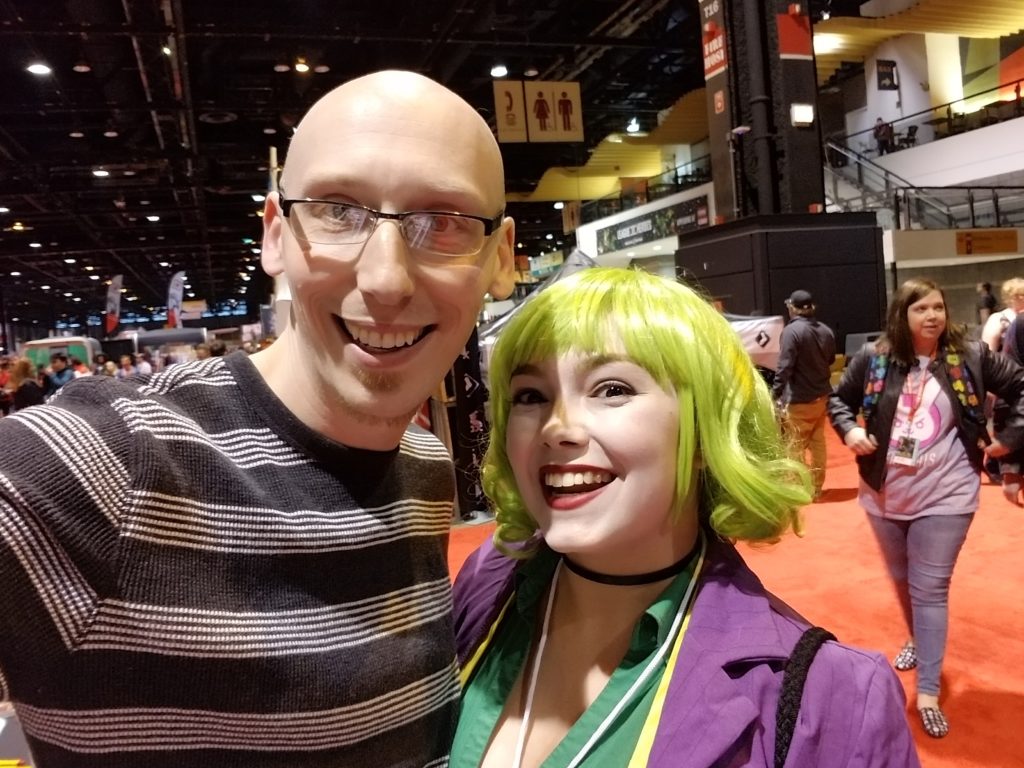 My cosplay and model friend Megan Hawk stopped by the table, dressed as her Joker cosplay. I'm pretty sure this is what she was wearing when I first met her many years ago, so it's an instantly recognizable outfit for me – I shouted to her as she was walking past.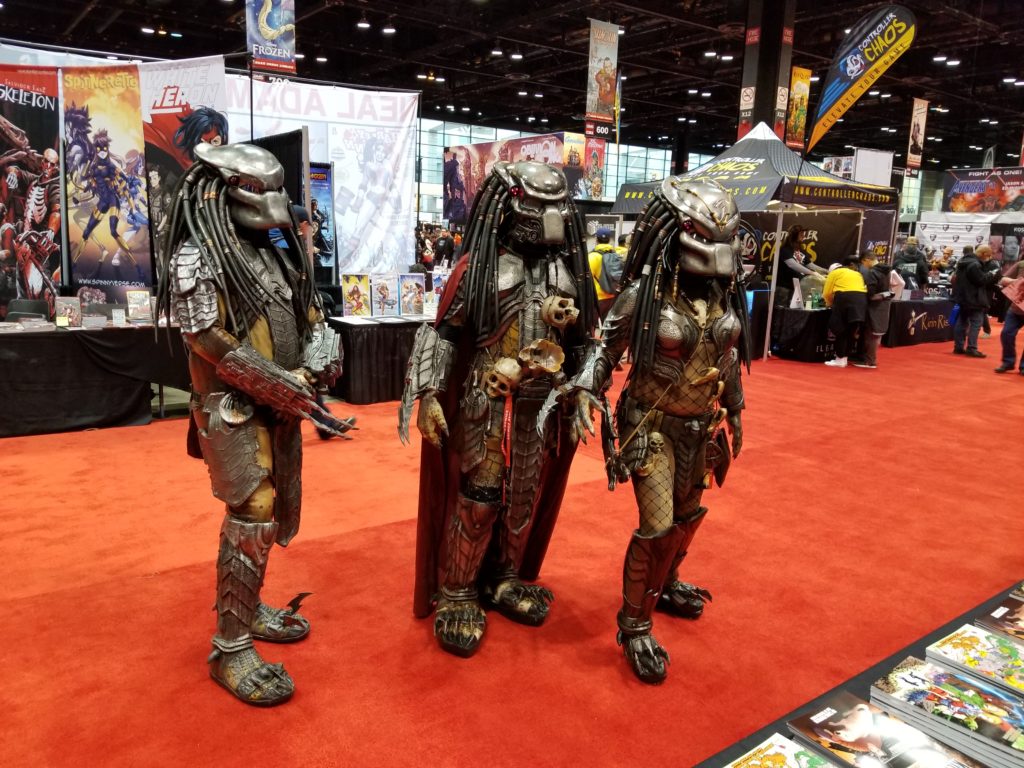 While there was a lot of cosplay at the convention, one that I was able to snap a photo of was a family of Predators – which were super impressive.
After the con ended, I went to go find some food and ran into Jim McClain (Solution Squad) and Janet Lee (too many titles to list). They didn't have their coats on (even though it was snowing!), so we needed to find a place that was close and didn't have a 45+ minute wait – which is tricky to do within close distance to a convention. Luckily, a local pizza and pasta place had a 5 minute wait time and was super close to the hotel. We scurried in, had a fine conversation over dinner and drinks, and then went our separate ways for networking and meetings that night. It was another early night for me, since Saturday would be the big day of the con.
SATURDAY:
The big day. I went to the local market and grabbed my bagel breakfast sandwich (a must-have for morning fuel), and then headed to the table to set up for the big day. We had lots of volunteers coming in to help out at the table, and give my feet (and voice) a little break.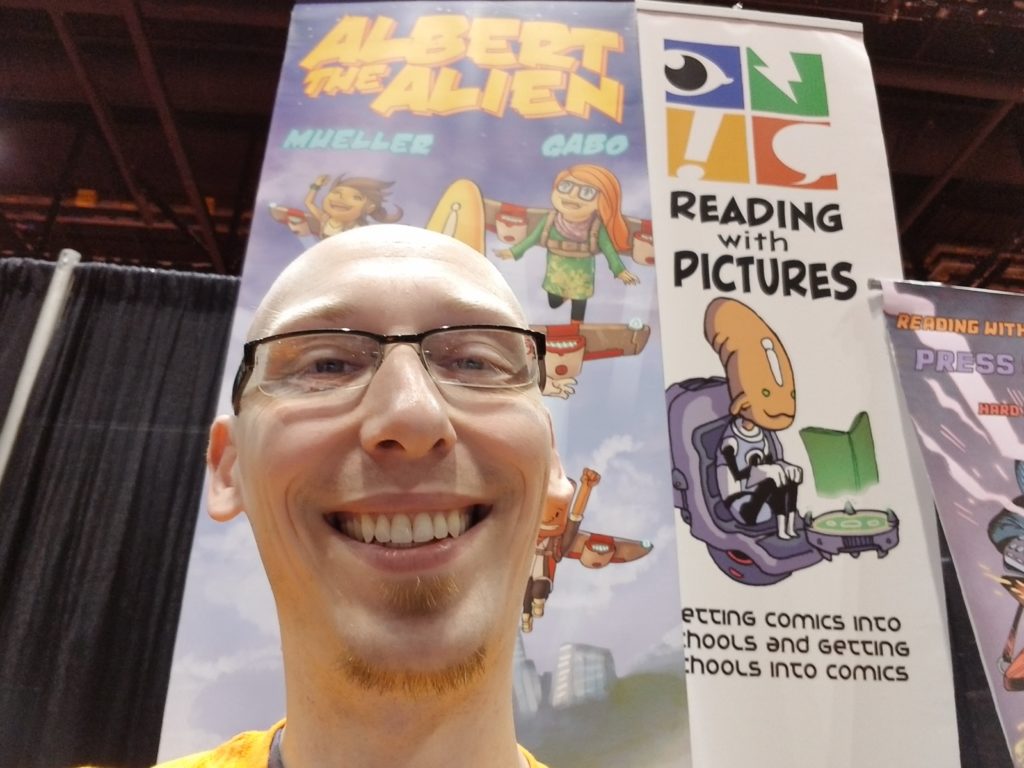 I made friendly with our table neighbors. On one side of us was a family of self-publishers who were making a big push, with this being their first weekend convention premiering their books. The whole family was there: dad, mom, daughter, and son – and the kids, in their mid to late twenties, were in cosplay throughout the weekend. I gave them some tips and went about my normal selling process – running into a lot of friends throughout the day.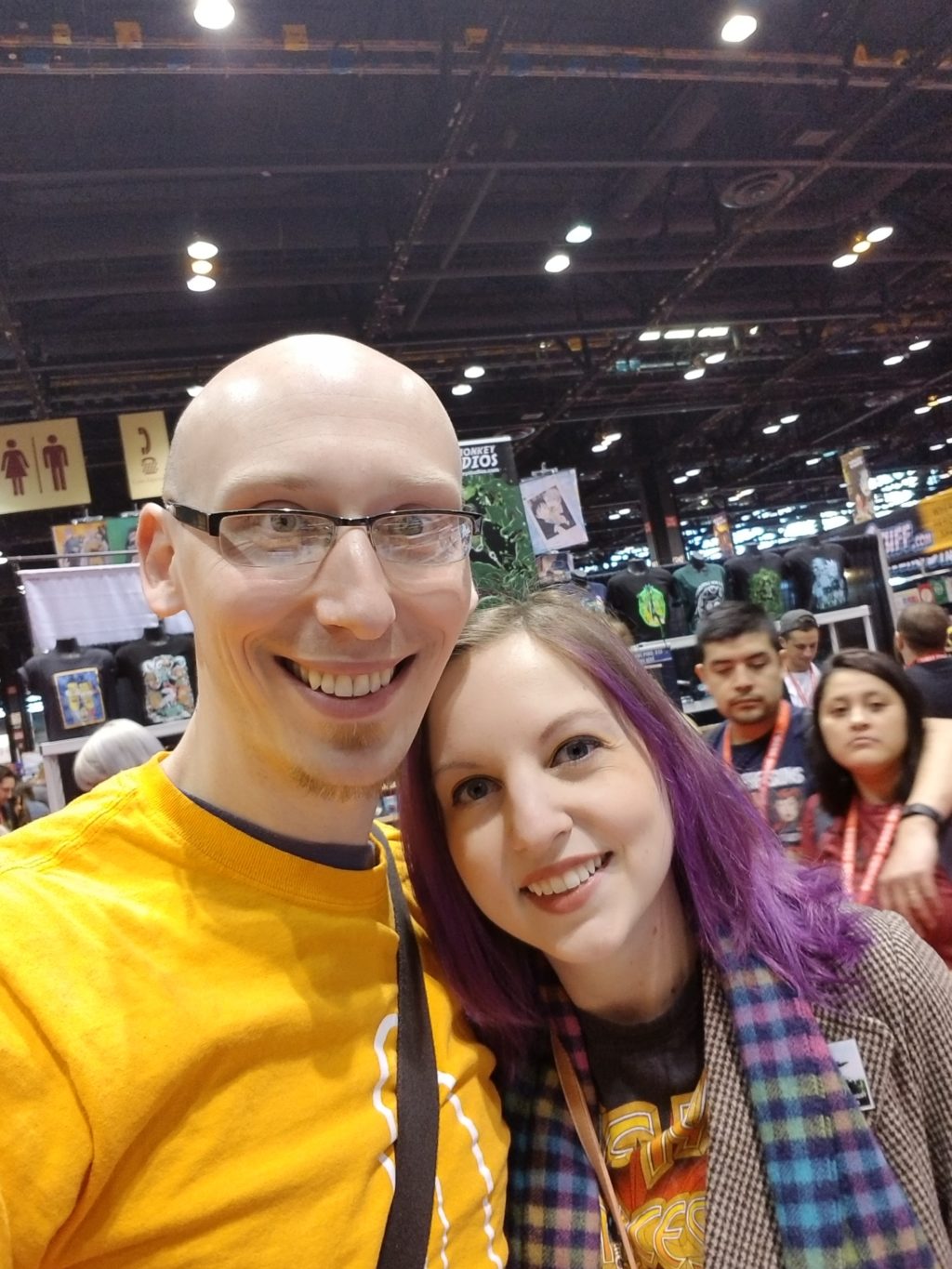 My friend Lauren wasn't sure if she was going to be able to make the con this year, but stumbled into some tickets and showed up. I caught her walking past, having just dyed her hair earlier that week. While you wouldn't think that purple hair would stick out at a comic convention, it was something I remembered her posting on Instagram – and I was pleasantly surprised to see her around.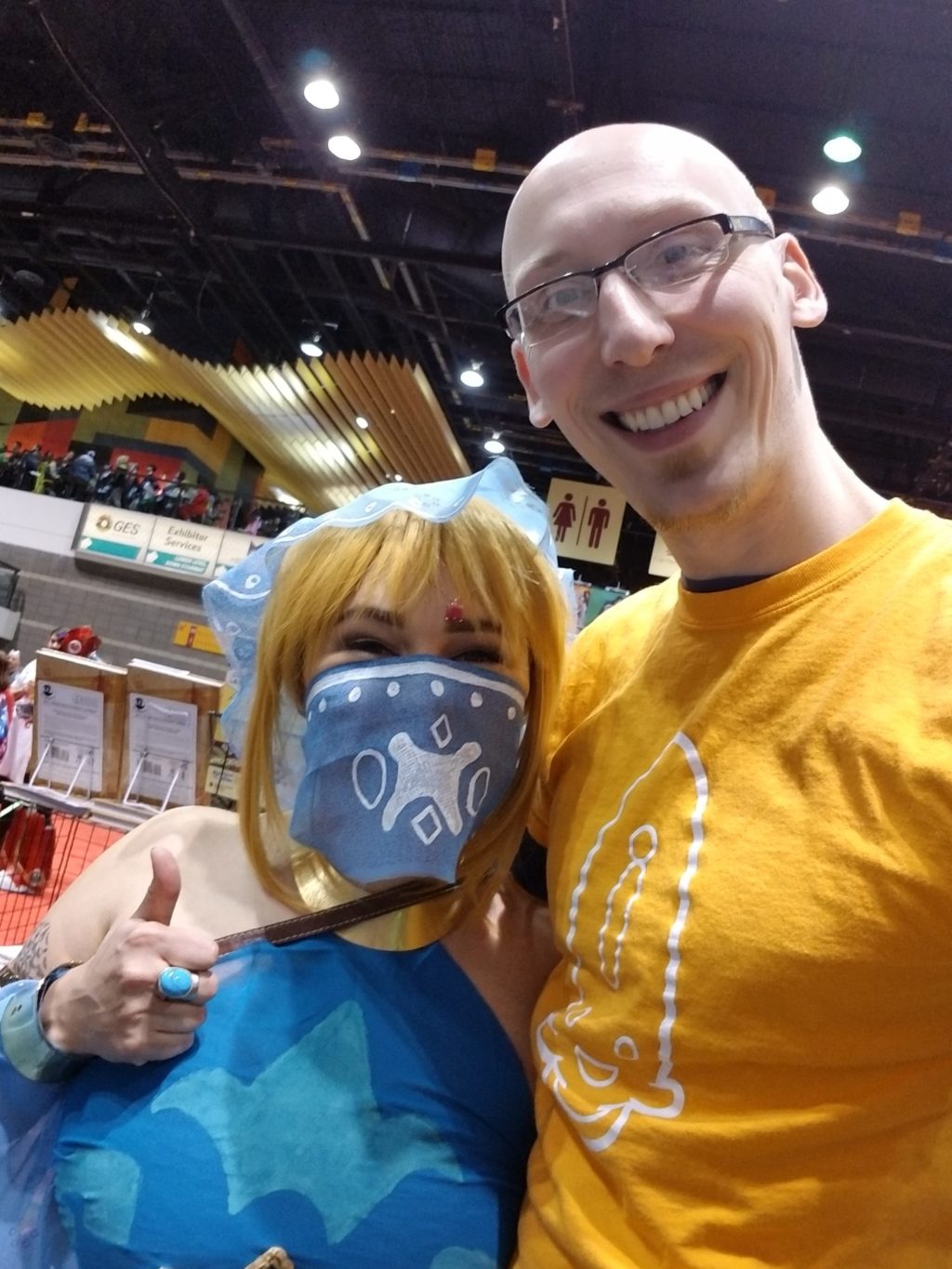 My friend Tamara was using the table as a base of operations so she could store her bags, so it was fun to get to see her throughout the weekend in her various Legend of Zelda cosplays. While I had missed taking a photo with her on the first day (and the last day), I was able to snap a quick photo on Saturday while she was between photo shoots and panels. The entire Channel Awesome crew (who were not attending another con in NYC this same weekend) would stop by the table throughout the weekend to say hi and catch up.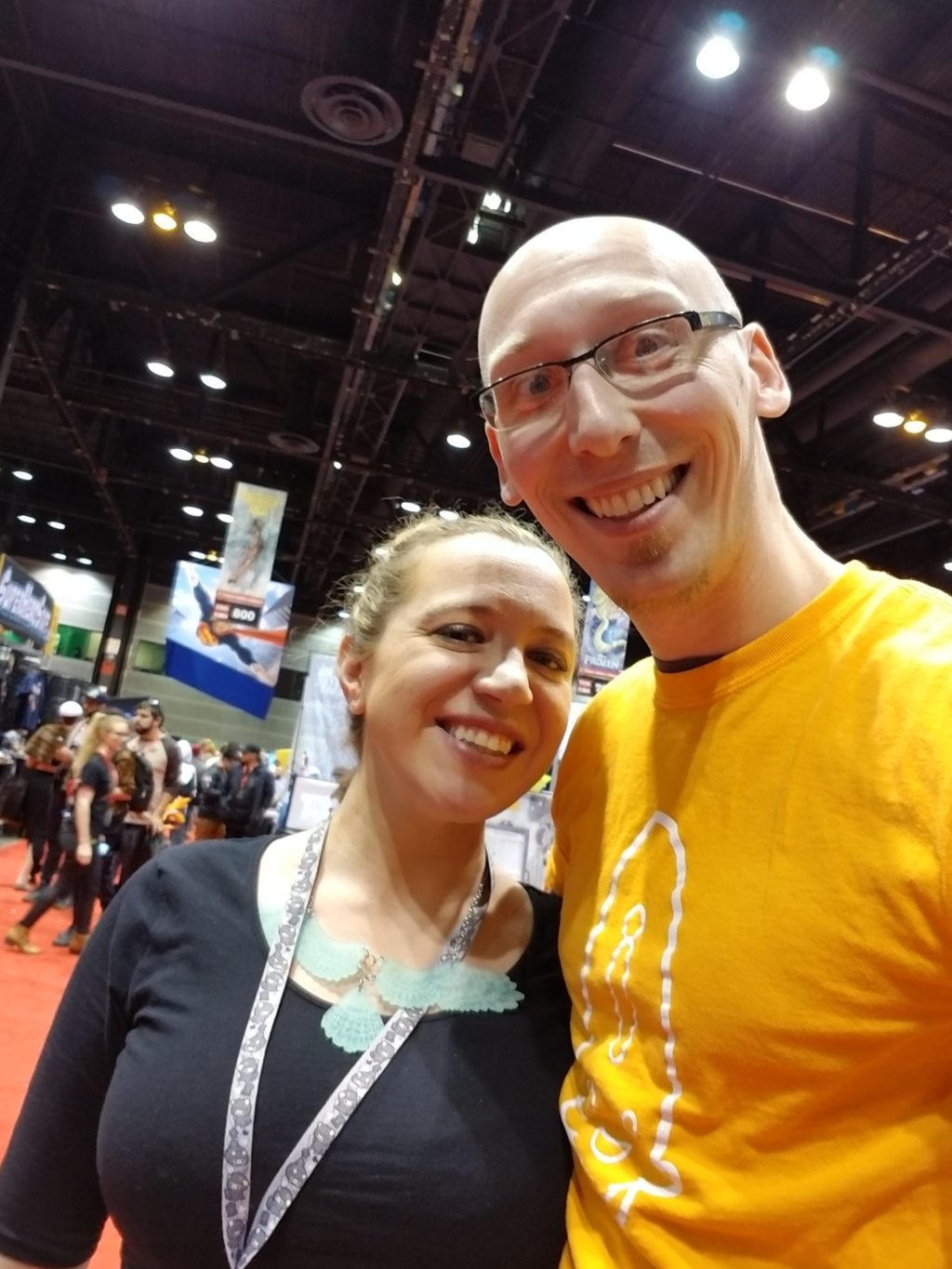 Opposite our table was our good friends Sean and Sarah Lindsay (Spinnerette), who had a very nice corner booth and some great coverage with their statues, plushies, and other merch that is very eye catching. They have been good friends both in and out of cons throughout the years, often doing panels with me at anime cons.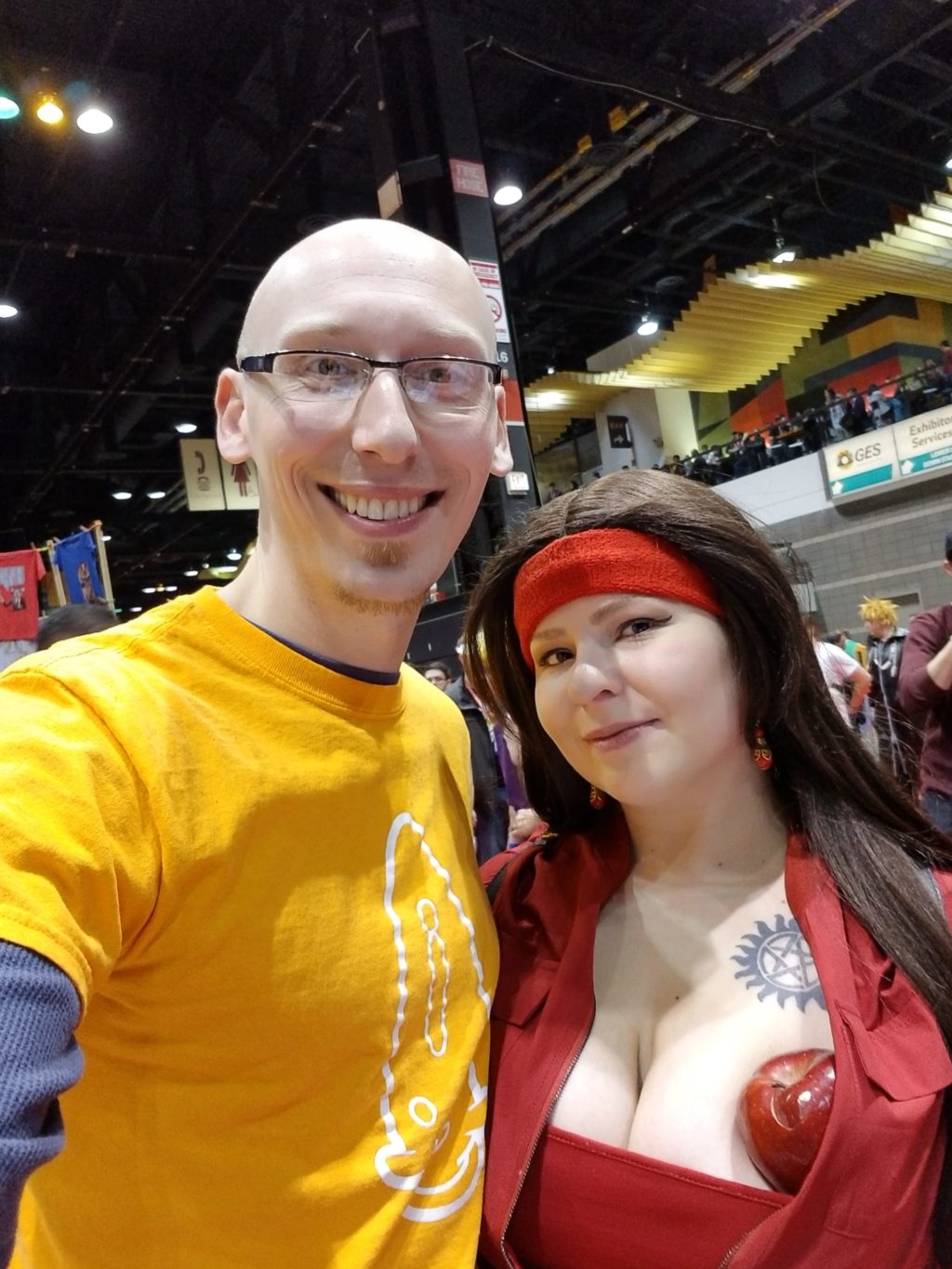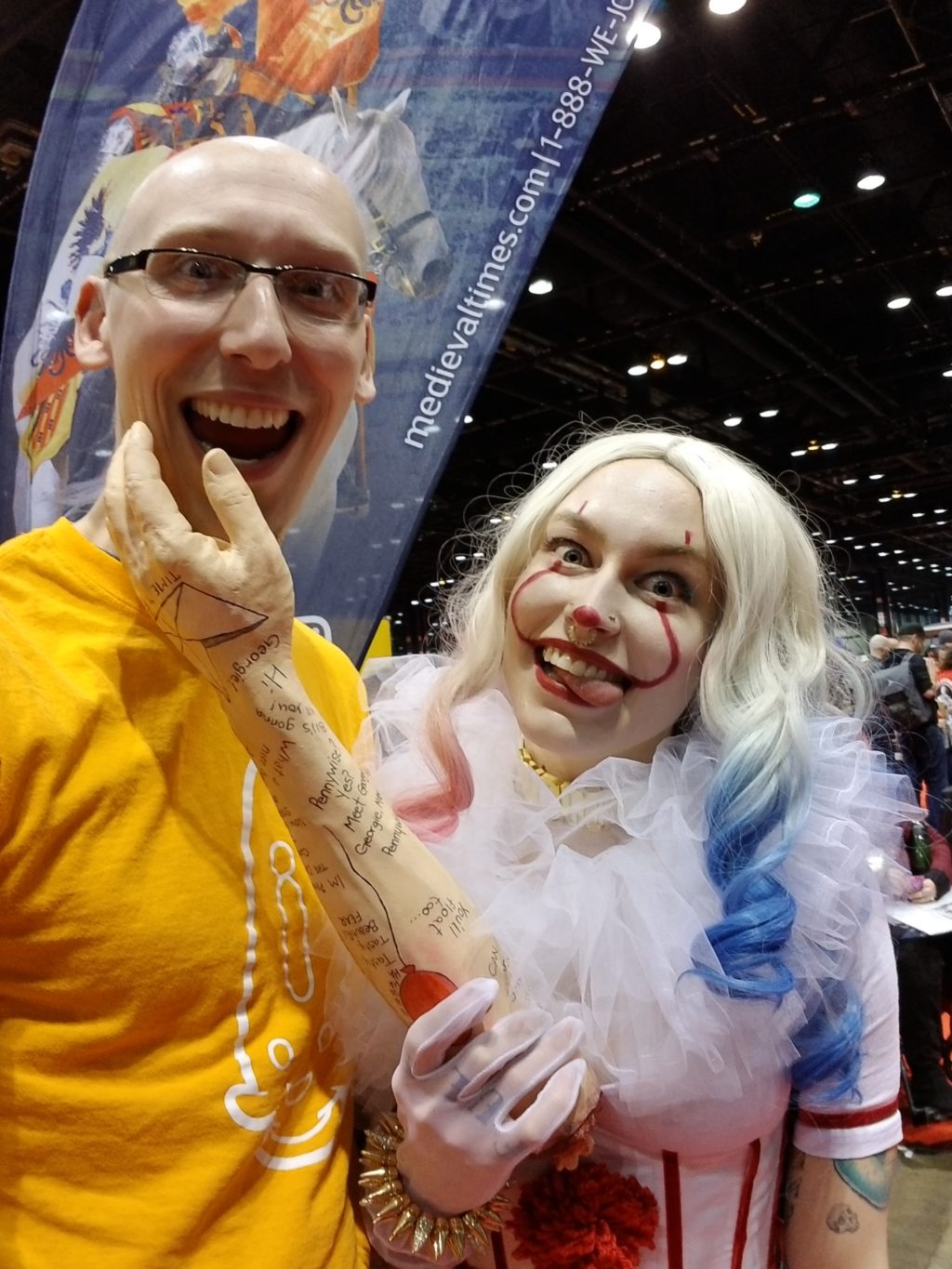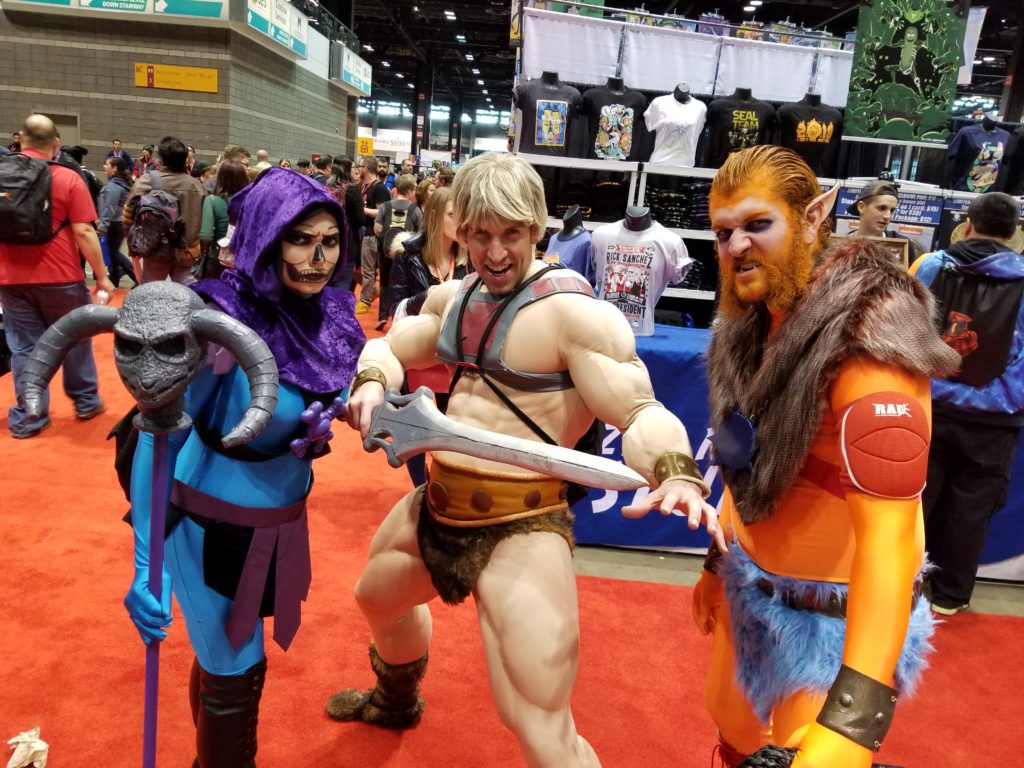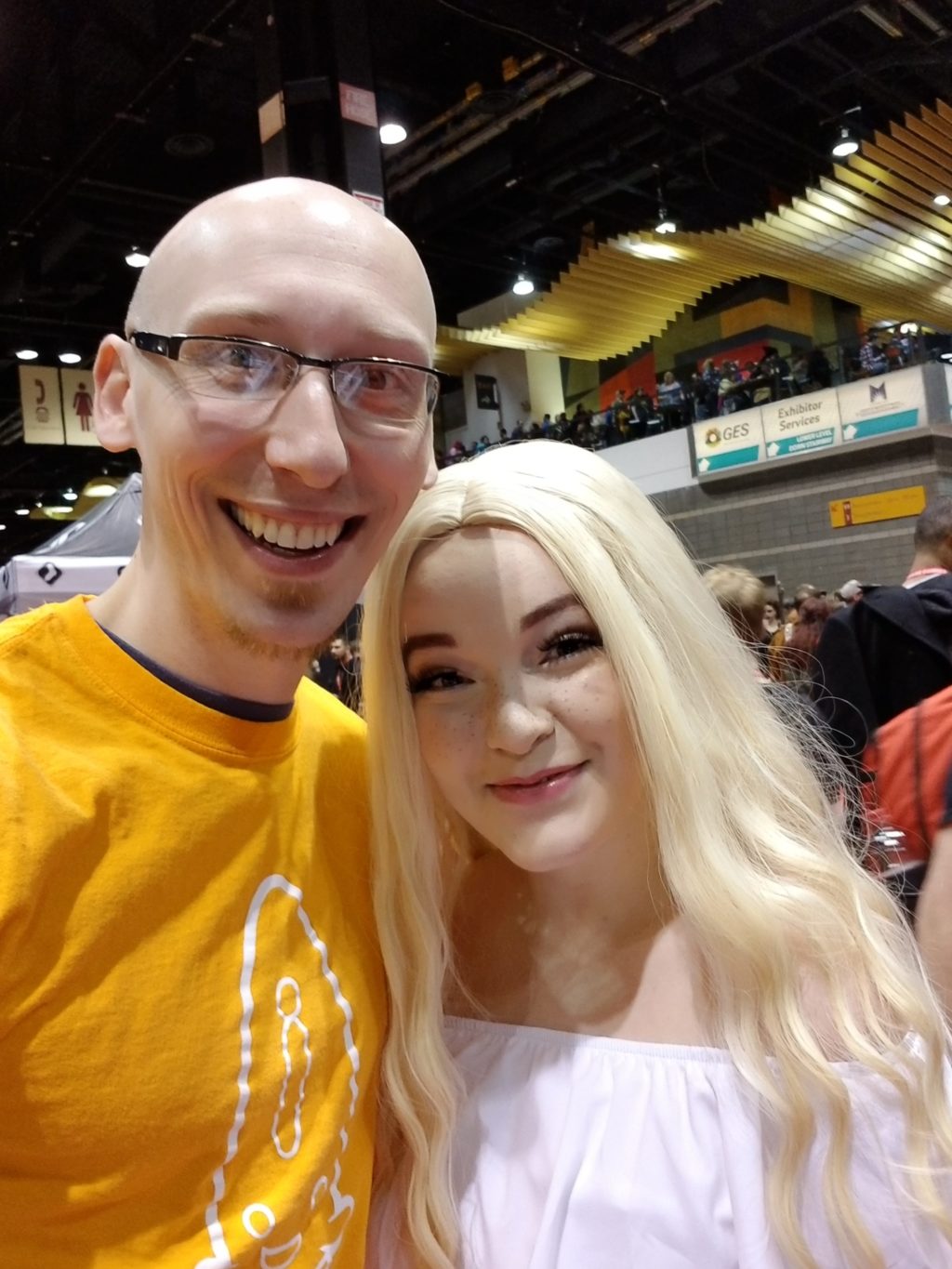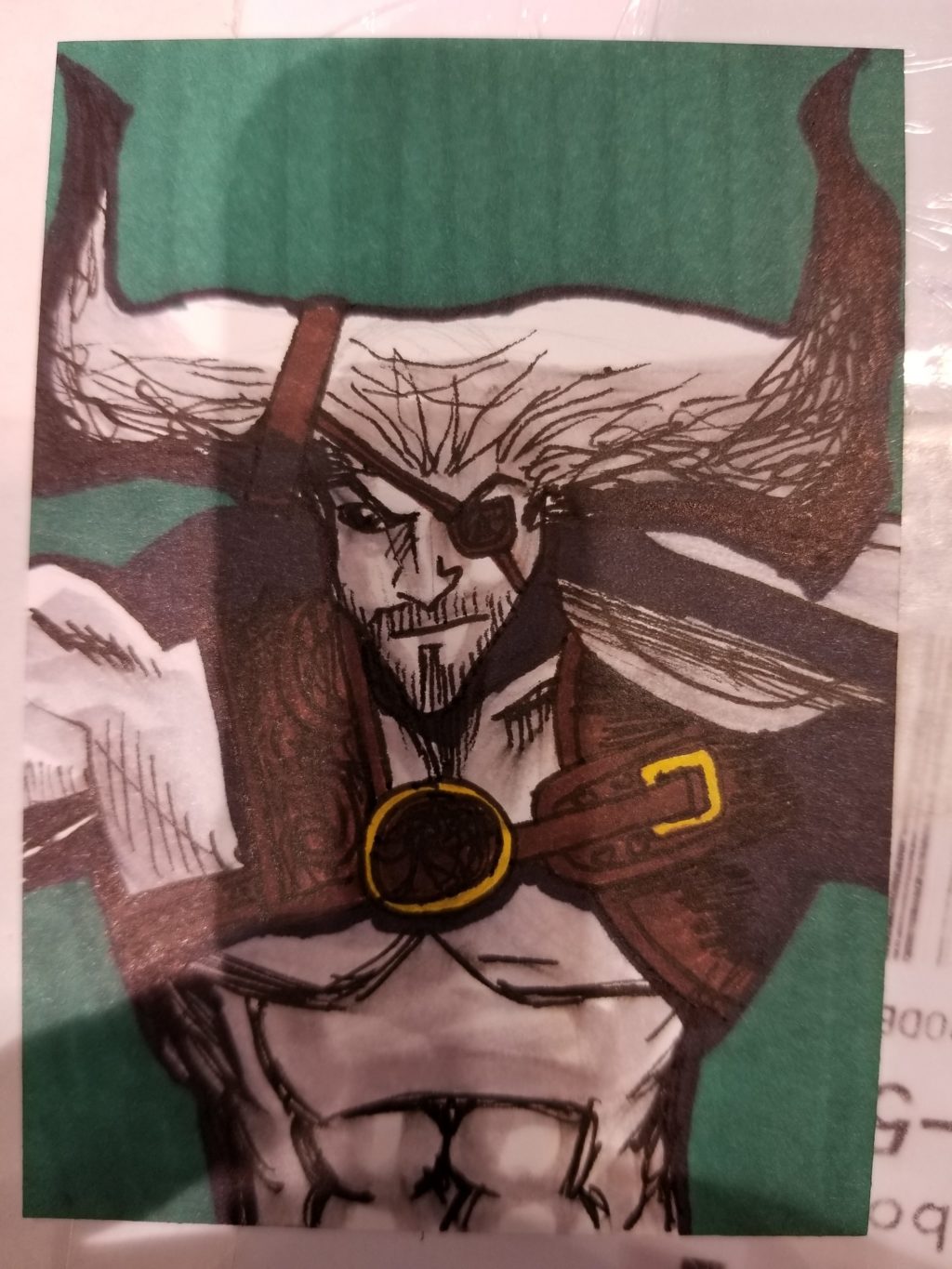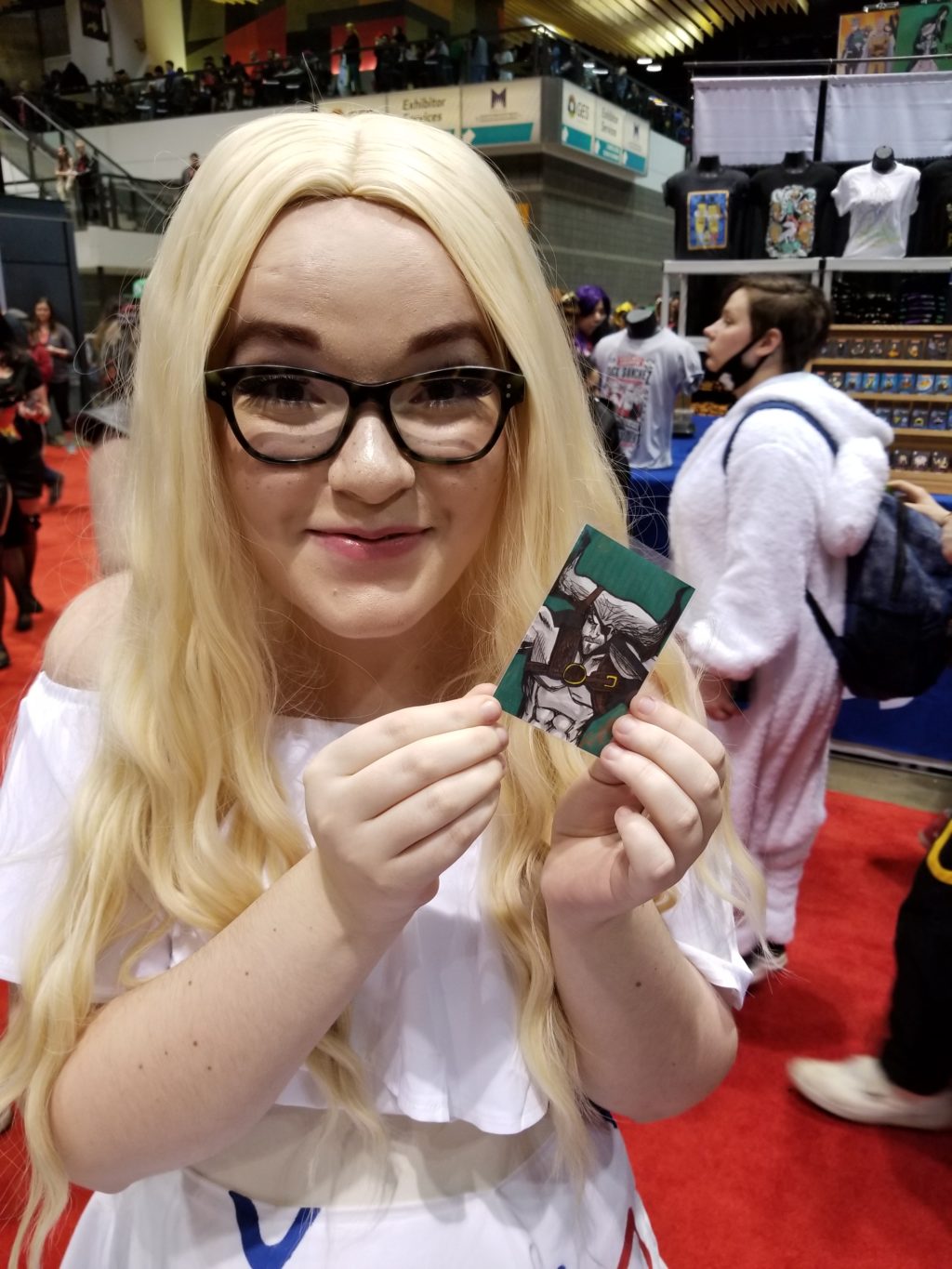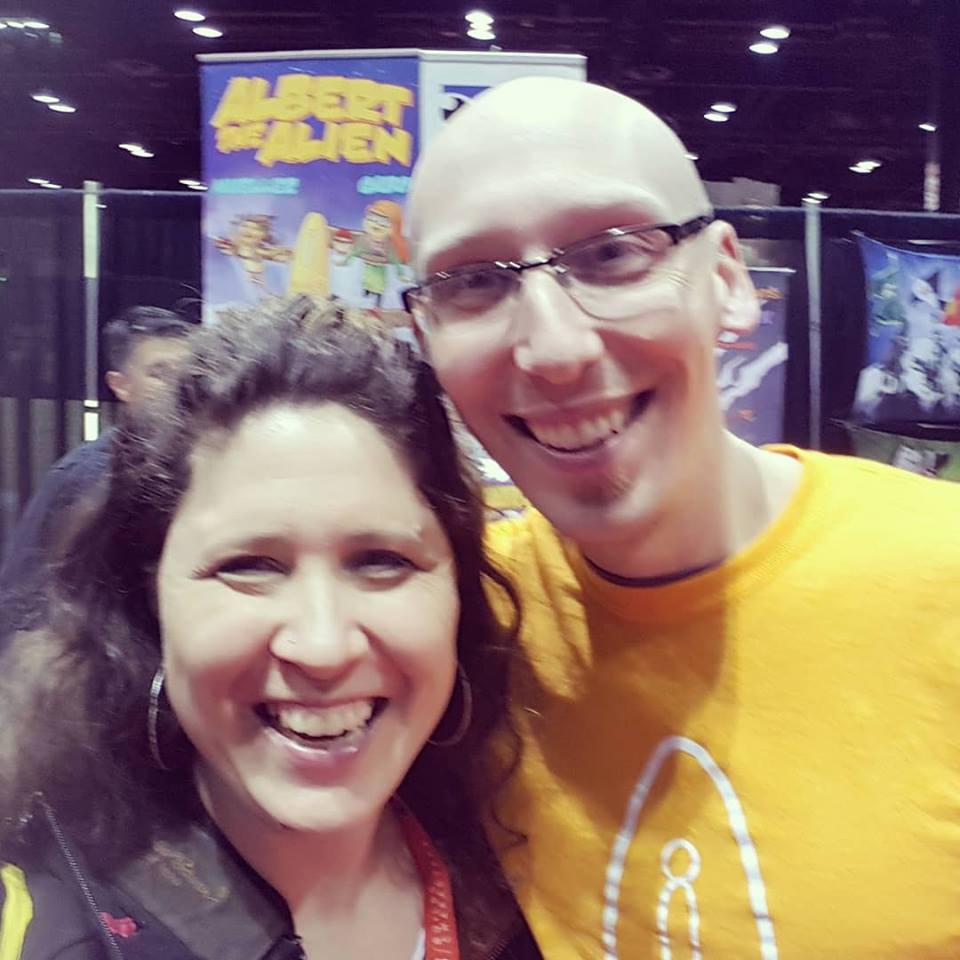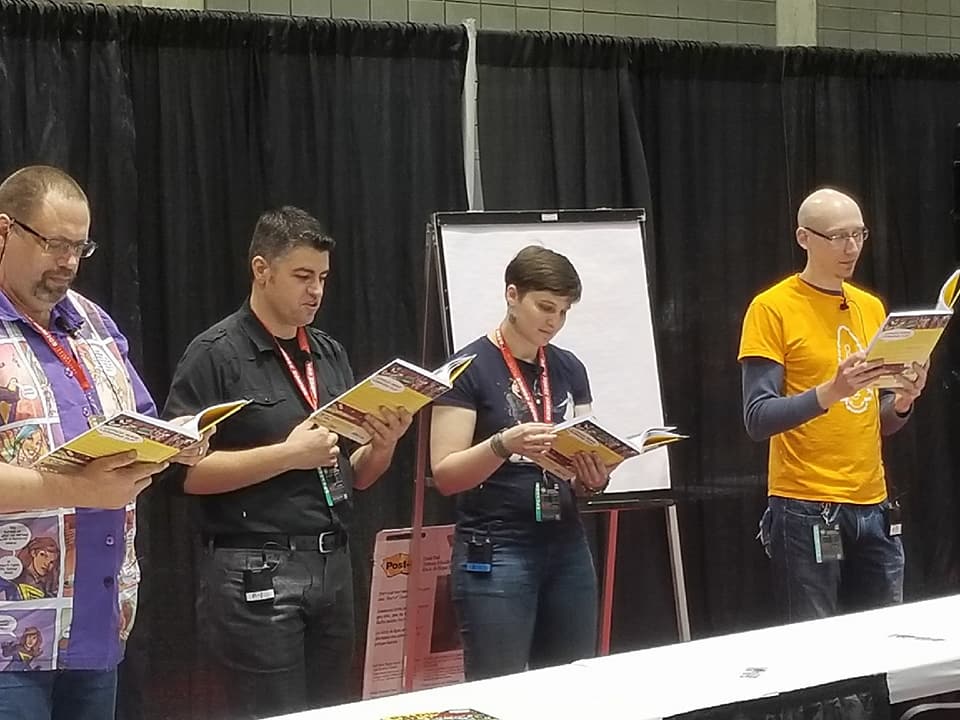 Around noon or so, I had to leave the table to attend a Reading with Pictures live reading event in the kids area. I was joined by fellow contributors and comic creators Jim McClain (Solution Squad), Josh Elder (Scribbenauts, Mail Order Ninja), Amy Hopkins, and myself. The kids were very involved in the reading, loving the stories and voices we were doing – despite the many Star Wards related distractions surrounding the area. It was a lot of fun to read with this group of creators, and I look forward to the next time we get to do it again.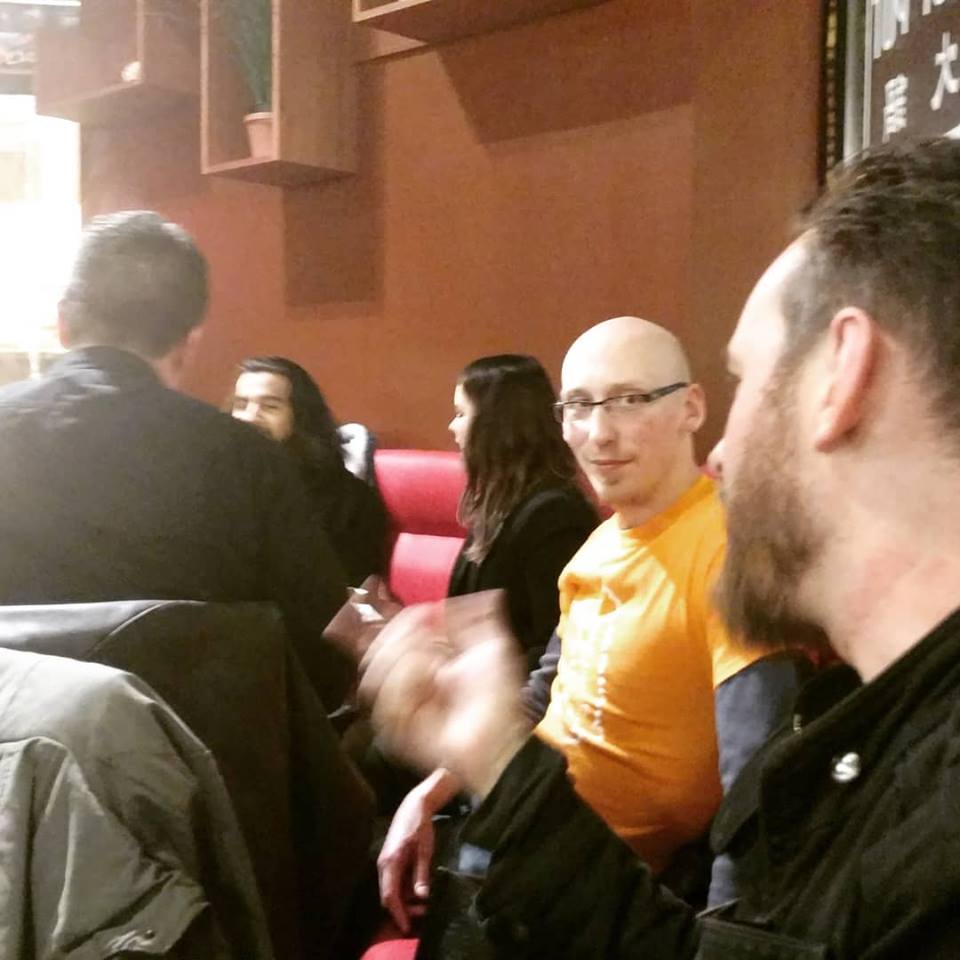 After the con ended, I went back to the room to drop stuff off and then headed to Chinatown with Bivens and Mallory (and a bunch of other people) for some delicious hot pot. If you've never had hot pot, it's like Korean BBQ – but instead of a communal grill in the middle of the table, it's a pot of boiling soup that you dip items into and cook yourself. It was fantastic. The group was joined by a lot of talented creators and close friends, and I got the chance to chat up Ben Templesmith for a while.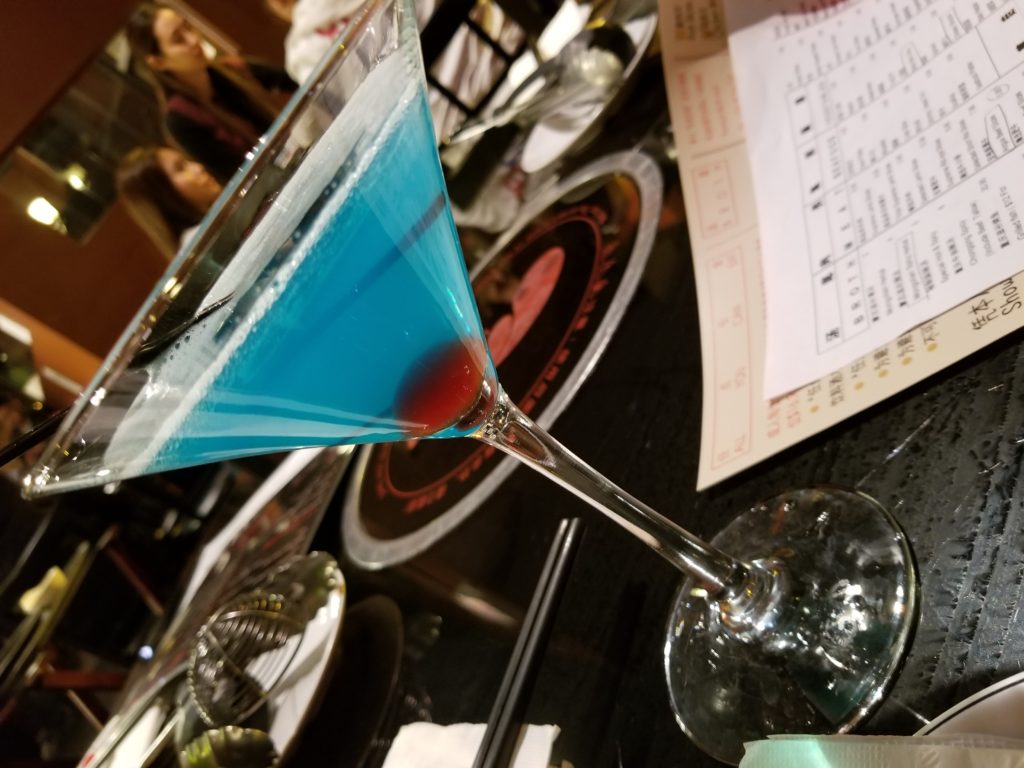 And yes, I ordered a drink that looked like something out of a Star Trek episode….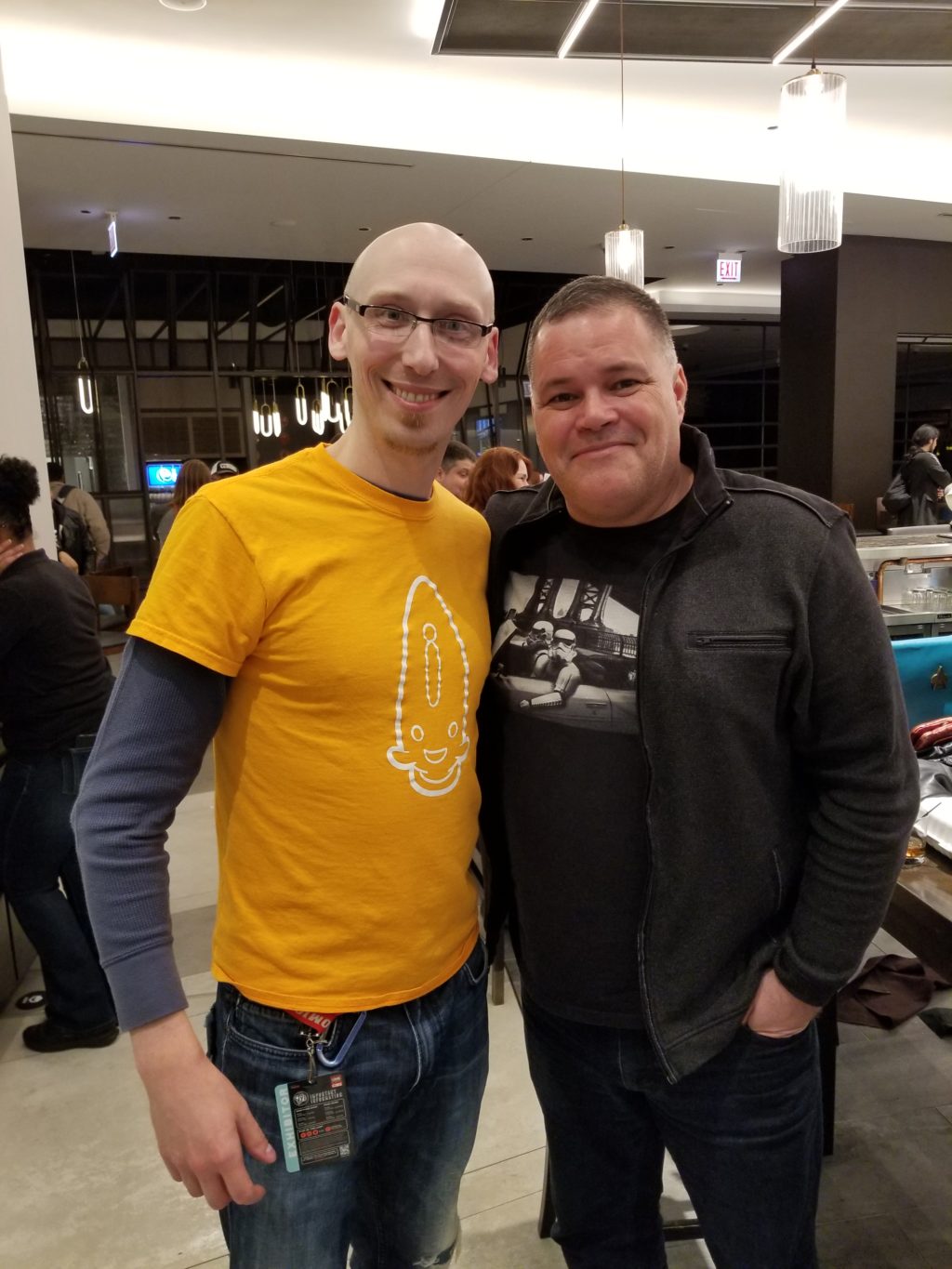 After we finished dinner, we walked back to the market where I get the breakfast sandwiches (to stock up on some essentials for that night). While in there, I saw a guy who looked like one of the actors from Battlestar Galactica buying two half-gallons of milk and a few other items. I thought it was strange, but didn't comment. I did have to tap him on the back to slide past on our way out of the store, though. We went back to the room, poured a healthy amount of adult beverages, and then headed to the Hyatt bar to hang out. While in there, I saw Aaron Douglas yet again – this time waiting for his beer. I walked up to him and asked if he remembered me from the market. Then I had to ask the obvious question: what was the milk for?
This kicked off several hours of conversations with him, and some of the publishers from AfterShock (including Mike Perkins, Joe Pruett, and several others). We talked about traveling, fans at cons, doing panels, and of course – Star Wars: The Last Jedi. About 2:30 in the morning or so, the hotel bar had closed and I had finished my drink, and told him that it had been a pleasure, but I had a table to run the next morning, and needed to get some sleep.
SUNDAY: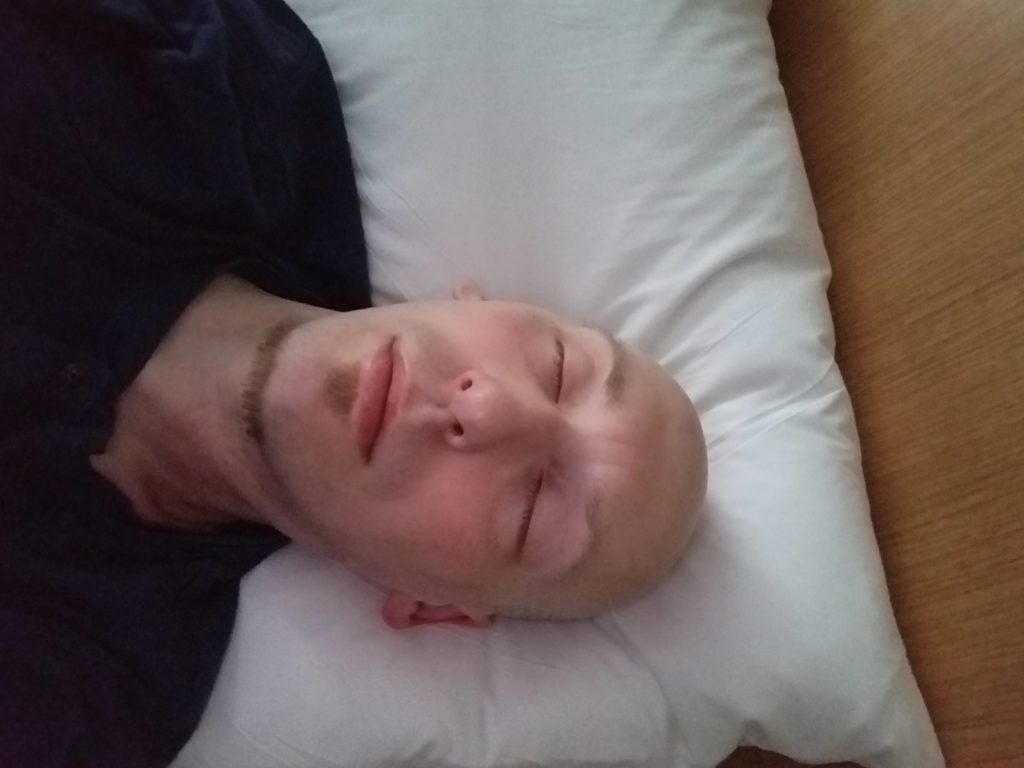 Sunday always feels like the most difficult day to wake up on, especially after a late night of good times and good conversations the night before. But alas, that table isn't going to run itself, as much as we may want it to. So up I got, grabbed some breakfast sandwich from the market, and headed to the floor to open and run another day of sales.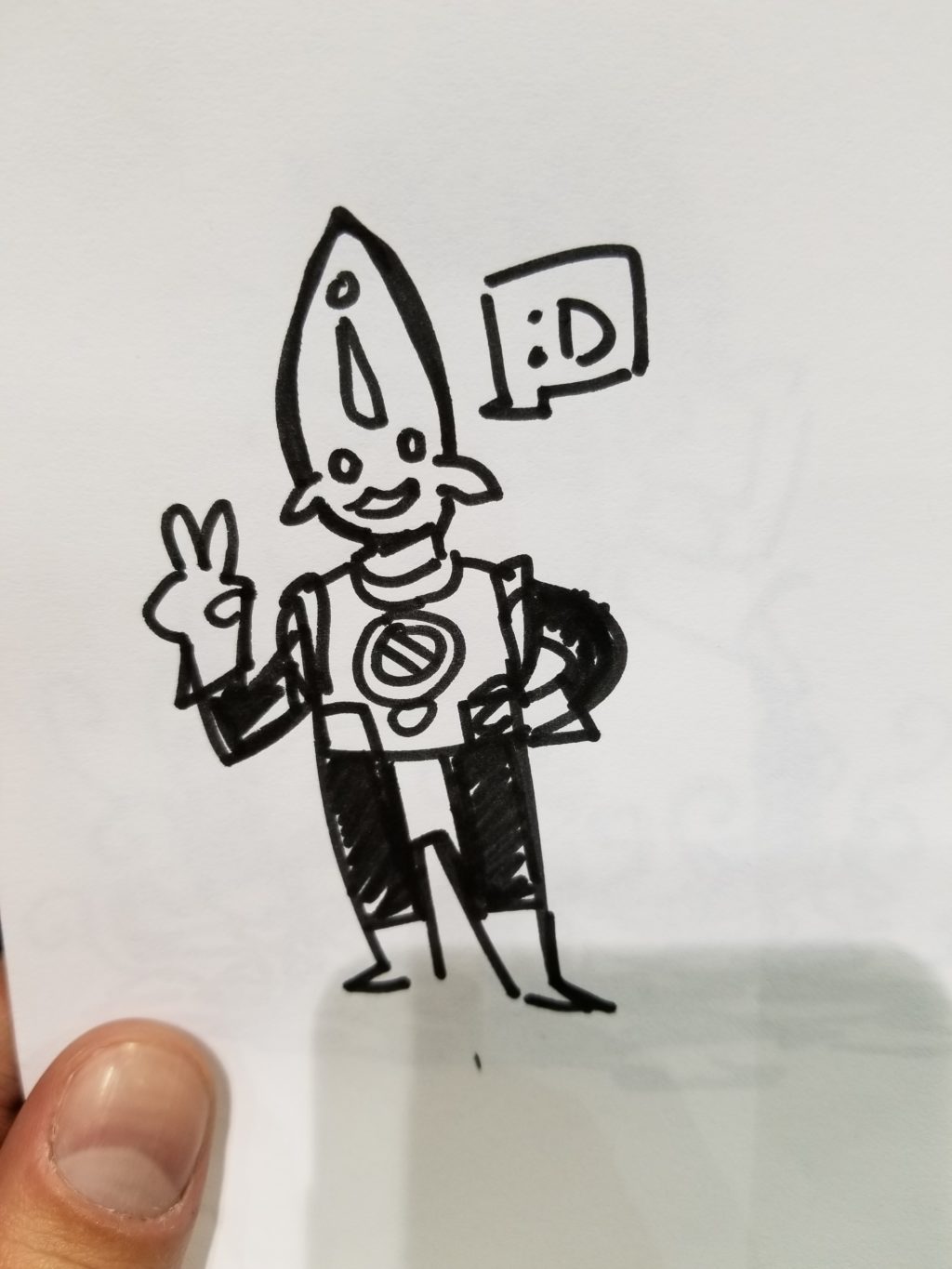 Thankfully, being the final day of the show, I did schedule some volunteers who were able to watch the table while I walked around artist alley and said hi to folks. Unfortunately, they needed my phone to process credit card sales, so I wasn't able to take any photos. But suffice it to say, artist alley at this show takes me several hours to get through – if I don't say hi to everyone, and limit my talking time to less than 10 minutes per person I know. That said, I loved seeing everyone I could, and catching up with the few people that I did in the short time I had to browse the alley.
I even received some fan art throughout the weekend, which was a highlight.
C2E2 continues to be an incredible time, with record sales and traffic, incredible talent and strong programming roster, and amazing friends and fans who come back to support year after year. I hope to see you guys again at this show next year!
February 9th, 2018
|
by Trevor

Awesome Comics Theater – A Christmas Snydering
Having had a lot of fun with the Awesome Comics crew filming the previous episodes, Walter was e-mailing me about doing some other projects. He was working on a holiday video, and was wondering if I wanted to reprise my Lex Luthor from the Nostalgia Critic review of Batman v Superman. It sounded like fun, plus I love hanging out with that crew, so I said heck yes.
It was only a few hours of filming, and Walter didn't make me put on the makeup again, so wardrobe and clean up were super quick and easy. Plus, the script was hilarious. Walter enjoys playing his comedic version of Zack Synder, and he does a great job of it. Plus, Doug Walker joined and played his Michael Bay character.
Everyone had a fun time filming, and I really enjoyed the final product. I hope Walter keeps me in mind for future videos he wants to do.
February 7th, 2018
|
by Trevor

Awesome Comics – Favorite Anime
Probably my next favorite topic (besides comics) is anime, although I admit to being a casual consumer of the format. That wasn't always the case. Growing up, I LOVED anime, and would try to get my hands on it anyway that I could. Keep in mind, being the oldest in this video (by many years), coming across anime in my younger days was quite difficult. There wasn't any Adult Swim, no Cartoon Network or anime on streaming video. You had to find some VHS tapes at the local rental place, and they would never (NEVER) have a complete series of anything. You had to scrape and research and find other local stores to see if they had the next video, or go to cons and try to haggle with the VHS vendors to buy complete sets.
And series would rarely if ever make it to TV. Enter Robotech, and my 4 year old self LOVING the series. It was Transformers with a more mature story, more sophisticated characters, and a reason to watch every episode – because it was one big plot.
Now, I know some people think Robotech isn't real anime because it was re-edited from multiple series in the states, once Harmony Gold got the rights to it. However, I've met the guys who own this series, and have talked to the original creators of the Japanese show. The Japanese creators like the USA show better than what they made. And the Harmony Gold folks have a love for the property that parallels my own. They are also fans. And this gives me hope for more Robotech in the future.
February 2nd, 2018
|
by Trevor

Awesome Comics – Does Batman '66 Suck?
Not long after making my first appearance on Awesome Comics, the crew decided to ask me to host an episode. Of course it was a Halloween episode, but I was late in putting together my costume – so instead, we used studio props to put together our outfits (except for Aiyanna…she came prepared).
I grew up watching Batman '66, which I really enjoyed. I admit it's not Batman as he exists in the comics, nor how he's later been portrayed on TV and film. It's also not my favorite Batman. However, for the time, it was a fun version of the character that families could come together and enjoy at night. It was like how Lois and Clark isn't a perfect Superman show, but every week my family was glued to that TV to watch the next episode. It was accessible for kids, fun for families, and because of that will always have a warm place reserved for it in my heart.
That said, I had to moderate the group – who were split into opposing sides. So, naturally, this video was a lot of fun to film.
January 31st, 2018
|
by Trevor
Back in the day, Awesome Comics reached out to me and asked me to participate in some of their episodes. They handed me a list of their upcoming topics, and I figured – why the heck not start with one about opinions? So I did.

Awesome Comics – Favorite Writer and Artist
You can see the full video above. My choices are explained in the video, but I caveat these choices by saying I was asked to provide examples of stuff I owned, and most of my comic collection is not with me right now. So I couldn't pick some of my favorites per se, but was able to pick something a little different and hopefully, make some fans aware of some other creators out there whose work they should check out.
October 27th, 2017
|
by Trevor
THURSDAY:


All set up for selling at Wizard World Chicago

Writer and buddy Russell Lissau's display of books is strong with the Force!
FRIDAY:


Morning comes too early…especially when you stay at home with a baby

Pre-con shenanigans with Russell…

First hard cover for Albert the Alien volume 1 sold! These are limited to 200 copies!

Channel Awesome folks stopping by. From left to right: Heather Ruez, Jim Jarosz, and Walter Banaziak
SATURDAY:


Cosplayers at the con

More Channel Awesome shenanigans. From left to right: Me, Heather Ruez, Aiyanna Wade, and Walter Banaziak
SUNDAY:


Had a blast hanging out with my table neighbor all weekend, the great Mark Kistler (from the PBS series the Secret City)
Playing a bit of catch up on my blogging, but wanted to at least post some notes and comments from C2E2 earlier this year. I know I usually do a full convention report, but I'm hoping this summary will be just as fun.
THURSDAY:
Not an official con day, but because I got set up and was hanging out with people from the con, I include it. I hung out with my good friends John Bivens and his wife, Mallory, and we had some delicious sushi together. We also checked into our airbnb place, which was a nice lofty space within walking distance from the convention center.

Delicious sushi from Union

John and Mallory, mid bite. They didn't want to slow down to pose for a photo – the food was too good!
FRIDAY:
The first day of the con, sales were good and strong. We had some great traffic to the table, another fantastic position (and very kind table neighbors), and some great volunteers and helpers at the table. After the con ended, it was time for our traditional trip to Niu – my favorite sushi place in the city. After dinner, I went to hang out at the hotel bar for a bit and ran into some good friends from the con circuit, but since the hotel was under construction the bar scene was a bit dead. Didn't stay too long or too late. Plus, I'm tired all the time now because of the baby.


Hanging out with my man, Eric Palicki, at NIU for yet another delicious sushi night

The whole crew at dinner

Ordered the Sexy Mexican (my favorite roll), as well as a new seasonal roll that was ON FIRE!

Hanging out with Analise at the hotel bar
SATURDAY:
An early morning, another great day of sales (and a hard day of sales…the isles felt very far apart, so we were really working for those pitches), and more seeing some fantastic people. I was visited several times by my good friends over at Channel Awesome, and we made some dinner plans for later that night. Brad Jones had debuted his new movie, "Jesus Bro!," which sold out in an hour or so. He was ecstatic – and rightly so! After the con ended, we hiked over to China Town and grabbed some delicious food at a popular place (seriously, we had to wait like 45 minutes to get seated, and we didn't go during prime dinner hours – but the food was good, so all was forgiven).
I love hanging out with this group, because they are so friendly, conversational, and super nerdy – like me!


Hanging out with the Channel Awesome crew at dinner. From left to right: Rob Walker, Erin Walker, Doug Walker, Fard Muhammad, Brad Jones, Laura JaneLuke
SUNDAY:
The final day of the con involved moving out of the airbnb, grabbing a delicious breakfast sandwich on the walk to the con, and selling more comics. More of the Channel Awesome crew stopped by, including my friend Aiyanna from Awesome Comics. She enjoys cosplaying, and was appropriately dressed up as Belle from Beauty and the Beast (since the new live action movie was coming out). Her idea was to take a photo with me reading her book, and her reading the book I made (Albert the Alien). She's so much fun.
I also did a couple of sketch card commissions, and sold the crap out of the books we brought. At the end, I packed up my stuff and helped some buddies do the same, and then headed for the long drive back home. All in all, another fantastic show and one I look forward to returning to soon!

Enjoying (perhaps too much?) a delicious breakfast sandwich before the show

Aiyanna Wade (Awesome Comics) is Belle, enjoying reading Albert the Alien while I read her Romeo and Juliet book. Perhaps we both want more than this provincial life

Aquaman sketch card commission

Myself and Josh Elder are ready to sell comics on the final day of the show!
MAD MAX: FURY ROAD REVIEW

This was a fun one. But when Doug reached out to me, I was a little nervous. He told me I'd be playing a Warboy, but they were all shirtless in the movie. Was I going to have to run around with no shirt on for his video?
I immediately hit the gym.
But much to my appreciation, he put me in a white shirt and a thick leather jacket. And thick makeup. That kept coming off, but that's another story.
Doug's direction was hilarious: keep up the energy and testosterone. Everything we did involved shouting, head butting, and extreme facial expressions. I even head-butted Doug during a take early in the video, where we needed to get nose-to-nose. But both of us wear glasses normally, so without them we had limited depth perception. So we almost gave each other a bloody nose.
We also did a lot of improve in the car, which was fun. The whole searching for the explodey stick and then saying, "I never learned how to read." I was happy Doug kept that in. It even showed up for a while in his opening credits.
All in all, this was a very fun video to participate in. And I LOVED the movie, so that made it all the more special.
February 10th, 2017
|
by Trevor
The Matrix Revolutions Review

Doug went through a review month dedicated to The Matrix movies, which was a favorite series of mine (well, the first movie, anyway), but less so for Doug. None-the-less, always on the lookout for a part of for the bald man (and forgetting my inability to memorize dialogue from the Last Airbender review), Doug invited me to be in another of his reviews. This time with a LOT of dialogue, and finally appearing in a scene with Malcolm and Tamara while we were in the room together.
My appearance starts at 22:09 in the video, and it calls back to another favorite movie of mine. I won't spoil it for you, but if you haven't seen the movie I'm the reference for, I would recommend changing that. This video would also lead to me doing more dialogue in my appearances with Doug, which is always a fun time.