Posts Tagged 'comic creator's alliance'
5 items.
December 12th, 2013
|
by Trevor
Comic Creators For Freedom!
In years past, I've participated in the very worthy cause raising awareness of modern-day slavery known as Human Trafficking. Children are being trafficked and raped daily and slavery is one of the darkest stories on our planet. This physical, mental and emotional trauma can leave children broken and scarred for life. Love146 works toward the abolition of child sex slavery and exploitation through Prevention and Aftercare programs.
This year comic creators assembled under Lora Innes and Crystal Yates and together with 166 other comic creators, we got together and made a huge wallpaper spotlighting one of our characters in their awkward school picture! Albert is headlining our submission, and if you donate any amount you get a wallpaper download of all of the awkward school photos!

January 11th, 2013
|
by Trevor
January 11th is National Human Trafficking Awareness Day.
Human Trafficking won't end until awareness is raised, and people like you and me take a stand. Learn more here. (Note: contains adult themes and actual accounts of sex slavery.)
There *will* be a 2013 Comic Creators for Freedom Drive, but we will be holding in on International Abolition Day (December 2nd) rather than National Human Trafficking Awareness Day (January 11).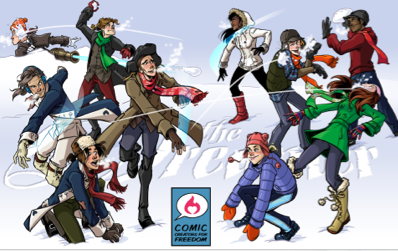 If you make a donation to any organization who is a part of this fight on January 11th and forward Lora Innes your receipt, she'll send you one of the Dreamer short stories and 2012 The Dreamer Cast Snowball Fight wallpaper back as a Thank You for helping out in this important cause!
A few of our favorites are Love 146 (International), Gracehaven (Ohio), and GEMS (New York City).
January 24th, 2011
|
by Trevor
Last year I participated in the Comic Creator's Alliance (CCA), founded by Lora Innes (The Dreamer). This non-profit runs from January 11 – January 25 to raise money to fight human trafficking. Most of human trafficking is sexual slavery, and it's important that this is stopped – which is why I participate in the fund raiser every year without hesitation.
Last year we raised over $10,000 for the CCA, and 100% of those proceeds went to help stop human trafficking. This year we're doing it again, and there's only ONE DAY LEFT to donate to the cause.
Any donation is accepted, and for your donation you receive an awesome one-of-a-kind poster from 100s of web comic and professional comic artists from around the world. Below is a promotional video with more information.
If you want an awesome poster AND the chance to make the world we live in a better place, be sure to donate to this awesome cause today.
January 10th, 2010
|
by Trevor
"Never doubt that a small group of thoughtful, committed citizens can change the world. Indeed, it is the only thing that ever has."
-Margaret Mead
Monday, January 11th is National Human Trafficking Awareness Day. To participate, we formed the Comic Creator's Alliance–a group of over eighty comic book creators (both web and print) who volunteered our artistic talents to raise money and awareness for this cause. You may not know it, but there are currently 27 million enslaved people worldwide- more than double the number of enslaved Africans during the trans-Atlantic slave trade. UNICEF estimates that 1.2 million children every year are sold into slavery, most of it sexual. The US Department of Justice estimates 16,000 victims of human trafficking are brought into the United States every year. Unlike slavery in the 19th century, what is happening today is happening in secret. So it won't end until awareness is raised, and people like you and me take a stand.
So here's what we did: each creator contributed an original drawing of one of our own female characters, and combined them into a single wallpaper image. The wallpaper features characters from The Phoenix Requiem, Girls with Slingshots, Earthsong, Looking for Group, Shadowgirls, Marsh Rocket, The Uniques and three IDW Publishing titles: Fallen Angel, The Dreamland Chronicles and The Dreamer, and lots, lots more! Donate today to download this unique, once-in-a-lifetime wallpaper. The Donations Drive will last for two weeks, from January 11th – 24th. All proceeds will be split evenly between Love146 and Gracehaven House- two organizations working on rehabilitation of victims and prevention of this crime.
To learn more about the Comic Creator's Alliance visit www.comicalliance.weebly.com. To learn more about the problem, visit http://love146.org/slavery. (Note: contains adult themes and actual accounts of sex slavery.)
November 17th, 2009
|
by Trevor

Comic Review: The Dreamer
Writer / Artist: Lora Innes
Publisher: IDW
Website: www.thedreamercomic.com
Plot: Beatrice is your average teenage girl who wants to get the lead in the school play and to date the cute boy. But when she falls asleep she dreams about living a life during the Revolutionary War. As she delves deeper into the life of the characters fighting to create an independent nation, she starts to question if she truly is dreaming…or if there's something else going on.
Lora Innes is the twice-Harvey Award nominated (and winner of multiple other webcomic awards) writer and artist of The Dreamer, and also a good friend of mine. Her pages are absolute gold, and you can see her style evolve even within the first six issues collected in her first trade from IDW. The characters are interesting and believable, the dialogue is delivered realistically, and the level of detail put into the outfits – in both modern times and the past – are absolutely spectacular. Whenever Bea dreams is when this comic shines, and it's a fascinating and historical ride.
Lora balances tense dramatic scenes, action, and even a little comedy into the mix for a story that spans the ages. By the end of the first book you want to know not only what's going on with Bea and her time-spanning dreams, but also how her trips may affect her in the present.
Lora has also just started a charity auction (which includes Thom Zahler, Barb Jacobs, Alan Evans, myself, and about 50 other creators) to create a wallpaper to help raise money to put a stop to human trafficking (AKA: modern day slavery). She has some frightening statistics and a personal story about it on her website, so be sure to check it out and help contribute.