Posts Tagged 'comics'
17 items.
In case you didn't know, I have a newsletter that comes out every 2-3 months. It talks about my comics, my process, gives some behind the scenes on new projects I'm working on, we sometimes do free giveaways and surveys, and more!
If you want to join in on the action and check it out, please sign up below!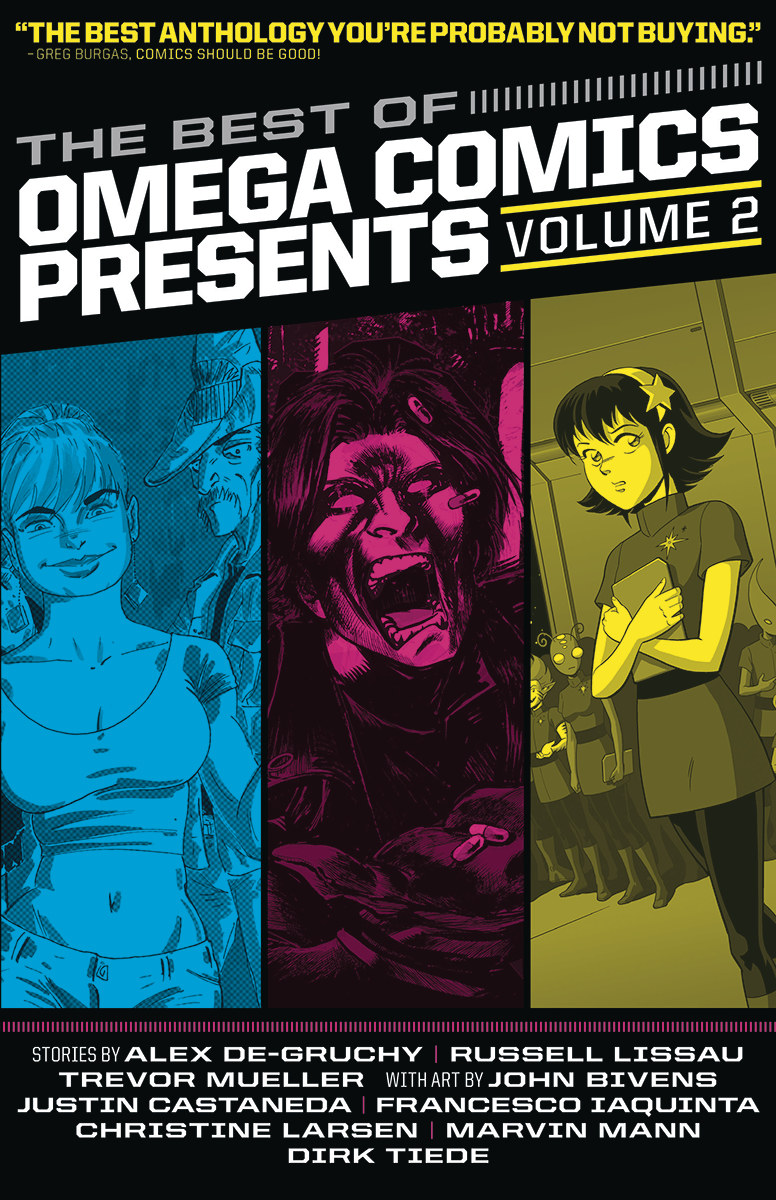 My latest story, LOS OJOS, is being collected in a graphic novel that will be available at your local comic store! Artwork by Francesco Iaquinta. It will be collected with several awesome stories from creators, including my pal Russell Lissau, from publisher Pop! Goes the Icon.
Orders are due July 18, so please order today! DIAMOND ORDER CODE: JUL161850
└ Tags:
assassin
,
comics
,
diamond
,
graphic novel
,
hitman
,
los ojos
,
monsters
,
pop goes the icon
,
pre orders
,
russell lissau
,
trade
,
trade paperback
January 11th, 2016
|
by Trevor

I have a new book coming out on January 13 (digitally; January 20 in select retailers) called LOS OJOS. This story will be release as part of the Omega Comics Presents relaunch in 2016, which is an anthology of single-issue stories.
The story is about a contract killer who sees his targets are monsters, and on his latest job he sees something he's never seen before. The book is a 25 page story, black and white, and if successful then we may spawn it into a mini-series. Art is done beautifully by an Italian artist named Francesco Iaqinta. There's a 5 page preview on the publisher's website, which you should totally check out.

TITLE: Los Ojos
WRITER: Trevor Mueller
ARTIST: Francesco Iaqinta
PUBLISHER: Pop! Goes the Icon
WEBSITE: http://www.popgoestheicon.com/2015/12/27/demons-fear-what-los-ojos-see-in-the-latest-issue-of-omega-comics/
FORMAT: 25 pages, black and white
RELEASE DATE: January 13 (Comixology); January 20 (select retailers)
2014 is off to a (cold) start, and I'm still finalizing my convention appearances for the year. However, at this time the below shows are confirmed for 2014.
C2E2

Chicago, IL

April 25-27
ACEN

Rosemont, IL

May 16-18
Anime Mid-West

Rosemont, IL

July 4-6
Anime Iowa

Coralville, IA

July 25-27
Wizard World Chicago

Rosemont, IL

August 21-24
New York Comic Con (NYCC)

New York City, NY

October 9-12
Mid-Ohio Con
Columbus, OH

October 31-November 2
A few of my regular shows have been cut back this year, since I'm on rotation (a typical thing for conventions to do every year or so, to keep their guest roster fresh). However, I'm also putting a few back on the list – and I'll have a number of new books out this year to boot!
More shows may be added later this year as I keep having conversations with the conventions. If there's a show where you would like to see me make an appearance, please reach out to the convention and ask them to contact me about appearing.
Looking forward to seeing you in 2014!
└ Tags:
acen
,
anime
,
anime central
,
anime conventions
,
anime iowa
,
anime midwest
,
appearances
,
c2e2
,
comic conventions
,
comics
,
conventions
November 1st, 2010
|
by Trevor
I don't normally pimp too many things on this site, but you should pre-order the TGT Webcomics Cookbook.
What started out as a simple idea of doing a cookbook based around webcomic characters has blossomed into a full fledged campaign to help raise money for the hungry in North America. "Webcomics: What's Cooking?" is that cookbook that will feature dozens and dozens of recipes from popular webcomic creators showcasing a variety of recipes from Breakfast to Dinner and a few things in between!
The cookbook will feature a full page, custom created comic from each participating artist along side a favorite dish or beverage. From Alien Cupcakes to Alamo Queso to Chicago style Deep Dish Pizza, you are sure to find a dish that will satisfy your hunger. The concept behind the cookbook is "Feed Your Family, Feed the World". You purchase the cookbook and receive all these wonderful recipes to create for your family or friends and the proceeds from the project go to Canadian and American National Food Banks to help feed those in need. You couldn't ask for a better combination. Satisfy your hunger and those in need as well.
The book will be available October 30th in time for Canadian and American families to celebrate the Thanksgiving season. With the help of sponsors and a Kickstarter project, the first 1000 copies of the cookbook will be available in time for Thanksgiving. With your help, this year we'll bring a thousands of needy individuals and families a good meal and more.
Go pre-order this book! Makes a great holiday gift for the chef (and comic lover) in the family!
September 9th, 2010
|
by Trevor
This weekend I'll be attending two events (somehow at the same time): One is CECE, where I'll be a guest of honor. The other is an all-ages workshop I'm putting on at the library teaching kids how to make comics.
Hope to see you at one or both of the events!
Reading With Pictures Workshop
Date: Sat. September 11, 2010
Time: 11:00 am – 12:00 pm
Location:
Sulzer Regional
4455 N. Lincoln Avenue
60625
Program: School Age Programs (6-9 years)
About this event:
Comic writer Trevor Mueller teaches kids the basics of storytelling, how to write dialogue, and how to make their own comics. There will even be a reading from his latest all-ages story: 'Albert the Alien is New in School,' published in the Reading with Pictures anthology. Copies of the anthology will be available for purchase. For children ages 6 yrs and older.
Registration:
Please call 312-744-7616, extension 3 to register.
Hey gang, I want to apologize for the lack of regular updates for @$$hole! lately. It's not that I've taken a departure from comics – in fact, quite the opposite. With the release of my first published story (non self-published, that is), I've been super busy working on the next published work. Between that and work and trying out a social life for a few weeks (which culminated in failure this evening over text message), I've been a busy bee.
There won't be any @$$hole! comics this week, I'm afraid. But I'm keeping track of the number of pages that haven't updated, and I'm going to make it up to you all with some black and white updates (or more photo comics) soon.
I'm happy to say that @$$Hole! was nominated in the 2010 Drunk Duck Awards for best Photo Comic 3 years in a row! The nominations are all voted on by the readers, so I thank you all for the nominations and for liking the comic so much. The least I can do is update the darn thing. Just give me a little time. Winners get announced at the end of August, so maybe we'll pull of a win this year. Fingers crossed for me.
I'm going to try to blog a bit later this week with the photos from the Reading with Pictures premiere signing event at Challengers last weekend. It was a blast of a time, and we sold a crap-ton of the book. I'll be pimping the work at Chicago Comic Con next week with many of the book's contributors, including John Bivens, Steve Wallace, Russell Lissau, and many more!
Alright, that's it for me for now. Gotta rest up and review this script draft before sending off to the editor.
The comics have been updating on time, I've just been swamped playing host to the greatest group of friends in the world. This past weekend was C2E2, and I had Russell Lissau, Joe Dunn, Phil Chan, Steve Wallace, and the brother's Heinowski staying with me for the event. It was a fun time, and great to get to hang out with my comic friends.
And entire weekend of geeking out with your best buds is fantastic…but also exhausting.
I plan to do a convention review soon (once I finish compiling pictures from everyone), so be on the look out. In the meantime, be sure to check out last week's @$$hole! pages as well as today's Temple page.
Later!
T
└ Tags:
c2e2
,
chicago
,
comic con
,
comics
,
conventions
,
digital pimp
,
joe dunn
,
kick-ass
,
movie reviews
,
phil chan
,
russell lissau
,
steve wallace
,
temple
December 18th, 2009
|
by Trevor
It's been a hellish week at work. I got sick on Tuesday, but had so much left to do that I opted to work from home (in between bouts of vomiting in the bathroom). I left better the next day and went into work early to finish up work stuff…and stayed until 11pm. Then last night when I was going to get comic stuff done, I had to stay until 9:30pm to finish an emergency project for the next day.
When I got home i just passed out on the couch.
So sorry that there won't be a comic update today. This is the first update that I have missed in 2009, and my goal was to miss none. I'm not going to beat myself up because I know that the circumstances were grim, but still – it's hard not to be disappointed when I was so close to accomplishing the goal.
Comics next week. I'll bust ass this weekend to get everything done that I can.
November 27th, 2009
|
by Trevor
Here is the beginning of the series of pages that I did for Heroes Unite. I contributed 6 pages total to this jam-style story. Fun stuff. Colors by Nepath.