Posts Tagged 'conventions'
41 items.
I am happy to announce that I will be a returning guest of honor at Anime Midwest this year in Rosemont, Il. The show will take place July 6-8, and boasts some incredible guests (some of which I'm geeking out about to share the stage with, and get to meet this weekend as well). I'm going to be set up in artist alley throughout the day, and will also be hosting some fun panels throughout the weekend. My schedule is below.
Hope to see you at the show!
FRIDAY:
Opening Ceremonies (Grand Stage) – 12:00pm to 12:50pm
Tabling at Conventions (Panel Room 4) – 7:00pm to 7:50pm
SATURDAY:
Crafting Fictional Worlds (Panel Room 4) – 6:00pm to 6:50pm
SUNDAY:
How to make your own comics (Panel Room 4) – 11:00am to 11:50am
February 23rd, 2018
|
by Trevor
Convention season is officially upon us, and has started off with a bang! Anime Milwaukee continues to be my first con of the year, and continues to set the bar – AND HIGH – for the rest of my convention experiences this year. I was a returning guest of honor, and had fantastic panels (with high attendance), and great sales on the floor. The staff and volunteers continue to make an experience worth having – and attendance increased over 10% this year, breaking the 10,000 mark!
A special thanks to all the staff, volunteers, and guest relationships folks who keep bringing me back and giving me a wonderful experience – one I encourage each of you to come have next year! This was my 8th year (out of 11) returning as a guest of honor, and I keep coming back for this same reason: the show is great, and I love being there.
THURSDAY:
After work, I packed up the car and headed over to pick up my buddy (and fellow guest of honor), Russell Lissau and his daughter. It was the first time I was car pooling with him in my new SUV, and I knew I would have enough room for his stuff, but was impressed I was able to fit all my stuff into only half of the trunk. Either my packing skills have gotten better over the years, or this car is much more massive than I originally thought. Or both!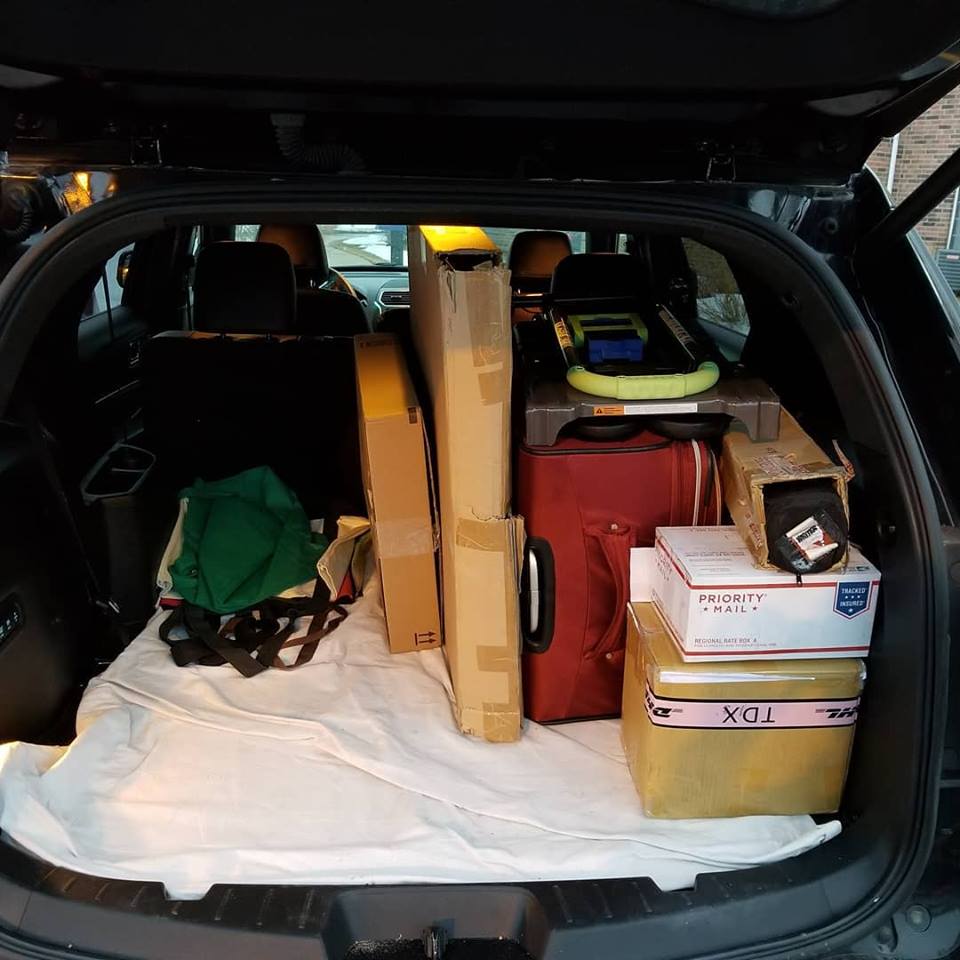 The trunk of the car, saving half of it for my buddy Russell – but was impressed that I was able to fit into half of it
We grabbed a quick dinner at a local burger place, and then headed up to the convention center. In no time at all, we arrived and unpacked. Despite having a dolly this time, it still took me several trips to get my stuff down to the floor (hey, my first year with merch…I'm working on it). Once there, I started to set up that night because I knew I would need a little time to play with the configuration. With a 3 foot book display, and a 14-inch vertical merch display, there wasn't a ton of real estate on the 6 foot table for me to set up all of my stuff…so I'm glad I gave myself the extra time to experiment.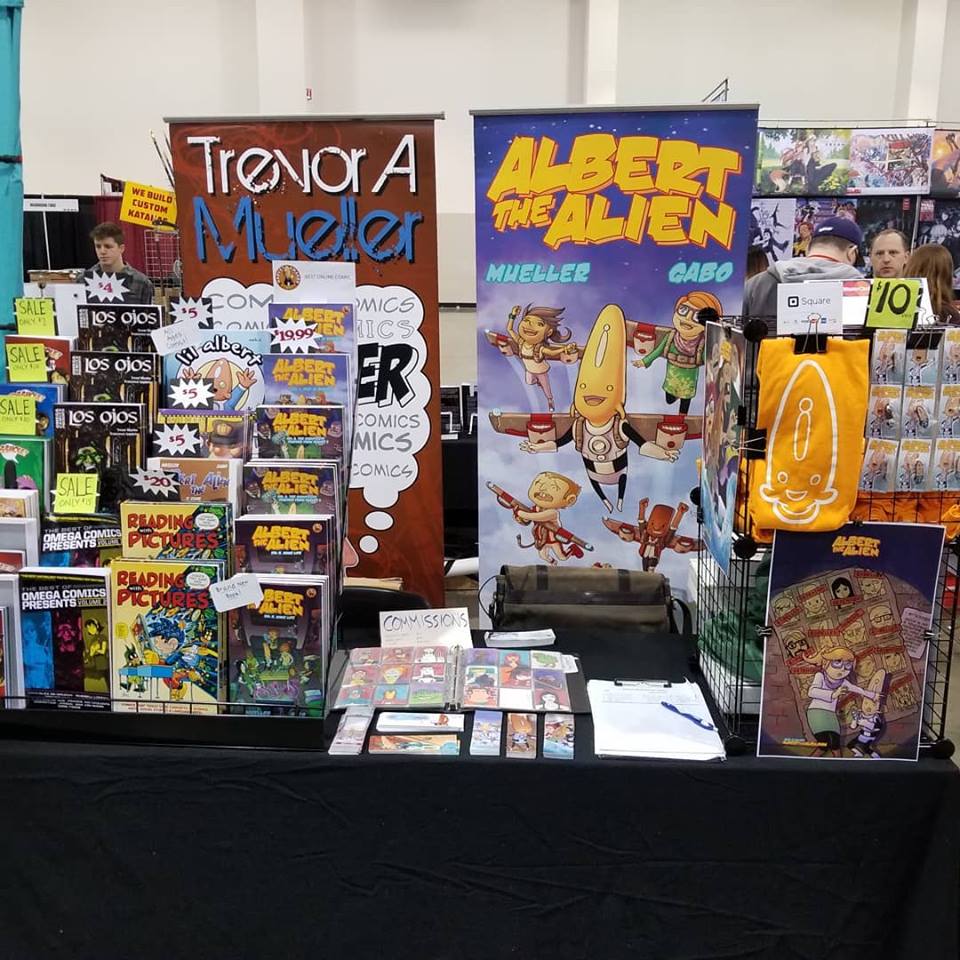 The booth, now with t-shirts, posters, and pins!
After setting up, the group went to the green room and had some food. We met a few of the handlers and some of the Japanese guests, and had a little food, but ultimately went to bed early – which is almost unheard of on a con weekend. But, thankfully, it helped set the tone for what would be an excellent weekend.
How late do you usually stay up at a con?
FRIDAY:
Friday morning we all went to the gym in the morning, including my buddy Russell (who NEVER joins us in the gym). I like to start my weekend with a healthy workout, as it keeps my energy high (and gives me a big appetite for breakfast). We headed over to the restaurant across the street from the hotel for a meal, and then went to the floor to finish setting up our tables before Opening Ceremonies.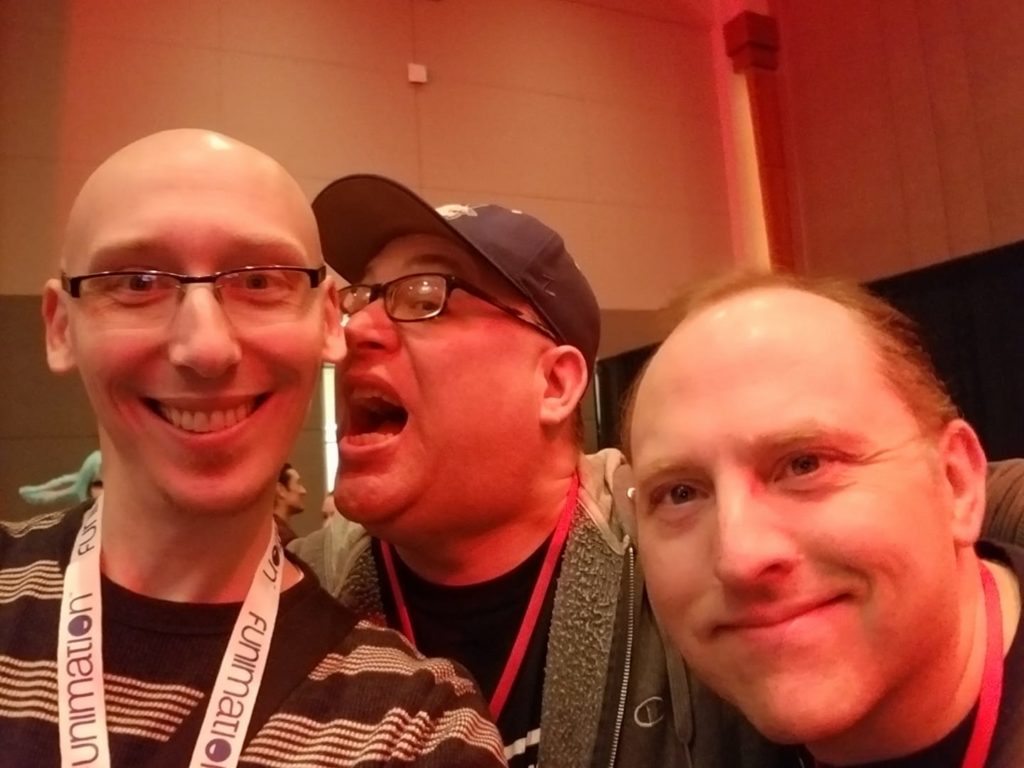 Behind the curtain at opening ceremonies with my comic pals, Russell and Alan
The comics crew headed over to Main Programming for Opening Ceremonies, and got to see the guests – many of which I hadn't seen in ages, and some of which I hadn't ever met before (despite attending multiple cons as guests together). All of the big voice actors were there, many of the cosplay guests where there in costume, and Samurai Dan and his wife were there with the dogs (which is always a hard act to follow on a stage). We all said our hellos, and then Jon St John – the master of ceremonies – introduced us all. He had a teleprompter in front of him with our names and bios (which were also displayed for the audience), but despite that he still got my name wrong, which would become a running gag throughout the weekend.

Opening ceremonies, this bald guy gave a talk for a while. It was fun. He was good looking. You should buy comics from him
After energizing the crowd, we headed back to the floor for finalizing set up and for the flood of people piling into the show. The day went by quick, but was a ton of fun. I also had a Writing for Comics panel at 2:30pm, which followed Alan's first Making Webcomics panel. I arrived a little early, and he handed some tougher questions about overcoming troupes to me. I participated in his panel and had some fun, but then immediately started into my panel. Attendance was solid, and I had some great engagement from aspiring writers (and some artists). After the panel ended, I went back to floor and continued selling until the end of the day.
What kind of programming content do you like to attend? What attracts you to a panel? The topic, or the panelists?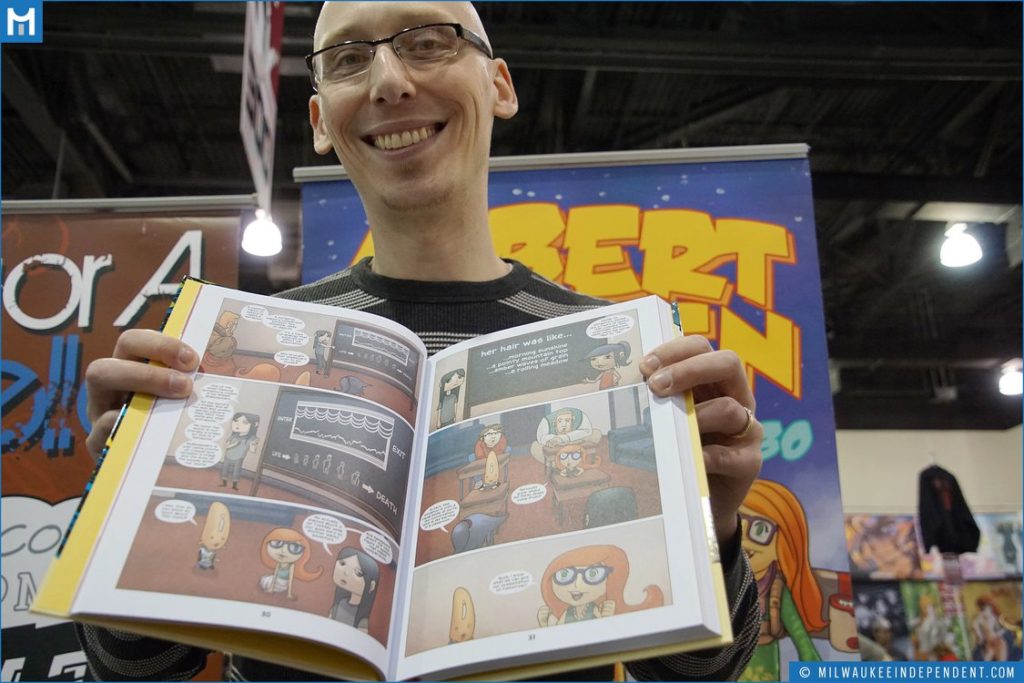 Showing off the product for some photos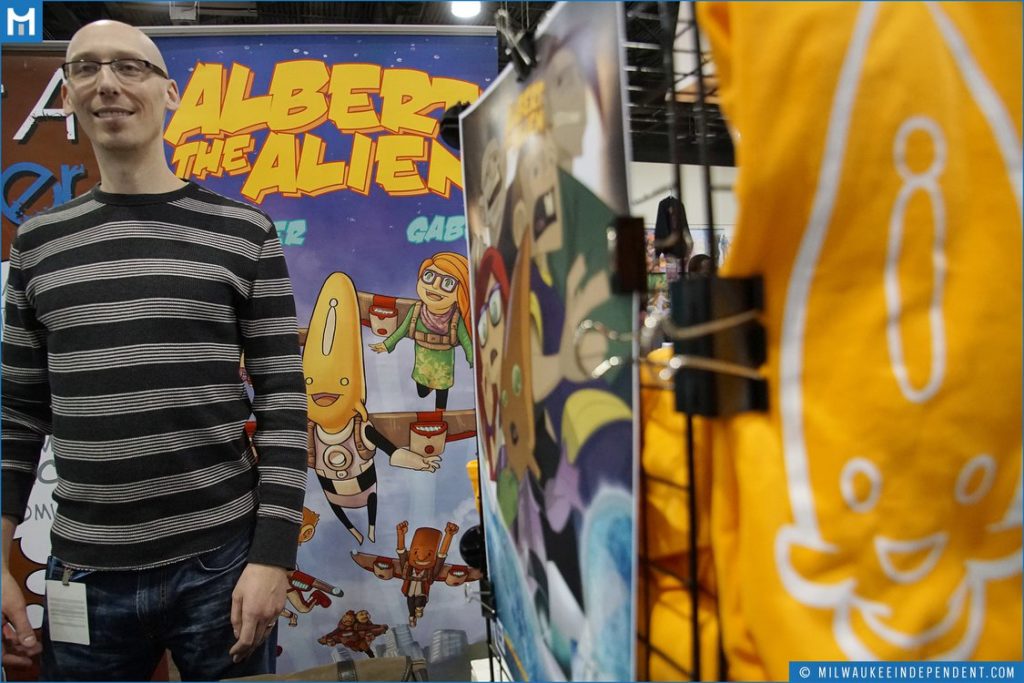 Standing and talking to photographers at the booth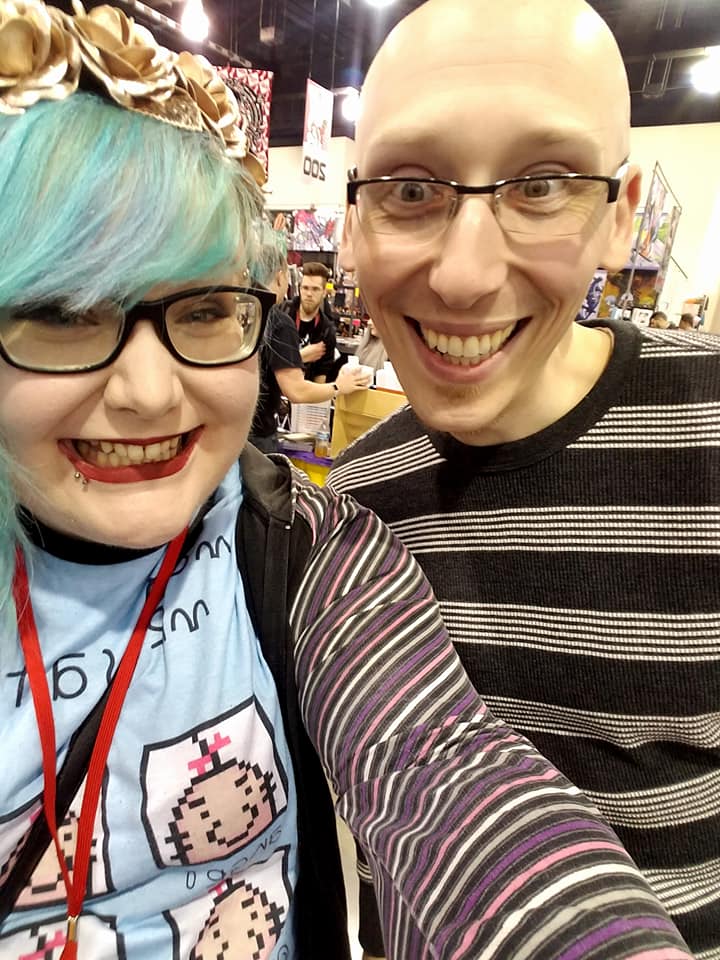 With the ever-incredible Mel!
After the floor closed, we headed to our rooms to grab some food (pizza from a nearby Italian restaurant we've never tried), and then went to the green room for some group toasts. It was the 30th anniversary of Final Fantasy, and many of the voice actor guests had done work for the FF games series. At the same time, we were toasting for our absent friend, Gyu, who has been a major presence in our lives both in and out of the con world. Gyu's absence was celebrated with a few fingers of 30 year old scotch – something he would enjoy – and it was a chance to talk to some of the voice actors I had not had a chance to meet previously.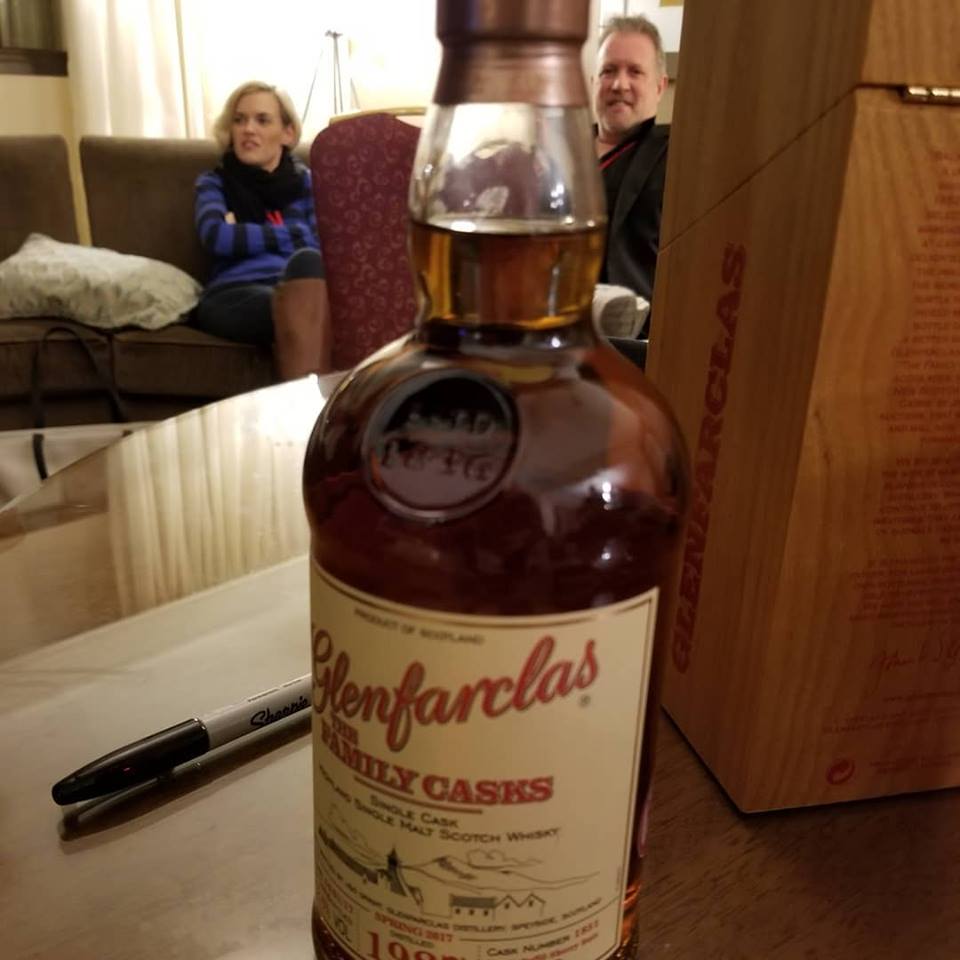 30 year old scotch in the green room, toasting the 30th anniversary of Final Fantasy (with photo bomb by Kari Wahlgren and Jon St John)
After the toast, we went to the VIP event in the top of the hotel, and hung out with fans. I got to talk to Johnny about his new band, and we talked merch (since I've been dabbing in t-shirts and pins, and he's looking at experimenting with some new stuff to sell at concerts and cons), and then we split so we could hang out with the fans. A number of Channel Awesome fans found me and started chatting me up, which was a blast. I got into some very impassioned talks about good and bad movies, which started to make me lose my voice (not good!), so I finished the evening listening to what they enjoyed (or didn't) about certain movies. After the VIP event, we went back to the green room for a quick snack, and then we all went to bed again (rather early by comparison to previous years). The rest was much appreciated.
SATURDAY:
Saturday morning started as all the rest do – got ready, grabbed some grub (this time at the Hyatt restaurant), and then went to the floor to set up and start selling. And sell I did! Man, the crowds were massive and the desire for original art and commissions was high! I loved it!
Around noon or so, Gabe and I went to our How to Draw an Alien panel, and re-arranged the room so it was more appropriate for a workshop. We gathered everyone around a few tables with paper and stuff to draw with, and we started talking about aliens and Gabe's method of design. Then we built our own alien creature together. His name was Bob, and he worked in corporate finance. We then designed his boss – a stop light with each light showing a different emotion. We then opened up the group to free design their own support staff – janitors, HR, marketing, and one guy even made a transportation alien. It was a lot of fun, and we all shared and had a laugh at the fun creations we had made during the class. After, we packed up the room and went back to our tables to keep selling for the day.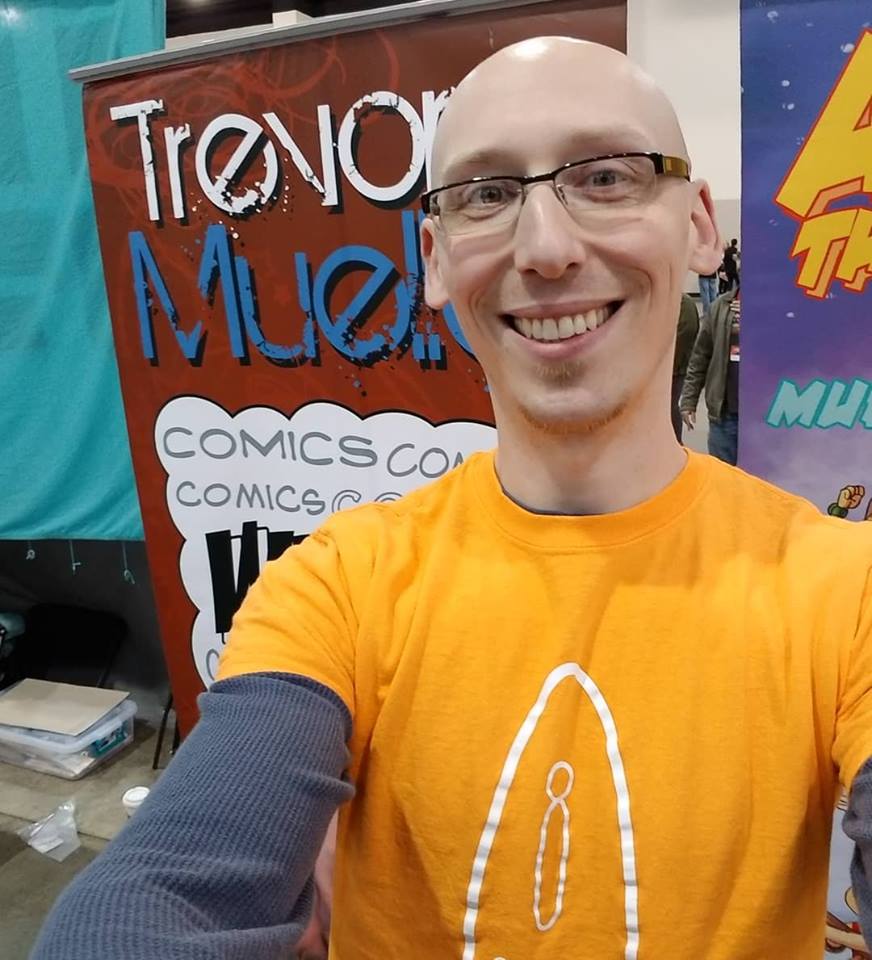 Come buy comics from this man at AMKE 2018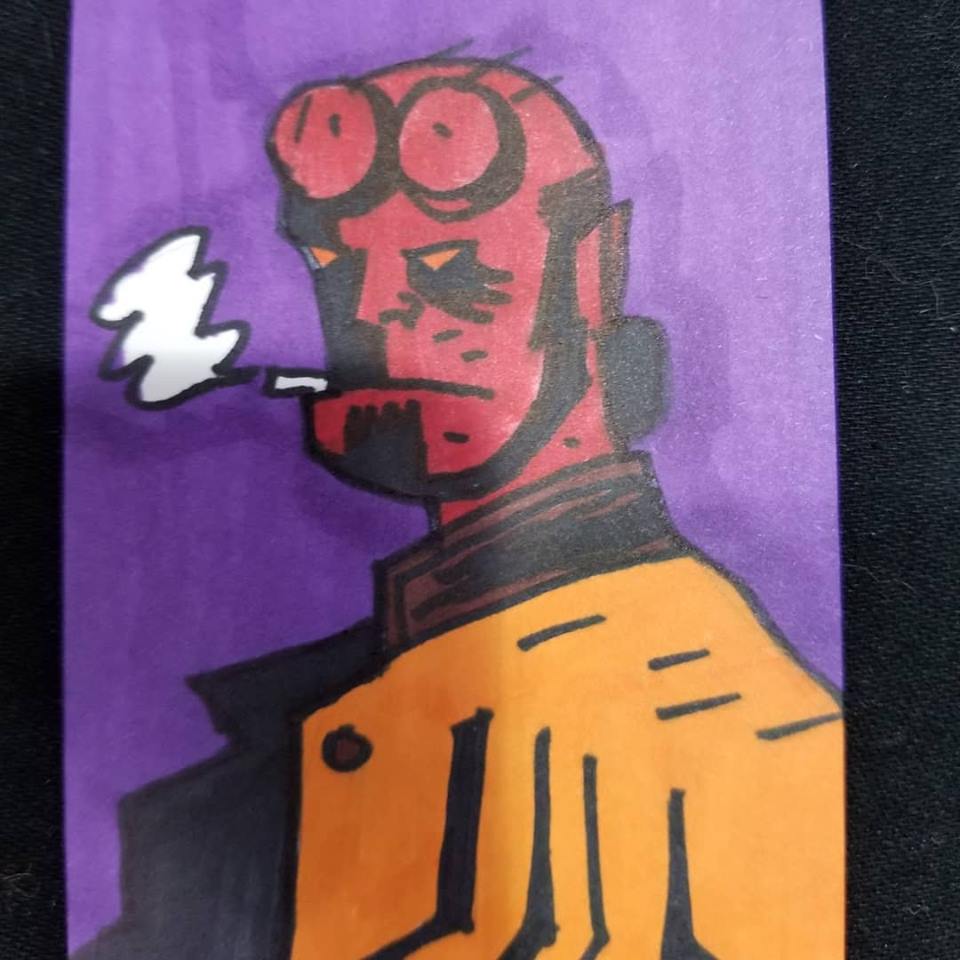 Hellboy sketch card commission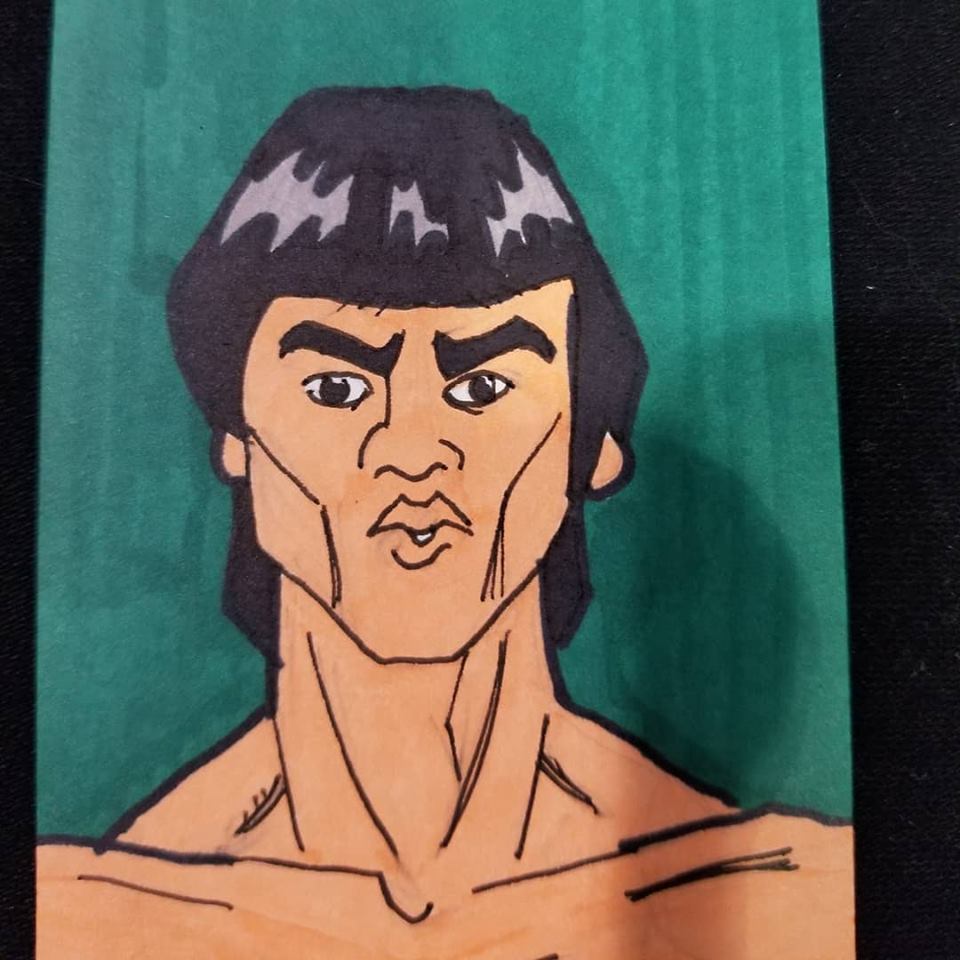 Bruce Lee sketch card commission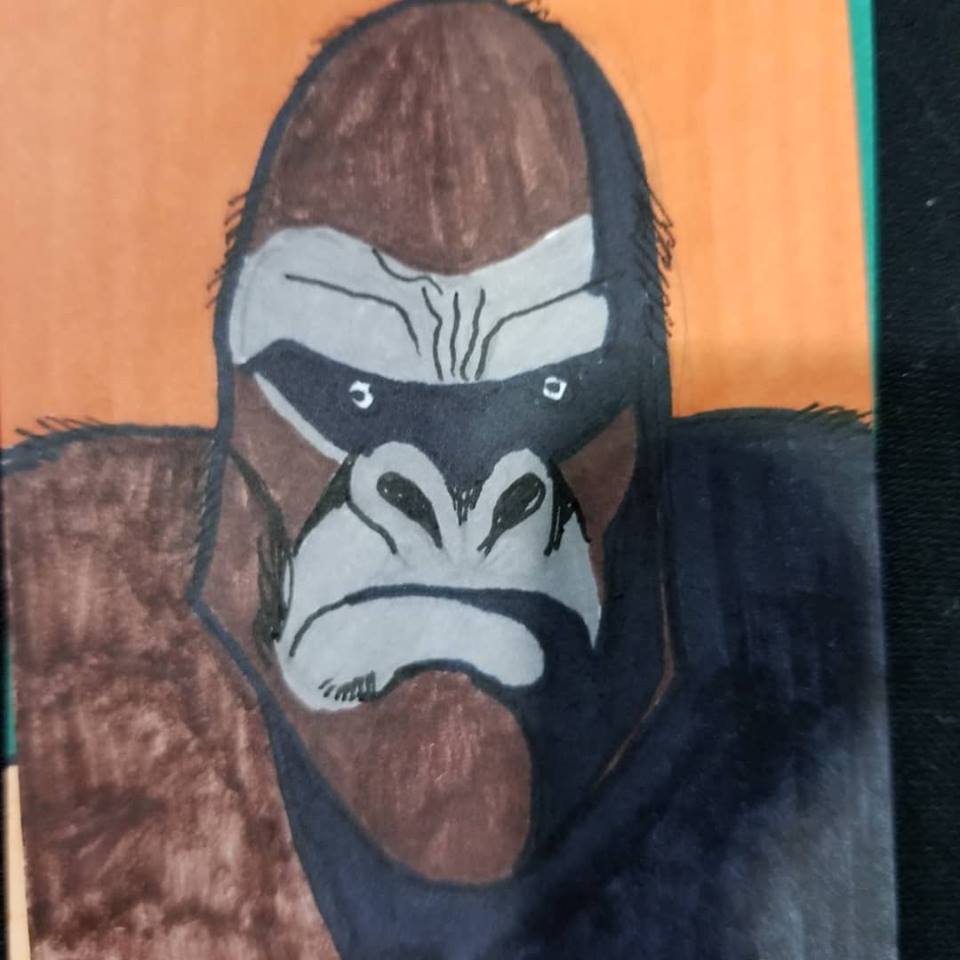 King Kong (from Skull Island) sketch card commission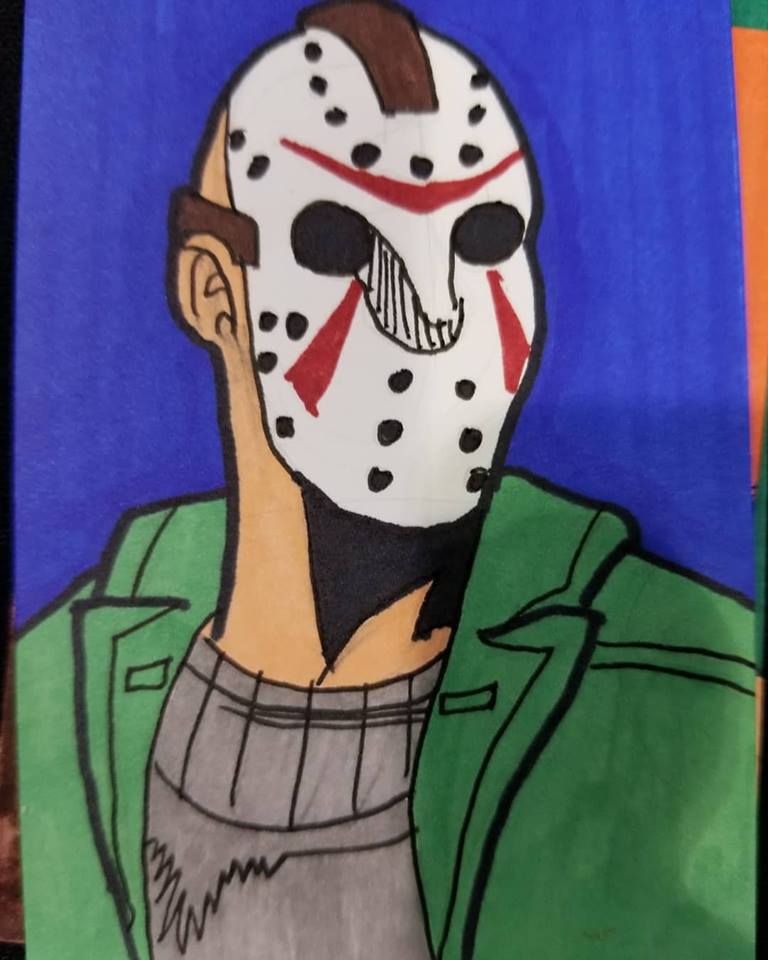 Jason (from MKX) sketch card commission
After the floor closed, I met up with my friend Lauren, who had driven up from Chicago to see me and hang out with our mutual friend, former Power Ranger Johnny Yong Bosch. The group went to the Thai restaurant across the street (a big mistake, because even with reservations we were delayed in being seated, and the service staff was overwhelmed with the volume of patrons). We eventually got through the meal, and headed back to the hotel to have drinks with some staffers who we've been promising to hang out with for some time. Lauren left to hang out with Johnny, who was grabbing dinner with Samurai Dan and his family, while we finished drinks. A homeless entered the hotel and tried to solicit drinks from us, which was not cool, and eventually hotel security scared him off.
After drinks, we went to go play Cards Against Humanity with Dan and Jillian, which ran until a bit after midnight. After, I retired to the green room with Johnny and Lauren to watch some Olympics and keep hanging out. Around 2am, we decided to call it a night. Johnny and I were going to grab breakfast in the morning anyway, which would come far too early for either of our preferences.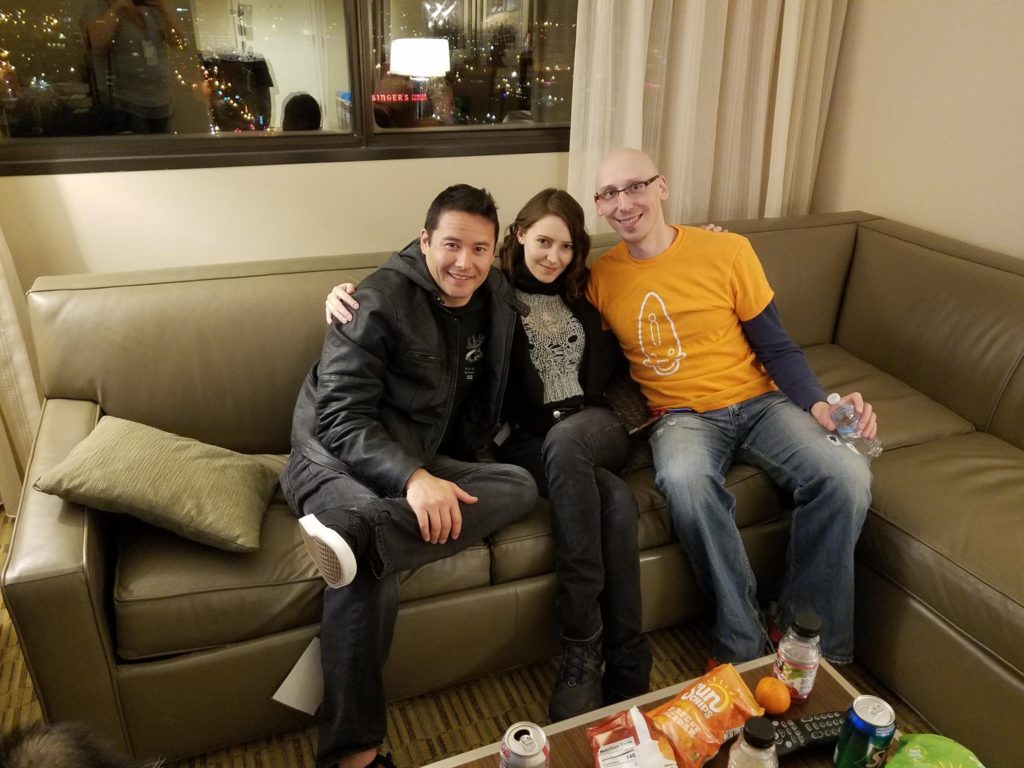 Got to spend a fine evening hanging out with two of my favorite people, Johnny Yong Bosch (Power Rangers) and Lauren Marie
SUNDAY:
I packed up my room and loaded up the car, and then headed to breakfast with Johnny. We talked more about his band and musical experiences, about our families and what cons we enjoyed attending. It was a fun time, and something I don't get to do nearly often enough because of the late nights and tight schedules many cons keep us on. It was very refreshing to get to hang out with my friend and just share a meal. After breakfast, I headed to the floor for a final day of sales – and boy oh boy, did the trend get set early in the weekend, because they were a flood.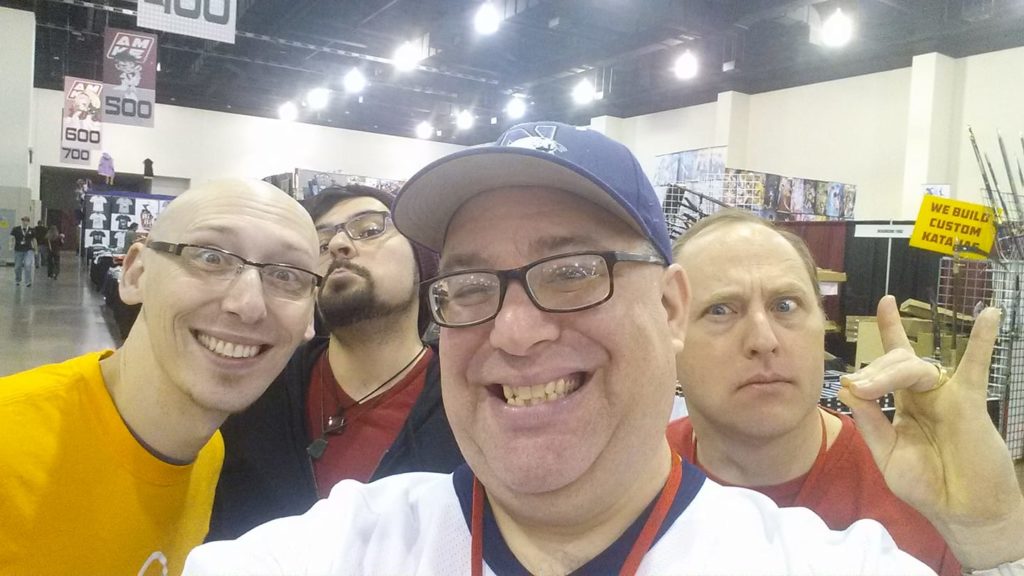 Hanging with the comics crew in artist alley before opening. From left to right: Trevor, Gabo, Russell, and Alan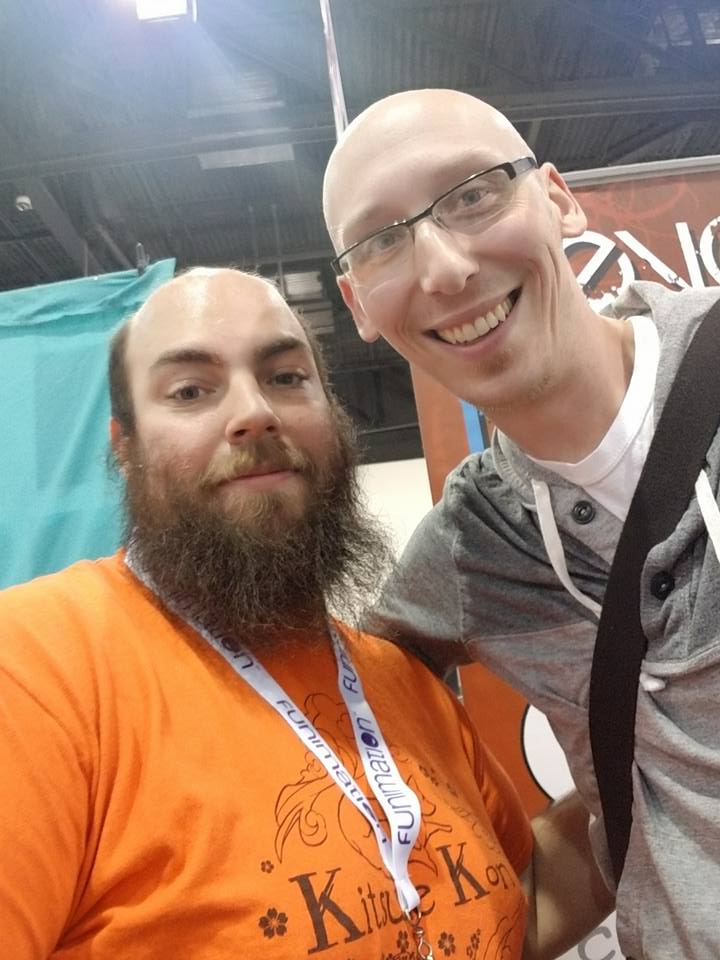 With my buddy Shoulders Hernandez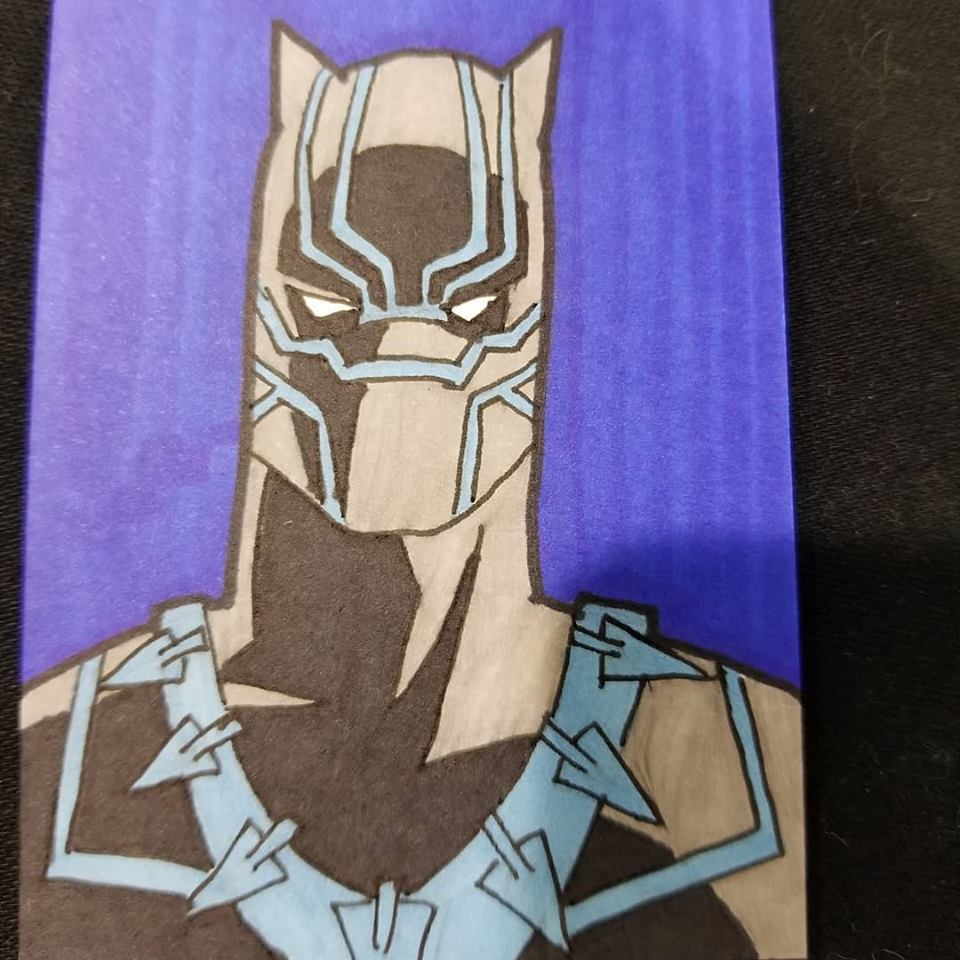 Black Panter sketch card commission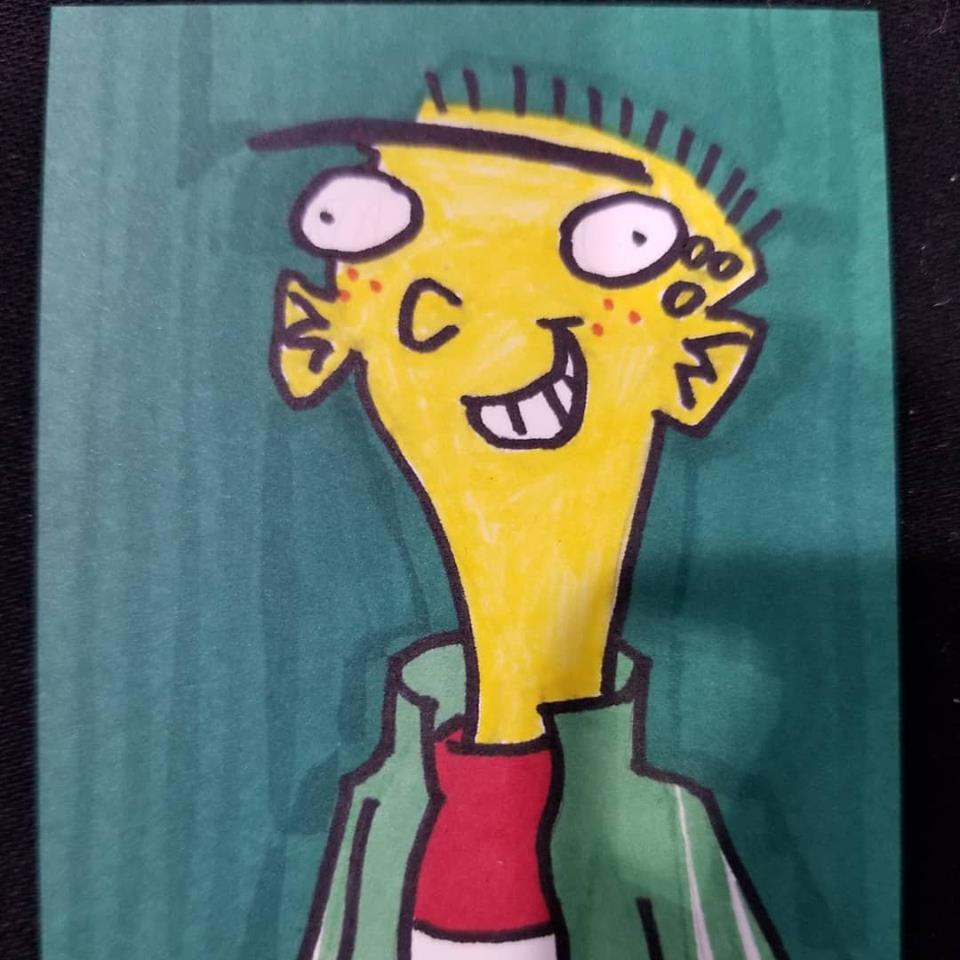 Ed (from Ed, Edd, and Eddy) sketch card commission
Around noon I did my final panel for the weekend, which was Crafting Fictional Worlds. This panel by far had the most attendance of any panel of the weekend, and the group and I had a lot of fun talking about what to reveal and what to imply in stories, how to balance telling vs showing your world through visuals or exposition, and many more topics. I didn't get to answer every question people had at the panel, sadly (if you attended the panel and are reading this, ask me now!), but that's what happens when you have 75+ people in a room and only an hour for a panel.
I returned to the floor for the final hours of sales, and Johnny stopped by to say his goodbyes. I gave him a hug and a pin for his daughter, and then started to pack up my stuff.
Anime Milwaukee was another incredible con, with great attendees, staffers, and volunteers. I'm always incredibly humbled and honored to be invited back, and hope to return yet again next year!
January 13th, 2017
|
by Trevor
I'm back, and we're still making comics. Sorry for being silent for so long, but I've been focused on Albert the Alien, my Patreon, and putting together convention appearances for 2017. I'm doing less cons in 2017, due to having a newborn, but will be back to full force in 2018.
That said, below is a list of the confirmed appearances I have for 2017 so far:
Forrest Park Library FlipCon
Forrest Park, IL
January 14
Anime Milwaukee
Milwaukee, WI
March 17-19
Anime Boston
Boston, MA
March 31-April 2
C2E2
Chicago, IL
April 21-23
Free Comic Book Day – location TBD
Illinois
May 6
ACEN
Rosemont, IL
May 19-21
Wizard World Chicago
Rosemont, IL
August 24-27
New York Comic Con
New York, NY
October 5-8
July is the heart of convention season, and I have some appearances coming up for shows that you will not want to miss! I will be returning as a guest of honor to these amazing shows. We will be doing some panels, filled with my signature brand of education and entertainment. I hope to see you there!
Anime Mid-West
Rosemont, IL
July 8-10
FRIDAY:
– Panel Room 4: Kickstarter for Beginners (9:30pm to 10:20pm)
SATURDAY:
– Panel Room 1: Self Publishing 101 (3:00pm to 4:20pm)
– Panel Room 5: Making Webcomics (6:00pm to 6:50pm)
Anime Iowa
Coralville, IA
July 29-31
SATURDAY:
– Panel Room 2: Starting Your Own Webcomic (9:00am-10:00am)
SUNDAY:
– Panel Room 2: Tabling At Conventions (9:30am-10:30am)
Spring is the time of year that brings more temperate temperatures, some warmer sun (but a little rain, too), and yes – Anime Central! The second largest animation convention in the country, and one of my favorite shows to attend, is back. And this year, thanks to less hiccups than last year, I was finally able to attend. My buddy, Alan, has secured tables for us, and we were right smack in the middle of artist alley (my first time being in artist alley, since in year's past I had been a guest of the show). ACEN was a unique experience because of this, but one worth doing.
Why was ACEN worth it to me? Well, because it holds a special place in my heart. I get to see friends I only get to see at this show, sure, but also the attendees are just awesome. Everyone's in good spirits, the panels have great attendance and engaging questions, and the cosplay – my goodness – there's some talent right there. What do you love most about ACEN?
FRIDAY:
Alan drove in super early on Friday and we packed up the car with my stuff and headed to the con. We only had 2 hours to get there, park, get our badges, and set up. Thankfully, there were no delays along the way and we got there with plenty of time to set up before the doors parted and the sea of people washed over us.

All set up for selling at table E9-E10, Anime Central 2016
I had all of my books on the table, and was excited to see how the new stuff might go over. ACEN has historically been a strong show for some of my older books, since I've been coming here since I started my career in comics, but the new books were quite different in tone. Thankfully, I was not disappointed to see that they were a hit with this crowd, as well.
The crowd of people continued throughout the day, with very few gaps in traffic on the floor. Not having attended this show in years, I'm never quite sure what people do during the day. There are viewing rooms, panels, video games, cosplay meet ups and more – but there's also shopping! What do you do when you attend a con? What sticks out to you or is something you look forward to every year?
After the floor closed, we broke down and headed to the Hyatt bar for a meet-up we had scheduled with our friends and fans. People had been wanting to hang out with us, and since we weren't staying at any of the con hotels this year, this was our opportunity to do it. And it was a huge hit! We had probably 15-20 people at the event by the end, and we had some drinks (and some food), and had a blast hanging out and chatting. It was relaxing, and a fun way to kick off the convention weekend.

Photo-bombing my own after-con get-together
At the end of the hang out, we headed downtown to grab dinner at Pony (a pub in my old neighborhood, with some fantastic burgers and tacos), and then loaded up on Jenni's Ice Cream (a favorite of Alan's) before heading back to my house for sleep.
Day one was down, but we still had the biggest day ahead of us….
My third (in a row!) and final convention appearance of March was Anime Boston, which had probably my highest sales volume in 2015. Since it's an away show, I had to ship my inventory in advance, and since it's an awesome city, my wife would also tag along with me for the journey. So sit back, relax, and check out the fun we had at Anime Boston!
THURSDAY:
I worked from home so we could leave straight for the airport after Beth got out of the office. We headed down to O'Hare, which took a lot less time than I thought, and then encountered the spring breakers in the security line (which took about as much time as I expected). Suffice it to say, we had time aplenty in the airport, so I was thankful that I had downloaded several episodes of a TV show I'm watching on my iPad. Our flight was delayed, due to mechanical issues (an oxygen mask in the cockpit needed to be replaced), so we arrived in Boston a lot later than expected – but that wasn't terrible. It just means we had dinner at the airport instead of the city.
Upon arriving at the hotel, we got my books delivered to the room. I noticed one of them was not a box I had shipped (even though it had my label on it). This made me a bit nervous, so I opened the box to see what was inside…

A mysterious box sent to my hotel room, which I did not ship….

The box was filled with damaged books, some missing covers, and also a Cream vinyl record
…unfortunately, I discovered most of my single issues had been damaged (some missing covers, others with big chunks of them ripped out), 4 of my Reading with Pictures books were missing ($80 in potential revenue), and they had added a Jesus coloring and activity book, and a 2-disc Cream vinyl record set. Suffice it to say, this was not how I wanted to start my con. But it was late and there was little we could do about it now, so we tucked ourselves in and went to sleep.
FRIDAY:
We got up super early and headed to Thompkins for breakfast, a little diner right next to the convention center. We had a hearty meal, and then headed inside to drop off our stuff and set up our table. Anime Boston is unique, because you need multiple badges in order to be in artist alley – and getting them can be a bit tricky, since not everyone remembers that artists get priority access to the registration line, as well as get to skip the bag-check line. After jumping through some hurdles, we got our first badge, reminded security we didn't need to go through bag check (several times), and made our way to artist alley to get our next set of badges.
I was set up right in front of the entrance door to artist alley – the first thing people saw when they entered into the hall – which was either going to be a spot where everyone saw me and kept going, or a spot where people bought from me first. Not surprisingly, it was a mix of the two.

The table is set up, with my lovely wife / assistant for the weekend
We set up the table, and then it was a waiting game until the doors opened and our 12 hours of selling would begin (the artist alley floor is from 10am-10pm Friday and Saturday). Since the Dealer's Room didn't open until noon on Friday, the alley was packed for the first two hours of the show. It was an incredible sight to behold, and because I was facing the entrance doors, I got to see the masses of people coming and going from the hall. Many would stop at the table – and thankfully, many would buy, with the newest titles going first and fast – and others would listen to pitches, grab a bookmark, and go about their day.
The alley was mostly filled with print vendors, one of which was next to me, and it was incredible to see how much business she was getting with her fan art prints of popular anime and video game characters. And also how little work she had to do to sell it, compared to comics. Books involve a pitch – people have to know what they're buying, and if it's worthy of their time. But a print is an impulse buy; You see it, and if you want it, you buy it. And she was selling them $10 each, or buy 3 get 1 free. Lots of the bundle deals were happening at her table. It invited some interesting conversations between Beth and I about how we should consider laying out our table moving forward.
As the day progressed, I got some repeat customers from last year. Several of which had spent the last year consuming my webcomics, and wanted more. I had one fan in particular who really enjoyed my first webcomic series, The Temple of a Thousand Tears (available online for free), and he requested a commission of his favorite character, Shiri. Additional commissions came in, as well, which made me even more grateful to have my wife on hand to continue selling while I went heads-down to work on art.

Shiri (from my webcomic series, The Temple of a Thousand Tears) sketch card commission

Another satisfied customer

Anti-Venom sketch card commission

MY TALLEST!
The sales rush continued after the Dealer's Room closed, and the last several hours of the floor were busy in pulses. After the floor closed, however, it was time to celebrate our day of hard work, strong sales, and new friends – by heading to a local burger joint with our friends, Sean and Sara Lindsay (Spinnerette). One of their fans was having drinks with them when we arrived, so we got to chat with her for a bit before gorging ourselves on burgers and fries. After dinner, we all went our separate ways – since it was about midnight by that point.
SATURDAY:
Morning came much too early for our tastes, but we crawled out of bed and headed to a local Panera bread to grab some breakfast sandwiches before heading into the con to set up. We made our way through the multiple layers of security, reminding them yet again that we didn't have to stand in the bag check line – we're ARTISTS, we have tables to set up – and then proceeded to have breakfast at our table.

Beth and I, ready for day 2 of sales!
Sales started off strong and kept strong throughout the entire day. Beth and I worked our tails off, engaging in pitches, sales, general conversation, and checking out all of the amazing cosplays that walked through the door. We also promoted the heck out of our panels for later that day: Making Webcomics, and Self-Publishing 101. Webcomics was across the hall from the artist alley, so I headed in there about 10 minutes early just to make sure they knew I was coming…and found a full room, that just kept getting more full!

Making Webcomics panel, 5 minutes before start. Before they added another 4 rows of chairs. It was standing room only!
The panel was incredible! I was joined by Sean Lindsay from Spinnerette, and we talked about how we got started in webcomics, why the web was right for us, and then spent the bulk of the time answering questions from the audience. Participation was great, with hands flying left and right and people really getting into the material. I always try to keep my panels informative and entertaining, and I think we hit a good mix of the two.
After the panel ended, I invited people back to the table for additional questions, as well as to buy books, and found the table FLOODED with people for about 2-3 hours. Any books we hadn't sold out of on Friday were gone before the end of this rush of people – especially the new books. Most people were buying one of everything on the table, which is always a great feeling.
Once the traffic at the table started to die down a bit, I headed off to the next panel, joined by Sara Lindsay. Sara has worked a lot of the Spinnerette Kickstarters, and also does a lot of the editing on the series, so we talked about the importance of setting deadlines, print formats, and again spent the bulk of the time answering questions from the audience. Engagement was, once again, very high from the attendees. One guy I even had to cut off, because he kept asking questions in a row – and we had to move on and let other people ask questions. After the panel ended, he of course rushed the table to ask some more questions while we were trying to sell in the panel room, and then again once we were downstairs at the table. We tried to accommodate everyone, and welcomed the mini-rush that followed that panel.
After the panels ended, it was time to get back to selling – and also doing commissions. Traffic on the floor lightened a bit, but picked up again in spurts as the Dealer's Room closed. Overall, however, nothing compared to that rush we had post-panels, which was intense. Everything after that felt like a breather. Since there were lulls in traffic, the con staff (sitting right next to our table) was kind enough to announce my wife's birthday over the PA. We both were very tickled by the kindness and generosity of the staff, and they were also fun and goofy neighbors.

A fan's original character commission request
After the floor closed, Beth and I shut down the table and headed to the Atlantic Seafood Company for some dinner. We had gone here the previous year, and really liked their menu and the atmosphere. We ordered fish – since hey, it's fresh not frozen – which was fantastic. Since we were celebrating her birthday, they also threw in some free dessert for us. At the end of dinner, we headed back to our hotel for a final night of sleep in Boston.

And then we went out to dinner at the Atlantic Seafood Company, and it was delicious

I ordered the sea bass…I chose wisely!

It was Beth's birthday, so we got a free dessert. Peppermint ice cream pie!
SUNDAY:
The final morning of Anime Boston came much too early (as they all do), so Beth went to check us out of the hotel while I grabbed some breakfast from the Panera Bread down the street. We grabbed our packed bags and headed to the con floor, to set up what was left of our inventory. We were mostly sold out at this point, which was nice because it meant we didn't have to work quite as hard. Books you have to take home always seem to weigh a little more, after all.
The doors opened and a slightly more zombie-like group of kids came in, most probably having stayed up all night listening to Greg Ayres rock it at the rave all night – the only reason they were awake, because they had to check out of the hotel by noon anyway. Beth and I didn't mind, though, because we were very tired, too.
Sales occurred, people requested commissions, and eventually the floor came to a close. We packed up a little early, since 1) we were basically out of books, and 2) we wanted to beat the cab rush to the airport. It was spring break weekend, after all.

Samuari Jack sketch card commission

My buddy Rick's brother stopped by the table – awesome!
Airport security was on par with what we experienced on our way to Boston, but we met up with Sean and Sara for some dinner and drinks. It's always nice to be able to relax and unwind with friends after a show – especially one this incredible. We chatted in the booth until it was almost time for our mutual flights to board, and then we went our separate ways – presumably to pass out in the terminal until they called our boarding group. The flight home was short (especially compared to all the delays we had getting to Boston), and the drive home was quick.
Thank you to Anime Boston, the staffer, volunteers, and the attendees, for an incredible weekend. Here's hoping to being invited back again next year!
My second convention (in a row) in March was in my own backyard of Chicago, C2E2! Typically for this show, I run the Reading with Pictures booth (this year the table was across from the Jelly Belly booth, for free jelly beans all weekend!) and only sell my all-ages books. Additionally, the proceeds from the sales go back to benefit the non-profit – so buying from me at C2E2 you get great content AND support a great charity. Bonus!
Friday morning, my buddy Phil Chan (Digital Pimp Online) and I drove into the city with our stuff in tow, and dropped off at the McCormick Convention Center in downtown Chicago. I stopped into the Airbnb I was going to be staying in, to grab the key, and then headed to the show floor to get my badges and set up the table.

The Reading with Picture booth, hidden behind Neal Adams
Reading with Pictures was set up right by the Marvel booth, behind Neal Adams, and across from the Jelly Belly booth. This was nice, because they kept us full of sugar all weekend – necessary after the late nights and early mornings. Since I arrived earlier than anticipated, I had a chance to walk around a bit and see some familiar faces. I took a stroll through artist alley to see who all was in already, said hi to some buddies, and then went back to the table in anticipation of the flood of attendees piling into the place.

Russell Lissau and Trevor Mueller – brothers in comics

Comic book creators, and good friends. From left to right: Russell Lissau, Ashley Erickson, me, and Gabo
After the doors opened, our volunteers showed up for the day. Helping us promote our latest initiatives (including a charity event we were hosting Saturday night), as well as helping us to sell some books, our volunteers were invaluable to our efforts and successes that weekend. Also, I got to reunite with Garrett, who helped us out last year and has been a big part of RWP's efforts in the last several years.

Hanging out with Garrett Hill
As the day continued and books kept flying off the table, several friends started to stop by the table. Mark Waid stopped by to say hi, and to check out the Albert the Alien trades (he had yet to see volume 2). I was also visited by several of the cast of the Nostalgia Critic, who are always a blast to hang out with. And also some cosplay friends of mine stopped by to say hi, and to hopefully schedule a hangout for later in the weekend.

Special celebrity guest appearances by Tamara Chambers!

Good cosplay friends showed up, dressed as Captain America and Agent 13
After the floor closed and sales ended, I regrouped with my buddies and tried to figure out our dinner plans. My buddy Phil needed to eat, and we were joined by Channel Awesome stars Doug Walker, Brad Jones and Fard Mohummad as we walked to China Town for a quick bite. We stopped into a little place (that was not crowded, thankfully), and sitting down felt amazing. The food was also delicious, spicy (the way I like it), and plentiful. We ordered family style, and just shared everything together, while chatting about comics, cons, and movies.

Dinner out in China Town with Doug Walker, Brad Jones, Fard Muhammad, and Phil Chan
By the end of dinner, we were all pretty exhausted, but I made a quick stop back at the Hyatt bar to say hi to some friends. Gene Ha was there, sketching, and I got to meet some of his friends. I was also introduced to Scott Snyder and Greg Capullo (who were really just saying hi to Gene Ha, but at least shook my hand). I hung out for a bit with friends Justin Jordan, John Bivens, and several others before it was time to call it a night.
SATURDAY:
I got up early at the condo I was staying in, took a shower (their bathroom was immaculately clean), and headed down the street to the corner shop, which had breakfast sandwiches. I headed to the show, ate, and set up the table for another day of incredible sales. We had another volunteer coming in on Saturday, too, who was cosplaying as Batgirl – so the kids could take pictures with her.

Reading with Pictures booth, day 2…now with significantly less inventory

Batgirl was volunteering at the Reading with Pictures booth on Saturday!

More cosplay friends came by to say hi, dressed as the 5th Evil Ex and Poison Ivy, respectively

Warrior Princess Peach!

More awesome cosplay from some good friends

Monty Python cosplayers are probably my favorites…that rabbit is just so vicious!
As sales winded down for the day, we broke down the table and headed off to my favorite sushi place in the city, Niu! With a reservation of 20+ people, this restaurant has never had an issue accommodating the lot of us. And we took up 3 rather large tables. I sat with my friends Russell Lissau (Old Wounds), Bryan Glass (Mice Templar), and Robin Dale. We talked about comics, comic movies, and the state and evolution of conventions.
After dinner, we returned to the hotel and I had a quick drink with some friends, and then headed back to the condo for some much needed sleep.
SUNDAY:
The final morning of the show is always a rough time. You're tired, but you're also energized to sell through the last of your stock and see your friends for a final time before returning to the real world. This morning was no different. We had very little stock left on the table to sell through, however we also had no volunteers coming in on Sunday to provide any coverage – so I was at the table for the bulk of the day. I did have to shut down, briefly, in order to attend a panel on Self-Publishing (moderated by my buddy, Jim McClain).

Come buy the last of my comics!

The Secrets of Sustainable Self-Publishing with Jim McClain, Jim McClain, Scott Bachmann, Tom Stillwell, Trevor Mueller, and Kelly Heying

More friends stopped by, in even more amazing costumes!
By the end of the panel, and the weekend, we were beat. I broke down the table, helped Phil pack up his inventory and take it to the cab, and then we hopped into separate cars and took off – he to his flight, and me to my condo so my wife could give me a ride back home.
C2E2 was nothing shy of amazing this year (as it is every year). The staff and volunteers are incredible, the attendees are great, the sales are amazing, and I love hanging out with everyone after the show ends. I can't wait for next year!
October 14th, 2015
|
by Trevor
New York Comic Con (NYCC) has become the largest comic convention in the country (as of last year, 2014). It continues to be a beast of a show (in a good way), with some of the most amazing and exhausting experiences of my creative life. It's an experience to strive for, an experience to love, an experience to fear (there's nothing wrong with a healthy amount of fear), and an experience to cherish forever.
Without fail, every year at NYCC gets bigger and better. I meet fans, new and old, I make new friends, I see creators I've idolized or always wanted to meet, I learn new things about comics (and myself), I see good friends, I explore New York City, and I have a life-changing experience every year I attend. It is not a show to be missed. And this year, it all started after 3 days away at a work-summit in Lake Tahoe….
THURSDAY:
I couldn't sleep during my flight from LAX to JFK, which wasn't a surprise to me. I have difficulty sleeping in ideal conditions, and a plane is far from ideal for sleeping. My flight from Reno had been delayed 5 minutes, in an already tight connection in LAX, and we spent another 15+ minutes taxiing to the terminal. Everything had been working against me to catch this connecting flight, but despite all of those odds I had made it with 2 minutes to spare before they closed the doors.
Since I couldn't sleep, I decided to watch movies. Terminator 5: Genysis and Avengers 2: Age of Ultron kept me company during the flight. I was tired, but also excited. NYCC is always a trip, and I got to stay with my good friends Karl Custer (Uncle Yo) and his gal, Cat.
The flight landed at 6:30am local time, and I walked to the AirTram to catch a train to Queens. I had sent a box of books to Karl earlier in the week, and I needed to drop my stuff off before I made my way to the Javits Center to set up for the con. Thankfully, New York City has extended the 7 train to arrive pretty darn close to the Javits. In previous years, you'd have to get off at Time Square and walk 8+ blocks (like, the long blocks) to get to the show, which would have been a pain with luggage and a 30 lbs box of books.
So I dropped off my stuff, grabbed the books, and was off to the Javits.

The Javits Center
The Javits Center is on the other side of Manhattan from Queens, but with the install of the new stop at the end of the 7 line, it has become extremely easy to get to now. While on the train, I even ran into Josh Elder (Scribblenauts: Unmasked), my good friend and the founder of the Reading with Pictures non-profit I was there to help. Josh and I got in together and got our badges, and began setting up the table and talking about goals and initiatives for the weekend. Before too long, the doors were opening and we were a go for business.

The Reading with Pictures table, ready for sales

The Reading with Pictures crew, Trevor and Josh, ready for a weekend of awesome!
The sales started and started strong, which is always encouraging. And with this being the first NYCC for Albert the Alien volume 1, it was super exciting to see readers old and young respond so positively to the book.
As the day went on, our volunteers eventually showed up. They were coming from UNICEF, and had been working with Josh and others at RWP to set up some very special events for the show. The volunteers were young, eager, and very enthusiastic about being at the con and learning how to pitch the books. They were also experts at talking about the UNICEF initiative we were doing, and directing people to our panels throughout the weekend so they could learn more about it.

Trevor and the UNICEF team, running the table
As the day went on, I received a special delivery from my printer for Albert the Alien volume 2: An advanced copy of the book! I finally had something to show people for pre-orders, and also to show editors the quality of the book we were putting together.

A special surprise delivery: Albert the Alien v2 advance copies
After the show ended, there were a number of after-parties I was invited to. However, since I hadn't slept in over 48 hours, the thing at the top of my mind was sleep. We took the 7 train back to Queens and grabbed a bite before drifting off into a much-needed sleep.
FRIDAY:
I got up much earlier than I wanted to (but hey, someone's gotta run the booth), and jumped on the train with Karl to the show. We made a quick stop to grab some breakfast at a little place he knows called "Butcher's Bakery," which has these amazing meat-filled breakfast sandwiches. Super filling, and exactly what you need before you start a long day on the floor.

Breakfast of champions…with high cholesterol
After a very hearty breakfast, it was time to get selling. We had some volunteers show up early, so it was game-on from the word go! It was a good thing I had that filling food, too, because the opportunities to get away from the table (even for a quick break) were very small. Sales were through the roof! We were moving copies of the books left and right, driving e-newsletter sign ups, and telling people about our latest projects left and right. Josh was running the panels, and as they ended the traffic to the table increased significantly! It was almost a breathless experience, where you were constantly talking to people about the books and the organization. People were THIRSTY for it. And the kids were super excited about the anthology, as well as the Albert the Alien book.

The view from the table – when traffic was light
After a whirlwind of a day, the group decided to walk to a near-by diner and grab some food. The place was close to the convention center, so it was packed with cosplayers. Somehow they got us seated rather quickly, and before we knew it we were munching on burgers and fries. Unfortunately, there was some confusion with our orders, and the staff charged us for things not ordered (or didn't deliver food that was ordered). After fixing the bill, we all went our separate ways.
I headed back to Karl's, thinking I may hang out with a friend who lives in the city that night. I was looking forward to seeing her and catching up, but at the same time I was still recovering from not sleeping the other night. Thankfully, we rescheduled for the next day and I was able to get to bed early.
SATURDAY:
By now, Karl and I had our morning routine down to a science. We got on the train, and I went to the convention center to set up while he grabbed breakfast. Cat came with me to help volunteer at the booth, and also to check out the con a bit. As soon as the show opened, it was absolute chaos – commerce chaos! Albert the Alien sold out before noon. We were quickly running out of copies of Reading with Pictures. Whoopie Goldberg walked past the table. It was nuts!

Reading with Pictures and Unicef – partners in comics! Comics Uniting Nations is coming soon (for free)
Eventually we had enough volunteers at the table (and enough books sold), I felt confident to walk the floor for a bit. I took some time to walk through Small Press (and I saw some actors from Marvel's Agents of SHIELD signing at their booth), said hi to some friends, and then made my way down to artist alley. Artist Alley is a place where I can spend tons of hours without wasting any time, because I know so many people in there. It takes me hours to get through a single isle sometimes. This time I tried to keep it quick, though, so I could get back to the table before close. I stopped by several friends's booths, including my Albert the Alien artists who were attending.

The Albert the Alien team. From left to right: Ali Cantarella, Trevor Mueller, Ashley Erickson, Gabo
Around the time the main floor closed, I headed back to close up the table and headed back to Queens to grab some dinner with Karl and Cat. We ordered Thai food in and relaxed, watching a few hilarious episodes of some TV shows on Netflix. Eventually I got a call from an old friend who wanted to catch up, and I met her for some drinks before heading back to Karl's for much needed sleep.
SUNDAY:
Morning came much too soon on the final day of the show, but adrenaline and the promise of sleeping in my own bed that night kept me vertical and got me through the day. Also, most of the books were sold out at this point, so that was a positive. I stayed at the table for a few hours, but eventually turned it over to the volunteers so I could say my goodbyes in Artist Alley.
I gave myself a little more than two hours to say goodbye to everyone I knew in AA, and it was just enough time (after I skipped 8 tables, since I didn't want to interrupt any sales). I also got to meet a few new faces, including Laura Braga! I'm a huge fan of her work on Witchblade, and I'm so happy for her success on Invincible Iron Man and some of the new DC titles she's working on.

Hanging out with the very lovely and talented Laura Braga (Witchblade, Invincible Iron Man)
After making my way through AA, it was time to go back to the table and pack up. Thankfully, just about everything was sold and I was able to fit the few remaining books in my luggage before taking off for the airport. The train and bus was much easier than my normal method of trying to grab a cab downtown (and much less expensive, I do admit), and before I knew it I was at my terminal and through security. I have a post-con relaxation ritual, which involves a meal and a drink at a place in the airport. Mostly, it involves not standing (I rarely if ever sit during a con).

Post-con airport food and drinks…because HUNGRY!
After a short plane ride back to Chicago, I took the train to my stop and walked the rest of the way home (since the buses weren't running; thanks, Chicago).
New York Comic Con is and continues to be the biggest and best show I attend all year. It's a madhouse of sales, celebrities, and good people. It's an expensive show to attend, don't get me wrong, but worth it in every way possible. Thank you to UNICEF, Reading with Pictures, our volunteers and helpers, the entire staff of NYCC for putting together such an incredible event, and all of you – for making this weekend another unforgettable experience.
My first convention of the year is a show I wasn't able to do last year because of the wedding, but I was super looking forward to doing. Not only is it a fun time, low-key with lots of opportunity for us guests to interact with friends and fans on the floor, but the guest roster was also all of my nearest and dearest comic book creator friends that live in the local area!
Seriously, we had Alan Evans (Rival Angels), Sean and Sara Lindsay (Spinnerette), Steve Horton (Amala's Blade), Steve Wallace (Reading with Pictures), Russell Lissau (The Batman Strikes, Will), and my partner in comics, Gabo (Albert the Alien, The Life After). We also got to meet Blake Packard (Will) and his wife, as well as hang out with married partners in comics Comfort Love and Adam Withers (The Uniques, Rainbow in the Dark).
If that's not an impressive line up of talent, I don't know what is. So let's get into the adventures of the weekend!
FRIDAY:
Friday morning I packed up the car with my wife and headed out to Rosemont for a weekend of good times and great people. We got in early so we could set up and say hi to everyone, and check out the convention layout. Being in a new location (but one I am intimately familiar with), I wanted to see how Kollision Con decided to use the space and where they decided to put their rooms. They had a lot of fun activities for their attendees: game rooms, video games / arcades, a room dedicated to cosplay photos, tons of panel rooms – and a room where you could hit other people with padded bats!

The comic book guests of the show – all of them my friends, all of them amazing people!
Before the show started, my friends and I took a quick picture in front of our booths and then got behind them to start selling. Traffic was light but steady (it was Friday, after all). Thankfully with smaller shows like this, there's more opportunity to connect with the fans on a more personal level. And that's exactly what we did. It was awesome to see friends and fans alike coming out to the show, catching up after our holiday breaks and our New Years parties and having an opportunity to chill in a fun and social environment, like a convention.
There were also panels throughout the day. I jumped into the Making Webcomics part 1 panel lead by Alan Evans, and joined by myself and Sean Lindsay. We've given the panel before, and we had a small but interested audience who asked great questions.
After the floor closed, the gang went back to one of our rooms and ordered pizza. We had a fun time unwinding after the day (and enjoying some delicious Chicago-style deep dish), and then left to do more panels. I had my Evening with Trevor Mueller panel, which was populated by a loyal group of friends who know my best stories. They started off by doing a bit of a roast – taking over the panel and coming up to the front to tell their favorite stories of mine from cons or other experiences. It was a fresh take on the panel, and a great opportunity for people to rib me a bit in front of an audience. Because they know all of my stories, they also requested their favorite stories – which I was happy to oblige.
After the panel ended, the group split – with some going to the bar to hang out and others headed back to their rooms for sleep. I went to bed, because I wanted to get up early the next morning and go to the gym. Sadly this meant missing the improv that night (which runs from midnight until 2am, and I've done it every year I've attended Kollision Con), but it was a sacrifice I was willing to make.
SATURDAY:
Saturday morning Beth and I got up early and headed to the gym, where Alan was already hard at work on his cardio. Alan usually starts his day with some DDP Yoga, so he had already warmed up, too. Beth hit the treadmill while Alan and I focused on lifting and dynamic resistance exercises. I was working chest, shoulders and arms, while he was working arms. I don't usually work out my legs or do cardio at a con, since I stand all day at the table, but he also got in a little biking before we were done.
After a quick shower, the group met downstairs for some much needed breakfast. Despite the heavy dinner we had the night before, the group was pretty hungry. After breakfast, we headed to the floor to open our tables and get ready for a day of sales.

Beth and I work the booth
Sales were a little lighter for me on Saturday (which was a strange occurrence I had noticed the last few years, since fans typically find me right away and buy on Fridays), but the fans came out strong and we had a blast. I was even invited to participate in a new panel with Comfort and Adam about creating a character. The two started off by giving a presentation on the elements of a character:
– Personality: Who is this character, and how does their image reflect them?
– Simplicity: Is their design easy to replicate (e.g.: would it look good as a character image)?
– Utility: Is their design functional, and does their design have a purpose to it?
After the presentation, the two engaged myself and Alan (as well as the audience) to make a new character right there in the room. It was a fun exercise that had a lot of audience engagement and participation. While we discuss the character, Adam started drawing a sketch of what the character might look like. It was a fun time.
After the panel, we all returned to the floor to keep selling. After the floor closed, the bulk of the group went to the casino to grab burgers (and try their luck at some games of chance) while I went to the restaurant to grab a quick bite with Blake and his wife before my panel.
My next panel was a self-publishing 101 panel, and since the audience was also interested in digital publishing, we talked about both physical and digital opportunities. My motto has always been "it's never been harder to be published, but it's never been easier to make a comic." As someone who has mostly self-published their work, I wanted to provide an opportunity to how to get started, and more importantly how to finish making a comic.
After my panel Blake did a demonstration on oil painting. It was an interesting look at physical coloring (and there were a lot of engaging questions, especially from audience members who are more versed in digital coloring). The theories and approaches appear to be the same, but the execution is quite different – since oil paints are physical.
Blake even called the audience up to do some of the demonstrations, and to see his paint sets and the tools he uses to turn illustrations into stunning pieces of art.

Blake Packard gives an oil painting demonstration – this is my learning face (the face I make when intently learning something new)
After Blake's panel, I went to grab actual dinner with Beth before her panel. Yes, that's right – the wives of comic book creators panel actually happened at this show, and it was amazing!
Sara Lindsay had requested an opportunity to host a panel along with Tracie Evans and my wife, Beth, to talk about what it's like to be married to someone who works on comics. Each brought an interesting and unique perspective to the table:
Beth and I are newlyweds and comics are very new to her (plus I had told her to give me a good ribbing), so her perspective was more focused on the time commitment and the newness of the world of comics to her.
Sara has been a comic fan for a long time, so she talked about her enthusiasm for being on the selling-side of the table and meeting her favorite celebrity creators.
Tracie, having been married the longest, talked about how comics has played a role in their marriage and how she supports her husband in his comic-making endeavors – or how she just shares similar passions in wrestling and helping him with his art.
All had some very insightful things to say, and then took questions from the audience (which was peppered with their husbands and friends), who challenged the girls with questions like, "If you could change anything about your husband, what would it be and why?" or "What kind of crazy con stories do you have about being at shows?"

The first (hopefully of many) "Wives of Comic Book Creators" panel. From left to right: Tracie Evans, Sara Lindsay, and Beth Mueller
After the panel ended, some of the group went to bed and others went to the hotel bar (which was closing) to meet up with some friends. We had tried to get together for drinks throughout the weekend, but unfortunately timing wasn't on our side. Since the bar was closed, we went our separate ways – they went to hang out with their friends, and I went to the con suite to hang out with some of the staffers and volunteers that made this weekend possible.
It was a fun time in the con suite, hanging out with people who I have known for years (having met them through other shows in other roles), and talking about our future cons we're attending this year. I'm looking forward to seeing most (if not all of them) at my next show in February, Anime Milwaukee!
After hanging out for a bit, I headed back to the room to get some much needed rest.
SUNDAY:
The final day of the show started with packing up and grabbing breakfast, and then heading downstairs to the show to set up for the day. The group was pretty tired after the long weekend (late nights will do that to you), but still in good spirits. The weather had turned for the worse, though, with icy conditions and snowfall making some of the guests need to rebook their flights and some of the local guests wanting to take off a little early.
Sales were still on par with where I figured they would be, and I even participated in Alan's Making Webcomics part 3 panel. It was nice to get to hang out with everyone one last time before going our separate ways, and to get some final last-minute sales in before the end of the weekend.
Kollision Con was a lot of fun, and a great con to start off the year doing. The smaller con allowed for more one-on-one interaction with the attendees, more interactive panels, and the opportunity to hang out with friends and fans (as opposed to everyone feeling rushed to get to their next event or table). The new location was much more convenient and accessible from the city, especially for someone who lives off the train like me. And the new venue is one that I frequented often, so it was just like going home again.
Thank you so much to all of the staff and volunteers at Kollision Con for bringing me out again, to my friends and fans (new and old) for supporting me and my work, and to the attendees for supporting the show and attending my panels.
2014 is off to a (cold) start, and I'm still finalizing my convention appearances for the year. However, at this time the below shows are confirmed for 2014.
C2E2

Chicago, IL

April 25-27
ACEN

Rosemont, IL

May 16-18
Anime Mid-West

Rosemont, IL

July 4-6
Anime Iowa

Coralville, IA

July 25-27
Wizard World Chicago

Rosemont, IL

August 21-24
New York Comic Con (NYCC)

New York City, NY

October 9-12
Mid-Ohio Con
Columbus, OH

October 31-November 2
A few of my regular shows have been cut back this year, since I'm on rotation (a typical thing for conventions to do every year or so, to keep their guest roster fresh). However, I'm also putting a few back on the list – and I'll have a number of new books out this year to boot!
More shows may be added later this year as I keep having conversations with the conventions. If there's a show where you would like to see me make an appearance, please reach out to the convention and ask them to contact me about appearing.
Looking forward to seeing you in 2014!
└ Tags:
acen
,
anime
,
anime central
,
anime conventions
,
anime iowa
,
anime midwest
,
appearances
,
c2e2
,
comic conventions
,
comics
,
conventions