Posts Tagged 'free comic book day'
4 items.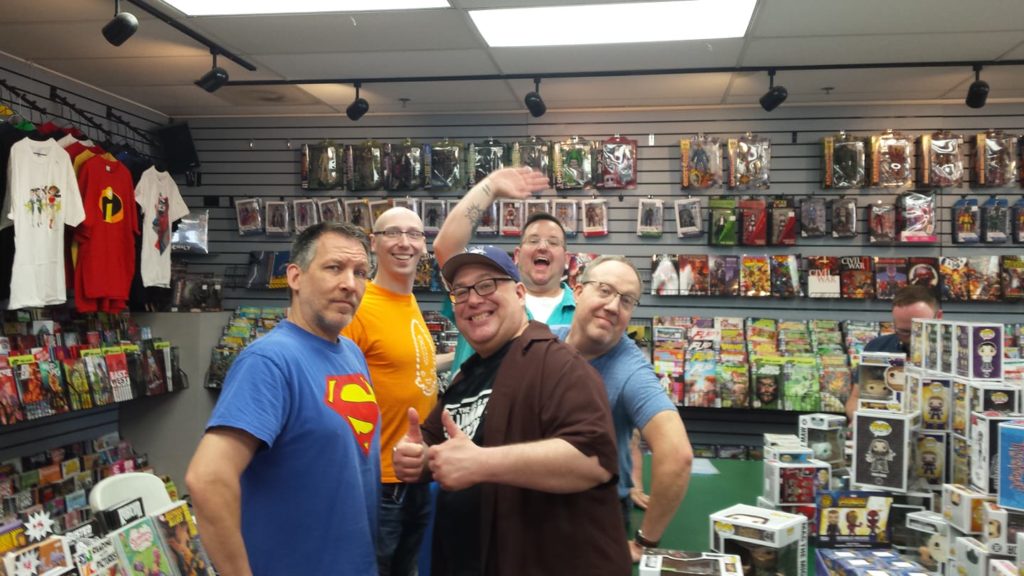 The first Saturday in May is Free Comic Book Day – a day where comic book stores offer up free comics (of select titles) and local creators, like myself, come out to do sketches for kids and give away from freebies of our own – and also sell some of our comics. This year I returned to Dreamland Comics in Libertyville, IL – a local independent comic store that I've done a number of events at, and who have some of the coolest customers in the north suburbs of Chicago. And like last year, the crowds were incredible.
I was joined by fellow comic creators Jeff Balke (colorist), Mark Stegbauer (Ghoul Scouts), and Russell Lissau (The Batman Strikes), who all had their own books and freebies to give out. I was pushing my Albert the Alien series – which had the new volume 3 out in print – since the store was sold out of their copies. The day went by super fast. We were there from open at 10am until about 3pm, and the traffic in the store never died down. There was a constant line out the door, and fans clamoring for the latest releases – as well as very excited about what we were selling. I personally had a record sales day, which was a great way to start my weekend.
I also made some purchases from the store, needing to complete my collection of Invincible trade paperbacks (my favorite superhero book), as well as starting my collection of Invader Zim comics (man, I loved that show).
If you missed out on FCBD, don't worry – it happens every year, the first Saturday in May. And next year, I'll be back doing another fun event! Be on the lookout!
The first weekend in May is Free Comic Book Day, and this year I spent it signing at Comix Revolution in Mt Prospect, Il. The mayor of the city had declared it officially Free Comic Book Day, so it was kind of a big deal – and there was a line out the door waiting to be let in and grab the latest offerings from their favorite – or new – publishers.
I was on hand selling my latest all-ages books: Reading with Pictures, Hope: The Hero Initiative, and Junkyard Chase. There were also sketch cards and artwork available for sale and signing.
The crowds were great, and before you knew it I was not only selling my wares – I was DJing the day away with my iPad.
People were coming up to me asking not only about the books, but also about the music – which was a great way to connect to the fans.
Several kids even came up to me with a business card and some sample pages, which was awesome!
Unfortunately I didn't take any pictures, but it was a great time with some great people. Thanks so much to Comix Revolution for having me out to sign, and thanks to everyone who came out to say hi and buy stuff! You rock!
See you guys next year for FCBD for more awesome comic goodness!

Well folks, it's been a lot longer than I anticipated, but ultimately I couldn't stay away from this comic any longer.
I wanted to hold off until I was able to finish the photo fight scene pages, but unfortunately those are taking quite a bit longer than I thought. It's a project that I've wanted to do ever since I first started the photo comic pages several years ago. So my options were two fold:
1) Hold off on any updates until the pages are ready to go live, which at this rate would be sometime this summer
2) Update non-related comics, and continue to work on the photo fight pages in my spare time. This may mean they take a little longer to put together, but at least then I'm updating the comic in the meantime
So there you have it, updates are coming. And yes, I am working on a lot of other projects. And there are a lot of comic conventions and events coming up, especially this month.
On May 7, I'll be signing at Comix Revolution in Mt Prospect for Free Comic Book Day. I did a signing at this store a month back for the premiere of Hope: The Hero Initiative and had such as great time they invited me back.
And then May 20-22 I'll be a guest of honor at ACEN in Rosemont, Il. It's one of my absolute favorite shows, and I hope to see you all there. They haven't announced my panels just yet, but as soon as I know I'll update on here.
Anyway, everything in between is being spent doing the work. So I hope you enjoy the pages as they come out, and I'll keep you all posted on the Photo Fight story arc progress.
Cheers,
T
Happy Friday to you, my friend. I hope you're having a wonderful week.
Unfortunately there's no comic update this week, but I had announced the month of March would be dedicated to the updating of the "Making of Junkyard Chase" blog series…which gives me time to recover from C2E2 and try to work on that buffer.
Plus the other bajillion projects I have in the works.
If you haven't noticed, the site's been changing a bit. For instance, in the upper right corner (below the calendar) is a 2011 signing and appearance schedule. This has been getting updated constantly as announcements are made about my guest appearances and signing schedules for the year.
Previously I've rocked out at Anime Milwaukee and C2E2, and also had a very successful signing at Comix Revolution in Mt Prospect promoting my latest book, Hope: The Hero Initiative.
Well, here are some more appearances so far this year:
Free Comic Book Day (May 7): Comix Revolution signing in Mt Prospect
ACEN (May 20-22): Anime Central in Rosemont, Il
QC Anime-Zing (June 17-19): Davenport, IA
Wizard World Chicago (Aug 11-14): Rosemont, Il
Mid-Ohio Comic Con (Oct 22-23): Columbus, OH
Hope to see you at some of these fun conventions and events.