Posts Tagged 'gabo'
5 items.
February 23rd, 2018
|
by Trevor
Convention season is officially upon us, and has started off with a bang! Anime Milwaukee continues to be my first con of the year, and continues to set the bar – AND HIGH – for the rest of my convention experiences this year. I was a returning guest of honor, and had fantastic panels (with high attendance), and great sales on the floor. The staff and volunteers continue to make an experience worth having – and attendance increased over 10% this year, breaking the 10,000 mark!
A special thanks to all the staff, volunteers, and guest relationships folks who keep bringing me back and giving me a wonderful experience – one I encourage each of you to come have next year! This was my 8th year (out of 11) returning as a guest of honor, and I keep coming back for this same reason: the show is great, and I love being there.
THURSDAY:
After work, I packed up the car and headed over to pick up my buddy (and fellow guest of honor), Russell Lissau and his daughter. It was the first time I was car pooling with him in my new SUV, and I knew I would have enough room for his stuff, but was impressed I was able to fit all my stuff into only half of the trunk. Either my packing skills have gotten better over the years, or this car is much more massive than I originally thought. Or both!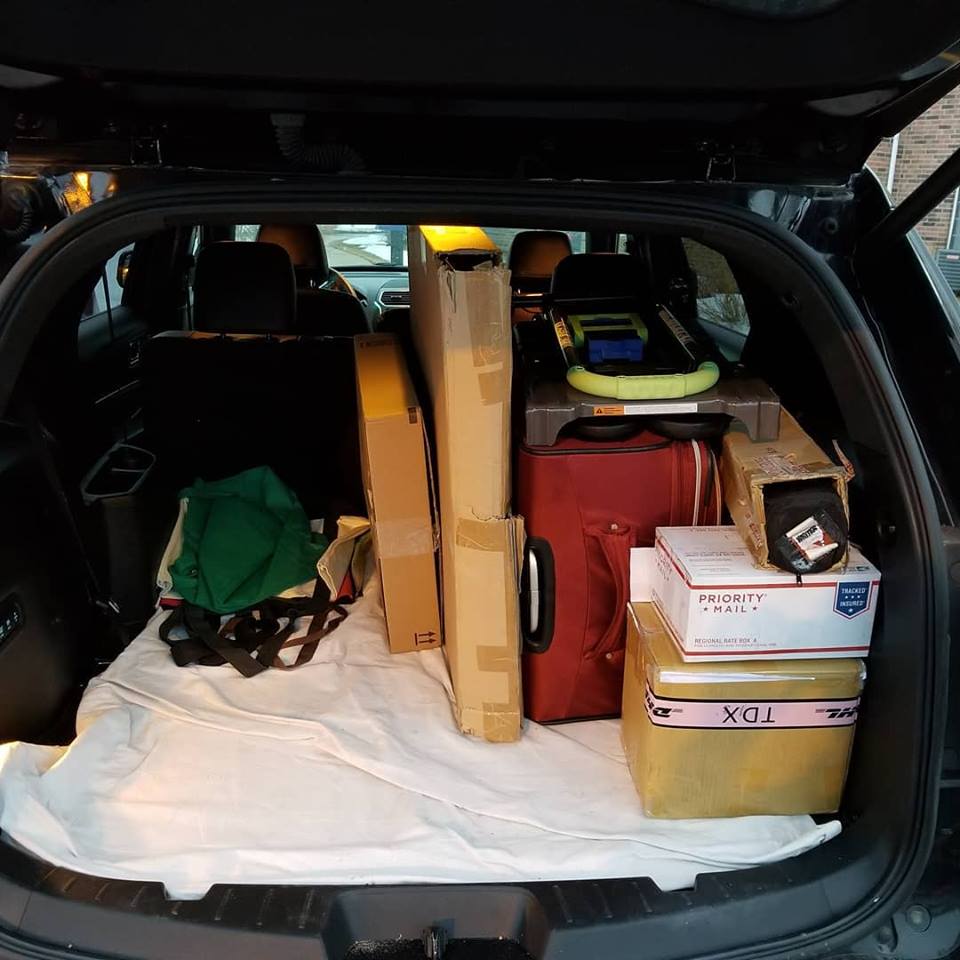 The trunk of the car, saving half of it for my buddy Russell – but was impressed that I was able to fit into half of it
We grabbed a quick dinner at a local burger place, and then headed up to the convention center. In no time at all, we arrived and unpacked. Despite having a dolly this time, it still took me several trips to get my stuff down to the floor (hey, my first year with merch…I'm working on it). Once there, I started to set up that night because I knew I would need a little time to play with the configuration. With a 3 foot book display, and a 14-inch vertical merch display, there wasn't a ton of real estate on the 6 foot table for me to set up all of my stuff…so I'm glad I gave myself the extra time to experiment.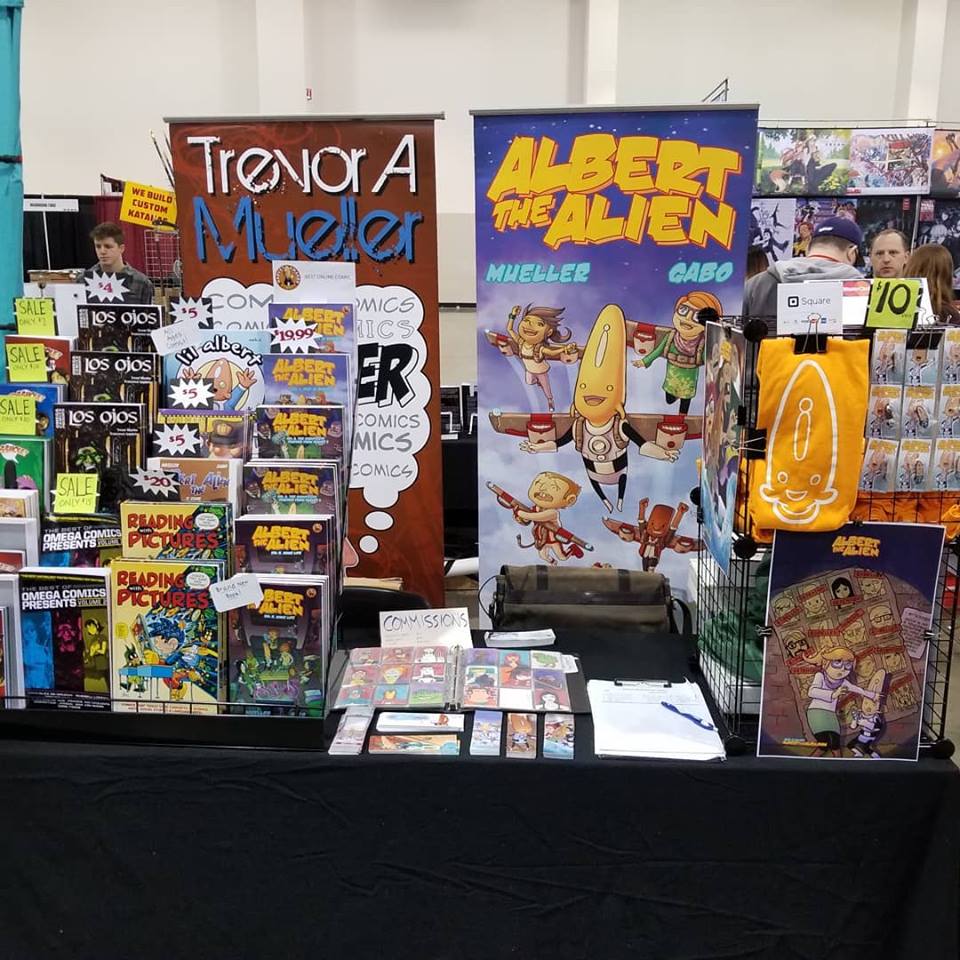 The booth, now with t-shirts, posters, and pins!
After setting up, the group went to the green room and had some food. We met a few of the handlers and some of the Japanese guests, and had a little food, but ultimately went to bed early – which is almost unheard of on a con weekend. But, thankfully, it helped set the tone for what would be an excellent weekend.
How late do you usually stay up at a con?
FRIDAY:
Friday morning we all went to the gym in the morning, including my buddy Russell (who NEVER joins us in the gym). I like to start my weekend with a healthy workout, as it keeps my energy high (and gives me a big appetite for breakfast). We headed over to the restaurant across the street from the hotel for a meal, and then went to the floor to finish setting up our tables before Opening Ceremonies.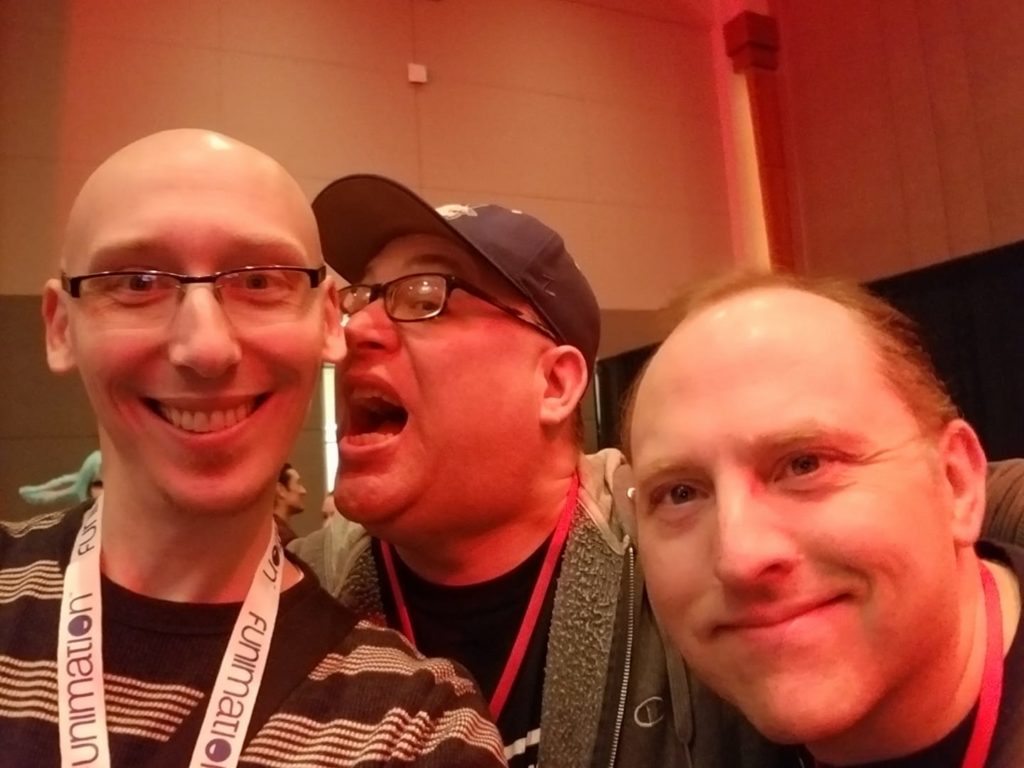 Behind the curtain at opening ceremonies with my comic pals, Russell and Alan
The comics crew headed over to Main Programming for Opening Ceremonies, and got to see the guests – many of which I hadn't seen in ages, and some of which I hadn't ever met before (despite attending multiple cons as guests together). All of the big voice actors were there, many of the cosplay guests where there in costume, and Samurai Dan and his wife were there with the dogs (which is always a hard act to follow on a stage). We all said our hellos, and then Jon St John – the master of ceremonies – introduced us all. He had a teleprompter in front of him with our names and bios (which were also displayed for the audience), but despite that he still got my name wrong, which would become a running gag throughout the weekend.

Opening ceremonies, this bald guy gave a talk for a while. It was fun. He was good looking. You should buy comics from him
After energizing the crowd, we headed back to the floor for finalizing set up and for the flood of people piling into the show. The day went by quick, but was a ton of fun. I also had a Writing for Comics panel at 2:30pm, which followed Alan's first Making Webcomics panel. I arrived a little early, and he handed some tougher questions about overcoming troupes to me. I participated in his panel and had some fun, but then immediately started into my panel. Attendance was solid, and I had some great engagement from aspiring writers (and some artists). After the panel ended, I went back to floor and continued selling until the end of the day.
What kind of programming content do you like to attend? What attracts you to a panel? The topic, or the panelists?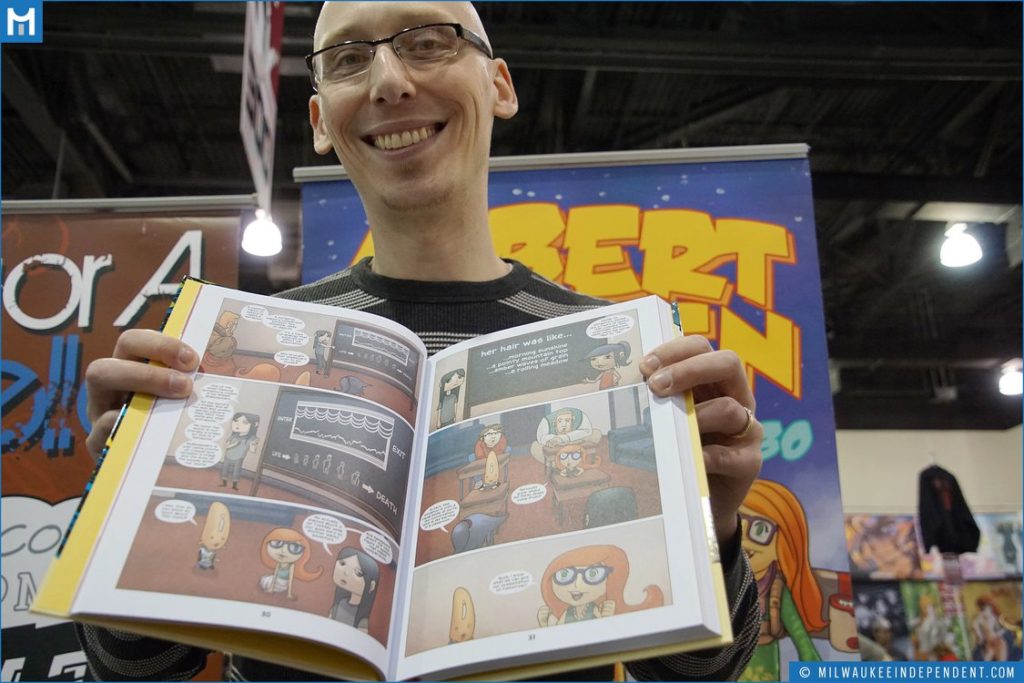 Showing off the product for some photos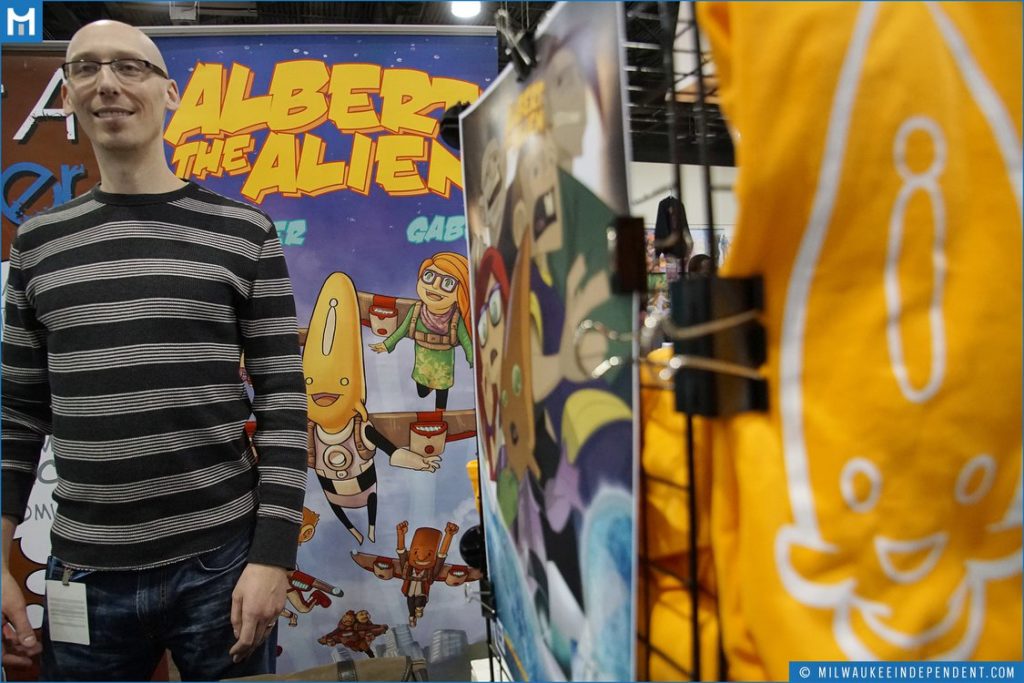 Standing and talking to photographers at the booth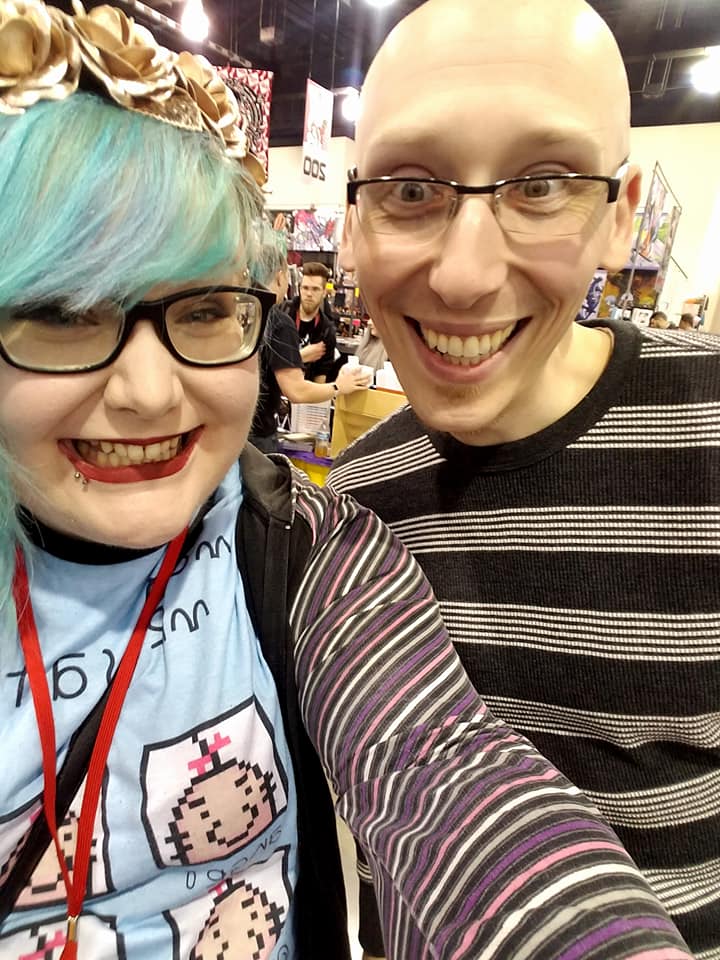 With the ever-incredible Mel!
After the floor closed, we headed to our rooms to grab some food (pizza from a nearby Italian restaurant we've never tried), and then went to the green room for some group toasts. It was the 30th anniversary of Final Fantasy, and many of the voice actor guests had done work for the FF games series. At the same time, we were toasting for our absent friend, Gyu, who has been a major presence in our lives both in and out of the con world. Gyu's absence was celebrated with a few fingers of 30 year old scotch – something he would enjoy – and it was a chance to talk to some of the voice actors I had not had a chance to meet previously.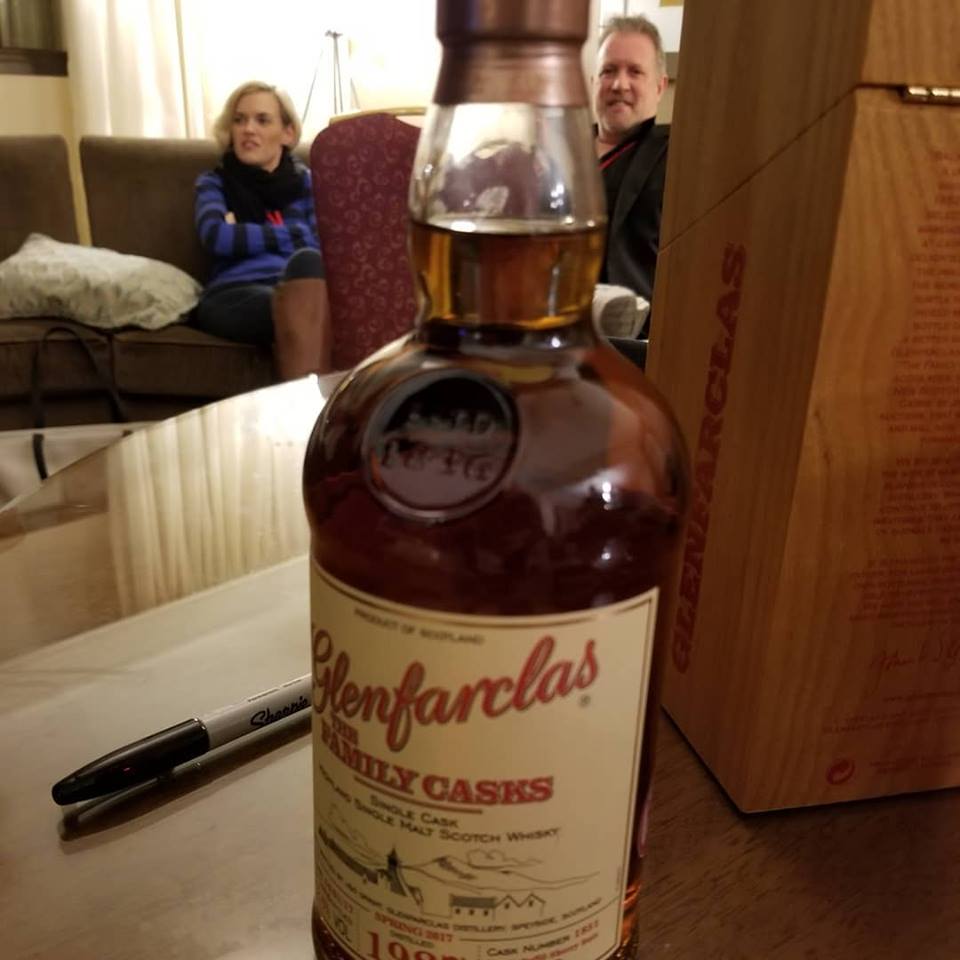 30 year old scotch in the green room, toasting the 30th anniversary of Final Fantasy (with photo bomb by Kari Wahlgren and Jon St John)
After the toast, we went to the VIP event in the top of the hotel, and hung out with fans. I got to talk to Johnny about his new band, and we talked merch (since I've been dabbing in t-shirts and pins, and he's looking at experimenting with some new stuff to sell at concerts and cons), and then we split so we could hang out with the fans. A number of Channel Awesome fans found me and started chatting me up, which was a blast. I got into some very impassioned talks about good and bad movies, which started to make me lose my voice (not good!), so I finished the evening listening to what they enjoyed (or didn't) about certain movies. After the VIP event, we went back to the green room for a quick snack, and then we all went to bed again (rather early by comparison to previous years). The rest was much appreciated.
SATURDAY:
Saturday morning started as all the rest do – got ready, grabbed some grub (this time at the Hyatt restaurant), and then went to the floor to set up and start selling. And sell I did! Man, the crowds were massive and the desire for original art and commissions was high! I loved it!
Around noon or so, Gabe and I went to our How to Draw an Alien panel, and re-arranged the room so it was more appropriate for a workshop. We gathered everyone around a few tables with paper and stuff to draw with, and we started talking about aliens and Gabe's method of design. Then we built our own alien creature together. His name was Bob, and he worked in corporate finance. We then designed his boss – a stop light with each light showing a different emotion. We then opened up the group to free design their own support staff – janitors, HR, marketing, and one guy even made a transportation alien. It was a lot of fun, and we all shared and had a laugh at the fun creations we had made during the class. After, we packed up the room and went back to our tables to keep selling for the day.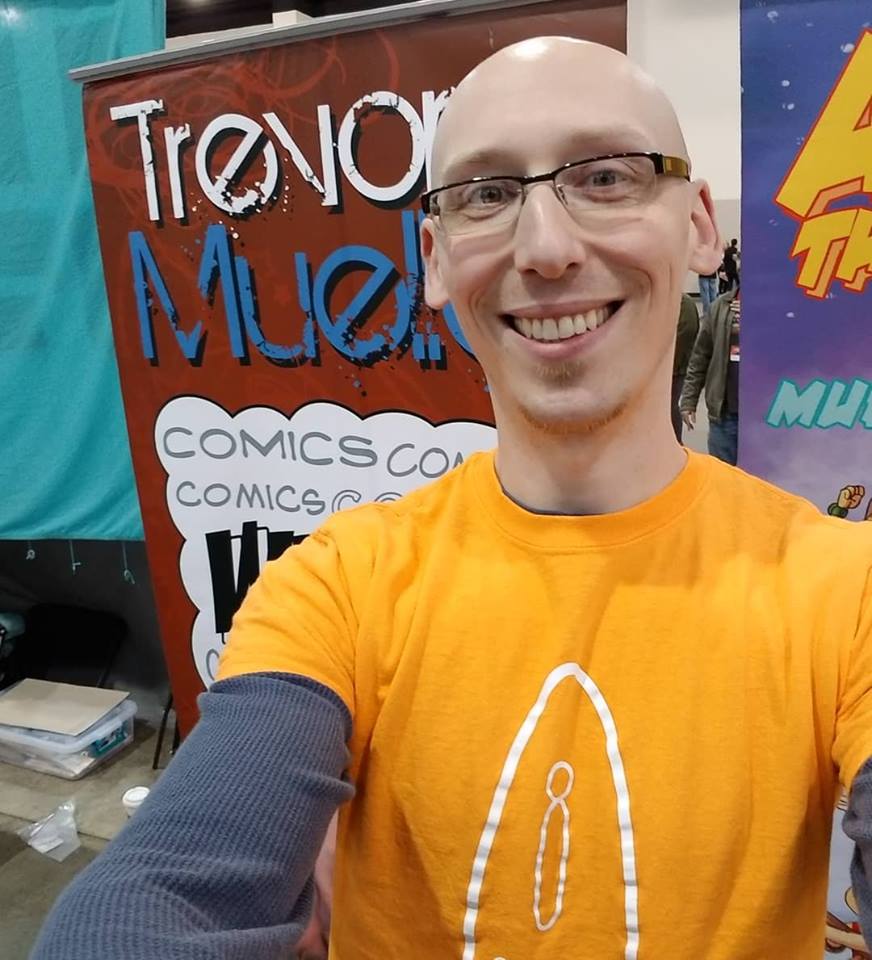 Come buy comics from this man at AMKE 2018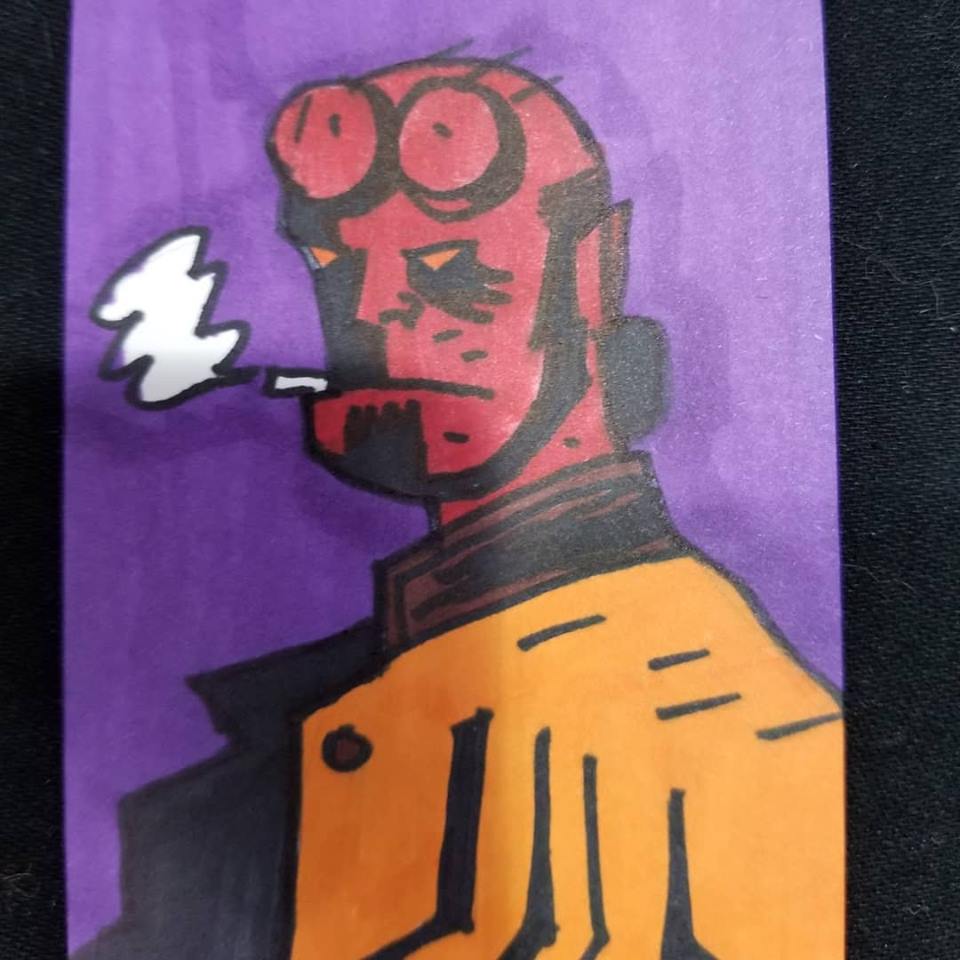 Hellboy sketch card commission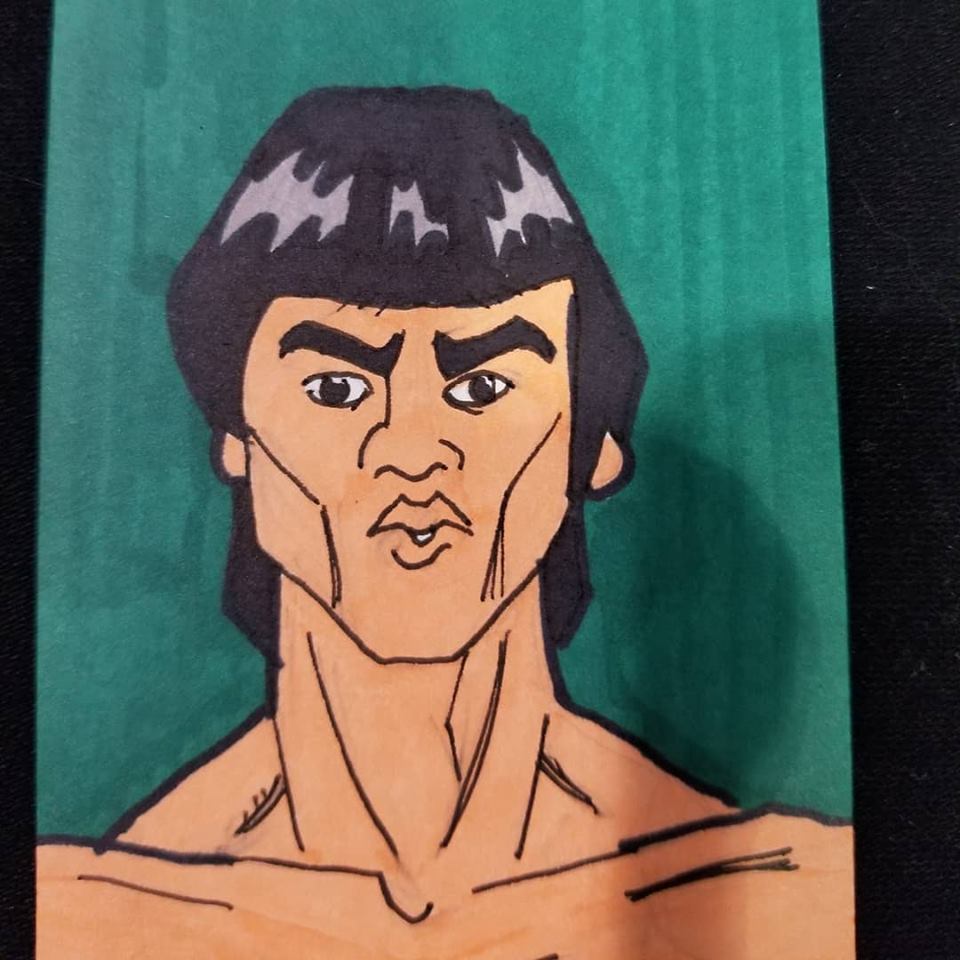 Bruce Lee sketch card commission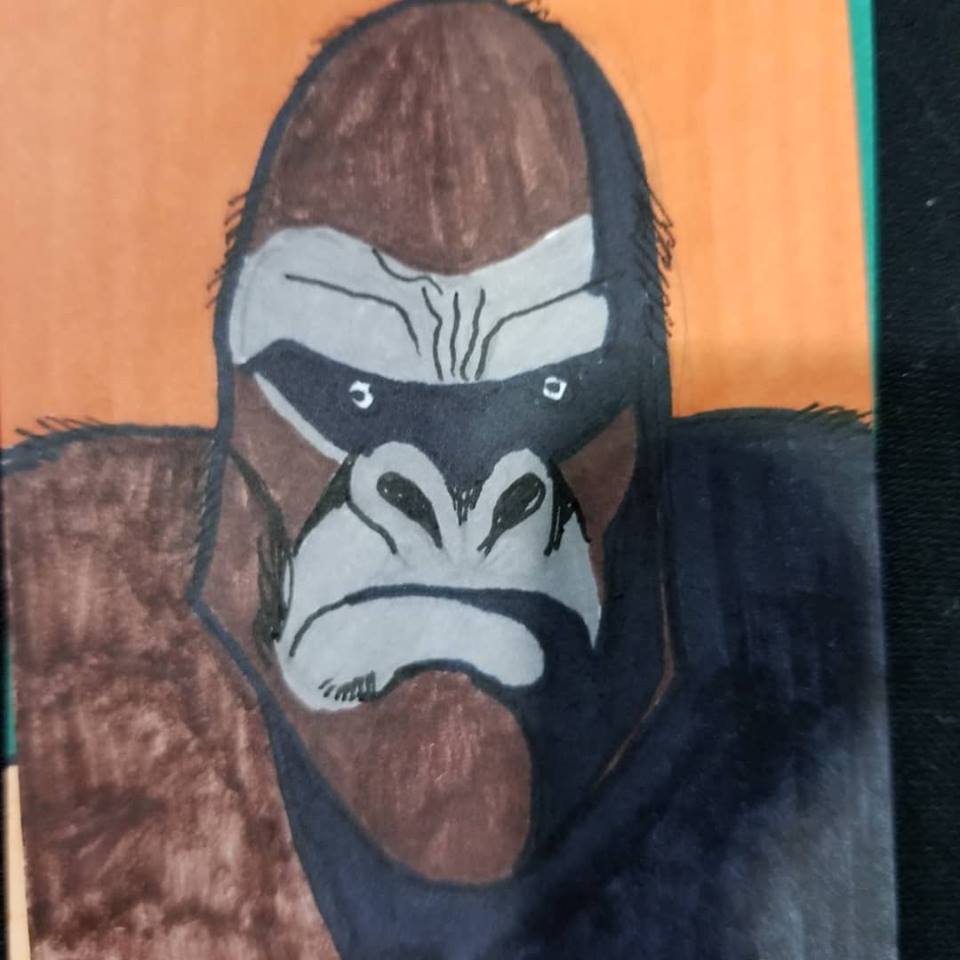 King Kong (from Skull Island) sketch card commission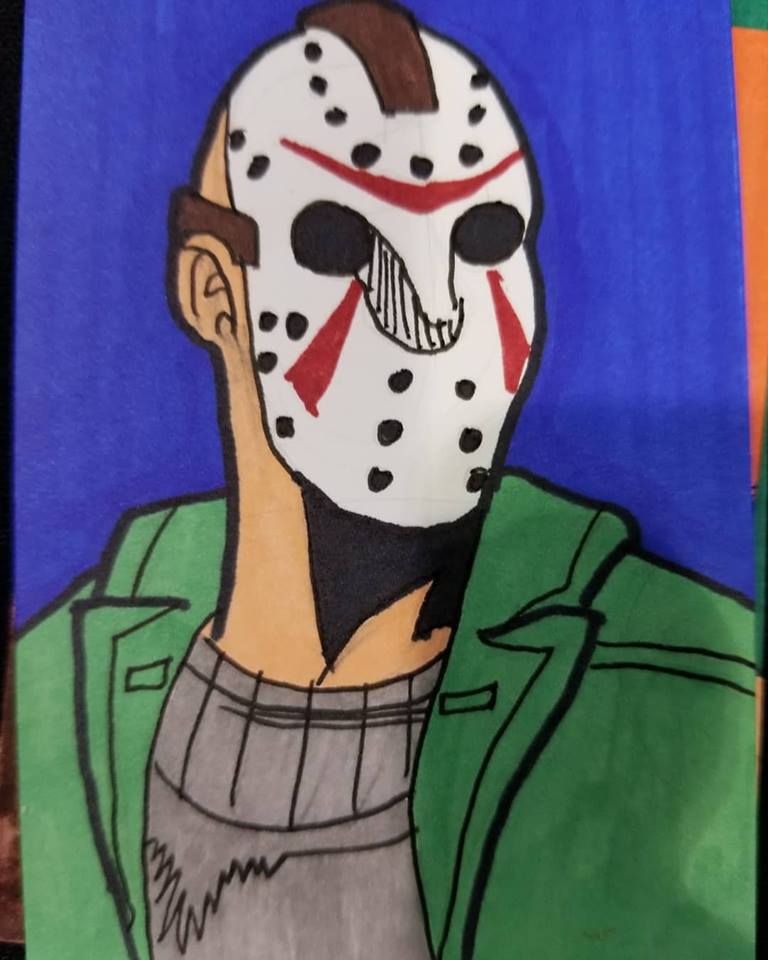 Jason (from MKX) sketch card commission
After the floor closed, I met up with my friend Lauren, who had driven up from Chicago to see me and hang out with our mutual friend, former Power Ranger Johnny Yong Bosch. The group went to the Thai restaurant across the street (a big mistake, because even with reservations we were delayed in being seated, and the service staff was overwhelmed with the volume of patrons). We eventually got through the meal, and headed back to the hotel to have drinks with some staffers who we've been promising to hang out with for some time. Lauren left to hang out with Johnny, who was grabbing dinner with Samurai Dan and his family, while we finished drinks. A homeless entered the hotel and tried to solicit drinks from us, which was not cool, and eventually hotel security scared him off.
After drinks, we went to go play Cards Against Humanity with Dan and Jillian, which ran until a bit after midnight. After, I retired to the green room with Johnny and Lauren to watch some Olympics and keep hanging out. Around 2am, we decided to call it a night. Johnny and I were going to grab breakfast in the morning anyway, which would come far too early for either of our preferences.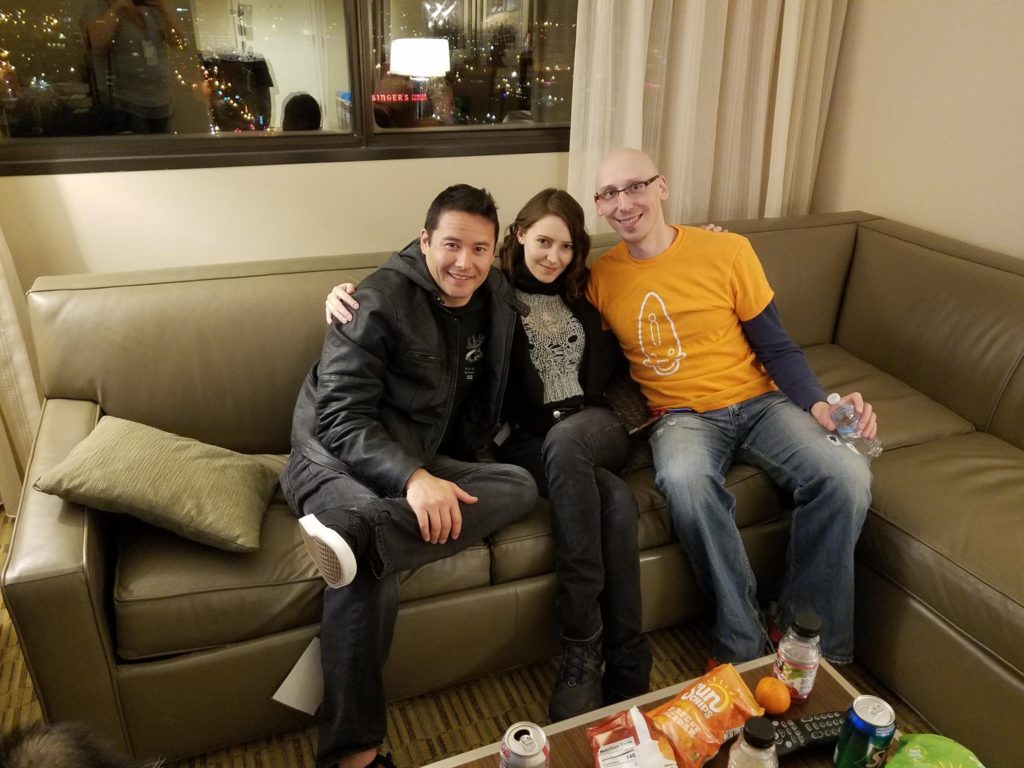 Got to spend a fine evening hanging out with two of my favorite people, Johnny Yong Bosch (Power Rangers) and Lauren Marie
SUNDAY:
I packed up my room and loaded up the car, and then headed to breakfast with Johnny. We talked more about his band and musical experiences, about our families and what cons we enjoyed attending. It was a fun time, and something I don't get to do nearly often enough because of the late nights and tight schedules many cons keep us on. It was very refreshing to get to hang out with my friend and just share a meal. After breakfast, I headed to the floor for a final day of sales – and boy oh boy, did the trend get set early in the weekend, because they were a flood.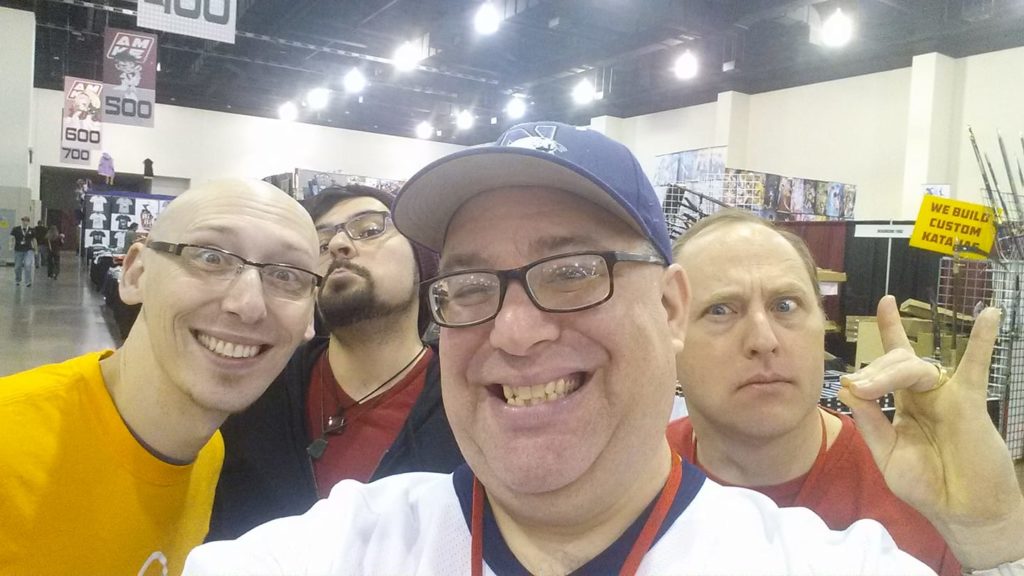 Hanging with the comics crew in artist alley before opening. From left to right: Trevor, Gabo, Russell, and Alan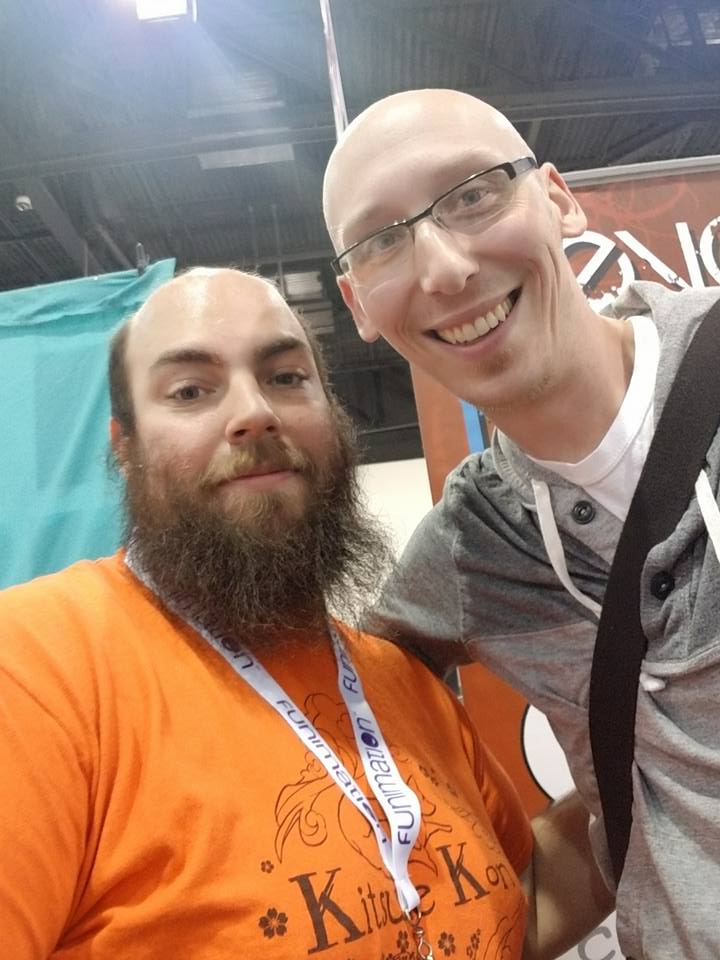 With my buddy Shoulders Hernandez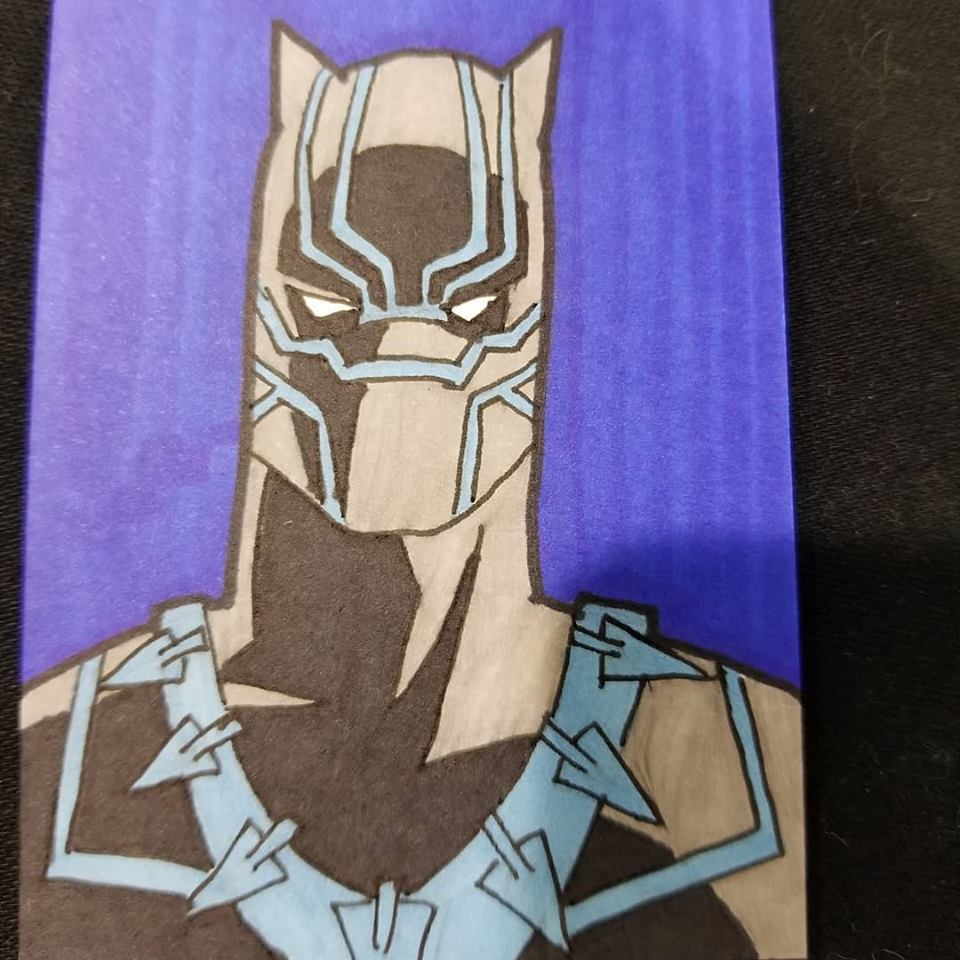 Black Panter sketch card commission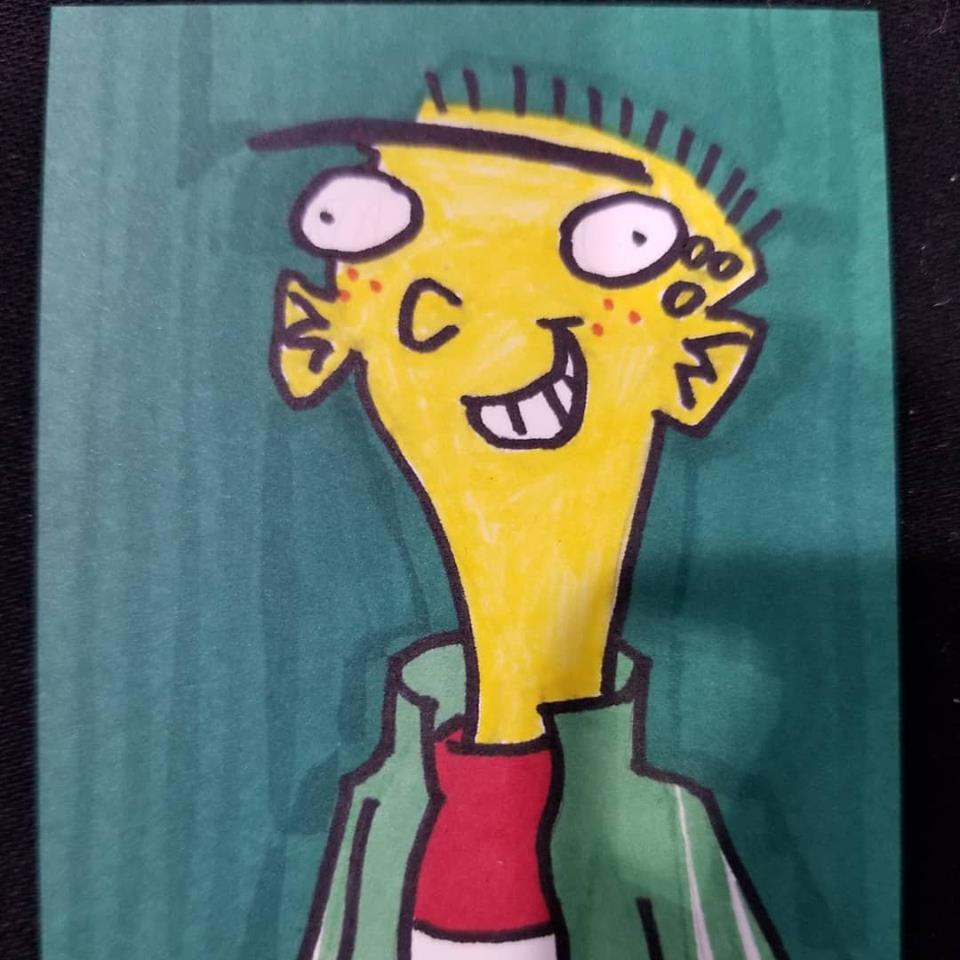 Ed (from Ed, Edd, and Eddy) sketch card commission
Around noon I did my final panel for the weekend, which was Crafting Fictional Worlds. This panel by far had the most attendance of any panel of the weekend, and the group and I had a lot of fun talking about what to reveal and what to imply in stories, how to balance telling vs showing your world through visuals or exposition, and many more topics. I didn't get to answer every question people had at the panel, sadly (if you attended the panel and are reading this, ask me now!), but that's what happens when you have 75+ people in a room and only an hour for a panel.
I returned to the floor for the final hours of sales, and Johnny stopped by to say his goodbyes. I gave him a hug and a pin for his daughter, and then started to pack up my stuff.
Anime Milwaukee was another incredible con, with great attendees, staffers, and volunteers. I'm always incredibly humbled and honored to be invited back, and hope to return yet again next year!
December 23rd, 2014
|
by Trevor
My final convention appearance of 2014 was a chance to go out in style, and style is exactly what happened this weekend at the show. It's the second year I've been a guest at Con Alt Delete, and the show has experienced some amazing growth and changes in that short period of time. So without further delay, let's check out what happened this weekend:
THURSDAY:
The day before the show, I headed out to Rosemont to check into the show and drop off my stuff. I wasn't going to be able to stay up too late since I had to work a half day on Friday, but I wanted to show my face and say hello to everyone. I went back to my condo to grab my next load, and crashed soon after that. Really it was a short opportunity to say hi to people before the chaos of the weekend had a chance to start.
This year CAD moved to Rosemont's Hyatt hotel, which holds a special place in my heart. I love this venue for cons, and I know it like the back of my hand. When people tell me what room my panel is in (by the room name), I know where that room is located. I know where the hotel rooms are. And I love the atmosphere and accessibility of the hotel. It was a fantastic place to move the show to, and I was very excited for the weekend.
FRIDAY:
Friday morning I headed out to work a half day, but then went straight back to the con to set up. I was there about the time the doors opened, set up quick, and started selling. Albert the Alien artist Gabo was set up next to me, so it was a fun time conversing with him and catching up in between sales.
At one point we were collected for Opening Ceremonies, and got to hang out with some of the other guests of the show including voice actors like Todd Haberkorn, Sonny Strait, and Eric Stuart. We also got to see Samurai Dan and Lady Jillian, two of my favorite convention friends. Gabe and I were some of the last guests called to the stage, so I made sure to poke a little fun at our panels and our status ("We all know who you're here to see: us!" — "The con that's so awesome they got not just one, but two bald guests" — "Watch out, folks, or North Korea will hack your phones this weekend and censor all your anime!"). The audience was in stitches.
The floor was open until 8pm, which only gave us a little time to grab grub before Gabe's first panel (which was right before mine, in the same room). We went up to the Hyatt Red Bar for some food with some of Gabe's friends. This group of girls are students at the college Gabe graduated from, and occasionally goes back to teach at, and they were pretty cool. One even bought us dinner, which I thought was really sweet.
After dinner we bum-rushed down to the room to set up for Gabe's panel, which was on digital coloring. The guy started his career doing coloring, and still does it for a lot of his projects including Albert the Alien and The Life After.
After Gabe's panel was my Evening with Trevor Mueller panel. Since the group was largely unfamiliar with me, I went into some of the fan-favorite jokes and stories – which always get a laugh. I even ended with some fake movie trailers from my wedding, which have gone over really well with audiences at this panel.
After the panel ended, we went to the Green Room to hang out with some of the voice actors. It was a nice way to unwind after the long day, and Sonny and Gabe were able to bond over their mutual "love" of coloring techniques. It was fun to listen to them geek out over something like coloring, which I have a very basic knowledge of how to do, but they went super in-depth together. It was the nerdiest conversation I couldn't contribute to all weekend.
After the relaxing chat, we all headed to bed.
SATURDAY:
Saturday morning Gabe and I got up really early and headed to the Hyatt gym. As expected, no one else was in the place, and so we had our run of the machines. I love working out in the morning of a con since it helps give me a boost in energy. It also gives me an appetite, which is why we quickly met for breakfast after the workout.
The Hyatt has a very tasty (but expensive) breakfast buffet. Thankfully drinks are included, however, so I was able to get some OJ (great after a workout), and carb and protein up for the day. After breakfast, we headed down to artist alley to set up for the day. Saturday traffic was greatly increased over Friday (not uncommon at a convention), but sales were also much higher (always a pleasant thing).
Around 11:30am I had a panel about Making Webcomics, which I combined with some topics on Self-Publishing (since Sonny Strait was doing a few webcomic panels throughout the weekend, and I didn't want to steal his thunder). It was a bit of a Q&A session, with some very insightful questions from people about digital distribution, update schedules, pacing and buffers, best practices, and how to find creative collaborators. It was a fun time, and after I had a few people follow me back to the table and make a few purchases.
The day continued with a few commissions. One person wanted a Raven from Teen Titans, which I knocked out for her pretty quickly. Another fan wanted a Loki, and she was kind enough to let me take a picture and gave permission for me to post them.

Loki commission sketch card

Another satisfied customer
Gabe ordered some Chinese food for the group off GrubHub, which sounded plenty tasty. None of us had brought snacks, so we were pretty hungry as the day went on. The food arrived and we ate at our tables during the last hour of the floor. Since the floor opened a little earlier in the day, it closed a little earlier too. Which was nice, because it gave us a break. We went back to Gabe's room and popped on the TV while we started to doze off a bit.
Around 8pm, we all headed downstairs for Gabe's last panel of the weekend, which was on Time Management. I sat on it with him, providing some advice from my own perspective – as well as my usual brand of informative humor.
After the panel we had a few fans stick around to ask us some questions, and then I met up with my friend Lauren. I met her through a mutual friend (Johnny Young Bosch of Power Rangers and Eyeshine fame – good taste in friends!) a number of years ago, and she came to hang out a bit and check out some of the panels and bands. We were able to catch the last few chords of V is for Villains concert, and then headed over for the Cards Against Humanity panel that Dan and Jillian lead every year. It's seriously my favorite panel, and I look forward to it every convention I do with them.
The panel lasted until 12:30am, and then we all headed over to the Green Room to unwind a bit and chat with staffers and friends. We had some extremely nerdy conversations about How I Met Your Mother, Star Trek, anime, and a number of other topics. After an hour or so in the green room, we dispersed our separate ways and not too long after went to bed.
SUNDAY:
I woke up not feeling quite right, which didn't make sense to me. My stomach hurt a lot, and I couldn't quite figure out why. I took a quick shower and felt worse. I decided to skip breakfast and muscle through it, continuing to hydrate. When I got to the floor, Gabe told me he got hit last night with the same thing (and was still feeling it), and his brother got sick this morning. We had all gotten food poisoning from the Chinese food we had ordered the night before!
As the day went on I kept feeling worse and worse. My wife showed up to hang out, and I got a little food in my system, but as the hours went by my pain increased. It got to the point where I couldn't stand up straight anymore. As much as I hated to do it, I eventually went to find a staffer to ask if it was okay for me to take off early. I was in no shape to participate in my guest duties, much less interact with the fans and attendees of the show. Upon talking to a staffer, I was surprised to hear that several of them had been hit by something similar. "Chinese food?" they asked. We weren't the only ones who got sick.
I went home that night and passed out immediately. It took a good 24-48 hours to fully recover from the food poisoning, which was a bummer.
Despite the unexpected food poisoning, Con Alt Delete was a fantastic show and a lot of fun to go to. We saw a lot of first-time con-goers, a lot of people celebrating their birthdays or being rewarded by their parents for good grades, and just generally awesome people having a fun time. It was a lot of fun to hang out with Gabe and Ren all weekend, to see friends both old and new, and to participate in some seriously fun and informative panels.
If you're looking for a fun low-key con to hit up before the holidays next year, I highly recommend Con Alt Delete! And I hope to see you there!
January 31st, 2012
|
by Trevor
When Albert uses the hall pass, he couldn't have imagined the adventure he'd have on his way to the rest room.
Cornered by Wally, Albert must find a way to out-smart the school bully and his goons, all the while dodging the hall monitors who roam the school.
An original short story by Trevor Mueller with art by Gabriel Bautista, this installment continues the story about the foreign exchange student from another planet!
January 24th, 2012
|
by Trevor
And here's the first Albert page in color!
As many of you know, in my free time I work as the marketing director for The Reading with Pictures, a non-profit organization working to get comics in the classroom. The organization has been only been around for a year, but in that time we have made strategic alliances with key educational organizations as well as The American Library Association to help educators reach under-developed readers and develop a curriculum to teach teachers how to teach with comics. Parents and educators have really gotten behind the idea of comics in the classroom, and the comics community was also extremely excited about the role comics could play in education as well.
As such, the organization reached out and secured over 50 professional comic creators to volunteer their time to create a 200 page full color anthology, which RWP published. These are award-winning or multi-award nominated creators such as Raina Telgemeier, Jill Thompson, Fred Van Lente, John Bivens, Chris Giarrusso, Jimmy Gownley, Josh Elder, Russell Lissau, and many more!
I also contributed a story in this all-ages anthology called Albert the Alien, with Eisner Award winner Gabrielle Bautista doing the artwork. The anthology was a lot of fun to put together, and it's been a top-seller at conventions across the country (and also available on amazon.com).
Over the holiday weekend it was announced that Reading with Pictures was nominated for two Harvey Awards:
-BEST ORIGINAL GRAPHIC PUBLICATION FOR YOUNGER READERS
-BEST ANTHOLOGY
The Harvey Awards are like the People's Choice of comics, where comic professionals create the nominations and then he people get to decide who or what receives the awards. Because of this, we humbly request your continued support for Reading with Pictures by asking you to vote for us in these two categories.
Help us bring home the win by going to the Harvey Awards website and voting for your favorite comic creators / comics.
Thanks so much for your continued help and support.