Posts Tagged 'gabriel bautista'
16 items.
February 23rd, 2018
|
by Trevor
Convention season is officially upon us, and has started off with a bang! Anime Milwaukee continues to be my first con of the year, and continues to set the bar – AND HIGH – for the rest of my convention experiences this year. I was a returning guest of honor, and had fantastic panels (with high attendance), and great sales on the floor. The staff and volunteers continue to make an experience worth having – and attendance increased over 10% this year, breaking the 10,000 mark!
A special thanks to all the staff, volunteers, and guest relationships folks who keep bringing me back and giving me a wonderful experience – one I encourage each of you to come have next year! This was my 8th year (out of 11) returning as a guest of honor, and I keep coming back for this same reason: the show is great, and I love being there.
THURSDAY:
After work, I packed up the car and headed over to pick up my buddy (and fellow guest of honor), Russell Lissau and his daughter. It was the first time I was car pooling with him in my new SUV, and I knew I would have enough room for his stuff, but was impressed I was able to fit all my stuff into only half of the trunk. Either my packing skills have gotten better over the years, or this car is much more massive than I originally thought. Or both!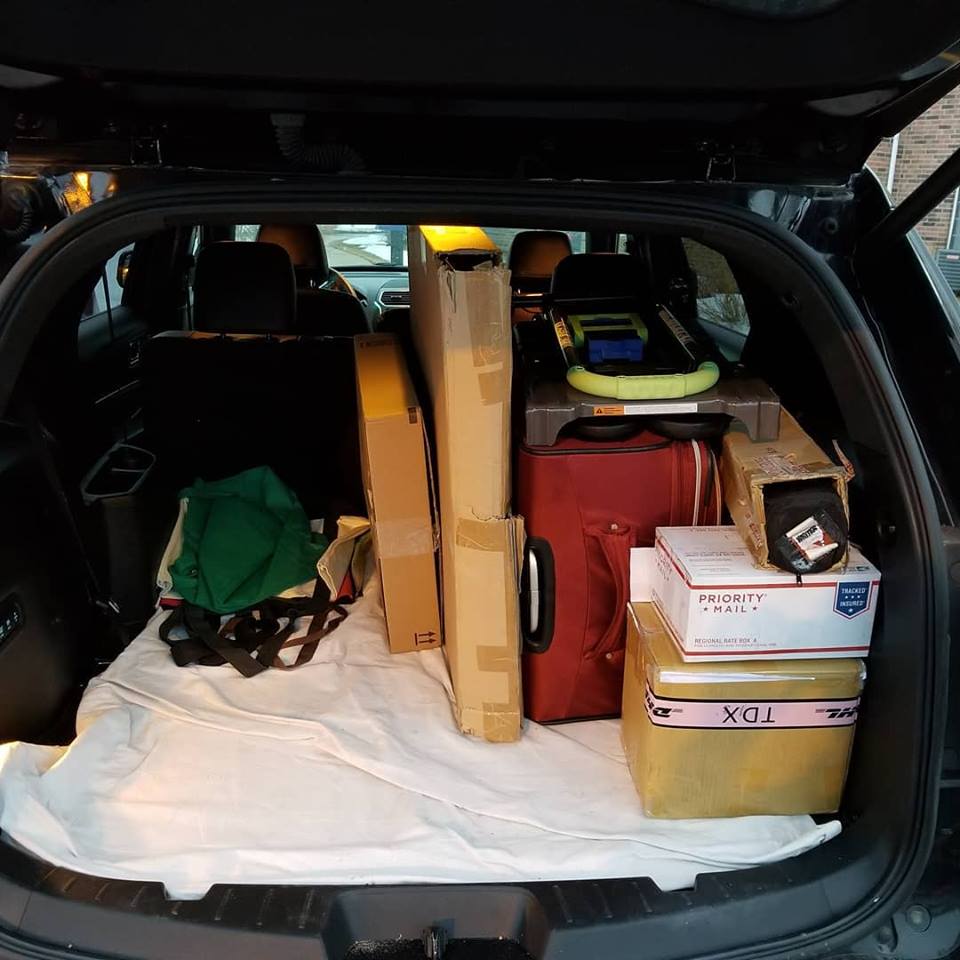 The trunk of the car, saving half of it for my buddy Russell – but was impressed that I was able to fit into half of it
We grabbed a quick dinner at a local burger place, and then headed up to the convention center. In no time at all, we arrived and unpacked. Despite having a dolly this time, it still took me several trips to get my stuff down to the floor (hey, my first year with merch…I'm working on it). Once there, I started to set up that night because I knew I would need a little time to play with the configuration. With a 3 foot book display, and a 14-inch vertical merch display, there wasn't a ton of real estate on the 6 foot table for me to set up all of my stuff…so I'm glad I gave myself the extra time to experiment.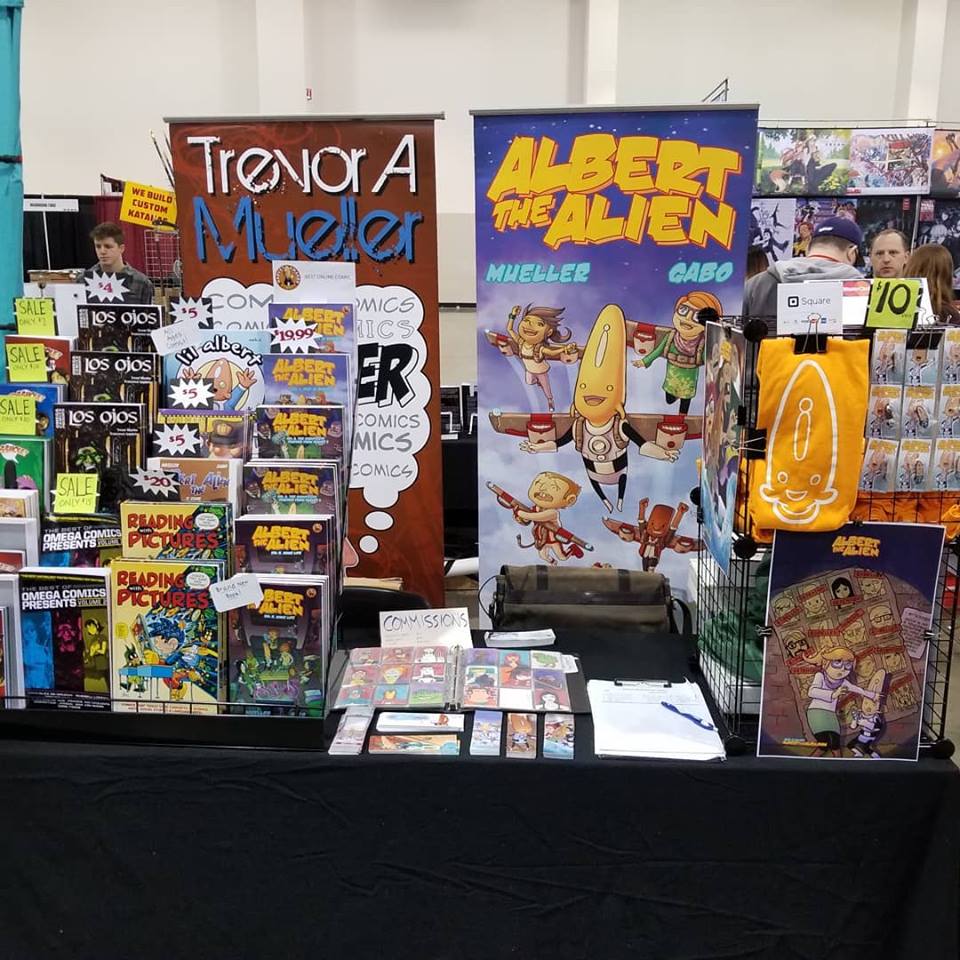 The booth, now with t-shirts, posters, and pins!
After setting up, the group went to the green room and had some food. We met a few of the handlers and some of the Japanese guests, and had a little food, but ultimately went to bed early – which is almost unheard of on a con weekend. But, thankfully, it helped set the tone for what would be an excellent weekend.
How late do you usually stay up at a con?
FRIDAY:
Friday morning we all went to the gym in the morning, including my buddy Russell (who NEVER joins us in the gym). I like to start my weekend with a healthy workout, as it keeps my energy high (and gives me a big appetite for breakfast). We headed over to the restaurant across the street from the hotel for a meal, and then went to the floor to finish setting up our tables before Opening Ceremonies.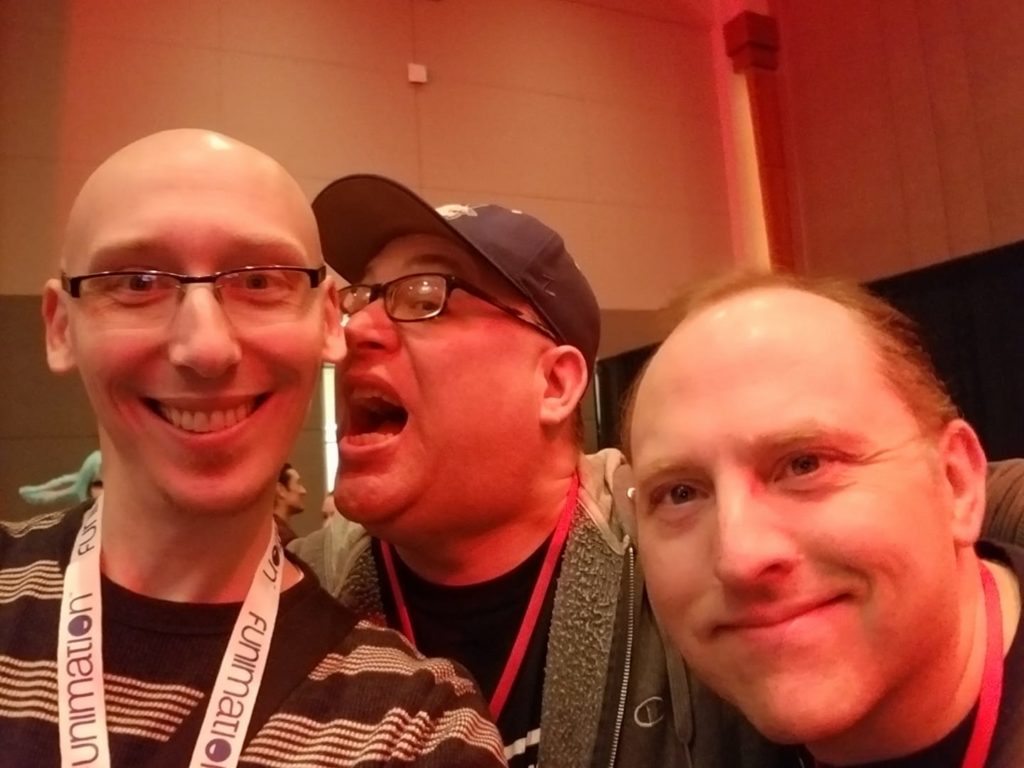 Behind the curtain at opening ceremonies with my comic pals, Russell and Alan
The comics crew headed over to Main Programming for Opening Ceremonies, and got to see the guests – many of which I hadn't seen in ages, and some of which I hadn't ever met before (despite attending multiple cons as guests together). All of the big voice actors were there, many of the cosplay guests where there in costume, and Samurai Dan and his wife were there with the dogs (which is always a hard act to follow on a stage). We all said our hellos, and then Jon St John – the master of ceremonies – introduced us all. He had a teleprompter in front of him with our names and bios (which were also displayed for the audience), but despite that he still got my name wrong, which would become a running gag throughout the weekend.

Opening ceremonies, this bald guy gave a talk for a while. It was fun. He was good looking. You should buy comics from him
After energizing the crowd, we headed back to the floor for finalizing set up and for the flood of people piling into the show. The day went by quick, but was a ton of fun. I also had a Writing for Comics panel at 2:30pm, which followed Alan's first Making Webcomics panel. I arrived a little early, and he handed some tougher questions about overcoming troupes to me. I participated in his panel and had some fun, but then immediately started into my panel. Attendance was solid, and I had some great engagement from aspiring writers (and some artists). After the panel ended, I went back to floor and continued selling until the end of the day.
What kind of programming content do you like to attend? What attracts you to a panel? The topic, or the panelists?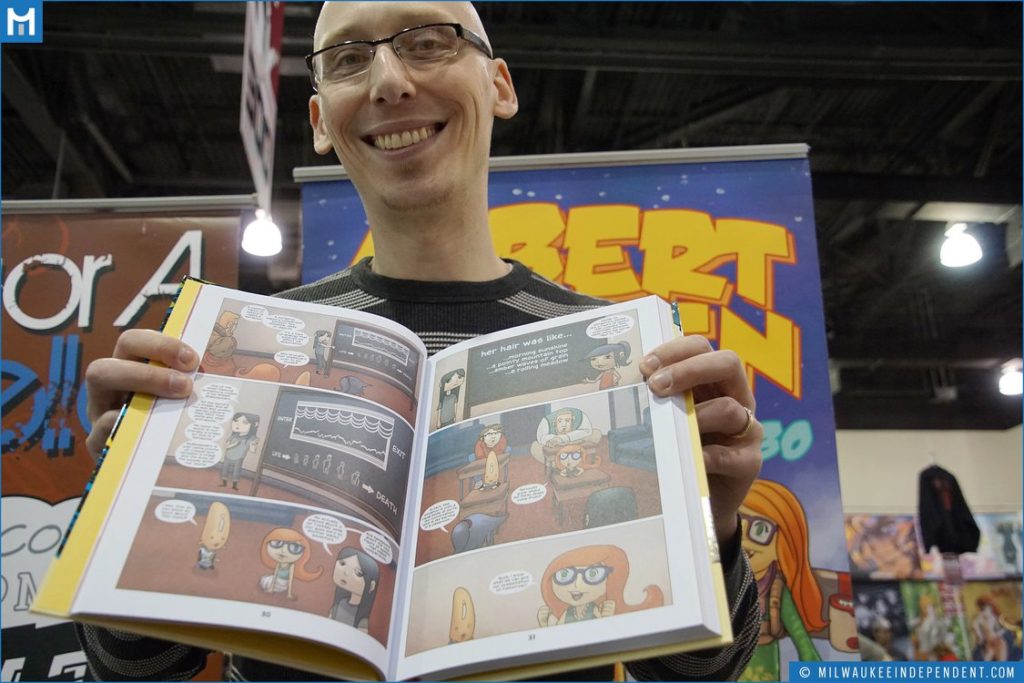 Showing off the product for some photos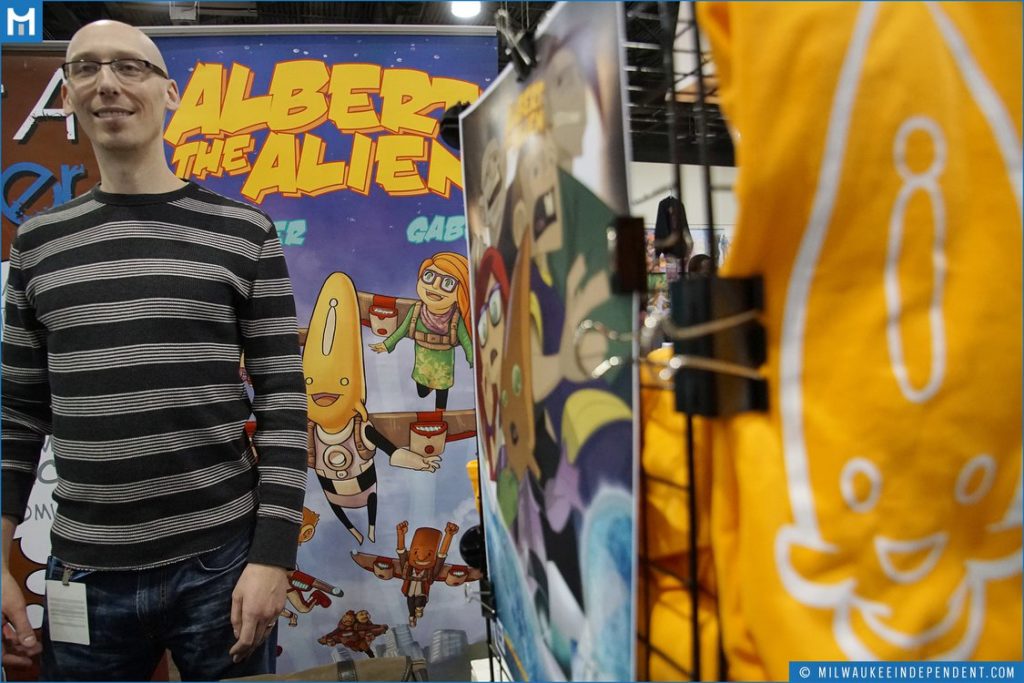 Standing and talking to photographers at the booth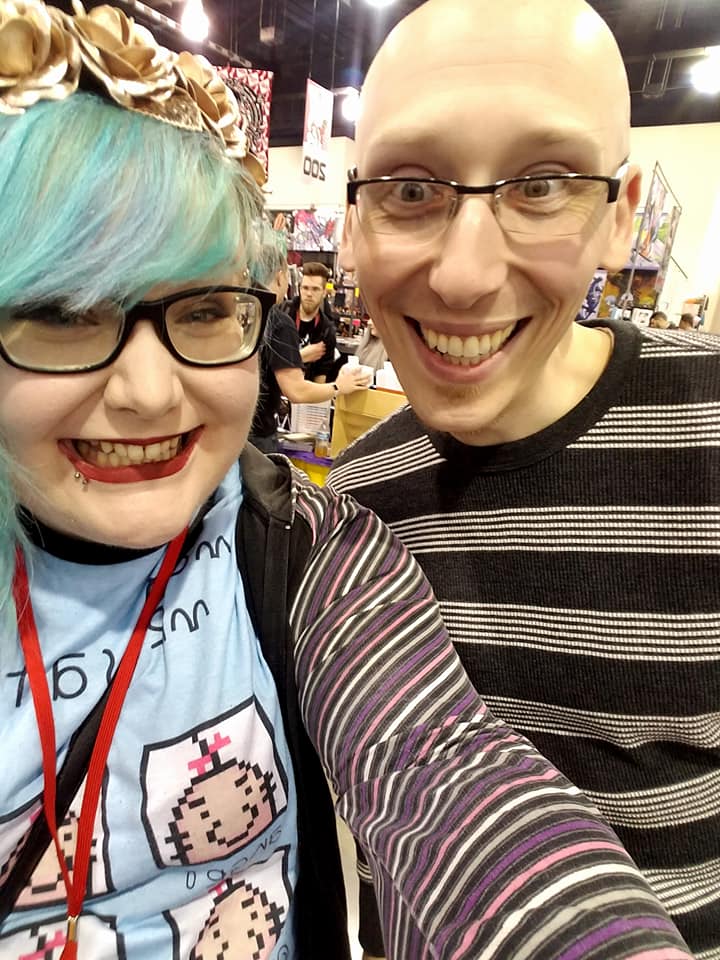 With the ever-incredible Mel!
After the floor closed, we headed to our rooms to grab some food (pizza from a nearby Italian restaurant we've never tried), and then went to the green room for some group toasts. It was the 30th anniversary of Final Fantasy, and many of the voice actor guests had done work for the FF games series. At the same time, we were toasting for our absent friend, Gyu, who has been a major presence in our lives both in and out of the con world. Gyu's absence was celebrated with a few fingers of 30 year old scotch – something he would enjoy – and it was a chance to talk to some of the voice actors I had not had a chance to meet previously.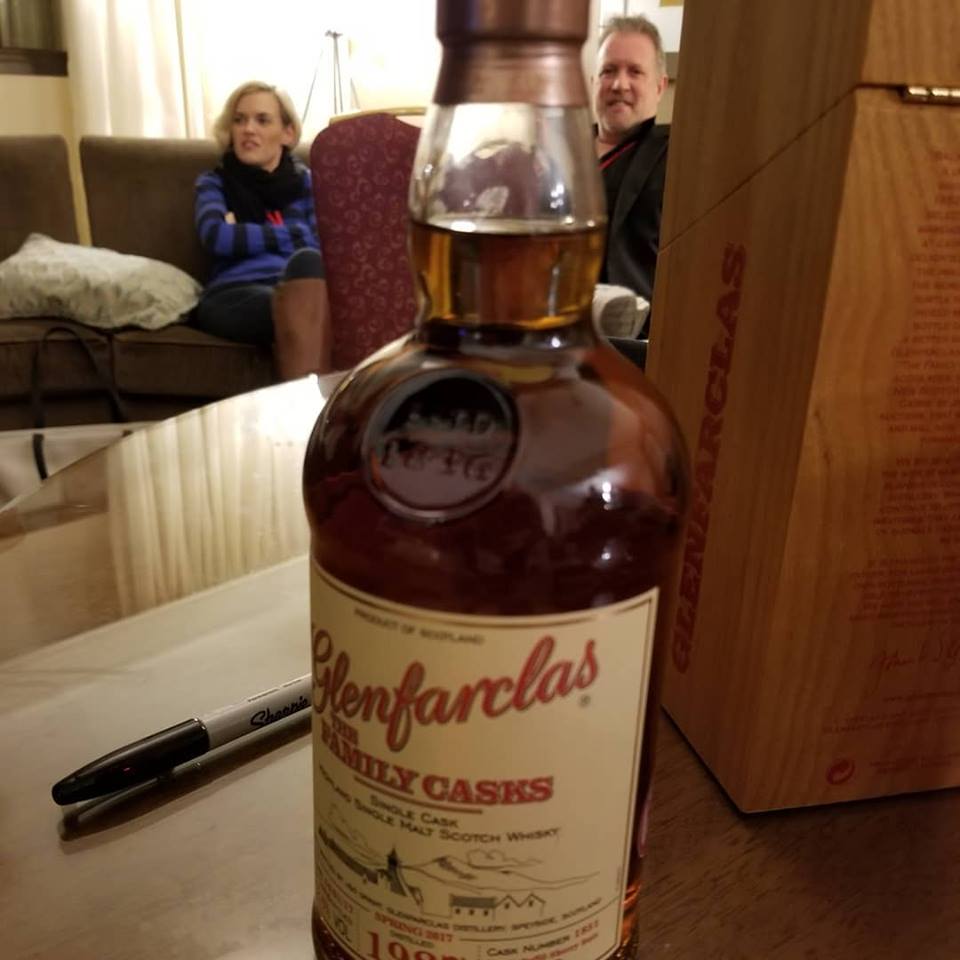 30 year old scotch in the green room, toasting the 30th anniversary of Final Fantasy (with photo bomb by Kari Wahlgren and Jon St John)
After the toast, we went to the VIP event in the top of the hotel, and hung out with fans. I got to talk to Johnny about his new band, and we talked merch (since I've been dabbing in t-shirts and pins, and he's looking at experimenting with some new stuff to sell at concerts and cons), and then we split so we could hang out with the fans. A number of Channel Awesome fans found me and started chatting me up, which was a blast. I got into some very impassioned talks about good and bad movies, which started to make me lose my voice (not good!), so I finished the evening listening to what they enjoyed (or didn't) about certain movies. After the VIP event, we went back to the green room for a quick snack, and then we all went to bed again (rather early by comparison to previous years). The rest was much appreciated.
SATURDAY:
Saturday morning started as all the rest do – got ready, grabbed some grub (this time at the Hyatt restaurant), and then went to the floor to set up and start selling. And sell I did! Man, the crowds were massive and the desire for original art and commissions was high! I loved it!
Around noon or so, Gabe and I went to our How to Draw an Alien panel, and re-arranged the room so it was more appropriate for a workshop. We gathered everyone around a few tables with paper and stuff to draw with, and we started talking about aliens and Gabe's method of design. Then we built our own alien creature together. His name was Bob, and he worked in corporate finance. We then designed his boss – a stop light with each light showing a different emotion. We then opened up the group to free design their own support staff – janitors, HR, marketing, and one guy even made a transportation alien. It was a lot of fun, and we all shared and had a laugh at the fun creations we had made during the class. After, we packed up the room and went back to our tables to keep selling for the day.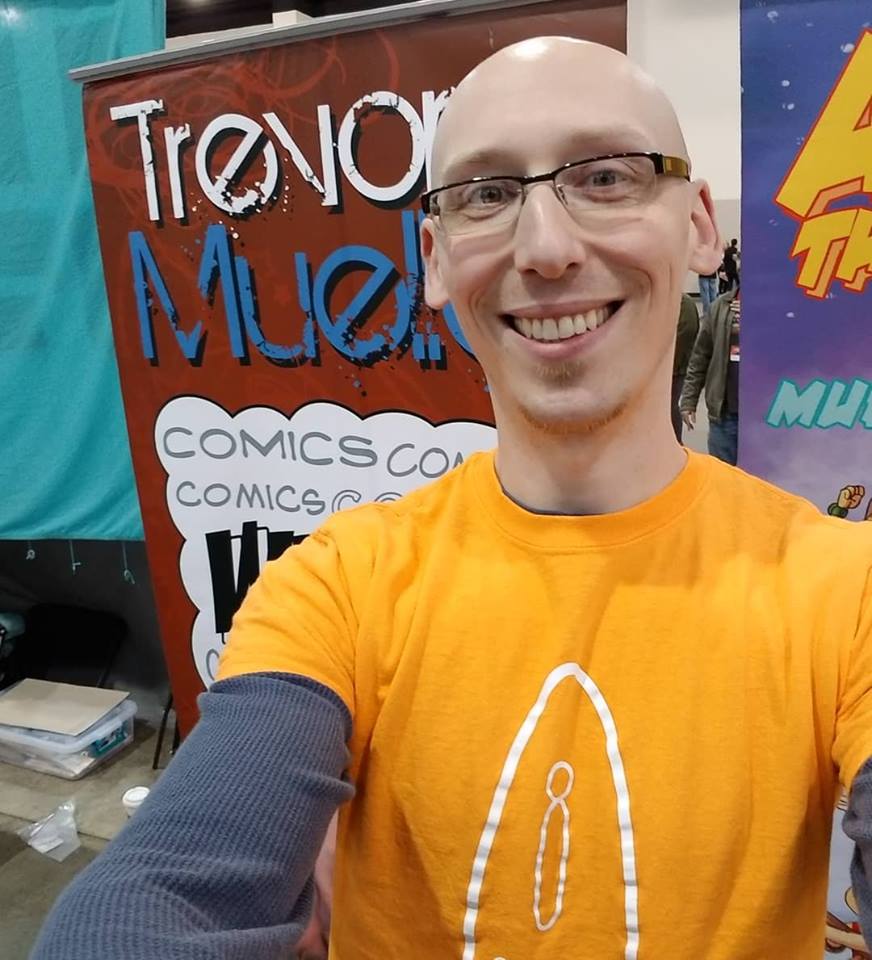 Come buy comics from this man at AMKE 2018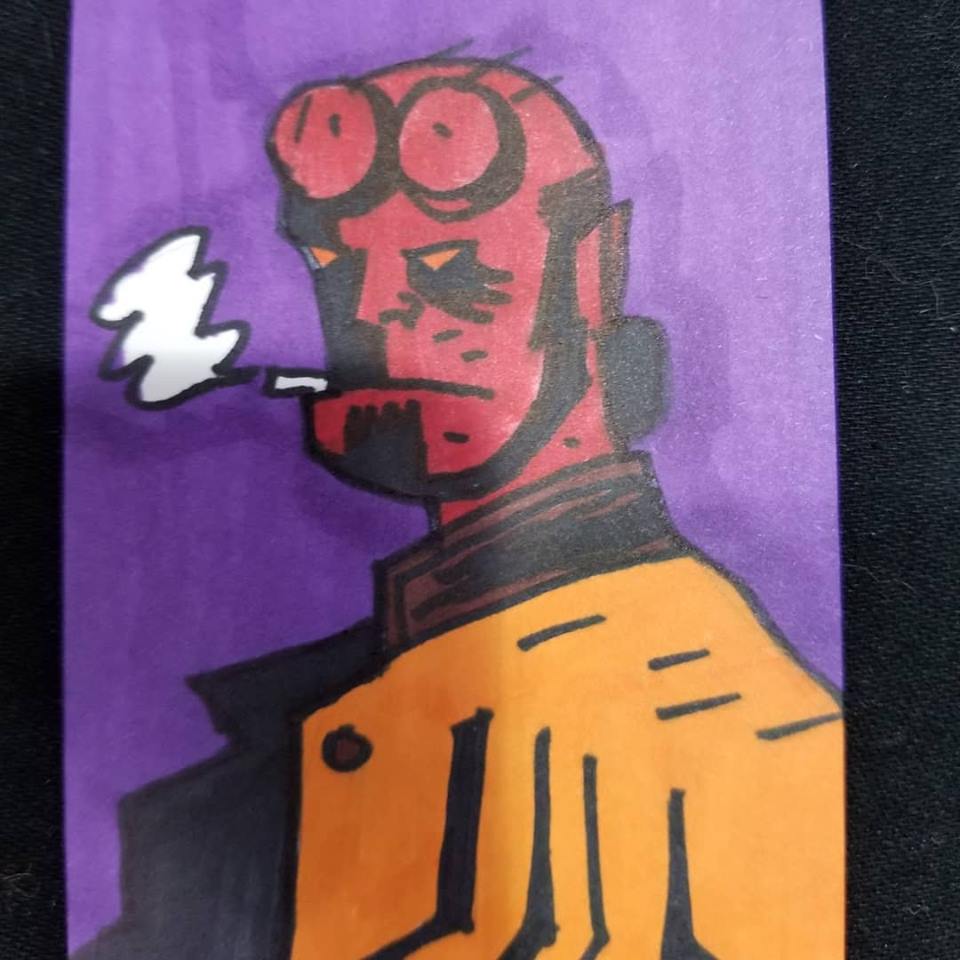 Hellboy sketch card commission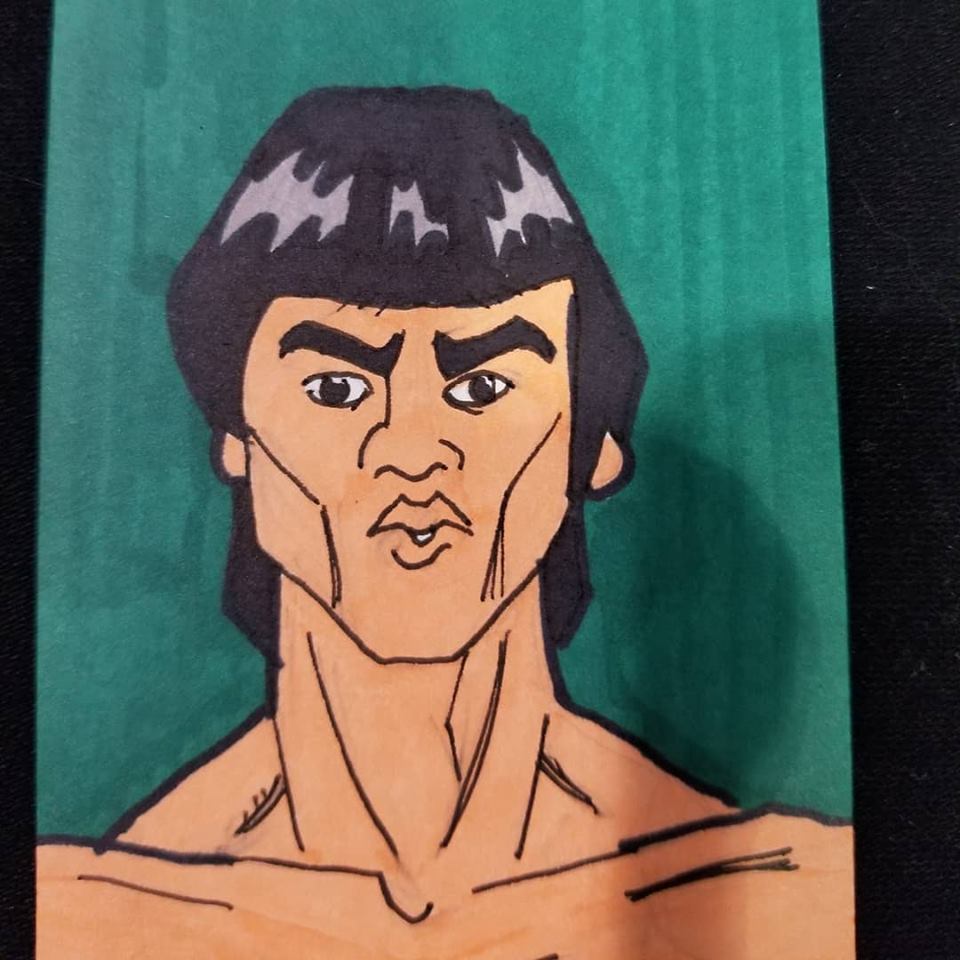 Bruce Lee sketch card commission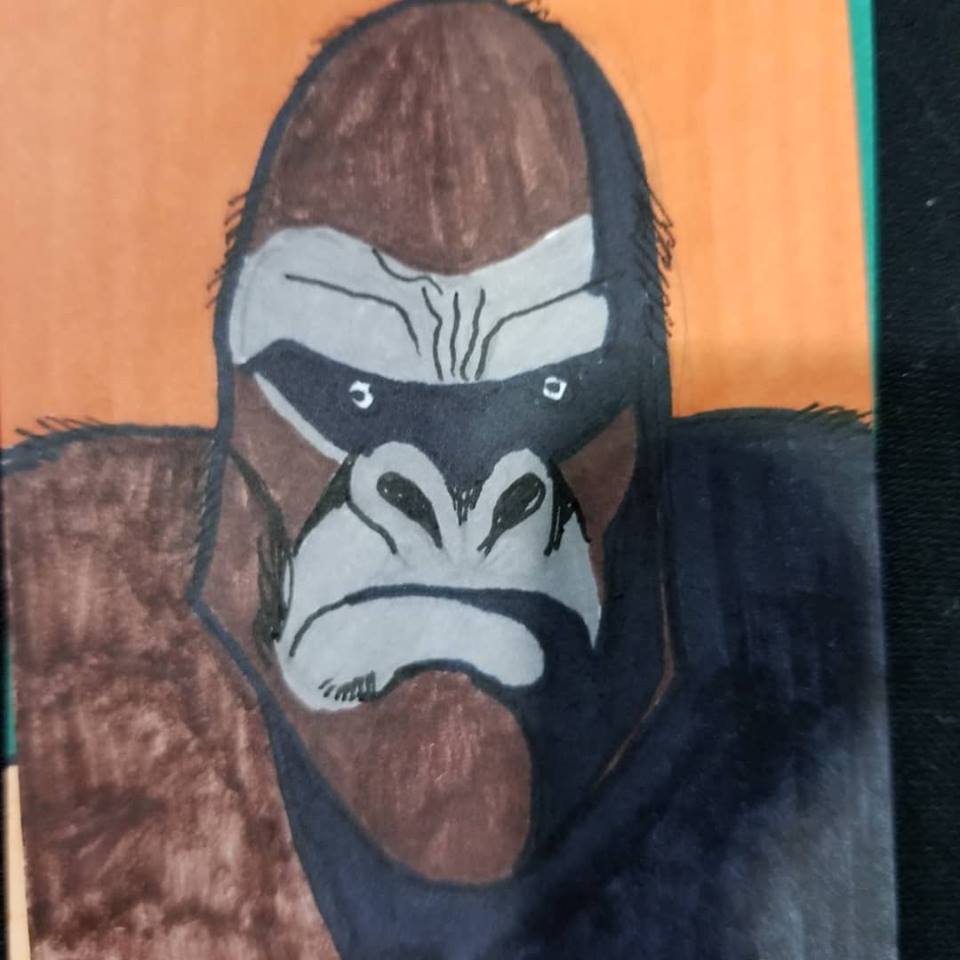 King Kong (from Skull Island) sketch card commission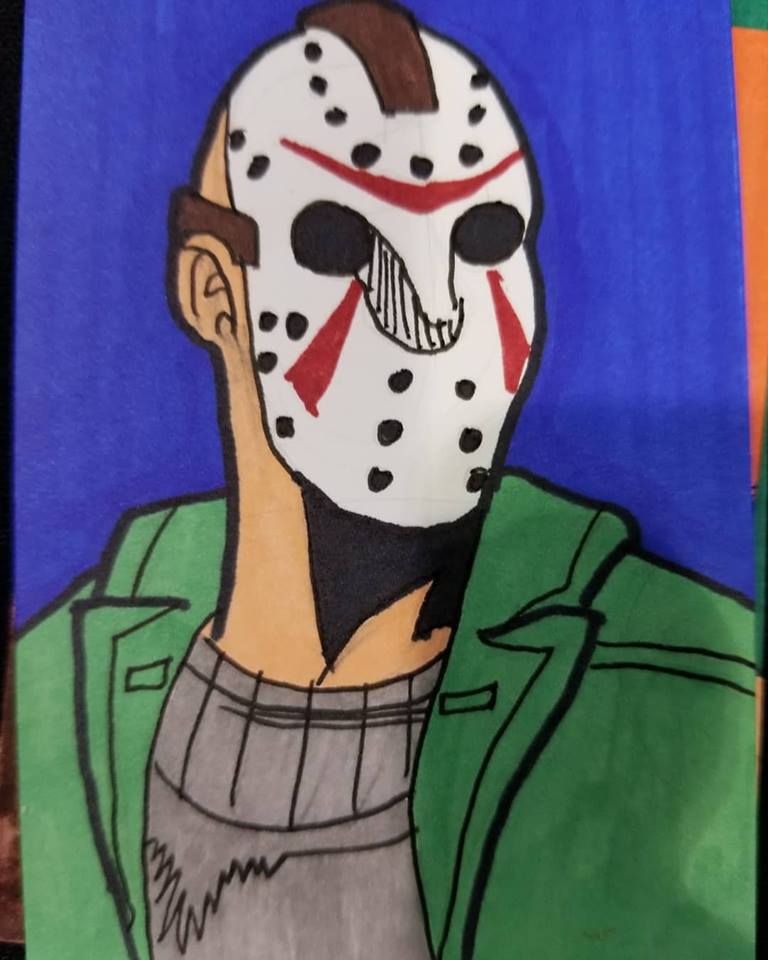 Jason (from MKX) sketch card commission
After the floor closed, I met up with my friend Lauren, who had driven up from Chicago to see me and hang out with our mutual friend, former Power Ranger Johnny Yong Bosch. The group went to the Thai restaurant across the street (a big mistake, because even with reservations we were delayed in being seated, and the service staff was overwhelmed with the volume of patrons). We eventually got through the meal, and headed back to the hotel to have drinks with some staffers who we've been promising to hang out with for some time. Lauren left to hang out with Johnny, who was grabbing dinner with Samurai Dan and his family, while we finished drinks. A homeless entered the hotel and tried to solicit drinks from us, which was not cool, and eventually hotel security scared him off.
After drinks, we went to go play Cards Against Humanity with Dan and Jillian, which ran until a bit after midnight. After, I retired to the green room with Johnny and Lauren to watch some Olympics and keep hanging out. Around 2am, we decided to call it a night. Johnny and I were going to grab breakfast in the morning anyway, which would come far too early for either of our preferences.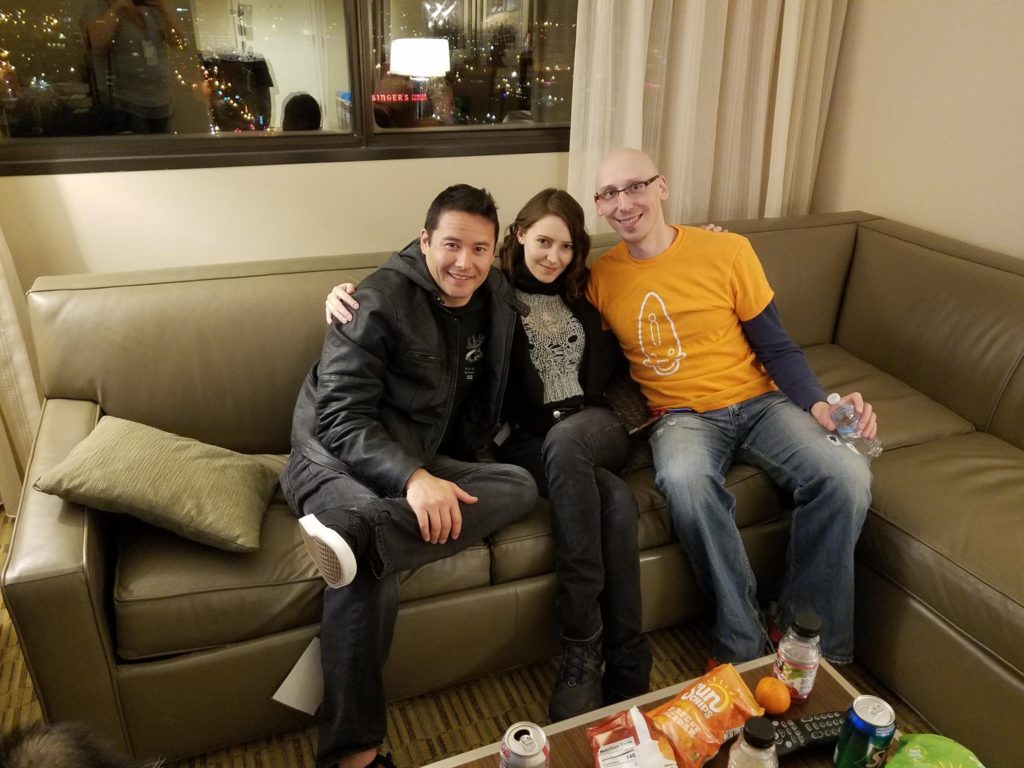 Got to spend a fine evening hanging out with two of my favorite people, Johnny Yong Bosch (Power Rangers) and Lauren Marie
SUNDAY:
I packed up my room and loaded up the car, and then headed to breakfast with Johnny. We talked more about his band and musical experiences, about our families and what cons we enjoyed attending. It was a fun time, and something I don't get to do nearly often enough because of the late nights and tight schedules many cons keep us on. It was very refreshing to get to hang out with my friend and just share a meal. After breakfast, I headed to the floor for a final day of sales – and boy oh boy, did the trend get set early in the weekend, because they were a flood.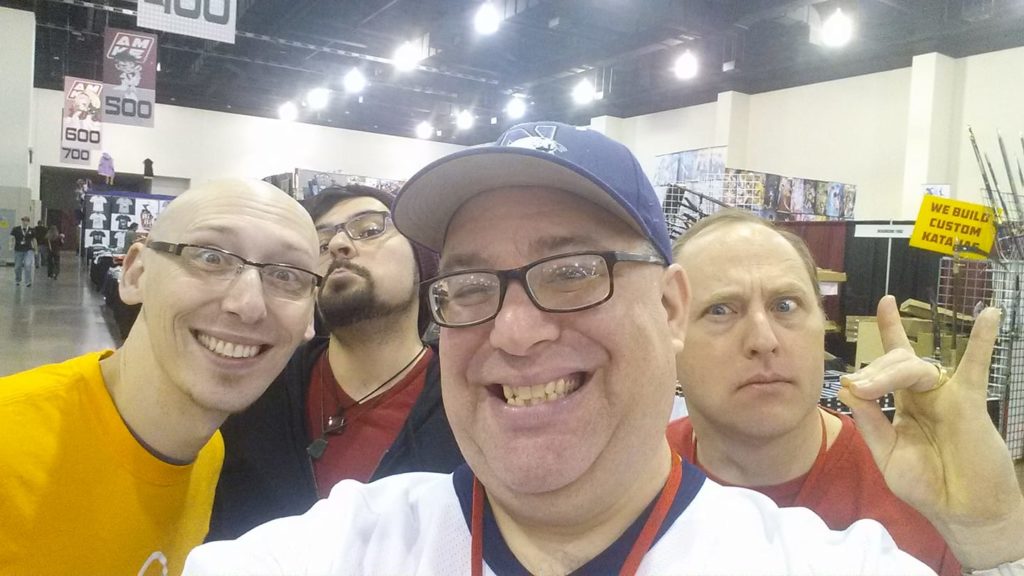 Hanging with the comics crew in artist alley before opening. From left to right: Trevor, Gabo, Russell, and Alan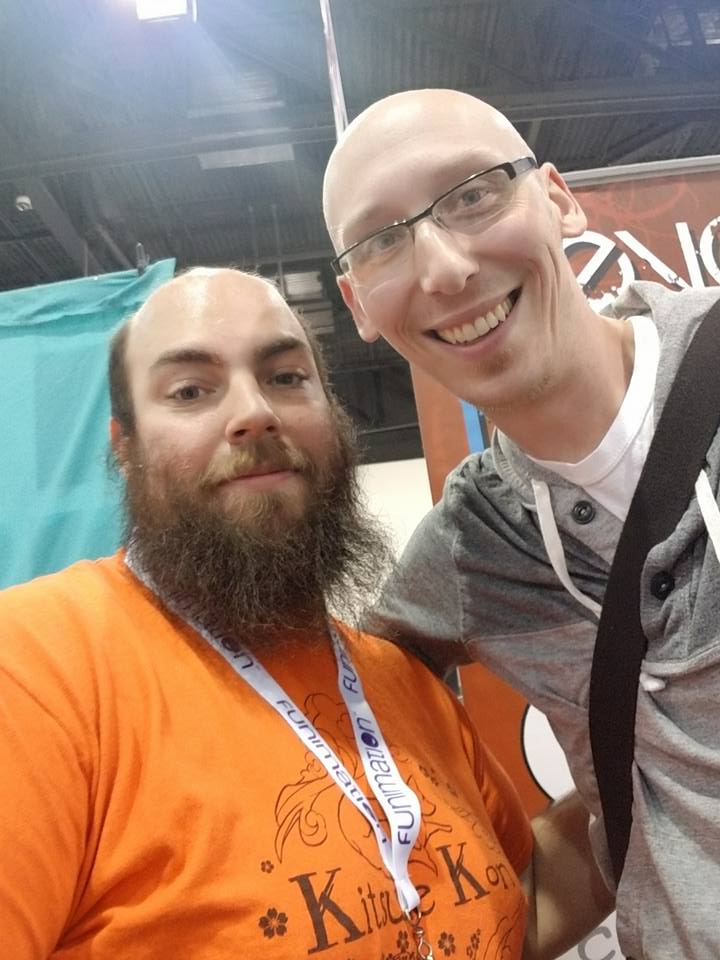 With my buddy Shoulders Hernandez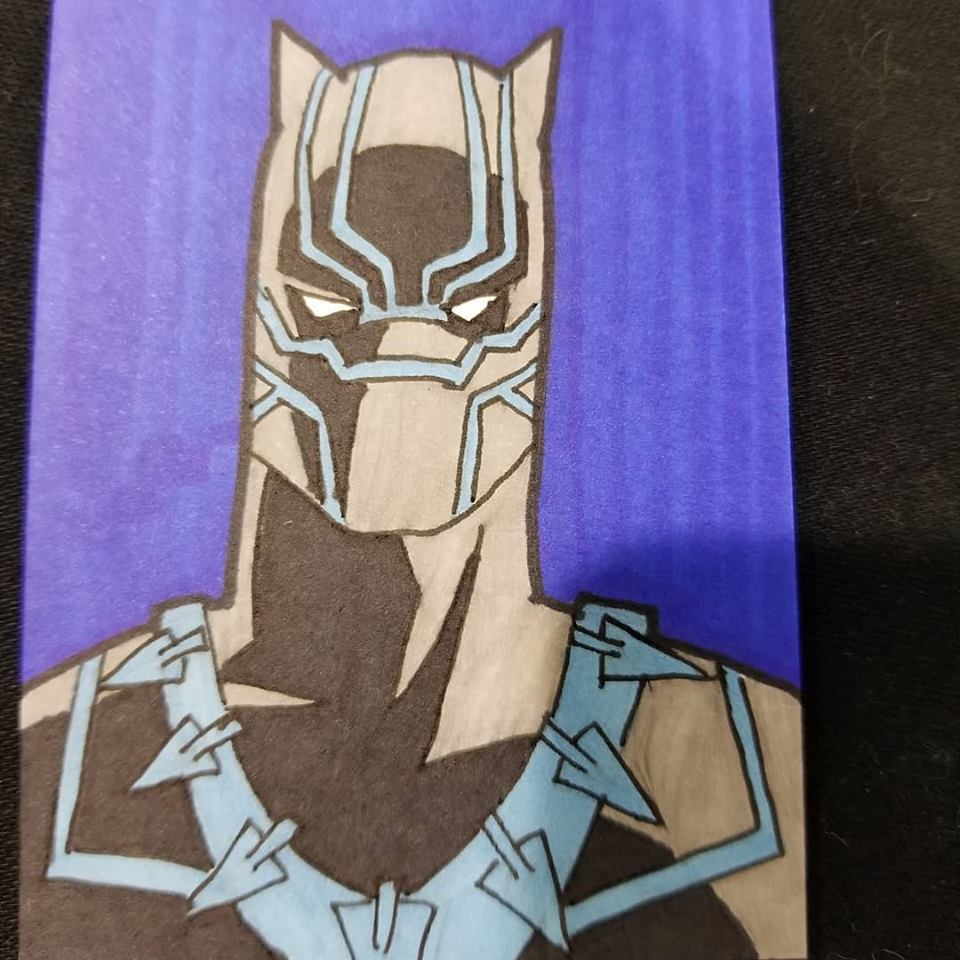 Black Panter sketch card commission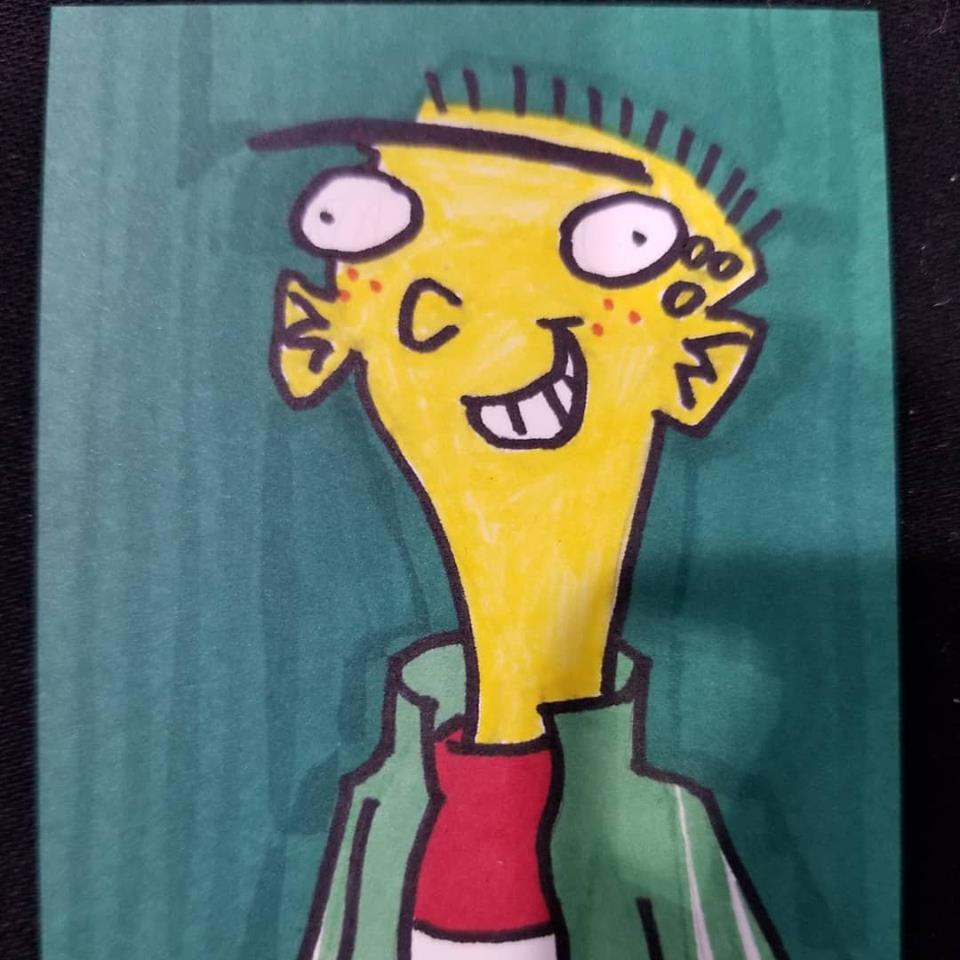 Ed (from Ed, Edd, and Eddy) sketch card commission
Around noon I did my final panel for the weekend, which was Crafting Fictional Worlds. This panel by far had the most attendance of any panel of the weekend, and the group and I had a lot of fun talking about what to reveal and what to imply in stories, how to balance telling vs showing your world through visuals or exposition, and many more topics. I didn't get to answer every question people had at the panel, sadly (if you attended the panel and are reading this, ask me now!), but that's what happens when you have 75+ people in a room and only an hour for a panel.
I returned to the floor for the final hours of sales, and Johnny stopped by to say his goodbyes. I gave him a hug and a pin for his daughter, and then started to pack up my stuff.
Anime Milwaukee was another incredible con, with great attendees, staffers, and volunteers. I'm always incredibly humbled and honored to be invited back, and hope to return yet again next year!
September 6th, 2013
|
by Trevor
Getting around to this one a little late, but unfortunately comic deadlines come first. As you know, Chicago Comic Con (or Wizard World Chicago, it's sometimes called), is the only show I do in the year where I'm not a guest – but it's somehow one of my highest sales shows of the year. So let's jump right into it.
THURSDAY:
I left the office and headed over to the convention center to see my buddies (already set up), and check out the new hall. The show moved to the other side of the building this year, and the space was quite different than the previous year. For one thing, dealers and panel rooms were upstairs – which was a first. However, the hall was plenty packed with people (we later found out there was a Thursday night Groupon, making for a lot of first-timers coming in to check out their first comic show).
At 6pm I had a panel about creativity moderated by Tony Kim, along with David Chelsea, Dan Parent, and Rob Prior. I was the resident indie / webcomic guy, and everyone on the panel got along very well – and told some good, funny, and hopefully inspiring stories about the creative process. In fact, one con-goer called it "the panel they enjoyed the most" out of the show. We talked about the hurdles to being creative, and what motivates / inspires us to tell the stories or do the art that we do. I tried to throw in some typical humor, but also the motivational lines I've become known for at the shows. With a few new ones thrown in for good measure.

After the panel ended, I headed back out to the floor to hang out with Russell Lissau (The Batman Strikes, Strawberry Shortcake) and Jim McClain (Solution Squad). The two were selling in high spirits, and we all went out to The Ram after for a quick bite of dinner.
Russell took me back to his place, where he was putting up myself and our friend Steve Horton (Amala's Blade) for the weekend. We had a few drinks, had a few laughs, and then headed to bed to rest for the next day.
FRIDAY:
The group got up early in the morning and headed over to grab some quick bagels before heading over to the show floor. We set up and started selling, and man oh man was there a lot of traffic. And a lot of families, which was great for Albert sales!

Spider-Man commission headshot for a young father, by Trevor Mueller
A few people signed up for some commissions, and the day went very quickly with the volume of people and sales. The only issue faced (and this appeared to be universal throughout the floor) was that credit card sales were unable to go through. Everyone lost bandwidth. They kept telling me it was because of the volume of people at the show, but ACEN had been held in the same hall several months earlier and had over 28,000 people in attendance. No one could come up with a definitive answer, but it did force us to direct some shoppers to the ATM machine. A few of them returned, but overall it may have hurt sales for anyone in artist alley who was less engaging with attendees.
Friday on the floor ended, and we packed up and headed out to a Chinese restaurant over by Russell's house. The food was good, we had some hot sake, and then headed back to his place to catch the last hour or so of Wreck It Ralph – which I had brought for Russell's family to enjoy. I knocked out some sketch cards, which have been selling like hot cakes at the last several shows I've been doing, and then we all went to sleep.
SATURDAY:
We got up a little later on this day, and hit a lot of traffic on our way to the show – clearly under-estimating the popularity of this event, and the amount of attendees who would be there right at the opening.
Note to self: definitely don't under-estimate the ability of nerds to get up in the morning when there are sci-fi celebrities and comics involved!

Trevor, doing his sales thing
After finally getting inside, we immediately and quickly set up and started selling our hearts out. The floor was flooded with masses of comic fans, families, young shoppers, and people completely new to the world of comics. All of them ready and willing to buy, and eager to drink in the amazing things around them.
The credit card issue persisted today, but several people came back from the day before with cash – and we rewarded their return with discounts or free art. Thankfully everyone was very understanding of the whole situation, and clearly they wanted the books enough to come back the next day – and we like to reward that kind of loyalty.

Trevor gives Gabe the "bunny ears"
Traffic eventually started to slow towards the end of the day, and it was a good opportunity to walk the floor a bit and stretch my legs, and chat with some comic friends of mine. I talk to Andrew Kwan, a comic student in Toronto and my partner on one of the Top Cow Talent Hunt pitches I put in. The guy loves sci-fi, so we're thinking of pitching a few sci-fi shorts this coming winter – to come out in 2014. Additionally I chatted up Chris Mitten, David Mack, and Talent Caldwell.
Talent and I have been friends for a few years now, and I've always loved that man's art. They don't call him "Talent" for nothing, and he spent the time working on commissions and making art so beautiful it makes me cry. Talent and I had a few conversations about Albert the Alien – which he totally loves – and some other projects we have in the works.
After the floor closed, the group headed over to McCormick & Schmick's so Russell could have his blue-cheese stuffed olives in a martini, and the rest of us could enjoy some tasty sea food. It was nice to sit down, relax, and just hang out with my friends and fellow creators. All good guys, all righteously funny, and all great company.
After dinner we headed back to Russell's so I could work on more sketch cards, and we all watched some Evening with Kevin Smith – a hilarious laugh. Although, not so safe for the kids….
SUNDAY:
The final day of the show we did our usual breakfast stop, and set up nice and early for family day. Surprisingly, I think there were less families in Artist Alley this day than the rest of the weekend – which isn't a knock on this particular Sunday, but a credit to the volume of families that had been attending all weekend.
Sales were pretty steady throughout the day, with a few dips in traffic to allow of us to walk the floor and chat up our friends a bit. I continued to sell out of copies of my books (and sketch cards, which have been flying off the table at record pace these last few shows).
Eventually I shut down the table a little early so I could wonder and say goodbye to some friends, and catch up / talk business with a few others. About an hour before the show was to end, Beth came to get me – which was perfect timing, because the traffic for the show had slowed quite a bit by that time.
After a fun but exhausting weekend of hanging out with great people, seeing amazing comics and art, and yes – selling a boat load of books – we had another highly successful convention on our hands. Love doing this show, and can't wait to do it again next year!

Writers Steve Horton (Amala's Blade) and Russell Lissau (The Batman Strikes, Strawberry Shortcake) stand in front of their booths
Last weekend was another awesome and amazing ACEN – this third largest animation convention in the country, and my favorite convention to attend as a guest. It's also a very strong sales show, and has a very enthusiastic fan base. This was my 5th year as a guest at the show, and the experience just keeps getting better every year.
THURSDAY:
After work, I headed over to the convention center from downtown Chicago. During my walk from the train to the hotel I was recognized by several fans and attendees, all of whom were in good spirits for the impending fun that would occur this weekend.
Upon arriving at the show, I went to con ops to get my badge and room keys, dropped off my stuff, and headed to dinner with the other comic guests including Russell Lissau (Strawberry Shortcake, Shrek), John Bivens (Comic Book Tattoo, Reading with Pictures), and his wife, Mallory. Steve Horton (Amala's Blade) showed up a little later. After dinner, we headed up to V to enjoy some drinks with the other guests and some of the ACEN staff. Then it was off to bed because – silly me – I decided working out in the morning would be a fun way to start the day on Friday.

Mallory poses with her delicious baked goods, celebrating Russell's birthday
FRIDAY:
6:30am rolled around, and our alarm sounded. Since I'm in wedding boot camp, I'm trying to go to the gym 2-3x per week so I'm…less skinny for my wedding. Bivens was kind enough to join me, and we did a full arms and shoulders workout for an hour. We were joined by Jessie Pridemore, who handles the masquerade for the show every year – and has some amazing cosplays!
After the workout, we showered and headed to breakfast – and then headed to the floor to set up for our weekend of selling. There was some confusion on our location on the floor, but after a quick conversation with the appropriate people we were able to locate to the correct location – which totally rocked! Sales were extremely high on Friday, with volume 2 of my latest book selling insane amounts! Always a good thing.

Russell Lissau is ready for commerce, baby!
After the floor closed, we headed off for a quick dinner before heading to our panels for the evening. Russ and Steve had a Superman vs Batman panel, which was standing room only and had a line waiting to get in. During the panel, Steve's wife showed up to celebrate their 10 year anniversary in front of a crowd of a hundred people. It was really cute, and I was glad to play a role in their special day.
After their panel ended, I headed to Bivens Drawing Comics panel already in progress. Gabe had joined him, and the two were having a great time giving an entertaining and educational panel about visual storytelling and pacing. After their panel ended, I had about 20 minutes before my Panel That Shall Not Be Named. This has been a convention staple, and usually has a full room. This year the show gave me a very large room for the panel, and it was pretty full for the entire duration of the hour. The panel was a ton of fun, and a great way to end the night on a high note.
After the panels the group headed up to V for more drinks and hanging out, and then headed off to bed.
SATURDAY:
Breakfast was the order of the morning, with some delicious gourmet buffet-style with fresh fruit and juice. A solid breakfast makes for a solid day, so after we headed to the floor to get to selling. Traffic on Saturday was record-breaking for ACEN, with a huge number of attendees coming in to shop and buy and check things out.

Between sales there's always time to make silly faces
Friday sales had been so strong, Saturday seemed to lag a little – which was surprising. However, this was more than made up later in the evening after the panels. There was a lot of interest in the new books on the table, including the launch of the Albert the Alien webcomic series. Lots of new fans and friends were made as books were flying off the shelf – including my remaining copies of Reading with Pictures volume 1 (now out of print).

Trevor, selling some comics
However, Saturday was a ton of fun – with the group getting a chance to be goofy behind the tables, as well as checking out the fantastic cosplays people put together for the show. Some seriously artistic and creative people out there.
After the floor closed, we all headed to dinner – enjoying some 18 year old scotch and delicious food. We then headed off to our Making Comics panel – which was an all comic guest panel Q&A about making comics. Some excellent questions and hilarious jokes later, the panel was over and it was off to quickly moderate my next panel – Making Webcomics. The rooms for both panels were filled to the brim, and I used the panel as another Q&A format to help answer questions people had about their own webcomics – or the process in general.
After the panels, I headed up to V for a final night of hanging out with good company. I got to chat with Brad Swaile until all hours, enjoy some tasty beverages, and laugh until I had no voice.
SUNDAY:
Sunday saw a 9am press call, which was well attended and we got some great questions. The group all had specialties to focus on, and input to each of the questions. After the press call, it was time for our final breakfast together- followed by a bum rush to the floor for the final day of selling.

John and Mallory pose in front of their booth at ACEN 2013
Sunday is family day at shows like ACEN, and this is when Albert the Alien tends to shine. I almost sold out of my entire stock, some from families and some from panel attendees from the previous nights of the show. I sold out of Junkyard Chase and one of my Albert books before the end of the day. All in all, the show was fantastic.
After the show, Beth showed up to come get me and we packed the car and headed out to dinner with the gang. We were joined by Sean and Sara from Spinnerette and connected on how well they did during the weekend, on the next show we would all be doing together (Anime MidWest), and on how we can connect outside of the shows a bit more (Ravinia has Lord of the Rings the Two Towers in August with live orchestral accompaniment).
Once again, ACEN sets the bar high for a fun weekend and a great convention. I would like to thank the staff and volunteers for putting together a phenomenal show; the fans I've made who continue to support the work, tell their friends about me, and attend my panels; and my amazing friends, without their support I would not be able to do what I love so much. You guys all rock, and from the bottom of my heart, I thank you!

Trevor stands by his books – figuratively and literally
###
On a sullen note, this was the very first ACEN I attended that my friend Kim was not there. For those of you who missed the post last year, my friend Kim first introduced me to ACEN and it was the annual opportunity to see her and hang out. Unfortunately, Kim passed away last year from epilepsy. It was difficult for me throughout the weekend not to reflect on her passing, but Kim would not have wanted the weekend to be tainted by her not being there.
When her mother commented on my Facebook page to say that Kim was there in spirit behind me saying "good job," I knew that wouldn't be true. Kim would have been running around the show in cosplay, soaking up the sights and having a blast! That's the kind of awesome girl she was, and her energy and enthusiasm is what I will remember for the rest of my life.
I miss you, Kimby. You are loved!
Convention season is off to a strong start, and C2E2 was my second convention of the year. I was working the Reading with Pictures booth (#1330) over by Marvel and the American Libraries Association (ALA) along with fellow comic creator Russell Lissau (Strawberry Shortcake), and Gabriel Bautista (Elephant Men). As well as the return of our internet, Aliza, who was helping us throughout the weekend.
Despite being in a bit of a funk the entire weekend (for reasons I have yet to fully understand), the weekend was an amazing success – both socially and financially.
FRIDAY:
Friday morning the group got up, packed the car, and left for the show to set up the booth space. Reading with Pictures (RWP) had a fantastic location, which got a lot of traffic. We were selling through the last of the RWP hardcover stock (the softcovers for volume 1 having sold out last year), and sales were strong and steady throughout the day.

Russell Lissau, Trevor Mueller, and Gabriel Bautista run the Reading with Pictures booth at C2E2
In addition to the anthologies, I was also selling my all ages books Junkyard Chase and Albert the Alien. Overall, sales were strong and the fans were very receptive to trying a new book.
After the show, the group joined up with several other creators and went to China Town for dinner. A little stir-fry place with poor service but delicious food was the topic of the day. And despite it taking forever to get our meal, the server did bring us a few free appetizers and meals to make up for it.

Dinner in China Town
After dinner, we headed back to my place for much needed sleep. The major events of the weekend were yet to come!

After dinner, the group stands outside the restaurant. Photo by Russell Lissau
SATURDAY:
Waking up early, the group headed to the convention and set up the booth. I had a very important meeting set up with an important creator / editor, and it was very fruitful (announcements forthcoming, once I can talk about them). Gabe and I talked some business post meeting, and plans were made to really blow out some future projects we have in the pipeline.
The show was almost sold out on Saturday, so the convention center was wall-to-wall people. In addition to the plethora of attendees, some of our comic creator friends were in attendance – including Rival Angels creator Alan Evans.

Alan and Tracie Evans, Trevor Mueller and Beth Noonkester stand in front of the RWP booth
After a brief walk around artist alley, it was back to selling at the booth. A long day resulted in lower sales volume – which was also the case at NYCC last year – but still a ton of fun. And, the sales were more than made up for the next day.
After the show we grabbed Bryan Glass (Mice Templar) and headed to my favorite sushi place in the city, Niu. The group enjoyed a good dinner and relaxing beverages – followed by more much needed sleep.
SUNDAY:
The final day of the show was kids day, and man oh man where there a lot of families at the show. And those families were buying! We sold through the RWP hardcovers, Russ sold a ton of Strawberry Shortcakes, and I sold through a solid chunk of Albert the Alien.
During the afternoon, Josh and I had a live reading of new RWP material. Unfortunately, due to a technical issue, we had to read from the Albert the Alien books instead. This went over really well with the audience, who laughed at all the right spots and enjoyed all of the jokes through. Between the stories, Josh talked about some of the other stories appearing in the Graphic Textbook (RWP vol 2), and how those stories can be applied to an academic environment. The reading was a huge success, resulting in several families coming back to the RWP table to purchase all of the copies of Albert (and learn about the newly launched webcomic series)

Russell Lissau, intern Aliza, Trevor Mueller and Gabriel Bautista laugh it up at the booth
Meanwhile, back at the booth, the gang was having a fun time selling books and hanging out. And even posing for pictures with fans. Gabe was in full form, and providing sketches for kids – and selling commission sketch cards.

One of our many fans poses behind the booth with the creative duo

A fan who wanted a sketch of a character we didn't know. So they decided to sketch it for us

Intern Aliza, Trevor Mueller and Gabriel Bautista try to sell copies of the book to Trevor's fiance. She already owns copies of everything, however….
At the end of the show it was time to clean up, and get home. The weekend had been a lot of hard work, but a ton of fun and rewarding in every sense of the word. I can't wait until the next C2E2!
Progress is being made on the Albert the Alien webcomic front, still pacing to launch late this month. The scripts for the first three issues is done, and I'm still plugging away on issue 4 script – which would conclude the first story arc. Gabe is hard at work on the art duties, and the pages he's turning in are looking nothing shy of AMAZING.
Don't believe me? Here's a preview:

We held a little auction to have fans appear in the first issue, which was pretty successful. We may continue to sell some appearances in some of the later issues, if there's interest.
Additionally we're working hard on the website. I was going to try to do this thing myself, but my time has become rather limited lately so I had to outsource. But,I have outsourced to the best. My goal is to keep the functionality of the site basic, so it's easy to navigate.
There will be several sections available at launch:
1) ABOUT: A section about Albert the Alien, as well as the creators – myself and Gabe.
2) CAST: A page that lists out the major players in the plot, so it's easily accessible to new readers on the fly
3) STORE: There will be a store available at launch, so fans can pick up the currently printed self-published stories. As well as some other goodies Gabe and I will be selling. Gabe will also be selling commissions for limited periods of time through the store, and we will make announcements when those are available
Again, trying to keep it pretty simple and easy to navigate out the door. I'm sure we'll add some more pages as time goes on.
While we continue to work on the website, feel free to check out the Official Facebook Page for Albert the Alien. Once the landing page is up and running, I'll be providing links to that as well.
###
I have a few appearances coming up in the next few months:
1) C2E2
Chicago, IL
April 26-28
I'll be running the Reading with Pictures booth in small press, selling copies of the anthology as well as Albert the Alien. We will also be doing a live reading on Sunday on the Variant Stage from the new anthology, as well as some new Albert the Alien material.
2) Free Comic Book Day
Pretty sure I'll be returning to Comix Revolution in Mount Prospect, IL. I've been there the last two years, and have done pretty well for myself at the show. Additionally, they let me DJ the event – so there's good tunes while you check out the books in the store!
3) ACEN
Rosemont, IL
May 17-19
I'll be returning to Anime Central for the 5th year in a row as a guest of honor. I love this show. It's seriously my favorite show to attend throughout the year, and we'll have some big announcements, fun panels, new stories to share, and yes – comic-related hijinks throughout the entire weekend! Look for me in artist alley during the day, and then I'll be doing panels at night. Hope to see you there!
February 15th, 2013
|
by Trevor
I'm attending Anime Milwaukee this weekend as a guest of honor. However, that doesn't mean that "THE WORK" stops just because I'm at a convention. I wanted to share some finished pages for the in-progress Albert the Alien story that will appear in Reading with Pictures volume 2: The Graphic Textbook.
The story is called "It's a Figure of Speech," and it's about how English is a second language for Albert. Because of this, he takes figurative speech literally.
This story will appear in the RWP volume 2 book that was successfully funded through Kickstarter, and is due out later this year. Enjoy!
December 10th, 2012
|
by Trevor
As I announced last week, Albert the Alien is going to be my primary comic focus in 2013. Partnering with regular artist Gabriel Bautista, we will be doing a story in the Reading with Pictures Graphic Textbook as well as launching a webcomic sometime in March.
To give you guys a preview of the work being put into the project, below are some sketches and sample pages for the RWP story.
As you may know, Reading with Pictures is a non-profit organization getting comics into classrooms. In 2010, Albert the Alien made his first appearance in the all-ages educational anthology, which was nominated for two Harvey Awards. He will be appearing in the second volume: The Graphic Textbook.
The story is called It's a Figure of Speech, and it's about figurative language. Since English isn't Albert's first language, he takes figurative language literally. This allows for a fun playground within a visual medium – and we're taking every advantage.
First off, we're going to have some new characters that are going to play a big role in the upcoming webcomic series….

New characters for Albert the Alien. From left to right: Jack Greyson, Gerty's astronaut father; Miranda Tam, student reporter; Draven Darkmoon, the artsy kid

Detail for Draven and Jack Greyson
Additionally, we just received editorial approval on the inks! Below are some pages and excerpts from the upcoming story, setting up the conflict and overall plot of the story.
For the kickstarter pledge drive for RWP v2, we had 3 slots for pledgers to be drawn into the comic. These pledge options sold out within days of going live, so they were extremely popular. On the page 1 example below, you can see two of the pledgers – the adults in the room.

Inks for page 1 of Albert the Alien in It's a Figure of Speech. Art by Gabriel Bautista

An excerpt from page 2 of the RWP story. Art by Gabriel Bautista
Albert the Alien is coming along nicely, and we're making tons of progress on this front. I look forward to sharing more with you guys as we continue to put together the RWP v2 pages, as well as the webcomic work!
November 27th, 2012
|
by Trevor
Kollision Con was once again the final show for me for the year, and what a show it was! Located in beautiful Pheasant Run in St Charles, IL, Kollision Con is a third year anime and comics show with some diverse guests, fun panels, and lots of cosplay. Kollision Con is a smaller show, so as a guest of the show there's less pressure to sell sell sell and more opportunity to have fun. And that's exactly what we did.
For those of you new to the site – welcome. To those of you returning – welcome back.
Now, without further delay, how did the weekend go for me?
FRIDAY:
Beth and I arrived early in the morning for a meeting with the hotel unrelated to the convention, and immediately after we set up our table for selling. Attendance was lighter on Friday, but I figured this would be the case (especially earlier in the day) since it was the day after Thanksgiving. However, that didn't stop 500+ people from registering and picking up badges.
I was in Artist Alley next to my good friend Russell Lissau (Shrek, Strawberry Shortcake) and Gabriel Bautista (Albert the Alien, Elephantmen). As soon as we were set up, we had to run off to opening ceremonies to be introduced to the masses. There was a nice sized crowd in the audience, and it was nice to catch up with several of the other guests of the show. Not all of the guests were there yet (and some were sleeping, having arrived very early that morning and needing to perform a concert later that night), but that didn't stop us from having a blast. I even did the Waltz with Samurai Dan.

Selling to an attendee
After a few hours of selling at the tables, we packed up a little early and went to Jambalaya (one of the many restaurants in the hotel) for some dinner. After that, we headed over to our Albert the Alien panel.
The panel had quite a few people in attendance, and Gabe and I gave our first-ever panel on our beloved character. We talked about his origins, how we created him, how he became a part of Reading with Pictures, and his future: an appearance in RWP v2, and his own webcomic series launching in 2013.
After the panel we retired back to Russell's room for some whiskey, and then I went downstairs for what I thought was the 18+ improv – but turned out to be an improv training class.
I've never done improv officially before, but I have a lot of public speaking experience and I've done a lot of panels at conventions. And panels are part stand-up, part improv, and part rehearsed performance. Suffice it to say, I'm not afraid to get up in front of an audience and act like a buffoon.
So as soon as I walked in the door for the improv training class, the staffer running the panel immediately started volunteering me for every skit example. Since I had never done improv before, I was a little rusty in the beginning – however, the skits started to become more and more funny as we warmed up and got used to working with each other.
I had a lot of fun working with the group that night, and it was a great way to prep for the actual 18+ improv show the next night.
SATURDAY:
We got up early and headed down for breakfast. Russ and I had the buffet, and then went to set up the tables and sell. The day saw a lot of cosplayers running around the floor, several of which were interested in purchasing comics.
Gabe and I did some shop talk about comic projects, and Russ shares a preview of his RWP v2 story with finished art.
Around 6pm, we left the table and headed over to the restaurant for dinner again. After a quick bite we went to my room to set up the laptop for Gabe's Digital Coloring panel, which had the strongest attendance for any of our panels that weekend.
Gabe did a great job showing off the basics of PhotoShop, and the process he uses to color the projects he works on. It was a great opportunity for me to see the man work, since we've done several projects together and have many more in the pipeline.
After Gabe's panel was Russell's Writing Horror Comics panel, followed by my Evening with Trevor Mueller panel.
After the panels, we ran downstairs for a quick drink and to relax a bit before the 18+ improv panel. Doug Walker (thatguywiththeglasses.com) was downstairs with his wife, so it was great to get to catch up with them before heading off into the improv.
The room was packed with people, and most of the guests (myself, Doug Walker, and Chris Patton) were involved in the panel. They also had a few of the staff included to help round out the group.
The improv was hilarious. I did several skits, including a "scraps" where you and another person pull out scraps of paper with words or phrases written on them from the audience, and you have to incorporate them into the skit.
My best event was good, bad, worst advice. The audience asks for advice, and one person gives good advice, the next person gives bad advice, and the last person gives worst advice. If the audience doesn't feel like your answer is a strong fit, they boo you off, and we continue until through elimination there's only one person left. I KILLED this event, since I can make crap up on the spot and make it sound totally legit. Plus, it helped that it was an 18+ show. When in doubt, say something foul and disgusting.
Another activity we did was a dating game scenario, where the audience suggests a condition your character has and one of the improvers has to guess it by asking questions – like a dating game. My character had to sing whenever he felt impotent. So whenever I was asked sex questions, or brought up something about intimacy myself, I had to start singing my answers. My favorite line was "Whenever it's time for romance, I begin to question my performance."
The final sketch I participated in was called last man standing. Everyone goes out and enacts a scene after the audience picks a location (in this case, a mini-golf course). At the end of the skit, a number is drawn and that person is removed from the skit – however, the remaining performers have to play your role. Eventually you have one person performing everyone's role, and it's pretty hilarious.
So Doug started off the skit by hitting the ball really hard and knocking someone out. I told him "this isn't how you use a club," and he proceeded to play off the unconscious player by whacking them a few times. Then I whacked Doug. Then someone whacked me. Basically, it turned into a skit of us hitting each other with invisible golf clubs. Hilarious.
The improv ended around 2am, and after thanking everyone for letting me participate I headed off to bed.
SUNDAY:
An early morning had us at the cafe for breakfast sandwiches. Russ, Gabe, Doug, and our ladies were all in attendance. It was nice to relax and chat a bit before the final day of the show.

Relaxing at the table
We headed to the floor for our final day of sales, which started off strong. Russ had a panel around noon for Writing Kids Comics, and then Gabe and I went to our Making Webcomics panel around 1:30pm. Kasey Williams, who did a backup story in the latest issue of Albert the Alien, also joined us for the panel. She just started her first webcomic series, so her insight was very helpful for the attendees. We had a good-sized group, and they were very interested in asking questions at the end of the panel.
After we finished the panel, it was time to pack up and head home.
This is the second year I was a guest at Kollision Con, and it continues to be a fun show with some great guests and involved attendees. A great way to end the convention season!

We interrupt your regularly scheduled comic for this special announcement: this weekend I'm attending Wizard World Chicago!
I'll be in artist alley booth #3180, right next to Russell Lissau. Both of us will be across from comic legend Stan Lee!
It's likely Gabriel Bautista will be on-site throughout the weekend to sign copies of RWP and Albert the Alien, and also selling some commissions and awesome art. You should buy stuff from him, for sure!
I'll have the following books available for sale:
- Reading with Pictures vol. 1
- Hope: The Hero Initiative
- Junkyard Chase
- Albert the Alien: Hall Monitor
- @$$hole!: Laura's 21st Birthday
- @$$hole! vol 1: No Pants Tuesday
Additionally, there will be sketch cards and original art for sale, commissions, and a whole bunch more!
Looking forward to seeing you there!
So I keep talking about these super secret projects, and how they're taking up a bunch of my time (in a good way). Well, I finally have some artwork to share for the next Albert the Alien book, entitled: Albert the Alien Goes to the Movies!
Artist Gabriel Bautista (Elephant Man, All Star Western) and I have teamed up again for another fun all-ages adventure about everyone's favorite foreign exchange student from the stars.
We're working hard to get this book out before the end of the year, but wanted to provide some preview pages of the new adventure. Check it out!

Albert the Alien goes to the Movies, Page 1 (inks and letters). Artwork by Gabriel Bautista.
To show the evolution of a page, Gabe first starts off with layouts, then moves onto pencils. Once that's done, he moves on to the inks and positions the text to make sure they fit within the scene, and flow well on the page.
Text isn't usually put in this early (although an artist must always make sure there's room for it, otherwise their artwork will get covered up by text), but since Gabe's pulling art, text, and coloring duties he has the flexibility to work however he pleases.
Gabe was a little concerned about the fact that Joe Average's family was kidnapped, saying this may be a little too frightening for a young reader. I agree it is frightening, but not too frightening. Albert has always been intended for readers 7+, but is appropriate for all ages (ie: no violence, no swearing, etc).
I think he did a great job here conveying the mood of the scene, without making it something that would terrify a very young reader. The purpose of this is to be parody, and Gabe totally nailed it!

Albert the Alien goes to the Movies, page 1 (final colors). Artwork by Gabriel Bautista.
After the inks and text are finalized, Gabe moves onto what Gabe does best: the colors!
Gabe has worked in coloring for most of his professional career, so the guy really knows his stuff – as can be seen in this page and the next, where the colors really set the tone and make the characters pop.
Gabe was also involved in Comic Book Tattoo, the Tori Amos Anthology which won an Eisner Award. Additionally, he's worked for Image and DC Comics on several books. His mad skills show!

Albert the Alien goes to the Movies, page 2 (final colors). Artwork by Gabriel Bautista.
Page 2 of the story reveals that this was a trailer for a summer blockbuster action movie, staring the hottest action star: Arnold Sausageburger! Suffice it to say, the kids MUST go see this movie on opening night, or else risk being the last kids in school to see the best movie of the year.
Gabe and I talked between this book and the last about the design for Gerty. I felt her look was too young and childish. She looked like she was in elementary school, but I've always wanted Gerty and Albert to be in middle school. They're a little older, but still very much in touch with their young kid side. They're learning responsibility, get to have classes with multiple teachers, and may also be experiencing budding romances with fellow classmates.
Middle school was an interesting time in my life, and I wanted to make sure Gerty and Albert had plenty of fun adventures in their middle school years as well.
Suffice it to say, Gabe and I agreed Gerty's outfit and style should be updated to reflect her age. She should be more stylish, girly (but still in a kid way), and maybe have more fashionable clothes. Gabe did a great job updating her outfit, but also put the finishing touches on her personality by changing her glasses!
It's subtle, but it works so well you barely notice.

This is not the end, but the beginning of the conflict our characters encounter in this adventure. Artwork by Gabriel Bautista.
This is a panel excerpt from later in the story (but it's not the ending…in fact, it's the 2nd hurdle the kids must deal with in their quest to see the movie). Albert and Gerty will encounter even more hurdles, including the arrival of school bully Wally!
Albert the Alien Goes to the Movies is a 10 page adventure, and the book will contain even more fun:
1) A 7-page Albert the Alien "Origin story" about his first day in school
2) A 3-page backup story, unrelated to Albert the alien
3) More fun movie-themed activity pages
4) And so much more!
Gabe and I are shooting to have this book out before the end of the year, so be on the lookout for it at conventions and signing appearances!
I'll post more information about the release of the book soon, as we get closer to the date.