Posts Tagged 'jim mcclain'
3 items.
C2E2 continues to be a premiere Chicago comic convention, and 2018 was no different – in fact, it excelled in that area, bringing in some of the top creators in the industry, including the elusive Brian Michael Bendis (who has been on a convention hiatus for, what…a decade?). Suffice it to say, I always have a fun time at this convention – one of the largest in the midwest (at least that I attend, if not THE largest), and it's a great opportunity to see and hang out with a lot of friends.
THURSDAY: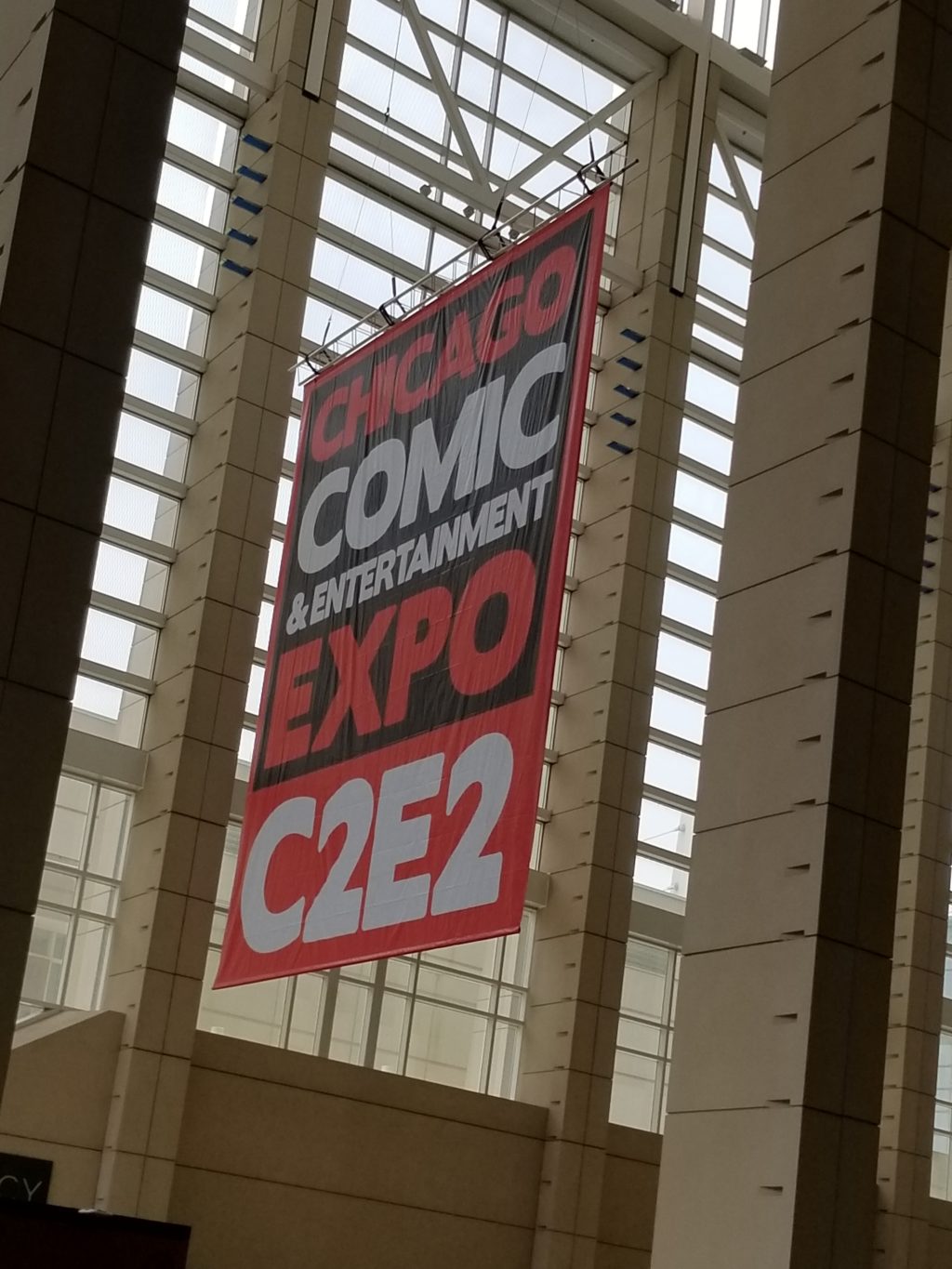 I landed at the airport, coming back from a week long vacation in North Carolina, and immediately ran home to switch some clothes around, and then jumped into the already-packed car and headed to the con before set up times ended. I got in with plenty of time, and thankfully was able to get to my table and drop off all the stuff without any issues. It's always an impressive sight to see this sign hanging in the hall on the walk into the convention floor.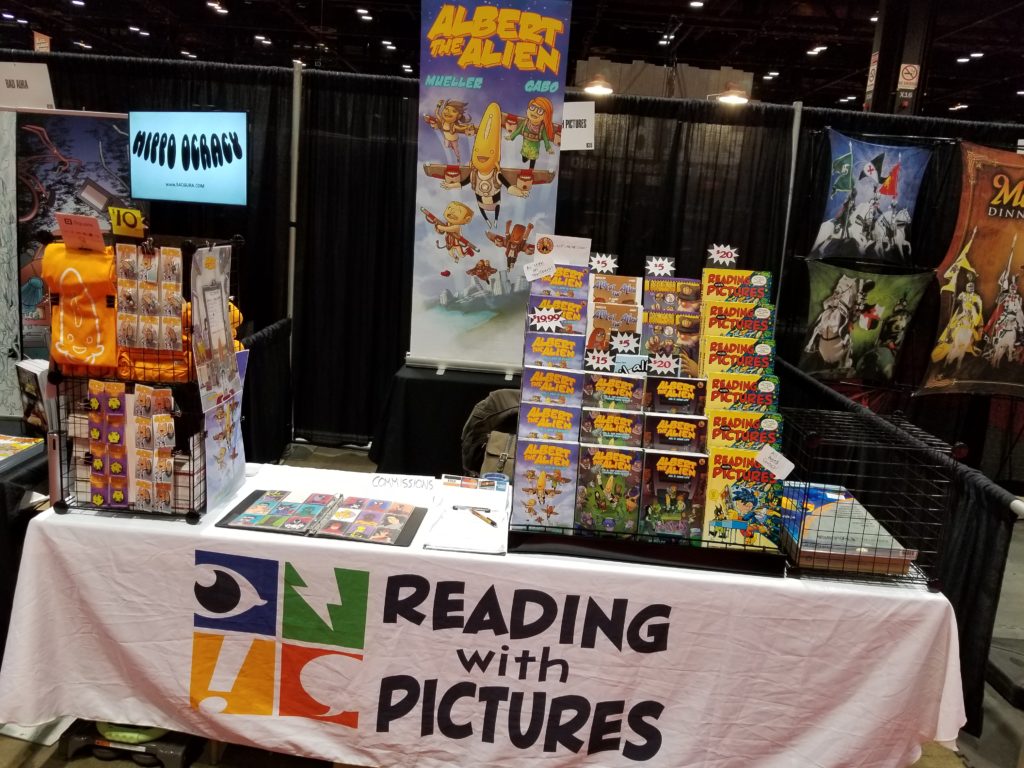 With a little help from my friends Bivens and Mallory, we got most of the table up and ready for the next day. But we were hungry, so we didn't want to stick around too long.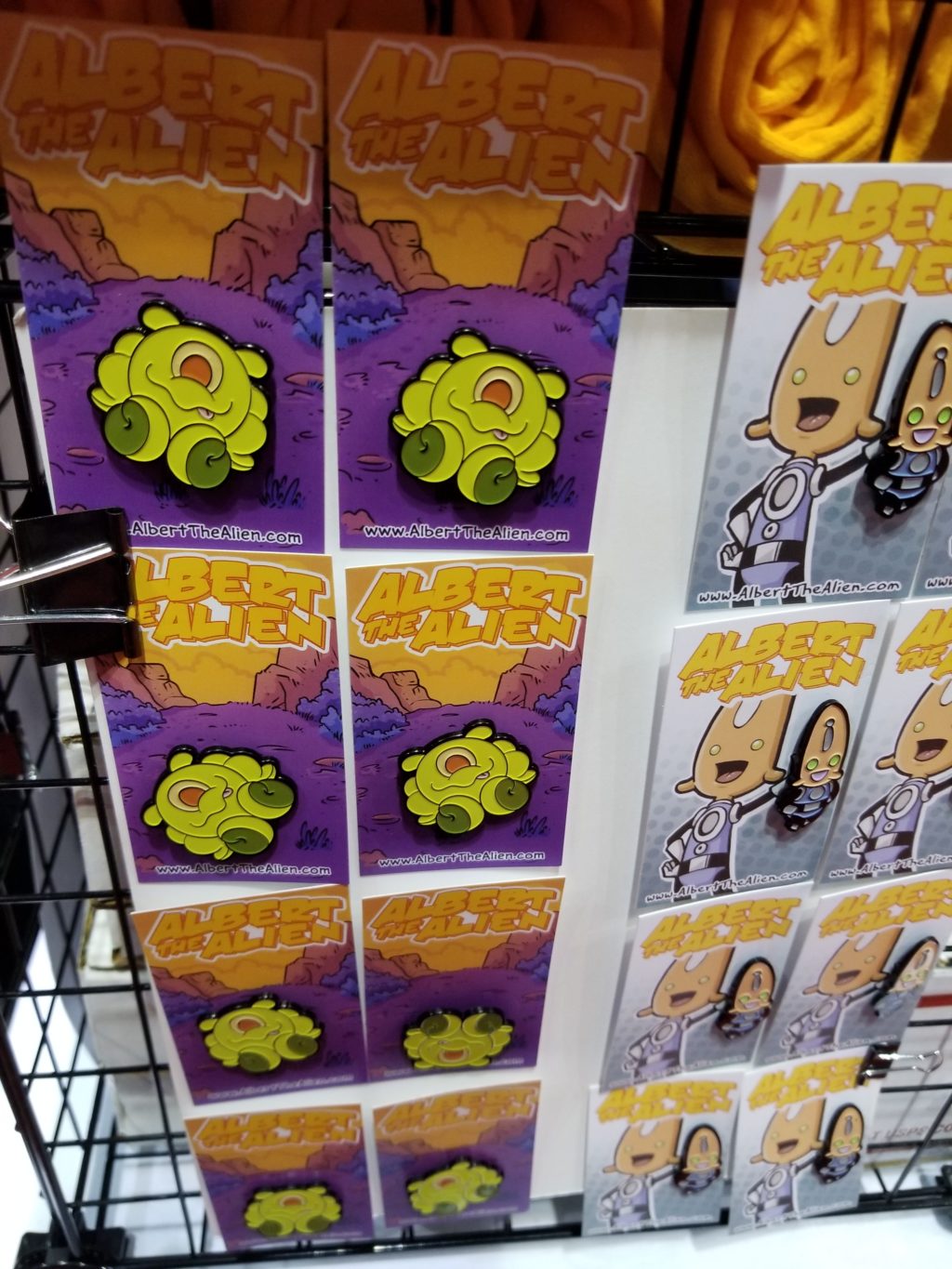 Did I mentioned we premiered some new pins at the con? We did! Albert the Alien's stuffed animal, the Flanxx, is now available for purchase. Love these little pins. Such a cute design from series artist Gabo.
After setting up, Bivens, Mallory and I hopped into a cab and went to our favorite sushi place in the city, called Niu. We actually got there during happy hour, with $6 dark and stormy drinks (which we indulged in quite a few), as well as some discounted sushi rolls. Since the group was just us, we had a chance to talk shop and work through some ideas for a project we've been working on for a while now. It was a fantastic way to start our weekend and our first night – and an early night for us all, since we knew the weekend would be a lot of late nights.
FRIDAY:
The first official day of the con had us on-boarding some new volunteers, and meeting with more friends (but with so much traffic on the floor, it was difficult to take photos of everything). The floor traffic was crazy busy for a Friday, which was a pleasant surprise. I even saw a few big names walking around, like my friend Raina Telgemiere (who was running from signing to panel and back again for what seemed like most of the weekend).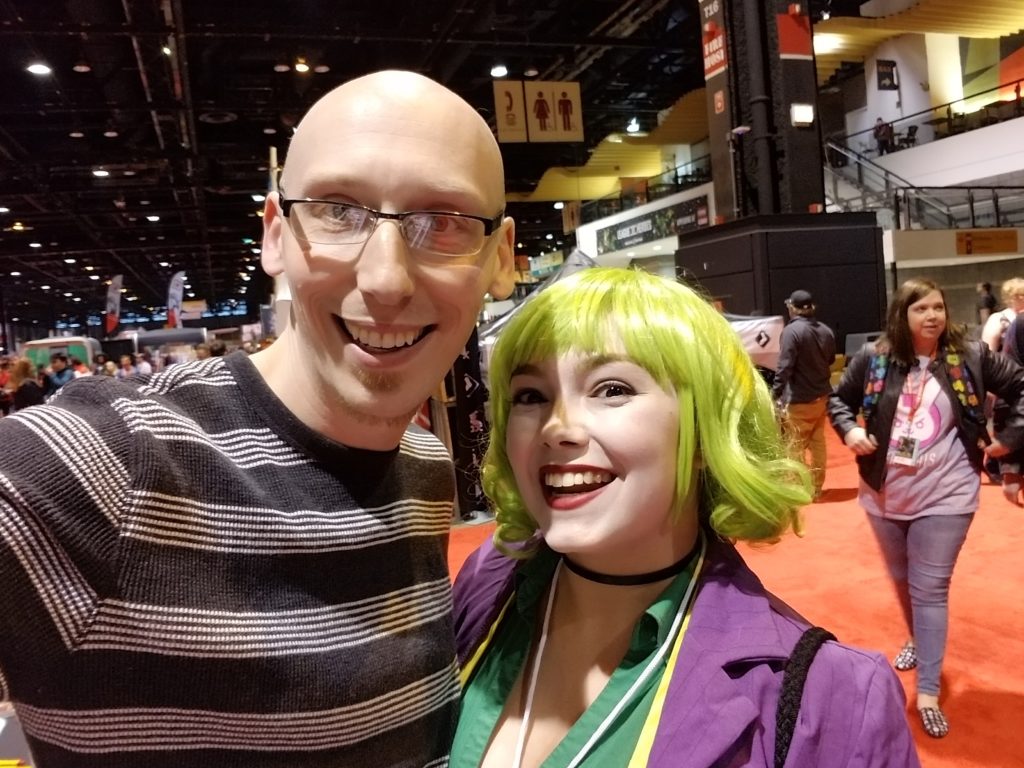 My cosplay and model friend Megan Hawk stopped by the table, dressed as her Joker cosplay. I'm pretty sure this is what she was wearing when I first met her many years ago, so it's an instantly recognizable outfit for me – I shouted to her as she was walking past.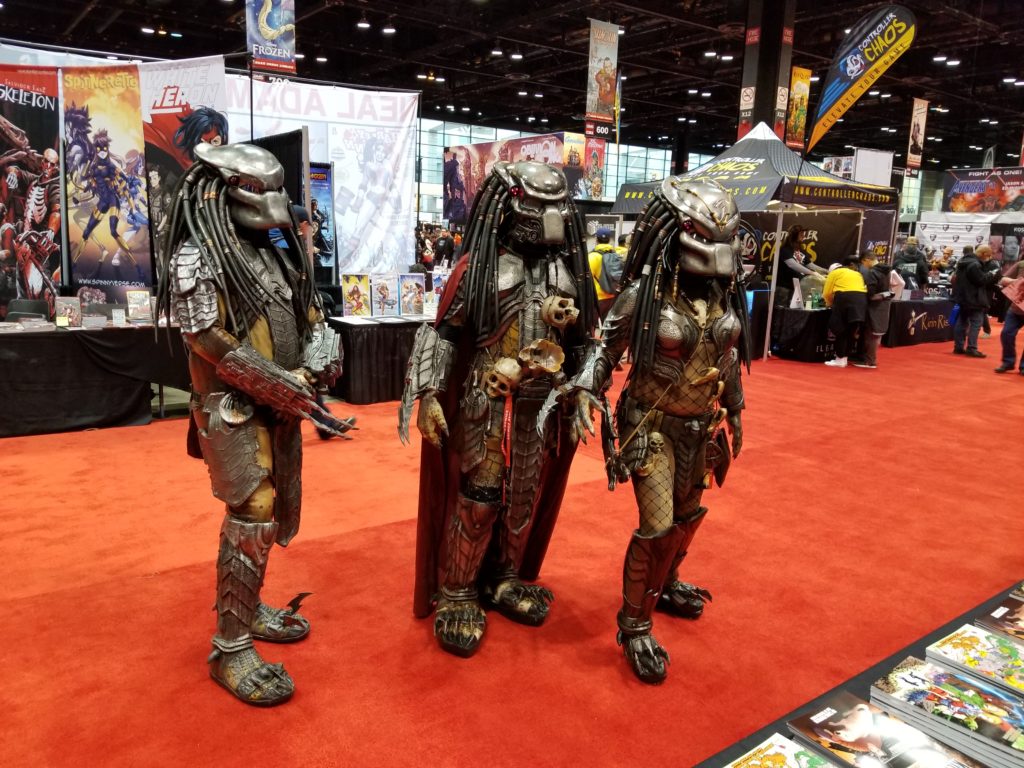 While there was a lot of cosplay at the convention, one that I was able to snap a photo of was a family of Predators – which were super impressive.
After the con ended, I went to go find some food and ran into Jim McClain (Solution Squad) and Janet Lee (too many titles to list). They didn't have their coats on (even though it was snowing!), so we needed to find a place that was close and didn't have a 45+ minute wait – which is tricky to do within close distance to a convention. Luckily, a local pizza and pasta place had a 5 minute wait time and was super close to the hotel. We scurried in, had a fine conversation over dinner and drinks, and then went our separate ways for networking and meetings that night. It was another early night for me, since Saturday would be the big day of the con.
SATURDAY:
The big day. I went to the local market and grabbed my bagel breakfast sandwich (a must-have for morning fuel), and then headed to the table to set up for the big day. We had lots of volunteers coming in to help out at the table, and give my feet (and voice) a little break.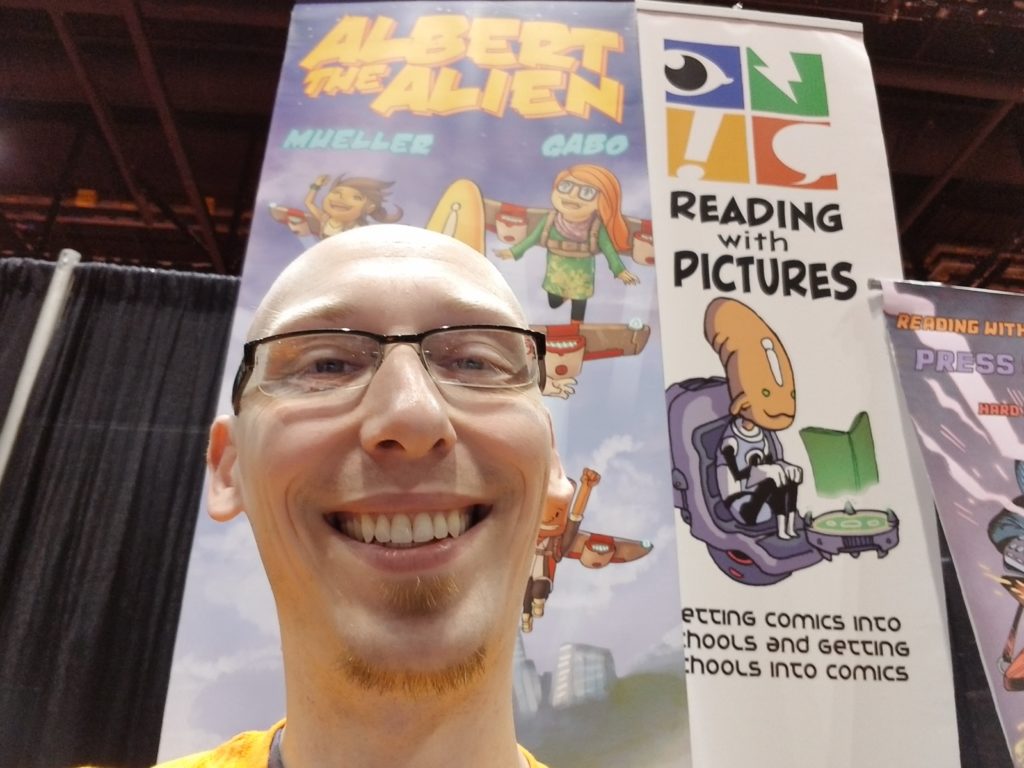 I made friendly with our table neighbors. On one side of us was a family of self-publishers who were making a big push, with this being their first weekend convention premiering their books. The whole family was there: dad, mom, daughter, and son – and the kids, in their mid to late twenties, were in cosplay throughout the weekend. I gave them some tips and went about my normal selling process – running into a lot of friends throughout the day.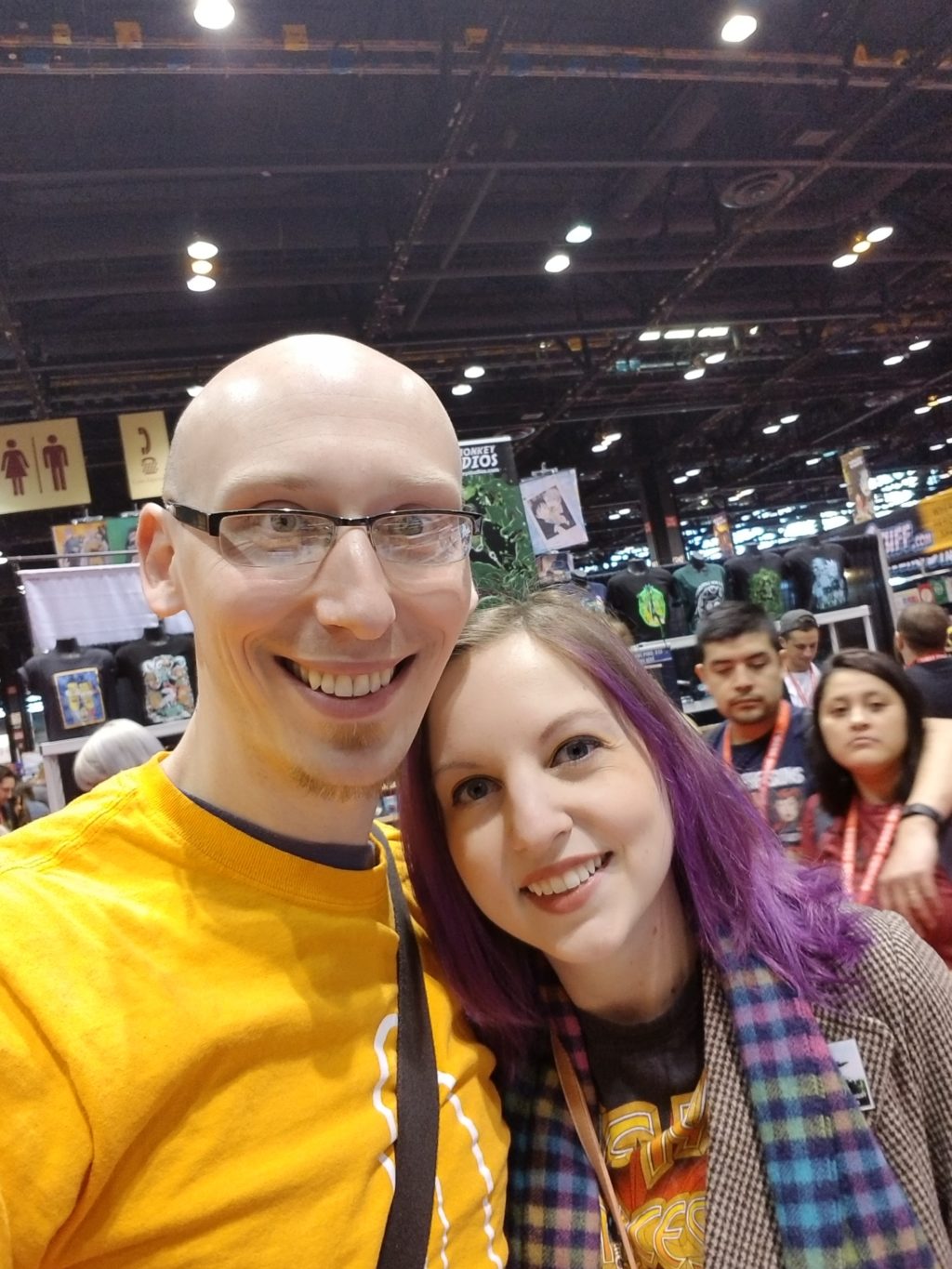 My friend Lauren wasn't sure if she was going to be able to make the con this year, but stumbled into some tickets and showed up. I caught her walking past, having just dyed her hair earlier that week. While you wouldn't think that purple hair would stick out at a comic convention, it was something I remembered her posting on Instagram – and I was pleasantly surprised to see her around.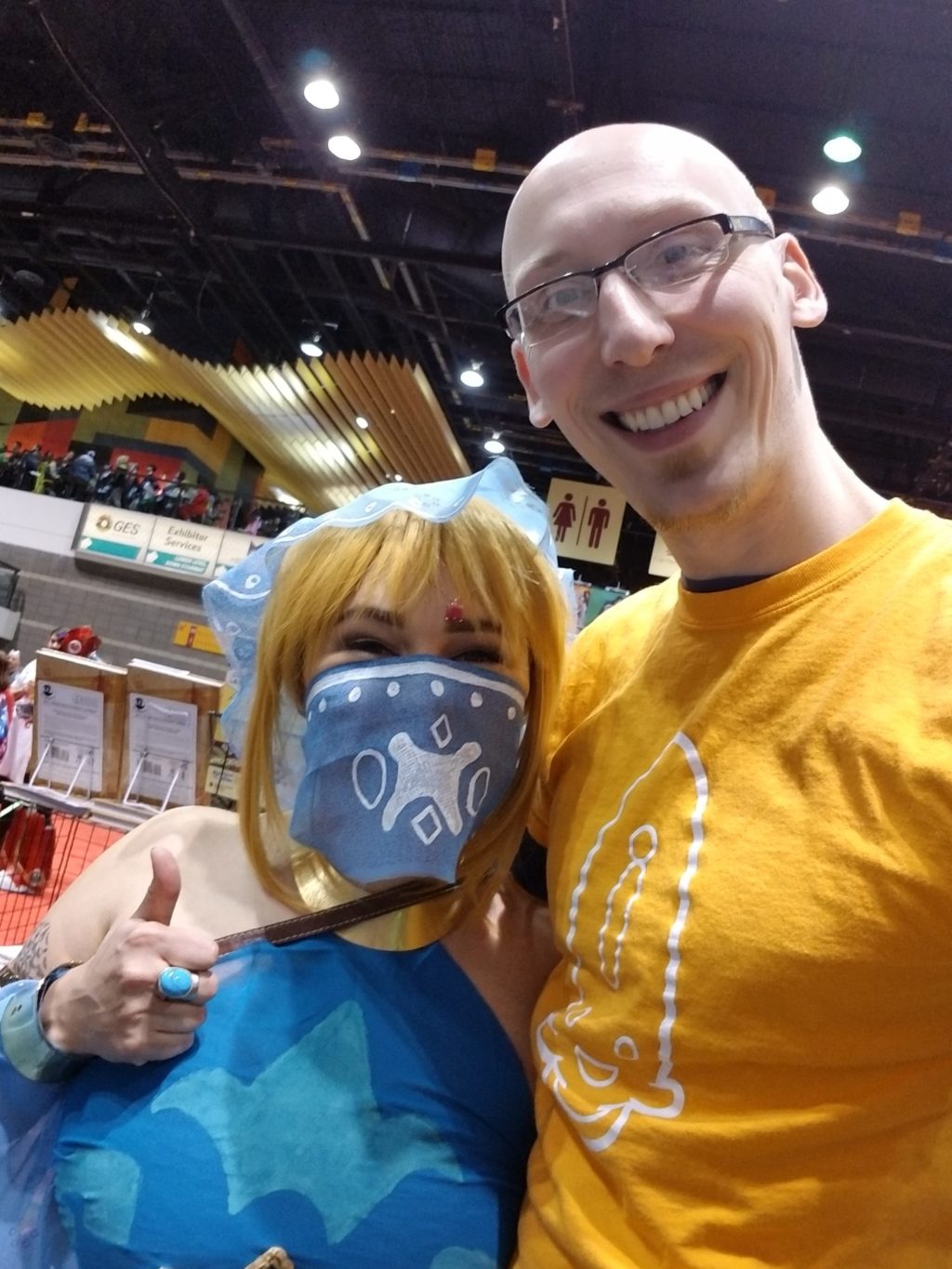 My friend Tamara was using the table as a base of operations so she could store her bags, so it was fun to get to see her throughout the weekend in her various Legend of Zelda cosplays. While I had missed taking a photo with her on the first day (and the last day), I was able to snap a quick photo on Saturday while she was between photo shoots and panels. The entire Channel Awesome crew (who were not attending another con in NYC this same weekend) would stop by the table throughout the weekend to say hi and catch up.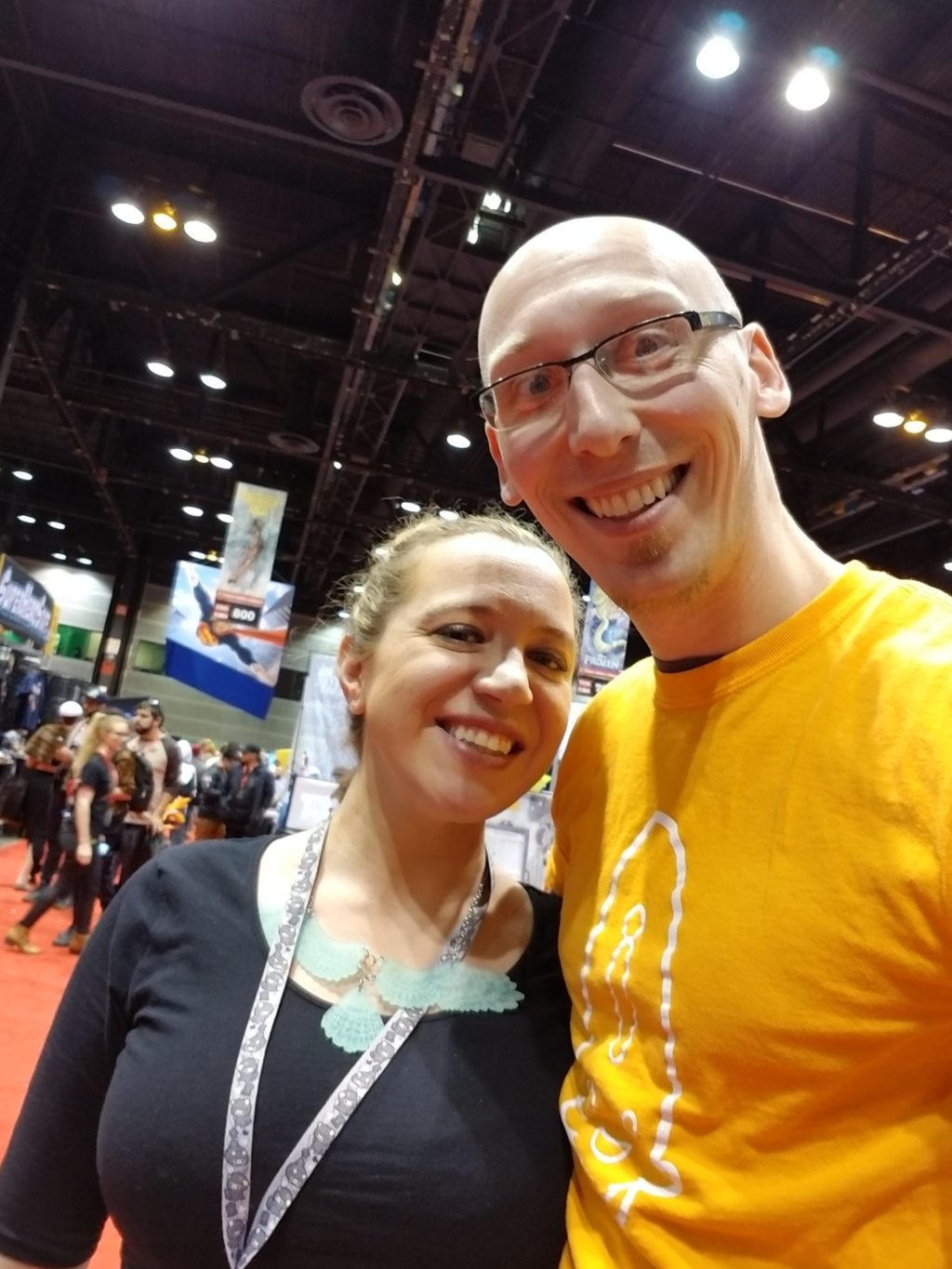 Opposite our table was our good friends Sean and Sarah Lindsay (Spinnerette), who had a very nice corner booth and some great coverage with their statues, plushies, and other merch that is very eye catching. They have been good friends both in and out of cons throughout the years, often doing panels with me at anime cons.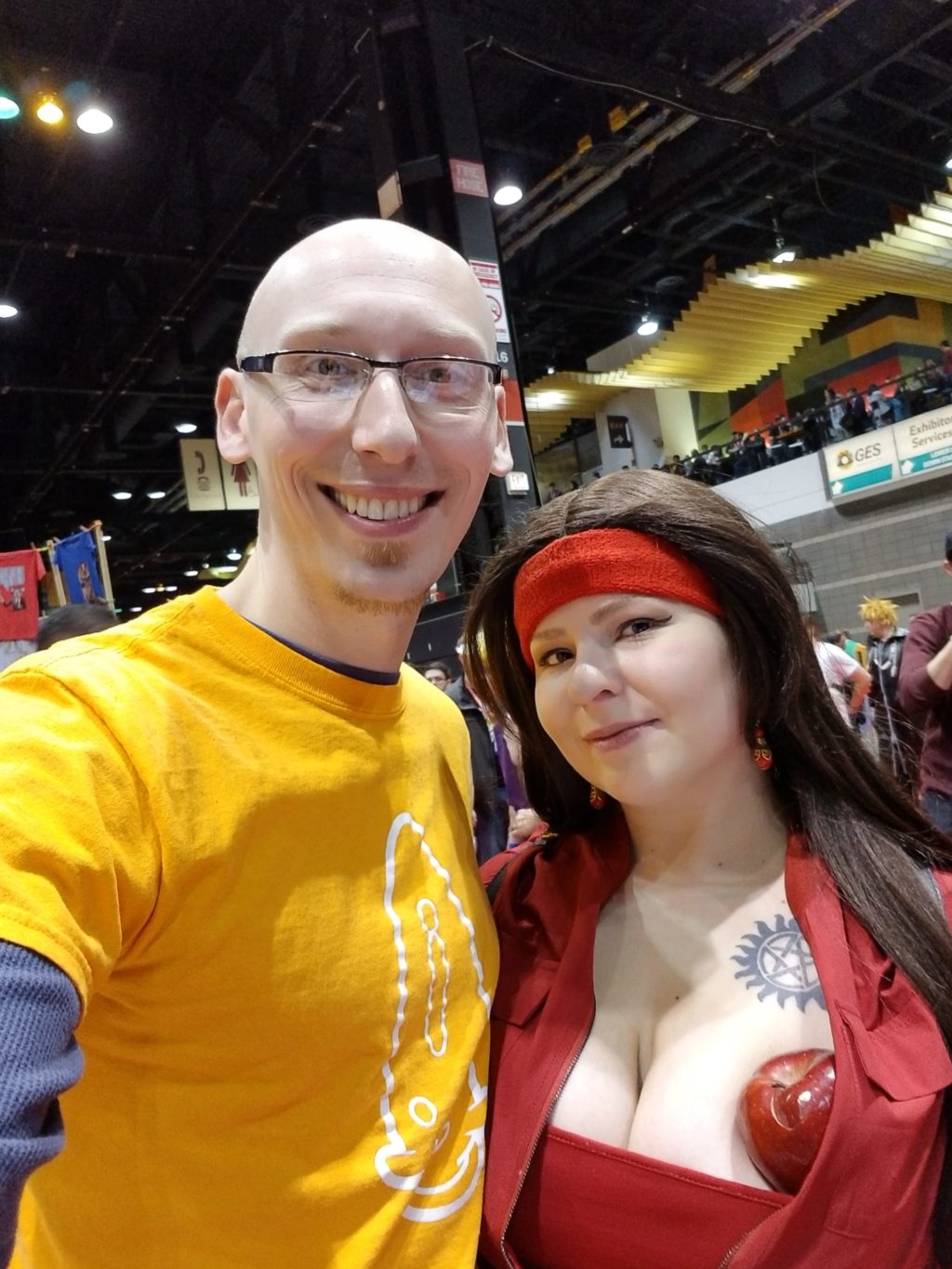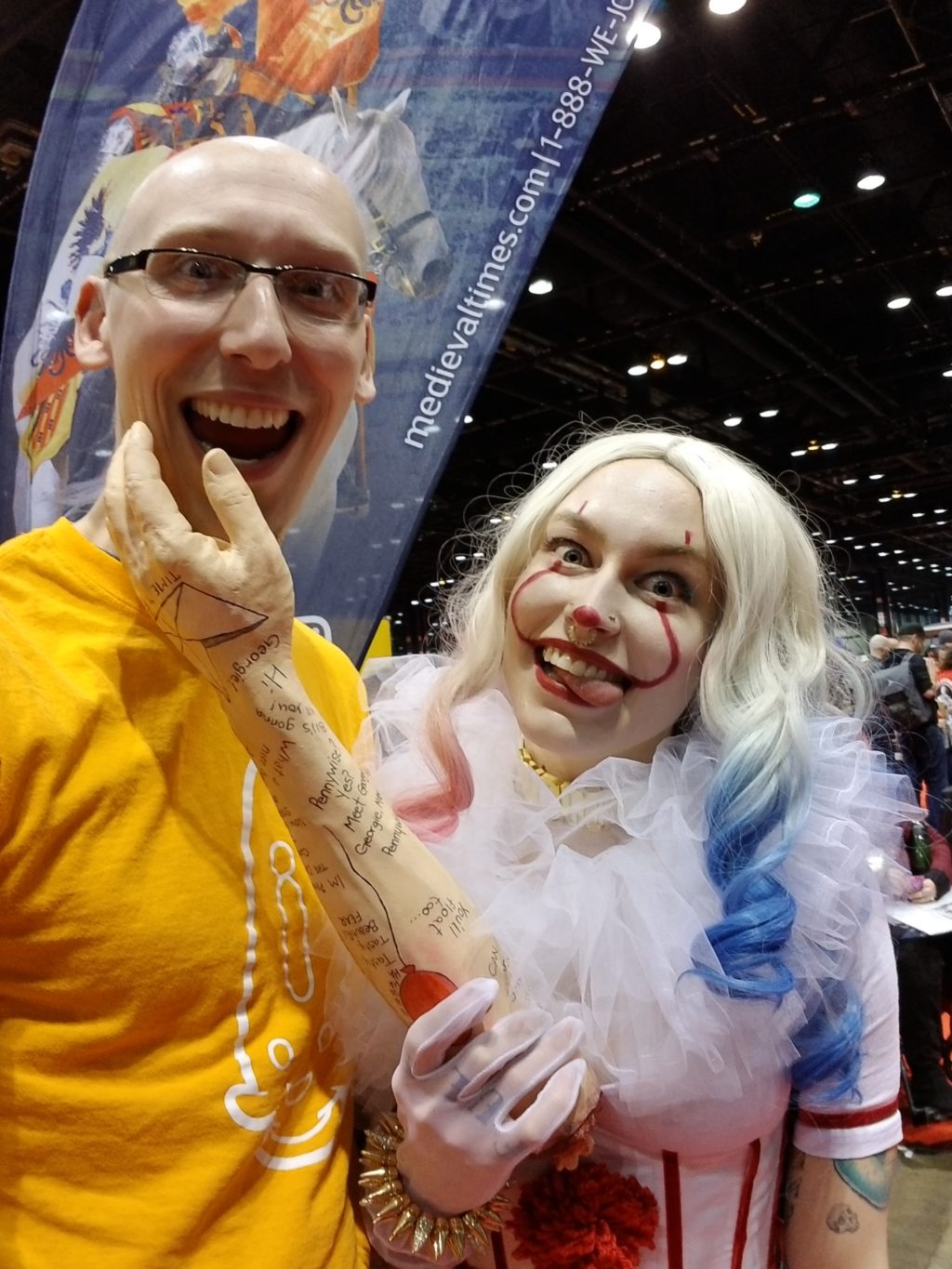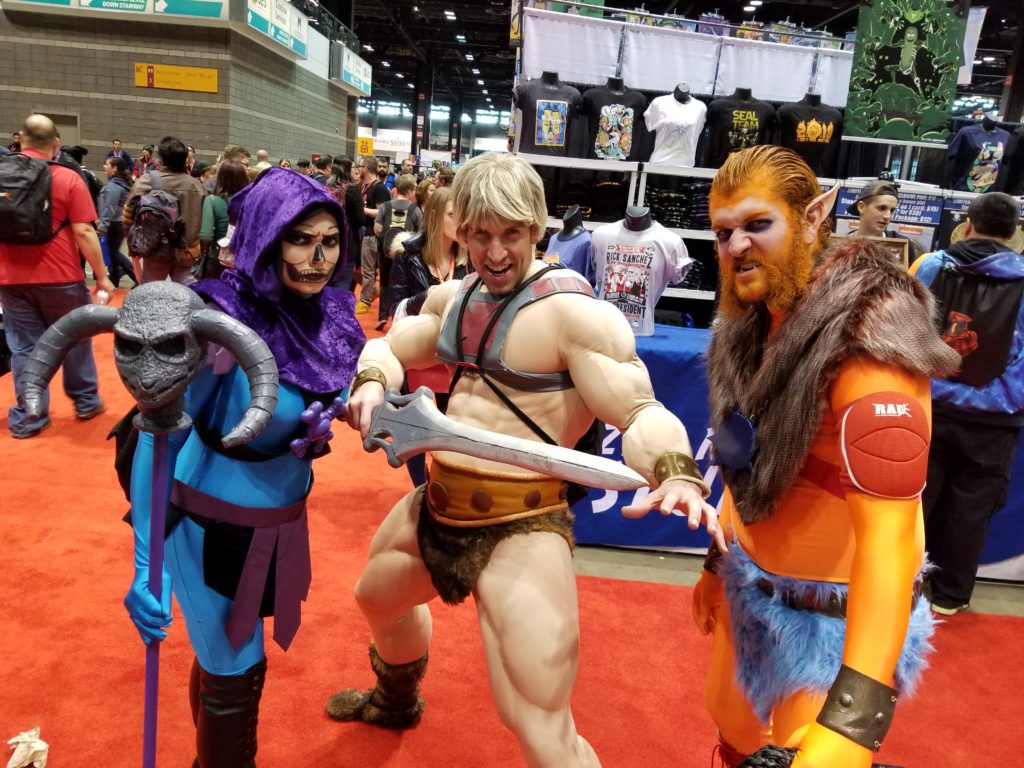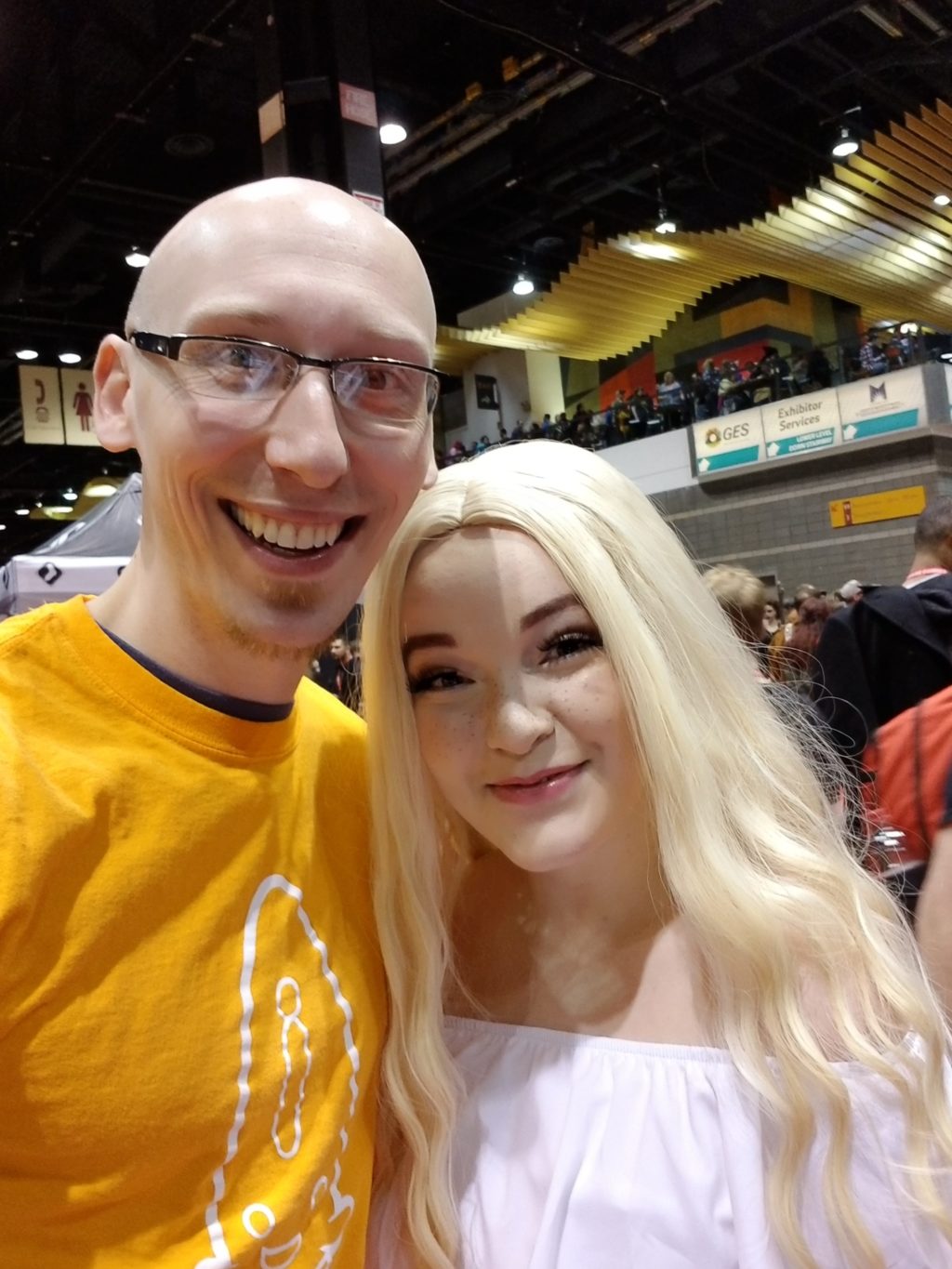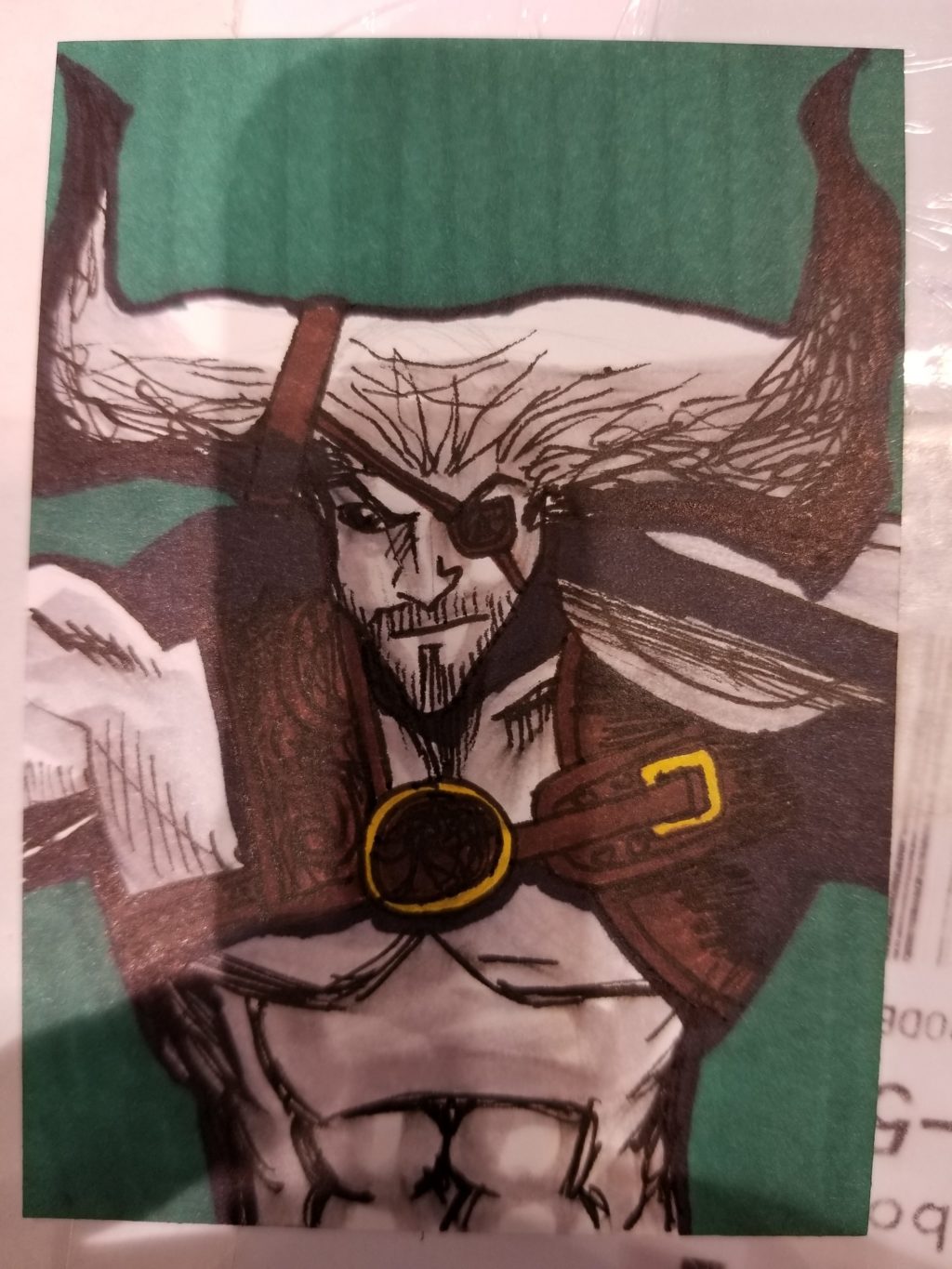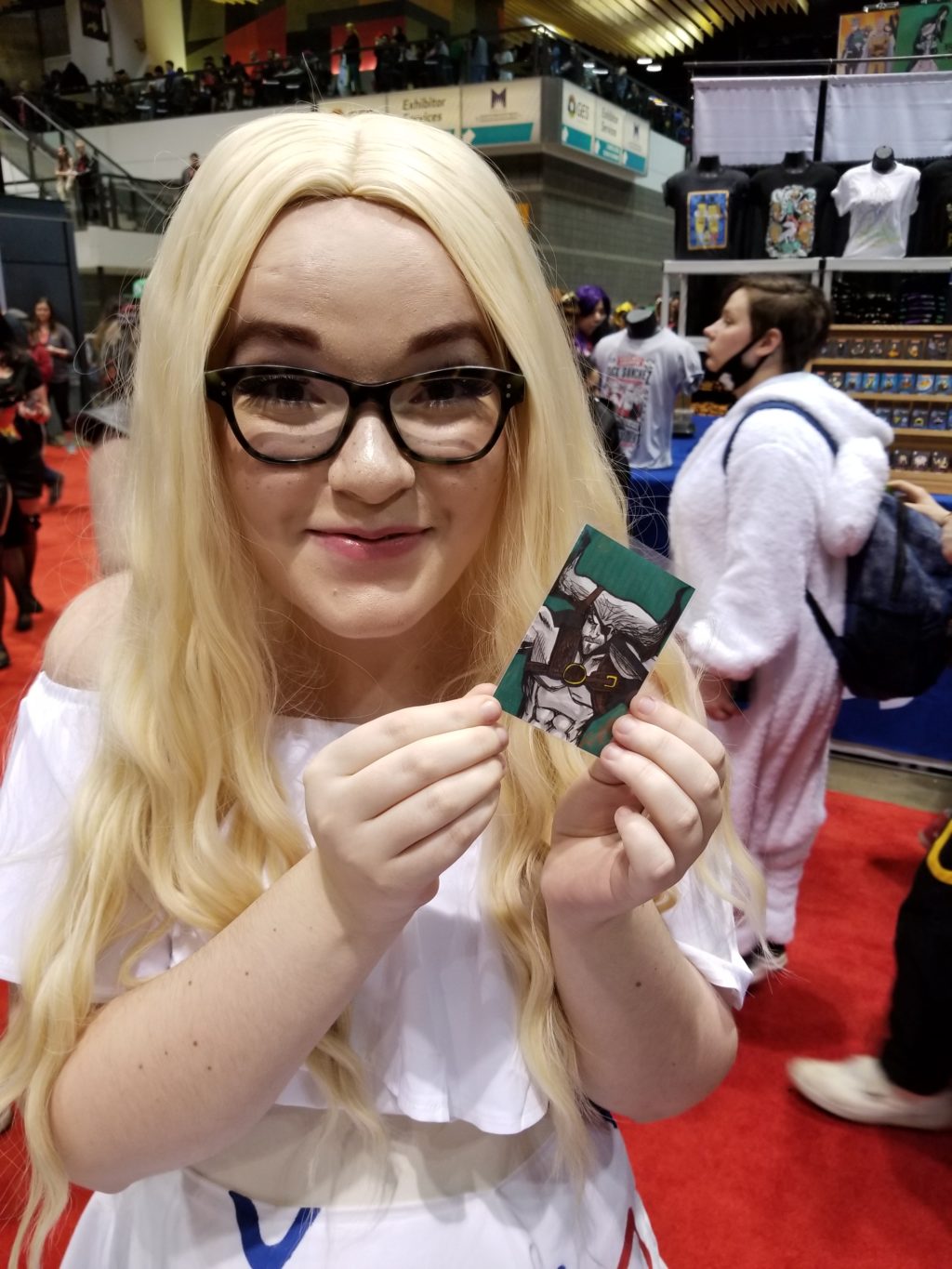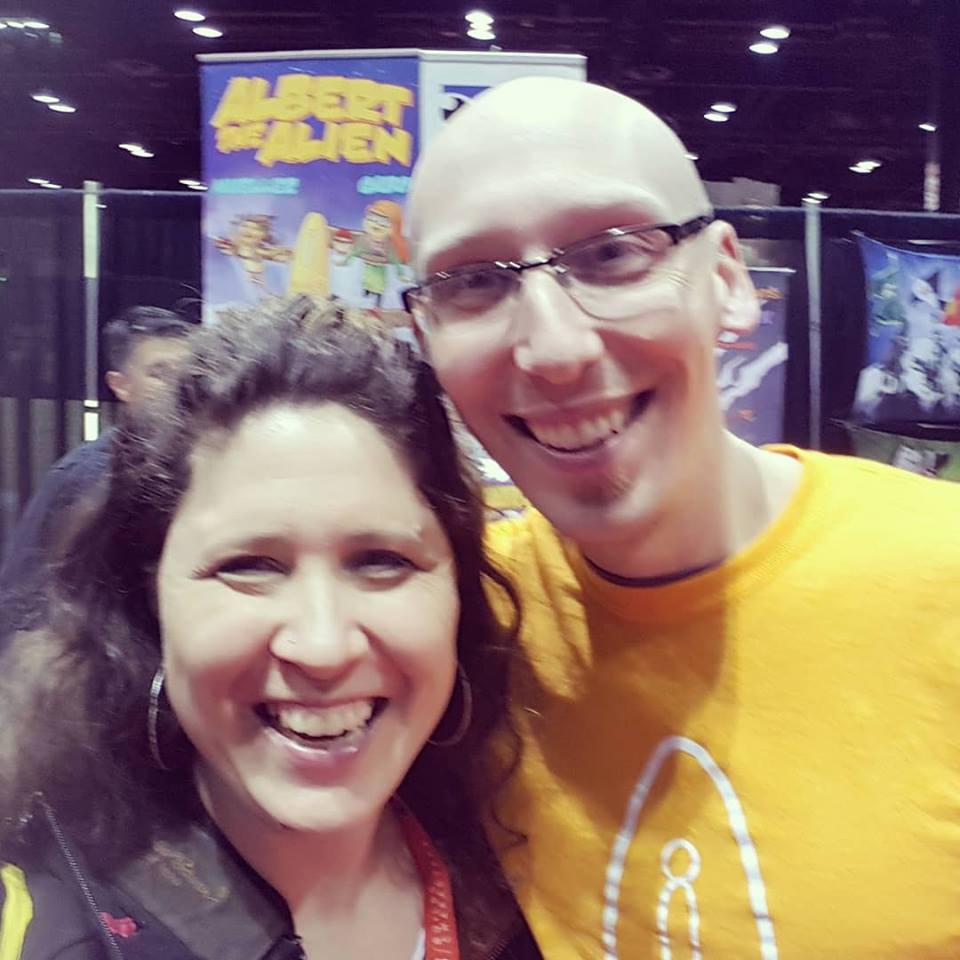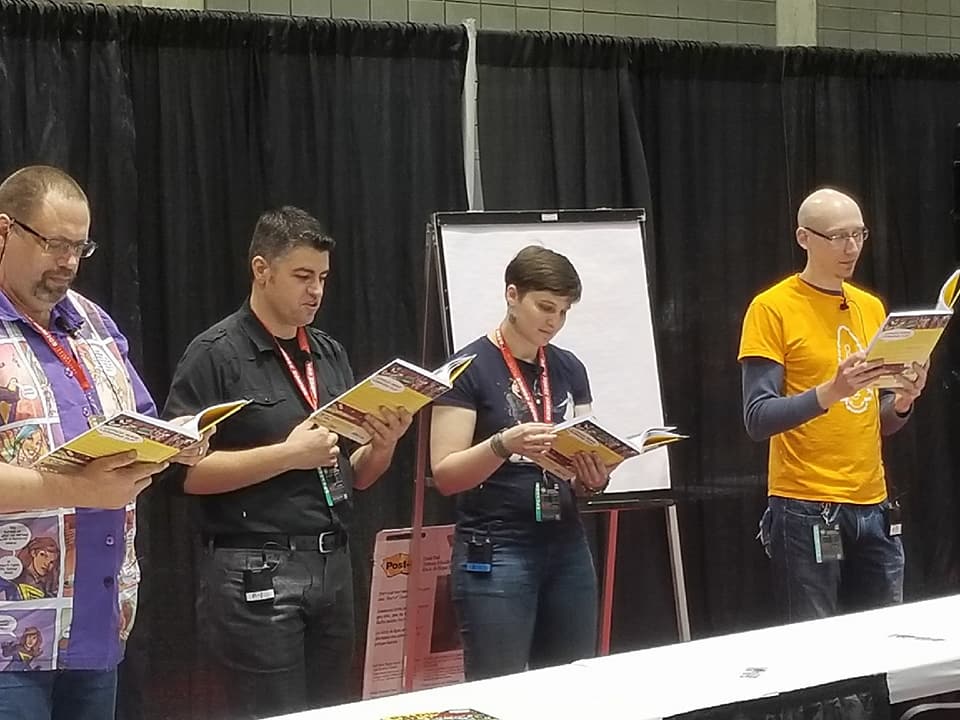 Around noon or so, I had to leave the table to attend a Reading with Pictures live reading event in the kids area. I was joined by fellow contributors and comic creators Jim McClain (Solution Squad), Josh Elder (Scribbenauts, Mail Order Ninja), Amy Hopkins, and myself. The kids were very involved in the reading, loving the stories and voices we were doing – despite the many Star Wards related distractions surrounding the area. It was a lot of fun to read with this group of creators, and I look forward to the next time we get to do it again.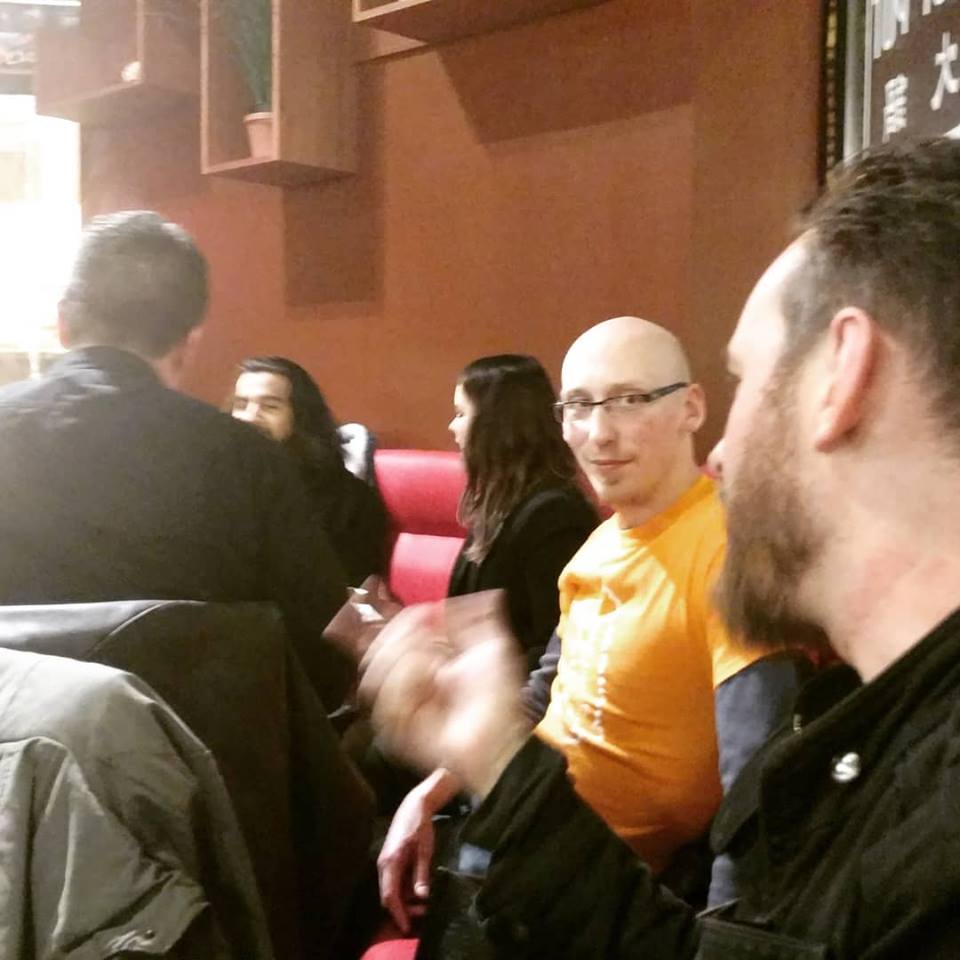 After the con ended, I went back to the room to drop stuff off and then headed to Chinatown with Bivens and Mallory (and a bunch of other people) for some delicious hot pot. If you've never had hot pot, it's like Korean BBQ – but instead of a communal grill in the middle of the table, it's a pot of boiling soup that you dip items into and cook yourself. It was fantastic. The group was joined by a lot of talented creators and close friends, and I got the chance to chat up Ben Templesmith for a while.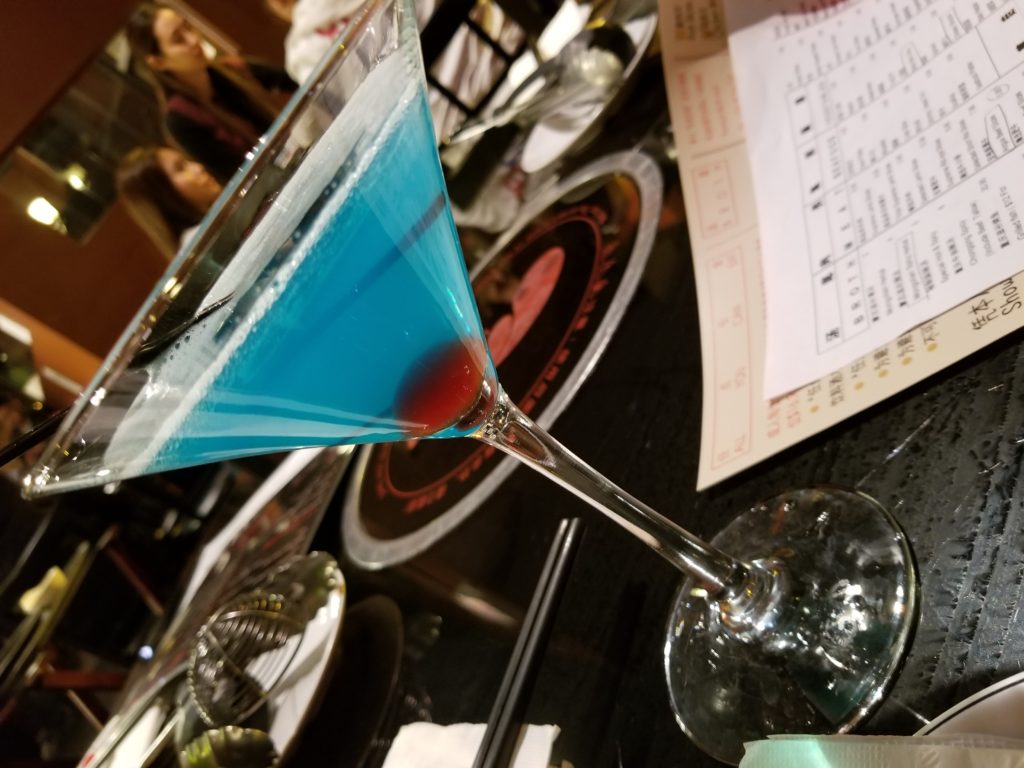 And yes, I ordered a drink that looked like something out of a Star Trek episode….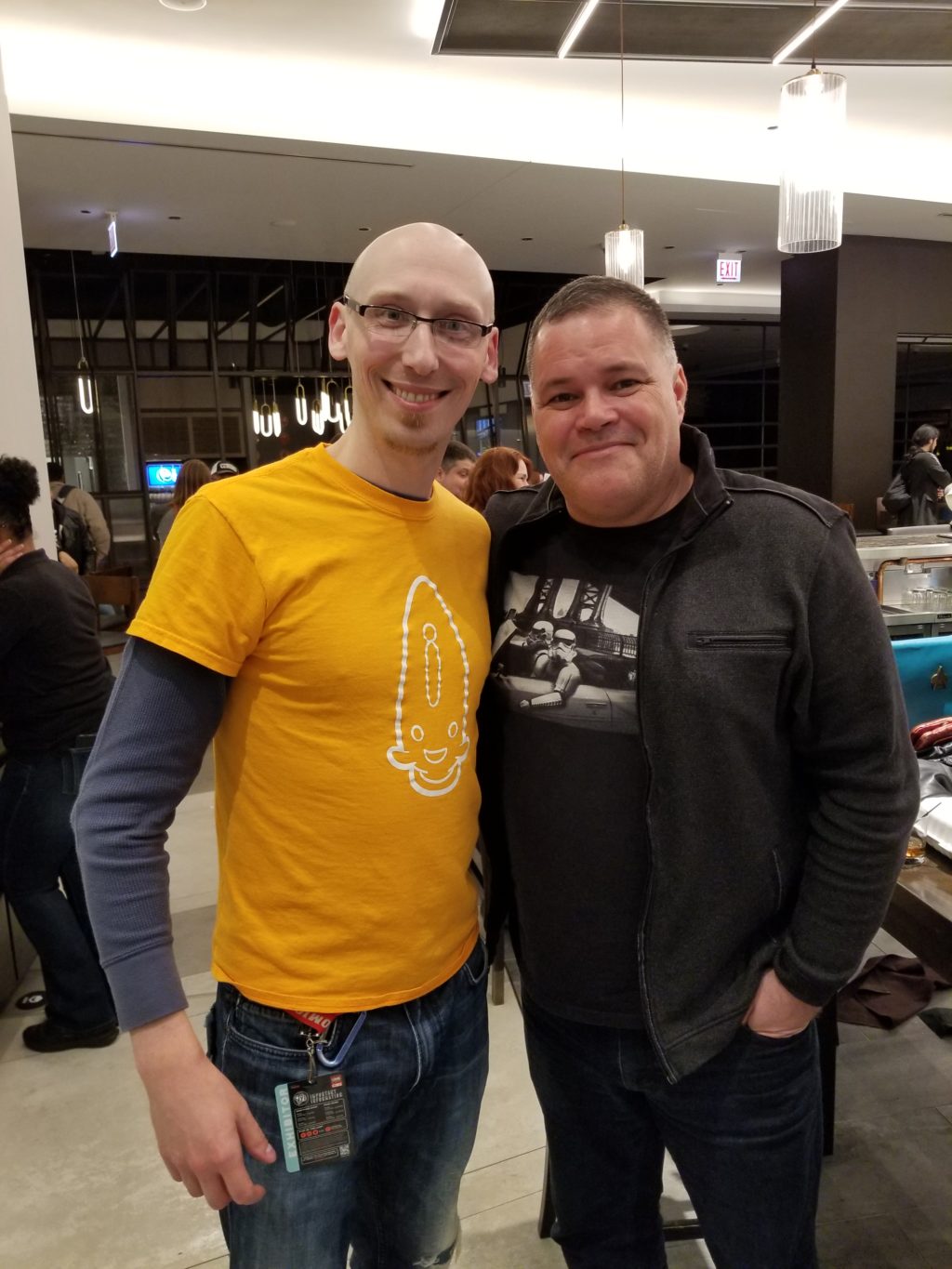 After we finished dinner, we walked back to the market where I get the breakfast sandwiches (to stock up on some essentials for that night). While in there, I saw a guy who looked like one of the actors from Battlestar Galactica buying two half-gallons of milk and a few other items. I thought it was strange, but didn't comment. I did have to tap him on the back to slide past on our way out of the store, though. We went back to the room, poured a healthy amount of adult beverages, and then headed to the Hyatt bar to hang out. While in there, I saw Aaron Douglas yet again – this time waiting for his beer. I walked up to him and asked if he remembered me from the market. Then I had to ask the obvious question: what was the milk for?
This kicked off several hours of conversations with him, and some of the publishers from AfterShock (including Mike Perkins, Joe Pruett, and several others). We talked about traveling, fans at cons, doing panels, and of course – Star Wars: The Last Jedi. About 2:30 in the morning or so, the hotel bar had closed and I had finished my drink, and told him that it had been a pleasure, but I had a table to run the next morning, and needed to get some sleep.
SUNDAY: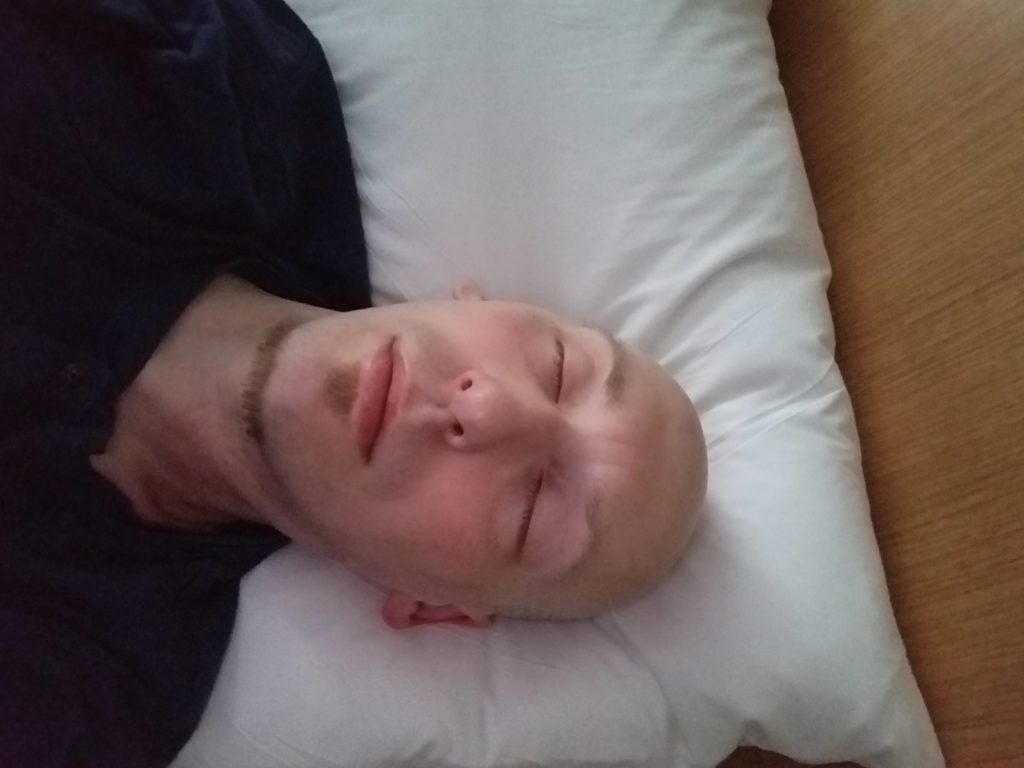 Sunday always feels like the most difficult day to wake up on, especially after a late night of good times and good conversations the night before. But alas, that table isn't going to run itself, as much as we may want it to. So up I got, grabbed some breakfast sandwich from the market, and headed to the floor to open and run another day of sales.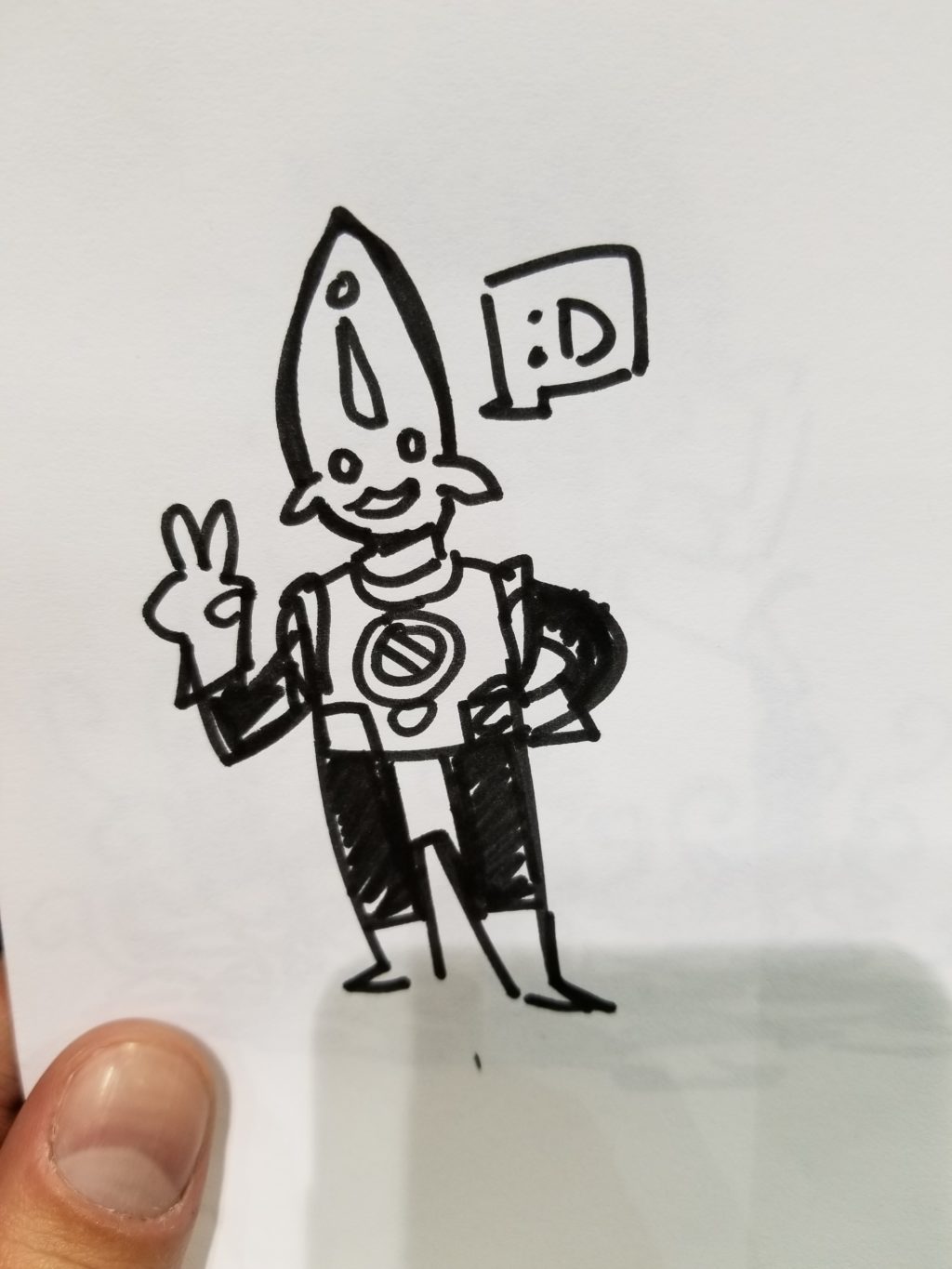 Thankfully, being the final day of the show, I did schedule some volunteers who were able to watch the table while I walked around artist alley and said hi to folks. Unfortunately, they needed my phone to process credit card sales, so I wasn't able to take any photos. But suffice it to say, artist alley at this show takes me several hours to get through – if I don't say hi to everyone, and limit my talking time to less than 10 minutes per person I know. That said, I loved seeing everyone I could, and catching up with the few people that I did in the short time I had to browse the alley.
I even received some fan art throughout the weekend, which was a highlight.
C2E2 continues to be an incredible time, with record sales and traffic, incredible talent and strong programming roster, and amazing friends and fans who come back to support year after year. I hope to see you guys again at this show next year!
C2E2 has come and gone once again, but as the largest local show I attend it was once again an amazing time – and my most profitable year at the show to date! With that said, let's go into the specifics of this awesome and amazing show!
WEDNESDAY:
My buddy Phil showed up from the airport and we went to grab a bite to eat while waiting for his boxes to arrive at FedEx. Hot Doug's was right around the corner from the store we were getting supplies at, so we went there. Now, it's been a few years since I've had Hot Doug's, and all I can say is this: I've forgotten how absolutely AMAZING their dogs are! I ordered the jalapeno dog with bacon and cheese, and then we shared some cheese fries (I'm skinny, and can't finish a whole thing of fries AND the hot dog).

Hot Doug's Hot Dog…the best way to start a convention
After lunch, we went to grab Phil's boxes and headed over the convention center to drop them off. The place was still being set up (it's interesting to see it so empty, juxtaposed when the show is in full swing and there are thousands of people walking around), and we quickly and easily dropped off his stuff. Phil took me home and then headed up to hang out with his other friends before the show started the next day. And I would have a boat-load of people coming in to stay with me then, too….
THURSDAY:
During the day I spent cleaning the apartment, but at night my friends started showing up. I usually put up several of my friends for the show, especially the ones who put me up when I attend other cons out of state. I was joined by Russell Lissau (Aw Yeah Comics, Strawberry Shortcake) first, followed by Steve Horton (Amala's Blade) and then eventually Josh Elder (Scribblenauts Unmasked, Mail Order Ninja) and then Phil eventually came back as well. Much whiskey was poured as we sat around and caught up on the last several months since we last saw each other. Since my wife had work the next day, though (and we would be going to the convention center early to set up our booths), we didn't stay up too late. Sleep was an important commodity at this show, and something we soon discovered was in short supply….
FRIDAY:
Morning came around and we all got up and had some coffee and breakfast at my place, and then headed out to the show. Set up was pretty quick since we had a new face at the Reading with Pictures table this year, Jim McClain (Solution Squad). Jim has exhibited with us for a while now, but this was the first year we had an extra body behind the table at C2E2 to help out. It made things nice and easy for taking breaks, holding meetings, and actually getting out to see friends in artist alley. And that's exactly what we did, with Jim running the show at the booth.

The Reading with Pictures table
Dean Trippe (Something Terrible) was also at the table for most of the weekend, signing copies of the poster prints for his recently completed Kickstarter campaign. I've never hung out with Dean before, so it was a nice breath of fresh air to have someone new to talk to and hang out with at the table.
I had secured 18 copies of the Reading with Pictures volume 1 anthology from a friend who still had some, and we sold through most of them on the very first day of the show. It's a credit to how awesome that book is, and how much support it still receives from people that it can sell that well 4 years after it came out. And volume 2 comes out later this year!
Russell and I took turns on break, and when I was away from the table I was out talking to creators in artist alley. The entire last row was almost all all-ages creators, and it takes me about 4-6 hours to get through artist alley at a show like this now because I know so many people. I won't name names, because I'll accidentally forget to mention someone (or come off like I'm name dropping, which isn't the intent), but they're all great friends I've met through the years and really have appreciated their insights and critiques, their support of my work, and I've enjoyed reading their work as well. Also, they're all wicked funny.
I mentioned earlier that sleep was in short supply, and that was definitely true on Friday. Just about everyone I talked with, even if they had gotten in a day or two earlier, was exhausted and about to pass out at their table. I don't normally sleep the night before a convention (too excited), but adrenaline usually keeps me going. Thankfully, this isn't something that stuck with my buddies in AA. By the next day – after a good night's sleep and some much needed food – most were back to 100% or better.
The first day of sales and networking ended, but then the group split up. About half of the team went to China Town for dinner, while the other half went to the Reading with Pictures Level Up for Literacy charity event at the HeadQuarters Beercade. We were joined by Mark Waid (Daredevil, Kingdom Come) and Jimmy Palmiotti (All-Star Western, Harley Quinn). They had a number of other celebrities there I unfortunately didn't get a chance to meet (including the creator of Cards Against Humanity and the actor who played Scorpion in the Mortal Kombat series), but for $40 we got bottomless pizza and some free drinks, and unlimited arcade game playing. The place mostly had pinball machines, but there was enough variety to keep it fun.
After around 10pm the music got too loud for me (and a lot of typical bar crowd people showed up, who are not my people), so I took off for home to host the friends who just got back from dinner in China Town. We weren't up for too long, and eventually went to bed in preparation for Saturday – usually the most populated day of the show.
SATURDAY:
Saturday is the big day. The day a convention typically gets the most traffic. And yes, we were definitely crowded. And almost sold out of all of our books! The breaks every 2-3 hours was a nice touch, and I started chatting up some editors and creators about future comic projects. Networking is something I've been sorely lacking in at shows like this, but thankfully we had extra coverage at the table, so that was no longer a hurdle. I had some productive meetings, exchanged some business cards, and would go back to the table to sell books for a while. Russell would take his break when I returned, and we'd do this every few hours.
A bunch of my friends who were not exhibiting this year but were just attending arrived on Saturday, and stopped by the table so we could catch up and mingle. We made a massive dinner reservation at my favorite sushi place in the city, Niu. We had 23 people in our party, and took up the entire back of the restaurant. We weren't the only people from the convention there, too, which was incredible to me. We saw a lot of celebrity comic creators in there with their significant others and friends or sponsors enjoying some time away from the convention as well. We let them enjoy their dinner, since we appreciated the opportunity to do the same.
After dinner, several of us paid our bill and ran out because Jenni's Ice Cream was closing soon. This is a tradition for us at Mid-Ohio Con later in the year, but since they opened a location in Chicago not too far from where I live, we decided to extend that tradition to this show as well. We made it to the store just as they were locking the door, but thankfully they let us in anyway.

Post-con Jenni's ice cream run, with Alan Evans (Rival Angels)
We took some selfies and sent the pictures to our Ohio friends, and then headed home to go to bed before the final day of the show.
SUNDAY:
The final day of the show, and often family day (or "kid's day"). It's a day where I clean house, since I have so many kids books on the table. However, I let Russell open the booth while I set up for my Reading with Pictures Live Reading panel. Jim was kind enough to join me, since my voice was faltering (too much talking over the last several days), and I couldn't do voices very well. The group started off quite small, but we quickly gained a crowd of interested children as they heard the bizarreness of the story that is Albert the Alien, and their parents heard about what Reading with Pictures as an organization was trying to accomplish. We read a few stories:
1) Albert's new adventure from the upcoming Reading with Pictures volume 2
2) The first issue of Albert the Alien is New in School, which we'll be turning into a graphic novel this year (Kickstarter starts in May)
The kids loved the reading, and several of them actually asked for more! This is always a great feeling, but unfortunately we wanted to get back to the table (and I had almost no voice left). Special thanks to Jim McClain for helping me out on this panel! I couldn't have done it without you.
I had a few more meetings and introductions made on Sunday, then ran around to say my goodbyes before breaking down the booth. I had 3 books left when the weekend was done, and had sold through everything else I brought. This was a GOOD weekend.
We helped Phil break down as well, since he was by himself and has a massive setup, and then got him in a cab for the airport while Russell, Josh, and myself headed back to my neighborhood to go out to dinner. We brought the wife as well, and hit up a local bar called The Pony. We each did a shot, ordered some very tasty Buffalo Wings, and chatted the night away.

Beth and I out for post-con dinner / drinks

Josh and Russell enjoy the final wing of the night. Great sauce!
At one point during the night, we saw a bouncer grab a patron in a choke hold and take him out of the bar. We weren't sure what had happened, but our waitress said he was rude to her and needed to be removed from the building. I like when a place respects it's employees and creates a safe environment for them, so we made sure to give her a little extra tip at the end of the night.
After dinner Russell took off, but Josh was crashing with me for a few more days. We had some more drinks and played some video games to unwind, but didn't stay up too late. Especially since I received a special surprise the next day (see below)….
Overall, C2E2 2014 was the best C2E2 yet! The show continued to show more organization and had a huge attendance of fans passionate about comics – and who were buying comics! Reading with Pictures had a fantastic location (right by the entrance), and because Jim was mainly running the table, we had a chance to go out and network and take some meetings with editors and creators.
It was awesome, and I can't wait to attend the show again next year!

The pleasant surprise that was waiting for me at home after the show….
September 6th, 2013
|
by Trevor
Getting around to this one a little late, but unfortunately comic deadlines come first. As you know, Chicago Comic Con (or Wizard World Chicago, it's sometimes called), is the only show I do in the year where I'm not a guest – but it's somehow one of my highest sales shows of the year. So let's jump right into it.
THURSDAY:
I left the office and headed over to the convention center to see my buddies (already set up), and check out the new hall. The show moved to the other side of the building this year, and the space was quite different than the previous year. For one thing, dealers and panel rooms were upstairs – which was a first. However, the hall was plenty packed with people (we later found out there was a Thursday night Groupon, making for a lot of first-timers coming in to check out their first comic show).
At 6pm I had a panel about creativity moderated by Tony Kim, along with David Chelsea, Dan Parent, and Rob Prior. I was the resident indie / webcomic guy, and everyone on the panel got along very well – and told some good, funny, and hopefully inspiring stories about the creative process. In fact, one con-goer called it "the panel they enjoyed the most" out of the show. We talked about the hurdles to being creative, and what motivates / inspires us to tell the stories or do the art that we do. I tried to throw in some typical humor, but also the motivational lines I've become known for at the shows. With a few new ones thrown in for good measure.

After the panel ended, I headed back out to the floor to hang out with Russell Lissau (The Batman Strikes, Strawberry Shortcake) and Jim McClain (Solution Squad). The two were selling in high spirits, and we all went out to The Ram after for a quick bite of dinner.
Russell took me back to his place, where he was putting up myself and our friend Steve Horton (Amala's Blade) for the weekend. We had a few drinks, had a few laughs, and then headed to bed to rest for the next day.
FRIDAY:
The group got up early in the morning and headed over to grab some quick bagels before heading over to the show floor. We set up and started selling, and man oh man was there a lot of traffic. And a lot of families, which was great for Albert sales!

Spider-Man commission headshot for a young father, by Trevor Mueller
A few people signed up for some commissions, and the day went very quickly with the volume of people and sales. The only issue faced (and this appeared to be universal throughout the floor) was that credit card sales were unable to go through. Everyone lost bandwidth. They kept telling me it was because of the volume of people at the show, but ACEN had been held in the same hall several months earlier and had over 28,000 people in attendance. No one could come up with a definitive answer, but it did force us to direct some shoppers to the ATM machine. A few of them returned, but overall it may have hurt sales for anyone in artist alley who was less engaging with attendees.
Friday on the floor ended, and we packed up and headed out to a Chinese restaurant over by Russell's house. The food was good, we had some hot sake, and then headed back to his place to catch the last hour or so of Wreck It Ralph – which I had brought for Russell's family to enjoy. I knocked out some sketch cards, which have been selling like hot cakes at the last several shows I've been doing, and then we all went to sleep.
SATURDAY:
We got up a little later on this day, and hit a lot of traffic on our way to the show – clearly under-estimating the popularity of this event, and the amount of attendees who would be there right at the opening.
Note to self: definitely don't under-estimate the ability of nerds to get up in the morning when there are sci-fi celebrities and comics involved!

Trevor, doing his sales thing
After finally getting inside, we immediately and quickly set up and started selling our hearts out. The floor was flooded with masses of comic fans, families, young shoppers, and people completely new to the world of comics. All of them ready and willing to buy, and eager to drink in the amazing things around them.
The credit card issue persisted today, but several people came back from the day before with cash – and we rewarded their return with discounts or free art. Thankfully everyone was very understanding of the whole situation, and clearly they wanted the books enough to come back the next day – and we like to reward that kind of loyalty.

Trevor gives Gabe the "bunny ears"
Traffic eventually started to slow towards the end of the day, and it was a good opportunity to walk the floor a bit and stretch my legs, and chat with some comic friends of mine. I talk to Andrew Kwan, a comic student in Toronto and my partner on one of the Top Cow Talent Hunt pitches I put in. The guy loves sci-fi, so we're thinking of pitching a few sci-fi shorts this coming winter – to come out in 2014. Additionally I chatted up Chris Mitten, David Mack, and Talent Caldwell.
Talent and I have been friends for a few years now, and I've always loved that man's art. They don't call him "Talent" for nothing, and he spent the time working on commissions and making art so beautiful it makes me cry. Talent and I had a few conversations about Albert the Alien – which he totally loves – and some other projects we have in the works.
After the floor closed, the group headed over to McCormick & Schmick's so Russell could have his blue-cheese stuffed olives in a martini, and the rest of us could enjoy some tasty sea food. It was nice to sit down, relax, and just hang out with my friends and fellow creators. All good guys, all righteously funny, and all great company.
After dinner we headed back to Russell's so I could work on more sketch cards, and we all watched some Evening with Kevin Smith – a hilarious laugh. Although, not so safe for the kids….
SUNDAY:
The final day of the show we did our usual breakfast stop, and set up nice and early for family day. Surprisingly, I think there were less families in Artist Alley this day than the rest of the weekend – which isn't a knock on this particular Sunday, but a credit to the volume of families that had been attending all weekend.
Sales were pretty steady throughout the day, with a few dips in traffic to allow of us to walk the floor and chat up our friends a bit. I continued to sell out of copies of my books (and sketch cards, which have been flying off the table at record pace these last few shows).
Eventually I shut down the table a little early so I could wonder and say goodbye to some friends, and catch up / talk business with a few others. About an hour before the show was to end, Beth came to get me – which was perfect timing, because the traffic for the show had slowed quite a bit by that time.
After a fun but exhausting weekend of hanging out with great people, seeing amazing comics and art, and yes – selling a boat load of books – we had another highly successful convention on our hands. Love doing this show, and can't wait to do it again next year!

Writers Steve Horton (Amala's Blade) and Russell Lissau (The Batman Strikes, Strawberry Shortcake) stand in front of their booths