Posts Tagged 'johnny young bosch'
9 items.
February 23rd, 2018
|
by Trevor
Convention season is officially upon us, and has started off with a bang! Anime Milwaukee continues to be my first con of the year, and continues to set the bar – AND HIGH – for the rest of my convention experiences this year. I was a returning guest of honor, and had fantastic panels (with high attendance), and great sales on the floor. The staff and volunteers continue to make an experience worth having – and attendance increased over 10% this year, breaking the 10,000 mark!
A special thanks to all the staff, volunteers, and guest relationships folks who keep bringing me back and giving me a wonderful experience – one I encourage each of you to come have next year! This was my 8th year (out of 11) returning as a guest of honor, and I keep coming back for this same reason: the show is great, and I love being there.
THURSDAY:
After work, I packed up the car and headed over to pick up my buddy (and fellow guest of honor), Russell Lissau and his daughter. It was the first time I was car pooling with him in my new SUV, and I knew I would have enough room for his stuff, but was impressed I was able to fit all my stuff into only half of the trunk. Either my packing skills have gotten better over the years, or this car is much more massive than I originally thought. Or both!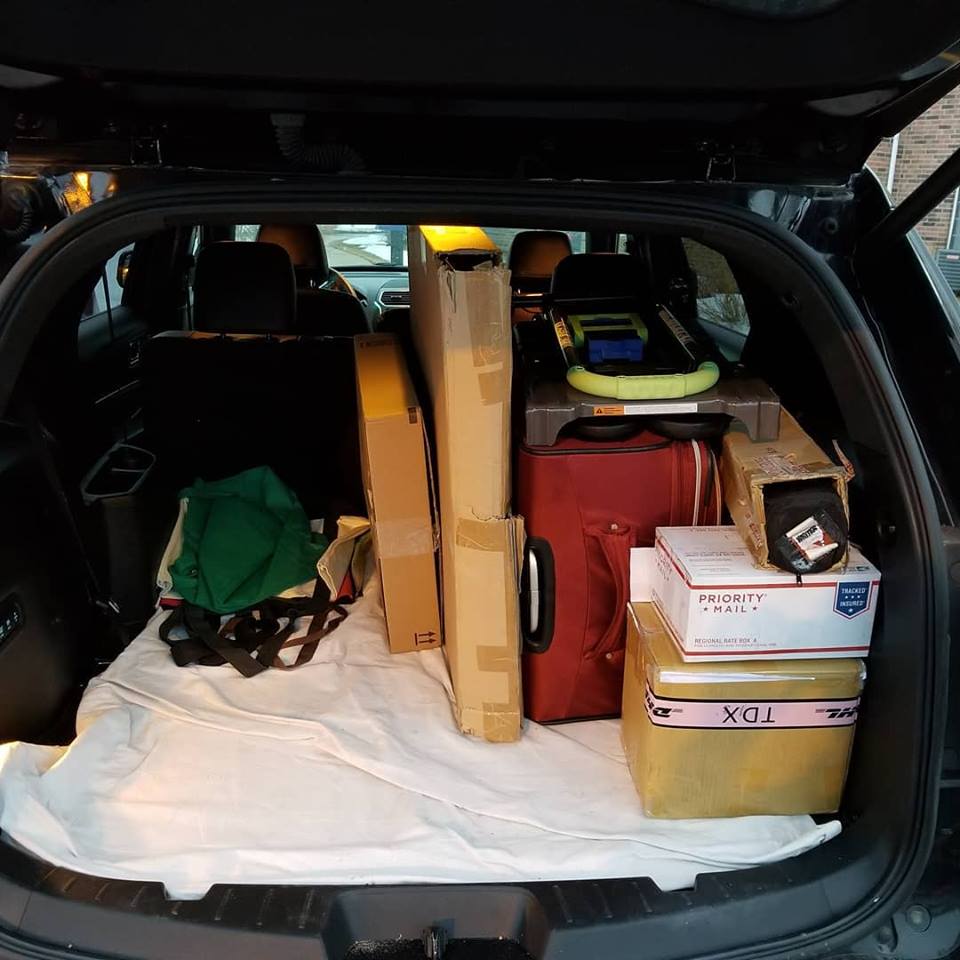 The trunk of the car, saving half of it for my buddy Russell – but was impressed that I was able to fit into half of it
We grabbed a quick dinner at a local burger place, and then headed up to the convention center. In no time at all, we arrived and unpacked. Despite having a dolly this time, it still took me several trips to get my stuff down to the floor (hey, my first year with merch…I'm working on it). Once there, I started to set up that night because I knew I would need a little time to play with the configuration. With a 3 foot book display, and a 14-inch vertical merch display, there wasn't a ton of real estate on the 6 foot table for me to set up all of my stuff…so I'm glad I gave myself the extra time to experiment.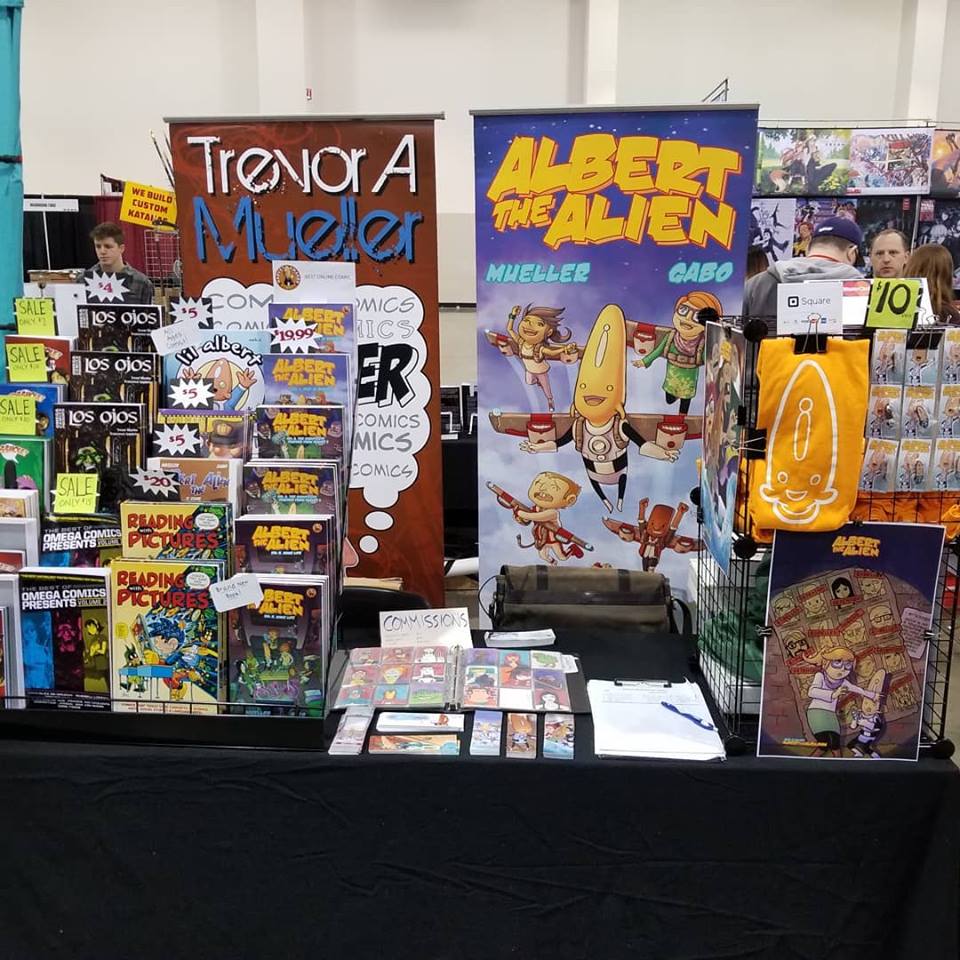 The booth, now with t-shirts, posters, and pins!
After setting up, the group went to the green room and had some food. We met a few of the handlers and some of the Japanese guests, and had a little food, but ultimately went to bed early – which is almost unheard of on a con weekend. But, thankfully, it helped set the tone for what would be an excellent weekend.
How late do you usually stay up at a con?
FRIDAY:
Friday morning we all went to the gym in the morning, including my buddy Russell (who NEVER joins us in the gym). I like to start my weekend with a healthy workout, as it keeps my energy high (and gives me a big appetite for breakfast). We headed over to the restaurant across the street from the hotel for a meal, and then went to the floor to finish setting up our tables before Opening Ceremonies.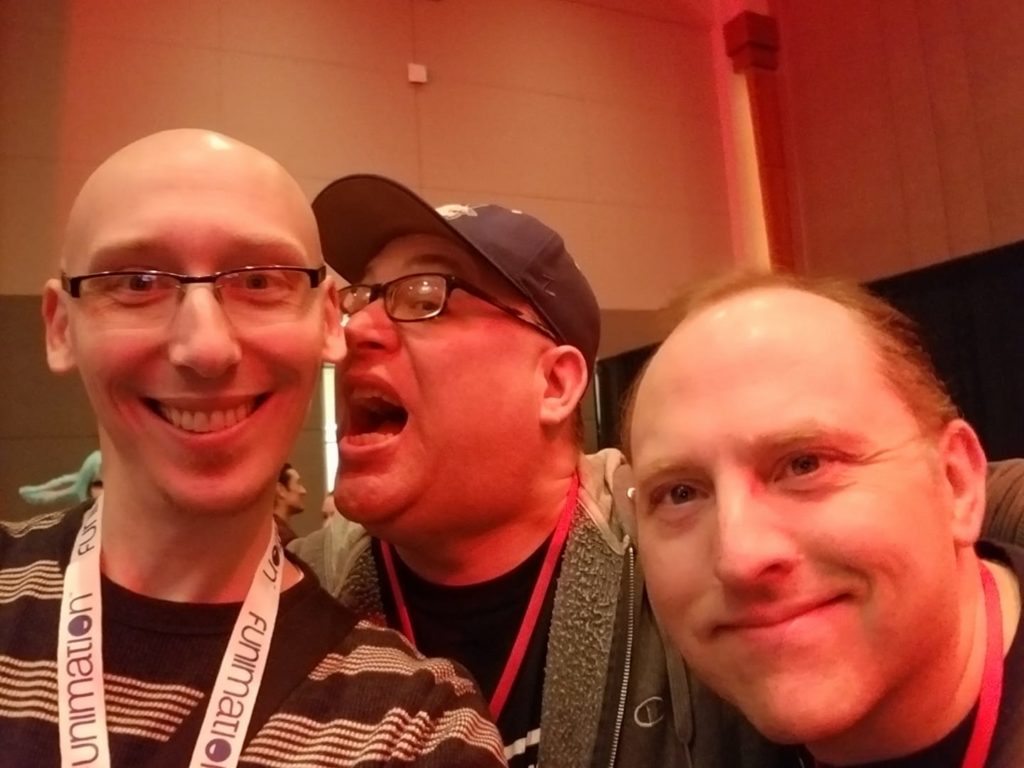 Behind the curtain at opening ceremonies with my comic pals, Russell and Alan
The comics crew headed over to Main Programming for Opening Ceremonies, and got to see the guests – many of which I hadn't seen in ages, and some of which I hadn't ever met before (despite attending multiple cons as guests together). All of the big voice actors were there, many of the cosplay guests where there in costume, and Samurai Dan and his wife were there with the dogs (which is always a hard act to follow on a stage). We all said our hellos, and then Jon St John – the master of ceremonies – introduced us all. He had a teleprompter in front of him with our names and bios (which were also displayed for the audience), but despite that he still got my name wrong, which would become a running gag throughout the weekend.

Opening ceremonies, this bald guy gave a talk for a while. It was fun. He was good looking. You should buy comics from him
After energizing the crowd, we headed back to the floor for finalizing set up and for the flood of people piling into the show. The day went by quick, but was a ton of fun. I also had a Writing for Comics panel at 2:30pm, which followed Alan's first Making Webcomics panel. I arrived a little early, and he handed some tougher questions about overcoming troupes to me. I participated in his panel and had some fun, but then immediately started into my panel. Attendance was solid, and I had some great engagement from aspiring writers (and some artists). After the panel ended, I went back to floor and continued selling until the end of the day.
What kind of programming content do you like to attend? What attracts you to a panel? The topic, or the panelists?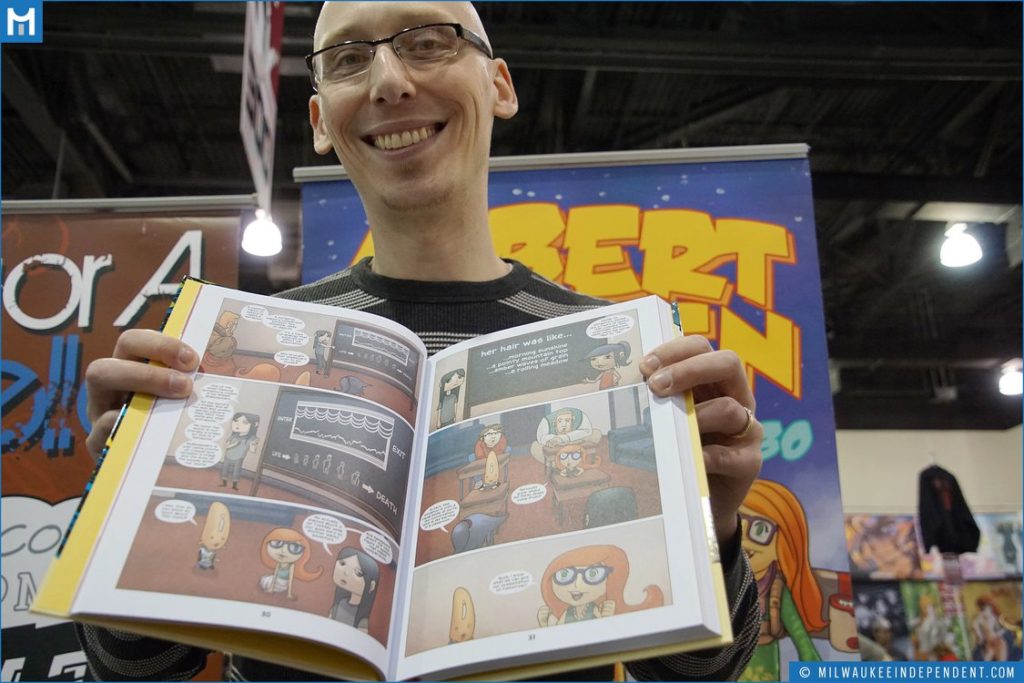 Showing off the product for some photos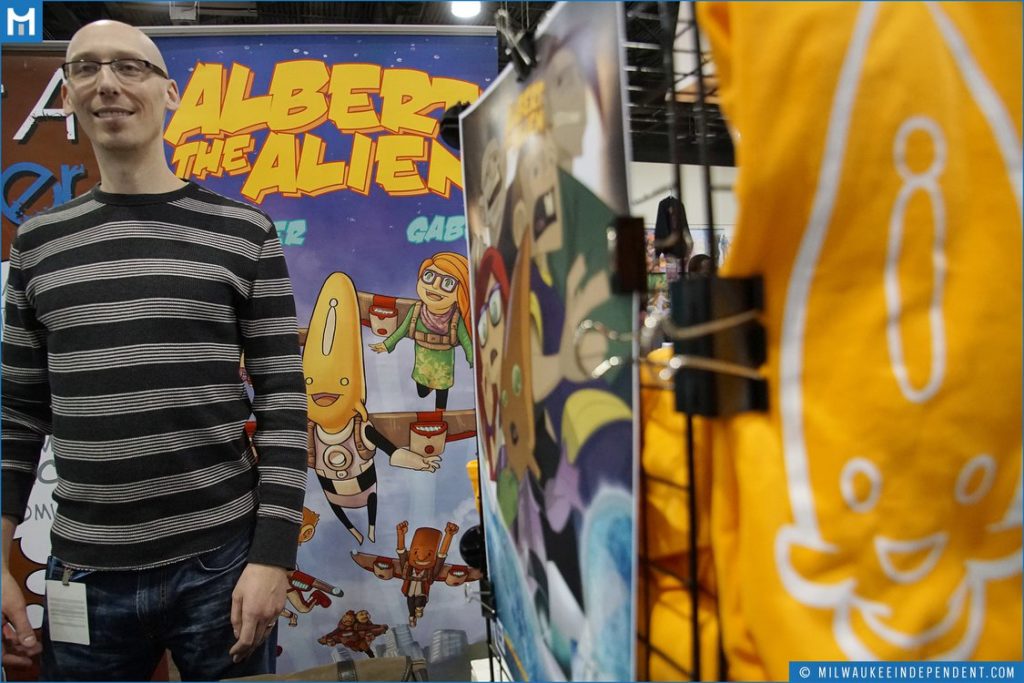 Standing and talking to photographers at the booth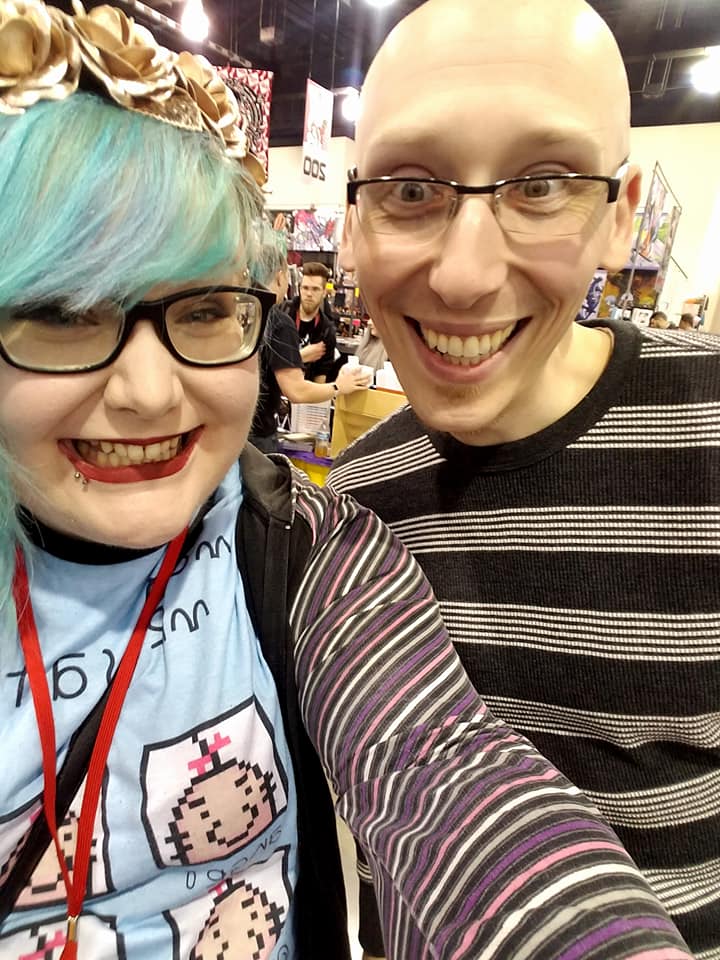 With the ever-incredible Mel!
After the floor closed, we headed to our rooms to grab some food (pizza from a nearby Italian restaurant we've never tried), and then went to the green room for some group toasts. It was the 30th anniversary of Final Fantasy, and many of the voice actor guests had done work for the FF games series. At the same time, we were toasting for our absent friend, Gyu, who has been a major presence in our lives both in and out of the con world. Gyu's absence was celebrated with a few fingers of 30 year old scotch – something he would enjoy – and it was a chance to talk to some of the voice actors I had not had a chance to meet previously.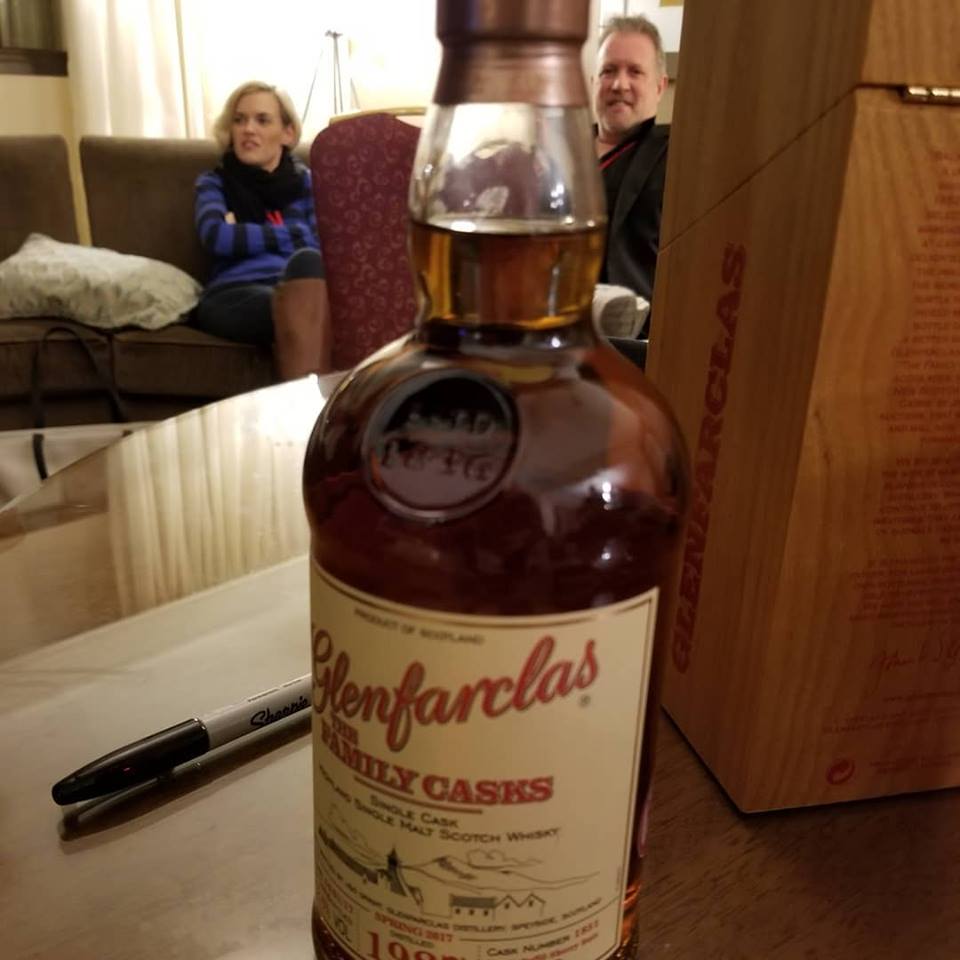 30 year old scotch in the green room, toasting the 30th anniversary of Final Fantasy (with photo bomb by Kari Wahlgren and Jon St John)
After the toast, we went to the VIP event in the top of the hotel, and hung out with fans. I got to talk to Johnny about his new band, and we talked merch (since I've been dabbing in t-shirts and pins, and he's looking at experimenting with some new stuff to sell at concerts and cons), and then we split so we could hang out with the fans. A number of Channel Awesome fans found me and started chatting me up, which was a blast. I got into some very impassioned talks about good and bad movies, which started to make me lose my voice (not good!), so I finished the evening listening to what they enjoyed (or didn't) about certain movies. After the VIP event, we went back to the green room for a quick snack, and then we all went to bed again (rather early by comparison to previous years). The rest was much appreciated.
SATURDAY:
Saturday morning started as all the rest do – got ready, grabbed some grub (this time at the Hyatt restaurant), and then went to the floor to set up and start selling. And sell I did! Man, the crowds were massive and the desire for original art and commissions was high! I loved it!
Around noon or so, Gabe and I went to our How to Draw an Alien panel, and re-arranged the room so it was more appropriate for a workshop. We gathered everyone around a few tables with paper and stuff to draw with, and we started talking about aliens and Gabe's method of design. Then we built our own alien creature together. His name was Bob, and he worked in corporate finance. We then designed his boss – a stop light with each light showing a different emotion. We then opened up the group to free design their own support staff – janitors, HR, marketing, and one guy even made a transportation alien. It was a lot of fun, and we all shared and had a laugh at the fun creations we had made during the class. After, we packed up the room and went back to our tables to keep selling for the day.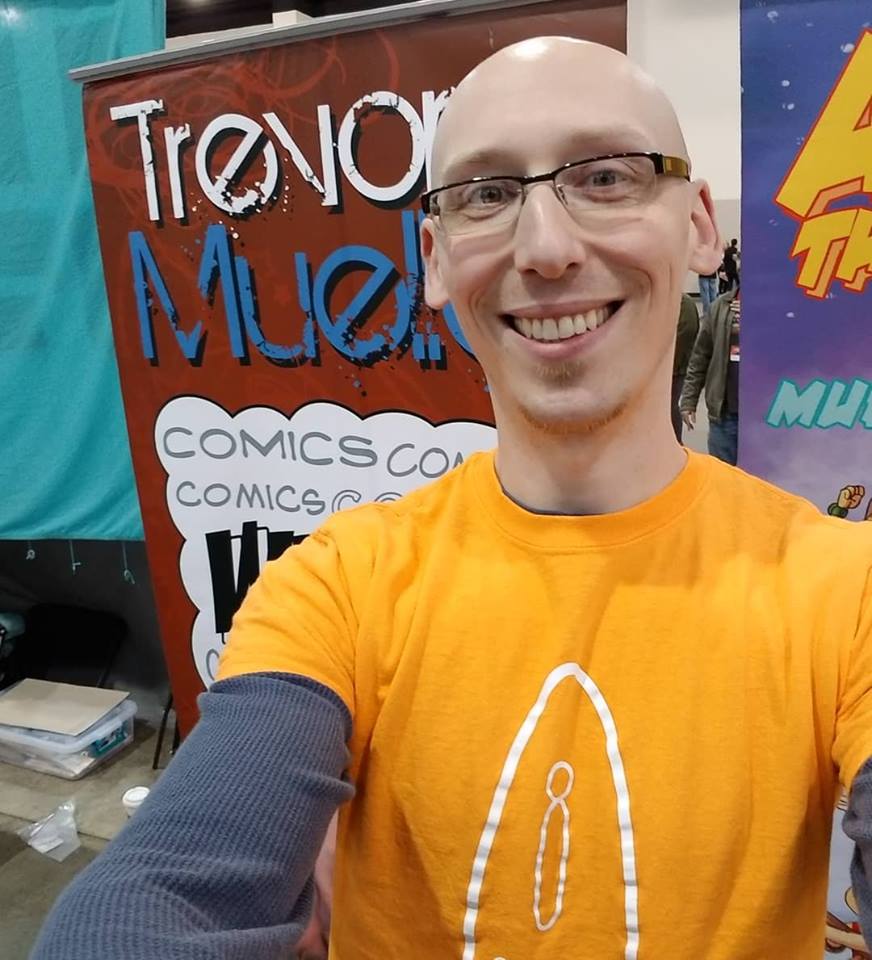 Come buy comics from this man at AMKE 2018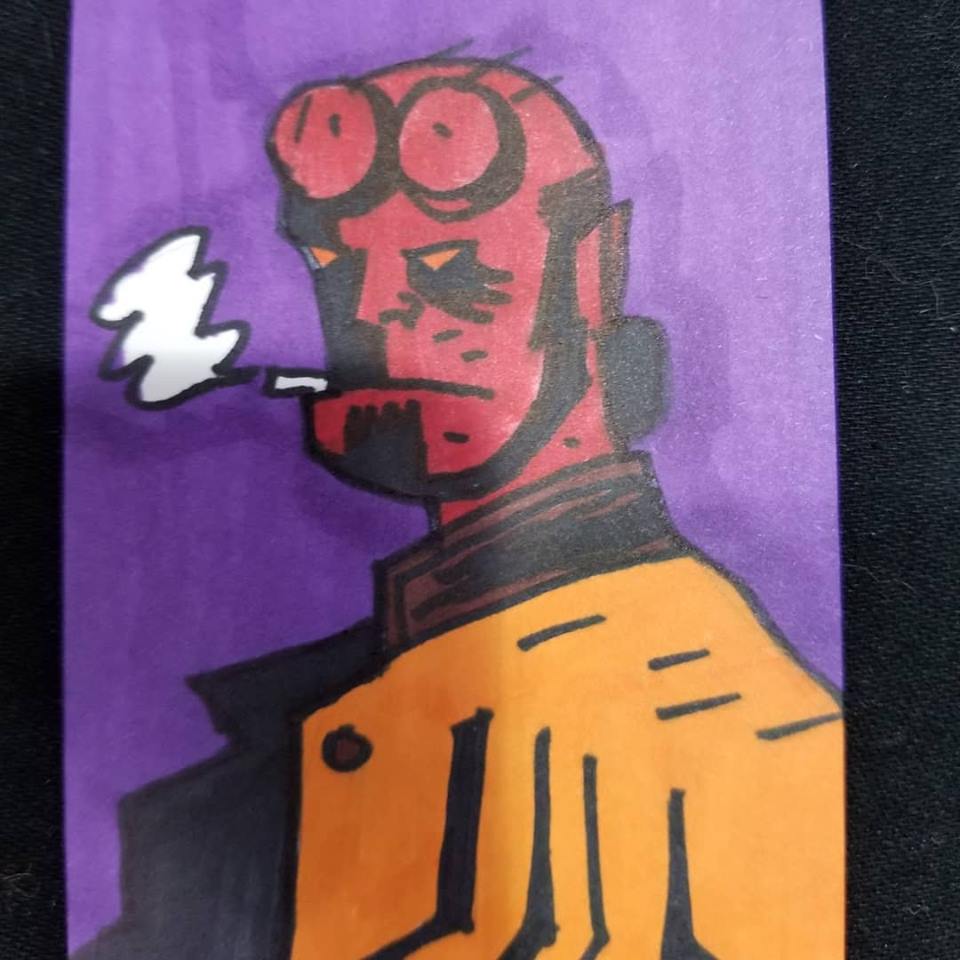 Hellboy sketch card commission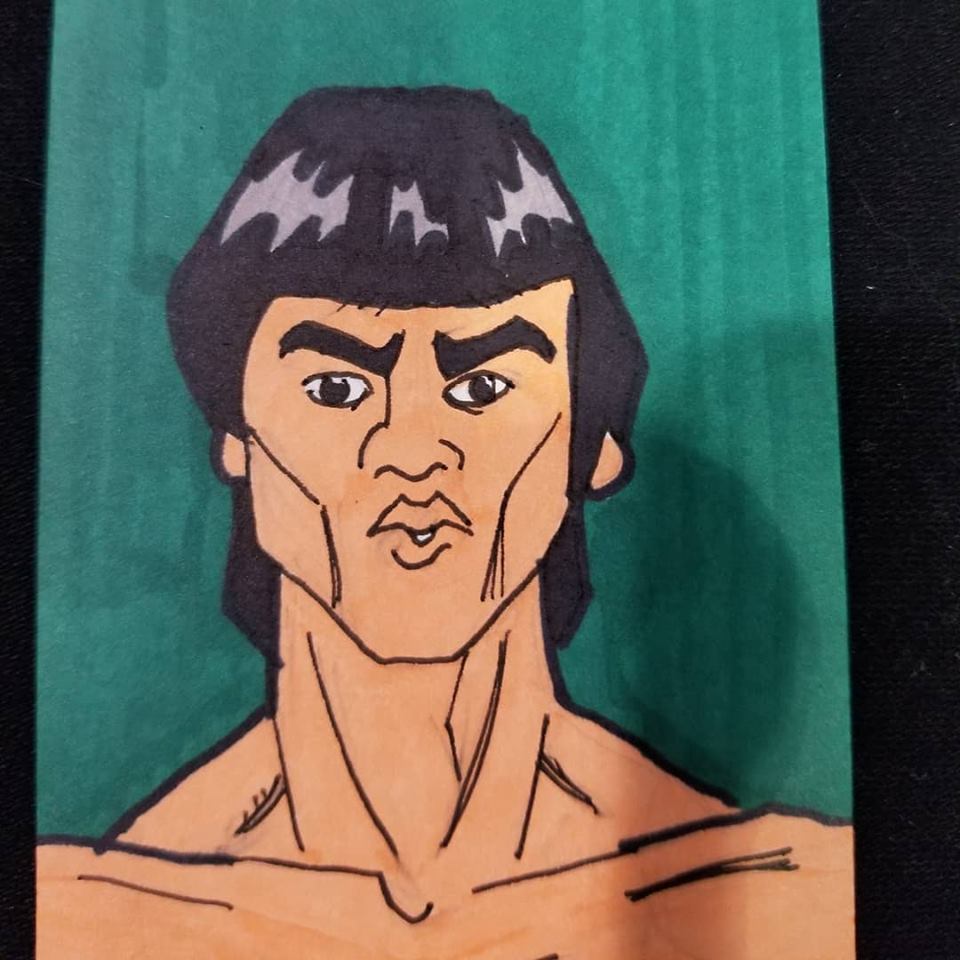 Bruce Lee sketch card commission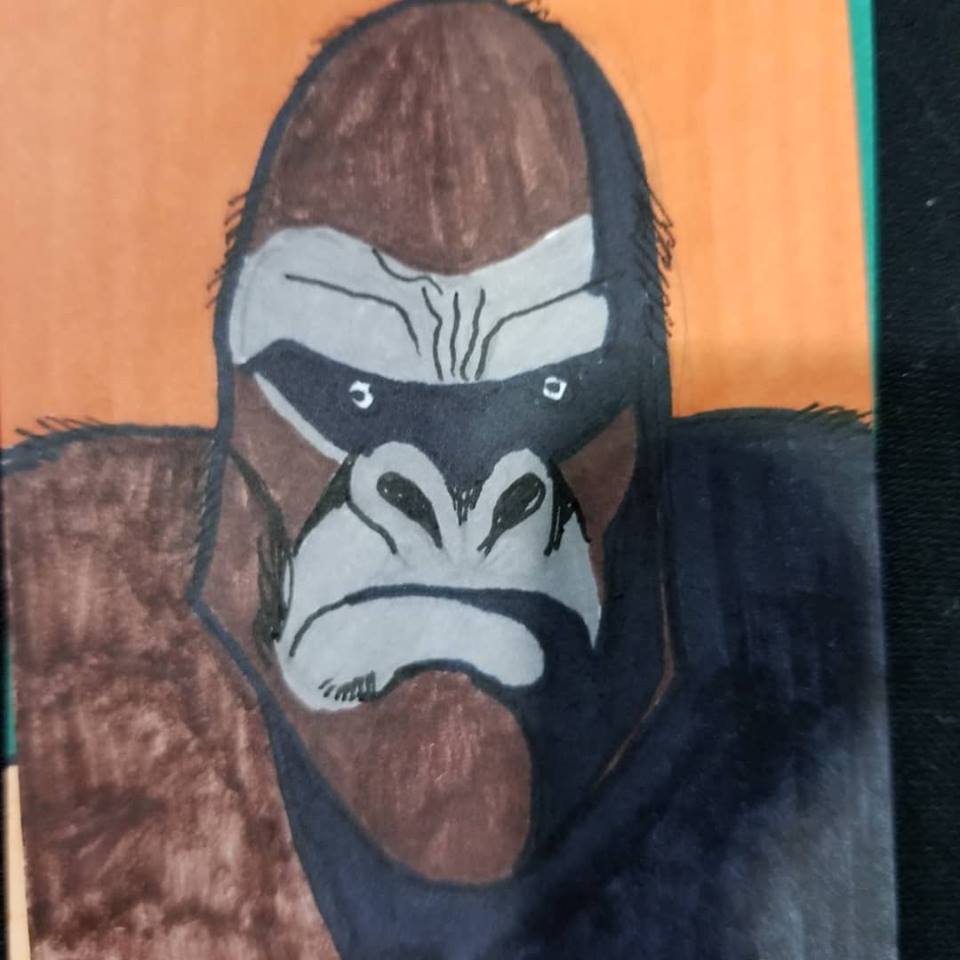 King Kong (from Skull Island) sketch card commission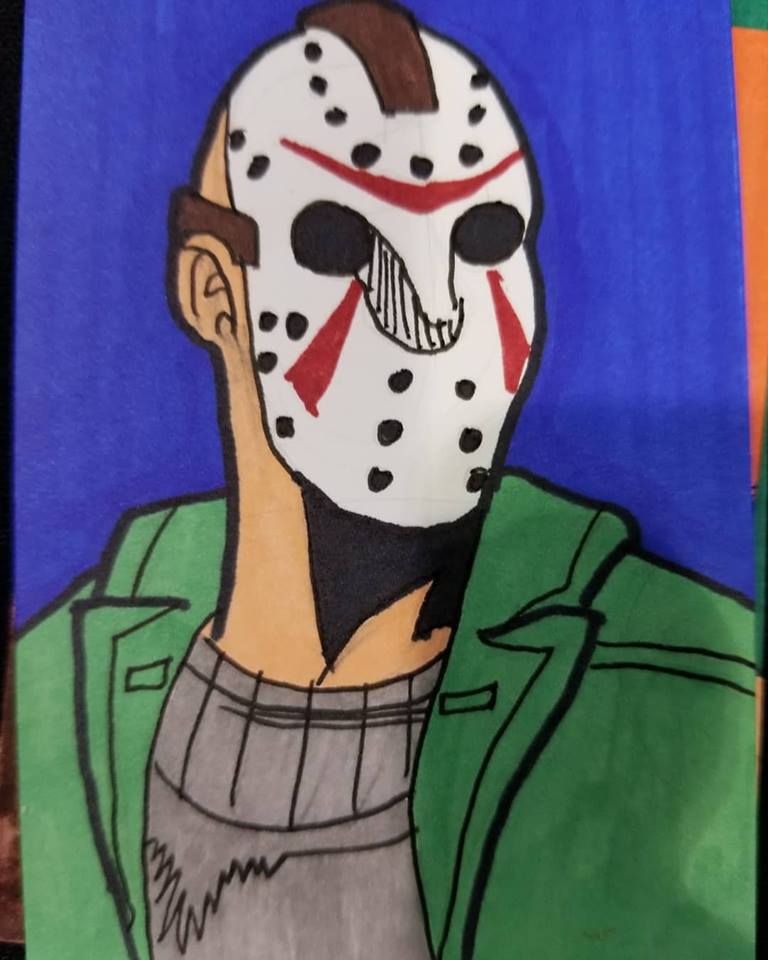 Jason (from MKX) sketch card commission
After the floor closed, I met up with my friend Lauren, who had driven up from Chicago to see me and hang out with our mutual friend, former Power Ranger Johnny Yong Bosch. The group went to the Thai restaurant across the street (a big mistake, because even with reservations we were delayed in being seated, and the service staff was overwhelmed with the volume of patrons). We eventually got through the meal, and headed back to the hotel to have drinks with some staffers who we've been promising to hang out with for some time. Lauren left to hang out with Johnny, who was grabbing dinner with Samurai Dan and his family, while we finished drinks. A homeless entered the hotel and tried to solicit drinks from us, which was not cool, and eventually hotel security scared him off.
After drinks, we went to go play Cards Against Humanity with Dan and Jillian, which ran until a bit after midnight. After, I retired to the green room with Johnny and Lauren to watch some Olympics and keep hanging out. Around 2am, we decided to call it a night. Johnny and I were going to grab breakfast in the morning anyway, which would come far too early for either of our preferences.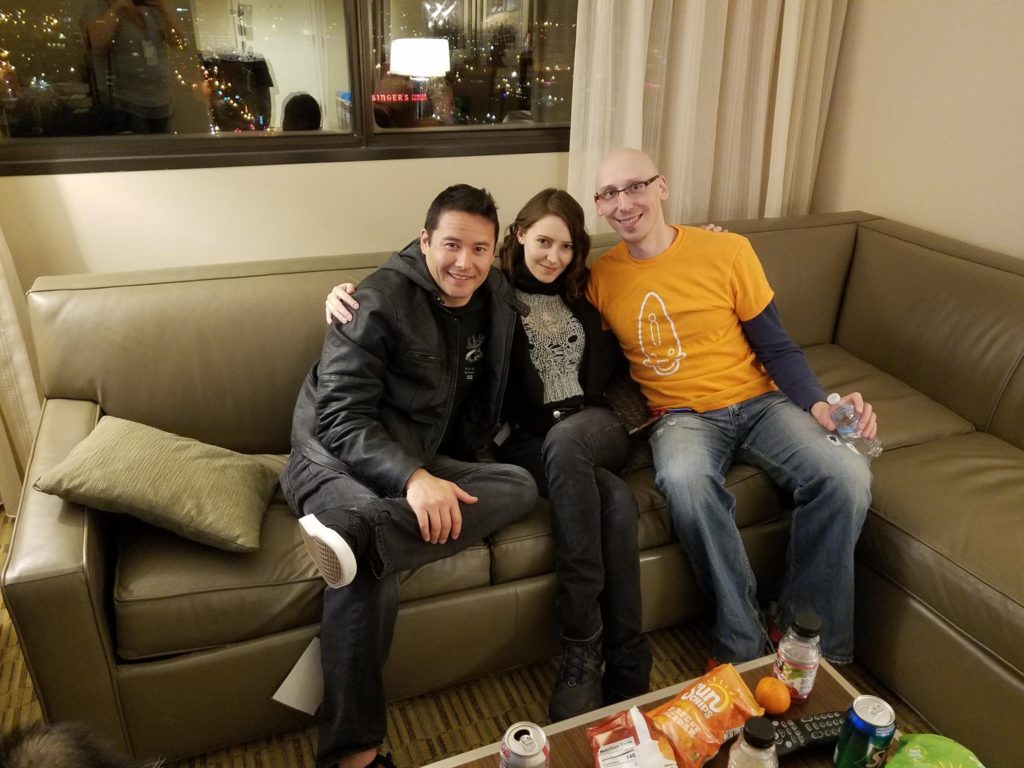 Got to spend a fine evening hanging out with two of my favorite people, Johnny Yong Bosch (Power Rangers) and Lauren Marie
SUNDAY:
I packed up my room and loaded up the car, and then headed to breakfast with Johnny. We talked more about his band and musical experiences, about our families and what cons we enjoyed attending. It was a fun time, and something I don't get to do nearly often enough because of the late nights and tight schedules many cons keep us on. It was very refreshing to get to hang out with my friend and just share a meal. After breakfast, I headed to the floor for a final day of sales – and boy oh boy, did the trend get set early in the weekend, because they were a flood.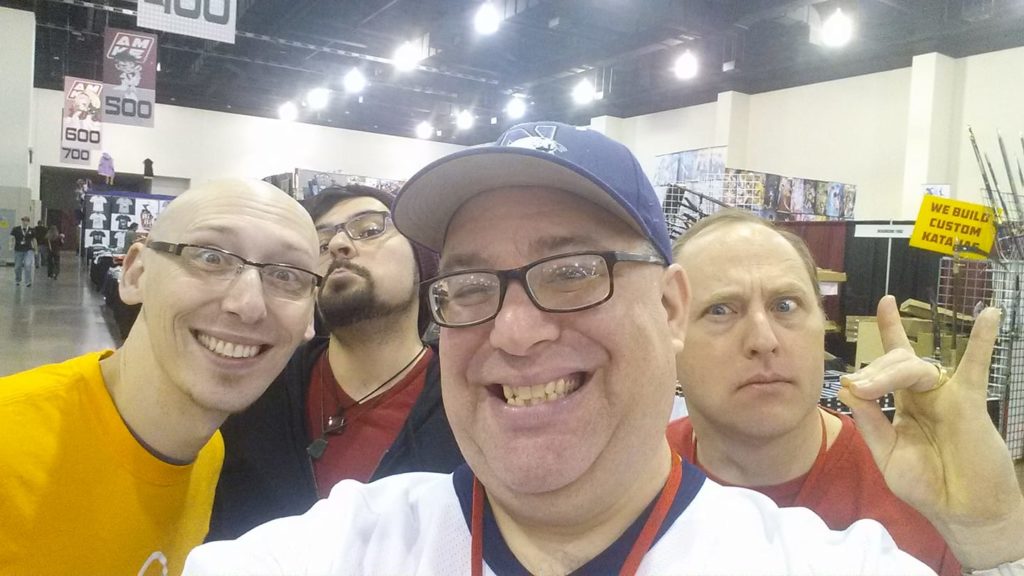 Hanging with the comics crew in artist alley before opening. From left to right: Trevor, Gabo, Russell, and Alan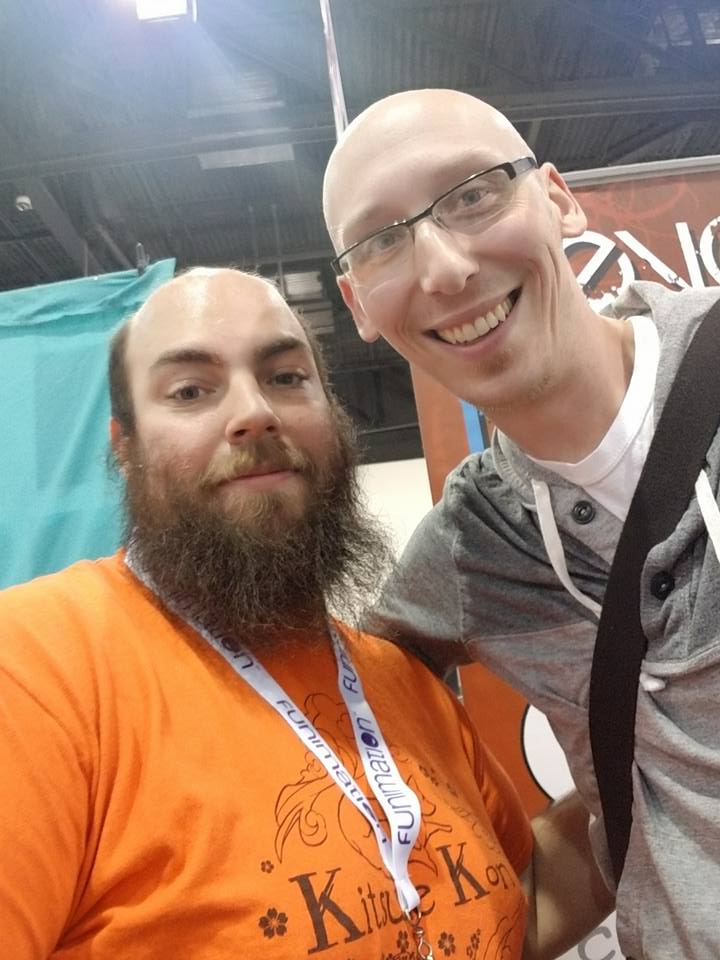 With my buddy Shoulders Hernandez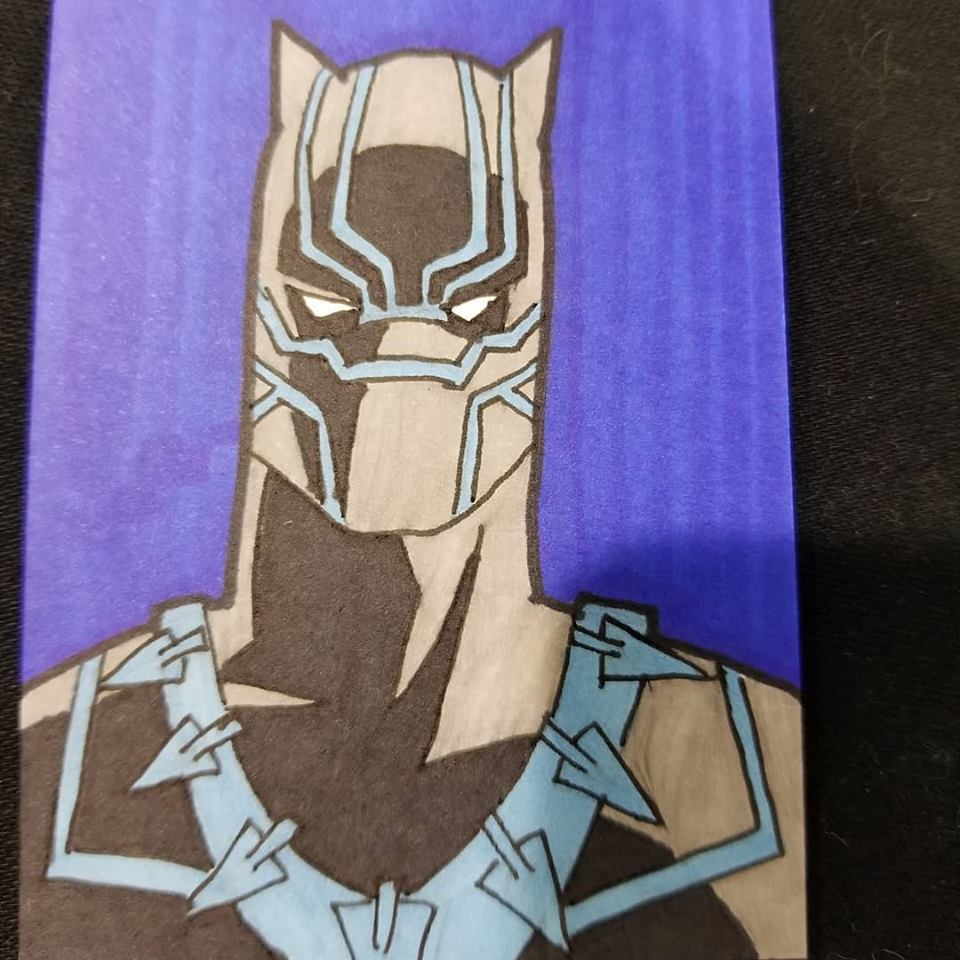 Black Panter sketch card commission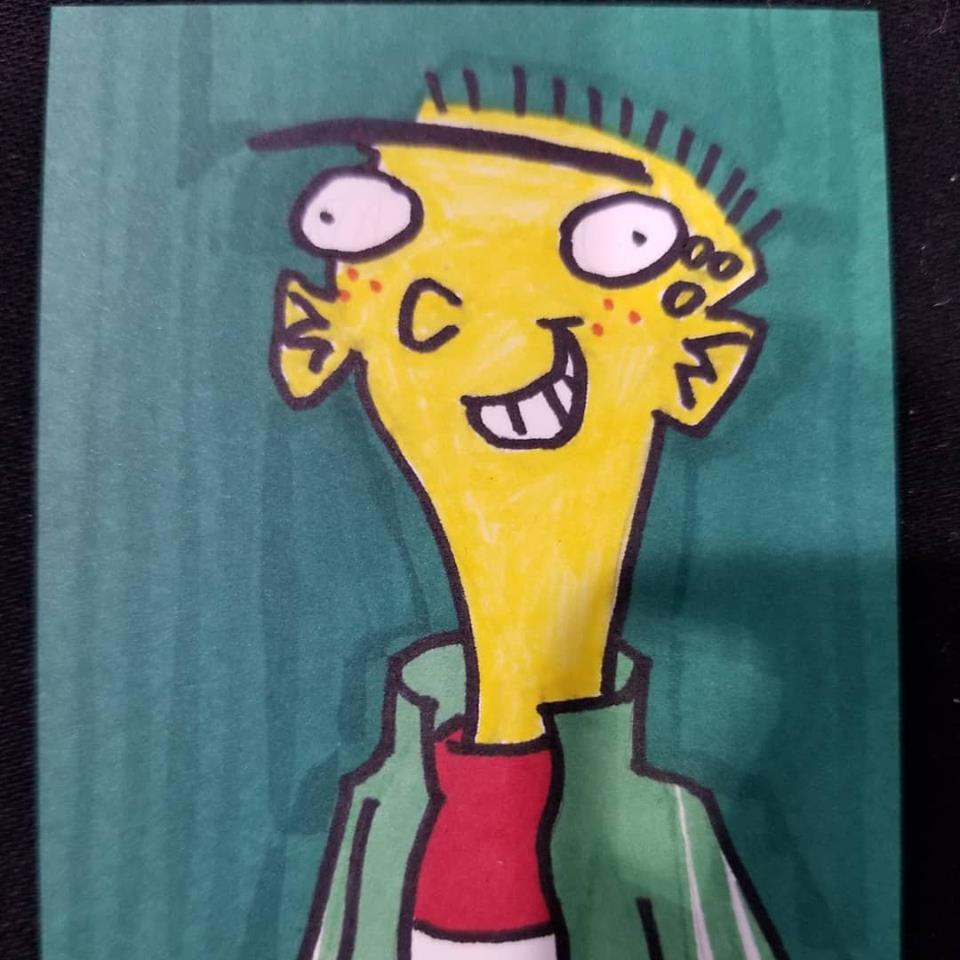 Ed (from Ed, Edd, and Eddy) sketch card commission
Around noon I did my final panel for the weekend, which was Crafting Fictional Worlds. This panel by far had the most attendance of any panel of the weekend, and the group and I had a lot of fun talking about what to reveal and what to imply in stories, how to balance telling vs showing your world through visuals or exposition, and many more topics. I didn't get to answer every question people had at the panel, sadly (if you attended the panel and are reading this, ask me now!), but that's what happens when you have 75+ people in a room and only an hour for a panel.
I returned to the floor for the final hours of sales, and Johnny stopped by to say his goodbyes. I gave him a hug and a pin for his daughter, and then started to pack up my stuff.
Anime Milwaukee was another incredible con, with great attendees, staffers, and volunteers. I'm always incredibly humbled and honored to be invited back, and hope to return yet again next year!
SUNDAY:
The final day of the con, I got up and checked out of the hotel, and headed to the breakfast spot I always meet up with friends right by the convention center, my gear in hand. We were joined by Jennifer Brazas, who used to work on comics and now operates her own shop at anime cons. We had a good time fueling up for the final full day of the con, and then headed to the floor for set up and selling.

Curious what the seller side of the table looks like?
I didn't have any panels on Sunday, so it was just friends stopping by to purchase or ask questions. I got to hang out with the staff a bit, who helped coordinate my being there in the first place (and who gave me such a premium spot on the floor), and then started packing up so I wouldn't miss my flight home. I hopped a cab with Krazy Krow and his wife, and we headed to the airport early so we could grab some much-needed dinner and drinks to relax and celebrate our amazing (yet intense) weekend.
We eventually went to our waiting area, and alarms started going off at the airport. We couldn't figure out what was going on, but the planes outside were all stopped as well (there was a massive line of planes on the runway, waiting for their turn to take off). Whatever happened, it delayed all the flights about 30-45 minutes; but thankfully didn't cancel our flight home. We debated going to get foot rubs (standing for a 13+ hour sales floor 3-4 days in a row makes my feet a little sore…am I getting old?), but decided sitting felt too good to get up.
Eventually they started boarding, and we were on our way back to Chicago.

Waiting for the flight home with Krazy Krow and his wife
Anime Boston was, once again, an amazing time. It's an exhausting show, with a long sales floor and an intense schedule, but it's a lot of fun and has an amazing staff that makes you want to keep coming back year after year. I hope to be back again next year!
SATURDAY:
Morning came too quickly, as it often does at a con, and I grabbed a quick bite and went to set up the table. I got a text message from Johnny Young Bosch (Power Rangers), inviting me to hang out that night and grab some dinner. It's been a while since he and I had a chance to hang out and catch up, so I was very interested.

This is the face of a (sleep-deprived) man who wants to sell you some comics
My helpers showed up around noon, and I headed off to my first panel of the day (with my good friend and Spinnerette creator, Krazy Krow), Crafting Fictional Worlds. This was a fun panel, and was the first time I had done it in ages. And the first time I had done it with another creator. Learning about his process, and talking about my own (and how it's changed over time) was a lot of fun, and informative for the audience. We talked about how even worlds based in "reality" (like Batman, or Strangers in Paradise) still need world building. They have rules, and you can't break them or else the reader gets taken out of the story.

Crafting Fictional Worlds panel – standing room only, and (believe it or not) our least attended panel for the weekend
After the panel ended, we headed back to our tables and kept selling. I had a helper get me a little lunch, and then had to pack up again for my final panel for the weekend: Writing for Comics. This is always a fun panel to do (once again, Krazy Krow joined me), since we get to talk about techniques, styles, overcoming plot holes and "writer's block," and talk about our stories. How did we come up with them? Where did the characters come from? And the audience gets to learn about us, our process, and how they need to get started in comics.

My table helpers for the weekend, cosplaying as character from Spinnerette
After the panel ended, we went back to selling at the tables (and managing the hordes of panel attendees who came with more questions, or to buy from the table). The night ended soon enough, with time to break down before heading to the restaurant to meet up with Johnny and Polo (his friend and band member). I walked into the restaurant and found them already enjoying a relaxing beverage, and having ordered their meals. I grabbed the waitress and made my orders, and sat down and chatted them up. Johnny and I did a series of cons together several years back, seeing each other several times a month throughout that particular year. I haven't seen him as much since then, but it was good to get to catch up and talk cons, anime, and his favorite thing to watch on Netflix right now (Samurai Gourmet).
After dinner, I went back to the hotel and tried to unwind by watching some Samurai Gourmet, but the bandwidth wasn't working so well and I gave up trying to stream it after a few tries. I went to bed later than I should have, ready for the final day of the con.
Anime Boston is this recent gem of a con that I was invited to attend two years ago, and was a featured artist two years in a row (something I'm told has never happened before). This year was the first time I was just a regular artist in Artist Alley, but that didn't stop the excellent treatment and amazing staff and volunteers from treating me like family. This was another incredible year for me at this show, and I can't wait to tell you all about it.
THURSDAY:
I flew into Boston early in the morning, giving me plenty of time to get my boxes, grab some lunch, and relax before checking into my hotel. I also had time to get registered, standing in a line for artist alley badges that was quite long. It only took a few trips to get my books over to the convention center, though, and then I left set up for the next morning (hey, it's exhausting to fly). I headed to a local pub and grabbed the tastiest thing on the menu: Beef-tips!

First-night whiskey and coke, a much needed social lubricant

Beef tips with potatoes – the kind of dinner you NEED after a hard move in
I quickly filled up and headed to the local store to grab some snacks for the weekend, and then headed to bed.
FRIDAY:
I got up early in the morning, and since the hotel didn't have a gym, I grabbed breakfast and went to the convention center to set up. I had premium placement – just to the right of the entrance, and impossible to miss as people were walking in. I chatted with the staff of the show as I continued to unpack my books and displays, anticipating a long day of great sales. I was not wrong.

The table, all set up and ready to sell
A little after noon, I started to get ready for my first panel of the weekend: Making Webcomics. I was going to be joined by Spinnerette creator Krazy Krow, and once my helpers showed up to watch the table I ran off to the panel. This panel has always been extremely well attended in years past, and this year was no exception. The room was full before we even got there – over 200 people standing room only, and all eager and excited to learn. We did our usual joking answers, had a lot of fun with the audience, and then invited them back to our tables to buy.
My helpers got me some lunch once I got back to the table, and I kept selling late into the night. During that time, fans new and old stopped by – and I even got a visit from guests of honor Johnny Young Bosch (Power Rangers) and Greg Ayres. Good buddies of mine.
That night I was on my own for dinner, and found a little pub to hang out at and enjoy a meal. I had to go to bed soon after that, though, because a 13+ hour sales floor mixed with early mornings and late nights = a tired Trevor.
I do a lot of local conventions, and many of them happen in the same place: Rosemont. This isn't a problem – this is a convenience. For both me and the convention. Because I do so many shows there as a guest, I know my way around – and therefore don't require a liaison to help me get from place to place. This saves the convention money, and also piece of mind. I'm a professional. I don't need a babysitter. I just need a table (to sell), a room (to sleep), and some water (because, you know…to live).
Anime Midwest is a show that's growing by leaps and bounds year over year, and it's a ton of fun to boot! I was a guest last year along with fellow creators Russell Lissau (Batman Strikes, Aw Yeah Comics), Steve Horton (Amala's Blade), Gabo (Albert the Alien, The Life After), and Sean Lindsay (Spinnerette). And we had fun. So much so, we were invited back again this year!

Check out these handsome guests
THURSDAY:
Thursday before the show I went over to Russell's after work to hang out with him and the Steve's (I will now refer to them as Horton and Wallace), and it was nice to catch up and relax outside of the convention experience. Much food and adult beverages were had. It was great because I hadn't seen Wallace since my wedding (back in October), and Horton and I had primarily been communicating via e-mail. We went to bed with visions of sales dancing in our heads.
FRIDAY:
After a quick breakfast we headed off to the show to check in and set up. We stopped off in con ops to get our badges, and then high tailed it to the floor to find our tables. We had a terrific position – right in the front of the artist alley, on the way to the signing area.

The table set up. Notice that fancy new vertical stand on the right?
We set up our booths and started selling. And sales were good. We premiered one of the new books at the show, and fans both loyal and new were eating it up. But what really made the show for me were commissions!
After a day of selling and making commissions, the group headed to a quick dinner at the hotel bar and then went to our panels. I had a Making Webcomics panel at 7:30, which had a terrific turn out! Lots of engaging questions and lots of good laughs were had.
After the panel I went to Doug Walker's panel about comedy (which was going on during mine), and then after we all headed to the green room. Johnny Young Bosch and the band showed up, but I was mostly talking to one of their good friends who I met at Anime Central years before when Johnny and his band were guests there. We chatted the night away, catching up on trips, vacations, and our latest creative projects. After a while everyone went their separate ways and off to bed.
SATURDAY:
Morning came early, and the group all met downstairs for breakfast. The Hyatt has a fantastic buffet breakfast, and the sales from the previous day had been enough to justify the expense. After breakfast, we all headed over to the floor for another day of sales.
During selling on the floor, I got to meet several of the Channel Awesome people including Tamara and Brad for the first time (great people), and then got to see Rob, Erin, and Robin again. We had just hung out a few weeks ago, which seemed like too long ago. We decided to play a prank and see if we could convince Doug to come to my Evening with Trevor Mueller panel later that night. I was going to tell a story about my first time meeting Doug – a story he's never heard me tell before. The plot was set, now we just had to get through the rest of the day.

Commission sketch card for a fan – Joker's brother

Commission sketch card for a fan – Adam West as Batman

Commission sketch card for a fan – one of their original characters
After the con floor closed, the group headed over to the panel rooms for a Writing Comics panel. We decided to turn it into a moderated panel, with Russell moderating, since the panel consisted of so many people: myself, Sean Lindsay, Steve Wallace and Steve Horton. It was a another great panel with lots of fantastic questions from the audience. After the panel, we all headed to the hotel bar for a quick bite – and then I had to run off to make my Evening with Trevor Mueller panel.
This panel is an hour of me telling goofy stories (embarrassing both myself, as well as some of the people who attend cons with me on a regular basis). I was a little off my game since I was suffering through some allergies, but everyone had a blast – especially when I told the story about my first encounter with Doug at Anime Milwaukee several years ago. I won't recount the story here – but it's a fantastic story about first impressions and misconceptions.
After the panel we all headed to the Cards Against Humanity panel hosted by Samurai Dan and Lady Jillian, which is always a good time. I can't get into details, but essentially we play Cards Against Humanity with the attendees – well, they play and we read the cards. It's a hilarious night of inappropriate jokes and goofing around.
After the final panel, we all headed back to the Green Room to hang out with more of the guests. Johnny showed up with the band and I got to finally connect with them, chatting until late into the night. Around 3am I decided it was time for bed, and headed off to my room for some much needed sleep.
SUNDAY:
The final day of the show was pretty short for me. I wasn't able to set up because I had family obligations (my wife's grandma's 90th birthday party), so I broke down the table and walked around the floor for a bit. It was fun to just walk around and see other people's stuff. Artist alley filled with prints, art, trinkets, and more. The dealer's area filled with manga, anime, toys, and so many more things. And then a chance to just talk to the other guests and attendees. It was a lot of fun.
Anime Midwest is a ton of fun, and a growing show. It's not so large that you get lost in the crowd like an ACEN, but it's large enough to bring in some big name guests and let everyone have a chance to connect and talk to each other. I highly recommended attending this awesome show!

Handsome man selling books
November 22nd, 2011
|
by Trevor
So my final show for the year was Kollision Con, put on by several of the same people who have helped make ACEN my favorite show to date. And let me say, this show was awesome. Great organization, a lot of fun to attend, and filled with some great guests (myself included) and some great panels and entertainment.
FRIDAY
After working a full day at the office, I hopped a train out to the burbs and had some dinner with fellow comic creator and good friend, Russell Lissau (Shrek, Strawberry Shortcake, The Batman Strikes). The two of us headed over to the convention center, located at Pheasant Run resort in St Charles, Il. It's a gorgeous place, and has a heated outdoor pool that you can swim to by going under a water fall! But I digress.
Russ and I headed to con ops to get our badges, and one of the vendors was kind enough to set up a chain mail jewelry making class for the guests. Which I would have participated in, except I had to give a panel in 30 minutes.
I spent the time before the panel talking to Doug Walker (thatguywiththeglasses.com), who was kind enough to attend the panel. Which was about making webcomics.
The attendance started off lighter, but by the end there was a healthy amount of people. A handful of great questions later (and some sales), the panel ended and we headed to the bar before going to Doug's improv event with the voice actors. This started at midnight and went on until almost 2am. After which, the voice actors and myself went to the con chair's hotel room to socialize and unwind from the long day, then went to bed around 3am.
SATURDAY
Russ woke me up about 30 minutes before my alarm was going to go off (the guy's a morning person, I'm not), and we got ready and went to breakfast. The resort had a breakfast buffet that was really awesome. I know it may sound lame, but having real eggs instead of powdered eggs was really impressive to me. They also had a waffle station, and an omelet station. We ate well.
We set up our tables in the dealer's room, along the wall reserved for guests. The morning was a little light on traffic, which picked up around lunch time. Johnny Young Bosch (Power Rangers) and his band, Eyeshine, showed up to the floor along with Doug.
Around 3pm, I had a panel for Reading with Pictures, which didn't have high attendance. Apparently I was competing with A Johnny Young Bosch panel, an Eyeshine signing, and another improv event from the voice actors and Doug. Suffice it to say, a con like this tends to skew younger and younger attendees are more interested in being entertained than learning about the role comics can play in the classroom.
No worries, though, as I headed back to the floor to resume selling books.
After the floor closed, Doug, Russ, my girlfriend Beth, and myself all headed to the resorts various restaurants. Apparently they're a big draw, since without a reservation we were going to have to wait an hour or longer to get a table. Instead we went back to the place where we had breakfast for a rather expensive (but international) buffet. The food was, once again, excellent.
After dinner, we headed to Russ's "Breaking into Comics" panel, which he asked me to participate since we both have very different stories. The panel went very well, and immediately after I went into my Evening with Trevor Mueller panel (where I tell goofy con stories). The crowd was pretty respectable for that late at night, but I am used to a slightly larger crowd. Once again, Doug Walker was kind enough to show up, and Russ also stayed to enjoy some of the hilarity. The jokes went flying, people had a fun time, and in the end we packed up and headed for the bar.
We stayed down at the bar, chit chatting with fans and friends, and eventually went back to our rooms for sleep.
SUNDAY
The final day of the show had us fending for ourselves for breakfast, since the restaurants didn't open until 9:30am and we were up much earlier. Doug, Russ, Beth, and I went to a little sandwich shop in the resort and grabbed some breakfast sandwiches, telling goofy stories about the con the entire morning. Eventually we broke to check out of our rooms and set up our tables.
Russ and I finished the con strong with sales, chatting with the other guests before taking off late in the afternoon.
Overall, the show was a lot of fun and Russ and I made money. An extremely well organized show, with some excellent staff and some fun guests. I highly recommend attending Kollision Con in the future, and hope to be invited back as a guest again next year.
November 18th, 2011
|
by Trevor

Like the comic says, I'm a guest of honor this weekend at Kollision Con.
Other guests include fellow comic creator (and my good personal friend) Russell Lissau, as well as Johnny Young Bosch and his band Eyeshine, Samurai Dan, and Doug Walker.
It promises to be a fun weekend, so be sure to swing by and say hi. Russ and I will be hosting several panels throughout the weekend, and will be set up in Artist Alley selling our latest books.
Here's my panel list for the weekend:
FRIDAY:
Making Webcomics – 10-11pm

SATURDAY:
Reading with Pictures – 3-4pm
An Evening with Trevor Mueller – 10-11pm
It's my last show for the year, and I want to go out with a bang! Thanks so much for your support, and I look forward to seeing you at the show!
So I was talking to the girlfriend the other day about things we wanted to do before the weather turns that nasty cold direction, and we made a list of things we wanted to do. Then we looked at the schedule to see when we had time to do them, and our jaws dropped. Because we didn't have a free weekend between now and the end of the year.
It's a little insane, and suddenly we're both freaking out trying to figure out how we're going to accomplish the things we want to do (much less the things we NEED to do) between now and when those things are due.
So what kinds of things am I doing between now and then? Well, let me avoid the boring details of my social life and tell ya about the highlights…
October 13-16: New York Comic Con
I'll be a guest speaker at the show for the first time, working on Reading with Pictures panels. Additionally, I'll be manning the Reading with Pictures booth in small press with fellow contributor Steve Wallace
October 22-23: Mid Ohio Con
I'll be a guest for the second year in a row, and will have a table in Artist Alley somewhere. Not sure yet if I'll be a guest speaker, so stay tuned. Being back-to-back with NYCC, I'm making sure I have enough inventory on hand to cover both shows. Might be making a lot of sketch cards in between.

October 31: Halloween
It's been a while, but I think I'm throwing a party. Last time this happened was years ago, and I was in Ann Arbor. A lot of people showed up, a lot of people drank, and everyone had a fun time. Going to see if this can be repeated, but in Chicago.
November 18-20: KollisionCon
The final convention of the year is going to be a total blast! Put together by many of the same people who work on ACEN, this show is going to be a rockin' time. Plus, with such great guests as Russell Lissau (fellow comic book creator, and all-around awesome guy), Johnny Young Bosch (the Power Ranger), and Samurai Dan (an awesome dude in armor with swords), I'll be sharing the con with some top-tier talent – and some fine people I've had the pleasure of getting to know over the last year.
There are a lot of personal activities, rep events through work, and holidays going on in there, too. But again, I won't bore you with all the details.
Suffice it to say, not quite sure when I'm going to get all the comic projects done – but you make time for what you love, and I love working on comics.
Last weekend I was a guest at Anime-Zing in Davenport, IA. It was my first thing in Iowa, and it was a second year show and Russell and I had a fun time.
FRIDAY
Russ and I headed out from the burbs on our 3 hour drive across the Mississippi to Davenport. The drive was uneventful and quick, and the weather was perfect for a cross-state trip. The hotel was right next to the Mississippi River and thankfully the weather wasn't too muggy – although there were a lot of bugs flying about. We arrived at the convention and checked in, then went to the hall to set up.
The guests were all situated against the wall over by the entrance to the dealers room. It was great to see Robert Axelrod (Power Rangers) again, and it was my first time meeting Sonny Strait (Dragon Ball Z) and Johnny Young Bosch (Power Rangers). Eventually all of the guests were invited on the main stage during opening ceremonies, and were officially introduced to the attendees.
Eventually Russ and I left to do our Breaking into Comics panel. The crowd was respectable, and asked great engaging questions. After the panel we went back to the floor and continued to sell our merchandise until the floor closed. After the show ended for the day, we took off to a local pub by the river and had some dinner. After that, Russ took off for the casino and I headed back to the convention for my Evening with Trevor Mueller panel.
The room was full and the audience lively and energetic. Everyone loved the convention stories, the inspirations for the @$$hole! comic, and the various silly things that have happened to me in the professional comic world over the last several years. It was the perfect way to end the first day of the show.
SATURDAY
The morning hit and Russ and I took in breakfast at the hotel buffet. The show floor opened at the usual time, but for some reasons the attendees seemed lighter. Perhaps they had seen the floor the day before, perhaps they were attending panels (the day was full of them), or perhaps they were sleeping in later than the usual convention. It necessitated a breather to clear our heads and take in a little of the local flavor. Russ and I closed down the tables around 1pm and headed over to a local sandwich shop called Mojos. The place is part of the River Center Experience Museum and there was a live recital with girls playing piano and singing. The sandwiches were all named after famous singers, and it was exactly what we needed to get the energy level back up.
The rest of the day went by without incident, but was a lot of fun for sure. Russ had a Batman panel in the afternoon, and I eventually left to do my Making Webcomics panel which was well attended. The panel had some great questions and some familiar faces from the previous panels of the weekend – and people who seemed very engaged with the material.
After the panel, Russ and I did a Reading with Pictures panel. Surprisingly the panel was very full. This is surprising because the attendees of the convention felt much younger than some of the other conventions we went to, and there weren't a lot of teachers or librarians – our primary target audience. However, people were very engaged with the subject and really liked the idea of comics in the classroom. And why wouldn't they – they were all comic readers, after all.
After the panel Russ and I caught some dinner at the bar and hung out with some of the dealers grabbing drinks and chatting late into the night.
SUNDAY
The morning brought hunger and hunger brought the need for food. Wanting to venture out, Russ and I walked around the city only to discover that just about everything is closed on a Sunday. This lead us straight back to the hotel restaurant for breakfast, followed by checking out of the hotel and heading over to the floor for the last day in sales.
Sales were paced much more regular than the previous days, and the attendees seemed interested in anything and everything. Eventually Russ and I packed up and took off, since I had a train to catch and he wanted to see his family. It was father's day, after all.
All in all, Anime-Zing is a fun young show that was enjoyable to attend and had some great people in attendance. It was an honor to be a guest at the show and I hope to be invited back again next year. As always, it's the fans that make a show great – and this show certainly has some awesome fans.