Posts Tagged 'kickstarter'
10 items.
February 13th, 2017
|
by Trevor
September 4th, 2015
|
by Trevor


Below is the list of the very awesome and supportive people who made Albert the Alien volume 2 a reality, but supporting us on Kickstarter. Without their support, Gabo and I wouldn't be able to do what we love doing – telling stories about a cute little alien student from another planet. From the bottom of our hearts, thank you so much for your support.
Please note these names are in alphabetical order, and based on Kickstarter user names (so some are just first names, or pseudonyms).
Alan Evans
Alicia Vonderharr
Allison Adams
Andrea Laidlaw
Andrew Hernandez
AnimeLover
Ashley Turner
Barry Chapman
Beth Mueller
Beth Camero
Bob Eddy
Bradley Walker
Brandon Viruet
Camilla Zhang
Carl Kloster
Cheryl Fisher
Chris Brown
Cody Dolan
Comfort & Adam
Cornelia Haggart
Crissi & Ed Boland
Dave Swartz
Dianne Noonkester
Donald Ferris
Effie Covganka
Elisabeth Sampon
Eric Beasley
Eric Palicki
Erica Hampton
Erin Walker
Ethan Daniels
Evan Ritchie
Fred Van Lente
gabo
Gene Ha
Gregory Noonkester
Holly Christine Brown
J Kevin Carrier
Jack Gulick
Jackie Healy
Jacob Halton
Jacqueline Lord
Jaroslaw Ejsymont
Jason Crase
Jason O'Connor
Jeff Buckner
Jeff Metzner
Jessica Panza
Jim McClain
John MacLeod
Jon Scrivens
Jorey Worb
Josh Elder
Joshua Todd Crowther
Joyce Vivirski
Julie Kurzawski
Kat Kan
Kate Tilton
Kimen
Madalyn Winans
Marc Fishman
Maria Abdul Hack
Megan Sprecher
Melissa Tidd
Melissa Wong
Marie Hln
Mike Innes
Michael Boeke
Michael Vincent Bramley
Mike Jakubowski
MONICA ATKINS
Nate Mueller
Neal Bailey
Nick Centofante
Nicole Bell
Rachel Ambrozewski
Rene Castellano
Rick Savage
Robert
Robert Jarosinski
Rudy Hernandez
Russell Nohelty
Ryan Kopf
Sally Ransford
Sara Parks
Sasha Arnkoff-Thompson
Scott Heinowski
Sean Gregory
Shawn Pryor
Steve Wallace
Susie Berneis
Taki Soma
Team Kirin Rise
Thomas Atkins
Tom Orr
Tom Stillwell
Wendy Duplechain
Zach Miller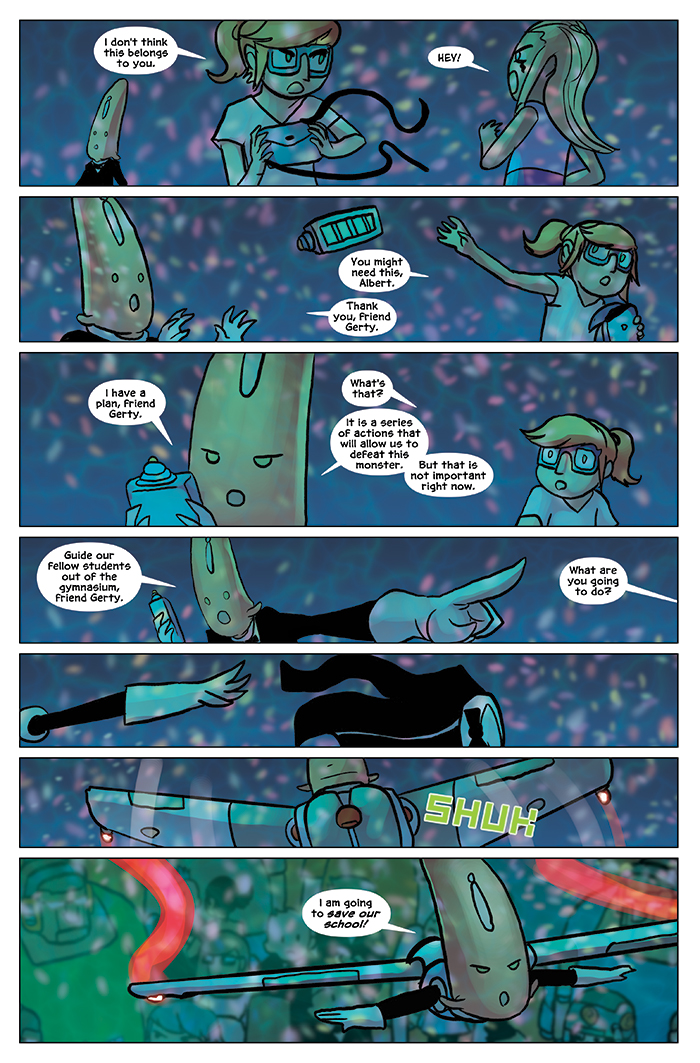 We did it! Albert the Alien volume 2 has been successfully funded on Kickstarter. Gabe and I are going to focus on putting this awesome graphic novel together over the next several months, and then get it off to the printers in time for holiday delivery. We'll also make some pre-orders available in case you missed the Kickstarter, so stay tuned for that!
Want to see the next page early? Vote now and see the next page of Albert the Alien!
We're doing some conventions in July! First up is Anime Midwest (July 3-5) in Rosemont, IL. I'll be a returning guest of honor, along with some other amazing guests (seriously, you need to check out this guest list)! I will be spending most of my time in artist alley selling comics and art, however I'll also be doing some panels throughout the weekend:
FRIDAY
– Writing Comics (panel room 3): 8:00pm – 9:00pm
– Self Publishing 101 (panel room 2): 10:30pm – 11:30pm
SATURDAY
– Kickstarter for Beginners with Trevor Mueller (panel room 4): 12:00pm – 1:20pm
– An Evening With Trevor Mueller (panel room 4): 7:30pm – 8:30pm
###
Additionally, I'll be appearing at Anime Iowa (July 24-26) in Coralville, IA as a returning guest of honor. This con is super fun, lots of great energy, and has some incredibly awesome staff and volunteers putting together a super fun show.
FRIDAY:
–Sponsor Meet and Greet 8-10pm Mainstage
SATURDAY:
–Self Publishing 101 3-4pm Programming 1
SUNDAY:
–Making Webcomics 9-10am Programming 2
Last year, Albert the Alien artist and co-creator Gabo and I launched a Kickstarter campaign to fund the character's first graphic novel: ALBERT THE ALIEN VOLUME 1: NEW IN SCHOOL. The campaign was a success – the first successfully Kickstarter funded Thrillbent series (and for their first syndicated all-ages series, to boot)!
Kickstarter was such a great help, we decided to fund the second graphic novel on there as well: ALBERT THE ALIEN VOLUME 2: THE SUBSTITUTE TEACHER FROM PLANET X! The campaign launched on May 31, and you can check out the project here.

Albert the Alien volume 2 cover
People have been asking us how we did it. It's hard to find a silver bullet that's going to work for every person every time. If I had that golden ticket, I'd be doing Kickstarters every few months! But that said, I would like to provide some helpful insights on things we learned during our Kickstarter campaign – A few key items that have stuck with us from last year, and that we're keeping in mind for this year's campaign.
I want to start by saying that your experience may vary. No two people have the same experience on Kickstarter, and I'm sure our experience this time around will be different from last year. Having a big name can be helpful, but having a big fan base (or even better, a quality product) can help even more. It's really going to depend on how much effort you put into the project, and into the campaign to make your project. With that said, below please find the Top 7 Things I Wish I Knew Before I Started my Kickstarter:
1) It's a time commitment
Kickstarter campaigns are a lot of work. Before they start, while they're going, and after they've ended. I spent about 4-6 weeks prepping for our Kickstarter prior to hitting the "launch" button. And that doesn't count anything about content in the book (finding my guest artists, writing bonus stories, etc). That's just researching and getting the assets together for the campaign itself. Some of the things we had to do were 1) write the script for the video; 2) film and edit the video; 3) figure out our costs, our goal, and our timing; 4) figure out what rewards would appeal to our fans; 5) get tracking into place so we could see what promotions were proving successful (and which were a waste of time / money); 6) figure out shipping (not just postage, but packaging); the list goes on.
During the campaign I was posting about the Kickstarter 5-10 times per day. Making updates, reaching out to friends, fans, and family, and trying to get the word out about the project to the masses. This was no easy feat. Thankfully, Albert is a quality product, and it's easy for me to talk about how awesome he is. We also had some great endorsements from industry pros who loved Albert (Mark Waid among them). We got some great coverage during the campaign (and even more after it ended).
After the campaign ended, I had to put the book together, collect bonus stories and art from our guest artists, collect photo references from our appearance backers (people who pledged enough money to appear in a story), and also ship the files off to the printer. We had a time table to get this book out in time for the holidays, and it was a tight timeline. There was little opportunity for missing a deadline, and those deadlines needed to be communicated out to the team. Which brings me to my next point…
2) Get organized — and stay that way
Making comics is a lot of fun, but it's also a lot of work. Especially if you're self-publishing a book, like I was. I had to juggle 5+ artists, photo references from 23+ pledgers, work with shipping companies to get the best rates (both domestically and internationally), and also work with the printer to make sure they were making their deadlines to print and ship the book. There are a lot of moving pieces that all need your attention when putting a book together on your own. Thankfully, it was my our first attempt at self-publishing a comic book. However, it was our most ambitious to date.

This is what a pallet of 700 books looks like, weighing approximately 800lbs. The work's not done when the campaign ends
3) Set realistic (budget) goals
Lots of people ask how to set their goals for the book. I was paying for my artists out of pocket, so I ate those costs. But the printing, shipping, shipping supplies, etc all needed to be accounted for in the funds we received. And printing (especially in color) and shipping are EXPENSIVE. Also, Kickstarter and Amazon take a cut of the earnings (approximately 5% each). So how do you set a realistic / attainable funding goal for Kickstarter?
Let's talk about every creative person's favorite topic for a moment: math.
I started by totaling all of my costs: printing, shipping, supplies, etc. I then added 10% to that to cover the Amazon and Kickstarter fees. Our total was about $8,000 (which was our funding goal). I then took that number and divided it by 25. Why 25? Because this is statistically the most popular funding level for Kickstarter campaigns. This is likely where you will receive the bulk of your backers. So dividing your total by 25 tells you how many backers you need at $25 each to reach your goal.
Our number was 320.
I knew 320 people who wanted to back this project. So this was a very attainable goal. In the end, we had 171 backers for our first project – but many of them pledged a lot more than $25.
4) Expect to pay more
Even though our Kickstarter was successfully funded, I lost money on the campaign. First of all, I paid all of my artists out of my own pocket. This was my choice. However, the other issue we ran into were printing and shipping rates.
Printing quotes are typically only good for about 30 days. Thankfully, I had negotiated with our printer to extend that to 90 days (they were a good partner). However, the specs and parameters for our book had changed slightly. Some of our stretch goals unlocked new story content, and that meant more pages in the book. I also lowered our print run from 1,000 copies to 750 copies because we didn't move 320 copies of the book. We had a lot of people fund at higher levels ($100 appearance level was our most popular reward level), which moved less copies but made us more money. I didn't want to sit on the extra inventory, so I decided to shrink the print run a bit – which increased our costs overall by a bit, since we were no longer running at any special bulk rates.
Additionally, shipping costs changed. Apparently they change all the time. So my rule of thumb on shipping now is to take the estimate in the shipping quote, and increase it by 1/3 to 1/2. Because yes, sometimes shipping can change that much, depending on who you're shipping through and the time of year you're shipping.
5) Project completion
I can't tell you how many Kickstarter campaigns I've backed that I still haven't received the reward. Or I had to wait years for the reward to get shipped to me. Some of them were so long ago, I don't even remember having backed the project. I didn't want Albert the Alien to be one of those experiences for our backers. So how did we combat this? We had the book done BEFORE we started the Kickstarter.
We had 100 pages of story content from our webcomic series, and then a bunch of bonus stories from guest artists (some of which a pledger could appear in). Those bonus stories were all finished before I hit the launch button. Expect for the actual appearances themselves. Those were digitally dropped in on another layer after we were successfully funded.
Now, this approach may not work for all projects. Some people are trying to pay themselves or their artist with the Kickstarter. This is a totally fine approach, but my recommendation would be this: at least have half of the project done before you start a Kickstarter campaign. There are a few reasons I recommend this:
1) More content to show to your readers and to reviewers
2) Shorter wait time for you to finish the book, and to get your book in the hands of your readers
3) The opportunity to show your work to editors at conventions – I've heard a handful of success stories of creators having their projects picked up for publication, but you need to have something for those editors to look at
I'm a strong proponent of the concept of "Brand You." This concept states that it doesn't matter who I think I am, it matters who YOU think I am. The goal should be for both of these things to be the same. I know I'm a guy that can get a project done on time or early, and get it to you by or before I've promised it. Many of our backers were impressed when this actually happened – and I know they're going to be repeat backers of our next project because of it.

Some fliers we made for convention appearances. If you pledged at the con and showed it to us, you got an exclusive gift
6) Promotion, promotion, promotion
This is always going on. You may feel like you're overwhelming your social feeds with posts if you post 5-10 times per day. Well, it depends on how many people they are following. But I had a bunch of people tell me in week 3 they didn't even know I was doing a Kickstarter, and I had been posting about it constantly. Part of this is because Facebook filters what posts actually reach your friends organically. Part of this is because friends may not be "following" you on Facebook.
There are a couple of ways to do promotion for your Kickstarter. We tried a bunch of these, and some worked better than others:
1) Social media (Twitter, Facebook, Instagram, Tumblr, etc)
2) Interviews (podcasts, web interviews, etc)
3) Reviews of your finished project (you can only do this if your project is done)
4) Direct mail
5) E-mail
6) In-person bonuses at conventions (we did a postcard)
7) Digital ads (web banners, link exchanges, etc)
8) Begging your parents
9) Begging your extended family
10) Direct sign up at convention / signing tables
My approach was to try a little of everything and see what worked the best. This is where measurement was important, so I could know where my time (and sometimes, my money) was best spent in promoting the campaign. Thankfully, poor performers were quickly identified and I was able to focus on the channels that were driving conversion. If you don't have a way to measure the success, then you're working blind and you may waste a lot of time on channels that aren't working for you. I recommend tracking EVERYTHING.
7) Keep track of your schedule
In my day job I work in advertising, and a part of that is project management. It's ensuring you make a schedule and stick to it. Sometimes that means building in buffers – a little extra time for some tasks that are outside of your control. But essentially it boils down to this: don't miss deadlines. Especially when you're the one making the deadlines.
###
Thanks so much for reading through the list. I hope you find this list helpful in starting your own Kickstarter campaigns, but again your experience may vary. I've only scratched the surface of our experience crowd-funding our graphic novel project. If you want to see how things are going with our current project, please check out the Kickstarter page here. And if you like what you see, please pledge to receive a reward and / or share the link with your friends and fans.
COMING SOON!
We're going to be launching a Kickstarter campaign in late May, 2015, to fund Albert the Alien's next graphic novel: ALBERT THE ALIEN VOL 2: THE SUBSTITUTE TEACHER FROM PLANET X!
We'll announce when the Kickstarter goes live, and with your support we can fund his next adventure in a collected print edition filled with:
1) The complete full-color adventure from the popular webcomic series
2) Bonus stories featuring art from up-and-coming talents – some of which you (or someone you know) can appear in!
3) Pinups, behind the scenes artwork, and so much more!
So stay tuned for more details about this amazing graphic novel the whole family can enjoy!
November 25th, 2014
|
by Trevor

As you know, the Albert the Alien volume 1: New in School book was a labor of love from both myself and artist Gabo. But we couldn't have done it without the support of our very awesome backers from Kickstarter!
As promised to our High Five and above reward tier, below is a list (in alphabetical order, by backer name) of all of the awesome people who pledged to make Albert the Alien's first adventure in print a reality. We couldn't have done this without their help. Thank you so much! It's rare that people are able to make dreams come true, but through the power of your support you made our dream of Albert the Alien come to life. And now it's available for everyone to enjoy with us!
Adam Block
albone
Alexander Duchnowski
Alicia Pamperin
Alicia Vonderharr
Allison Adams
Amy Hopkins
Andrew Hernandez
Andrew Hoag
Andy Owen
Anita Xue
Anna P Gustafson
arnold shunneson
Ashley McLaughlin
Benjamin David
Beth
Beth Camero
Bradley Hatfield
Brent Meske
Brent Stringer
Brian Grabinski
Brian Heinz
Brian Schwanwede
Brittney Scott
Bruce Nelson
Bryan Q. Miller
Carl Kloster
Cindy Chu
Cody Dolan
Colin Lyons
Comfort & Adam
Connor Heckler
Corin Barsily Goodwin
Cornelia Haggart
Craig Engler
Craig Soffer
Dan Morrill / Comics Forge
Danai Samuriwo TenniswithD
David Gruba
derek duff
Dianne Mueller Bette
Dianne Noonkester
Dirk Manning
Effie Covganka
Elisabeth Sakla
Elizabeth Boyce
Ellen Knuth
Emily Van Camp
Eric Palicki
Eric Sword
Erica Hampton
Erin Molburg
Erin Tufano
Erin Walker
Frannie Bear Turner
Fred Van Lente
gabo
Gabriel Aragon
Gabriel Chia
Gene Ha
Gregory Noonkester
Gyu Lee
Hansel
Holly Christine Brown
Ian Ally-Seals
Jack Gulick
Jacob Halton
Jacob Way
James Corey
Jamie Karas
Janet Swanson
Jarrett Moore
Jason A. Quest
Jason Copland
Jason Crase
Jason W. Gavin
Jayma O'Connor
Jaysin Osterkamp
Jeff Buckner
Jeff Metzner
Jennifer Blake
Jennifer Sample
Jeong Mo Yang
Jessica
Jim McClain
John Chambers
Jon Scrivens
Jonathan Gall
Joseph Tinaglia
Josh Elder
Joshua Fialkov
Joyce Vivirski
Julie Kurzawski
Justin Castaneda
Justin Knorr
Kat Kan
Kay Fredericks
Kelly Wolschon
kenneth kahn
kerin schiesser
Kevin Kingston
Kristjan Wager
Krystal Carr
Lauren
leah kasle
Linda Powell Spaulding
Lisa Singh
Liz Kim
Lori Matsumoto
Marc Fishman
Mark Stegbauer
Marlene Weintraub
Mat Elfring
Matt Nelson
Matthias Kraft
Megan Henderson
Megan Sprecher
Melissa Tidd
Melissa Wong
Mike Innes
Michelle Gosse
Michelle Travis
Mike Ambs
Natasha LaMothe-Mason
Nate Mueller
Patricia Jenatsch
Paul Storrie
Phil Mueller
Pui Che
Ray B.
Rene Castellano
Richard Noonkester
Robert Jarosinski
Rochelle Pinon
Ron Svoboda
Roshawn Rochester
Russell Lissau
Russell Nohelty
Saeri Geller
Sally Ransford
Sam Chen
Samuel Miller
Sandy Lu
Sara Parks
Scott Heinowski
Scott Sandler
Sean Forney
Sean Gregory
Sebastian Ortiz
Sheila
Sho
Stephen Morris
Steve Wallace
Steven Blackburn
Susie Berneis
Taki Soma
Team Kirin Rise
Thomas Haymes
tiffany campbell
Trish
Vernon Welles
Victoria Noonkester
Wade Goyens
William Gottfried
Zach Miller
Zeev Walny
Anime Central (or ACEN, as it's often called) is the 3rd largest anime convention in North America, and I have had the distinct privilege of being a returning guest of honor for 6 years in a row. ACEN is a lot of fun, I call it "the con that never sleeps," and it's set the bar for how well they treat their guests year after year. It's seriously my favorite show, and this year was no different. Let's dive right into the events of the weekend….
THURSDAY:
The day before the show started I headed over the convention center to say hi, get my badges and agenda for the weekend, and to hang out at the Hyatt restaurant and get a little comic work done. I brought along the iPad, which has become my favorite portable tool for working on scripts on the go. It's light, portable, and the keyboard case I bought for it is very easy to use.

Working on the next Albert the Alien script at the bar before the show
I also had a chance to pay a little homage for a friend of mine who isn't with us anymore. My friend Kim brought me to my first ACEN back in college, and after we graduated it was the one time in the year we got to hang out. Unfortunately, Kim passed away from epilepsy several years ago, and so I decided to honor her memory this weekend in a few ways. This was one of them, but the other would happen Friday night during the Panel that Shall Not be Named. More on that in a little bit….

One for me and one for absent friends
I was visited by a lot of friends while I sat the restaurant, and had a few drinks and meals with them as they came and went. I eventually got my room key and checked in, and my wife dropped off the rest of my stuff not long after that (thank you, honey, for driving my heavy stuff so I didn't have to carry it on the train). Towards the end of the evening I went to the Green Room for their industry mixer, meeting all of the guests who had arrived by that point and mingling a bit. However, I also got invited to go see Godzilla opening night in IMAX 3D. I'll post a review about the movie at some point in the near future, but I can say this – DON'T GO SEE IT IN IMAX 3D. Not worth the extra money.
After the movie ended I went back to the hotel and went to bed. ACEN is an exhausting weekend that often results in me losing my voice, and I wanted to get as much rest as I could.
FRIDAY:
Friday morning started off early, with me hitting up the gym with my fellow ACEN workout buddy Jessie Pridemore. Jessie and I have somehow just met in the gym over the last several years at this show, and this year I decided to reach out to her and make it an official meet up. The two of us motivate and push each other, help each other out with spots and whatnot, and ultimately get to hang out and have fun before the show starts. Plus, working out first thing in the morning tends to make me feel energized for the rest of the day. And I had a LONG day ahead of me.
I took a quick shower, went down for breakfast, and met up with fellow comic guest Josh Elder (Scribblenauts, Mail Order Ninja). We were both there representing Reading with Pictures as the educational guests of the show, and after breakfast our handler escorted us to opening ceremonies. We sat through the introductions before we had our chance to go up on stage and give our pitc – the beginning of which I gave Josh a hug and whispered "Hail Hydra" into the microphone. Sadly, I don't know that anyone actually heard the exchange over the applause.
We pitched ourselves and our panels, and then headed straight out to the floor to set up. The convention floor was set up a little differently this year, with an Industry section up front and Artist Alley behind it. This is not unlike how Reed sets up their shows, and it created some good flow overall for the floor. Unfortunately the vendor who set up by us had a 13 foot tall vertical display banner, so our tables were a little obscured and this hurt sales for the first day.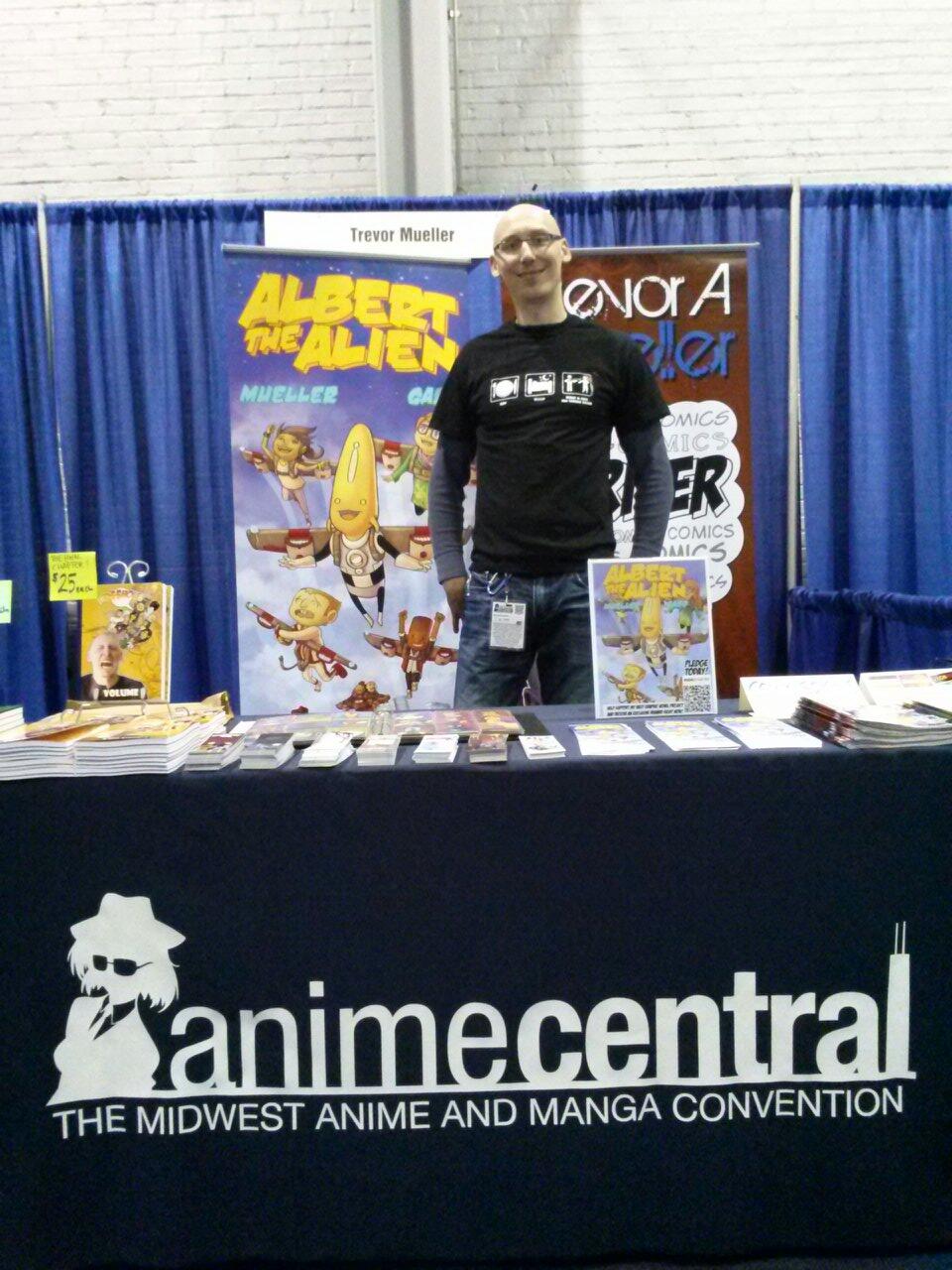 The booth set up (original location)
Josh primarily worked on some comics and I sold to anyone who came by (when they came by), but I spent most of the day trying to figure out how to move us closer to or inside of Artist Alley. Eventually my artist Gabo offered me a half table, and I decided to take him up on it on Saturday.
Our primary goal during the weekend was really to promote the new Kickstarter we had launched for Albert the Alien. Kickstarter campaigns are a lot of work, and being unable to tweet and promote because of the event could have hurt the campaign. But we turned it into a positive by handing out some vertical fliers with QR codes that linked directly to the pledge page, and to incentivize pledges during the weekend by offering an ACEN exclusive reward (which was a mystery prize).

The Albert the Alien Kickstarter promotional handouts given out at ACEN
I also had a few new book products on the table, including the final chapter of @$$hole! and the new limited edition box set.

The limited edition box set
After AA closed, Josh and I headed up to PDR (where they serve guests meals) to grab a quick bite before our panels started. During that time, my wife showed up so she could enjoy a bit of the show with us as well.
All of our panels were in panel room 3, and they were often back to back – so it was very easy to get comfortable in the room and switch off back and forth with each other. Our first panel was an introduction to Reading with Pictures, which was did together. Josh talked more about the organization and it's goals, and how it was founded. I talked more from a content creation standpoint, and what it was like to create stories that contained educational content but also had a fun adventure story. As always, we worked off of each other well and gave a very informative and entertaining panel that the attendees really enjoyed.
After that, Josh gave a panel about working on licensed properties – including his latest work on Scribblenauts for DC. After his panel ended, however, I got to move into the main event – The Panel that Shall Not be Named.
This is a panel ACEN has me do every year, and has a lot of history at the con. It's a ton of fun, but this year I decided to mix it up a bit and make it 100% brand new. I can't say what happens in that room (you have to be there to experience it), and the title alone usually draws about half of the crowd, but I like to mix it up so it's something new for the people who do come back each time. This time I even threw in a few curve balls and told a story about my friend Kim, which had some of the people in the audience in tears. Hell, I was tearing up telling the story. But I recovered with a few additional fun stories about how I met my wife and how I proposed….and then showed them some of the fake movie trailers from our wedding.
After the panel I bum rushed it to the improv panel (the same folks put it on at Con Alt Del, and it was a fun time) and I jumped in for a few quick skits. I was only there for about 10 minutes, however, before the panel ended. I had done some skits with this same troupe during Con Alt Del late last year, and they were a lot of fun. They also offer improv classes, for anyone who's interested to join.
After that, we went back to the hotel room to go to bed. I had been at the gym by 7am that morning, and we went to bed around 1am – and I had to start my day with a 9am press call on Staurday. As I said, the show's a lot of fun – but you do have to work, too.
SATURDAY:
Saturday morning I got up, grabbed a quite bite of breakfast, and ran to the press event. It was a group of about 6-10 people asking questions about Reading with Pictures and educational comics. As the Marketing Director for the organization, I answered their questions well and then met up with Josh to hit up the floor. My friend Anna joined us when Beth went home (her first anime convention), and we relocated to Gabo's half table in artist alley to help increase sales.
Sales were quite a bit stronger in AA, and it was nice to be around other creators for a while. We sold our hearts out, and then went to grab a quick dinner between AA hours and our panels.

One of the ACEN exclusive Kickstarter rewards – these were very popular
Josh started off the evening of panels with his "Case for Comics in the Classroom" panel, talking about the benefit comics bring to education and the unique way they can be leveraged in an academic setting. After that, I jumped straight into my "Making Time for Making Comics" panel, which was essentially about time management. Making time for your creative projects. As someone who has made a career out of planning, project and time management have been critical to me in both comics and my career, so it's something I had a lot to talk about. And it was a great panel with a large audience and a lot of engaging questions – and some strong sales after.
After that, Josh and I both did a "Breaking into Comics" panel talking about our two very unique stories and how we've both walked different paths to getting where we are today. It was a great chance to share some funny and insightful stories from conventions, as well as some more engaging questions from the audience. It ended with a standing ovation and a 45 minute buying and signing line – which I've never had before! Since we were the final panel in the room, though, we were able to go longer, which was great.
We skipped the 18+ Cards Against Humanity panel (which I've done before, and it's a lot of fun, but it was going to end in 10 minutes) and instead dropped our stuff off at the room, said goodnight to Anna, and then headed up to the Green Room to hang out. It was Josh's birthday, so I interrupted everyone and lead them in singing him happy birthday. There was much cake and merriment after, and long conversations late into the morning. Around 3am we all headed back to the room and went straight to sleep.

Another original from Gabo for the Kickstarter promotional exclusive to ACEN
SUNDAY:
The final day of the show was a slightly later start for us. We had some quick breakfast, and then I headed back to my half table to sell my heart out on the final day. Sales were similar to the previous day, but we did have a lot of interest in the Kickstarter from people who had stopped by earlier. They wanted the exclusive, which was a 3-panel strip you could only get at the show, with an area for Gabe to draw an Albert commission on the back. We gave out about 7-10 of these at the show, so it was definitely worth it.
Eventually Beth showed up to help out, we kept selling until the very end, and before I knew it the convention was over. We broke down, said our goodbyes, went into the hotel to validate our parking (and say thank you to all the staff and volunteers who helped make this weekend possible), and then headed home.
ACEN is a convention that never sleeps (and I never sleep at it), and it's a lot of hard work. But it's a really fun weekend, and it's a show I hope to continue to guest at for years to come!

It's Wednesday, and we get to see the 7th grade student play in today's Albert the Alien: Romeo and Juliet – IN SPACE!
Even though the setting has changed, the kids are still speaking in the old English original text of the play. This is basically a sci-fi twist on the series, not unlike how Baz Luhrmann set it in modern times in the 1996 movie with Leonardo DiCaprio and Claire Danes. With the show being sold out for the first time here, this clearly has worked on the local population of Heston Heights – or maybe it's just the fact there's an alien in it that's drawing them in. Either way, sales are good for earning money for the school programs.
So will Gerty get her first kiss on stage? Come back Friday to find out!
In case you didn't hear, we've launched a Kickstarter campaign to fund Albert the Alien Volume 1: New in School as a graphic novel! Please check it out, pledge today (the popular reward levels are disappearing quickly), and help spread the word by telling all your friends and family about the project! Together we can make an amazing graphic novel filled with the webcomic series we all enjoy, as well as a ton of bonus content only available in this exclusive print edition!
Please pledge today!
Albert the Alien's first adventure, New in School, has finished. And to collect it into an awesome graphic novel, we've launched a Kickstarter campaign to help raise the funds needed to print and ship the book directly to readers like you!
The book will be over 132 full-color pages, featuring:
- Albert's complete first adventure, New in School
- A forward by comic legend Mark Waid
- The original Reading with Pictures story, featuring Albert's first adventure (currently out of print)
- Bonus stories exclusive to this print edition
- Sketches, character designs, and more bonus material!
Pledge today, and you'll gain access to the update feed which will feature exclusive behind-the-scenes content like:
- The making of the book
- Behind the scenes making of the bonus stories from industry professionals
- Videos, interviews, and bios on all the creators involved in the project
- And so much more!
How can you help make this awesome book a reality? There are two ways:
1) Pledge to help fund the campaign (if you can). Pledge any amount you want, or pledge at a reward level to receive cool gifts. You only get charged if the Kickstarter is a success. If the Kickstarter doesn't reach it's goal, then you don't get charged at all.
2) Help spread the word and increase awareness of the campaign. Tell everyone you know on your personal websites, social media sites, or via e-mail.
To make it even easier for you, I've included some examples for things you could post. Feel free to cut and paste them:
FACEBOOK / WEBSITE:
Do you like graphic novels or fun adventure stories? Trevor Mueller is making his next graphic novel, Albert the Alien, and raising the funds for it on Kickstarter. It's an all-ages adventure story about the first intergalactic foreign exchange student and his adventures on Earth! Click the link below to check it out:
https://www.kickstarter.com/projects/trevoramueller/albert-the-alien-vol-1-new-in-school
There's going to be 132 full color pages including bonus stories from guest comic artists. He's going to have a lot of unlockable reward levels, special bonus content, and stretch goals to help make this campaign totally awesome. Please check out the campaign, and if you like what you see, please pledge to help make this graphic novel project become a reality!
TWITTER:
Hey guys, check out the @kickstarter for @trevoramueller & @galvosaur's graphic novel Albert the Alien: https://www.kickstarter.com/projects/trevoramueller/albert-the-alien-vol-1-new-in-school
Thanks so much for your support over the years, and I appreciate you taking the time to help me spread the word about Albert the Alien. Together, I know we can make this Kickstarter an amazing success, and put an awesome graphic novel together.
Ladies and gents, I have a special guest blog post from a very talented creator named Justin. I've run into the man at several shows (and even worked with his brother at an ad agency), and we've formed a fast friendship.
Justin has a special message he wants to share with you, and I definitely want to help support his projects and efforts. I hope you feel the same way. With that said, I'll turn it over to Justin who can tell you about his latest (awesome) project which you can help support right now.
###
My name is Justin Castaneda and I am the creator of the When I Was Little picture book series. Trevor and I met at Mid Ohio a few years back. We have been sharing the convention floors since then and have been building a nice creative friendship. He was kind enough to have me do a guest post because I have a new book project I am raising funds for thru Kickstarter.
The way Kickstarter works is it funds creativity. It accepts donations to help creative people get their passion projects made. Artists, writers, and filmmakers can set up a Kickstarter campaign and by supporting them and their work, you get rewarded! For instance when you donate to my project, you can receive a signed copy, sketch cards, digital prints, buttons, custom art and a lot more.
So the name of my new book is called, Heart. Heart is a story about love and acceptance. This book has been a labor of love for many years. I really believe in this book. It's been an idea birthed through the struggles I had growing up trying to find where I fit in. I had difficulty making friends and I thought for the longest time it's because of who I was as a person. I thought if I changed who I was I would find my place. It wasn't until much later when I learned all that was non-sense and the most important thing I could ever do was: To Be Myself.
It's a bit more expensive to release a hardcover children's book than I had anticipated. I didn't want to cop out into doing it as a softcover, it's not meant to be that way. With the help of some fellow creatives that gave me an extra push, I started this Kickstarter campaign:
http://www.kickstarter.com/projects/justin-castaneda/sharemyheart
I hope you can help support the book and the message this book gives.
I thank you for your time and consideration and thanks again to Trevor for letting me post on his website!