Posts Tagged 'pop goes the icon'
3 items.
January 17th, 2017
|
by Trevor
2016 was not a huge year in comics for me, but it was a huge year for life events. Beth and I bought a house and moved to the suburbs, found out we were pregnant, and then had a beautiful baby girl. I also traveled the world for work, visiting countries like Mexico, Singapore, Malaysia, Thailand, Vietnam, Philippines, and China.
If that wasn't enough, I also did a bunch of awesome stuff for comics:
2016 COMICS (and other) PROJECTS COMPLETED:
– LOS OJOS (Pop! Goes the Icon)
– OMEGA COMICS PRESENTS vol 2 (Pop! Goes the Icon)
– Albert the Alien webcomic updated every Wed and Fri without missing a single update; and also, that Harvey Awards nomination (www.AlbertTheAlien.com)
– Over 16 convention appearances
– Zootopia prequel comic (unpublished)
– 5-7 pitches for publishers (unpublished)
– Like 12 other unpublished projects
– Several Nostalgia Critic videos, including Batman V Superman
– Several Awesome Comics episodes, including hosting the Batman '66 debate
– Reprising my role as Lex Luther in the Channel Awesome Christmas Snydering production
2017 COMICS GOALS:
– ALBERT THE ALIEN vol 3: HOME LIFE (Kickstarter will launch in February)
– More episodes of the NC and Awesome Comics, I'm sure
– Starting a video series for my Patreons, maybe syndicated on my YouTube page
– 1-2 untitled self-published graphic novels
– 3-5 pitches for publishers, minimum
– 5 convention appearances (and maybe a few panels and single-day library shows)
– I'm cutting back on cons in 2017 because of the baby, but will kick it back up again in 2018
– Maybe start a prose novel…just because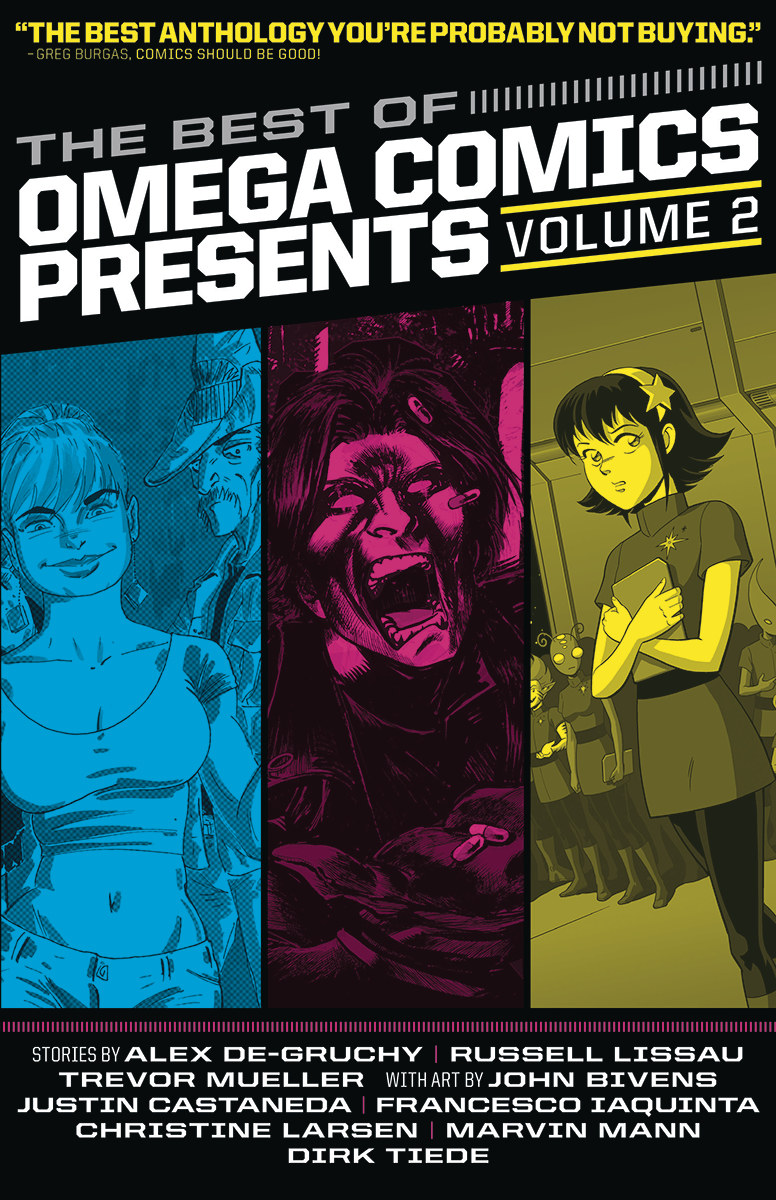 My latest story, LOS OJOS, is being collected in a graphic novel that will be available at your local comic store! Artwork by Francesco Iaquinta. It will be collected with several awesome stories from creators, including my pal Russell Lissau, from publisher Pop! Goes the Icon.
Orders are due July 18, so please order today! DIAMOND ORDER CODE: JUL161850
└ Tags:
assassin
,
comics
,
diamond
,
graphic novel
,
hitman
,
los ojos
,
monsters
,
pop goes the icon
,
pre orders
,
russell lissau
,
trade
,
trade paperback
January 11th, 2016
|
by Trevor

I have a new book coming out on January 13 (digitally; January 20 in select retailers) called LOS OJOS. This story will be release as part of the Omega Comics Presents relaunch in 2016, which is an anthology of single-issue stories.
The story is about a contract killer who sees his targets are monsters, and on his latest job he sees something he's never seen before. The book is a 25 page story, black and white, and if successful then we may spawn it into a mini-series. Art is done beautifully by an Italian artist named Francesco Iaqinta. There's a 5 page preview on the publisher's website, which you should totally check out.

TITLE: Los Ojos
WRITER: Trevor Mueller
ARTIST: Francesco Iaqinta
PUBLISHER: Pop! Goes the Icon
WEBSITE: http://www.popgoestheicon.com/2015/12/27/demons-fear-what-los-ojos-see-in-the-latest-issue-of-omega-comics/
FORMAT: 25 pages, black and white
RELEASE DATE: January 13 (Comixology); January 20 (select retailers)