Posts Tagged 'ps3'
17 items.

Video Game Review: InFamous 2 (2011)
Platforms: PS3
Developer: Sucker Punch
Official Website
Plot: Reprising your role as Cole McGrath, the delivery-boy turned superhero (or villain) in the first game, you continue your quest to improve your powers to defeat The Beast – a creature the enemy of the first game was trying to prepare you for. Well, in the beginning of this game you fight it…and lose!
Retreating to New Marias, you begin your quest to improve you powers and get stronger. Along the way you meet some colorful characters and make choices on whether or not to be good or evil. Can you beef up your abilities enough to save (or destroy) the world?
I enjoyed the first InFamous well enough. It was a fun and different take on a superhero game, providing an open-world sandbox and some unique electrical powers. InFamous 2 improves upon the first game in every possible way.
While I felt kind of powerful in the first game, in the sequel I feel like a god! You start off with all your current powers, and just continue to expand upon them. In fact, you get so many powers it's sometimes difficult to remember what they all do. Especially when the game introduces a villain that's particularly susceptible to a certain power or power type.
My favorite aspect of the game: taking back the city. Like with the first game, you go on side quests to gain experience (XP) and improve your power set. Accomplishing these side quests "liberates" sections of the city from criminal control. I love this part of the game, since it gives you a sense of accomplishment, and also helps you track your game progress in a non-traditional way.
Once an area is liberated, there are less criminals there and the section of town starts to clean up (at least, when you play as a good guy like I did). It becomes a semi-nice place to check out. Unfortunately, once it's liberated, there's also not a lot of reason to go back to the area, but I digress….
Another part of the game I love are the power upgrades. In the first game you get a glide ability, which is kind of handy but not very powerful. In the sequel, you get this power enhanced – and can now fly over a block when jumping from the ground. When jumping from a tall building – significantly further. Plus, you eventually unlock a super-jump ability which launches you into the air. Combine this power with your enhanced glide, and you almost feel like Superman!
Overall, InFamous 2 is a lot of fun. If you dug the first game, you'll enjoy this game. If you like feeling like a superhero and beating the crap out of baddies, you'll like this game too.
If you're into games with cute ponies and bubbles, you may want to steer clear.
October 31st, 2011
|
by Trevor

Video Game Review: Mass Effect 2
Platform: Xbox 360, PS3, PC
Developer: Bioware
Official Website
Plot: In the first game, you play as Commander Sheppard (male or female) – the first human to be promoted to the rank of Specter, which is an elite alien fighting force. Your mission was to stop a rogue agent from destroying worlds. Turns out he was working for (or being controlled by) a race called The Reapers. This race is so old, most other alien races don't believe it exists…even when The Reapers start attacking the Citadel, where the alien counsel is housed. Through your decisions, you either save or destroy the counsel, and either defeat or drive off the Reapers.
The first game is only available on Xbox or PC, but there is a summary interactive comic in the PS3 version of Mass Effect 2.
The second game picks up with Sheppard flying around space, and suddenly his/her ship (The Normandy) is attacked by an unknown alien race. Rushing to save his pilot and friend, Joker, Sheppard is sucked out into space as the ship explodes. He/she dies.
Two years later, you wake up in a lab having been completely rebuilt by a corporation called Cerberus, which has "humanities best interests at heart." Someone called The Elusive Man has paid to have you rebuilt from scratch, and he wants you to assemble a team to figure out why human colonies are disappearing.
As you progress in the game, acquiring new characters to add to your team roster, you also make important decisions that will affect the outcome of the game…and of the games to arrive later in the series.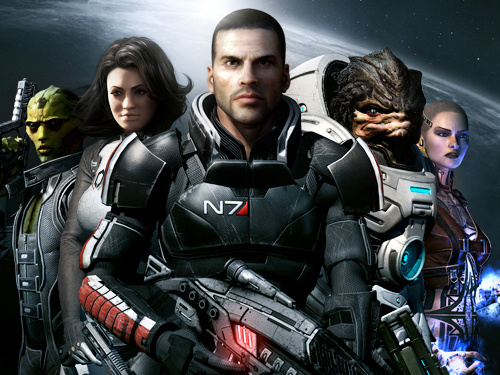 I knew this game would be fun. I've played the Star Wars: Knights of the Old Republic (KOTOR) games, which were a ton of fun. This game was no different. The entire time I was playing this game I was asking myself why someone hasn't made a Star Trek game like this. The universe is expansive, the characters are dynamic and compelling, and the story is like an epic movie, with the serial feel of a TV show.
Overall, this game is epic and amazing and you should own it.
The gameplay is three-fold:
1) 3rd person run and cover shooter with some squad mechanics thrown in for good measure
2) Conversation trees that lead you through the interactions with NCPs (non-player characters) and team mates, which reveals their stories and also opens up new missions.
3) Some very forgettable planet-scanning mini-games
Over the course of the game you become very close to your team, and even have the option of romancing one member (you can try for many, but ultimately there can be only one).
The PS3 game also comes with all of the DLC (minus the final DLC pack, called "The Arrival"), as well as several bonus characters who I generally enjoyed.
This game is massive and epic, which are two things that I really look for in a game. It also has an amazing story, some great characterization, and some very fun gameplay. Overall, there's no reason not to like this game and play it from start to finish. And depending on how you play throughout can GREATLY affect the outcome of the ending of the game.
Without giving away any spoilers, characters can die. And these are people you spend most of the game getting to know and start forging an emotional connection with. At least I did. And thankfully none of the characters died for me (except for the assistant, which I was kind of bummed about).
There are two ways to play the game:
1) Paragons – which are people with compassion and who are generally doing "the right thing."
2) Renegades – which are people who are only focused on the mission, and nothing gets in their way.
I played Paragon my first time through, and had an amazing experience with the story and character interactions. I did play a few scenarios as a Renegade, however, as I felt it fit my character and the situation. And that's the beauty of the game – you can play either way. The benefit of playing one way over the other is you can unlock specific contextual events that make scenes play out differently.
As far as gameplay goes, there are multiple classes you can play. Most players will probably go for the soldier class, which benefits guns over stealth or powers. However, I like to sneak around – so I played an Infiltrator, which has stealth abilities and can control robots for a time. They also have proficiency with sniper weapons, which came in handy during my play time.
Playing as different classes may change gameplay and the way scenes play out – I'm not sure – but it definitely encourages multiple play throughs. And you'll want to play this game over and over again.
In summary, if you don't already own this game (it's been out for a while, and the 3rd and final Sheppard game is coming out early next year), you need to buy it and play it from start to finish. It's amazing.
September 23rd, 2011
|
by Trevor

The conversation here is based on one I had with my girlfriend in jest. She wanted to go do something else, and in the whiniest kid voice I could muster I started talking about the epic nature of the game. And how I wanted to finish the story.
While gameplay is fun, if a game's story draws me in I'll play it despite any gameplay issues. Take Assassin's Creed, for example. The first game was rife with glitches and some very limiting gameplay options. However, the story of Desmond really drew me in and I wanted to know more.
Plus, killing dudes in stealth is fun. But I digress.
The two takeaways from this page are thus:
1) Friends want to play games online, which typically lack any kind of story and basically find you running around gunning things down. This is fun for a while, but eventually the lack of emotional substance and connection to your character numbs you and interest is lost. For me, there needs to be a compelling narrative to go along with my running and gunning, and a connection to the character so I care about the actions they perform – as well as their fate when they are in danger.
2) Games are coming out much quicker than they have been for a lot of franchises, forcing players to go through a game as quickly as possible so they can trade the game in and clear shelf space for the next title they want. Possibly even within the same franchise. This isn't how I operate at all. I like to keep my shelves adorned with the games I've beaten – almost like a personal trophy collection – and possibly even sometimes return to my favorite games and play them through again.
But in this instance, Scott wants to play Borderlands…especially since Borderlands 2 is coming out in a few months.
I hope you guys have a great weekend. As for me, I won't be playing games this weekend. Instead, I'll be hanging out with Beth as this is our one-year anniversary.
Cheers.
September 21st, 2011
|
by Trevor

So this short arc stems from a conversation I had with myself, really. Basically, I'm one of the few people I know who likes to play a game until it's beaten completely. They call us "completists," apparently. IGN did a survey of gamers and found that something under 50% of players actually beat the games they buy. The game with the highest completion rate, in fact, is Heavy Rain.
In any case, until very recently I was still playing Fallout 3 – even though I've since gone out and purchased additional games, and started playing some of them. This game has been out for years, and I still haven't gotten through my first play through.
Part of that is because of the game's open-world, which is vast and begging to be explored…and I wanted to see every digital square inch of the Capital Wasteland, and all of the hidden nooks and crannies it contained. I was having so much fun exploring the world that I forgot to play the game. For about 30 hours. I found myself around level 18 (the game maxes you out at level 20, unless you buy the DLC that extends it to 30) and I hadn't actually done anything story-wise.
But I hadn't given the story a chance to draw me in. Instead I gave into the seductive nature of the desolate world Bethesda had created, and I wanted to save it…my way! Which meant finding every single bandit hideout, killing everything that moved, stealing all their crap, and then slowly walking back to a town and bankrupting it by selling everything I had and didn't need.
I did this a lot in Fallout 3. And I loved every second of it.
But the purpose here is that I finally beat the game years after it came out. I sat down and told myself I was going to play any other games until this one was done and off my plate. Meanwhile, my friends are all playing Borderlands online co-op, and they want me to join.
Difficult to keep to my "don't play any other games until this one's done" when your friends are sending you the peer-pressure vibes.
So how do you over-come? Stay tuned to find out.

Video Game Review: Assassins Creed Brotherhood (2010)
Platforms: PS3, Xbox 360, PC
Developer: Ubisoft
Official Website
Plot: Taking place immediately after the events of the second game, AC: Brotherhood finds Desmond and crew on the run from the Templars. Trying to find the Apple of Eden, the team sets up shop in the (now destroyed) town of Monteriggioni. Players of AC 2 will remember this as the town you can build up from the ground up, but in the beginning of this game it's attacked early on once you get back into the Animus.
If none of this makes any sense to you, then you've clearly not played either of the first two games and will mostly likely be completely lost.
The game mostly takes place in the Animus, replaying the life of Ezio from AC 2. You're trying to find where Ezio hid the Apple so you can acquire it yourselves to aid in the battle against the Templars. Ezio's story (like Altier's) was never very interesting to me, since 1) it doesn't have any bearing on current events, and 2) it jumps around a timeline so much that there's gaps in the events you need to keep track of.
The game introduces some new play mechanics which other reviews said made the game too easy (and I agree they do increase the ease of the game), but they also make the game loads more fun.
The first play mechanic is revision to the Viewpoints. Now instead of just climbing to the top of a tower and syncing with eagle vision, you have to find and assassinate a Borgia tower leader, then climb to the top of the tower and burn it to the ground. This was a lot of fun, since it has you doing what the game is all about – assassinating the bad guys.
The second play mechanic was recruiting, training, and sending other assassins on missions. This is where the game gets a bit easier, but also where the game gets a lot of fun. No longer are you a one-man army – now you're the leader of an army and the stage is set for the inevitable war with the Templars. I found myself getting attached to my recruits, and I did end up losing one much later in the game; but this was my fault, because I sent her on a mission she wasn't ready for.
Like the previous game, there's a cliffhanger ending which should lead directly into the next game, Assassins Creed: Revelations, which should finish off the Ezio story line in the past.
If you enjoyed AC 2, this is more of the same with some added play mechanics. I had a lot of fun running around Rome for another 40+ hours and doing the activities I enjoyed from the previous two games. I recommend buying the game (after playing the first two), and doing as many of the side missions as possible.

Video Game Review: Valkyria Chronicles (2008)
Publisher: Sega
Systems: PS3
Official Website
Plot: Set in a fantasy world very similar to our own, you play as a young commanding officer enlisted in the militia when your country is invaded by a super power wanting to conquer your country for minerals. Out of over 100 recruits, you build and train your squad. Throughout play, you learn more and more about each of the characters you've selected – which makes this game unique because you do learn about even the supporting characters, and there are real consequences if you fail. Your characters can die. It's a great experience, but I digress.
The game is played by selecting your team to meet the mission objectives, and positioning them on the game board. From there you spend CP points to perform actions – moving characters, and taking out enemies. Once all of your CP has been spent, the enemy gets to take their turn and so on. Ultimately you have about 20 turns to complete your objectives – but it usually takes less time than that.
There are several classifications of soldiers, each with their own strengths and weaknesses:
Tanks – Strong and good cover for your soldiers
Scouts – Able to travel great distances
Shocktroopers – Short distance traveling, but able to fire assault rifes
Lancers – Anti-tank soldiers that fire rockets
Snipers – Little movement, but able to shoot from great distances
Engineers – Restore ammo and able to travel good distances
It's difficult to describe the game and give it the credit it deserves. This game is flat out amazing – especially if, like me, you enjoy a good story and a strategy game. You only play missions, so the rest of the game is in-engine cut scenes (mostly talking heads, unfortunately) rendered in a unique way. Just like you see in the images in this blog post, the game has an anime style but is rendered in a color pencil texture. It's difficult to get into the story too much, as there are a lot of twists and turns through (main characters die, battles are won or lost, and many secrets get revealed throughout).
The game is gorgeous, the gameplay is excellent, and it's been out for a while now – so you're probably going to find it for cheap. Buy it. Buy it and love every second of it.
January 11th, 2011
|
by Trevor

Video Game Review: Enslaved (2010)
Platforms: PS3, Xbox 360
Developer:
Official Webiste
Plot: Based on the Chinese story "Journey to the West," you play as Monkey – an escaped slave in the distant future who has to keep a girl named Trip safe. You see, Trip broke out of the slave ship and upon exiting, fashioned a slavers headband on your head. You have to follow her commands, or you feel pain. If you stray from her too far or she dies, you die. But she says if you get her home then she'll set you free, so that's what you go do.
Along the way, however, you have to fend off giant robots (called "mechs") that are trying to recapture you. What follows is a series of platform "puzzle-solving" (I put this in quotes because it's not exactly difficult at all, since they highlight everywhere you can go and everything you can interact with), some action, and some fantastic worlds and characters as you both Journey to the West.
###
There are a few things to keep in mind about this game. First off, the visuals are gorgeous. Absolutely excellent world creation and good character design. The voice acting is top notch, and the music is, well – I hope the next time I go see Video Games Live they perform something from it.
The downside is that the controls are a little tricky sometimes (it wants to be an action platformer, but it plays like an adventure game – limiting your actions in certain areas and making it difficult to play. More on that, later), and the camera can be a pain in the butt. There's also quite a bit of texture popping throughout the game, which doesn't ruin anything per se, but it's very noticeable because the game is otherwise so gorgeous.
So let's talk about gameplay for a moment. You spend most of the game jumping around (like a Monkey…see what I did there?) and getting from point A to point B, but there's also a level of interaction with the NPC (that's non-player character, for anyone who doesn't play RPGs) Trip. You spend a lot of time distracting robo-turrets from shooting her, or asking her to distract them so you can sneak up and take them out.
There's also some combat, as you have an electric staff of sorts that allows you to beat up robots and also shoots energy blasts, either to stun or destroy. This is good for distance enemies and some bosses, as the bulk of the baddies you can just perform moves on and beat them with little effort.
The camera during combat does tend to get a little too close, and when fighting multiple enemies this can be a little difficult. While beating on one guy, you may not be aware that another is charging up to stun you – or about to clobber you from behind – or calling for reinforcements. However, the combat animation is pretty awesome, and you do unlock moves as the game progresses to help keep things a little fresh.
Combat is not the focus on the game, however. Sneaking past turrets and platforming are at the forefront of this game. But don't let that discourage you if you're easily frustrated by platforming like in Tomb Raider or Uncharted – this is much much easier.
Which isn't to say it's boring or dull. The environments more than keep things fresh and interesting. You're just not going to find much challenge here, as the game only lets you do certain things at certain times.
As I mentioned above, the game plays more like an adventure game. If you're unfamiliar with the genre, they tend to keep things pretty straight forward by only letting you climb when you have a place that the game developers want you to climb. Or swim. Or interact with in any way. In this regard, Enslaved is a little frustrating. I want the game to play like Uncharted – where I can interact with more, but never feel lost of lead astray from where I'm supposed to go, but given the freedom to explore this world.
For a game where one of the most gorgeous characters is their environment, there's not a lot of opportunity to explore it. You only really get to do what the developers want you to do. This isn't exactly a bad thing – it just felt a little limiting to me, and I was a bit disappointed.
What wasn't disappointing was the story, which is very character driven and full of twists – however predictable they may have been from time to time. There's a reason this ancient tale has survived all these centuries, and it shows in this game as well. There are a lot of cut scenes, just to warn you gamers who prefer to "play first," and they're not really skippable. But again, they do show off the great character designs, incredible environment, and fantastic animation and voice work.
Enslaved is certainly worth owning, but be sure to find it on sale or used. The game is on the shorter side, and experienced gamers can breeze through most of the chapters in a few hours each. I found a pretty good deal on Amazon.com for it – but you can also check gamefly or another site.

Video Game Review: Alpha Protocol (2008)
Platforms: PS3, Xbox 360, PC
Developer: Sega
Official Website
Plot: You play secret agent Mike Thorton, a new recruit by the super-secret government agency Alpha Protocol. Some terrorists have blown up a plane filled with civilians over the middle east, and it's up to you to figure out who and why.
Along the way you have to make decisions that determine loyalties and ultimately affect the outcome (and difficulty) of the game. These decisions play a larger role than in most games of this genre, so that was certainly refreshing, but I digress. While in the middle east, things go south and you uncover some super-secret information – that the terrorist acts are being orchestrated by a corporation called Halbech, which may or may not have a mole within your organization.
Now you've gone rogue, and by your decisions alone you have to forge alliances (or make enemies) with groups to solve the mystery of who's behind these terrorist acts – and stop them once and for all.
###
Alpha Protocol follows a pretty standard spy plot (bad guys are trying to do bad things, you try to stop them, someone in your organization is working for them, you have to go rogue to save the day, etc) this game was actually a lot of fun to play – despite poor reviews.
Sure the graphics aren't the sharpest and the controls are a little lose at times (and textures pop in and out all the time. Oh my god, the texture popping). The game has you behind the wheel (in a manner of speaking) of a spy in training. As you level up, your skills get better and suddenly you find yourself being a bad ass by the end of the game. Or, if you pumped everything into your spy stats, you find yourself being an invisible ghost.
Sadly, that doesn't help you during boss battles.
So why review a 3 year old game that many reviewers gave poor reviews to? Because 1) I just beat it, and 2) it was on sale on gamefly for like $12 over the holidays – which is why I got it.
If you like the Mass Effect type play model of RPG, then this game is worth checking out. Just be aware of the numerous graphical glitches you'll probably encounter, and you'll have fun blasting your way through what a James Bond video game should be like.

Video Game Review: Fallout 3 (2008)
Platforms: PS3, Xbox 360, PC
Developer: Bethesda Game Studios
Official Website
Plot: In an alternate future (that resembles the 1950s, but with sci-fi technology) the world has been plunged into a nuclear war and Washington DC has been all but obliterated. To survive, people have crammed into these underground bunkers called Vaults. You play a nameless character who grew up in Vault 101 – which, unlike the other Vaults, did not reopen after it was deemed safe to go out into the world.
You see yourself grow up briefly inside the Vault. You mother died during child birth, your friend gets picked on by the local bully, and your dad (super scientist) doesn't get along with the Vault mayor (your best friend's father).
On your 19th birthday, you best friend comes into your room while you're sleeping and says that her father is coming to arrest you. Your father has somehow left the Vault, and you have to follow him out into the Wasteland. From there, the decision of how to proceed is yours. Sneak out, shoot everything that moves, give your friend the gun – how do you want to escape?
Upon exiting Vault 101, you're greeted by the greatest video game character of all time: the environment of the Waste. DC, re-created as a post-nuclear war site, is you playground. You can proceed on missions, or just explore (which I spent most of my time doing). Ultimately, though, your goal is to find your father and what you decide to do from there will affect your game experience.
###
I figured this would be an appropriate game to review for the new year (Happy New Year, by the way) because it's a game about new beginnings – and that's what every new year is about.
The game can be played from a first or third person perspective (I recommend first), and you make choices – as well as shoot stuff.
The neat thing about combat in this game is the VATS – which is their "VAULT-TEC ASSISTED TARGETING SYSTEM" that allows you to target specific areas on a character and attack there, based on the probability of the attack being a success. If you're good with a weapon (and you'll get good if you pump up your character stats), then you can even have slow motion gruesome endings to your enemies. Like slow motion decapitations by AK-47!
It's gruesome, but also awesome.
The most fun thing about this game is the sheer size of it, and the freedom it provides. I spent hours of gameplay just exploring the Waste and killing raiding parties, stealing their stuff, and bankrupting towns by selling it all. After about 60+ hours in the game, I maxed out my level cap to 20 (if you download Brotherhood of Steel expansion this increases to 30), and and only explored about 3/8 of the whole map.
Mind you, I was taking my time and just enjoying the game. Your play through will be different. And hopefully just as enjoyable.
So Fallout: New Vegas came out as well, which is a sequel to the game. Apparently everything is just about the same, expect for the setting.
I could go on and on about this game, but what'll really sell it is if you play it for yourself. For your Halo fans out there, please note that this is a slower-paced RPG game that has a lot of conversation and decision-making. If you just want to go killing, you can do that – but that's not the purpose of the game.
If you don't already own this game or it's sequel, it's certainly worth owning. I recommend it.

December 28th, 2010
|
by Trevor

Video Game Review: BioShock (2007)
Platforms: PS3, Xbox 360, PC
Developer: Irrational Games
Official Website
Plot: Set an an alternate reality 1960s, you play as a plane-crash survivor named Jack (seriously, the opening scene is in the ocean surrounded by burning plane pieces) who swims to a nearby light house and takes an elevator down "into the rabbit hole" to an underwater facility called Rapture.
Rapture is a place where scientists wanted to be able to experiment without the restrictions of regulations, and have developed abilities with the help of something called "plasmids." However, these powers have driven most of the people mad and they run around trying to collect ADAM – which is something in everyone's body that powers plasmids.
There's also a force that's sole purpose is to collect ADAM, called "Little Sisters." These little girls run around collecting ADAM from dead bodies, and they are protected by "Big Brothers" – giant armored protectors who are tough cookies to beat.
Once you arrive in Rapture you're contacted by a man named Atlas. He directs you through the labyrinth of Rapture as he opposes the leader of the facility, Andrew Ryan. You have some morality choices to make throughout the game – namely whether or not to harvest the ADAM from Little Sisters, thus killing them, or setting them free.
However, upon reaching Andrew Ryan you have a startling discovery: You have more in common with this strange underwater city of Rapture than you realized.
###
This game was the highly anticipated "spiritual successor" to one of the greatest first-person games of all time, System Shock 2. Unfortunately due to a legal snafu, we didn't get System Shock 3…we got this game.
It's not a bad thing, it's just more of the same with better graphics. The same character arch-types, the same twists. Again, I'm not complaining about this, but for someone who wanted System Shock 3 I couldn't help but be a little disappointed that I'll never see that game. And BioShock just made me want it to come out that much more.
As mentioned, this is a FPS (first-person shooter) game with some minor RPG elements thrown in for good measure, as you can customize your character's abilities and weapons a bit in the game. There's also the 50/50 decision you get to make every time you encounter a Little Sister on whether to harvest their ADAM, or let them go.
Overall the game is a fun experience, and has some nice plot twists (again, almost redundant from System Shock 2), and the graphics are pretty sweet to boot.
So why review an almost 4-year old game now? Because I honestly thought I already had, but didn't find it in the archive.
The game's already spawned a sequel (which I'm told improves upon the gameplay, allowing you to wield a gun and plasmid powers at the same time), and they've announced the third game in the series called BioShock Infinite – which takes place in a floating city.
But I digress. Since the sequel is already out (and both are very affordable), I'd recommend at least renting the title if you haven't played it already. For people unfamiliar with System Shock 2, this is going to be your System Shock 2. It'll be a fun experience twisting through the mind of a mad man, and allow the combination of horror, classic sci-fi, and shooting elements all rolled into one.