Posts Tagged 'reading with pictures'
43 items.
C2E2 continues to be a premiere Chicago comic convention, and 2018 was no different – in fact, it excelled in that area, bringing in some of the top creators in the industry, including the elusive Brian Michael Bendis (who has been on a convention hiatus for, what…a decade?). Suffice it to say, I always have a fun time at this convention – one of the largest in the midwest (at least that I attend, if not THE largest), and it's a great opportunity to see and hang out with a lot of friends.
THURSDAY: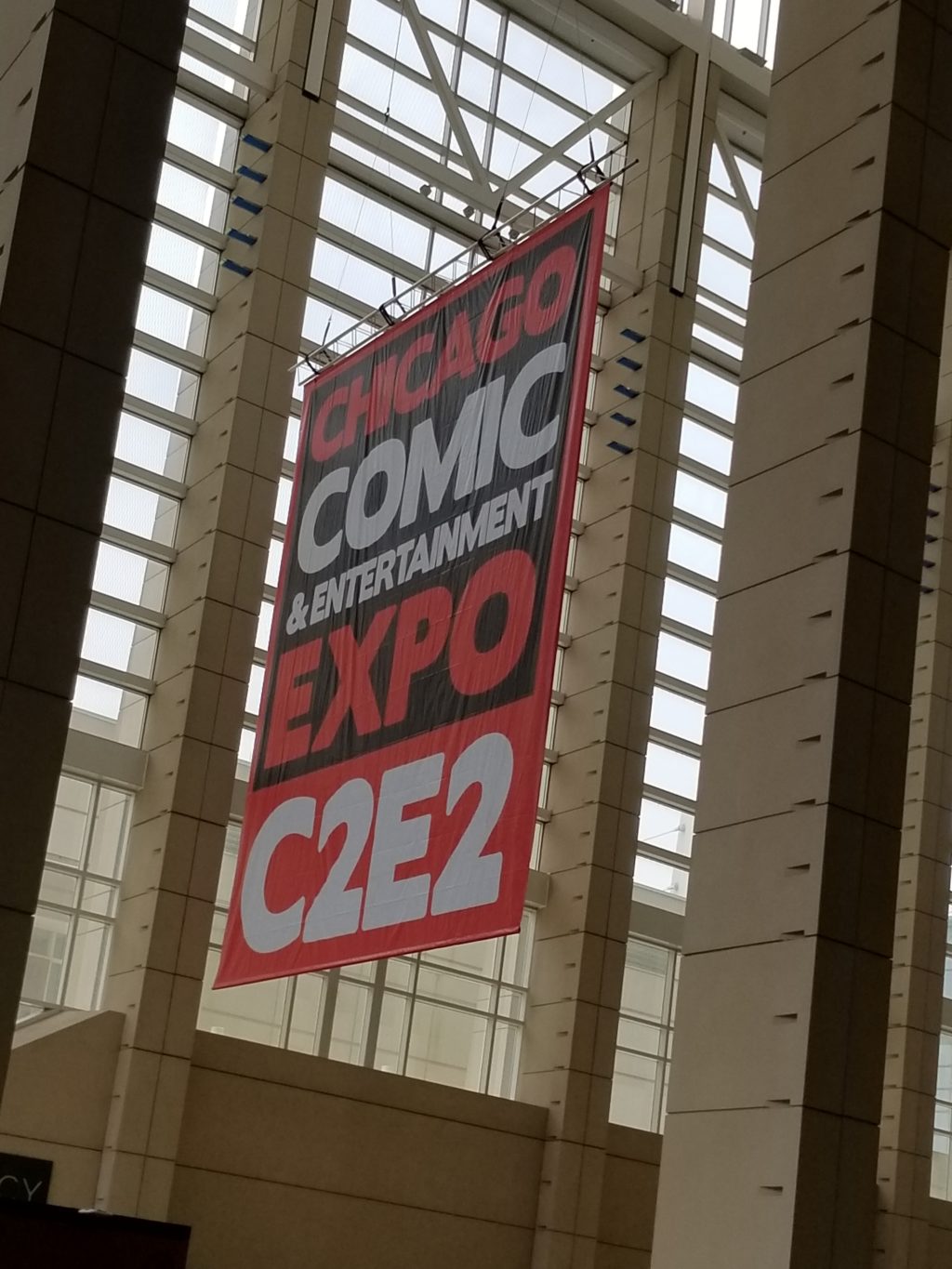 I landed at the airport, coming back from a week long vacation in North Carolina, and immediately ran home to switch some clothes around, and then jumped into the already-packed car and headed to the con before set up times ended. I got in with plenty of time, and thankfully was able to get to my table and drop off all the stuff without any issues. It's always an impressive sight to see this sign hanging in the hall on the walk into the convention floor.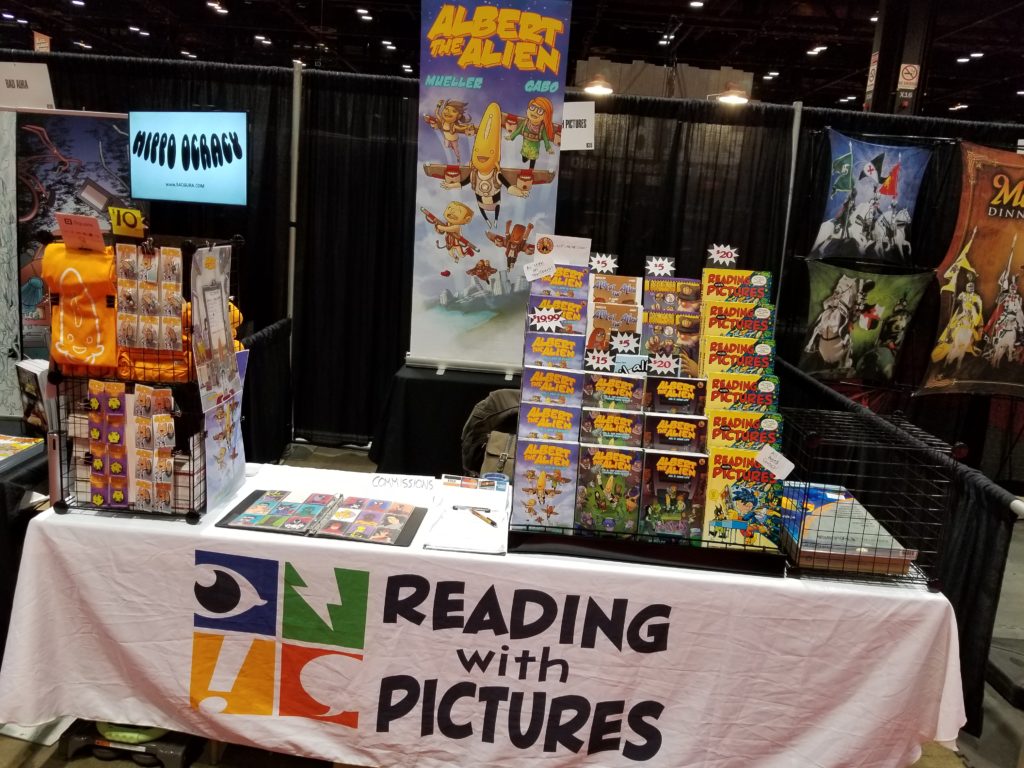 With a little help from my friends Bivens and Mallory, we got most of the table up and ready for the next day. But we were hungry, so we didn't want to stick around too long.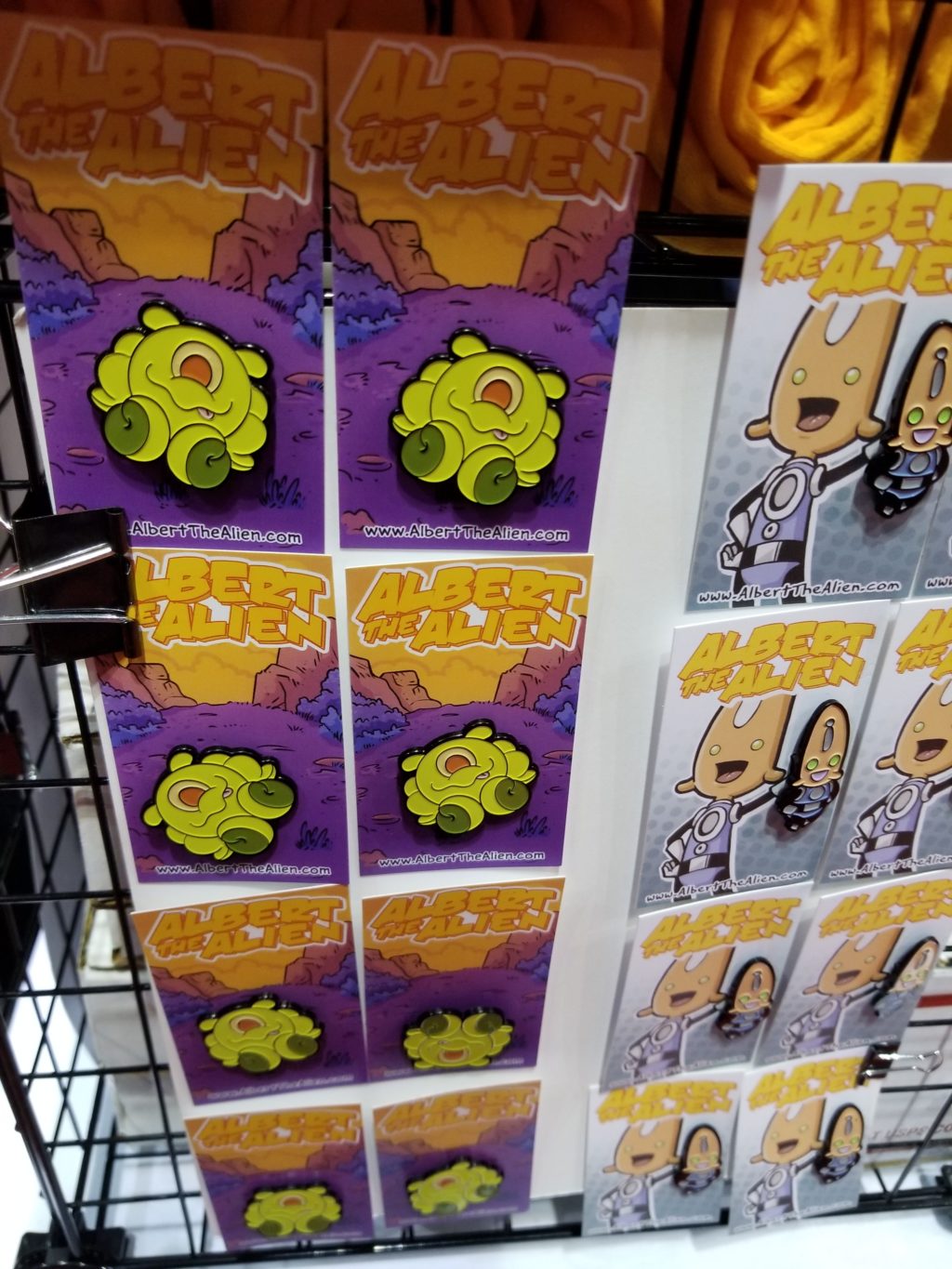 Did I mentioned we premiered some new pins at the con? We did! Albert the Alien's stuffed animal, the Flanxx, is now available for purchase. Love these little pins. Such a cute design from series artist Gabo.
After setting up, Bivens, Mallory and I hopped into a cab and went to our favorite sushi place in the city, called Niu. We actually got there during happy hour, with $6 dark and stormy drinks (which we indulged in quite a few), as well as some discounted sushi rolls. Since the group was just us, we had a chance to talk shop and work through some ideas for a project we've been working on for a while now. It was a fantastic way to start our weekend and our first night – and an early night for us all, since we knew the weekend would be a lot of late nights.
FRIDAY:
The first official day of the con had us on-boarding some new volunteers, and meeting with more friends (but with so much traffic on the floor, it was difficult to take photos of everything). The floor traffic was crazy busy for a Friday, which was a pleasant surprise. I even saw a few big names walking around, like my friend Raina Telgemiere (who was running from signing to panel and back again for what seemed like most of the weekend).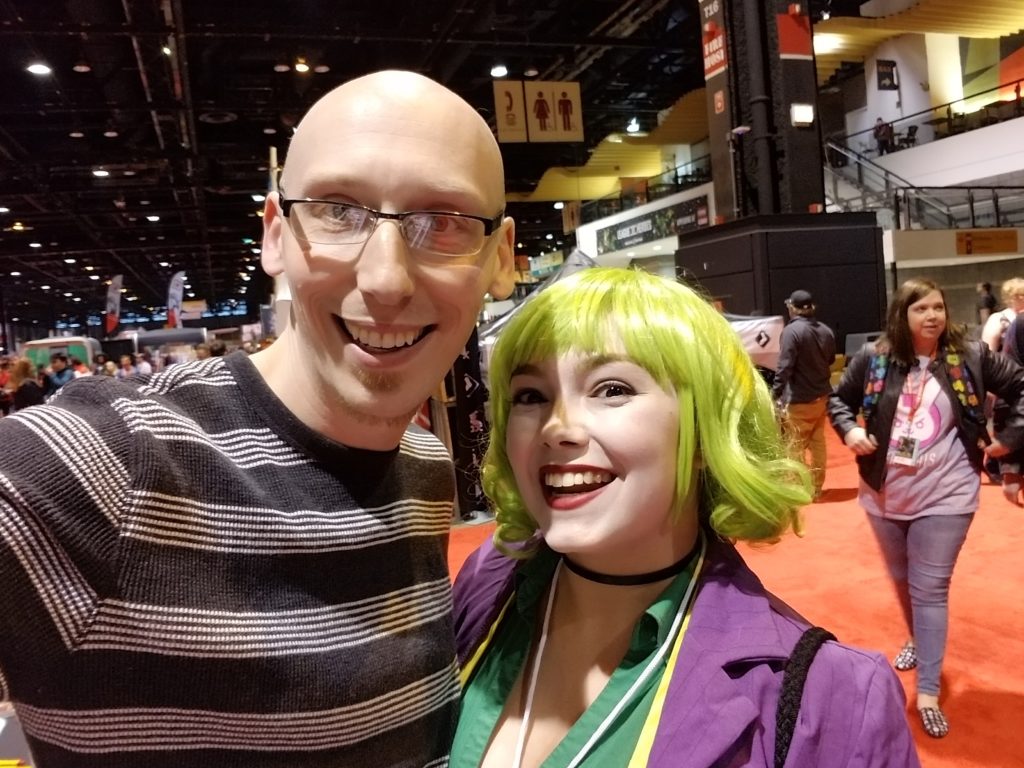 My cosplay and model friend Megan Hawk stopped by the table, dressed as her Joker cosplay. I'm pretty sure this is what she was wearing when I first met her many years ago, so it's an instantly recognizable outfit for me – I shouted to her as she was walking past.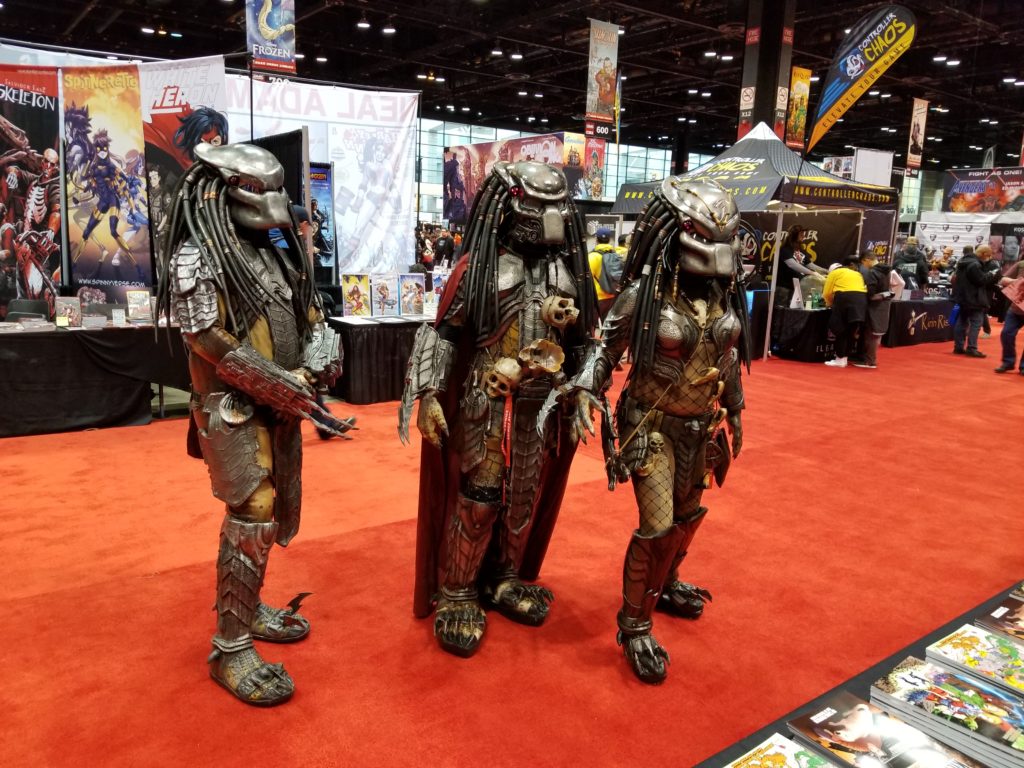 While there was a lot of cosplay at the convention, one that I was able to snap a photo of was a family of Predators – which were super impressive.
After the con ended, I went to go find some food and ran into Jim McClain (Solution Squad) and Janet Lee (too many titles to list). They didn't have their coats on (even though it was snowing!), so we needed to find a place that was close and didn't have a 45+ minute wait – which is tricky to do within close distance to a convention. Luckily, a local pizza and pasta place had a 5 minute wait time and was super close to the hotel. We scurried in, had a fine conversation over dinner and drinks, and then went our separate ways for networking and meetings that night. It was another early night for me, since Saturday would be the big day of the con.
SATURDAY:
The big day. I went to the local market and grabbed my bagel breakfast sandwich (a must-have for morning fuel), and then headed to the table to set up for the big day. We had lots of volunteers coming in to help out at the table, and give my feet (and voice) a little break.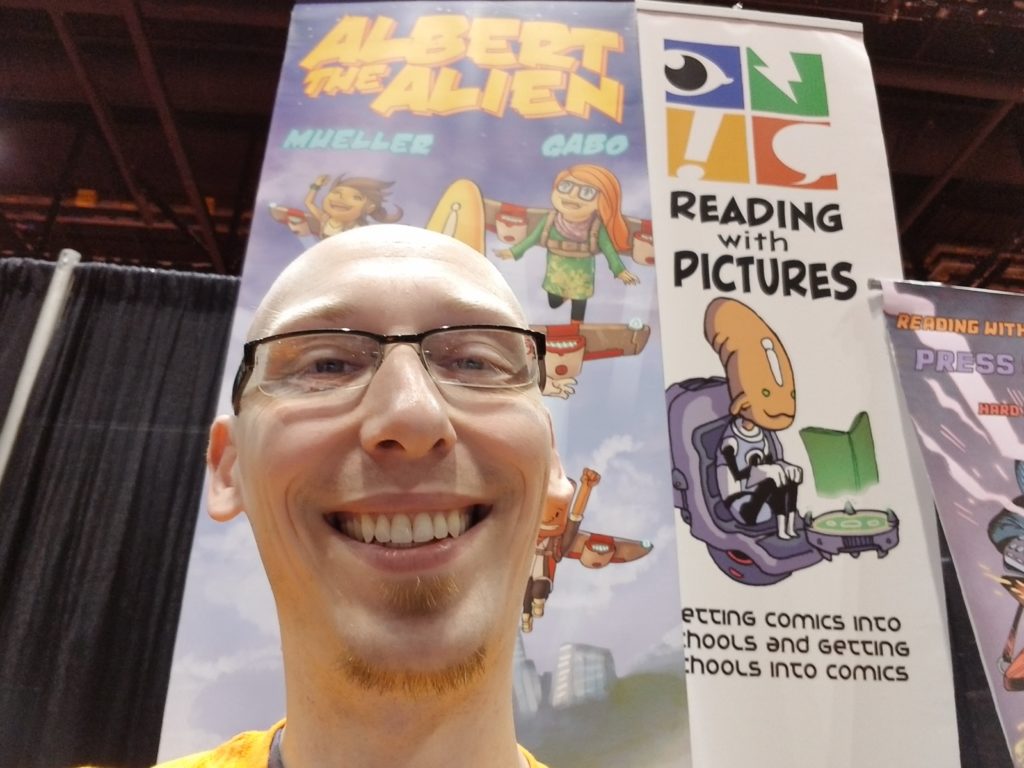 I made friendly with our table neighbors. On one side of us was a family of self-publishers who were making a big push, with this being their first weekend convention premiering their books. The whole family was there: dad, mom, daughter, and son – and the kids, in their mid to late twenties, were in cosplay throughout the weekend. I gave them some tips and went about my normal selling process – running into a lot of friends throughout the day.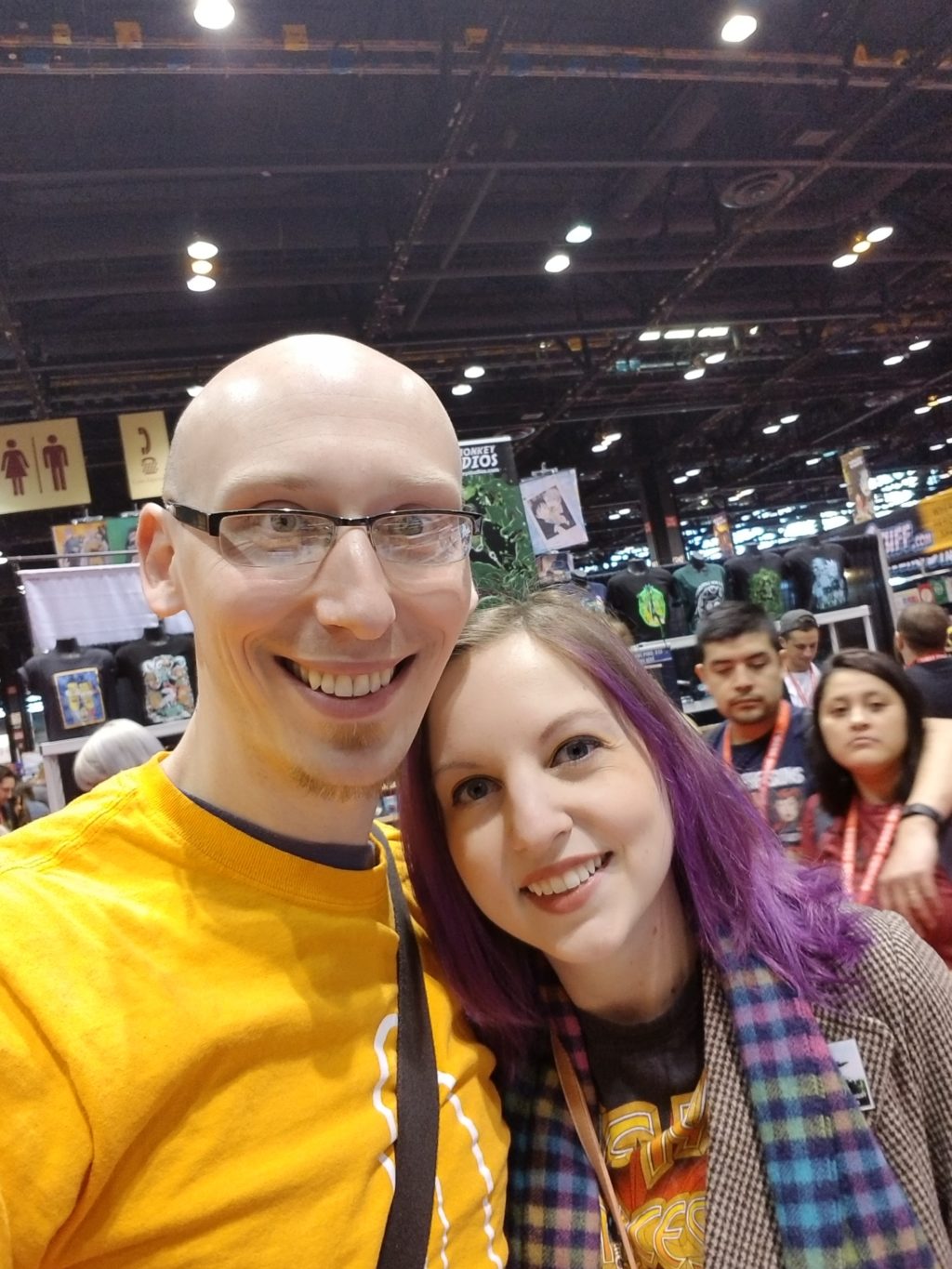 My friend Lauren wasn't sure if she was going to be able to make the con this year, but stumbled into some tickets and showed up. I caught her walking past, having just dyed her hair earlier that week. While you wouldn't think that purple hair would stick out at a comic convention, it was something I remembered her posting on Instagram – and I was pleasantly surprised to see her around.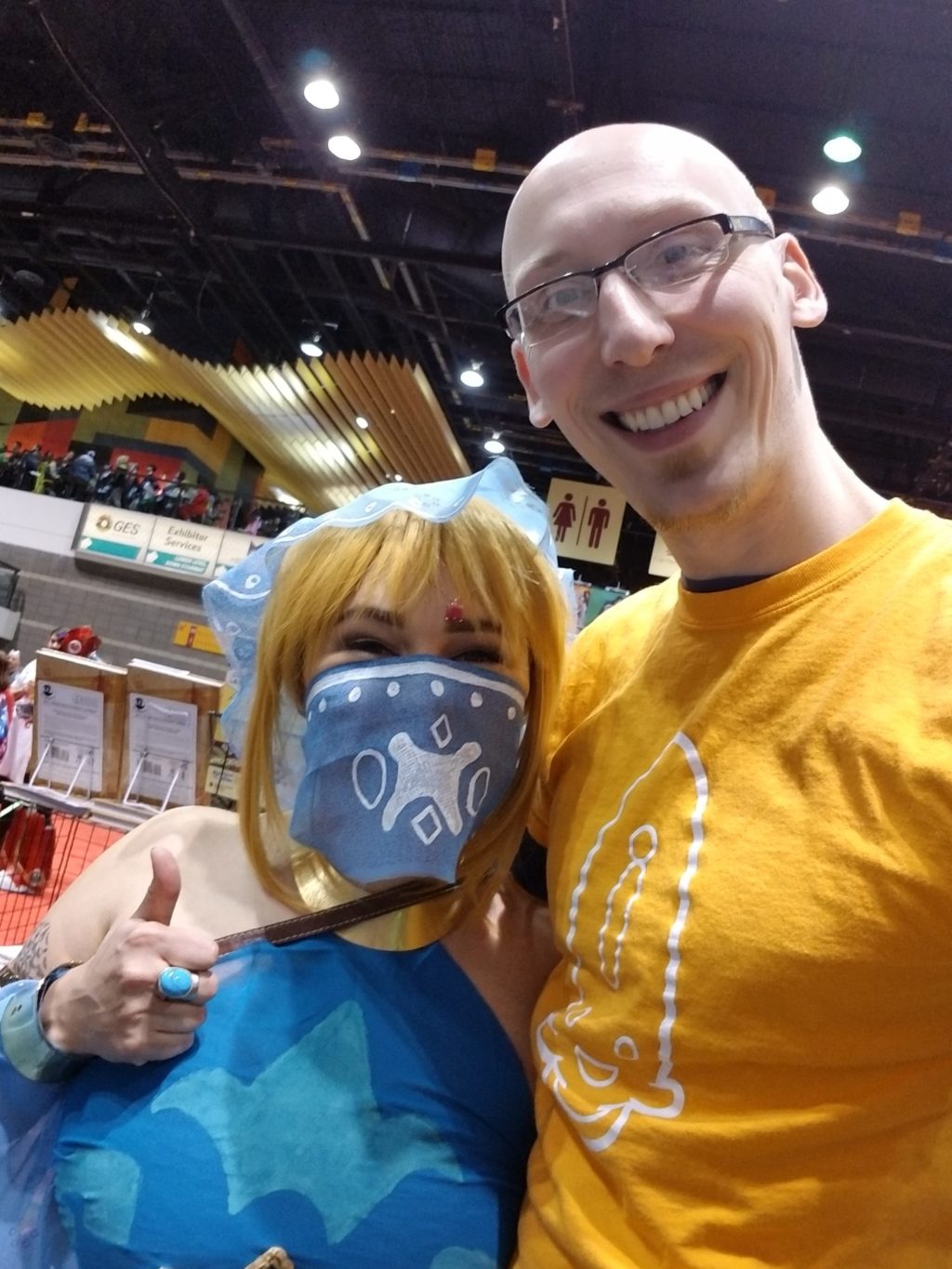 My friend Tamara was using the table as a base of operations so she could store her bags, so it was fun to get to see her throughout the weekend in her various Legend of Zelda cosplays. While I had missed taking a photo with her on the first day (and the last day), I was able to snap a quick photo on Saturday while she was between photo shoots and panels. The entire Channel Awesome crew (who were not attending another con in NYC this same weekend) would stop by the table throughout the weekend to say hi and catch up.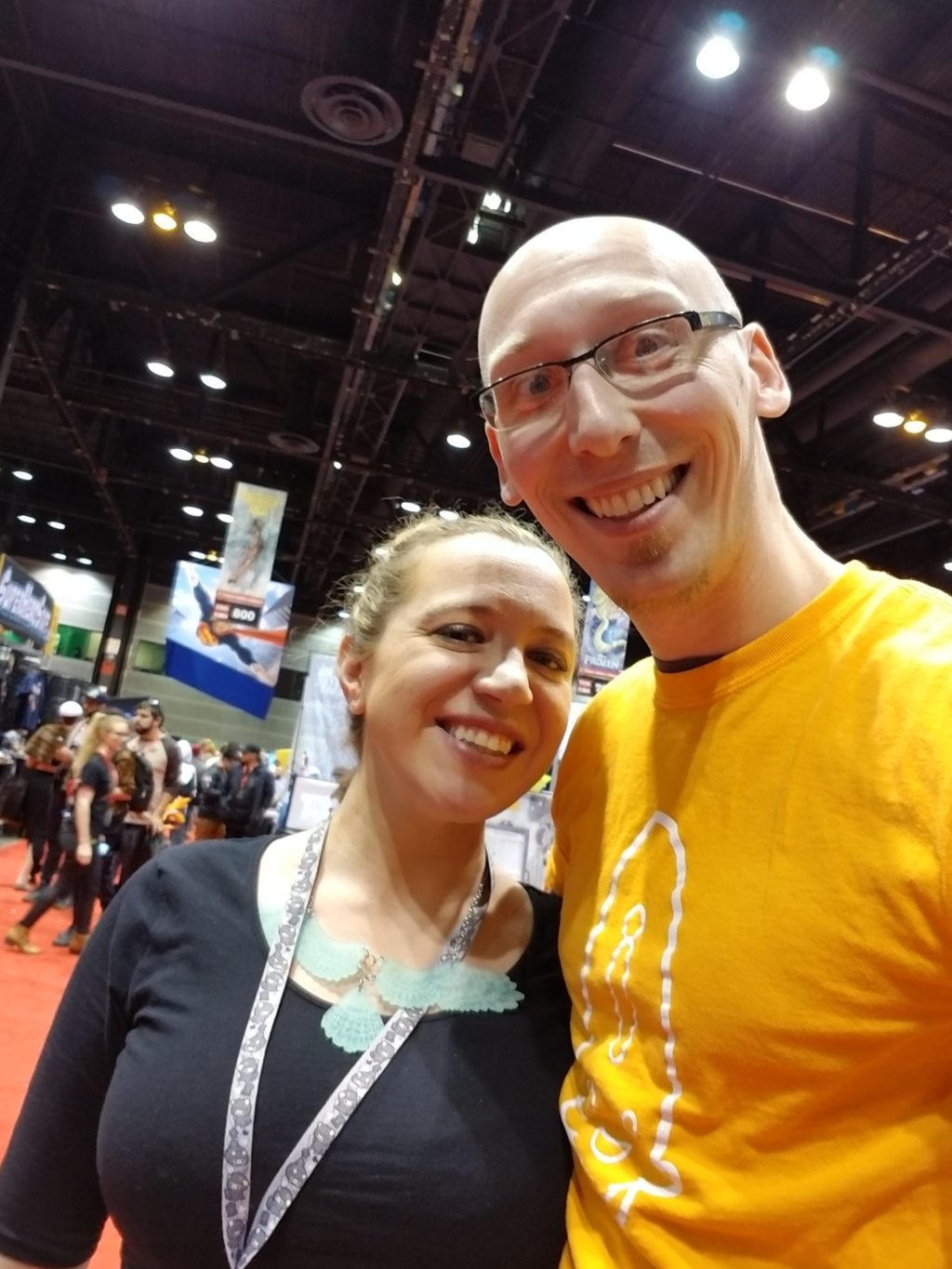 Opposite our table was our good friends Sean and Sarah Lindsay (Spinnerette), who had a very nice corner booth and some great coverage with their statues, plushies, and other merch that is very eye catching. They have been good friends both in and out of cons throughout the years, often doing panels with me at anime cons.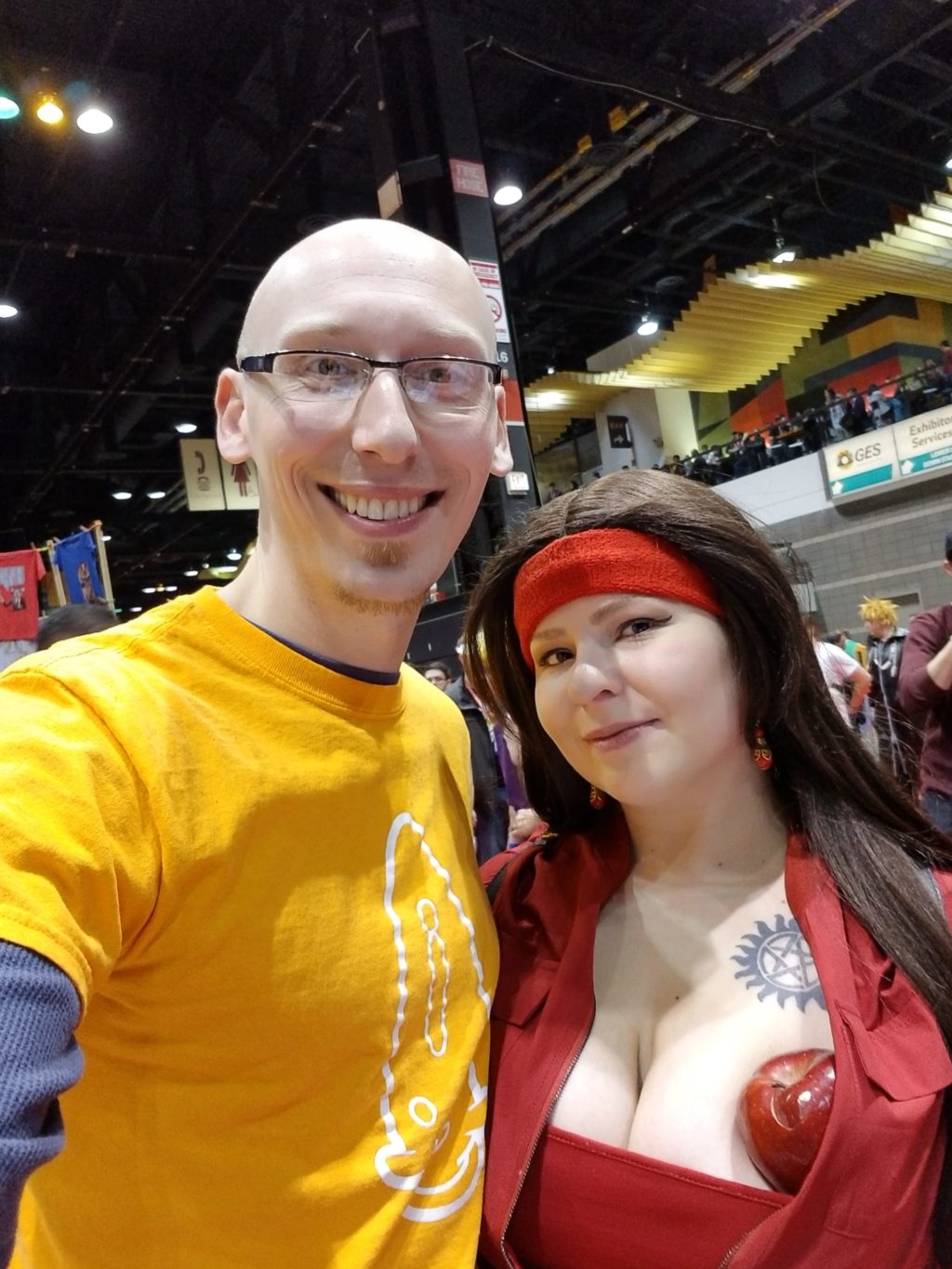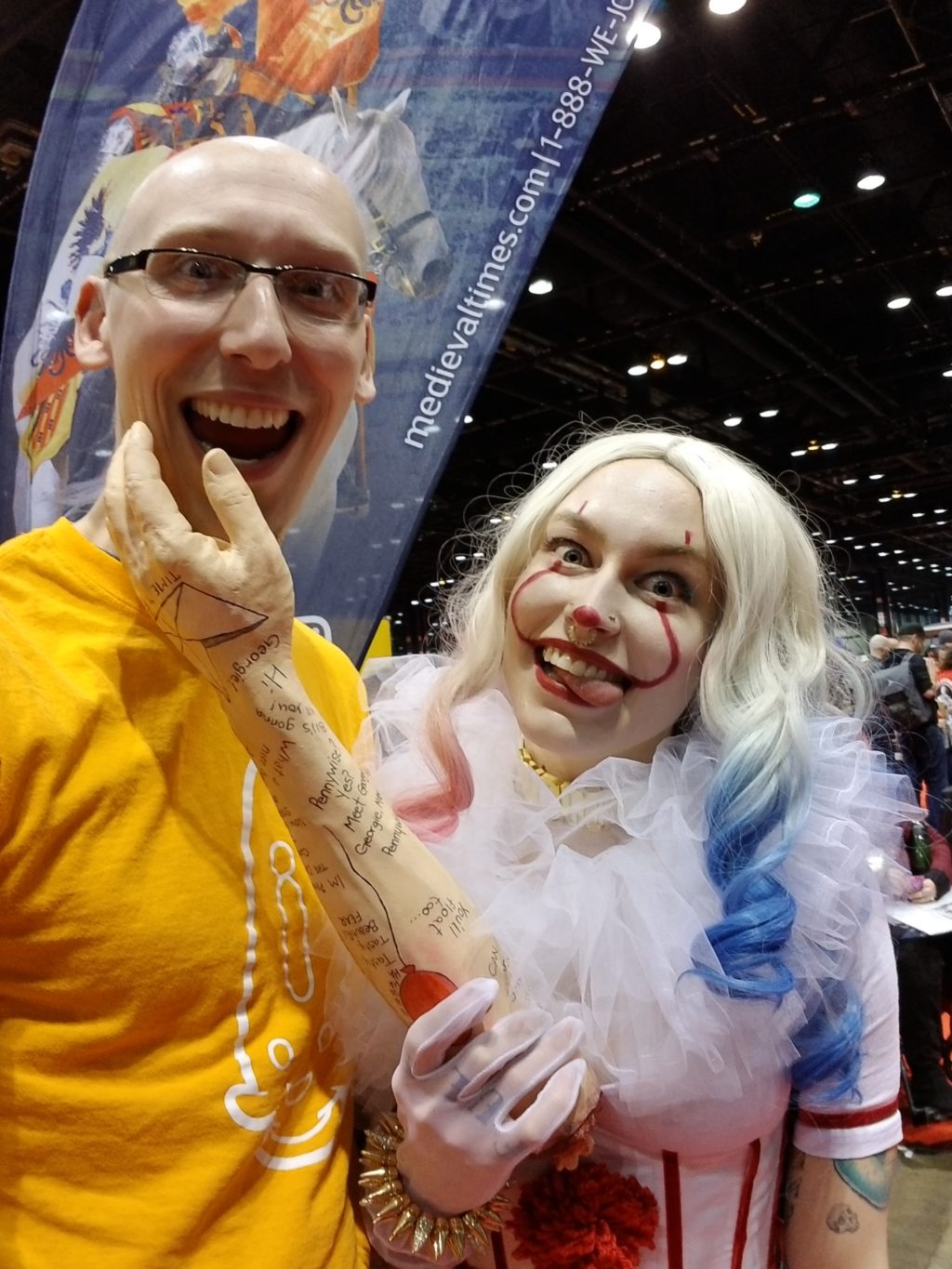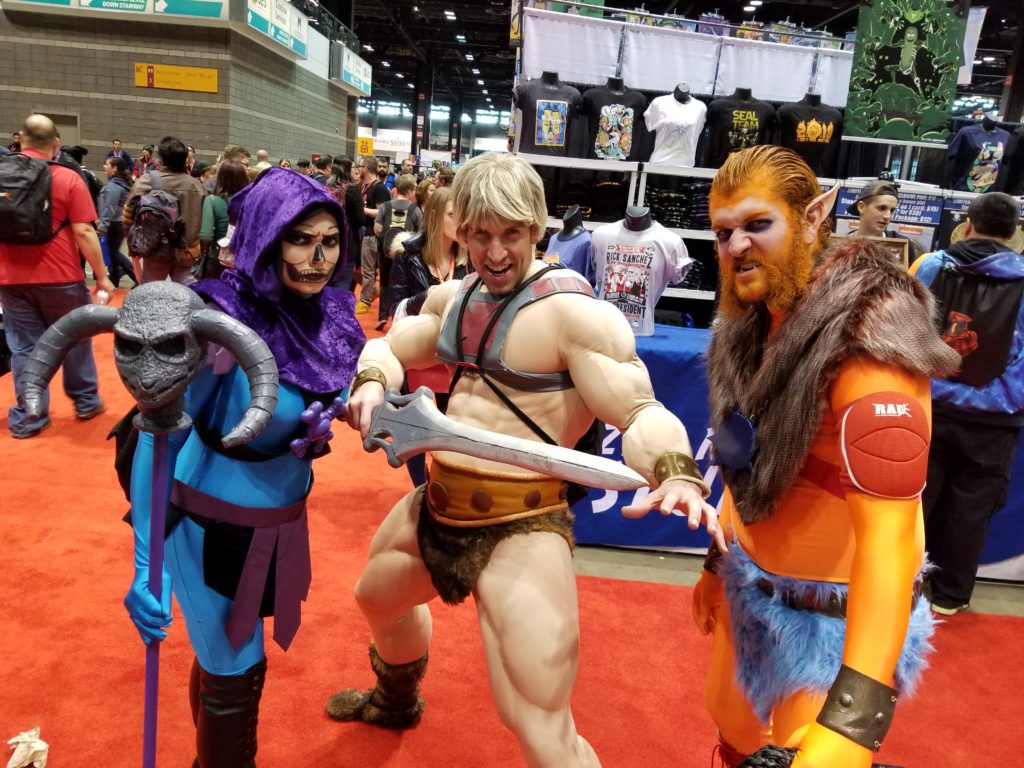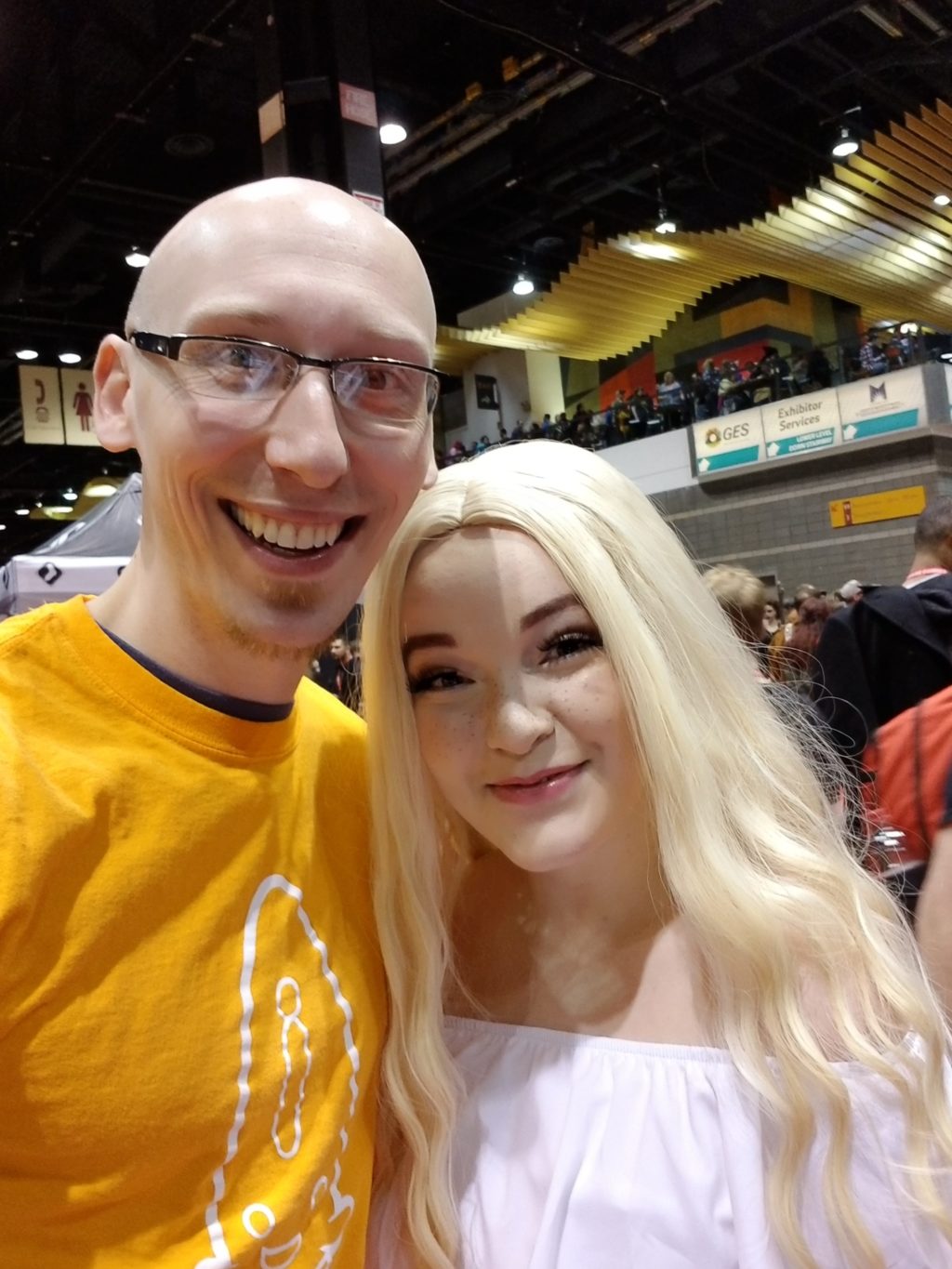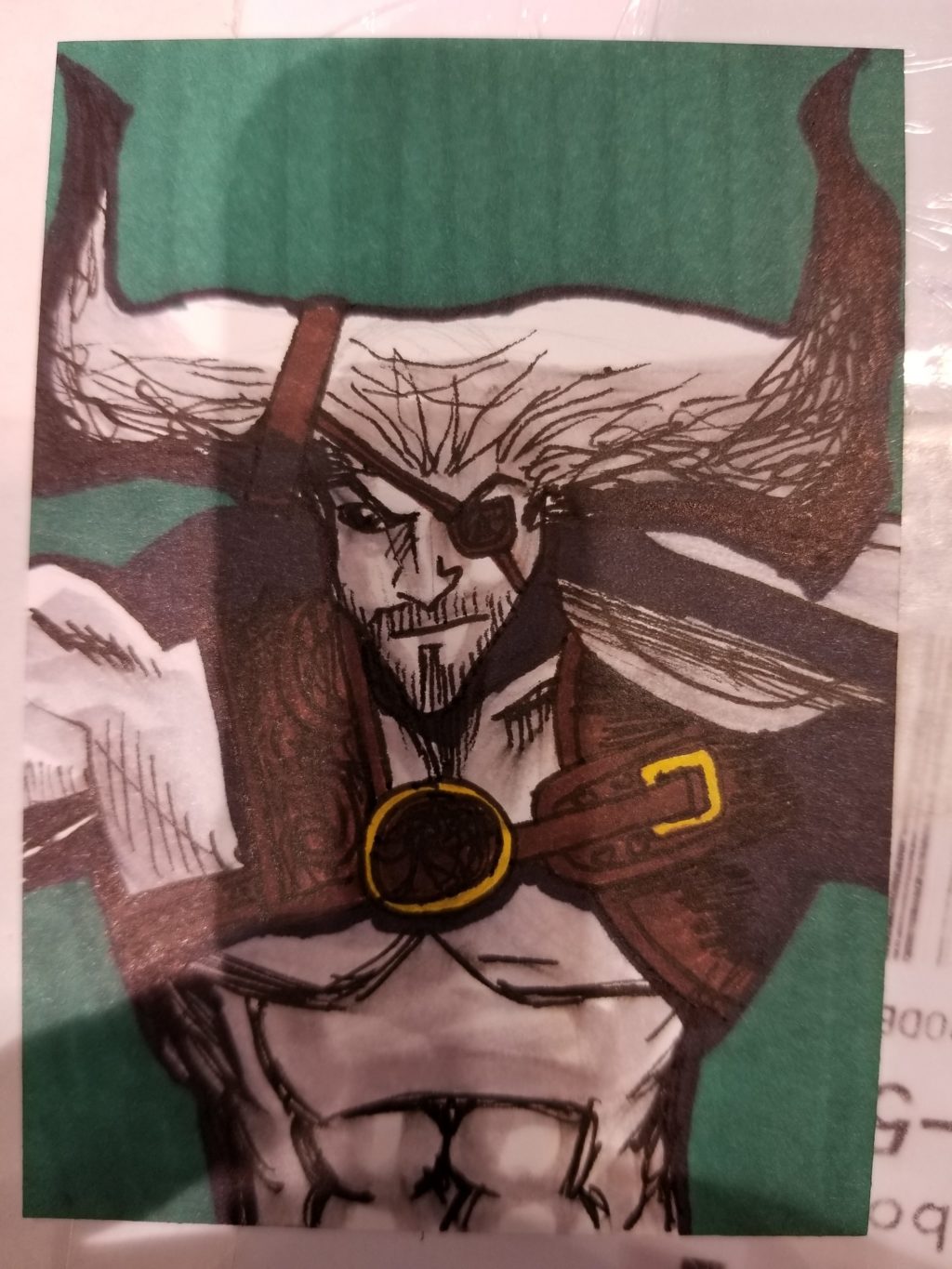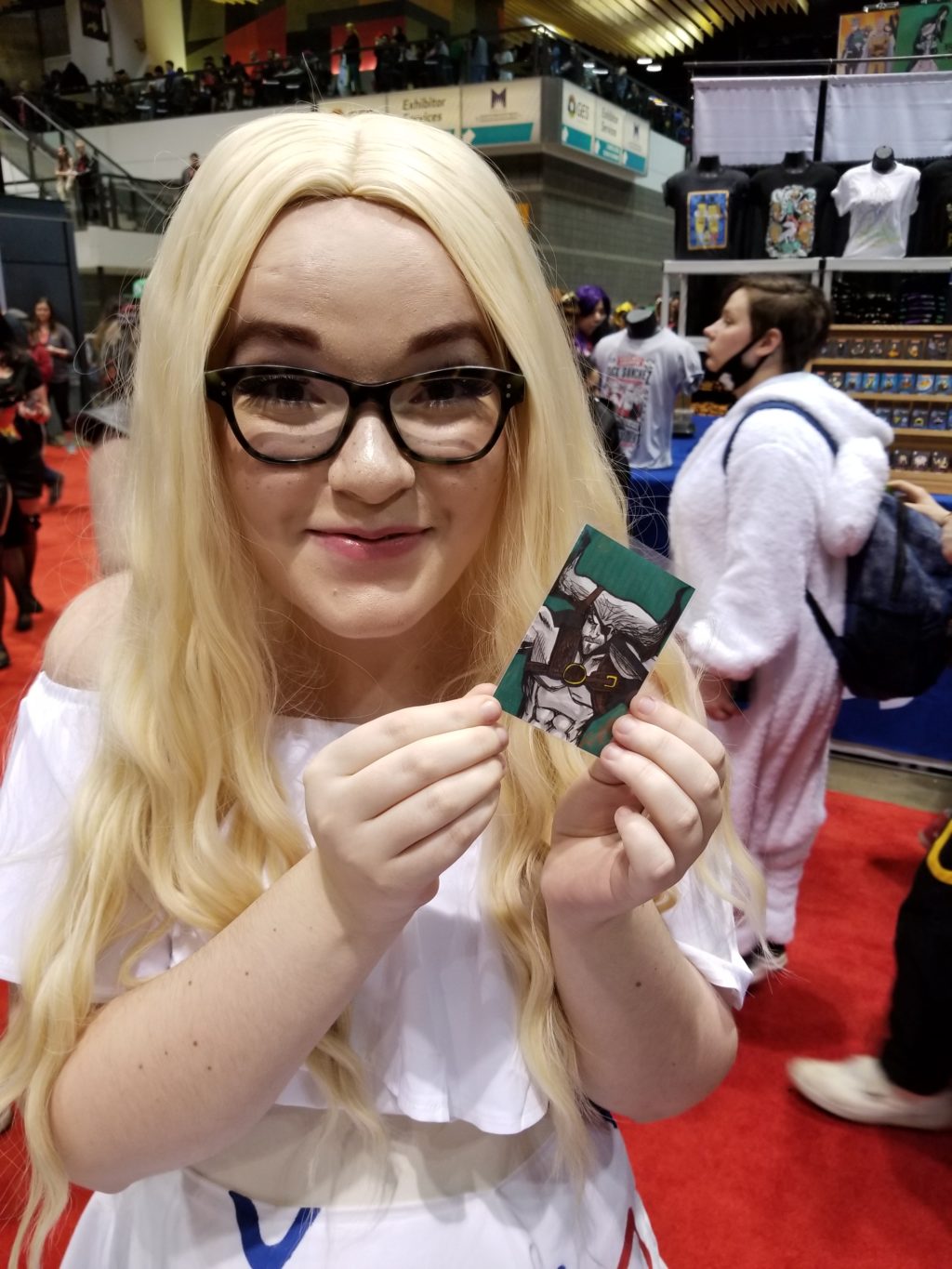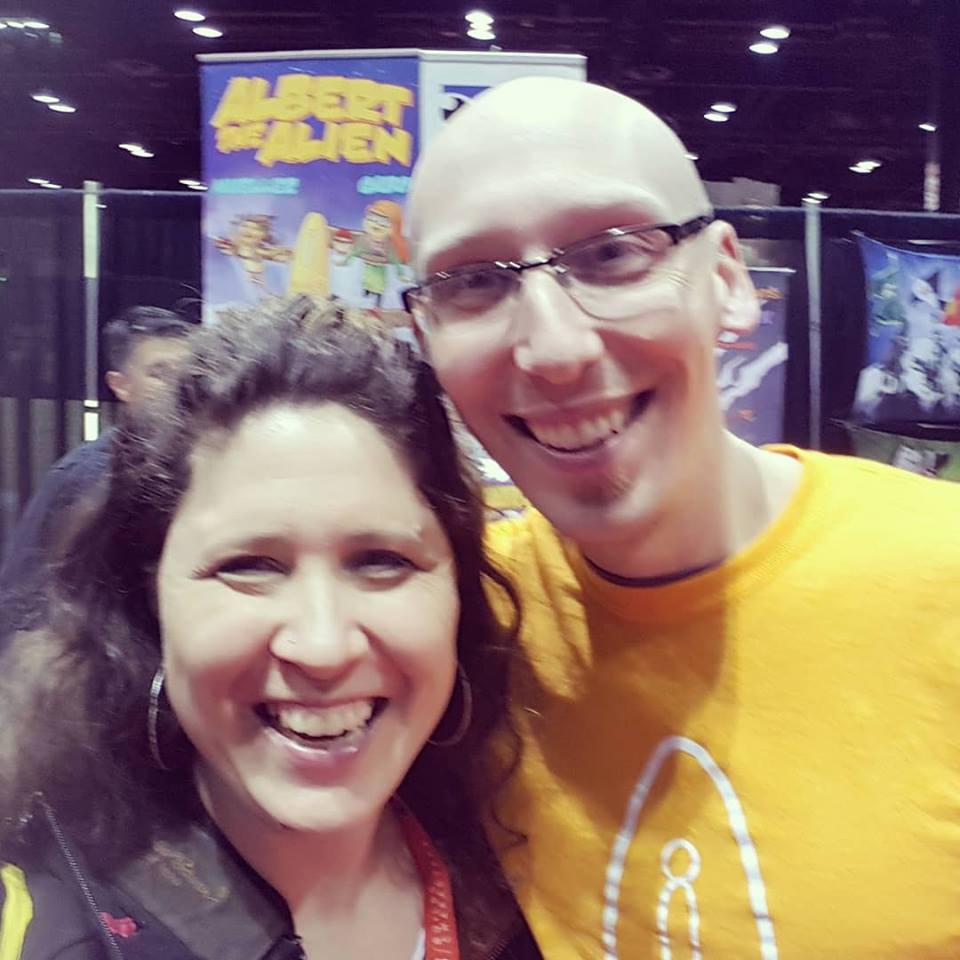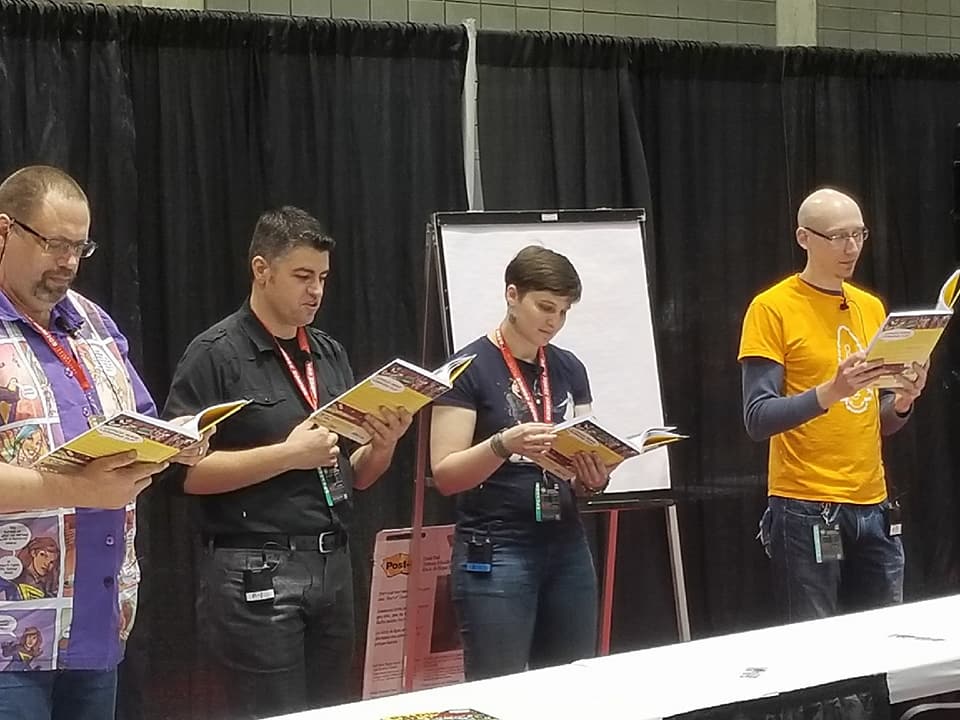 Around noon or so, I had to leave the table to attend a Reading with Pictures live reading event in the kids area. I was joined by fellow contributors and comic creators Jim McClain (Solution Squad), Josh Elder (Scribbenauts, Mail Order Ninja), Amy Hopkins, and myself. The kids were very involved in the reading, loving the stories and voices we were doing – despite the many Star Wards related distractions surrounding the area. It was a lot of fun to read with this group of creators, and I look forward to the next time we get to do it again.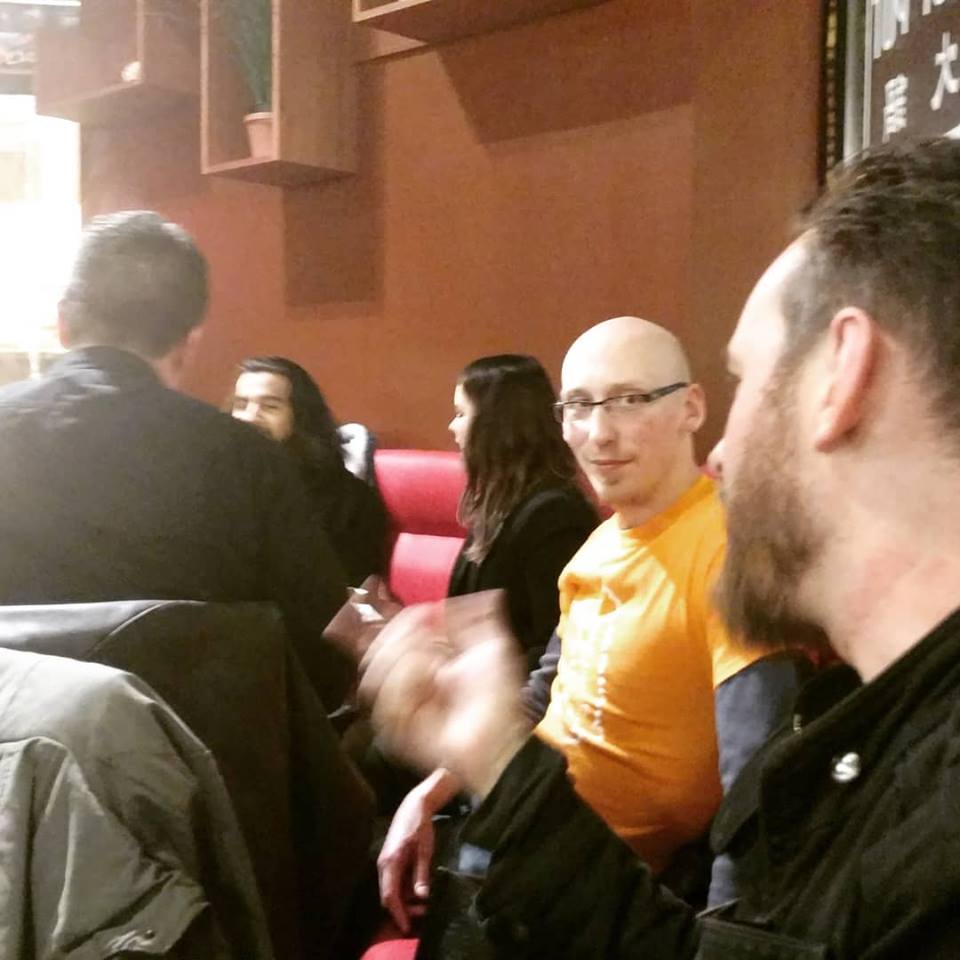 After the con ended, I went back to the room to drop stuff off and then headed to Chinatown with Bivens and Mallory (and a bunch of other people) for some delicious hot pot. If you've never had hot pot, it's like Korean BBQ – but instead of a communal grill in the middle of the table, it's a pot of boiling soup that you dip items into and cook yourself. It was fantastic. The group was joined by a lot of talented creators and close friends, and I got the chance to chat up Ben Templesmith for a while.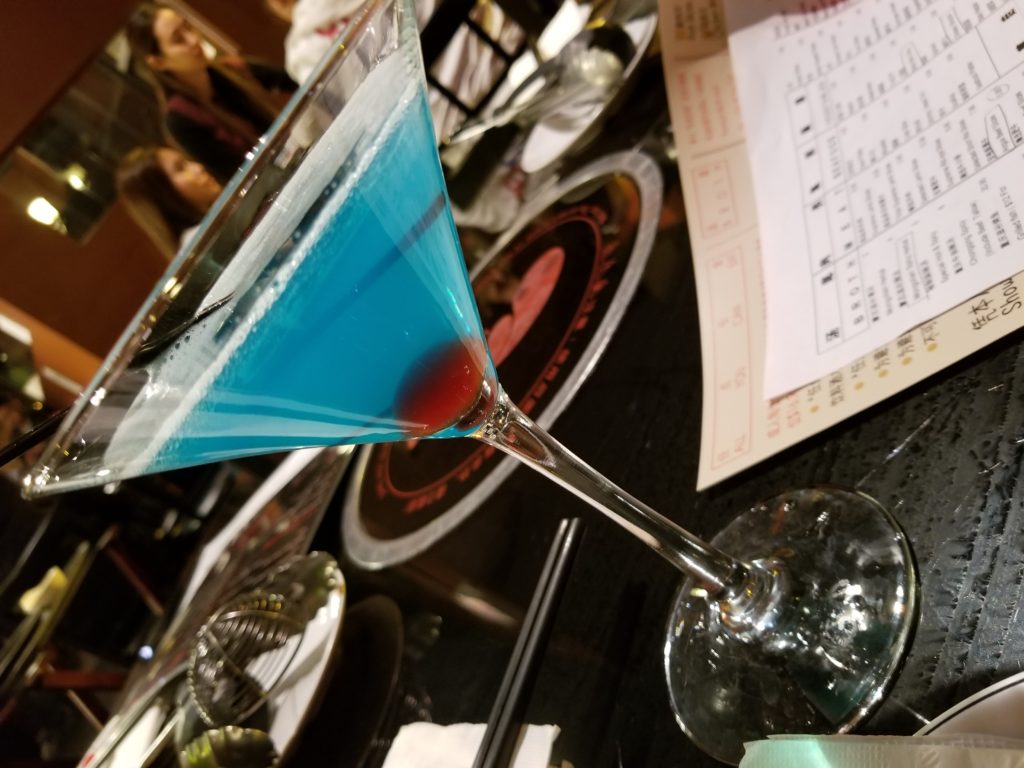 And yes, I ordered a drink that looked like something out of a Star Trek episode….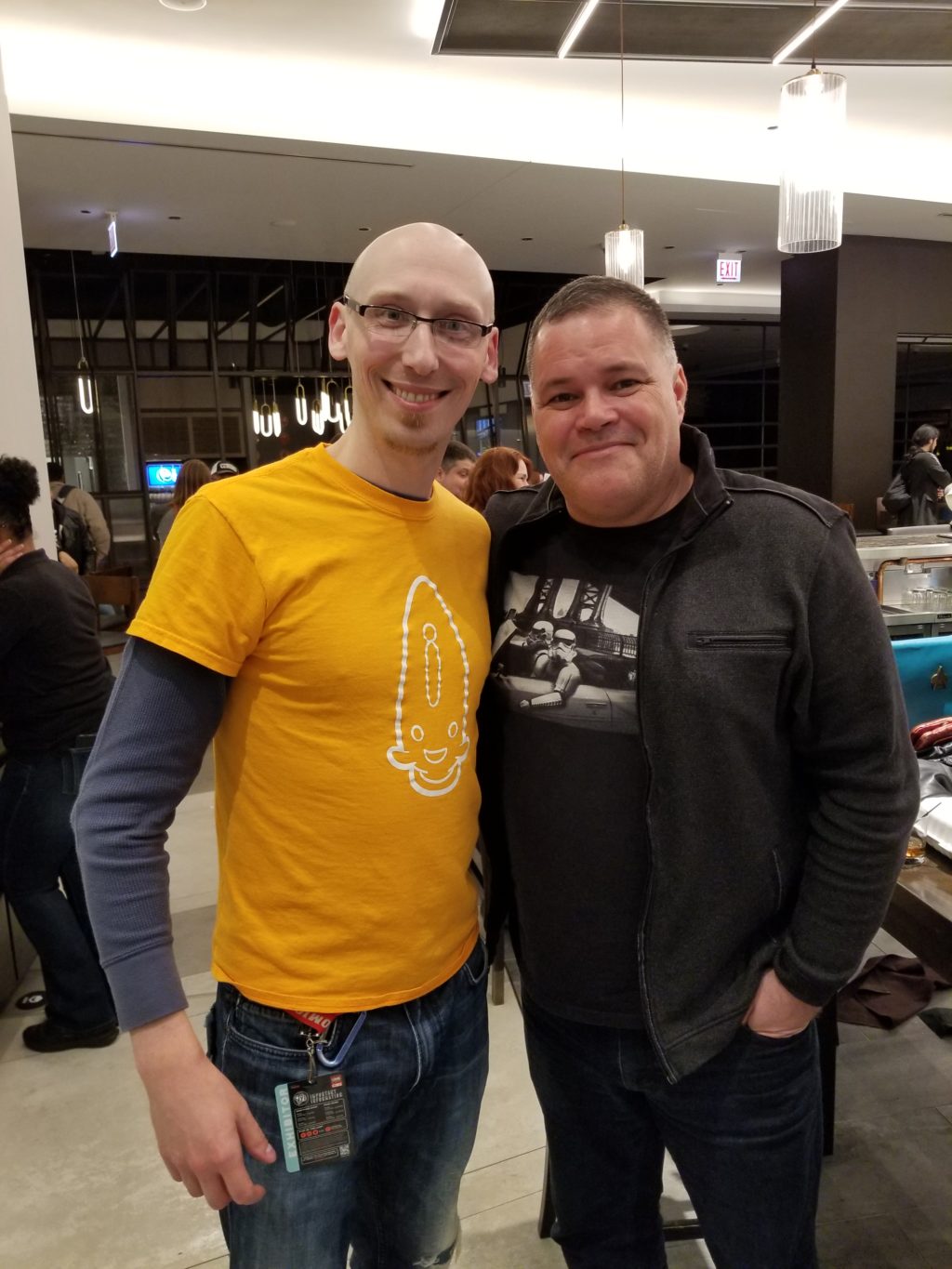 After we finished dinner, we walked back to the market where I get the breakfast sandwiches (to stock up on some essentials for that night). While in there, I saw a guy who looked like one of the actors from Battlestar Galactica buying two half-gallons of milk and a few other items. I thought it was strange, but didn't comment. I did have to tap him on the back to slide past on our way out of the store, though. We went back to the room, poured a healthy amount of adult beverages, and then headed to the Hyatt bar to hang out. While in there, I saw Aaron Douglas yet again – this time waiting for his beer. I walked up to him and asked if he remembered me from the market. Then I had to ask the obvious question: what was the milk for?
This kicked off several hours of conversations with him, and some of the publishers from AfterShock (including Mike Perkins, Joe Pruett, and several others). We talked about traveling, fans at cons, doing panels, and of course – Star Wars: The Last Jedi. About 2:30 in the morning or so, the hotel bar had closed and I had finished my drink, and told him that it had been a pleasure, but I had a table to run the next morning, and needed to get some sleep.
SUNDAY: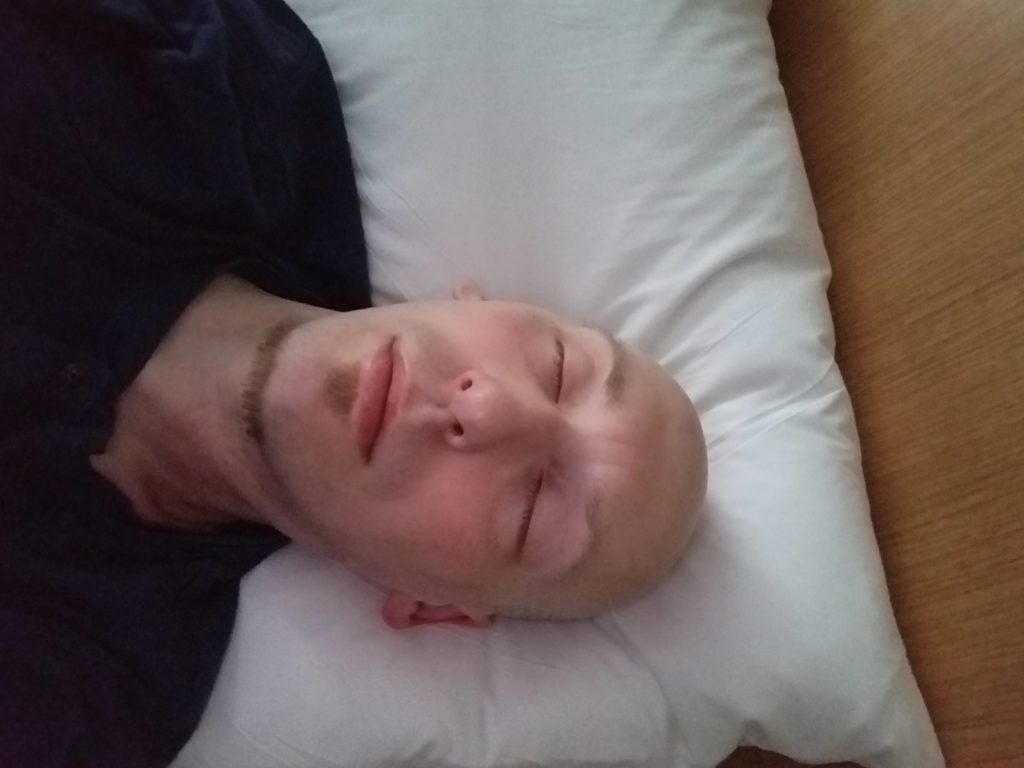 Sunday always feels like the most difficult day to wake up on, especially after a late night of good times and good conversations the night before. But alas, that table isn't going to run itself, as much as we may want it to. So up I got, grabbed some breakfast sandwich from the market, and headed to the floor to open and run another day of sales.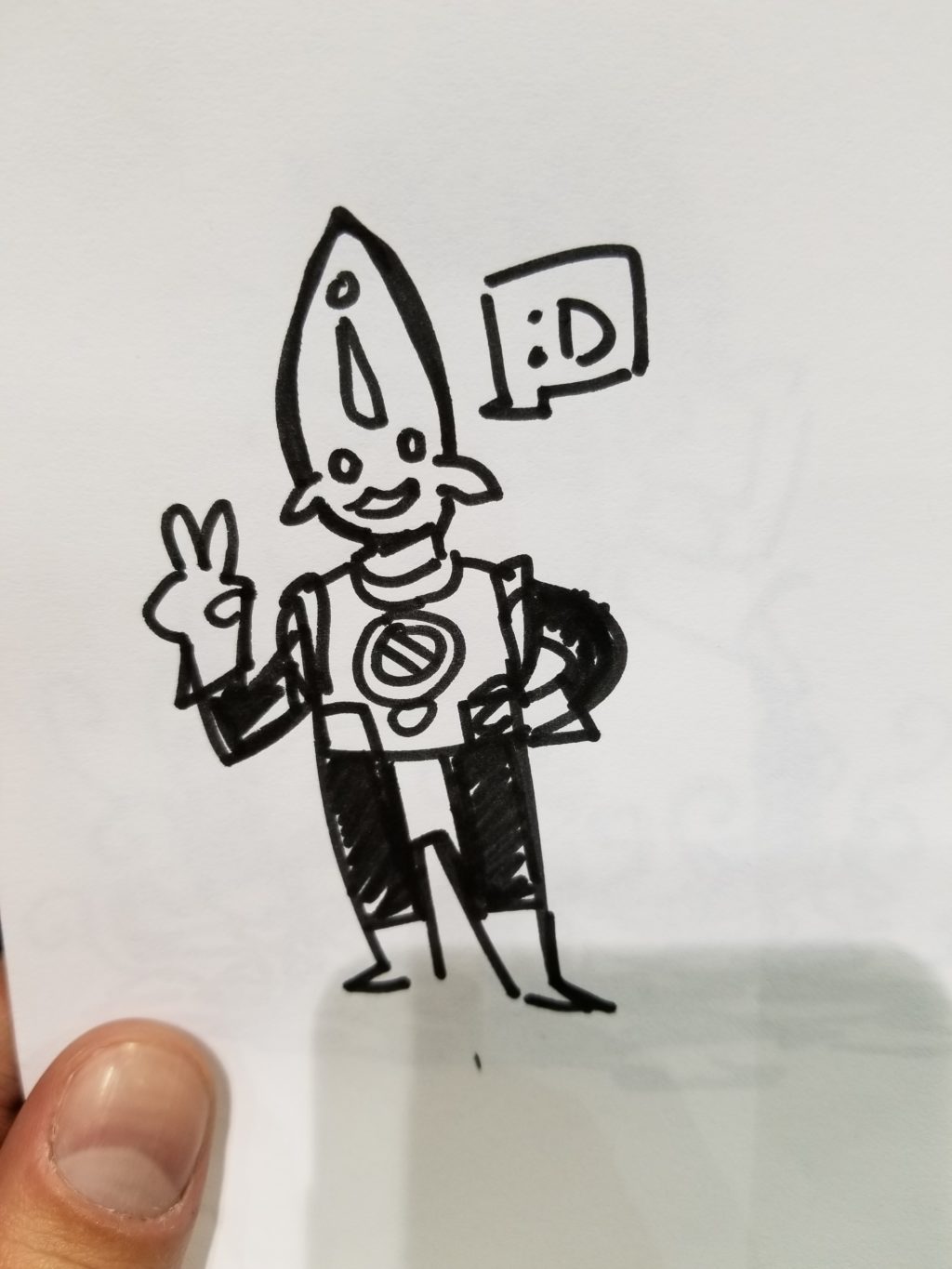 Thankfully, being the final day of the show, I did schedule some volunteers who were able to watch the table while I walked around artist alley and said hi to folks. Unfortunately, they needed my phone to process credit card sales, so I wasn't able to take any photos. But suffice it to say, artist alley at this show takes me several hours to get through – if I don't say hi to everyone, and limit my talking time to less than 10 minutes per person I know. That said, I loved seeing everyone I could, and catching up with the few people that I did in the short time I had to browse the alley.
I even received some fan art throughout the weekend, which was a highlight.
C2E2 continues to be an incredible time, with record sales and traffic, incredible talent and strong programming roster, and amazing friends and fans who come back to support year after year. I hope to see you guys again at this show next year!
October 27th, 2017
|
by Trevor
THURSDAY:


The Reading with Pictures table is all set up and ready to sell

Smiles that broad, you know it had to be the first day of con
FRIDAY:


Day 2 we tried a slightly different table configuration
SATURDAY:


Can I take this dragon home with me? Please?

Waiting for this party to get started. And eating breakfast. That's important

Joined by Rebekah Ward, one of our volunteers from last year – now making it as a student of journalism

Albert the Alien pins, in the wild

Hanging out with my friend Carrie, who runs her own booth selling merch she makes by hand!

The Javits at night
SUNDAY:


Last day of the con. Can you tell I haven't been sleeping?

Ran into my buddy Victor Dos Santos in artist alley!

The very talented Laura Braga flew in all the way from Italy for the con! Her artwork is stunning!

We sold out before the end of the con! That's the dream!

Thank you, New York Comic Con! It's been a blast!
Playing a bit of catch up on my blogging, but wanted to at least post some notes and comments from C2E2 earlier this year. I know I usually do a full convention report, but I'm hoping this summary will be just as fun.
THURSDAY:
Not an official con day, but because I got set up and was hanging out with people from the con, I include it. I hung out with my good friends John Bivens and his wife, Mallory, and we had some delicious sushi together. We also checked into our airbnb place, which was a nice lofty space within walking distance from the convention center.

Delicious sushi from Union

John and Mallory, mid bite. They didn't want to slow down to pose for a photo – the food was too good!
FRIDAY:
The first day of the con, sales were good and strong. We had some great traffic to the table, another fantastic position (and very kind table neighbors), and some great volunteers and helpers at the table. After the con ended, it was time for our traditional trip to Niu – my favorite sushi place in the city. After dinner, I went to hang out at the hotel bar for a bit and ran into some good friends from the con circuit, but since the hotel was under construction the bar scene was a bit dead. Didn't stay too long or too late. Plus, I'm tired all the time now because of the baby.


Hanging out with my man, Eric Palicki, at NIU for yet another delicious sushi night

The whole crew at dinner

Ordered the Sexy Mexican (my favorite roll), as well as a new seasonal roll that was ON FIRE!

Hanging out with Analise at the hotel bar
SATURDAY:
An early morning, another great day of sales (and a hard day of sales…the isles felt very far apart, so we were really working for those pitches), and more seeing some fantastic people. I was visited several times by my good friends over at Channel Awesome, and we made some dinner plans for later that night. Brad Jones had debuted his new movie, "Jesus Bro!," which sold out in an hour or so. He was ecstatic – and rightly so! After the con ended, we hiked over to China Town and grabbed some delicious food at a popular place (seriously, we had to wait like 45 minutes to get seated, and we didn't go during prime dinner hours – but the food was good, so all was forgiven).
I love hanging out with this group, because they are so friendly, conversational, and super nerdy – like me!


Hanging out with the Channel Awesome crew at dinner. From left to right: Rob Walker, Erin Walker, Doug Walker, Fard Muhammad, Brad Jones, Laura JaneLuke
SUNDAY:
The final day of the con involved moving out of the airbnb, grabbing a delicious breakfast sandwich on the walk to the con, and selling more comics. More of the Channel Awesome crew stopped by, including my friend Aiyanna from Awesome Comics. She enjoys cosplaying, and was appropriately dressed up as Belle from Beauty and the Beast (since the new live action movie was coming out). Her idea was to take a photo with me reading her book, and her reading the book I made (Albert the Alien). She's so much fun.
I also did a couple of sketch card commissions, and sold the crap out of the books we brought. At the end, I packed up my stuff and helped some buddies do the same, and then headed for the long drive back home. All in all, another fantastic show and one I look forward to returning to soon!

Enjoying (perhaps too much?) a delicious breakfast sandwich before the show

Aiyanna Wade (Awesome Comics) is Belle, enjoying reading Albert the Alien while I read her Romeo and Juliet book. Perhaps we both want more than this provincial life

Aquaman sketch card commission

Myself and Josh Elder are ready to sell comics on the final day of the show!
My second convention (in a row) in March was in my own backyard of Chicago, C2E2! Typically for this show, I run the Reading with Pictures booth (this year the table was across from the Jelly Belly booth, for free jelly beans all weekend!) and only sell my all-ages books. Additionally, the proceeds from the sales go back to benefit the non-profit – so buying from me at C2E2 you get great content AND support a great charity. Bonus!
Friday morning, my buddy Phil Chan (Digital Pimp Online) and I drove into the city with our stuff in tow, and dropped off at the McCormick Convention Center in downtown Chicago. I stopped into the Airbnb I was going to be staying in, to grab the key, and then headed to the show floor to get my badges and set up the table.

The Reading with Picture booth, hidden behind Neal Adams
Reading with Pictures was set up right by the Marvel booth, behind Neal Adams, and across from the Jelly Belly booth. This was nice, because they kept us full of sugar all weekend – necessary after the late nights and early mornings. Since I arrived earlier than anticipated, I had a chance to walk around a bit and see some familiar faces. I took a stroll through artist alley to see who all was in already, said hi to some buddies, and then went back to the table in anticipation of the flood of attendees piling into the place.

Russell Lissau and Trevor Mueller – brothers in comics

Comic book creators, and good friends. From left to right: Russell Lissau, Ashley Erickson, me, and Gabo
After the doors opened, our volunteers showed up for the day. Helping us promote our latest initiatives (including a charity event we were hosting Saturday night), as well as helping us to sell some books, our volunteers were invaluable to our efforts and successes that weekend. Also, I got to reunite with Garrett, who helped us out last year and has been a big part of RWP's efforts in the last several years.

Hanging out with Garrett Hill
As the day continued and books kept flying off the table, several friends started to stop by the table. Mark Waid stopped by to say hi, and to check out the Albert the Alien trades (he had yet to see volume 2). I was also visited by several of the cast of the Nostalgia Critic, who are always a blast to hang out with. And also some cosplay friends of mine stopped by to say hi, and to hopefully schedule a hangout for later in the weekend.

Special celebrity guest appearances by Tamara Chambers!

Good cosplay friends showed up, dressed as Captain America and Agent 13
After the floor closed and sales ended, I regrouped with my buddies and tried to figure out our dinner plans. My buddy Phil needed to eat, and we were joined by Channel Awesome stars Doug Walker, Brad Jones and Fard Mohummad as we walked to China Town for a quick bite. We stopped into a little place (that was not crowded, thankfully), and sitting down felt amazing. The food was also delicious, spicy (the way I like it), and plentiful. We ordered family style, and just shared everything together, while chatting about comics, cons, and movies.

Dinner out in China Town with Doug Walker, Brad Jones, Fard Muhammad, and Phil Chan
By the end of dinner, we were all pretty exhausted, but I made a quick stop back at the Hyatt bar to say hi to some friends. Gene Ha was there, sketching, and I got to meet some of his friends. I was also introduced to Scott Snyder and Greg Capullo (who were really just saying hi to Gene Ha, but at least shook my hand). I hung out for a bit with friends Justin Jordan, John Bivens, and several others before it was time to call it a night.
SATURDAY:
I got up early at the condo I was staying in, took a shower (their bathroom was immaculately clean), and headed down the street to the corner shop, which had breakfast sandwiches. I headed to the show, ate, and set up the table for another day of incredible sales. We had another volunteer coming in on Saturday, too, who was cosplaying as Batgirl – so the kids could take pictures with her.

Reading with Pictures booth, day 2…now with significantly less inventory

Batgirl was volunteering at the Reading with Pictures booth on Saturday!

More cosplay friends came by to say hi, dressed as the 5th Evil Ex and Poison Ivy, respectively

Warrior Princess Peach!

More awesome cosplay from some good friends

Monty Python cosplayers are probably my favorites…that rabbit is just so vicious!
As sales winded down for the day, we broke down the table and headed off to my favorite sushi place in the city, Niu! With a reservation of 20+ people, this restaurant has never had an issue accommodating the lot of us. And we took up 3 rather large tables. I sat with my friends Russell Lissau (Old Wounds), Bryan Glass (Mice Templar), and Robin Dale. We talked about comics, comic movies, and the state and evolution of conventions.
After dinner, we returned to the hotel and I had a quick drink with some friends, and then headed back to the condo for some much needed sleep.
SUNDAY:
The final morning of the show is always a rough time. You're tired, but you're also energized to sell through the last of your stock and see your friends for a final time before returning to the real world. This morning was no different. We had very little stock left on the table to sell through, however we also had no volunteers coming in on Sunday to provide any coverage – so I was at the table for the bulk of the day. I did have to shut down, briefly, in order to attend a panel on Self-Publishing (moderated by my buddy, Jim McClain).

Come buy the last of my comics!

The Secrets of Sustainable Self-Publishing with Jim McClain, Jim McClain, Scott Bachmann, Tom Stillwell, Trevor Mueller, and Kelly Heying

More friends stopped by, in even more amazing costumes!
By the end of the panel, and the weekend, we were beat. I broke down the table, helped Phil pack up his inventory and take it to the cab, and then we hopped into separate cars and took off – he to his flight, and me to my condo so my wife could give me a ride back home.
C2E2 was nothing shy of amazing this year (as it is every year). The staff and volunteers are incredible, the attendees are great, the sales are amazing, and I love hanging out with everyone after the show ends. I can't wait for next year!
October 14th, 2015
|
by Trevor
New York Comic Con (NYCC) has become the largest comic convention in the country (as of last year, 2014). It continues to be a beast of a show (in a good way), with some of the most amazing and exhausting experiences of my creative life. It's an experience to strive for, an experience to love, an experience to fear (there's nothing wrong with a healthy amount of fear), and an experience to cherish forever.
Without fail, every year at NYCC gets bigger and better. I meet fans, new and old, I make new friends, I see creators I've idolized or always wanted to meet, I learn new things about comics (and myself), I see good friends, I explore New York City, and I have a life-changing experience every year I attend. It is not a show to be missed. And this year, it all started after 3 days away at a work-summit in Lake Tahoe….
THURSDAY:
I couldn't sleep during my flight from LAX to JFK, which wasn't a surprise to me. I have difficulty sleeping in ideal conditions, and a plane is far from ideal for sleeping. My flight from Reno had been delayed 5 minutes, in an already tight connection in LAX, and we spent another 15+ minutes taxiing to the terminal. Everything had been working against me to catch this connecting flight, but despite all of those odds I had made it with 2 minutes to spare before they closed the doors.
Since I couldn't sleep, I decided to watch movies. Terminator 5: Genysis and Avengers 2: Age of Ultron kept me company during the flight. I was tired, but also excited. NYCC is always a trip, and I got to stay with my good friends Karl Custer (Uncle Yo) and his gal, Cat.
The flight landed at 6:30am local time, and I walked to the AirTram to catch a train to Queens. I had sent a box of books to Karl earlier in the week, and I needed to drop my stuff off before I made my way to the Javits Center to set up for the con. Thankfully, New York City has extended the 7 train to arrive pretty darn close to the Javits. In previous years, you'd have to get off at Time Square and walk 8+ blocks (like, the long blocks) to get to the show, which would have been a pain with luggage and a 30 lbs box of books.
So I dropped off my stuff, grabbed the books, and was off to the Javits.

The Javits Center
The Javits Center is on the other side of Manhattan from Queens, but with the install of the new stop at the end of the 7 line, it has become extremely easy to get to now. While on the train, I even ran into Josh Elder (Scribblenauts: Unmasked), my good friend and the founder of the Reading with Pictures non-profit I was there to help. Josh and I got in together and got our badges, and began setting up the table and talking about goals and initiatives for the weekend. Before too long, the doors were opening and we were a go for business.

The Reading with Pictures table, ready for sales

The Reading with Pictures crew, Trevor and Josh, ready for a weekend of awesome!
The sales started and started strong, which is always encouraging. And with this being the first NYCC for Albert the Alien volume 1, it was super exciting to see readers old and young respond so positively to the book.
As the day went on, our volunteers eventually showed up. They were coming from UNICEF, and had been working with Josh and others at RWP to set up some very special events for the show. The volunteers were young, eager, and very enthusiastic about being at the con and learning how to pitch the books. They were also experts at talking about the UNICEF initiative we were doing, and directing people to our panels throughout the weekend so they could learn more about it.

Trevor and the UNICEF team, running the table
As the day went on, I received a special delivery from my printer for Albert the Alien volume 2: An advanced copy of the book! I finally had something to show people for pre-orders, and also to show editors the quality of the book we were putting together.

A special surprise delivery: Albert the Alien v2 advance copies
After the show ended, there were a number of after-parties I was invited to. However, since I hadn't slept in over 48 hours, the thing at the top of my mind was sleep. We took the 7 train back to Queens and grabbed a bite before drifting off into a much-needed sleep.
FRIDAY:
I got up much earlier than I wanted to (but hey, someone's gotta run the booth), and jumped on the train with Karl to the show. We made a quick stop to grab some breakfast at a little place he knows called "Butcher's Bakery," which has these amazing meat-filled breakfast sandwiches. Super filling, and exactly what you need before you start a long day on the floor.

Breakfast of champions…with high cholesterol
After a very hearty breakfast, it was time to get selling. We had some volunteers show up early, so it was game-on from the word go! It was a good thing I had that filling food, too, because the opportunities to get away from the table (even for a quick break) were very small. Sales were through the roof! We were moving copies of the books left and right, driving e-newsletter sign ups, and telling people about our latest projects left and right. Josh was running the panels, and as they ended the traffic to the table increased significantly! It was almost a breathless experience, where you were constantly talking to people about the books and the organization. People were THIRSTY for it. And the kids were super excited about the anthology, as well as the Albert the Alien book.

The view from the table – when traffic was light
After a whirlwind of a day, the group decided to walk to a near-by diner and grab some food. The place was close to the convention center, so it was packed with cosplayers. Somehow they got us seated rather quickly, and before we knew it we were munching on burgers and fries. Unfortunately, there was some confusion with our orders, and the staff charged us for things not ordered (or didn't deliver food that was ordered). After fixing the bill, we all went our separate ways.
I headed back to Karl's, thinking I may hang out with a friend who lives in the city that night. I was looking forward to seeing her and catching up, but at the same time I was still recovering from not sleeping the other night. Thankfully, we rescheduled for the next day and I was able to get to bed early.
SATURDAY:
By now, Karl and I had our morning routine down to a science. We got on the train, and I went to the convention center to set up while he grabbed breakfast. Cat came with me to help volunteer at the booth, and also to check out the con a bit. As soon as the show opened, it was absolute chaos – commerce chaos! Albert the Alien sold out before noon. We were quickly running out of copies of Reading with Pictures. Whoopie Goldberg walked past the table. It was nuts!

Reading with Pictures and Unicef – partners in comics! Comics Uniting Nations is coming soon (for free)
Eventually we had enough volunteers at the table (and enough books sold), I felt confident to walk the floor for a bit. I took some time to walk through Small Press (and I saw some actors from Marvel's Agents of SHIELD signing at their booth), said hi to some friends, and then made my way down to artist alley. Artist Alley is a place where I can spend tons of hours without wasting any time, because I know so many people in there. It takes me hours to get through a single isle sometimes. This time I tried to keep it quick, though, so I could get back to the table before close. I stopped by several friends's booths, including my Albert the Alien artists who were attending.

The Albert the Alien team. From left to right: Ali Cantarella, Trevor Mueller, Ashley Erickson, Gabo
Around the time the main floor closed, I headed back to close up the table and headed back to Queens to grab some dinner with Karl and Cat. We ordered Thai food in and relaxed, watching a few hilarious episodes of some TV shows on Netflix. Eventually I got a call from an old friend who wanted to catch up, and I met her for some drinks before heading back to Karl's for much needed sleep.
SUNDAY:
Morning came much too soon on the final day of the show, but adrenaline and the promise of sleeping in my own bed that night kept me vertical and got me through the day. Also, most of the books were sold out at this point, so that was a positive. I stayed at the table for a few hours, but eventually turned it over to the volunteers so I could say my goodbyes in Artist Alley.
I gave myself a little more than two hours to say goodbye to everyone I knew in AA, and it was just enough time (after I skipped 8 tables, since I didn't want to interrupt any sales). I also got to meet a few new faces, including Laura Braga! I'm a huge fan of her work on Witchblade, and I'm so happy for her success on Invincible Iron Man and some of the new DC titles she's working on.

Hanging out with the very lovely and talented Laura Braga (Witchblade, Invincible Iron Man)
After making my way through AA, it was time to go back to the table and pack up. Thankfully, just about everything was sold and I was able to fit the few remaining books in my luggage before taking off for the airport. The train and bus was much easier than my normal method of trying to grab a cab downtown (and much less expensive, I do admit), and before I knew it I was at my terminal and through security. I have a post-con relaxation ritual, which involves a meal and a drink at a place in the airport. Mostly, it involves not standing (I rarely if ever sit during a con).

Post-con airport food and drinks…because HUNGRY!
After a short plane ride back to Chicago, I took the train to my stop and walked the rest of the way home (since the buses weren't running; thanks, Chicago).
New York Comic Con is and continues to be the biggest and best show I attend all year. It's a madhouse of sales, celebrities, and good people. It's an expensive show to attend, don't get me wrong, but worth it in every way possible. Thank you to UNICEF, Reading with Pictures, our volunteers and helpers, the entire staff of NYCC for putting together such an incredible event, and all of you – for making this weekend another unforgettable experience.
This past weekend was C2E2, short for Chicago Comics and Entertainment Expo, and it was another incredible year of awesomeness! I had a bunch of buddies come in and crash with me Thursday night, so on Friday is when the real festivities began. I'll start there….
FRIDAY:
In the morning we all got up super early (so early, in fact, that some of my guests had already left to go set up their table). We had a quick bite of breakfast and then headed over to the show floor where, much to my surprise, we didn't have a table! This isn't uncommon, as the 10×10 spaces don't typically come with a table. Sadly, I had thought we were getting one, and hadn't brought mine from home. But thankfully after a few quick calls and some paperwork, we had a table just in time for set up before people started streaming into the show.

The Reading with Pictures booth, in all it's glory!
I started my day of sales, and sell hard I did. Thankfully, we had a few friends and volunteers to help out at the table as well. We were also doing a charity pub crawl, which we were promoting throughout the weekend as well. So there was much promoting going on – about the educational non-profit that is Reading with Pictures, about our books and initiatives, and about the other books we had on the table – namely, Albert the Alien!

Some good looking' guys at the Reading with Pictures booth. From left to right: Steve Horton, Alan Evans, and Trevor Mueller

Pizza face masks! We were giving these away as part of our pub crawl charity event
Because I was primarily helping out at the non-profit booth all weekend, I had been asked to try to make a lot of my personal sales for the weekend pre-orders. I talked to a lot of fans in advance of the show to secure commissions, book orders, and other revenue-driving items. I was worried this may not be a success, but much to my surprise people were really into it. In fact, some kept coming back to order more commissions over and over again. Here are some examples of what I did for the show on Friday….

A fan posed for a commission of him hulking out…

…and received THIS!

Posing with Rachel – who had a sweet sword!

Evil Kitteh commission of a fan's boyfriend's cat as a super villain

Chung Li vs Agent May commission (they were both played by Ming Na, who was at the show)

Spock sketchcard commission
The convention was a big success, with a lot of interest in the organization and in attending our pub crawl for charity. After a few hours I finally got a chance to break and walk around a bit. I had a great meeting with some publishers and editors, and got to shake hands with a few really cool people (my friends at Aspen, buddies at Penguin and Zenoscope, and a slew of others).
After a few hours, the floor finally closed and a group of us got together for our annual sushi tradition. Heading to my favorite sushi joint in the city, we all piled into cars and cabs and made our way to grab some affordable and delicious food! We were even joined by some new friends, which is great – you always bond best with people over good food.

Dinner at Niu with Blake and Carolyn Packard

John Bivens drops some hilarious jokes at dinner
After a nice long dinner, it was finally time to return home and get some much-needed sleep. We were all pretty tired and it was only the first day of the show. Tomorrow would be the biggest day of crowds and potential sales, so we all wanted to be on our a-game.
SATURDAY:
Saturday started off with a sprint and kept getting faster as it went. The pre-orderers kept coming by to get the stuff they wanted, or to get some books – the sales kept coming and it was awesome! I also got a slew of commissions throughout the day, including…

Harley Quinn commission

Goku God commission
…and many more!
Thankfully there was a little time to pull away from the table (since I had some handy-dandy volunteers helping us out at the table). Garret showed up in an Iron Fist cosplay, and we even got some of my friends and cosplay fans to help promote the charity events.

Even Buddy Christ was helping us out with the charity event!
But there was also time for fun and games, which is what helps us get through the long days at a convention.

Having fun with John Bivens between sales at the RWP booth
A slew of cosplayed friends stopped by the table, and some of their outfits were super inventive and awesome. I took a few pictures of the cosplayers (not something I normally do, but I couldn't help it – they spend so much time on their outfits, the least I can do is take a picture and talk about it a little). Below are some of the cool ones from my friends who stopped by.

Slave Chung Li and Pimp Jabba

Mockingbird from Agents of SHILED (her Hydra outfit)

Captain America made an appearance at the table

Some more fun cosplayers – and good friends of mine – in their awesome outfits!
I eventually got a chance to step away from the table for a bit and go out to Artist Alley to see friends and colleagues. It always takes me FOREVER to get through artist alley because I know so many people. I think it took about 3-4 hours and I was only halfway through the hall. But I would have to return the next day, because at that point I needed to return to the RWP table and give some relief to our fine volunteers and helpers.
After the floor closed we all packed up and headed to ChinaTown where we enjoyed some fine food and good company. We were joined by the Walkers from Nostalgia Critic fame, as well as a bevy of other artists and writers from the show. The night ended late again, with us headed back to my place for much needed sleep. At this point I had started to lose my voice, so tomorrow was going to be an interesting day.
SUNDAY:
Sunday morning was a slower morning in the household, because one of my house guests had left the day before, and another was leaving for home right after dropping me off. The show floor was quiet as I walked in and started setting up, and chatted up a few folks I hadn't had a chance to speak to previously. I even had a few friends stop by the booth with their kids.
Sunday is kids day, and for most creators that means lower sales. Unless, like me, you make a kid's comic book. Then Sundays are awesome! I had kids running up to the table shouting "ALBERT! LOOK, MOMMY, IT"S ALBERT! I WANT ALBERT!" Such a great feeling!

Hanging out with the fine folks of Kiren Rise

Posing with Sera McClain, who has appeared in Albert the Alien!

The Judges approve of Albert the Alien!
After only a few hours, even though I brought another half box of books from home to some additional online pre-orders I had received, we were eventually sold out completely. I shut down the table, left a sign thanking everyone for their support, and went to walk the show floor and complete my run around artist alley.
The previous day I had only made it about half way through the alley, and this morning the traffic was a little easier to navigate (the other side of the show where I had been the other day was where all the big kid's creators were, so I'm sure those isles were packed). I talked to some friends, exchanged some books with some people, and generally rubbed elbows, shook hands, and kissed babies (not really).
A friend of Albert the Alien artist Gabo had some really cute figurines on display, which I tried to text and convince my wife we needed in our place. She's tolerated my collection of comics and movies, but she told me she draws the line at figurines. I think I can sway her eventually…


Chubby Batman is the coolest!

Hanging out with the very talented Eric Palicki!
After a few hours the show floor finally closed, and it was time to pack up and head home. I could barely keep my eyes open when I got home, because the weekend was so awesome. A very special thank you to all of the staff and volunteers at ReedPOP for another fantastic year of partnership between you and Reading with Pictures. Thank you to the ALA for being awesome partners to our non-profit, and for being great table neighbors throughout the weekend. And thank you to all of the friends and fans who supported me this weekend with your company (and your hard-earned dollars). You guys are why I do this too many weekends out of the year. And I love you for it!
November 11th, 2014
|
by Trevor
Halloween weekend I had the distinct pleasure of spending at a convention in Columbus, OH, which was Mid-Ohio Con (also called Wizard World Ohio). I wasn't able to attend this show last year (because I was getting married), but it's a fun show with a very positive group of attendees who are eager to listen about your projects. Plus, I have friends I only ever get to see at this show – so it's a very special weekend for me, indeed!
THURSDAY:
While the show doesn't start until Friday, Columbus is quite a distance from Chicago, so my buddy Alan Evans (Rival Angels) and his wife, Tracie, picked me up and we all drove (almost non-stop) straight through to the convention center. The ride was long, but a fun time to catch up and hang out – talk about comic projects, stuff we're doing, and life in general. Alan and Tracie have been close friends of mine for some time now, and it's always great to get to connect with them.
Upon arriving we stopped for lunch at North Market, which is right across the street from the convention center. The place is filled with different small shops and eateries, and is just a cool spot to check out. We grabbed some BBQ at a vendor set up in there, and enjoyed some lunch before unpacking our stuff at the convention center.
After unpacking, we called our local friend Lora Innes (The Dreamer). Lora puts us up every year, and I've been friends with her almost as long as Alan and I have known each other (and they met each other before they met me). We were all webcomic creators on a site called Drunk Duck (now The Duck), which is a collective of independent webcomic creators. They all host their comics on the site, participate in forums and helping each other produce better comics. We all became quick friends.
It was Halloween in Lora's neighborhood, and we handed out candy while her husband (Mike) returned home from work, and while we ran out to grab some pizza for the group for dinner. Mike is a great guy, super friendly, and also incredibly smart. The guy does all of the design and coding work for Lora's website, as well as develops apps and websites in his professional day-job.
We chatted the night away, hanging out and catching up as if no time had passed between the last time we hung out. But eventually we did have to go to bed – there was a convention to go to tomorrow, after all.
FRIDAY:
The first day of the show didn't start until later in the afternoon, so we decided to start our day with some DDP Yoga. Alan is a huge fan of wrestling and MMA, and one of the fighters has their own yoga DVDs called DDP Yoga. I had never done it before, but Alan, Lora, and myself decided to start our day off right with some yoga moves. It was a fun way to warm up (and wake up) in the morning. I often find that exercising before a show helps give me more energy, and since there wasn't a gym nearby this was a great alternative.
After everyone showered and packed up, we headed downtown but didn't go to the show yet. We decided instead to check out the Will Eisner exhibit at the Cartoon Library and Museum. I'm not going to lie – I was wicked jealous that Chicago didn't have a cartoon library when I saw this place. It was pretty awesome.

Ohio has a Cartoon Library / Museum? I want one of these, too!

The Spirit!

An original Will Eisner page
For those of you who don't know who Will Eisner is, I highly recommend reading up on him. Will Eisner was a pioneer in visual narrative and sequential storytelling, and it was incredible to get to see some of his original pages (some of which were never even published). His pencils, his inks, his corrections – all of it helps to better understand his process. And their exhibit is absolutely stunning. I highly recommend going to see it – and did I mention, it's free?
After the library, we headed to the show to set up our tables. Thom Zhaler (Love and Capes), Lora, Alan, and myself were all in a row. I love tabling next to my friends because 1) you get to hang out with your friends, and 2) you have someone to give you some coverage if you need to walk away for a restroom break or something. I always have more fun at a show when I get to exhibit next to friends.

The table is all set up and ready for commerce!
The show floor layout is more like what a comic convention layout should be: with vendors in front, artists in the middle, and celebrities / actors in the far back. This helps to draw traffic through the entire convention floor, instead of putting artists in the back (cough cough Wizard World Chicago) and not placing celebrity artists throughout the alley, where there's nothing to draw the attendees. Mid-Ohio is a much smaller show than Chicago, granted, but this is a layout done right – and thankfully, it worked this weekend!
I expected Friday sales to be pretty low (heck, looking at my numbers from the last time I was there, Friday was pretty low). We had some things working against us:
1) It was Halloween
2) School's in session
3) It was a work day
4) Friday was a shorter con day
Any of these things could be bad, but despite this the sales for the day were pretty solid. Lots of people bought copies of the books (including the new Albert the Alien vol. 1: New in School graphic novel that we premiered at the show), and lots of people were in a very positive mood. Often at a show you'll find people "just looking," who don't even want to be pitched to, but Mid-Ohio had people who were "just looking" but they were still interested in your pitch. This was very refreshing.
After the show ended, the gang broke down and headed to a restaurant for dinner. We met up with some additional friends and ate (what I thought was a very small portion for the price, and I'm from Chicago) some very delicious food. After we headed back to the Innes house for a night of storytelling and hanging out with friends.

Hanging out with President George Washington and the gang at the Innes' household
SATURDAY:
The show opened earlier, so it was a bit of a rush to get out of the house in the morning and get to the show on time. Thankfully, we didn't encounter any issues with traffic on our way in (although parking was a slightly different story), and were able to set up before the VIPs started walking around. The first few hours of the day were pretty slow, and had me a little nervous about the day. But then things turned around – BIG TIME.
Saturday has been a strange outlier for me lately, with Friday sales being stronger than Saturday (not something that's typical in the convention scene). However, this Saturday broke that trend very quickly. In fact, by mid-day I had sold out of almost all of my trades, leaving me with 2 copies of Albert the Alien and 1 copy of Killer Queen (Reading with Pictures was sold out by end of Saturday).
At 11am I went to the panel Thom invited me to, along with Lora and Alan, about self-publishing. It was a fun time, getting to discuss different approaches to publishing your work. With Thom and Lora primarily publishing their work through IDW these days, Alan and I talked about on-going self-publishing options, while they talked about how to migrate your properties to a publisher (and the benefits / detriments of doing so).

At one point I turned to ask what time it was. The answer was visually apparent: Adventure Time!
Around lunch time, Tracie took our orders and ran across the street to grab us some grub so we could keep selling. This is what Saturday at a show should be like – lots of people stopping to check out the books on your table, asking questions about comics (specifically the comics we created), and overall having a great time. People wanted to be there. They wanted to talk to us. And they wanted to buy!
After a killer day of sales, the group broke down and we headed to the Innes' house for some Chinese take out and football. Lora and Mike are big Ohio State fans, and they were playing a game. I don't follow sports at all (and having lived in Ann Arbor, I can't help but feel a certain playful resentment for OSU), but it was a nice way to relax after a day of working hard (and selling out of our stock).
SUNDAY:
The final day of the show is always bittersweet, because we all know the weekend must come to an end. This was no different. It was also bittersweet because, for the first half of the day, no one was buying anything. Now maybe it was because I had pretty much sold out on Saturday (and therefore, wasn't trying as hard), but Sunday is typically buying day. I had some strong deals going to attempt to move some of the smaller books I have, and also to move some of the artwork. I did finally get some commission requests (some of which were a lot of fun, like drawing someone's uncle from a photo on their phone), and that helped make the day pass by.

Sketch card commission: The Flash
About halfway through the day I finally sold out of all of my trades, and most of my floppy comic books. I decided to walk away from the table for a bit and start doing some of my own buying. The crowds were a lot lighter by this time (I think most of the celebrities had taken off by this point), and when I got back to the tables we decided to break down a little early. Most of the floor traffic at this point was exhibitors and dealers looking for things they wanted, anyway.
Before breaking down, however, I did get a pleasant visit from Shelly Block. My second Mid-Ohio Con I was next to Shelly and her husband, Patrick, who both worked at Disney on Duck Tales. They were the sweetest couple, and great table neighbors, and it was awesome to get to catch up with her a bit about their travels and adventures, as well as their experience over the weekend. They also had a stellar time at the show, so hopefully we'll all be returning again next year!
After breaking down, the group loaded up the cars and then headed over to Jenni's Ice Cream, a post-convention tradition that I look forward to every year. Mike and Lora were kind enough to buy me some ice cream as an early birthday gift, and we all hung out for a bit relaxing and decompressing after the weekend. This is the kind of moment that makes shows like this worth it to me. Being able to see people I only get to see once a year, and specifically at this show, and hanging out with them as if no time had passed at all between the last time we hung out. Always a great way to end a show.

Jenni's Ice Cream: a post-convention tradition!
After Jenni's, we said our goodbyes and started our 5+ hour drive back to Chicago.
Mid-Ohio was an absolute blast, and exceeded my every expectation in both fun and sales. It was a great time, and highly recommend coming to the show either as an attendee or as an exhibitor. A smaller artist alley, a strong floor layout, and a great atmosphere and attendee demeanor made for a fantastic weekend. Also, good friends help make for a great weekend, too!
Anime Central (or ACEN, as it's often called) is the 3rd largest anime convention in North America, and I have had the distinct privilege of being a returning guest of honor for 6 years in a row. ACEN is a lot of fun, I call it "the con that never sleeps," and it's set the bar for how well they treat their guests year after year. It's seriously my favorite show, and this year was no different. Let's dive right into the events of the weekend….
THURSDAY:
The day before the show started I headed over the convention center to say hi, get my badges and agenda for the weekend, and to hang out at the Hyatt restaurant and get a little comic work done. I brought along the iPad, which has become my favorite portable tool for working on scripts on the go. It's light, portable, and the keyboard case I bought for it is very easy to use.

Working on the next Albert the Alien script at the bar before the show
I also had a chance to pay a little homage for a friend of mine who isn't with us anymore. My friend Kim brought me to my first ACEN back in college, and after we graduated it was the one time in the year we got to hang out. Unfortunately, Kim passed away from epilepsy several years ago, and so I decided to honor her memory this weekend in a few ways. This was one of them, but the other would happen Friday night during the Panel that Shall Not be Named. More on that in a little bit….

One for me and one for absent friends
I was visited by a lot of friends while I sat the restaurant, and had a few drinks and meals with them as they came and went. I eventually got my room key and checked in, and my wife dropped off the rest of my stuff not long after that (thank you, honey, for driving my heavy stuff so I didn't have to carry it on the train). Towards the end of the evening I went to the Green Room for their industry mixer, meeting all of the guests who had arrived by that point and mingling a bit. However, I also got invited to go see Godzilla opening night in IMAX 3D. I'll post a review about the movie at some point in the near future, but I can say this – DON'T GO SEE IT IN IMAX 3D. Not worth the extra money.
After the movie ended I went back to the hotel and went to bed. ACEN is an exhausting weekend that often results in me losing my voice, and I wanted to get as much rest as I could.
FRIDAY:
Friday morning started off early, with me hitting up the gym with my fellow ACEN workout buddy Jessie Pridemore. Jessie and I have somehow just met in the gym over the last several years at this show, and this year I decided to reach out to her and make it an official meet up. The two of us motivate and push each other, help each other out with spots and whatnot, and ultimately get to hang out and have fun before the show starts. Plus, working out first thing in the morning tends to make me feel energized for the rest of the day. And I had a LONG day ahead of me.
I took a quick shower, went down for breakfast, and met up with fellow comic guest Josh Elder (Scribblenauts, Mail Order Ninja). We were both there representing Reading with Pictures as the educational guests of the show, and after breakfast our handler escorted us to opening ceremonies. We sat through the introductions before we had our chance to go up on stage and give our pitc – the beginning of which I gave Josh a hug and whispered "Hail Hydra" into the microphone. Sadly, I don't know that anyone actually heard the exchange over the applause.
We pitched ourselves and our panels, and then headed straight out to the floor to set up. The convention floor was set up a little differently this year, with an Industry section up front and Artist Alley behind it. This is not unlike how Reed sets up their shows, and it created some good flow overall for the floor. Unfortunately the vendor who set up by us had a 13 foot tall vertical display banner, so our tables were a little obscured and this hurt sales for the first day.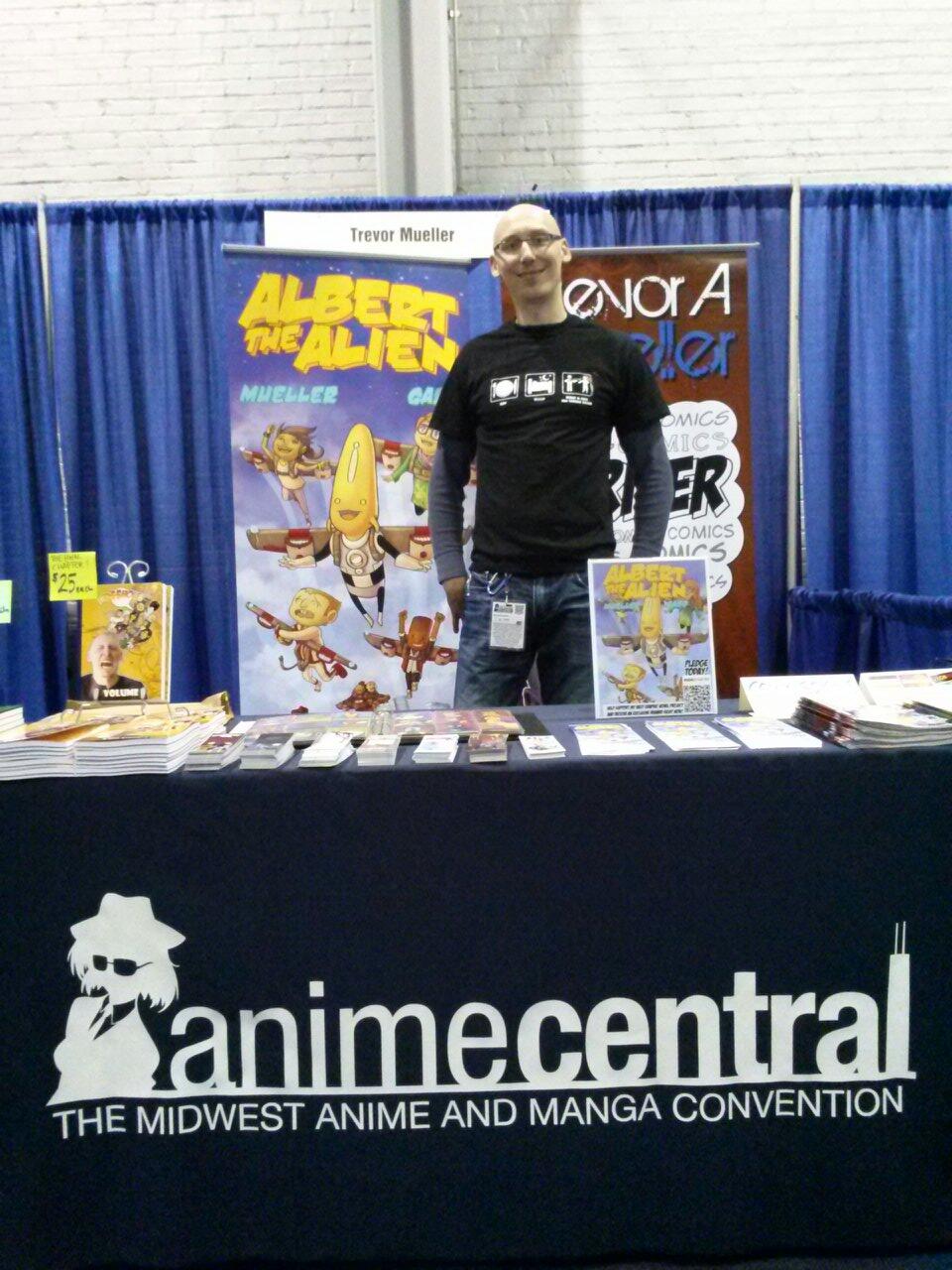 The booth set up (original location)
Josh primarily worked on some comics and I sold to anyone who came by (when they came by), but I spent most of the day trying to figure out how to move us closer to or inside of Artist Alley. Eventually my artist Gabo offered me a half table, and I decided to take him up on it on Saturday.
Our primary goal during the weekend was really to promote the new Kickstarter we had launched for Albert the Alien. Kickstarter campaigns are a lot of work, and being unable to tweet and promote because of the event could have hurt the campaign. But we turned it into a positive by handing out some vertical fliers with QR codes that linked directly to the pledge page, and to incentivize pledges during the weekend by offering an ACEN exclusive reward (which was a mystery prize).

The Albert the Alien Kickstarter promotional handouts given out at ACEN
I also had a few new book products on the table, including the final chapter of @$$hole! and the new limited edition box set.

The limited edition box set
After AA closed, Josh and I headed up to PDR (where they serve guests meals) to grab a quick bite before our panels started. During that time, my wife showed up so she could enjoy a bit of the show with us as well.
All of our panels were in panel room 3, and they were often back to back – so it was very easy to get comfortable in the room and switch off back and forth with each other. Our first panel was an introduction to Reading with Pictures, which was did together. Josh talked more about the organization and it's goals, and how it was founded. I talked more from a content creation standpoint, and what it was like to create stories that contained educational content but also had a fun adventure story. As always, we worked off of each other well and gave a very informative and entertaining panel that the attendees really enjoyed.
After that, Josh gave a panel about working on licensed properties – including his latest work on Scribblenauts for DC. After his panel ended, however, I got to move into the main event – The Panel that Shall Not be Named.
This is a panel ACEN has me do every year, and has a lot of history at the con. It's a ton of fun, but this year I decided to mix it up a bit and make it 100% brand new. I can't say what happens in that room (you have to be there to experience it), and the title alone usually draws about half of the crowd, but I like to mix it up so it's something new for the people who do come back each time. This time I even threw in a few curve balls and told a story about my friend Kim, which had some of the people in the audience in tears. Hell, I was tearing up telling the story. But I recovered with a few additional fun stories about how I met my wife and how I proposed….and then showed them some of the fake movie trailers from our wedding.
After the panel I bum rushed it to the improv panel (the same folks put it on at Con Alt Del, and it was a fun time) and I jumped in for a few quick skits. I was only there for about 10 minutes, however, before the panel ended. I had done some skits with this same troupe during Con Alt Del late last year, and they were a lot of fun. They also offer improv classes, for anyone who's interested to join.
After that, we went back to the hotel room to go to bed. I had been at the gym by 7am that morning, and we went to bed around 1am – and I had to start my day with a 9am press call on Staurday. As I said, the show's a lot of fun – but you do have to work, too.
SATURDAY:
Saturday morning I got up, grabbed a quite bite of breakfast, and ran to the press event. It was a group of about 6-10 people asking questions about Reading with Pictures and educational comics. As the Marketing Director for the organization, I answered their questions well and then met up with Josh to hit up the floor. My friend Anna joined us when Beth went home (her first anime convention), and we relocated to Gabo's half table in artist alley to help increase sales.
Sales were quite a bit stronger in AA, and it was nice to be around other creators for a while. We sold our hearts out, and then went to grab a quick dinner between AA hours and our panels.

One of the ACEN exclusive Kickstarter rewards – these were very popular
Josh started off the evening of panels with his "Case for Comics in the Classroom" panel, talking about the benefit comics bring to education and the unique way they can be leveraged in an academic setting. After that, I jumped straight into my "Making Time for Making Comics" panel, which was essentially about time management. Making time for your creative projects. As someone who has made a career out of planning, project and time management have been critical to me in both comics and my career, so it's something I had a lot to talk about. And it was a great panel with a large audience and a lot of engaging questions – and some strong sales after.
After that, Josh and I both did a "Breaking into Comics" panel talking about our two very unique stories and how we've both walked different paths to getting where we are today. It was a great chance to share some funny and insightful stories from conventions, as well as some more engaging questions from the audience. It ended with a standing ovation and a 45 minute buying and signing line – which I've never had before! Since we were the final panel in the room, though, we were able to go longer, which was great.
We skipped the 18+ Cards Against Humanity panel (which I've done before, and it's a lot of fun, but it was going to end in 10 minutes) and instead dropped our stuff off at the room, said goodnight to Anna, and then headed up to the Green Room to hang out. It was Josh's birthday, so I interrupted everyone and lead them in singing him happy birthday. There was much cake and merriment after, and long conversations late into the morning. Around 3am we all headed back to the room and went straight to sleep.

Another original from Gabo for the Kickstarter promotional exclusive to ACEN
SUNDAY:
The final day of the show was a slightly later start for us. We had some quick breakfast, and then I headed back to my half table to sell my heart out on the final day. Sales were similar to the previous day, but we did have a lot of interest in the Kickstarter from people who had stopped by earlier. They wanted the exclusive, which was a 3-panel strip you could only get at the show, with an area for Gabe to draw an Albert commission on the back. We gave out about 7-10 of these at the show, so it was definitely worth it.
Eventually Beth showed up to help out, we kept selling until the very end, and before I knew it the convention was over. We broke down, said our goodbyes, went into the hotel to validate our parking (and say thank you to all the staff and volunteers who helped make this weekend possible), and then headed home.
ACEN is a convention that never sleeps (and I never sleep at it), and it's a lot of hard work. But it's a really fun weekend, and it's a show I hope to continue to guest at for years to come!
C2E2 has come and gone once again, but as the largest local show I attend it was once again an amazing time – and my most profitable year at the show to date! With that said, let's go into the specifics of this awesome and amazing show!
WEDNESDAY:
My buddy Phil showed up from the airport and we went to grab a bite to eat while waiting for his boxes to arrive at FedEx. Hot Doug's was right around the corner from the store we were getting supplies at, so we went there. Now, it's been a few years since I've had Hot Doug's, and all I can say is this: I've forgotten how absolutely AMAZING their dogs are! I ordered the jalapeno dog with bacon and cheese, and then we shared some cheese fries (I'm skinny, and can't finish a whole thing of fries AND the hot dog).

Hot Doug's Hot Dog…the best way to start a convention
After lunch, we went to grab Phil's boxes and headed over the convention center to drop them off. The place was still being set up (it's interesting to see it so empty, juxtaposed when the show is in full swing and there are thousands of people walking around), and we quickly and easily dropped off his stuff. Phil took me home and then headed up to hang out with his other friends before the show started the next day. And I would have a boat-load of people coming in to stay with me then, too….
THURSDAY:
During the day I spent cleaning the apartment, but at night my friends started showing up. I usually put up several of my friends for the show, especially the ones who put me up when I attend other cons out of state. I was joined by Russell Lissau (Aw Yeah Comics, Strawberry Shortcake) first, followed by Steve Horton (Amala's Blade) and then eventually Josh Elder (Scribblenauts Unmasked, Mail Order Ninja) and then Phil eventually came back as well. Much whiskey was poured as we sat around and caught up on the last several months since we last saw each other. Since my wife had work the next day, though (and we would be going to the convention center early to set up our booths), we didn't stay up too late. Sleep was an important commodity at this show, and something we soon discovered was in short supply….
FRIDAY:
Morning came around and we all got up and had some coffee and breakfast at my place, and then headed out to the show. Set up was pretty quick since we had a new face at the Reading with Pictures table this year, Jim McClain (Solution Squad). Jim has exhibited with us for a while now, but this was the first year we had an extra body behind the table at C2E2 to help out. It made things nice and easy for taking breaks, holding meetings, and actually getting out to see friends in artist alley. And that's exactly what we did, with Jim running the show at the booth.

The Reading with Pictures table
Dean Trippe (Something Terrible) was also at the table for most of the weekend, signing copies of the poster prints for his recently completed Kickstarter campaign. I've never hung out with Dean before, so it was a nice breath of fresh air to have someone new to talk to and hang out with at the table.
I had secured 18 copies of the Reading with Pictures volume 1 anthology from a friend who still had some, and we sold through most of them on the very first day of the show. It's a credit to how awesome that book is, and how much support it still receives from people that it can sell that well 4 years after it came out. And volume 2 comes out later this year!
Russell and I took turns on break, and when I was away from the table I was out talking to creators in artist alley. The entire last row was almost all all-ages creators, and it takes me about 4-6 hours to get through artist alley at a show like this now because I know so many people. I won't name names, because I'll accidentally forget to mention someone (or come off like I'm name dropping, which isn't the intent), but they're all great friends I've met through the years and really have appreciated their insights and critiques, their support of my work, and I've enjoyed reading their work as well. Also, they're all wicked funny.
I mentioned earlier that sleep was in short supply, and that was definitely true on Friday. Just about everyone I talked with, even if they had gotten in a day or two earlier, was exhausted and about to pass out at their table. I don't normally sleep the night before a convention (too excited), but adrenaline usually keeps me going. Thankfully, this isn't something that stuck with my buddies in AA. By the next day – after a good night's sleep and some much needed food – most were back to 100% or better.
The first day of sales and networking ended, but then the group split up. About half of the team went to China Town for dinner, while the other half went to the Reading with Pictures Level Up for Literacy charity event at the HeadQuarters Beercade. We were joined by Mark Waid (Daredevil, Kingdom Come) and Jimmy Palmiotti (All-Star Western, Harley Quinn). They had a number of other celebrities there I unfortunately didn't get a chance to meet (including the creator of Cards Against Humanity and the actor who played Scorpion in the Mortal Kombat series), but for $40 we got bottomless pizza and some free drinks, and unlimited arcade game playing. The place mostly had pinball machines, but there was enough variety to keep it fun.
After around 10pm the music got too loud for me (and a lot of typical bar crowd people showed up, who are not my people), so I took off for home to host the friends who just got back from dinner in China Town. We weren't up for too long, and eventually went to bed in preparation for Saturday – usually the most populated day of the show.
SATURDAY:
Saturday is the big day. The day a convention typically gets the most traffic. And yes, we were definitely crowded. And almost sold out of all of our books! The breaks every 2-3 hours was a nice touch, and I started chatting up some editors and creators about future comic projects. Networking is something I've been sorely lacking in at shows like this, but thankfully we had extra coverage at the table, so that was no longer a hurdle. I had some productive meetings, exchanged some business cards, and would go back to the table to sell books for a while. Russell would take his break when I returned, and we'd do this every few hours.
A bunch of my friends who were not exhibiting this year but were just attending arrived on Saturday, and stopped by the table so we could catch up and mingle. We made a massive dinner reservation at my favorite sushi place in the city, Niu. We had 23 people in our party, and took up the entire back of the restaurant. We weren't the only people from the convention there, too, which was incredible to me. We saw a lot of celebrity comic creators in there with their significant others and friends or sponsors enjoying some time away from the convention as well. We let them enjoy their dinner, since we appreciated the opportunity to do the same.
After dinner, several of us paid our bill and ran out because Jenni's Ice Cream was closing soon. This is a tradition for us at Mid-Ohio Con later in the year, but since they opened a location in Chicago not too far from where I live, we decided to extend that tradition to this show as well. We made it to the store just as they were locking the door, but thankfully they let us in anyway.

Post-con Jenni's ice cream run, with Alan Evans (Rival Angels)
We took some selfies and sent the pictures to our Ohio friends, and then headed home to go to bed before the final day of the show.
SUNDAY:
The final day of the show, and often family day (or "kid's day"). It's a day where I clean house, since I have so many kids books on the table. However, I let Russell open the booth while I set up for my Reading with Pictures Live Reading panel. Jim was kind enough to join me, since my voice was faltering (too much talking over the last several days), and I couldn't do voices very well. The group started off quite small, but we quickly gained a crowd of interested children as they heard the bizarreness of the story that is Albert the Alien, and their parents heard about what Reading with Pictures as an organization was trying to accomplish. We read a few stories:
1) Albert's new adventure from the upcoming Reading with Pictures volume 2
2) The first issue of Albert the Alien is New in School, which we'll be turning into a graphic novel this year (Kickstarter starts in May)
The kids loved the reading, and several of them actually asked for more! This is always a great feeling, but unfortunately we wanted to get back to the table (and I had almost no voice left). Special thanks to Jim McClain for helping me out on this panel! I couldn't have done it without you.
I had a few more meetings and introductions made on Sunday, then ran around to say my goodbyes before breaking down the booth. I had 3 books left when the weekend was done, and had sold through everything else I brought. This was a GOOD weekend.
We helped Phil break down as well, since he was by himself and has a massive setup, and then got him in a cab for the airport while Russell, Josh, and myself headed back to my neighborhood to go out to dinner. We brought the wife as well, and hit up a local bar called The Pony. We each did a shot, ordered some very tasty Buffalo Wings, and chatted the night away.

Beth and I out for post-con dinner / drinks

Josh and Russell enjoy the final wing of the night. Great sauce!
At one point during the night, we saw a bouncer grab a patron in a choke hold and take him out of the bar. We weren't sure what had happened, but our waitress said he was rude to her and needed to be removed from the building. I like when a place respects it's employees and creates a safe environment for them, so we made sure to give her a little extra tip at the end of the night.
After dinner Russell took off, but Josh was crashing with me for a few more days. We had some more drinks and played some video games to unwind, but didn't stay up too late. Especially since I received a special surprise the next day (see below)….
Overall, C2E2 2014 was the best C2E2 yet! The show continued to show more organization and had a huge attendance of fans passionate about comics – and who were buying comics! Reading with Pictures had a fantastic location (right by the entrance), and because Jim was mainly running the table, we had a chance to go out and network and take some meetings with editors and creators.
It was awesome, and I can't wait to attend the show again next year!

The pleasant surprise that was waiting for me at home after the show….
Convention season is off to a strong start, and C2E2 was my second convention of the year. I was working the Reading with Pictures booth (#1330) over by Marvel and the American Libraries Association (ALA) along with fellow comic creator Russell Lissau (Strawberry Shortcake), and Gabriel Bautista (Elephant Men). As well as the return of our internet, Aliza, who was helping us throughout the weekend.
Despite being in a bit of a funk the entire weekend (for reasons I have yet to fully understand), the weekend was an amazing success – both socially and financially.
FRIDAY:
Friday morning the group got up, packed the car, and left for the show to set up the booth space. Reading with Pictures (RWP) had a fantastic location, which got a lot of traffic. We were selling through the last of the RWP hardcover stock (the softcovers for volume 1 having sold out last year), and sales were strong and steady throughout the day.

Russell Lissau, Trevor Mueller, and Gabriel Bautista run the Reading with Pictures booth at C2E2
In addition to the anthologies, I was also selling my all ages books Junkyard Chase and Albert the Alien. Overall, sales were strong and the fans were very receptive to trying a new book.
After the show, the group joined up with several other creators and went to China Town for dinner. A little stir-fry place with poor service but delicious food was the topic of the day. And despite it taking forever to get our meal, the server did bring us a few free appetizers and meals to make up for it.

Dinner in China Town
After dinner, we headed back to my place for much needed sleep. The major events of the weekend were yet to come!

After dinner, the group stands outside the restaurant. Photo by Russell Lissau
SATURDAY:
Waking up early, the group headed to the convention and set up the booth. I had a very important meeting set up with an important creator / editor, and it was very fruitful (announcements forthcoming, once I can talk about them). Gabe and I talked some business post meeting, and plans were made to really blow out some future projects we have in the pipeline.
The show was almost sold out on Saturday, so the convention center was wall-to-wall people. In addition to the plethora of attendees, some of our comic creator friends were in attendance – including Rival Angels creator Alan Evans.

Alan and Tracie Evans, Trevor Mueller and Beth Noonkester stand in front of the RWP booth
After a brief walk around artist alley, it was back to selling at the booth. A long day resulted in lower sales volume – which was also the case at NYCC last year – but still a ton of fun. And, the sales were more than made up for the next day.
After the show we grabbed Bryan Glass (Mice Templar) and headed to my favorite sushi place in the city, Niu. The group enjoyed a good dinner and relaxing beverages – followed by more much needed sleep.
SUNDAY:
The final day of the show was kids day, and man oh man where there a lot of families at the show. And those families were buying! We sold through the RWP hardcovers, Russ sold a ton of Strawberry Shortcakes, and I sold through a solid chunk of Albert the Alien.
During the afternoon, Josh and I had a live reading of new RWP material. Unfortunately, due to a technical issue, we had to read from the Albert the Alien books instead. This went over really well with the audience, who laughed at all the right spots and enjoyed all of the jokes through. Between the stories, Josh talked about some of the other stories appearing in the Graphic Textbook (RWP vol 2), and how those stories can be applied to an academic environment. The reading was a huge success, resulting in several families coming back to the RWP table to purchase all of the copies of Albert (and learn about the newly launched webcomic series)

Russell Lissau, intern Aliza, Trevor Mueller and Gabriel Bautista laugh it up at the booth
Meanwhile, back at the booth, the gang was having a fun time selling books and hanging out. And even posing for pictures with fans. Gabe was in full form, and providing sketches for kids – and selling commission sketch cards.

One of our many fans poses behind the booth with the creative duo

A fan who wanted a sketch of a character we didn't know. So they decided to sketch it for us

Intern Aliza, Trevor Mueller and Gabriel Bautista try to sell copies of the book to Trevor's fiance. She already owns copies of everything, however….
At the end of the show it was time to clean up, and get home. The weekend had been a lot of hard work, but a ton of fun and rewarding in every sense of the word. I can't wait until the next C2E2!