Posts Tagged 'romance'
26 items.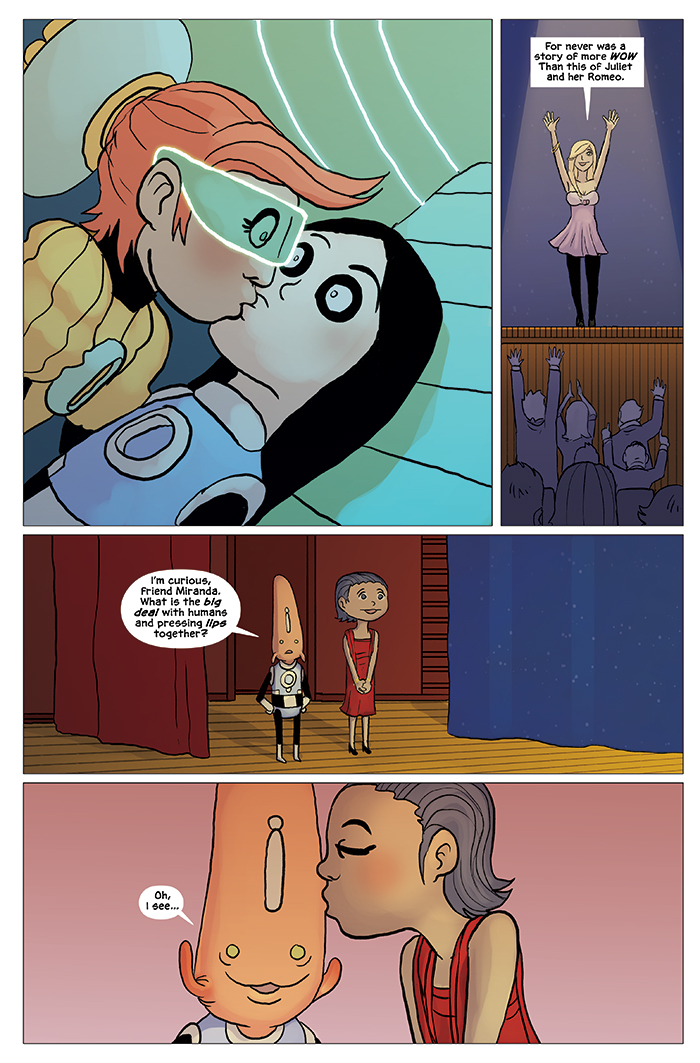 The "will they, won't they" question is answered in today's Albert the Alien!
So the 7th grade performance of "Romeo and Juliet…in SPACE!" concludes on a much happier note than the actual play of "Romeo and Juliet (not in space)," and it ends with kisses all around! In fact, for most of the characters here, these are their first kisses! Gerty in particular, since she had mentioned it earlier, but also for our hero from the cosmos – Albert!
One of the reasons I wanted to set Albert's adventures in middle school was because this was the time when students started to come into their own and start forming into the person they would become in their adult lives. This includes (but is not limited to) starting to date for the first time and exploring their feelings, emotions, and all that mushy stuff that makes for good storytelling (especially drama)! Now, I'm not saying we're going to be focusing on the romance moving forward – far from it – but it should continue to play a factor in future storylines. We'll see more romance in future adventures of Albert the Alien. After all, romance is a part of our world (a very beautiful part), and Albert's here to experience our world and our culture.
Plus, we have that Homecoming Dance coming up much later in this story arc.
Two more pages remain in this chapter, which will conclude next week! See you then!
My next convention is Kids Read Comics in Ann Arbor, MI (my hometown!). It's the first time I've done this show, and I'll only be there Saturday! No panels or anything, but I'll have lots of comics, original art, and be doing commissions all day! Come find me at the show!

Movie Review: Cashback (2006)
Director: Sean Ellis
Cast: Sean Biggerstaff, Emilia Fox
Plot: After a painful breakup, art student Ben Willis (Biggerstaff) starts having insomnia. To help pass the time, he gets an overnight job at a supermarket where his artistic imagination runs wild. He believes that he has the ability to stop time. As his sleeplessness grows, Ben begins to fall for one of the checkout girls. Can he overcome the trauma from his previous relationship and move on, or will he be cursed to continue not sleeping and freezing time?
Cashback is one of those rare movies that is very interesting and well written, yet also has some fantastic performances and deals with social issues that everyone has to face. At the time that I watched it, I had undergone a pretty serious breakup my own self, and even though I had started dating again, really hadn't started feeling like myself yet. This movie captures that feeling perfectly. The numbness and loneliness of romantic loss are felt throughout. The scenes of freezing time are almost artistic visual poetry.
Without trying to give anything away, there's a scene where Ben freezes time for two days trying to figure out how to undo what had already been done, and he knows there's nothing he can do to change it. It's a fantastic scene that really makes the movie stand out.
If you enjoy teen movies with themes of romance and love, be sure to check this movie.
Oh oh, the magical memory-loss hat is finally on sale. What havoc can Amanda spread with it? Perhaps we'll find out in another story down the road.
For now, I'm going to try for some funny short-form illustrated strips. Later, peeps!
February 25th, 2010
|
by Trevor
Awwww, looks like Amanda is totally rooting for Jess and Trevor. A happy ending after all.
But wait, there's one more page!
February 24th, 2010
|
by Trevor
Amanda's timing couldn't be any worse! Ah, the torment! Trevor was about to get the smoochies.
Also, that frog puppet on her hand is a toy that my mom got for Waffles so the cat would stop clawing the hell out of me. Unfortunately, the cat doesn't like playing with the frog puppet.
Go figure.
We're coming up on the end of this online romantic comedy. Then we'll go back to some illustrated stories. See what the ol' gang's been up to on that front.
Also, the kickstarter campaign for Reading with Pictures has started – and it's already well on its way to its goal. Be sure to check it out and pledge for the anthology! I'll have an 8 page story in the book, and it's going to have some awesome artwork by the very talented Gabriel Bautista! I'll be posting some artwork examples and story teasers in the blog eventually.
Also, I'll be attending ACEN this year in Chicago as a guest! The show's May 14-16, and it's always a great time. Be sure to tell your friends and attend the convention – it's going to be a rockin' time!
February 19th, 2010
|
by Trevor
February 17th, 2010
|
by Trevor
February 12th, 2010
|
by Trevor
Looks like Trevor just ignored everything Amanda taught him and went with the bold and daring path: telling the truth. Seems to be working in his favor, but is he completely comfortable with it? Find out next week!
February 10th, 2010
|
by Trevor
Like any good love story, you're gonna need a montage. Mine just has talking during it. Which means it's not a montage at all.
Trevor's ready to put the moves on Jess – will she go for it? Find out what our memory-loss protagonist has learned and how he applies it.
February 5th, 2010
|
by Trevor
It's so true – Jess deserves better than just average. So much for Trevor trying to pull his usual "slide through and get by" tactics. Amanda's too smart for that.
Can he win her over so he can win over Jess?