Posts Tagged 'russell lissau'
45 items.
February 23rd, 2018
|
by Trevor
Convention season is officially upon us, and has started off with a bang! Anime Milwaukee continues to be my first con of the year, and continues to set the bar – AND HIGH – for the rest of my convention experiences this year. I was a returning guest of honor, and had fantastic panels (with high attendance), and great sales on the floor. The staff and volunteers continue to make an experience worth having – and attendance increased over 10% this year, breaking the 10,000 mark!
A special thanks to all the staff, volunteers, and guest relationships folks who keep bringing me back and giving me a wonderful experience – one I encourage each of you to come have next year! This was my 8th year (out of 11) returning as a guest of honor, and I keep coming back for this same reason: the show is great, and I love being there.
THURSDAY:
After work, I packed up the car and headed over to pick up my buddy (and fellow guest of honor), Russell Lissau and his daughter. It was the first time I was car pooling with him in my new SUV, and I knew I would have enough room for his stuff, but was impressed I was able to fit all my stuff into only half of the trunk. Either my packing skills have gotten better over the years, or this car is much more massive than I originally thought. Or both!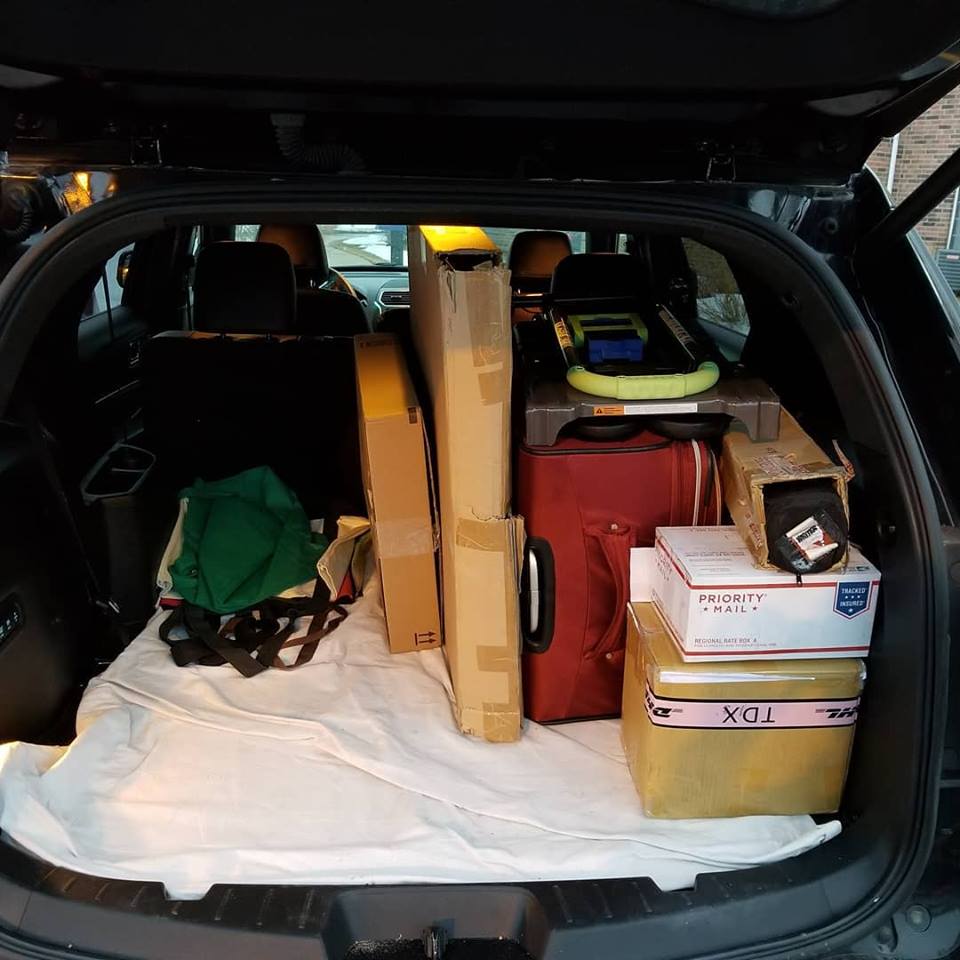 The trunk of the car, saving half of it for my buddy Russell – but was impressed that I was able to fit into half of it
We grabbed a quick dinner at a local burger place, and then headed up to the convention center. In no time at all, we arrived and unpacked. Despite having a dolly this time, it still took me several trips to get my stuff down to the floor (hey, my first year with merch…I'm working on it). Once there, I started to set up that night because I knew I would need a little time to play with the configuration. With a 3 foot book display, and a 14-inch vertical merch display, there wasn't a ton of real estate on the 6 foot table for me to set up all of my stuff…so I'm glad I gave myself the extra time to experiment.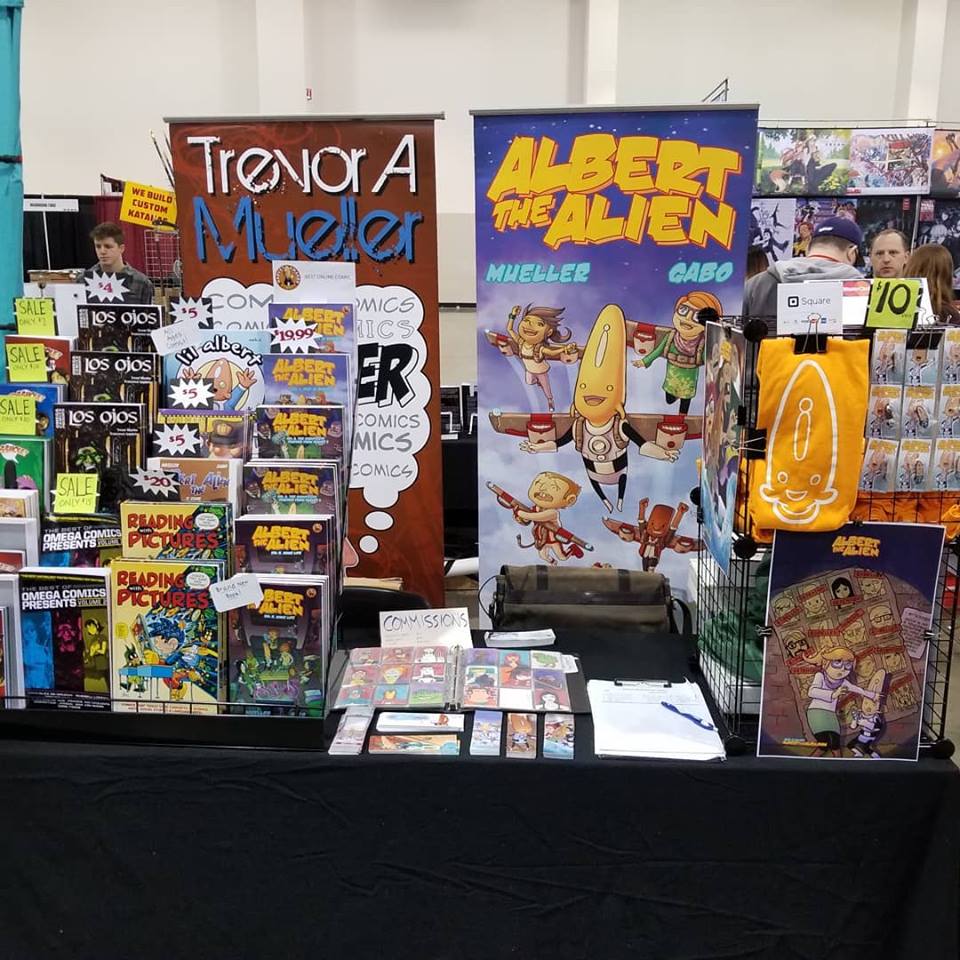 The booth, now with t-shirts, posters, and pins!
After setting up, the group went to the green room and had some food. We met a few of the handlers and some of the Japanese guests, and had a little food, but ultimately went to bed early – which is almost unheard of on a con weekend. But, thankfully, it helped set the tone for what would be an excellent weekend.
How late do you usually stay up at a con?
FRIDAY:
Friday morning we all went to the gym in the morning, including my buddy Russell (who NEVER joins us in the gym). I like to start my weekend with a healthy workout, as it keeps my energy high (and gives me a big appetite for breakfast). We headed over to the restaurant across the street from the hotel for a meal, and then went to the floor to finish setting up our tables before Opening Ceremonies.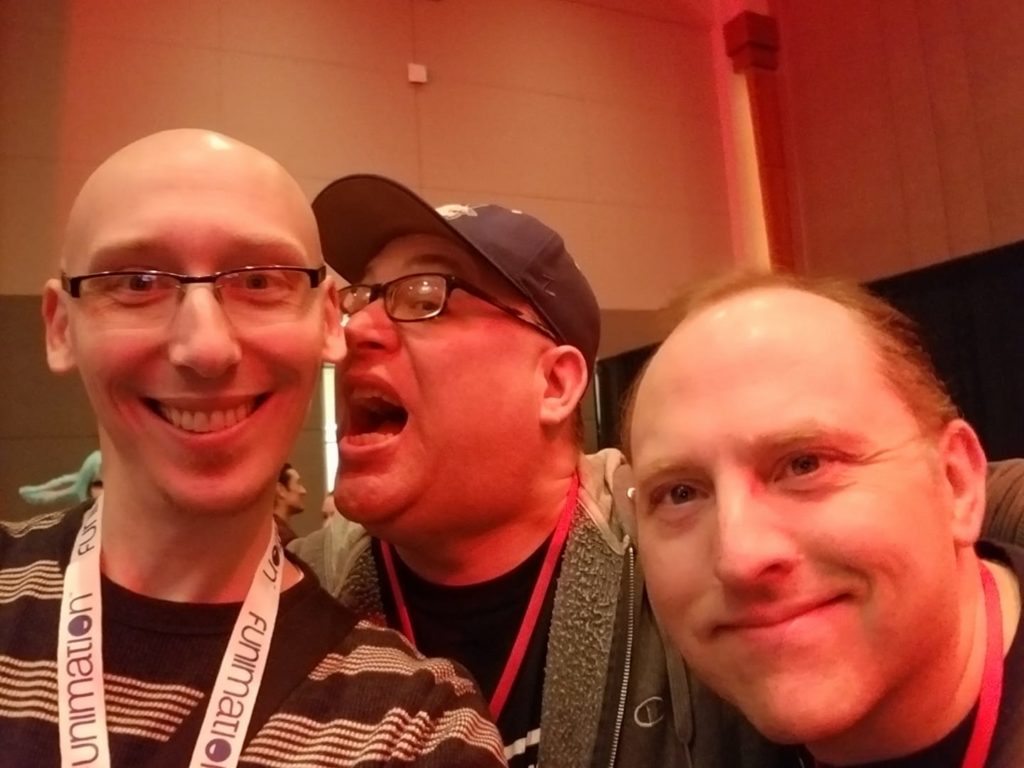 Behind the curtain at opening ceremonies with my comic pals, Russell and Alan
The comics crew headed over to Main Programming for Opening Ceremonies, and got to see the guests – many of which I hadn't seen in ages, and some of which I hadn't ever met before (despite attending multiple cons as guests together). All of the big voice actors were there, many of the cosplay guests where there in costume, and Samurai Dan and his wife were there with the dogs (which is always a hard act to follow on a stage). We all said our hellos, and then Jon St John – the master of ceremonies – introduced us all. He had a teleprompter in front of him with our names and bios (which were also displayed for the audience), but despite that he still got my name wrong, which would become a running gag throughout the weekend.

Opening ceremonies, this bald guy gave a talk for a while. It was fun. He was good looking. You should buy comics from him
After energizing the crowd, we headed back to the floor for finalizing set up and for the flood of people piling into the show. The day went by quick, but was a ton of fun. I also had a Writing for Comics panel at 2:30pm, which followed Alan's first Making Webcomics panel. I arrived a little early, and he handed some tougher questions about overcoming troupes to me. I participated in his panel and had some fun, but then immediately started into my panel. Attendance was solid, and I had some great engagement from aspiring writers (and some artists). After the panel ended, I went back to floor and continued selling until the end of the day.
What kind of programming content do you like to attend? What attracts you to a panel? The topic, or the panelists?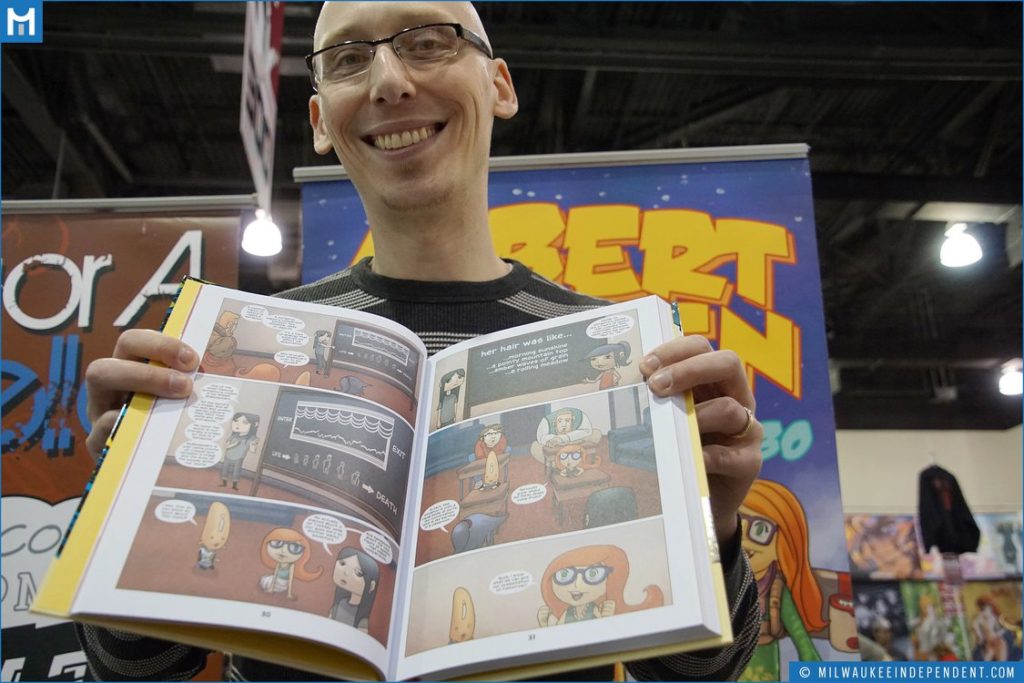 Showing off the product for some photos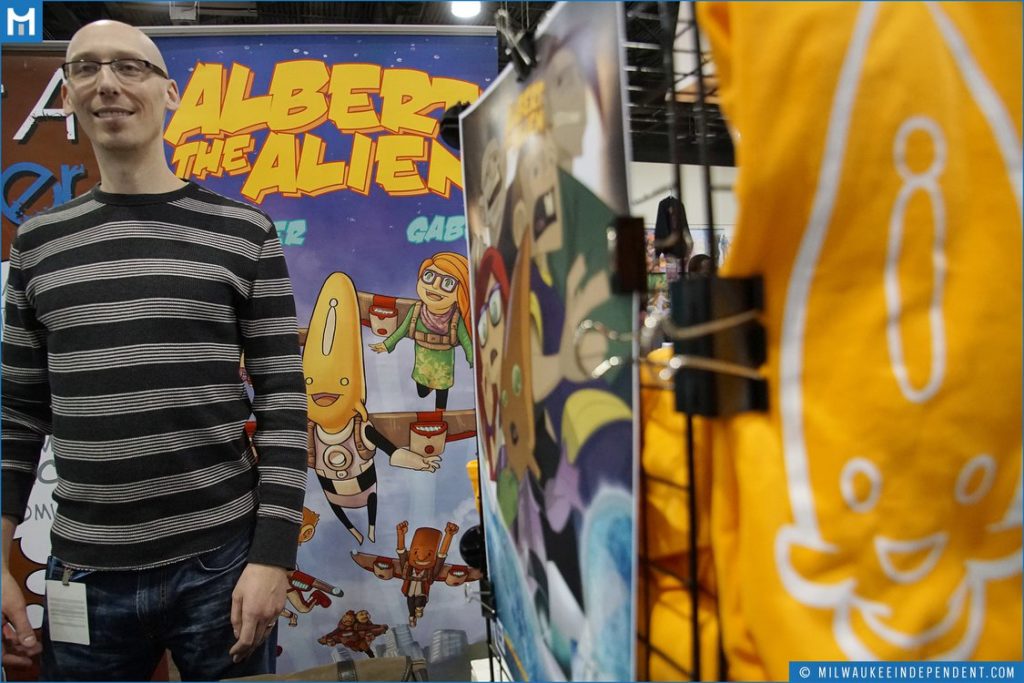 Standing and talking to photographers at the booth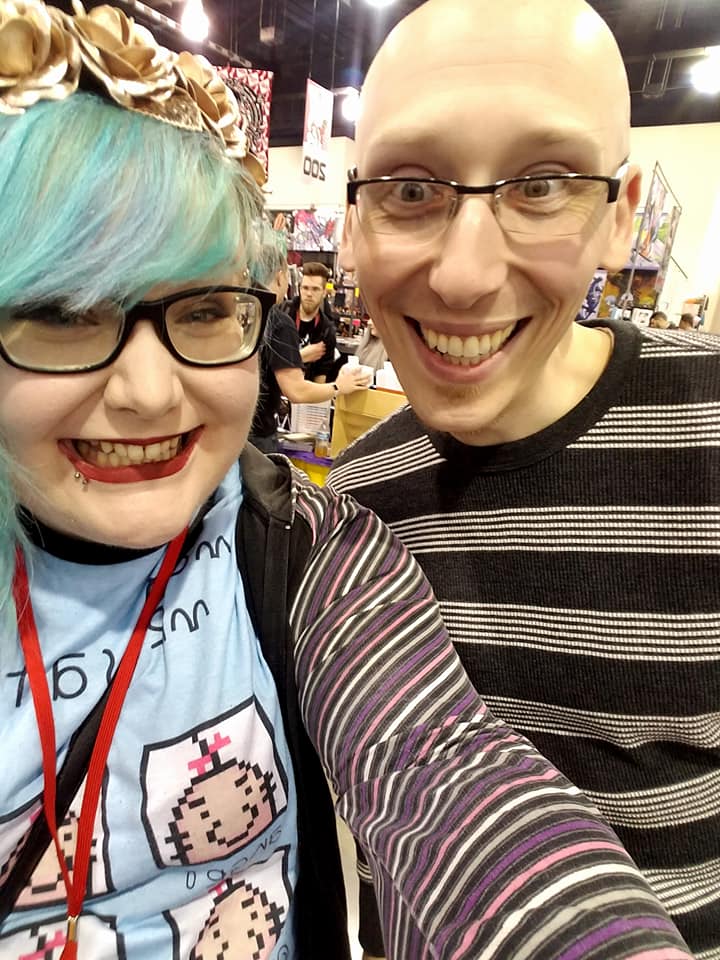 With the ever-incredible Mel!
After the floor closed, we headed to our rooms to grab some food (pizza from a nearby Italian restaurant we've never tried), and then went to the green room for some group toasts. It was the 30th anniversary of Final Fantasy, and many of the voice actor guests had done work for the FF games series. At the same time, we were toasting for our absent friend, Gyu, who has been a major presence in our lives both in and out of the con world. Gyu's absence was celebrated with a few fingers of 30 year old scotch – something he would enjoy – and it was a chance to talk to some of the voice actors I had not had a chance to meet previously.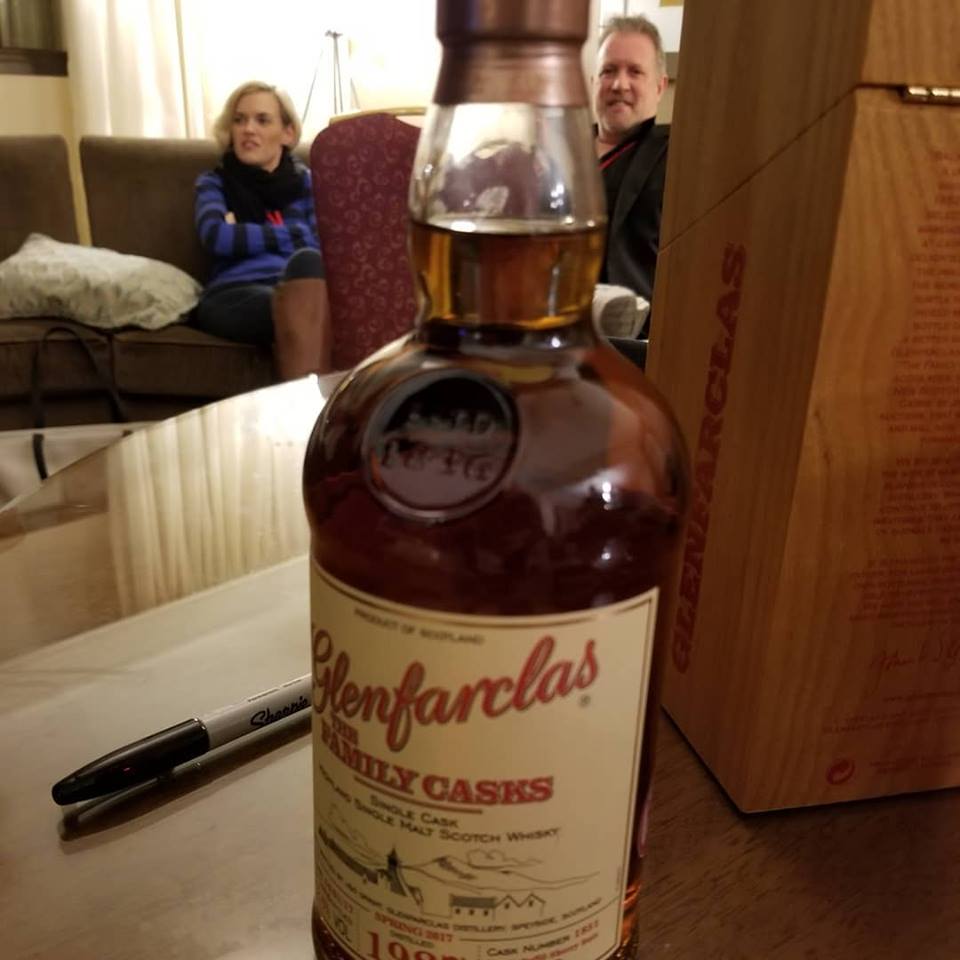 30 year old scotch in the green room, toasting the 30th anniversary of Final Fantasy (with photo bomb by Kari Wahlgren and Jon St John)
After the toast, we went to the VIP event in the top of the hotel, and hung out with fans. I got to talk to Johnny about his new band, and we talked merch (since I've been dabbing in t-shirts and pins, and he's looking at experimenting with some new stuff to sell at concerts and cons), and then we split so we could hang out with the fans. A number of Channel Awesome fans found me and started chatting me up, which was a blast. I got into some very impassioned talks about good and bad movies, which started to make me lose my voice (not good!), so I finished the evening listening to what they enjoyed (or didn't) about certain movies. After the VIP event, we went back to the green room for a quick snack, and then we all went to bed again (rather early by comparison to previous years). The rest was much appreciated.
SATURDAY:
Saturday morning started as all the rest do – got ready, grabbed some grub (this time at the Hyatt restaurant), and then went to the floor to set up and start selling. And sell I did! Man, the crowds were massive and the desire for original art and commissions was high! I loved it!
Around noon or so, Gabe and I went to our How to Draw an Alien panel, and re-arranged the room so it was more appropriate for a workshop. We gathered everyone around a few tables with paper and stuff to draw with, and we started talking about aliens and Gabe's method of design. Then we built our own alien creature together. His name was Bob, and he worked in corporate finance. We then designed his boss – a stop light with each light showing a different emotion. We then opened up the group to free design their own support staff – janitors, HR, marketing, and one guy even made a transportation alien. It was a lot of fun, and we all shared and had a laugh at the fun creations we had made during the class. After, we packed up the room and went back to our tables to keep selling for the day.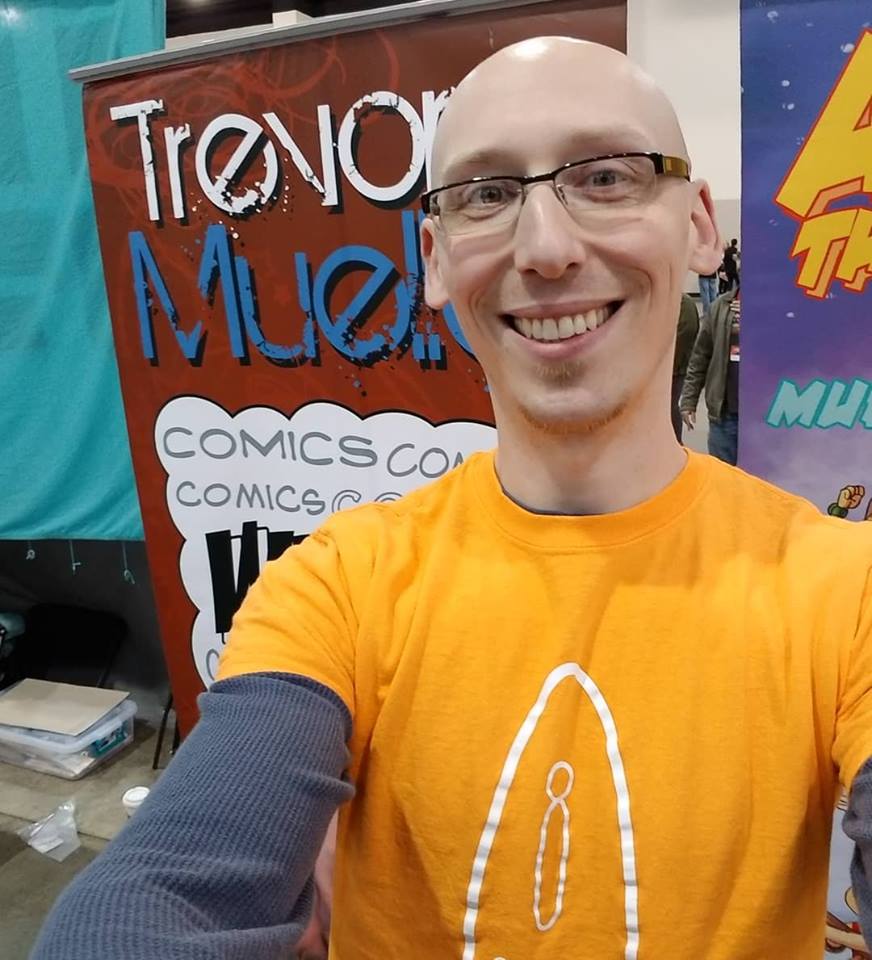 Come buy comics from this man at AMKE 2018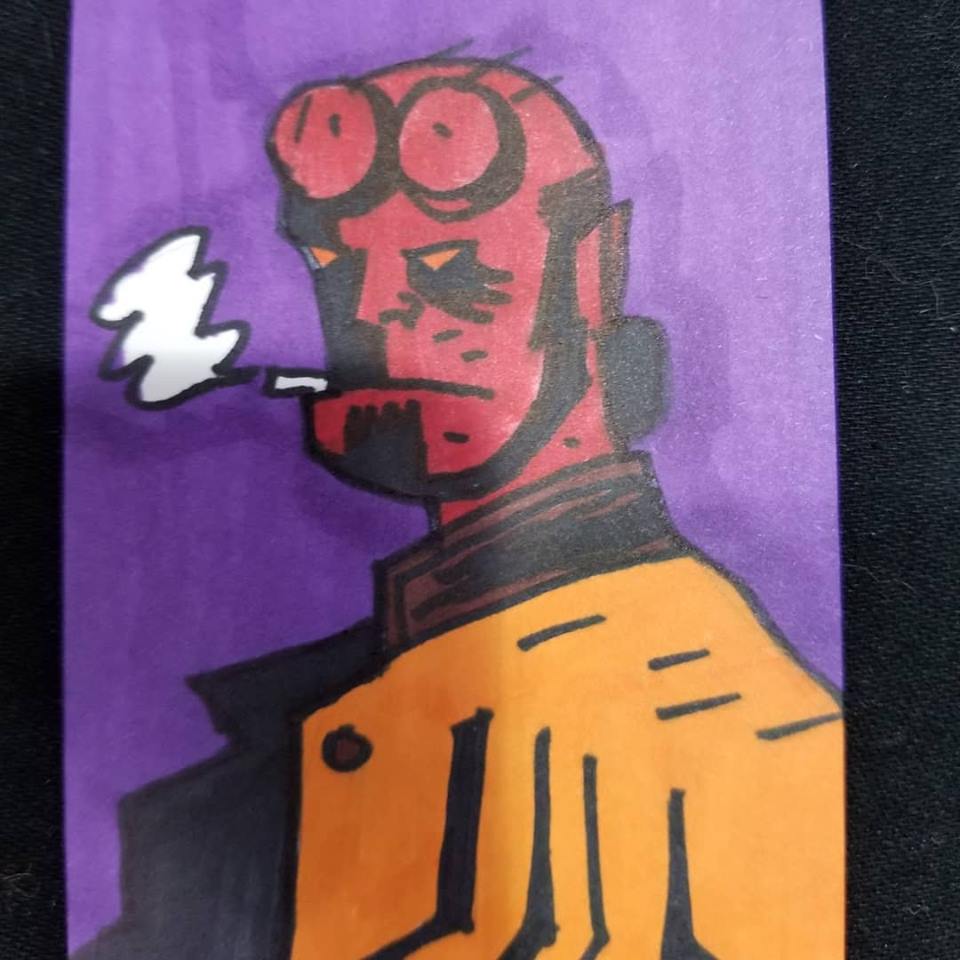 Hellboy sketch card commission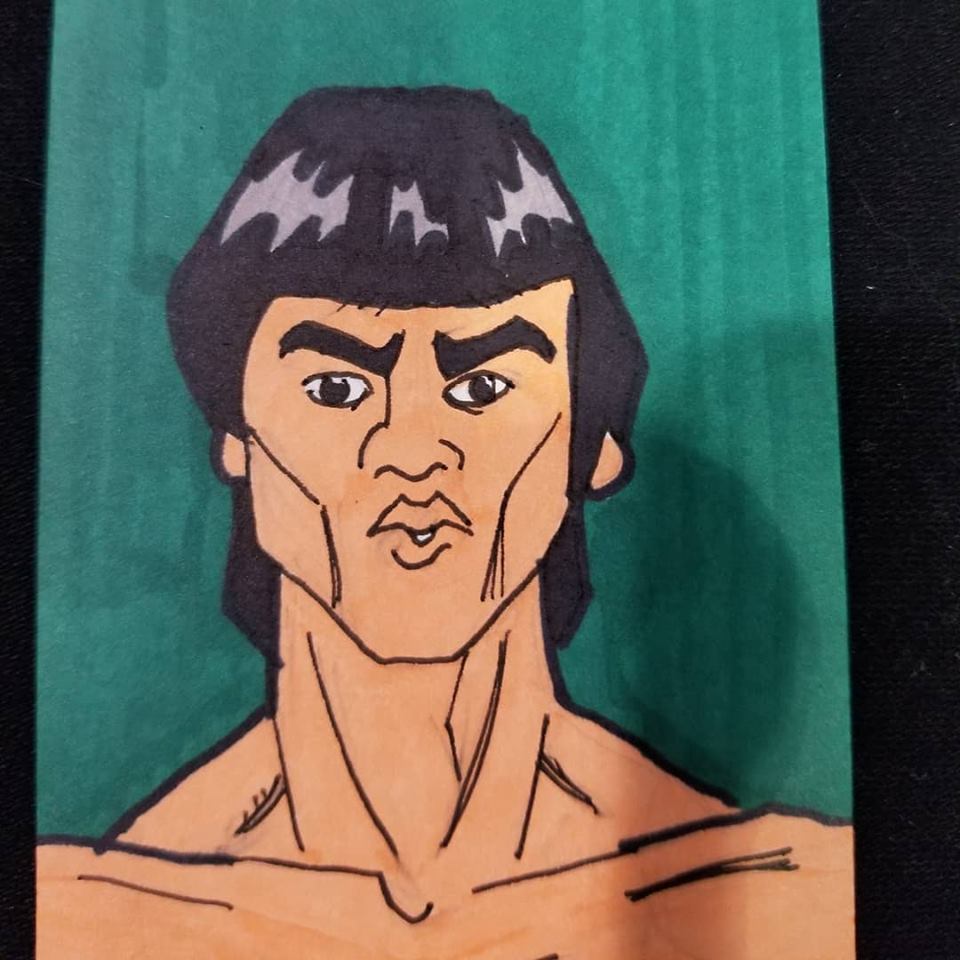 Bruce Lee sketch card commission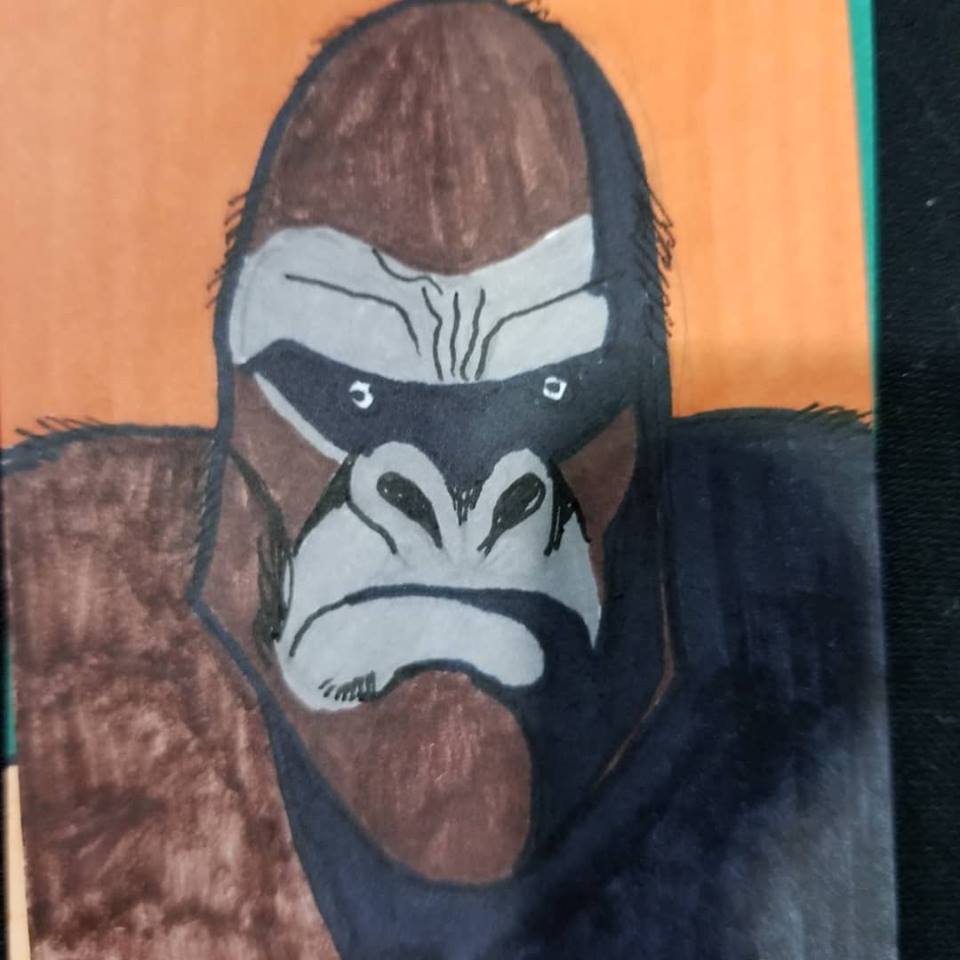 King Kong (from Skull Island) sketch card commission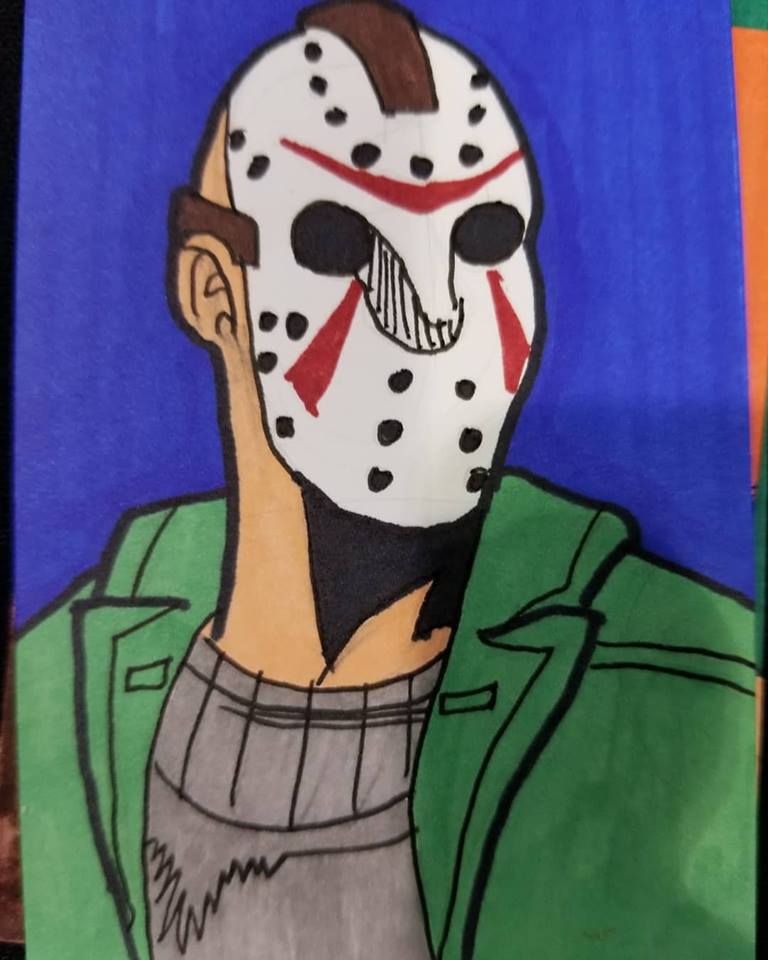 Jason (from MKX) sketch card commission
After the floor closed, I met up with my friend Lauren, who had driven up from Chicago to see me and hang out with our mutual friend, former Power Ranger Johnny Yong Bosch. The group went to the Thai restaurant across the street (a big mistake, because even with reservations we were delayed in being seated, and the service staff was overwhelmed with the volume of patrons). We eventually got through the meal, and headed back to the hotel to have drinks with some staffers who we've been promising to hang out with for some time. Lauren left to hang out with Johnny, who was grabbing dinner with Samurai Dan and his family, while we finished drinks. A homeless entered the hotel and tried to solicit drinks from us, which was not cool, and eventually hotel security scared him off.
After drinks, we went to go play Cards Against Humanity with Dan and Jillian, which ran until a bit after midnight. After, I retired to the green room with Johnny and Lauren to watch some Olympics and keep hanging out. Around 2am, we decided to call it a night. Johnny and I were going to grab breakfast in the morning anyway, which would come far too early for either of our preferences.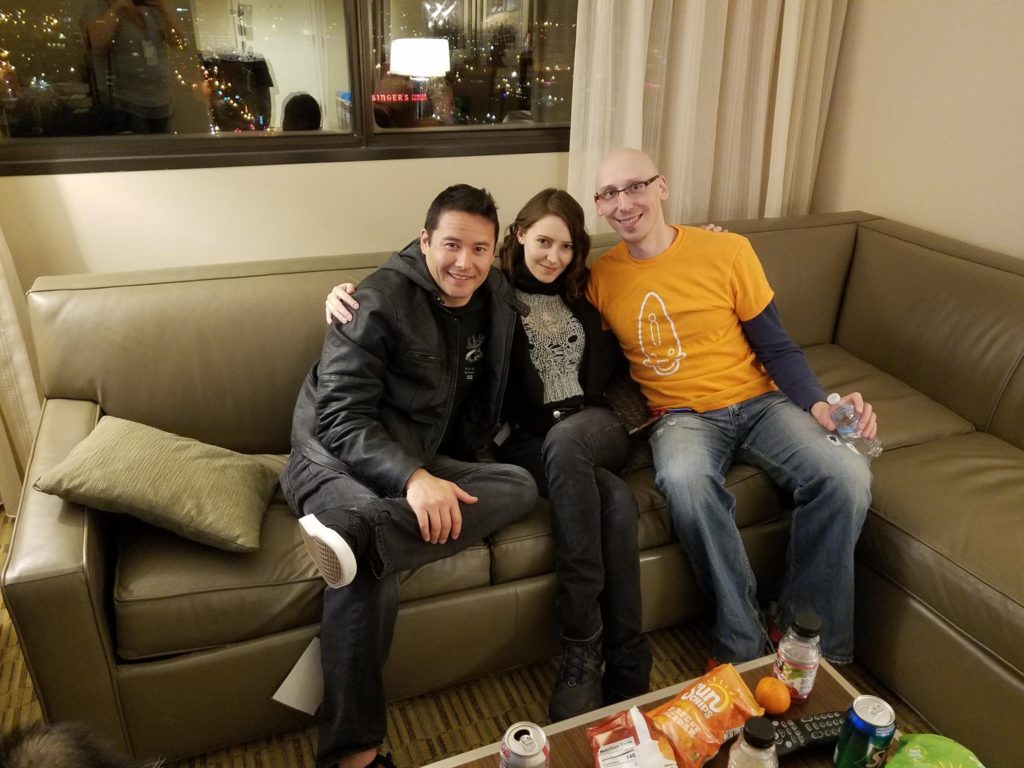 Got to spend a fine evening hanging out with two of my favorite people, Johnny Yong Bosch (Power Rangers) and Lauren Marie
SUNDAY:
I packed up my room and loaded up the car, and then headed to breakfast with Johnny. We talked more about his band and musical experiences, about our families and what cons we enjoyed attending. It was a fun time, and something I don't get to do nearly often enough because of the late nights and tight schedules many cons keep us on. It was very refreshing to get to hang out with my friend and just share a meal. After breakfast, I headed to the floor for a final day of sales – and boy oh boy, did the trend get set early in the weekend, because they were a flood.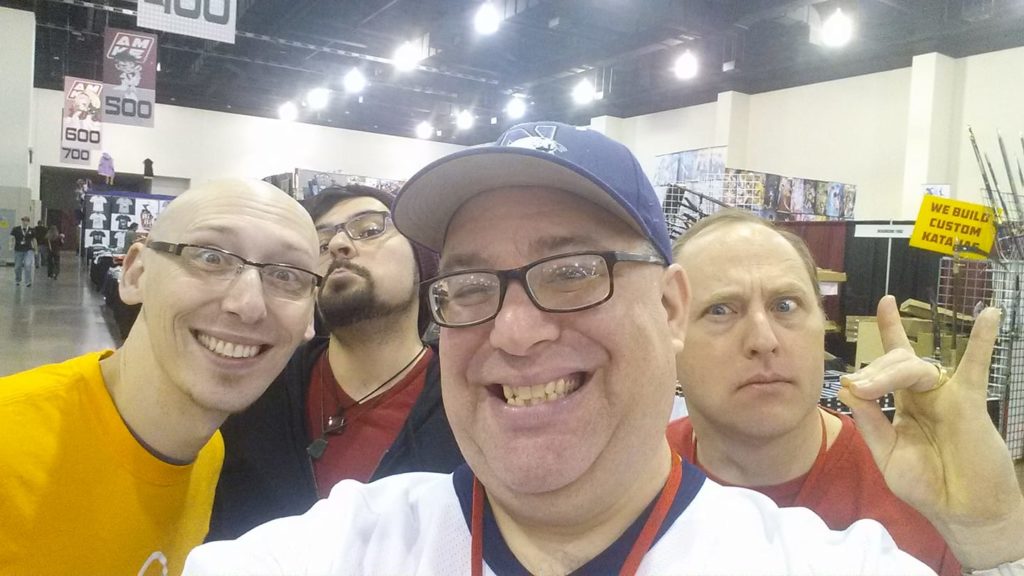 Hanging with the comics crew in artist alley before opening. From left to right: Trevor, Gabo, Russell, and Alan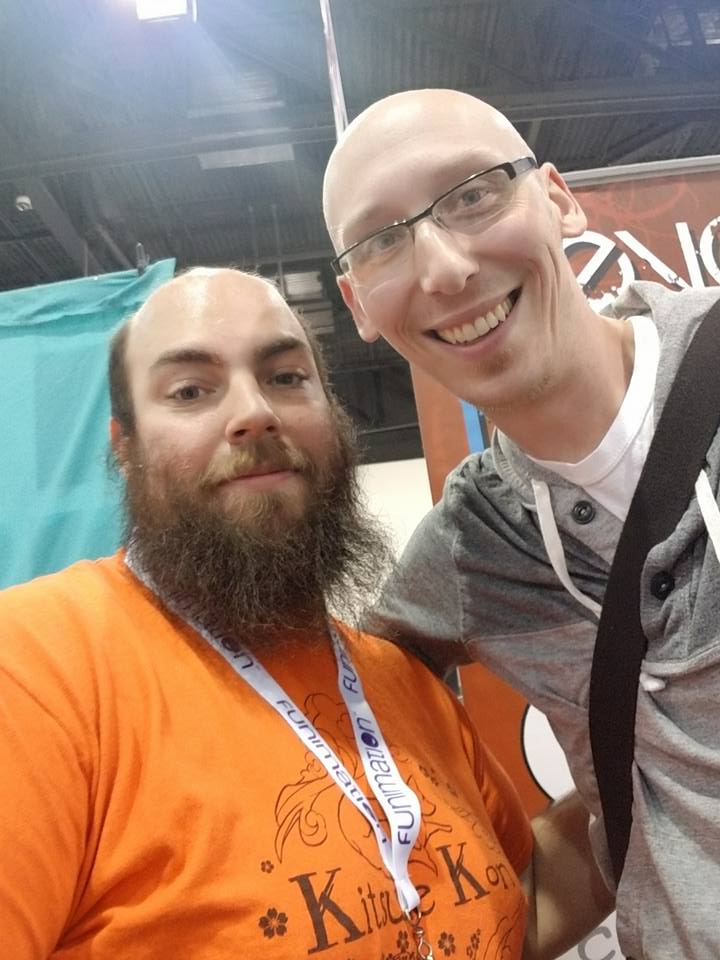 With my buddy Shoulders Hernandez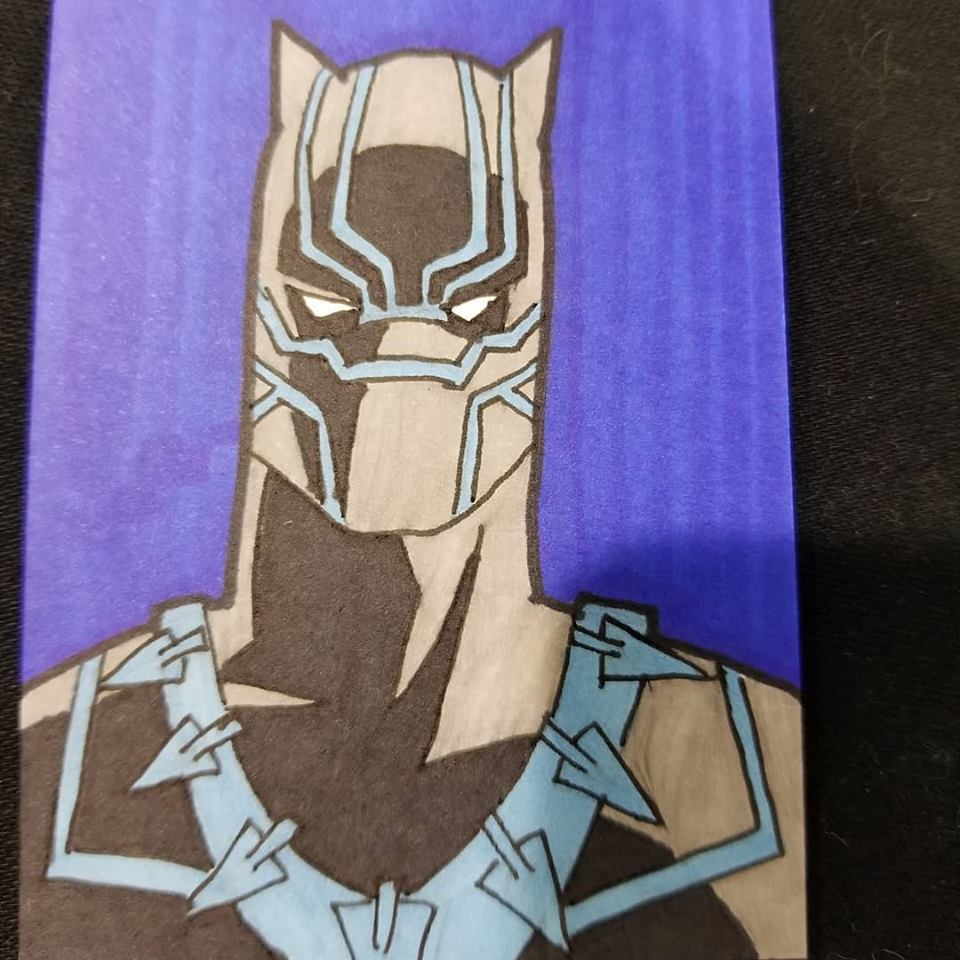 Black Panter sketch card commission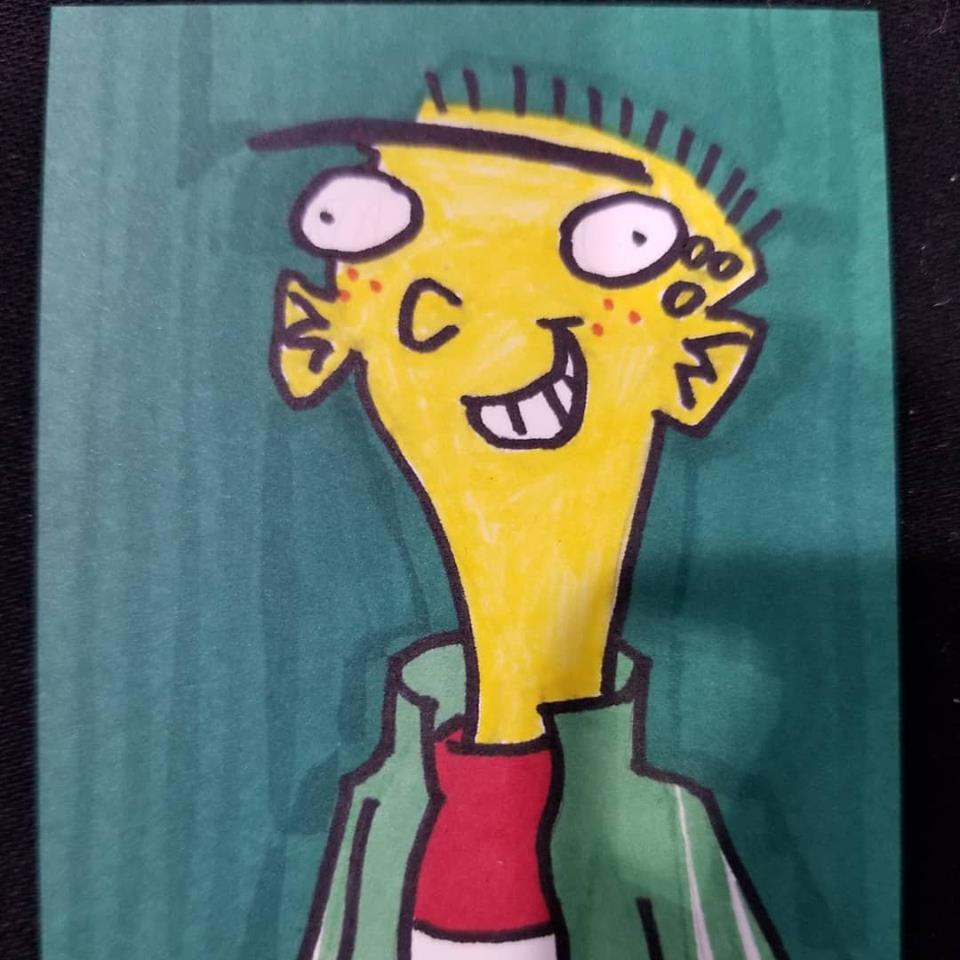 Ed (from Ed, Edd, and Eddy) sketch card commission
Around noon I did my final panel for the weekend, which was Crafting Fictional Worlds. This panel by far had the most attendance of any panel of the weekend, and the group and I had a lot of fun talking about what to reveal and what to imply in stories, how to balance telling vs showing your world through visuals or exposition, and many more topics. I didn't get to answer every question people had at the panel, sadly (if you attended the panel and are reading this, ask me now!), but that's what happens when you have 75+ people in a room and only an hour for a panel.
I returned to the floor for the final hours of sales, and Johnny stopped by to say his goodbyes. I gave him a hug and a pin for his daughter, and then started to pack up my stuff.
Anime Milwaukee was another incredible con, with great attendees, staffers, and volunteers. I'm always incredibly humbled and honored to be invited back, and hope to return yet again next year!
October 27th, 2017
|
by Trevor
THURSDAY:


All set up for selling at Wizard World Chicago

Writer and buddy Russell Lissau's display of books is strong with the Force!
FRIDAY:


Morning comes too early…especially when you stay at home with a baby

Pre-con shenanigans with Russell…

First hard cover for Albert the Alien volume 1 sold! These are limited to 200 copies!

Channel Awesome folks stopping by. From left to right: Heather Ruez, Jim Jarosz, and Walter Banaziak
SATURDAY:


Cosplayers at the con

More Channel Awesome shenanigans. From left to right: Me, Heather Ruez, Aiyanna Wade, and Walter Banaziak
SUNDAY:


Had a blast hanging out with my table neighbor all weekend, the great Mark Kistler (from the PBS series the Secret City)
My first convention of the year – which is a show I commonly start my year with – was Anime Milwaukee, and it never disappoints. This weekend is, and does, set my bar for the year on how conventions can and should be run. I love this show. LOVE IT. And I'm going to tell you why: the attendees are awesome. Period.
What do you like most about the cons you attend? What tends to bring you into a show? Guests? Events? Bands? Panels? Word of mouth about the show? Let me know.
That said, let's jump into the con.
THURSDAY:
After work, I picked up my buddy Russell Lissau (another guest of the show, and writer of Old Wounds) and we decided to hang out and grab some dinner locally before beginning our drive north to avoid some traffic. Russell took me to a local Mediterranean place that had some very delicious kabobs and hummus. We sat and caught up, having not seen each other for some time (and not having done a con together for months). Eventually we finished dinner and headed up to the con, which was a much faster drive than we both anticipated.
We got to the hotel and parked, and headed in to get our badges and itineraries for the weekend. We met up with Alan Evans (Rival Angels), who showed us that our rooms were all next to each other (and connected!). We poured some drinks and hung out for several hours, eventually being joined by our good friend Sandi. I didn't stay up too late, because I was exhausted from having the baby at home, but I did stay up later than I expected to.
FRIDAY:
Alan and I got up early and hit up the gym, taking turns and spotting each other in the workout. We had a good hour in the gym, and then headed to our rooms to get ready for the day and headed to breakfast. We went to a local diner across the street, grabbed a quick bite, and then went to the floor to start setting up our tables.

The booth, set up in all its glory!
Our table position was PERFECT. We were just to the right of the main entrance to the artist alley / dealer's area, so we had a lot of main traffic coming past our table. We were very visible from the entrance, and got a lot of spillover because of the extra visibility. Before we started selling, however, it was time for opening ceremonies.
Do you attend opening ceremonies at a con? I find them attended very sporadically, depending on the show – some have incredible attendance, others less so. This show has great attendance at their opening ceremonies.
Many guests were still arriving (or would not be attending for the weekend, due to the massive storms in California cancelling flights). They called the guests up in groups, and so the comic guys all went up together. Despite having agreed to me doing all the talking, Alan said a few words which lead to some awkwardness, and then we went off stage and opened our tables for the start of selling and panels. Well, sort of….
We had received our panel schedules from the guest department, which we were following. However, that schedule did not always match the schedule outside of the rooms. So when I arrived at my 3:30pm Writing for Comics panel, I found someone else already talking in the room and no line waiting for me. When I looked at the panel doors, that scheduled claimed the panel was in another room an hour earlier. I told my guest handler about the snafu, and went back to my table to keep selling. This would become a theme for the weekend, unfortunately, but was really the only hiccup in an otherwise perfect weekend.

Godzilla sketch card commission
About the time the floor was supposed to close, we had another panel – this one was a group panel, about Making Time for Making Comics. Attendance was a bit light, but again – our schedule didn't match the door schedule. But we had a fun time, talked about identifying and removing distractions, and how to prioritize creative projects. After that, we grabbed some dinner and hung out in the green room with the rest of the guests – including an appearance by my buddy Matt Mercer, and Vic Mignogna.
January 23rd, 2017
|
by Trevor
I'll be a returning guest of honor at Anime Milwaukee this year, set up in artist alley selling comics during the day, and also doing panels throughout the weekend.
FRIDAY (2/17):
– Writing for Comics and Manga (3:30-4:30pm) – 202AB
– Making Time for Making Comics (8-9pm) – 202C
– VIP cocktail event (9:30-10pm)
SATURDAY (2/18):
– How to Exhibit at Cons (4-5pm) – 202A
– How to Make your Own Comics and Manga (7-8pm) – 202C
Who will I see there? Which panels are you most excited about?
September 27th, 2016
|
by Trevor
I wrote a series of posts on my other website, www.AlbertTheAlien.com, about my convention experience at Wizard World Chicago. Check out the various sections below.
PART 1: Preview Night, which included a very hearty dinner with my good pal, Russell Lissau.
PART 2: The first official day, in which I moderated a panel with Dean Haspiel, Ali Cantarella, and Steve Horton.
PART 3: The biggest day of the show, where Channel Awesome paid me a visit and I met Jon Baily (Honest Trailers)
PART 4: The final day, where I had to say my goodbyes (by taking silly pictures with people).
Summer time is convention season, and the midwest is a fun place to hit up a good con. And what better named con could there be than Anime Midwest? I was back as a guest of honor at this awesome convention, and we had a blast. Want to know what happened? Well, let's talk about it…
THURSDAY:
After work I headed straight from the office to the hotel to check in, grab some food, and start the weekend of fun and hanging out. The Hyatt was the official con hotel, and I went to Guest Ops and get my badge and room key so I could drop my stuff off in my room. It had been raining earlier that day, and because of the humidity I decided not to go drop my stuff off at the convention center (and it's a good thing I didn't…and I'll tell you why in a second). Instead, I opted to go have dinner at the Hyatt bar, during which time it rained again. HARD. Like, the ceiling was leaking in 2 different places hard. And when I say leaking, I mean it was like a waterfall in at least two places that I could see from where I was sitting with my burger and my drink.
On my way back to the room, a girl I didn't recognize approached me and asked if I knew where Con Ops was located. Apparently her group was one of the burlesque dancers, and they didn't have all of their badges yet, but were told they would be available at Con Ops to be picked up. I chatted her up for a bit while I walked her over to the location, and then parted ways. I went back to my room to relax for a bit, listening to some music and prepping my sketch cards for the show.
My buddy Russell Lissau (Old Wounds, Starwberry Shortcake) eventually showed up, and I came with him to the hotel bar to sit and chat while he had a snack and a beverage. He told me he had tried to go to the convention center and, because of the rain, it had started to flood! This is why I was glad that I didn't go set up when I first got in. Apparently, the water in the convention center went all the way from the loading docks almost as far as our tables. We chatted for a few hours and eventually went our separate ways. Eventually my friend Brooke Stephenson (Fallen) showed up, and I helped her get her badges and drop her stuff off before we headed to the Green Room to hang out with the volunteers and staff.

Novembros reunited. With Brooke Stephenson
Greg Ayers had arrived before too long, and it was great to get to catch up with him. People came and went from the Green Room, and eventually I wandered around with Brooke before we parted ways for the evening.
FRIDAY:
Because I stayed up way later than expected the previous night, I skipped my usual routine of Friday morning workout (which I do regret; it always makes me feel better; energized for the weekend), and headed straight to breakfast. Russell and Brooke were already down there, and I grabbed some quick eggs before heading back to the room to grab my stuff and set up.
The show started around 1pm, and opening ceremonies were at noon, so I wanted to be set up and ready to go prior to the floor opening. Once everything was set, though, it was time to relax and walk around a bit before opening ceremonies.

The booth is all set up and ready for a weekend of selling
During opening ceremonies, it was an opportunity to connect with all of the guests behind the stage. I saw Analise from V for Villains, and also hung out with Samurai Dan and Lady Jillain, and also Chuck Huber. Chuck took off his shirt back stage and made a terrible joke ("Does anyone know a good vet, because these puppies are sick," as he pointed at his arms), which I dared him to say on stage. Which he did. And now I owe that man a drink. They eventually got to my turn to go on stage, but I was being blocked by one of Lady Jillain's Akida dogs. The thing was kind of scared to get off the stage, and it was completely blocking the stairs to get on the stage. So they handed me a microphone, and I started my monologue with, "I want to come on the stage, but there's a terrified dog in the way!" I announced my panels and my location in artist alley, and then headed back to the floor for selling.
And sell we did. People started pouring into the place, including our fellow comic guests Steve Wallace (Reading with Pictures) and Sean Lindsay (Spinnerette). The rest of the day was spent selling, and then we broke for dinner. Steve and I had a panel that night at 9:30pm, right next to the room where V for Villains were playing their concert, which was about Kickstarter for Beginners. Considering the amount of noise we had to deal with from next door, the panel was well attended and very engaging about crowdfunding and Kickstarter.
After the panel ended, we met up with the rest of the group in the Green Room to unwind before going to bed. Friday was an epic start to a great / exhausting weekend, and it would only get better as the weekend went on.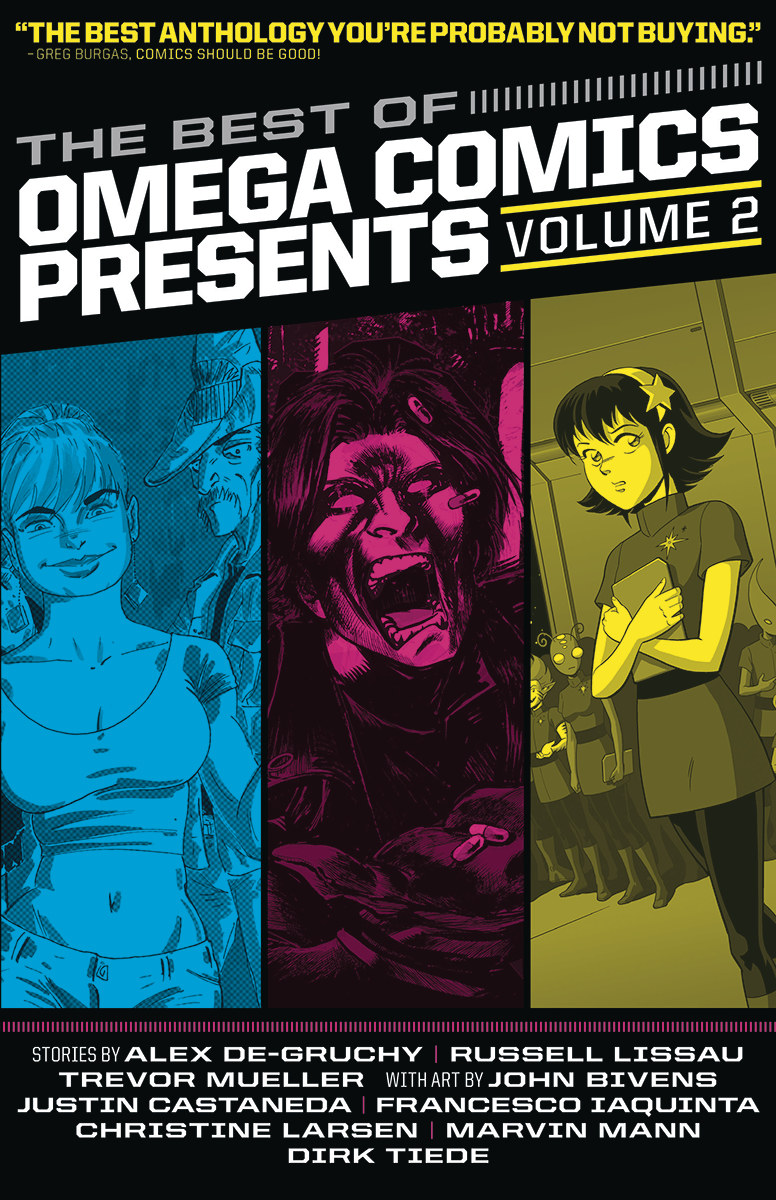 My latest story, LOS OJOS, is being collected in a graphic novel that will be available at your local comic store! Artwork by Francesco Iaquinta. It will be collected with several awesome stories from creators, including my pal Russell Lissau, from publisher Pop! Goes the Icon.
Orders are due July 18, so please order today! DIAMOND ORDER CODE: JUL161850
└ Tags:
assassin
,
comics
,
diamond
,
graphic novel
,
hitman
,
los ojos
,
monsters
,
pop goes the icon
,
pre orders
,
russell lissau
,
trade
,
trade paperback
The final day of a convention is always the hardest to get up for. It's been a lot of fun, but exhausting. You're tired. You're sleep deprived. You've been going to bed too late and getting up too early. But adrenaline is still pumping through the veins, despite your voice being nearly gone from talking over all the noise. And on top of all that misery, you don't want it to come to an end. But it has to. All things, even good things, must end.
SUNDAY:
Morning. Breakfast. Drive to the con. Set up. The morning tasks of a con tend to be rather routine. But it's when those doors open and people start pouring in that everything changes. Sunday was surprisingly my strongest day of the show, with a lot of sales coming in (last-minute shoppers), and a handful of commissions. The day felt a lot shorter than it was, mostly because I was heads down working on sketch cards and full-sized commissions. But it did eventually come to a close, and we packed up a bit early to beat the rush exiting the con and the hotels (which sadly meant not a lot of time for goodbyes).

Trevor, Alan, and Ren – hanging out behind the tables on the final day

Batman v Spider-Man sketch card commission

Sophia the First commission
Alan drove me home, picked up his stuff and we said our goodbyes. And I started to unpack and relax a bit. But then I got a text from my good friend, and fellow comic creator Russell Lissau. Russell didn't have a table at ACEN this year, but had hung out with us Friday night, and he was wondering how things went. I invited him over to chat about the con, and also to partake in some grilling delicious goodness.
Nothing helps you relax after a con like good friends and good food. I marinated some pork chops (in olive oil, vinegar, and some seasonings), and threw some brats on as well (jalapeno, and Jim Bean bourbon flavored). Russ brought some side dishes, buns and veggies (which we put in foil and cooked with garlic and basil butter) and we made a meal out of it. Russ hung out for a few hours and then we parted ways (I was exhausted, but not so tired that I couldn't watch the Game of Thrones episode I had recorded).
How do you typically unwind after a con? What's your post-con ritual?
ACEN was – once again – a blast. I hope to come back again next year, and who knows…maybe there will be a few surprises in store for next year, too!

Post-con grilling, a great way to unwind (and not just immediately pass out from exhaustion)
└ Tags:
acen
,
alan evans
,
anime
,
anime central
,
anime con
,
batman
,
brats
,
butter
,
commissions
,
convention
,
garlic
,
grilling
,
pork
,
princess sophia the first
,
rival angels
,
russell lissau
,
spider-man
My second convention (in a row) in March was in my own backyard of Chicago, C2E2! Typically for this show, I run the Reading with Pictures booth (this year the table was across from the Jelly Belly booth, for free jelly beans all weekend!) and only sell my all-ages books. Additionally, the proceeds from the sales go back to benefit the non-profit – so buying from me at C2E2 you get great content AND support a great charity. Bonus!
Friday morning, my buddy Phil Chan (Digital Pimp Online) and I drove into the city with our stuff in tow, and dropped off at the McCormick Convention Center in downtown Chicago. I stopped into the Airbnb I was going to be staying in, to grab the key, and then headed to the show floor to get my badges and set up the table.

The Reading with Picture booth, hidden behind Neal Adams
Reading with Pictures was set up right by the Marvel booth, behind Neal Adams, and across from the Jelly Belly booth. This was nice, because they kept us full of sugar all weekend – necessary after the late nights and early mornings. Since I arrived earlier than anticipated, I had a chance to walk around a bit and see some familiar faces. I took a stroll through artist alley to see who all was in already, said hi to some buddies, and then went back to the table in anticipation of the flood of attendees piling into the place.

Russell Lissau and Trevor Mueller – brothers in comics

Comic book creators, and good friends. From left to right: Russell Lissau, Ashley Erickson, me, and Gabo
After the doors opened, our volunteers showed up for the day. Helping us promote our latest initiatives (including a charity event we were hosting Saturday night), as well as helping us to sell some books, our volunteers were invaluable to our efforts and successes that weekend. Also, I got to reunite with Garrett, who helped us out last year and has been a big part of RWP's efforts in the last several years.

Hanging out with Garrett Hill
As the day continued and books kept flying off the table, several friends started to stop by the table. Mark Waid stopped by to say hi, and to check out the Albert the Alien trades (he had yet to see volume 2). I was also visited by several of the cast of the Nostalgia Critic, who are always a blast to hang out with. And also some cosplay friends of mine stopped by to say hi, and to hopefully schedule a hangout for later in the weekend.

Special celebrity guest appearances by Tamara Chambers!

Good cosplay friends showed up, dressed as Captain America and Agent 13
After the floor closed and sales ended, I regrouped with my buddies and tried to figure out our dinner plans. My buddy Phil needed to eat, and we were joined by Channel Awesome stars Doug Walker, Brad Jones and Fard Mohummad as we walked to China Town for a quick bite. We stopped into a little place (that was not crowded, thankfully), and sitting down felt amazing. The food was also delicious, spicy (the way I like it), and plentiful. We ordered family style, and just shared everything together, while chatting about comics, cons, and movies.

Dinner out in China Town with Doug Walker, Brad Jones, Fard Muhammad, and Phil Chan
By the end of dinner, we were all pretty exhausted, but I made a quick stop back at the Hyatt bar to say hi to some friends. Gene Ha was there, sketching, and I got to meet some of his friends. I was also introduced to Scott Snyder and Greg Capullo (who were really just saying hi to Gene Ha, but at least shook my hand). I hung out for a bit with friends Justin Jordan, John Bivens, and several others before it was time to call it a night.
SATURDAY:
I got up early at the condo I was staying in, took a shower (their bathroom was immaculately clean), and headed down the street to the corner shop, which had breakfast sandwiches. I headed to the show, ate, and set up the table for another day of incredible sales. We had another volunteer coming in on Saturday, too, who was cosplaying as Batgirl – so the kids could take pictures with her.

Reading with Pictures booth, day 2…now with significantly less inventory

Batgirl was volunteering at the Reading with Pictures booth on Saturday!

More cosplay friends came by to say hi, dressed as the 5th Evil Ex and Poison Ivy, respectively

Warrior Princess Peach!

More awesome cosplay from some good friends

Monty Python cosplayers are probably my favorites…that rabbit is just so vicious!
As sales winded down for the day, we broke down the table and headed off to my favorite sushi place in the city, Niu! With a reservation of 20+ people, this restaurant has never had an issue accommodating the lot of us. And we took up 3 rather large tables. I sat with my friends Russell Lissau (Old Wounds), Bryan Glass (Mice Templar), and Robin Dale. We talked about comics, comic movies, and the state and evolution of conventions.
After dinner, we returned to the hotel and I had a quick drink with some friends, and then headed back to the condo for some much needed sleep.
SUNDAY:
The final morning of the show is always a rough time. You're tired, but you're also energized to sell through the last of your stock and see your friends for a final time before returning to the real world. This morning was no different. We had very little stock left on the table to sell through, however we also had no volunteers coming in on Sunday to provide any coverage – so I was at the table for the bulk of the day. I did have to shut down, briefly, in order to attend a panel on Self-Publishing (moderated by my buddy, Jim McClain).

Come buy the last of my comics!

The Secrets of Sustainable Self-Publishing with Jim McClain, Jim McClain, Scott Bachmann, Tom Stillwell, Trevor Mueller, and Kelly Heying

More friends stopped by, in even more amazing costumes!
By the end of the panel, and the weekend, we were beat. I broke down the table, helped Phil pack up his inventory and take it to the cab, and then we hopped into separate cars and took off – he to his flight, and me to my condo so my wife could give me a ride back home.
C2E2 was nothing shy of amazing this year (as it is every year). The staff and volunteers are incredible, the attendees are great, the sales are amazing, and I love hanging out with everyone after the show ends. I can't wait for next year!
2016 is off to a solid start with the first con I usually do during a given year (although this time, they pushed the con back from Valentine's Day weekend to March…so it was warmer outside). Anime Milwaukee is this con that usually starts my con season, and it always sets the bar high. This year was no different, in that respect, and AMKE continues to be a fun and fulfilling convention experience.
THURSDAY:
Thursday after work, I met my buddy (and fellow comic book guest of honor) Russell Lissau at my house, had a quick chat while packing up his car with my stuff, and then we headed on our journey towards Milwaukee. Having moved from the city of Chicago to the northern suburbs, it's now much quicker to get to Milwaukee than it previously was. Almost half the time, in fact. We arrived and unloaded our stuff, and immediately sought out our badges and the other guests (including our good friend and fellow comic book guest, Alan Evans).
It turns out the guests that had already arrived were on their way to dinner as a group, which (since we had eaten before we left Chicago) we were not hungry at this time. We opted instead to stop by the exhibitor hall to drop off our stuff, and have a quiet drink in our room while hanging out. Eventually, our friend Sandi came by and gave us a manicure – which is something that is quickly becoming an Anime Milwaukee tradition, and was much appreciated. Also, I will say that ending your day with a hand massage and cleansing is the perfect way to go to sleep.
FRIDAY:
Friday morning I got up and headed to the gym, where Alan and I started doing our workout routines. Typically at a con, I tend to work my arms only (since I'm standing all day, and I don't need to burn out my legs at the beginning of the weekend), and that's where my focus was – with a mix of push and pull exercises. Eventually, we were joined by voice actor guest Todd Haberkorn. Great minds must think alike, because he was also trying to squeeze in a workout before the first day of con.

Look at this page of good looking guests! From left to right: Stella Chuu, Todd Haberkorn, and some bald guy that writes comics
After the gym and a quick shower, we headed to the green room (a room provided to guests of shows that has refreshments, food, and usually a place to relax away from the con for a while) for some continental breakfast, followed by heading down to the floor to set up our tables. We were on the opposite side of the exhibitor hall from the entrance, basically where we were last year, however I noticed that a lot of the vendors have really started to build their displays vertically. It felt a lot more claustrophobic than it has in years past. Russell, Alan, and myself were all in a row next to each other, which is how we prefer to operate, and we began putting our displays up and readying ourselves for a day of sales.
We were surprised to hear that the show floor didn't actually open until 2pm, since the program guide had said noon. Also, the artist alley outside of the exhibitor room had been in full swing since that morning – sacrificing security of their tables in exchange for longer times to sell. It wasn't so bad, since 2pm was the same start time as last year, but since commerce was happening outside the room, we were very anxious to get started. Plus, I was premiering three new books at the show:
1) ALBERT THE ALIEN vol 2: The next chapter in the first foreign exchange student from space's adventures on Earth.
2) LIL ALBERT: A coloring and activity book of baby Albert's first adventure on our planet.
3) LOS OJOS: A supernatural action story about a contract killer who can see good and evil by looking someone in the eyes.

All set up and ready to sell some comics!
Once the day started and the doors opened, it was a mad house of people and sales. I've been attending AMKE for a long time now, and each year the show grows by leaps and bounds. And sales have grown right along with it.
During the day of selling, Alan and I snuck away back to the green room to grab some sandwiches for lunch. I also participated in some shenanigans with my table neighbors, the Bristol Renaissance Faire. Their table was doing magic tricks, sock puppet shows, and singing drinking songs throughout the day – and it was quite entertaining.

My table neighbors for the weekend: The Bristol Ren Faire!
After the floor closed, the comic group went to the Thai restaurant across the street from the hotel for some dinner. The con used to have two Thai restaurants next door: the good one and the less good one. Unfortunately, the good one closed. The food was still good at the current one, but the service tends to be rather slow. And true to form, it took a while for the food to arrive – but it was warm and delicious, so I can't complain.
After dinner, we headed to the green room again to hang out and see some of the other guests. I texted Sonny Strait, and we had a great conversation about working in comics – and his work coloring for Dark Horse, and some of the projects he's working on. It was also nice to see Brina Palencia again (it had been a few years since we last hung out). We also met cosplay guest Stella Chuu, and chatted with her and one of her friends late into the night.
SATURDAY:
The next morning we headed to the green room for breakfast, and then straight to the floor for the 10am start time. Commerce came in strong and steady, once again, and sales continued throughout the day. Alan and I escaped to the green room for lunch, making our own burritos, and then went right back to the selling.

Briana Lawrence and myself, hanging out on the sales floor!

A cosplay from one of my favorite animes: Elfin Lied!

One of many commission sketch cards from the weekend!

Another sketch card commission!
After the floor closed, we headed to our panels. At 6pm we did a panel about exhibiting at conventions, where we all dropped knowledge bombs about things to bring, priorities in your displays, and how to market yourself to your fans. After that, we had a little time and ran upstairs once again to grab some free food in the green room. My wife also arrived at the con, and was able to grab a quick bite before we had to run back downstairs for our next panel: How to Turn Ideas into Comics. It was an involved discussion about where ideas come from, and how you turn them into stories. Each of the comic guests had very different experiences and techniques for what they do with their ideas, and it was refreshing to do a new panel with the guys.
Immediately after our panels was the 18+ Cards Against Humanity panel, which was a ton of fun and filled with inappropriate jokes and good (or bad, depending on your personality) humor.
After the panel, we headed to the green room for some more hanging out, and eventually Alan and I went downstairs to grab a quite bite with Samurai Dan and Lady Jillian. We were out way later than I expected to be, and I started to get a little tired (I get really quiet when I'm tired). The fact that the time jumped ahead at 2am, due to daylight savings, did not help.
SUNDAY:
The final day of the show was another early start, beginning with breakfast in the green room followed by a day of selling on the floor. Before the con closed, however, we had one more panel to do as a group: Breaking into Comics. We all have very different stories for how we got into the business, and I tried to mix up the questions to things fans ask me all the time – and also to keep it fresh for us.
At the end of the con, it was time to pack up, say our goodbyes, and take the long drive back home.
AMKE was and continues to be the best way to start a convention season. I love this show!

The con even branded the bar. Awesome!