Posts Tagged 'russell lissau'
45 items.
September 2nd, 2015
|
by Trevor
Every year I try to do different conventions, so as to mix up where I go and the audience I reach with my books. It also keeps things fresh for me, which is always nice to try something new. This year, I decided to give Count-i-Con a try.
A smaller convention located in Grayslake, IL, the show is on it's second year and was a lot of fun. Very family friendly, with plenty to do for con-goers (and people who are new to cons). The show is also only two-days, so you don't have to take time off from work or commit an entire weekend to enjoy the show.
Let's dive into some details on the weekend.
SATURDAY:
Since the show starts at noon, I actually got the chance to sleep in a little for a Saturday at a convention. I left my place with the car fully packed, and drove north towards the County Fairgrounds, where they held the con this year. The drive was uneventful, and I got there in plenty of time to set up – and even say hi to a few people.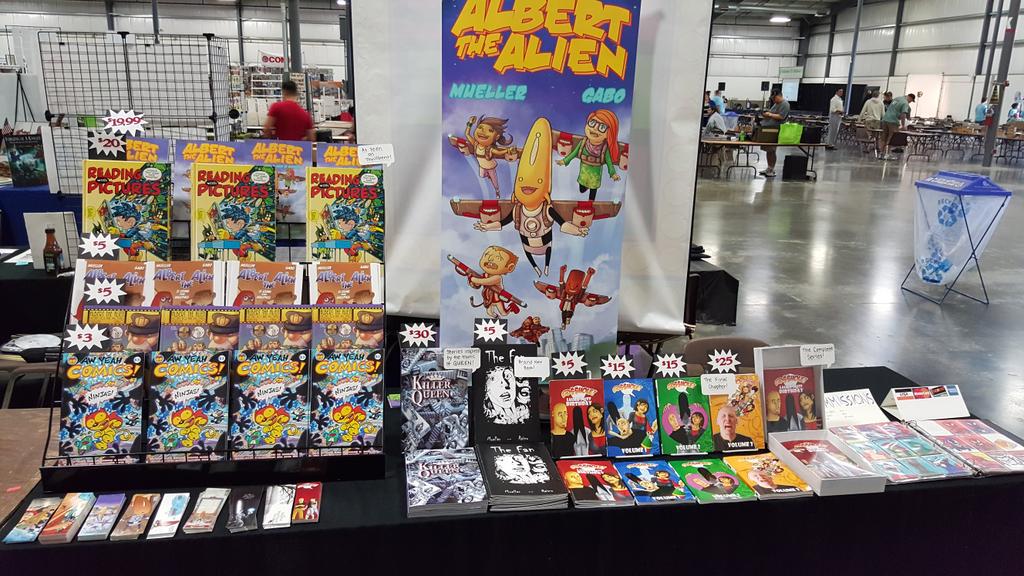 The table set up, and ready for commerce!
I was joined by friends Russell Lissau (Old Wounds), and Mark Stegbauer (Survival), and we were set up in artist alley. Gabo was also there, but set up in the main isles of the show floor, with a super sweet corner booth.

Pitching the books
It didn't take long for the doors to open and people to start coming in. Since our tables were opposite the doors, it did take a while for them to filter back to us, but once they were there the sales started coming in. The crowd was very positive and eager to hear pitches, and check out all of the cool stuff we had for sale.
I was also joined by my mother's best friend, Deb, and her daughter, Celine. This was Celine's first convention, and she came dressed in costume (and placed in the top 10 of the costume contest). She brought a bunch of her friends, as well, and they stopped by the table throughout the day. We made plans to go to dinner together later that night.

Went out to dinner with some first-time con-goers
I wasn't super familiar with the area, so we let Google Maps tell us what our dinner options were. We found a Chili's near my hotel, and headed that way. We sat at several tables, and talked anime and comics with both Celine and her friends, as well as the parents. One of the parents was dressed up as Seven of Nine from Star Trek: Voyager, which was pretty awesome.
The girls had a blast, but since they were headed back to Michigan that night, we called it early and sent them on their way. I retired to the hotel with Russ and Mark, enjoyed some post-con drinks at the bar, and then headed to bed.
SUNDAY:
I woke up and headed to the gym for a quick pre-con workout (not my full routine, but a little something to get some energy for the day). After the gym, the guys and I headed to a nearby diner for some much-needed breakfast.

I'm here to sell comics and chew bubblegum. And I'm all out of bubblegum.

Breakfast with some handsome / hungry guys

Ole skillet – spicy eggs and jalapenos.
After food, we went to the con to set up. I chatted up Ashley Witter (Squariors), who I know back from my days of posting webcomics on Drunk Duck. It was fun catching up with her, and we made plans to talk more about the glory days of webcomic making and the fun community Drunk Duck had in our day.
But now it was time to get the sales on, so I headed back to table and started my day of selling. Sunday was noticeably slower than Saturday, but traffic kept picking up as the day progressed. I eventually decided to take off a little early (mostly because my wife wanted to go see a movie), and packed it in.
Count-i-Con was a fun alternative to the larger comic shows that I go to, and focuses on the actual comic creators (and not the TV celebrities). It was refreshing to be at a show where people were there for the comics, and not for other reasons. It was a lot of fun, and I hope to be invited back again next year.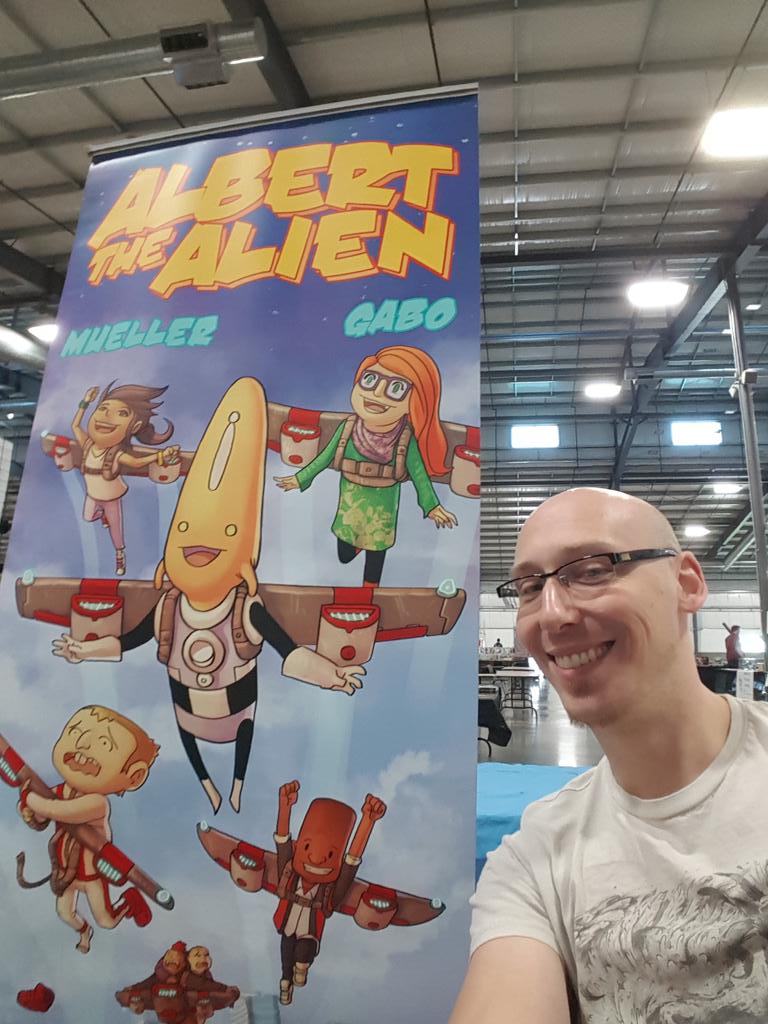 Come buy comics from this guy, next con you see him at!
July 4th is a time of fun, family, BBQ, and explosions in the United States. That's right, it's independence day!
But instead of celebrating my freedom in this country by blowing up a portion of it with loud / colorful devices of destruction, I decided to be productive and attend a convention instead! Hanging out with friends, fans, and selling comics…yeah, it's not too far off from what everyone else was doing. Minus the selling comics thing, maybe. But anyway, here's the weekend I had:
THURSDAY:
I had a half day working from home, so after I finished up my daily duties I grabbed my (ridiculously heavy) luggage and headed out to Rosemont. The blue line is a straight shot out there from my place, and after a short train ride I walked to the hotel to get my badges and drop off my stuff. The guests had space set aside for them against the far wall of the convention, and I quickly set down my stuff and ensured the comic guests could all be next to each other.
After that, I headed to the hotel room and started doing some sketch cards. I was premiering some new designs (Furiosa, and Spider-Gwen), and needed to put the finishing touches on them. After a little bit, my good friend and fellow comic guest Russell Lissau (OLD WOUNDS, THE BATMAN STRIKES) arrived and we grabbed some food and hung out at the bar. He was soon followed by Steve Horton (AMALA'S BLADE) and Steve Wallace (NO COUNTRY FOR OLD KOBALTS). The gang all hung out at the bar, and then retired to one of our rooms to catch up and hang out. I went to bed kind of early because I wanted to hit up the gym the next day.
FRIDAY:
An early morning work out is how I like to start my first day of a convention. It gives me energy, wakes me up, and keeps the adrenaline going from the night before. The gym is usually empty when I do a convention – I've noticed the gym is particularly barren at anime shows – but this time the gym had a handful of people.
After the workout and a quick shower, I met the comic guests downstairs for a hearty breakfast, and then we went to the floor to set up.

Table set up for Anime Midwest

The comic guests of Anime Midwest. From left to right: Russell Lissau, some creepy bald guy, Sean Lindsay, Steve Horton, and Steve Wallace
Fridays are usually strong sales days for me. I have a lot of friends and fans visit, but particularly this Friday I was selling the new Albert the Alien trade, as well as several box sets for some of my other series. It was a great strong start to the weekend, and exceeded my sales expectations for the day.
We broke down a little early before the floor closed, since we had panels to do. The guys regrouped at the bar for a quick drink while pizza was being delivered, but I spent the evening chatting with my friend Lauren (Geek Girl Chicago). I ended up having dinner with her instead of pizza with the guys – mostly because we were both talking about my favorite video games, and our favorite experiences in the Fallout games. We were both psyched for Fallout 4, and couldn't wait for the game to hit!
After dinner, I headed downstairs for our first panel of the night – Writing Comics! We did it Q&A style, fielding questions from the audience. It was a well-attended panel, and the fans appreciated learning everything we could share about our experiences working in comics.

Russell, Steve, and Steve (and myself, taking the photo) doing a "Writing Comics" panel
After that panel there was a little more downtime before my final panel of the night, Self-Publishing 101. I took the panel solo, talking about how to make comics yourself. It was a fun time, another great opportunity for attendees to ask questions, and I even got topics about selling strategies and self-promoting / branding at a convention.
After the panel ended, it was time to relax in the room for a bit. I got a phone call from my buddy that was crashing with us this weekend that he had arrived, let him into the room and the group of us crashed almost immediately. It had been an exhausting first day, but also a great one!
SATURDAY:
Morning came earlier than any of us wanted, I think, but we got up and had some breakfast before opening our tables to the masses of the show. Traffic was a little light in the morning, but that was partly due to the fact that many attendees were up late at the dance the previous night (and also partially due to some movie premieres that were happening that morning).
During the slower period, I was able to hang out with my Albert the Alien artist Gabo, as well as our new artist friend Ali Cantarella (The Hasty Pastry). She loves baking, and made me a very tasty cookies and cream rice krispie treat! It was as delicious as it sounds.

Ali Cantarella made me a cookies and cream rice krispie treat. It was as delicious as it sounds!
At noon I had a panel called "Kickstarter for Beginners," and I invited Ali to join me on the panel since her book was also funded through the platform. The two of us fielded questions and talked through our approaches to crowd-funding, and how we ran our campaigns. It was very insightful, and she had some great insights from her experience. People in the audience were asking about Kickstarter in general, but some wanted to know how to fund their own projects (and most of them were not comic related, which was interesting).
After the panel, traffic had picked up dramatically and books were flying off the table. I sold through all of my box sets for @$$hole!, and also sold through all of my Killer Queen anthology books. I didn't think those wold move, since they're pricey books, but they flew off the table. People loved them!
I also started selling through copies of The Fan, my first horror book. A lot of people who bought it the previous day even came back to ask when the next one would be coming out (the answer: there's no planned sequel, but I do plan to partner with artist Nicholas Ramio again soon).

Someone bought a box set. These sold super well throughout the weekend…until I sold out!
Towards the evening, traffic started to slow again as attendees started making their way towards panels or dinners. But since I was next to the Channel Awesome crew, it was a fun opportunity to goof around and make some funny jokes. The bulk of us were in a (not kid friendly) web movie called Dragonbored, about a guy so obsessed with a video game that he brings his character out into the real world. Think "Last Action Hero" meets "Conan The Barbarian," but intentionally funny.
We started coming up with goofy story ideas for the sequel (and since the star, Doug Walker, wasn't at the show – we decided it would be like a direct-to-DVD sequel with goofy cheesy story and focus on the supporting cast, instead). The story went something like this:
Worried about his friend, Malcolm downloads Karl from the Skyguard game on his mobile game app. However, he accidentally brings something else from the game back with him. Now the two must partner together to defeat this new game evil, and put everything right.
Scenes we discussed occurring included:
– Karl and Malcolm having to battle a giant off-screen monster
– Fard and Trevor, trying to fire each other
– Brian going back in time to find the programmer who disappeared in the post-credits scene, and deciding he never wants to come home again…until he discovers there are no hot pockets in the past!
– A phone call appearance by Rachel Tietz
– Somehow bringing the intro character (Rob Walker) back, possibly as a background character or cameo
Suffice it to say, we had a lot of fun coming up with ideas and taking pictures.

Hanging out with Fard and Karl – great guys, who're super funny

Hanging out with the Channel Awesome crew (and somewhat of a Dragonbored reunion). From Left to right: Fard Muhammad, Malcolm Ray, me, Karl Custer, Brian Heinz, and Lewis Lovhaug

Dragonbored 2 fun: Malcolm downloads Karl from the mobile game app

Dragonbored 2 fun: Karl covers up product placement while Malcolm reacts to something off-screen
After the floor closed, it was time for a quick bite of dinner before running off to my final panel of the evening: An Evening with Trevor Mueller. This hour-long panel is an opportunity for me to relax with fans, have fun, and tell goofy stories for an hour. I told some fan-favorites (most of the audience were new faces, so that worked out well), and I topped it all off with showing some of the fake movie trailers we made for our wedding. Voice actor Eric Stewart caught the last 10 minutes or so of the panel, and opened his panel saying how funny it was. It was a great compliment, and left me feeling great for the rest of the evening.
After the panel ended, it was time for some late-night relaxation. I went to the green room and hung out in there for most of the night, catching up with fellow guests Spike Spencer, his wife Kim (and talking about her great new projects!), Eric and some of the 4Star guys. A woman named Highwire was our liaison, and she bar tended the room – making some very tasty peach flavored drinks. I even popped into the rave for a little bit, but didn't stay too long. I did have another day of sales ahead of me, after all.
SUNDAY:
The final day of the show always starts with a slow morning. Not necessarily in terms of traffic (although, that was the case since the show was premiering another movie Sunday morning), but because Saturday was a late night and you're typically pretty tired. It's also a little bittersweet, because you know at the end of the day that the weekend is over and tomorrow you have to go back to the real world.
But I digress – we had a quick breakfast and headed to the floor for a morning of sales. I was mostly sold out by this time, but was able to move a few more books before packing it in for the day.

Come buy comics from this handsome guy
Overall, Anime Midwest was a really fun time. They had a killer guest lineup this year, well attended panels, and there's always a lot of fun and energy!
February 24th, 2015
|
by Trevor
Valentine's Day weekend I spent with some of the most awesome convention attendees, staffers, and volunteers a guy could ever hope to work with – much less actually get to work with! That's right, I'm talking about my triumphant return to Anime Milwaukee!

Here is where you could find me (more or less; they did move us down a bit) at the convention. Great positioning!
Last year myself, Alan Evans (Rival Angels), and Russell Lissau (The Batman Strikes, Old Wounds) were all put on rotation with the show. This is very common, as it allows a convention to refresh their guest list and keep programming fresh and new. However, I really missed the show (I've been a guest of the show for the last 4-5 years with Alan), and so did the guys. And at every Anime show I attended I kept running into the convention heads, and they kept asking, "Why didn't you come last year?" And I would say, "You put me on rotation." And they would say, "Well, let's fix that." And so we did. And all was good again.
So sit back, relax, and enjoy my recounting of an amazing weekend at Anime Milwaukee!
THURSDAY:
From work I took the AMTRAK train up to Milwaukee, which was a nice relaxing ride. The last time I took the train wasn't good, because they wouldn't let me board unless I was 10+ minute early. Well, this year I was definitely 10+ minutes early, so no issues getting on the train. I sat back and watched Guardians of the Galaxy on my iPad during the 1.5 hour trip. Before I knew it, I had arrived.
Now, Milwaukee isn't too far north from Chicago, so the weather isn't very different. That said, it was still bloody cold up there. So the 4+ blocks I had to walk from the train station to the hotel were EXCRUCIATING. My hands and face took the brunt of it, despite having a hat and gloves on. It was the wind that really did it.
In any case, I got into the hotel and found con-ops so I could check in and drop off my stuff. Low and behold, Russell had arrived almost exactly the same time I had. And by the time I had dropped off my stuff in my hotel room, Alan had also arrived. The three of us were pretty hungry, so we hopped into a cab and drove to a nearby casino for dinner.

Anime Milwaukee signage at the hotel. You have now arrived!
The Casino was not good. Granted, I'm not a big gambler, but that wasn't my issue with the place. The problem was that they allowed smoking indoors. For someone who is allergic to smoke, who dislikes the smell (and let me tell you, it's potent for everyone else who doesn't smoke. Trust me – we can smell it), it was rather fowl. We walked through the entire place (since the restaurants are on the far side of the building), and eventually settled on the burger place they had in there. Thankfully, they had some kind of super mega air filters in the place, because it smelled much less. It was at least tolerable. It may also have been all of the greasy / delicious fried food.
After dinner, Russell and Alan decided they wanted to play some craps. I've never been able to figure this game out, but the two of them made a little money. Eventually the smoke even got to them, though, so we took off back for the hotel.
Back at the hotel, we all regrouped in Russell's room for some beverages. Eventually our friend Sandi showed up, and she proceeded to give us all manicures (a pastime that Russell loves to do before a convention). I was really just in it for the hand scrub and arm massage she threw in – and also to hang out with Sandi, of course, because she's awesome – and it was a nice night of hanging out.
By the time we were done with the manicures, it was already 1am and it was past time to go to bed.
FRIDAY:
Friday morning Alan and I got up early to start working out at the gym. I love doing this at shows for the boost of energy, so I look and feel better, and also because, well…there's almost never anyone in the gym at the conventions. However, this show was quite different. There were a handful of kids who came in to work out, as well as some women I didn't recognize (I'm assuming they were just at the hotel, and were not attending the con). However, one of the voice actor guests, Bryce Papenbrook, eventually came in to do some running on the treadmill. I somewhat recognized him from the website, but left him alone so I could finish my routine.
The free-weights in the gym had to have been brand new and unused, because whenever you picked them up the grips were so sharp they cut into your hand. It was rather painful, and made me wish I had a pair of workout gloves. I've not really encountered this before at a gym, but I sucked it up and continued with my routine all the same. I was quite relieved when I was done, though, and I had texture on my hands for the rest of the day. My hands felt like they were on fire!
After a quick shower, we went downstairs and met Russell and Shana for some breakfast across the street. The diner had some cheap breakfast specials, which were tasty but not very filling. Still, food is food.
After breakfast, we had some time to kill so Russell and Alan went back to the Casino to try their luck, and I went back to my hotel room to relax a bit and do some writing. After a while I started to get anxious for the show, so I decided to take my stuff down to the floor and set up a little early. I figured I could at least walk around and chat up some people I may know from the con circuit.

Trevor's booth is set up and ready to sell some comics!
When I got down to the floor, however, I discovered they had moved our tables around a bit. Thankfully this was quickly and easily remedied, and within a few minutes my table was next to Russell and Alan's again. When I received the text they had returned, I told them to come on down and start setting up – and I started to walk the floor and check out some of the other vendors and artists.
I chatted up a few friends, looked at the usual assortment of wall scrolls, plushies, figurines, and yes – tons of anime – and eventually made my way back to my table before the VIPs entered.
This was the first show I was using some new signage my wife had designed and made for me, and it looked great. I thought it gave the table a respectable and professional look – and it was much better than my handwritten signs on sticky-notes.

Check out the sweet new signage – compliments of my beautiful and talented wife!
I also had a lot of books new to this show (@$$HOLE! volumes 2-3, KILLER QUEEN, READING WITH PICTURES volume 2, and ALBERT THE ALIEN volume 1) and I was also premiering a brand new book (my first horror book), THE FAN. That's a lot of new books!

More of the new signage – highlights the awesome new books on the table! By the end of the show, we were almost sold out of everything!
The con floor opened, and sales started quick and maintained strong throughout the first day. I even sold out of ALBERT THE ALIEN volume 1 (thankfully, my wife was showing up on Saturday with more copies), and almost sold out of READING WITH PICTURES volume 2. THE FAN was also selling like hot cakes. I couldn't keep that book on the table. As a guy who has primarily written comedy, and most of my fans are people who like to laugh, I was amazed at the positive reaction to the book.
A little before the floor closed we shut down so we could grab a quick bite to eat before panels. We ordered some Thai food from the place across the street, and I went to get it while the group headed to the Green Room to relax a bit. We chowed down, shared our meals with each other, and had a fun and relaxing time before we left for our panels.
First up was MAKING WEBCOMICS PART 1, which Alan was kind enough to let me sit on with him. We went through our usual talk about why digital distribution is helpful, talked about how to set up some basic webcomic elements, and then did something new. Alan wanted to brainstorm a webcomic we could launch for the next WEBCOMICS panel that would occur tomorrow. It was a fun exercise, with people coming up with the elements of story (characters, conflict, environment, etc). It got people really energized about the story, and wanting to come back for more.

Trevor, Alan, and Russell drop wisdom bombs on the audience during the Writing Comics panel.
After that panel, we all went to our WRITING COMICS panel. Russell took the reins and really lead the discussion (it was his first panel of the weekend, and the dude's been published by DC comics…so he's got some good advice). It was a good time.
After the panel we were free for the rest of the night, so we headed to the hotel bar and hung out with Shana, Sandi, and Elaine (our handler for the weekend. The joke was that we don't actually need a handler – we're professionals, we know how to get to our panels on time and sell at our booths – but Elaine is also awesome, and we were so happy to have her). After a bit of hanging out, we headed for bed.
SATURDAY:
We got up earlier than I would have wanted and headed down for breakfast. We ate at the Hyatt buffet, which was expensive but tasty. Elaine and her husband joined us, and we chatted the morning away talking about our sales from the previous day and what our goals were for today. Also, my wife and Alan's wife were showing up today, so it was going to be an amazing day.

This man is ready to sell some comics!
Beth texted me at the end of breakfast, and I collected her and together we went to the floor to set up. She also liked the way the new signs looked on the books, and her restock of ALBERT THE ALIEN was much needed after having sold out on the first day. Together we sold a bunch of books throughout the day, she learned some of the new pitches, and we generally had a fun time together. My wife doesn't always enjoy the conventions – it's not really her thing – but I do enjoy having her at the table.
As the day pressed on, sales continued strong. We had a slight lull in the traffic around lunch time, which is pretty typical, but overall sales were solid and strong. I almost sold out of THE FAN again, which was incredible!
We had to shut down our tables a little early again this time to do MAKING WEBCOMICS PART 2, which Alan and I lead and continued the story from the previous panel (about Harold the Dragon Princess, a 25 page comic about a princess who's turned into a dragon and has to drink the magic milk to turn back. However, she's being stopped by her evil uncle the magician, and a storm that she can't fly through to reach the floating island where the magic milk is located). We had a lot of fun with the crew, and then headed up to the Green Room for some dinner.

Now THAT's a big pretzel….
We had ordered some delicious food, including one of the largest pretzels I've ever seen, and hung out until we had to book it for our next panel: BREAKING INTO COMICS.
This panel was a little more balanced, with each of us taking our turn to tell our stories and how we got to where we are in the comic industry. Thankfully we each know each other's stories pretty well, so we could set each other up pretty well to keep the conversation flowing. Russell and I even did our bit on how to meet editors and exchange contact information. It was a very informative time.

Alan tells the folks what page his bio is on in the brochure. It's on page 20, in case you were wondering.
After that panel ended, however, I had to book it to my next panel which was pure fun: THE EVENING WITH TREVOR MUELLER. It's an hour of me telling goofy stories and generally having a fun time with the audience. The panel before mine was running a bit long, however, due to technical issues when they set up. It gave me a chance to take a break and relax a bit before the panel, and about 10 minutes later we were able to get started. This delay in start time did impact the attendance at the panel in the beginning, unfortunately, however by the end we did have a much larger group.
I went into my fan-favorite stories, with everyone in stitches the whole time. Stories about meeting famous creators, embarrassing myself in front of my comic book idols, and why you shouldn't watch horror movies when your college roommate is on something in the other room. Yeah, it was a good time.
After the panel ended, we headed for the bar and had some drinks to relax. Unfortunately the kitchen closed early (like 11pm!), and I was starting to get hungry. Thankfully, Elaine my handler was there. I did something I've never done before – I asked my handler to do something for me. I asked what nearby places were open that we could order food from and bring back here. We found a sushi place nearby, made an order, and walked in the freezing cold (it was cold even with our coats) to get the food and bring it back to the Green Room.
The voice actors were hanging out in the Green Room as well, unwinding after their long day, too. I shared some of my favorite whiskey – Elijah Craig – and hung out until way too late in the evening.
SUNDAY:


The view from the hotel. Who wants to read the paper while they enjoy their sausage?
I woke up not feeling so great. I was pretty tired, since I hadn't really slept the whole weekend, and could barely eat any food at breakfast. I'm pretty sure it was exhaustion I was feeling, but who knows – late night thai food may also not have been sitting well with me. As the morning pressed on I felt better quickly, and sales continued to be strong up until the end of the show. Fans who said they would come back actually came back to buy stuff – which is always awesome!

A fan bought the limited edition box set of @$$HOLE!, including all of the books, bookmarks, and some original art. Plus, I drew all over the box! How sweet is that?
When the show ended we all parted ways, heading home as it started to snow outside.
Anime Milwaukee is how I've usually started my convention season (although one show beat it out this year as my first show of the year), and it was a strong start indeed! Great fans, amazing guests, and fantastic people who run the event. Special thanks to all of the volunteers, staffers, and loyal friends I've made at the show. You guys make everything awesome!
I attend a lot of conventions, and I love meeting fans – both long-time and first-time. And I love making new friends at shows, too. But there's something great about being able to do a show with people you already know, too. Which is why I was so glad I was able to get Uncle Yo and Russell Lissau invited to Anime Iowa this year!
Russell and I are long-time friends and do conventions all the time around Chicago, so it was fun to get to travel with the guy to a show that's not too far away. And Uncle Yo and I have been friends for a number of years, but I didn't get to see him at all last year (because I was only doing a handful of shows, focusing on my wedding). And I'm not even mentioning the other awesome guests they have at this show — so let's hop right into it!
THURSDAY:
After working from home in the morning, I grabbed my stuff and road the bus (and then the train) to O'Hare to catch my flight to Cedar Rapids, Iowa. I went to go check my bag, which contained several new books I've never flown with before. To my surprise, my check bag was slightly over weight, and I started to rummage through to lighten the load. However, while I was pulling out books, several of the TSA agents started asking what I did. "Write comics," I told them. "My latest title is an all-ages comic about the first exchange student from space." I pulled out a few copies for them to look at while I stuffed heavier books in my carryon.
The agents got very interested in this title, asking what age it was for. "Recommended for readers 7 or older," I replied. One of the agents then asked if they could buy one from me right there. I said sure, and two more agents wanted copies for their kids as well.
I wasn't even at the show yet, and I had already sold 3 books.
I made the sales, finished the weight shift, and checked my bag and went through security. I quickly grabbed some lunch and waited for my plane – and my traveling companions!
Russell I knew would be traveling with me, being a local here as well. But I was pleasantly surprised once again on this trip to run into Mimi, who I had met last year at this very same show. Her previous flight had been delayed, and so she was moved to our flight.

Shenanigans on the plane to Iowa!
After an hour delay for our flight, we eventually boarded and started the trip to Iowa. Russell wrote a bit, and I relaxed and watched a movie (Mission Impossible 4: Ghost Protocol, if you're curious).
After about an hour in the air, we touched down and were greeted by our handler for the weekend (and my handler from last year), Mel! She made last year a real treat, so it was great to be paired with her again this year.

Guests arrive at the Cedar Rapids airport – Mimyru, Russell Lissau, and Trevor Mueller
Mel drove us to the hotel where we unloaded our stuff, met up with Uncle Yo, and then we went to grab a bite to eat from the local burger place. It was nice for Russell to get to meet Uncle Yo for the first time, and they hit it off swimmingly – and I was glad to get to catch up with him, since we hadn't hung out in person in almost a year.
After food, we got Mel to drive us into town for some supplies. I needed some new stands for my comics (I didn't bring the new vertical rack, because it's so bulky), and we needed snacks and beverages for the weekend.
After shopping, we headed back to the hotel for a quick meeting with the staff and volunteers (and other guests) to go over the agenda, and then were released to go our own ways. We headed to dinner at the hotel restaurant.

Keep those appetizers coming!
Since the show hadn't officially started yet, and wasn't starting until afternoon the next day, we headed up to the room to listen to some tunes and work. I worked on some pre-commissions and some new sketch card designs, Russell worked on some scripts, and Uncle Yo worked on some new jokes for his stand up routines. Sleep soon followed.
FRIDAY:
I got up early to hit the gym, which is normally empty. Russell went for a swim, but after he left something happened that's never happened to me at an anime show before. Someone actually came into the gym who wasn't just a random person staying at the hotel. A con attendee was trying to do some lifting. I gave some advice on a few items he was doing (the guy was going to hurt himself), and then parted to shower and grab some breakfast with the guys.
The hotel has a pretty good restaurant, so we decided to eat there. I was still hungry after we finished, though, and since we had some time to kill, Uncle Yo and I walked to a nearby Mexican place for an early lunch. It was plenty tasty, and filled us up right for the day.
A quick trip back to the hotel had us setting up in Artist Alley, or as this show refers to it: the Marketplace.

This is a man set up to sell some comics!
We skipped opening ceremonies because sales were so strong, and we didn't want to lose the momentum. Like last year, book sales were okay for me here – but what really sold for me were commissions. And boy, did I get a lot of them!

Squirtle sketch card commission!

Game of Thrones sketch card commission – and she dressed up for the part!

Spider-Man vs Deadpool commission – Epic Rap Battles Style!

Someone wanted a commission of the characters from @$$hole! posed in the classic Star Wars IV: A New Hope poster. BEST FAN EVER!
I spent most of the weekend with my head down working on commissions, which could also be why book sales are lower for me at a show like this. But hey, those pictures aren't going to draw themselves, right?

After the floor closed we only had a small window before our panels. Russell and I had a joint 9:30pm panel on writing comics, which – like last year – was extremely well attended, and filled with some amazing questions. The audience at Anime Iowa is very engaged with the educational panels, and they're very knowledgable and enthusiastic about making comics of their own. In fact, I had someone come up to me from last year with their first book – the 4th time this has happened to me in my time as a guest at conventions! Always a satisfying experience, and one I look forward to having more.
It didn't hurt that their book looks gorgeous!
After the panel we had a few drinks and walked around the con to see what was going on. Our room was on the same side as the back patio, so we heard music late into the night (I almost never sleep at conventions as it is, but booming music until 4am certainly doesn't help sleep happen for me).
Around midnight or so, we wondered into the 18+ Cards Against Humanity panel hosted by Samurai Dan and Lady Jillian. I did this for the first time at this show last year, and it was a hoot – but this year took the cake. The guests on the panel were firing on all cylinders, with voice actors performing the cards – or someone taking off their shirt and dancing with tassels on. We even traded cards so we could trump each other and keep the humor building throughout the evening. We really got into it, and it was an absolute blast!
After being energized like that, we headed to the bar for a quick drink and then it was time for bed.
SATURDAY:
Saturday morning came far too early, and I missed my alarm. Thankfully, Uncle Yo kicked me out of bed about 15 minutes before my 9am Self-Publishing panel was going to start. Unfortunately, the room was locked – so we had to find someone to get us into the room just as the panel time started. Thankfully, I was ready to dive right in – and did so – while I was setting up my books on the table.
Some great questions from familiar faces throughout the weekend, as well as new faces trying their hand and making comics for the first time. Attendance was also extremely high for an early morning panel, which was also awesome.
After the panel I bum rushed to the sponsor breakfast to hang out with some of the amazing sponsors of the show. Attendees, businesses, volunteers, staffers, and fans were among the guests at the breakfast, and I got to hang out and joke around with them while enjoying some tasty eggs and bacon and juice.
After breakfast it was quickly to the floor for much selling and more commissions!

Pocky is all kinds of delicious!

My partner in comics – Russell Lissau!

Working hard on more commissions!
We broke down our tables a little early on Saturday night to grab some dinner before I had to go be a guest judge at the masquerade. Uncle Yo was MCing the event, and it was the first time I've even seen a masquerade – much less judged one. I know from people who have worked them that they're extremely well attended – and also tend to run longer than they're supposed to. However, I was very excited for a fun night of costumes, performances, and hanging out with fans.

Maybe 1/3 of the crowd at the Masquerade Saturday night
I was one of the performance judges, and had to fill out sheets of paper on each person who signed up to be in the performance category. Cosplayers show up in their outfits and pose, or perform a scene (or a song, usually lip-synced) from their favorite game / movie / anime / series / whatever. In between acts, Uncle Yo was entertaining the crowd with jokes and stories that were delivered with a professionalism and polish that puts my panels and speeches to shame. The dude is a true artist of his craft – and he does it WELL!
As expected, the events ran late and the performance judges ran off to go tally our votes on who was the best. There were multiple categories, and we needed a 1st-3rd place (and judge's choice) for each of them:
–novice
–experienced
–master
After about 30-40 minutes of tallying, we knew who our picks were to win, but there was an issue – the costume judges still had about 8+ people to judge before we could report on best in show. We were already running super late (the event was supposed to end around 8:30, and it was already after 9:30pm). Eventually, we came up with a solution – Lucas (one of the other guests of the show, and an awesome voice actor) and I would go on stage and announce the performance winners, hand out our prizes, and then we would announce the best in show winners during closing ceremonies the next day (and on social media).
We went up to the stage and did our announcements. Several of our winners were still being judged on costumes, so they weren't able to go up and get their rewards on stage, unfortunately, but Lucas did a good job of MCing the event and keeping spirits high while I looked pretty and interviewed the winners. It was a fun time.
After that, we headed to the room to relax quickly before heading off to bar. Fans were in abundance (coming and going from the rave), and we chatted them up late into the night. After that, we went to bed for some much needed sleep.
SUNDAY:
The final day of the show started with a delicious buffet breakfast in the restaurant, and then we headed to the floor to set up. Russell had sold out of most of his books by this point in the show, but I still had plenty to sell – and sell I did. No more commissions came in on the final day – it was all about selling the books, and they did go quickly. Many box sets and complete collections were purchased by fans who had stopped by earlier in the weekend, or who had attended panels throughout the weekend.
Around the afternoon, the show started to die down and Russell and I packed up and started saying our goodbyes to our friends – both fans and staff. Everyone made this weekend truly an amazing experience, and one that just keeps building year over year. Not just because the con is growing – but because everyone who's attending this show is just so awesome!
We hopped into the van with Mel and grabbed a quick bite at the airport, and then waited for our plane to come in and take us home. On the ride, Russell slept a bit and I was watching another movie (Inception, in case you were wondering).

Something was really bothering me the whole flight home….
After the plane landed and we grabbed our stuff, Russell and I parted ways with a big hug. It's always a pleasure to exhibit at a show with the man – he taught me everything I know about selling at cons – and it was such a fun weekend. I can't wait for our next show together!
C2E2 has come and gone once again, but as the largest local show I attend it was once again an amazing time – and my most profitable year at the show to date! With that said, let's go into the specifics of this awesome and amazing show!
WEDNESDAY:
My buddy Phil showed up from the airport and we went to grab a bite to eat while waiting for his boxes to arrive at FedEx. Hot Doug's was right around the corner from the store we were getting supplies at, so we went there. Now, it's been a few years since I've had Hot Doug's, and all I can say is this: I've forgotten how absolutely AMAZING their dogs are! I ordered the jalapeno dog with bacon and cheese, and then we shared some cheese fries (I'm skinny, and can't finish a whole thing of fries AND the hot dog).

Hot Doug's Hot Dog…the best way to start a convention
After lunch, we went to grab Phil's boxes and headed over the convention center to drop them off. The place was still being set up (it's interesting to see it so empty, juxtaposed when the show is in full swing and there are thousands of people walking around), and we quickly and easily dropped off his stuff. Phil took me home and then headed up to hang out with his other friends before the show started the next day. And I would have a boat-load of people coming in to stay with me then, too….
THURSDAY:
During the day I spent cleaning the apartment, but at night my friends started showing up. I usually put up several of my friends for the show, especially the ones who put me up when I attend other cons out of state. I was joined by Russell Lissau (Aw Yeah Comics, Strawberry Shortcake) first, followed by Steve Horton (Amala's Blade) and then eventually Josh Elder (Scribblenauts Unmasked, Mail Order Ninja) and then Phil eventually came back as well. Much whiskey was poured as we sat around and caught up on the last several months since we last saw each other. Since my wife had work the next day, though (and we would be going to the convention center early to set up our booths), we didn't stay up too late. Sleep was an important commodity at this show, and something we soon discovered was in short supply….
FRIDAY:
Morning came around and we all got up and had some coffee and breakfast at my place, and then headed out to the show. Set up was pretty quick since we had a new face at the Reading with Pictures table this year, Jim McClain (Solution Squad). Jim has exhibited with us for a while now, but this was the first year we had an extra body behind the table at C2E2 to help out. It made things nice and easy for taking breaks, holding meetings, and actually getting out to see friends in artist alley. And that's exactly what we did, with Jim running the show at the booth.

The Reading with Pictures table
Dean Trippe (Something Terrible) was also at the table for most of the weekend, signing copies of the poster prints for his recently completed Kickstarter campaign. I've never hung out with Dean before, so it was a nice breath of fresh air to have someone new to talk to and hang out with at the table.
I had secured 18 copies of the Reading with Pictures volume 1 anthology from a friend who still had some, and we sold through most of them on the very first day of the show. It's a credit to how awesome that book is, and how much support it still receives from people that it can sell that well 4 years after it came out. And volume 2 comes out later this year!
Russell and I took turns on break, and when I was away from the table I was out talking to creators in artist alley. The entire last row was almost all all-ages creators, and it takes me about 4-6 hours to get through artist alley at a show like this now because I know so many people. I won't name names, because I'll accidentally forget to mention someone (or come off like I'm name dropping, which isn't the intent), but they're all great friends I've met through the years and really have appreciated their insights and critiques, their support of my work, and I've enjoyed reading their work as well. Also, they're all wicked funny.
I mentioned earlier that sleep was in short supply, and that was definitely true on Friday. Just about everyone I talked with, even if they had gotten in a day or two earlier, was exhausted and about to pass out at their table. I don't normally sleep the night before a convention (too excited), but adrenaline usually keeps me going. Thankfully, this isn't something that stuck with my buddies in AA. By the next day – after a good night's sleep and some much needed food – most were back to 100% or better.
The first day of sales and networking ended, but then the group split up. About half of the team went to China Town for dinner, while the other half went to the Reading with Pictures Level Up for Literacy charity event at the HeadQuarters Beercade. We were joined by Mark Waid (Daredevil, Kingdom Come) and Jimmy Palmiotti (All-Star Western, Harley Quinn). They had a number of other celebrities there I unfortunately didn't get a chance to meet (including the creator of Cards Against Humanity and the actor who played Scorpion in the Mortal Kombat series), but for $40 we got bottomless pizza and some free drinks, and unlimited arcade game playing. The place mostly had pinball machines, but there was enough variety to keep it fun.
After around 10pm the music got too loud for me (and a lot of typical bar crowd people showed up, who are not my people), so I took off for home to host the friends who just got back from dinner in China Town. We weren't up for too long, and eventually went to bed in preparation for Saturday – usually the most populated day of the show.
SATURDAY:
Saturday is the big day. The day a convention typically gets the most traffic. And yes, we were definitely crowded. And almost sold out of all of our books! The breaks every 2-3 hours was a nice touch, and I started chatting up some editors and creators about future comic projects. Networking is something I've been sorely lacking in at shows like this, but thankfully we had extra coverage at the table, so that was no longer a hurdle. I had some productive meetings, exchanged some business cards, and would go back to the table to sell books for a while. Russell would take his break when I returned, and we'd do this every few hours.
A bunch of my friends who were not exhibiting this year but were just attending arrived on Saturday, and stopped by the table so we could catch up and mingle. We made a massive dinner reservation at my favorite sushi place in the city, Niu. We had 23 people in our party, and took up the entire back of the restaurant. We weren't the only people from the convention there, too, which was incredible to me. We saw a lot of celebrity comic creators in there with their significant others and friends or sponsors enjoying some time away from the convention as well. We let them enjoy their dinner, since we appreciated the opportunity to do the same.
After dinner, several of us paid our bill and ran out because Jenni's Ice Cream was closing soon. This is a tradition for us at Mid-Ohio Con later in the year, but since they opened a location in Chicago not too far from where I live, we decided to extend that tradition to this show as well. We made it to the store just as they were locking the door, but thankfully they let us in anyway.

Post-con Jenni's ice cream run, with Alan Evans (Rival Angels)
We took some selfies and sent the pictures to our Ohio friends, and then headed home to go to bed before the final day of the show.
SUNDAY:
The final day of the show, and often family day (or "kid's day"). It's a day where I clean house, since I have so many kids books on the table. However, I let Russell open the booth while I set up for my Reading with Pictures Live Reading panel. Jim was kind enough to join me, since my voice was faltering (too much talking over the last several days), and I couldn't do voices very well. The group started off quite small, but we quickly gained a crowd of interested children as they heard the bizarreness of the story that is Albert the Alien, and their parents heard about what Reading with Pictures as an organization was trying to accomplish. We read a few stories:
1) Albert's new adventure from the upcoming Reading with Pictures volume 2
2) The first issue of Albert the Alien is New in School, which we'll be turning into a graphic novel this year (Kickstarter starts in May)
The kids loved the reading, and several of them actually asked for more! This is always a great feeling, but unfortunately we wanted to get back to the table (and I had almost no voice left). Special thanks to Jim McClain for helping me out on this panel! I couldn't have done it without you.
I had a few more meetings and introductions made on Sunday, then ran around to say my goodbyes before breaking down the booth. I had 3 books left when the weekend was done, and had sold through everything else I brought. This was a GOOD weekend.
We helped Phil break down as well, since he was by himself and has a massive setup, and then got him in a cab for the airport while Russell, Josh, and myself headed back to my neighborhood to go out to dinner. We brought the wife as well, and hit up a local bar called The Pony. We each did a shot, ordered some very tasty Buffalo Wings, and chatted the night away.

Beth and I out for post-con dinner / drinks

Josh and Russell enjoy the final wing of the night. Great sauce!
At one point during the night, we saw a bouncer grab a patron in a choke hold and take him out of the bar. We weren't sure what had happened, but our waitress said he was rude to her and needed to be removed from the building. I like when a place respects it's employees and creates a safe environment for them, so we made sure to give her a little extra tip at the end of the night.
After dinner Russell took off, but Josh was crashing with me for a few more days. We had some more drinks and played some video games to unwind, but didn't stay up too late. Especially since I received a special surprise the next day (see below)….
Overall, C2E2 2014 was the best C2E2 yet! The show continued to show more organization and had a huge attendance of fans passionate about comics – and who were buying comics! Reading with Pictures had a fantastic location (right by the entrance), and because Jim was mainly running the table, we had a chance to go out and network and take some meetings with editors and creators.
It was awesome, and I can't wait to attend the show again next year!

The pleasant surprise that was waiting for me at home after the show….
September 6th, 2013
|
by Trevor
Getting around to this one a little late, but unfortunately comic deadlines come first. As you know, Chicago Comic Con (or Wizard World Chicago, it's sometimes called), is the only show I do in the year where I'm not a guest – but it's somehow one of my highest sales shows of the year. So let's jump right into it.
THURSDAY:
I left the office and headed over to the convention center to see my buddies (already set up), and check out the new hall. The show moved to the other side of the building this year, and the space was quite different than the previous year. For one thing, dealers and panel rooms were upstairs – which was a first. However, the hall was plenty packed with people (we later found out there was a Thursday night Groupon, making for a lot of first-timers coming in to check out their first comic show).
At 6pm I had a panel about creativity moderated by Tony Kim, along with David Chelsea, Dan Parent, and Rob Prior. I was the resident indie / webcomic guy, and everyone on the panel got along very well – and told some good, funny, and hopefully inspiring stories about the creative process. In fact, one con-goer called it "the panel they enjoyed the most" out of the show. We talked about the hurdles to being creative, and what motivates / inspires us to tell the stories or do the art that we do. I tried to throw in some typical humor, but also the motivational lines I've become known for at the shows. With a few new ones thrown in for good measure.

After the panel ended, I headed back out to the floor to hang out with Russell Lissau (The Batman Strikes, Strawberry Shortcake) and Jim McClain (Solution Squad). The two were selling in high spirits, and we all went out to The Ram after for a quick bite of dinner.
Russell took me back to his place, where he was putting up myself and our friend Steve Horton (Amala's Blade) for the weekend. We had a few drinks, had a few laughs, and then headed to bed to rest for the next day.
FRIDAY:
The group got up early in the morning and headed over to grab some quick bagels before heading over to the show floor. We set up and started selling, and man oh man was there a lot of traffic. And a lot of families, which was great for Albert sales!

Spider-Man commission headshot for a young father, by Trevor Mueller
A few people signed up for some commissions, and the day went very quickly with the volume of people and sales. The only issue faced (and this appeared to be universal throughout the floor) was that credit card sales were unable to go through. Everyone lost bandwidth. They kept telling me it was because of the volume of people at the show, but ACEN had been held in the same hall several months earlier and had over 28,000 people in attendance. No one could come up with a definitive answer, but it did force us to direct some shoppers to the ATM machine. A few of them returned, but overall it may have hurt sales for anyone in artist alley who was less engaging with attendees.
Friday on the floor ended, and we packed up and headed out to a Chinese restaurant over by Russell's house. The food was good, we had some hot sake, and then headed back to his place to catch the last hour or so of Wreck It Ralph – which I had brought for Russell's family to enjoy. I knocked out some sketch cards, which have been selling like hot cakes at the last several shows I've been doing, and then we all went to sleep.
SATURDAY:
We got up a little later on this day, and hit a lot of traffic on our way to the show – clearly under-estimating the popularity of this event, and the amount of attendees who would be there right at the opening.
Note to self: definitely don't under-estimate the ability of nerds to get up in the morning when there are sci-fi celebrities and comics involved!

Trevor, doing his sales thing
After finally getting inside, we immediately and quickly set up and started selling our hearts out. The floor was flooded with masses of comic fans, families, young shoppers, and people completely new to the world of comics. All of them ready and willing to buy, and eager to drink in the amazing things around them.
The credit card issue persisted today, but several people came back from the day before with cash – and we rewarded their return with discounts or free art. Thankfully everyone was very understanding of the whole situation, and clearly they wanted the books enough to come back the next day – and we like to reward that kind of loyalty.

Trevor gives Gabe the "bunny ears"
Traffic eventually started to slow towards the end of the day, and it was a good opportunity to walk the floor a bit and stretch my legs, and chat with some comic friends of mine. I talk to Andrew Kwan, a comic student in Toronto and my partner on one of the Top Cow Talent Hunt pitches I put in. The guy loves sci-fi, so we're thinking of pitching a few sci-fi shorts this coming winter – to come out in 2014. Additionally I chatted up Chris Mitten, David Mack, and Talent Caldwell.
Talent and I have been friends for a few years now, and I've always loved that man's art. They don't call him "Talent" for nothing, and he spent the time working on commissions and making art so beautiful it makes me cry. Talent and I had a few conversations about Albert the Alien – which he totally loves – and some other projects we have in the works.
After the floor closed, the group headed over to McCormick & Schmick's so Russell could have his blue-cheese stuffed olives in a martini, and the rest of us could enjoy some tasty sea food. It was nice to sit down, relax, and just hang out with my friends and fellow creators. All good guys, all righteously funny, and all great company.
After dinner we headed back to Russell's so I could work on more sketch cards, and we all watched some Evening with Kevin Smith – a hilarious laugh. Although, not so safe for the kids….
SUNDAY:
The final day of the show we did our usual breakfast stop, and set up nice and early for family day. Surprisingly, I think there were less families in Artist Alley this day than the rest of the weekend – which isn't a knock on this particular Sunday, but a credit to the volume of families that had been attending all weekend.
Sales were pretty steady throughout the day, with a few dips in traffic to allow of us to walk the floor and chat up our friends a bit. I continued to sell out of copies of my books (and sketch cards, which have been flying off the table at record pace these last few shows).
Eventually I shut down the table a little early so I could wonder and say goodbye to some friends, and catch up / talk business with a few others. About an hour before the show was to end, Beth came to get me – which was perfect timing, because the traffic for the show had slowed quite a bit by that time.
After a fun but exhausting weekend of hanging out with great people, seeing amazing comics and art, and yes – selling a boat load of books – we had another highly successful convention on our hands. Love doing this show, and can't wait to do it again next year!

Writers Steve Horton (Amala's Blade) and Russell Lissau (The Batman Strikes, Strawberry Shortcake) stand in front of their booths
Last weekend was another awesome and amazing ACEN – this third largest animation convention in the country, and my favorite convention to attend as a guest. It's also a very strong sales show, and has a very enthusiastic fan base. This was my 5th year as a guest at the show, and the experience just keeps getting better every year.
THURSDAY:
After work, I headed over to the convention center from downtown Chicago. During my walk from the train to the hotel I was recognized by several fans and attendees, all of whom were in good spirits for the impending fun that would occur this weekend.
Upon arriving at the show, I went to con ops to get my badge and room keys, dropped off my stuff, and headed to dinner with the other comic guests including Russell Lissau (Strawberry Shortcake, Shrek), John Bivens (Comic Book Tattoo, Reading with Pictures), and his wife, Mallory. Steve Horton (Amala's Blade) showed up a little later. After dinner, we headed up to V to enjoy some drinks with the other guests and some of the ACEN staff. Then it was off to bed because – silly me – I decided working out in the morning would be a fun way to start the day on Friday.

Mallory poses with her delicious baked goods, celebrating Russell's birthday
FRIDAY:
6:30am rolled around, and our alarm sounded. Since I'm in wedding boot camp, I'm trying to go to the gym 2-3x per week so I'm…less skinny for my wedding. Bivens was kind enough to join me, and we did a full arms and shoulders workout for an hour. We were joined by Jessie Pridemore, who handles the masquerade for the show every year – and has some amazing cosplays!
After the workout, we showered and headed to breakfast – and then headed to the floor to set up for our weekend of selling. There was some confusion on our location on the floor, but after a quick conversation with the appropriate people we were able to locate to the correct location – which totally rocked! Sales were extremely high on Friday, with volume 2 of my latest book selling insane amounts! Always a good thing.

Russell Lissau is ready for commerce, baby!
After the floor closed, we headed off for a quick dinner before heading to our panels for the evening. Russ and Steve had a Superman vs Batman panel, which was standing room only and had a line waiting to get in. During the panel, Steve's wife showed up to celebrate their 10 year anniversary in front of a crowd of a hundred people. It was really cute, and I was glad to play a role in their special day.
After their panel ended, I headed to Bivens Drawing Comics panel already in progress. Gabe had joined him, and the two were having a great time giving an entertaining and educational panel about visual storytelling and pacing. After their panel ended, I had about 20 minutes before my Panel That Shall Not Be Named. This has been a convention staple, and usually has a full room. This year the show gave me a very large room for the panel, and it was pretty full for the entire duration of the hour. The panel was a ton of fun, and a great way to end the night on a high note.
After the panels the group headed up to V for more drinks and hanging out, and then headed off to bed.
SATURDAY:
Breakfast was the order of the morning, with some delicious gourmet buffet-style with fresh fruit and juice. A solid breakfast makes for a solid day, so after we headed to the floor to get to selling. Traffic on Saturday was record-breaking for ACEN, with a huge number of attendees coming in to shop and buy and check things out.

Between sales there's always time to make silly faces
Friday sales had been so strong, Saturday seemed to lag a little – which was surprising. However, this was more than made up later in the evening after the panels. There was a lot of interest in the new books on the table, including the launch of the Albert the Alien webcomic series. Lots of new fans and friends were made as books were flying off the shelf – including my remaining copies of Reading with Pictures volume 1 (now out of print).

Trevor, selling some comics
However, Saturday was a ton of fun – with the group getting a chance to be goofy behind the tables, as well as checking out the fantastic cosplays people put together for the show. Some seriously artistic and creative people out there.
After the floor closed, we all headed to dinner – enjoying some 18 year old scotch and delicious food. We then headed off to our Making Comics panel – which was an all comic guest panel Q&A about making comics. Some excellent questions and hilarious jokes later, the panel was over and it was off to quickly moderate my next panel – Making Webcomics. The rooms for both panels were filled to the brim, and I used the panel as another Q&A format to help answer questions people had about their own webcomics – or the process in general.
After the panels, I headed up to V for a final night of hanging out with good company. I got to chat with Brad Swaile until all hours, enjoy some tasty beverages, and laugh until I had no voice.
SUNDAY:
Sunday saw a 9am press call, which was well attended and we got some great questions. The group all had specialties to focus on, and input to each of the questions. After the press call, it was time for our final breakfast together- followed by a bum rush to the floor for the final day of selling.

John and Mallory pose in front of their booth at ACEN 2013
Sunday is family day at shows like ACEN, and this is when Albert the Alien tends to shine. I almost sold out of my entire stock, some from families and some from panel attendees from the previous nights of the show. I sold out of Junkyard Chase and one of my Albert books before the end of the day. All in all, the show was fantastic.
After the show, Beth showed up to come get me and we packed the car and headed out to dinner with the gang. We were joined by Sean and Sara from Spinnerette and connected on how well they did during the weekend, on the next show we would all be doing together (Anime MidWest), and on how we can connect outside of the shows a bit more (Ravinia has Lord of the Rings the Two Towers in August with live orchestral accompaniment).
Once again, ACEN sets the bar high for a fun weekend and a great convention. I would like to thank the staff and volunteers for putting together a phenomenal show; the fans I've made who continue to support the work, tell their friends about me, and attend my panels; and my amazing friends, without their support I would not be able to do what I love so much. You guys all rock, and from the bottom of my heart, I thank you!

Trevor stands by his books – figuratively and literally
###
On a sullen note, this was the very first ACEN I attended that my friend Kim was not there. For those of you who missed the post last year, my friend Kim first introduced me to ACEN and it was the annual opportunity to see her and hang out. Unfortunately, Kim passed away last year from epilepsy. It was difficult for me throughout the weekend not to reflect on her passing, but Kim would not have wanted the weekend to be tainted by her not being there.
When her mother commented on my Facebook page to say that Kim was there in spirit behind me saying "good job," I knew that wouldn't be true. Kim would have been running around the show in cosplay, soaking up the sights and having a blast! That's the kind of awesome girl she was, and her energy and enthusiasm is what I will remember for the rest of my life.
I miss you, Kimby. You are loved!
Convention season is off to a strong start, and C2E2 was my second convention of the year. I was working the Reading with Pictures booth (#1330) over by Marvel and the American Libraries Association (ALA) along with fellow comic creator Russell Lissau (Strawberry Shortcake), and Gabriel Bautista (Elephant Men). As well as the return of our internet, Aliza, who was helping us throughout the weekend.
Despite being in a bit of a funk the entire weekend (for reasons I have yet to fully understand), the weekend was an amazing success – both socially and financially.
FRIDAY:
Friday morning the group got up, packed the car, and left for the show to set up the booth space. Reading with Pictures (RWP) had a fantastic location, which got a lot of traffic. We were selling through the last of the RWP hardcover stock (the softcovers for volume 1 having sold out last year), and sales were strong and steady throughout the day.

Russell Lissau, Trevor Mueller, and Gabriel Bautista run the Reading with Pictures booth at C2E2
In addition to the anthologies, I was also selling my all ages books Junkyard Chase and Albert the Alien. Overall, sales were strong and the fans were very receptive to trying a new book.
After the show, the group joined up with several other creators and went to China Town for dinner. A little stir-fry place with poor service but delicious food was the topic of the day. And despite it taking forever to get our meal, the server did bring us a few free appetizers and meals to make up for it.

Dinner in China Town
After dinner, we headed back to my place for much needed sleep. The major events of the weekend were yet to come!

After dinner, the group stands outside the restaurant. Photo by Russell Lissau
SATURDAY:
Waking up early, the group headed to the convention and set up the booth. I had a very important meeting set up with an important creator / editor, and it was very fruitful (announcements forthcoming, once I can talk about them). Gabe and I talked some business post meeting, and plans were made to really blow out some future projects we have in the pipeline.
The show was almost sold out on Saturday, so the convention center was wall-to-wall people. In addition to the plethora of attendees, some of our comic creator friends were in attendance – including Rival Angels creator Alan Evans.

Alan and Tracie Evans, Trevor Mueller and Beth Noonkester stand in front of the RWP booth
After a brief walk around artist alley, it was back to selling at the booth. A long day resulted in lower sales volume – which was also the case at NYCC last year – but still a ton of fun. And, the sales were more than made up for the next day.
After the show we grabbed Bryan Glass (Mice Templar) and headed to my favorite sushi place in the city, Niu. The group enjoyed a good dinner and relaxing beverages – followed by more much needed sleep.
SUNDAY:
The final day of the show was kids day, and man oh man where there a lot of families at the show. And those families were buying! We sold through the RWP hardcovers, Russ sold a ton of Strawberry Shortcakes, and I sold through a solid chunk of Albert the Alien.
During the afternoon, Josh and I had a live reading of new RWP material. Unfortunately, due to a technical issue, we had to read from the Albert the Alien books instead. This went over really well with the audience, who laughed at all the right spots and enjoyed all of the jokes through. Between the stories, Josh talked about some of the other stories appearing in the Graphic Textbook (RWP vol 2), and how those stories can be applied to an academic environment. The reading was a huge success, resulting in several families coming back to the RWP table to purchase all of the copies of Albert (and learn about the newly launched webcomic series)

Russell Lissau, intern Aliza, Trevor Mueller and Gabriel Bautista laugh it up at the booth
Meanwhile, back at the booth, the gang was having a fun time selling books and hanging out. And even posing for pictures with fans. Gabe was in full form, and providing sketches for kids – and selling commission sketch cards.

One of our many fans poses behind the booth with the creative duo

A fan who wanted a sketch of a character we didn't know. So they decided to sketch it for us

Intern Aliza, Trevor Mueller and Gabriel Bautista try to sell copies of the book to Trevor's fiance. She already owns copies of everything, however….
At the end of the show it was time to clean up, and get home. The weekend had been a lot of hard work, but a ton of fun and rewarding in every sense of the word. I can't wait until the next C2E2!
February 22nd, 2013
|
by Trevor
I've said it before, and I'll say it again: there's no better way to start the convention season than with a show that has shown the growth (and has the fun factor) like Anime Milwaukee. I've been invited back to the show as a guest for the last 5 years, which you would think may burn some people out. However, I have so much fun at this show because of the staff, volunteers, and of course the fans! And this year was no exception.
THURSDAY:
The show invited yet another comic creator this year, my good buddy Russell Lissau (Shrek, Strawberry Shortcake) and so the two of us drove up to stay with our mutual friend / comic creator Alan Evans (Rival Angels). Alan, like me, has been a guest at the show for the last several years, and we always enjoy being invited back.
Russ and I arrived late, but we got to hang out a bit and chat with Alan before slipping off to bed early.
FRIDAY:
After stopping off at Brugger's for some delicious bagel sandwiches, the group of us headed over to the convention center to set up. The show had positioned us in a prime location – right by the main entrance, in a circle of tables. Each of us got a table and a half, which was a nice set up for the amount of books and merch each of us brought to the show.

The table
I had two new books (for the show) in the Albert books, which were strong sellers throughout the weekend. Several people approached me asking about @$$hole! volume 2 (it's coming, I swear…just been sidetracked working on launching the Albert the Alien webcomic series). And I had sold out of Hope by this time, so the table was a little different than in years past.
Alan and I were returning faces, but Russ was new to the show and had a fun time. The show gave us a handler who kept us hydrated, and we also had a block of panels in the same room at night. But I'm getting ahead of myself.
Friday was a decent paced sales day for me, but it always tends to be a little slower than the rest of the weekend. After the floor closed, we stowed the books and headed off to Opening Ceremonies where I got to catch up with Todd Hobbercorn, Chris Cason, and the rest of the voice actor guests. It was great to see them again, and we started coming up with hilarious fictional situations involving our opening ceremonies speeches. Parts of them tend to get incorporated into what we do, but it's also a nice way to unwind before doing something stressful like public speaking.

Opening ceremonies
We went to the Thai place across the street for dinner, and then had to run across the street to our panels. Alan was first, with a Rival Angels panel which was attended by some fans with some great questions. After his panel was my Evening with Trevor Mueller panel, which drew quite the crowd. I told a bunch of new stories involving wedding planning, hitting on fans at conventions (back when I was single, of course), and some of the favorites from previous years. Russell brought the night to a close with a strong showing for his "Writing Batman" panel, which had a number of fans in cosplay attending – and asking some really great questions.
After the panels, we headed back to Alan's and almost went straight to bed. The day had been exhausting, but a great first full day of the weekend.
SATURDAY:
Another fantastic breakfast at Brugger's, followed by getting to the show to set up. Sales were high and heavy throughout the day as we sold our wears, chatting up fans from the panels the previous night. The day saw solid sales from the books, especially for Albert.
After the show ended we ran out to dinner with Alan's wife, but unfortunately weren't able to get into any of the places we wanted. Instead, we went to the other Thai place next to the convention – which was pretty busy. I had to cut and run from dinner to make it to my panel on time, where I talked about Albert the Alien – the origins, what inspired the stories, and the future plans for the character. After the panel, I sat in on Alan's "Making Webcomics" panel, which we've often given together anyway. Panels are easier with other people, so it's always a comfort to have someone else to fall back on or bounce conversations off. Afterwards, we joined Russell for the final panel of the night talking about "Breaking into Comics" – which saw a smaller but highly engaged audience.
After the show we ran out to Oscar's to grab some ice cream, went back to Alan's to hang out with the cats, and then headed off to bed.
SUNDAY:
The final day of the show, and surprisingly we all still had our voices. Another filling breakfast at Brugger's, and we arrived quickly at the show to finish off strong. The group sold merch until just after the floor closed (of course, I escaped from the table for a quick minute to do a little shopping), and made some lasting friendships. After the show ended Russ and I hoped in the car and started off towards Chicago. We went back to his place to hang out with his family a bit, and then Beth came to pick me up – getting home just in time to catch the season finale of Downton Abbey season 3.
All in all, Anime Milwaukee is always a great show to start the convention season with, and sets the bar high for how they treat their guests. I love starting the year with this show, and have been honored to be invited back for the last several years as a guest of honor. I am always humbled and amazed by the support from the fans as well as the volunteers and staffers at the show. And the show has seen consistent growth (3,800 last year, and significantly more than that this year) year after year. I've been honored to be a part of that growth, and hope to continue to do so again.
If you missed Anime Milwaukee this year, you should make effort to attend next year. It's a fun show, a profitable show, and a great way to start the convention season.

Albert helped sell books
November 27th, 2012
|
by Trevor
Kollision Con was once again the final show for me for the year, and what a show it was! Located in beautiful Pheasant Run in St Charles, IL, Kollision Con is a third year anime and comics show with some diverse guests, fun panels, and lots of cosplay. Kollision Con is a smaller show, so as a guest of the show there's less pressure to sell sell sell and more opportunity to have fun. And that's exactly what we did.
For those of you new to the site – welcome. To those of you returning – welcome back.
Now, without further delay, how did the weekend go for me?
FRIDAY:
Beth and I arrived early in the morning for a meeting with the hotel unrelated to the convention, and immediately after we set up our table for selling. Attendance was lighter on Friday, but I figured this would be the case (especially earlier in the day) since it was the day after Thanksgiving. However, that didn't stop 500+ people from registering and picking up badges.
I was in Artist Alley next to my good friend Russell Lissau (Shrek, Strawberry Shortcake) and Gabriel Bautista (Albert the Alien, Elephantmen). As soon as we were set up, we had to run off to opening ceremonies to be introduced to the masses. There was a nice sized crowd in the audience, and it was nice to catch up with several of the other guests of the show. Not all of the guests were there yet (and some were sleeping, having arrived very early that morning and needing to perform a concert later that night), but that didn't stop us from having a blast. I even did the Waltz with Samurai Dan.

Selling to an attendee
After a few hours of selling at the tables, we packed up a little early and went to Jambalaya (one of the many restaurants in the hotel) for some dinner. After that, we headed over to our Albert the Alien panel.
The panel had quite a few people in attendance, and Gabe and I gave our first-ever panel on our beloved character. We talked about his origins, how we created him, how he became a part of Reading with Pictures, and his future: an appearance in RWP v2, and his own webcomic series launching in 2013.
After the panel we retired back to Russell's room for some whiskey, and then I went downstairs for what I thought was the 18+ improv – but turned out to be an improv training class.
I've never done improv officially before, but I have a lot of public speaking experience and I've done a lot of panels at conventions. And panels are part stand-up, part improv, and part rehearsed performance. Suffice it to say, I'm not afraid to get up in front of an audience and act like a buffoon.
So as soon as I walked in the door for the improv training class, the staffer running the panel immediately started volunteering me for every skit example. Since I had never done improv before, I was a little rusty in the beginning – however, the skits started to become more and more funny as we warmed up and got used to working with each other.
I had a lot of fun working with the group that night, and it was a great way to prep for the actual 18+ improv show the next night.
SATURDAY:
We got up early and headed down for breakfast. Russ and I had the buffet, and then went to set up the tables and sell. The day saw a lot of cosplayers running around the floor, several of which were interested in purchasing comics.
Gabe and I did some shop talk about comic projects, and Russ shares a preview of his RWP v2 story with finished art.
Around 6pm, we left the table and headed over to the restaurant for dinner again. After a quick bite we went to my room to set up the laptop for Gabe's Digital Coloring panel, which had the strongest attendance for any of our panels that weekend.
Gabe did a great job showing off the basics of PhotoShop, and the process he uses to color the projects he works on. It was a great opportunity for me to see the man work, since we've done several projects together and have many more in the pipeline.
After Gabe's panel was Russell's Writing Horror Comics panel, followed by my Evening with Trevor Mueller panel.
After the panels, we ran downstairs for a quick drink and to relax a bit before the 18+ improv panel. Doug Walker (thatguywiththeglasses.com) was downstairs with his wife, so it was great to get to catch up with them before heading off into the improv.
The room was packed with people, and most of the guests (myself, Doug Walker, and Chris Patton) were involved in the panel. They also had a few of the staff included to help round out the group.
The improv was hilarious. I did several skits, including a "scraps" where you and another person pull out scraps of paper with words or phrases written on them from the audience, and you have to incorporate them into the skit.
My best event was good, bad, worst advice. The audience asks for advice, and one person gives good advice, the next person gives bad advice, and the last person gives worst advice. If the audience doesn't feel like your answer is a strong fit, they boo you off, and we continue until through elimination there's only one person left. I KILLED this event, since I can make crap up on the spot and make it sound totally legit. Plus, it helped that it was an 18+ show. When in doubt, say something foul and disgusting.
Another activity we did was a dating game scenario, where the audience suggests a condition your character has and one of the improvers has to guess it by asking questions – like a dating game. My character had to sing whenever he felt impotent. So whenever I was asked sex questions, or brought up something about intimacy myself, I had to start singing my answers. My favorite line was "Whenever it's time for romance, I begin to question my performance."
The final sketch I participated in was called last man standing. Everyone goes out and enacts a scene after the audience picks a location (in this case, a mini-golf course). At the end of the skit, a number is drawn and that person is removed from the skit – however, the remaining performers have to play your role. Eventually you have one person performing everyone's role, and it's pretty hilarious.
So Doug started off the skit by hitting the ball really hard and knocking someone out. I told him "this isn't how you use a club," and he proceeded to play off the unconscious player by whacking them a few times. Then I whacked Doug. Then someone whacked me. Basically, it turned into a skit of us hitting each other with invisible golf clubs. Hilarious.
The improv ended around 2am, and after thanking everyone for letting me participate I headed off to bed.
SUNDAY:
An early morning had us at the cafe for breakfast sandwiches. Russ, Gabe, Doug, and our ladies were all in attendance. It was nice to relax and chat a bit before the final day of the show.

Relaxing at the table
We headed to the floor for our final day of sales, which started off strong. Russ had a panel around noon for Writing Kids Comics, and then Gabe and I went to our Making Webcomics panel around 1:30pm. Kasey Williams, who did a backup story in the latest issue of Albert the Alien, also joined us for the panel. She just started her first webcomic series, so her insight was very helpful for the attendees. We had a good-sized group, and they were very interested in asking questions at the end of the panel.
After we finished the panel, it was time to pack up and head home.
This is the second year I was a guest at Kollision Con, and it continues to be a fun show with some great guests and involved attendees. A great way to end the convention season!