Posts Tagged 'reading with pictures'
43 items.
I will be attending C2E2 this weekend in Chicago! I am manning the Reading with Pictures booth again, selling copies of the anthology (as well as Albert the Alien and Junkyard Chase).
We will also be doing a live reading on Sunday on the Variant Stage from 1:15-2:15pm, showing off some of the new RWP volume 2 material. Including the brand new Albert the Alien story specifically written for this new Graphic Textbook.
There will be a lot of fun and exciting things going on, so I hope to see you all there!
February 15th, 2013
|
by Trevor
I'm attending Anime Milwaukee this weekend as a guest of honor. However, that doesn't mean that "THE WORK" stops just because I'm at a convention. I wanted to share some finished pages for the in-progress Albert the Alien story that will appear in Reading with Pictures volume 2: The Graphic Textbook.
The story is called "It's a Figure of Speech," and it's about how English is a second language for Albert. Because of this, he takes figurative speech literally.
This story will appear in the RWP volume 2 book that was successfully funded through Kickstarter, and is due out later this year. Enjoy!
January 18th, 2013
|
by Trevor
As the child of two teachers, education has always played a very important role in my life. I've always been encouraged to study hard, get good grades, and enjoy my educational experience.
As such, when I was given the opportunity to join Reading with Pictures – a non-profit organization getting comics into classrooms – I jumped at the idea of combining my two lifelong passions: education and comics.
Reading with Pictures has done so much for me:
1) Introduced me to so many wonderful and supportive people
2) Partnered me with fellow Albert the Alien creator, Gabrial Bautista
3) Given me my first professionally published project
4) Set me up with numerous speaking engagements, convention appearances, and opened doors for me I'm probably not even completely aware of
5) So many more things that I can't even begin to start listing here
With education playing such a crucial role in my life and my work, I can't help but pay attention when awful situations happen in schools. The latest of which was a tragedy beyond measure, and something this country will not soon forget.
So when Reading with Pictures posted the below press release, asking for all-ages comic donations, I had to participate.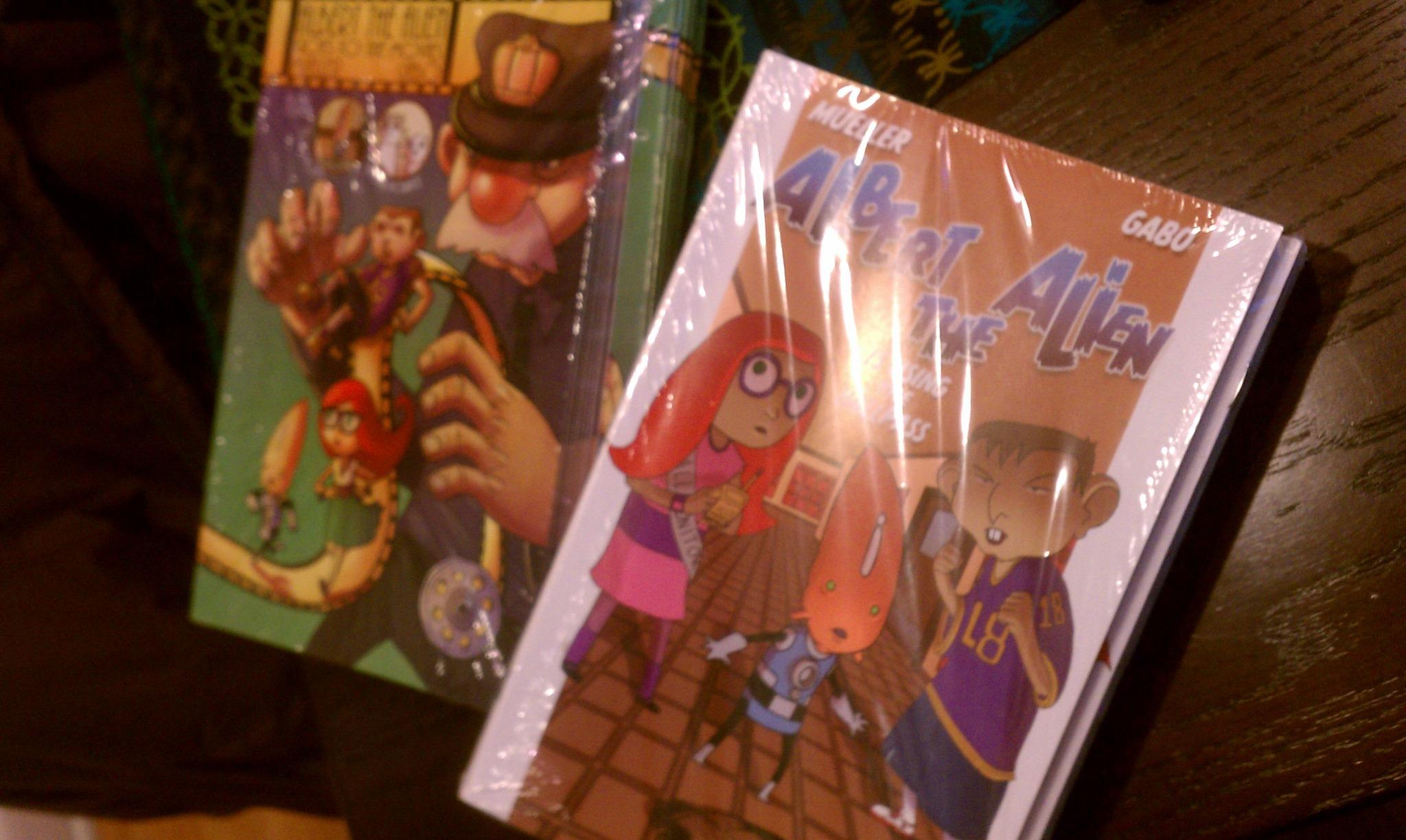 Both Gabe and I feel for the families affected by this horrible tragedy, and as such we have donated a large supply of Albert the Alien comics to the kids of Newton through Reading with Pictures.
Below is the full press release, and they are still accepting donations of comics for the families. If you have some all-ages comics you would like to donate, please e-mail RWP at the below e-mail address.
Our thoughts and prayers go out to the families affected by this terrible event, and I hope our donation can somehow help to brighten someone's day.
###
We at Reading With Pictures reacted to the tragic news coming from Newtown, CT with the same sense of loss and sadness that everyone else felt. As a nonprofit organization with a special tie to education and schools, to see the bond of safety and trust punctured was absolutely heartbreaking.
The outpouring of support all across the nation has been inspirational and we want to help in our own small way. An important time of happiness between families is reading together and we want to put together a collection of kid friendly comic books to send to the families in Newtown, CT.
We'll be working with connections we have in that community to coordinate the best possible direction for this donation but we wanted to ask for your own help in this comic book drive.
If you have any children's comic books to donate or want to assist in this, please email info@readingwithpictures.org
Due to increased interest, we will accept donations through the end of January 2013. Please keep the following in mind:
1. We want children's comic books only. Nothing scary, violent, suggestive in anyway. We will be scanning all donations to ensure the content is appropriate.
2. If possible, try to donate a few sets so we can spread them out among families
3. Your donations are tax deductible and we will provide all donors with a tax receipt
4. Reading With Pictures will attempt to document as much as possible the donation's progress up until we send it but after that, we will want to respect the Newtown, CT community's privacy
From all of us at Reading With Pictures, thank you so much for not only your compassion and caring but also believing in the power of comic books in creating community.
Update #1
We received our first donation yesterday! We'll be cataloging each comic and making sure its all kid friendly, but at first glance it looks absolutely great!
We're also just waiting to hear from our contact at Sandy Hook Elementary after reaching out. With everything that's been going on, as well as school typically being out for holiday break, we are confident in hearing something concrete in the new year.
Reading With Pictures will also be donating a whole box of the anthology to this effort.
December 10th, 2012
|
by Trevor
As I announced last week, Albert the Alien is going to be my primary comic focus in 2013. Partnering with regular artist Gabriel Bautista, we will be doing a story in the Reading with Pictures Graphic Textbook as well as launching a webcomic sometime in March.
To give you guys a preview of the work being put into the project, below are some sketches and sample pages for the RWP story.
As you may know, Reading with Pictures is a non-profit organization getting comics into classrooms. In 2010, Albert the Alien made his first appearance in the all-ages educational anthology, which was nominated for two Harvey Awards. He will be appearing in the second volume: The Graphic Textbook.
The story is called It's a Figure of Speech, and it's about figurative language. Since English isn't Albert's first language, he takes figurative language literally. This allows for a fun playground within a visual medium – and we're taking every advantage.
First off, we're going to have some new characters that are going to play a big role in the upcoming webcomic series….

New characters for Albert the Alien. From left to right: Jack Greyson, Gerty's astronaut father; Miranda Tam, student reporter; Draven Darkmoon, the artsy kid

Detail for Draven and Jack Greyson
Additionally, we just received editorial approval on the inks! Below are some pages and excerpts from the upcoming story, setting up the conflict and overall plot of the story.
For the kickstarter pledge drive for RWP v2, we had 3 slots for pledgers to be drawn into the comic. These pledge options sold out within days of going live, so they were extremely popular. On the page 1 example below, you can see two of the pledgers – the adults in the room.

Inks for page 1 of Albert the Alien in It's a Figure of Speech. Art by Gabriel Bautista

An excerpt from page 2 of the RWP story. Art by Gabriel Bautista
Albert the Alien is coming along nicely, and we're making tons of progress on this front. I look forward to sharing more with you guys as we continue to put together the RWP v2 pages, as well as the webcomic work!
November 16th, 2012
|
by Trevor
Sadly no comic update this week again. Sorry about that, but I've been playing some serious catch up on other projects. Plus, you know…the whole engagement thing from last week.
So I have a habit of hinting at projects I'm working on but don't go into a lot more detail than that. Sometimes I can't go into detail. The project isn't announced yet, or is in the early stages of development and requires a lot of work. Sometimes I'm not even 100% sure it's going to be completed – which has happened to me more than a few times this year.
However, there are some big projects I'm working on right now that I can go into a little bit of detail on, several of which will be coming out next year.
PROJECT 1: Reading with Pictures volume 2


Coming out in 2013, RWP vol 2 (also called The Graphic Textbook) will feature an original story written by me, and illustrated by the very talented Gabriel Bautista. As with our past collaborations, this will be another Albert the Alien story, and will be about learning figurative language.
Albert is such a fun character to write, and the world he inhabits is our world – but through the filter of his eyes, it's our world to the nth degree. A hyper-realized version of our world, where everything is awesome and exciting. The ordinary becomes extraordinary, the mundane becomes insane. You get the idea.
Gabe and I are hard at work on the pages, and I will be sharing samples once they become available. And we have a lot more Albert planned for 2013, including….
PROJECT 2: Albert the Alien the webcomic


I seriously love Albert the Alien, and working with Gabe. And if I can do both, then bonus!
Gabe and I have been hashing out the details all year for the continuing adventures of Albert the Alien. And while we still don't have everything finalized just yet, we do know we're going to be launching him as a webcomic series starting sometime in 2013.
I have so many adventures I want to tell with this character, and Gabe's style and input are so critical to making Albert's world a fun and real place. It's a 1980s cartoon version of our world, with all the fun and nostalgia I had growing up as a kid. But hyper-realized, because Albert can do so many things that I could only dream of – and still dream of today.
There will be a larger narrative that flows throughout the various stories, but we'll be telling shorts, one-shots, and longer-form stories with the characters. We'll also be introducing new main characters to help flesh out the rest of the cast, many of which will be making an appearance in the RWP story.
We're still in the early stages of this project, where I'm finishing the scripts and Gabe will be getting started on the pages before the end of the year (depending on his schedule, of course).
This is a very exciting project, and I'm really looking forward to giving you guys more information on it when it becomes available. Please continue to be patient as we put together this project.
PROJECT 3: Top Cow Talent Hunt
For those of you looking to break into the industry, but not sure how to do it, Top Cow is holding a Talent Hunt running until December 31. They're looking for two artists and two writers for a one-shot or mini-series to come out in 2013. And I'm submitting!
There are a bunch of rules surrounding this contest, but ultimately it's going to come down to skill, professionalism, and having a very strong pitch.
While I can't get into details on what I'm pitching, with whom, or anything beyond the fact that I'm working on it, I would like to share the information next year after they make their announcements. Whether I get in or not, I would like to use the experience from it and help teach you guys what I did, why I did it, and (if I get in) how I did it. Or, if I don't get in, how I would have done it differently.
It sounds like this is going to be an annual thing, so there's definitely an opportunity for some new talent to be discovered. Are you the next Michael Turner, or Ron Marz? Test your mettle by participating in this very fun (but very challenging) opportunity.
PROJECT 4: Wedding Planning
If you missed the good news, I proposed to my girlfriend earlier this month. So this means we're going to be getting married next year (sorry, single ladies). However, this also means a lot of wedding planning.
Now granted this is a new project, and I will definitely be keeping you updated as we progress through the steps. Right now we're trying to establish a budget, guest list, wedding party, and find a short list of venues where we would like to get married and host the reception. However, I'm told there's a lot more work to follow.
PROJECT 5: Convention Appearances
I keep my convention and signing appearances in the upper left side of the website (no seriously, check it out). While I only post my announced / confirmed appearances, I am constantly working with various conventions, libraries, and schools on my appearance schedule.
Most of my shows tend to be around the mid-west, although I'm working to expand that list. The trick is that attending shows if I'm not a guest is fiscally difficult. It's like a vacation, but I'm working. Most of the shows I attend, I have been invited by the show and am a guest – so the show is paying for my appearance in part or in full.
If you would like me to attend a show in your town, or your favorite show you travel to, please reach out to the show and ask them to invite me as a guest. I would love to speak to them about partnering together and potentially appearing at their convention.
###
So, there are more projects in the works, but unfortunately I can't talk about them just yet. But when I can, I will definitely let you know. Until then, have a great weekend, and I hope to see you at a convention appearance soon!
October 11th, 2012
|
by Trevor
Reading with Pictures will be at New York Comic Con this weekend, in small press booth 3139. Look for Marketing Director Trevor Mueller manning the table, selling copies of the anthology and some brand new original books of his own: Two brand new Albert the Alien books!
We will also have some panels throughout the weekend, including:
Changing the Game with The Graphic Textbook
Date: Thursday, October 11
1:30 pm – 2:30 pm
Location: 1A01
Speakers: David Rapp, Janet Lee, Josh Elder
Description:
The Graphic Textbook from Reading With Pictures raised $77k on Kickstarter and was featured on NPR, Wired.com and the Chicago Tribune. And that was just the beginning! Meet the creators and educators behind this groundbreaking book that promises to revolutionize the role of comics in the classroom and find out how you can get involved!
Reading with Pictures Live Reading
Date: Sunday, October 14
11:15 am – 11:45 am
Location: Variant Stage
Speaker: Trevor Mueller
Description:
Come learn about how getting comics in the classroom can be fun and educational. There will be live read-alongs of our favorite stories from the Harvey-Award nominated anthology, and the latest news about how you can help get comics into schools and libraries near you! Hosted by Reading with Pictures Marketing Director Trevor Mueller. Come join us for this engaging panel that's fun for all ages!
Reading with Pictures will be attending Summit City Con this weekend in Fort Wayne, IN.
Marketing Director Trevor Mueller (Albert the Alien) will be joined by fellow contributors Russell Lissau (The Batman Strikes!, Strawberry Shortcake) and Steve Horton (Amala's Blade).
Look for the RWP banner at booth C19 for the latest information on RWP initiatives, to buy copies of the anthology, or to learn about how you can help get comics into classrooms!
Ladies and gents, I'm happy to announce another successful C2E2 show occurred this past weekend in Chicago. The people at Reed outdid themselves yet again, with some killer sales and awesome staffers putting together one of the fastest growing shows in Chicago.
With that said, let's dive right into the con report:
THURSDAY:
Even though the show didn't start this day, my friends who were attending the con arrived that night. After getting out of the office I met up with Scott (my web guy, and a great friend) and headed off to pick up a table for Joe and Phil (www.digitalpimpsonline.com), since they were flying in from another state. We also went to order pizza. My phone wouldn't stop blowing up with text messages and phone calls, as everyone was looking to get unpacked and relax. Plus, I had promised them food.

Eventually Russell Lissau (Strawberry Shortcake) and Lora Innes (The Dreamer) showed up, followed by Alan Evans (www.rivalangels.com) and Joe and Phil.
Everyone showed up, drinks and laughs were had, it was a full house for sure. I set everyone up with sleeping arrangements (I'm happy to say with 6 house guests, no one had to sleep on the floor), and we all headed off to bed. The next day would be an early one, since we all needed to set up our booths and tables.
FRIDAY:
An early morning greeted us on the other side of our pillows, followed by packing up the cars and hi-tailing it over to the convention center. Reading with Pictures was the booth Russell and I were running – volunteering our time to help out the organization. Russ had a few issues of Strawberry Shortcake, and I had a brand new Albert the Alien story. Additionally, we were both selling RWP books and promoting the recently announced Kickstarter campaign.
The day started off with heavy traffic, took a dip in activity, and then finished strong. Throughout the day I kept running around the floor, taking advantage of the professional hours to say hi to some comic friends I know (and only get to see at shows like this), and prepping for the live RWP reading we would be doing on Sunday.
Sales seemed to be mirrored by everyone on Friday, with that last minute rush helping quite a bit. Albert sold extremely well, especially for the premiere at a larger show like this – which tends to be dominated by licensed characters.
After the show ended, the group organized and headed to my favorite sushi place in the city. Located a few miles away from the convention center, Niu offers a variety of Asian Fusion options – so there's a little something for everyone. We were joined by Comfort Love and Adam Withers (Rainbow in the Dark), Byran L Glass (Mice Templar), and a few additional new friends we met that night. Overall the night was fantastic, with the company being top notch. The food never disappoints at this place, and we drank and laughed late into the night.
Eventually, however, the evening had to come to an end and we headed back to the apartment where we continued the party. With another early morning around the corner, however, it was quickly time to call it a night.
SATURDAY:
We got up early and went to the post office to pick up a package that Lora's husband sent to the apartment. Unfortunately, since my name's still not on the directory yet, mail tends to have some difficulty finding me. Lora and I walked to the place (after grabbing a doughnut from Dinkles, which Beth was kind enough to buy for everyone), and waited for like 30 minutes before an announcement came over the intercom saying "Louise, your break is over." Suddenly, someone was able to wait on us.
What kind of person takes a break at 8am on a Saturday, I ask you? At least Lora and I got a chance to hang out a little, which was nice.
After getting the package, we headed out to the show floor and arrived just as the doors were opening. Thankfully, setting up the second day is much easier than the first, when you're trying to figure out where everything goes. Sales on Saturday for Albert were not as strong as Friday, but RWP sold like hot cakes. Russ even sold through most of his Strawberry Shortcake stock. The day was solid wall-to-wall traffic. Thankfully, our table was right next to a 5 hour energy drink booth, in case we needed a pick-me-up at any point in time.
Beth attended the show on Saturday as well, disappearing for most of the day. She tells me she spent most of it in a corner playing Plants vs Zombies, but I don't know that I believe her. There was way too much cool art in artist alley to check out to play video games. And Beth has an eye for cool art stuff.
After the show the group split up for dinner. Knowing I had a pile of work at home (and was exhausted), I headed back to the apartment with Russ, Scott, and Beth. We went to a local restaurant with southern comfort food, and then went to an ice cream place for a tasty treat before heading home. Once there, we popped in Spaceballs (How many @$$holes! do we have on this ship, anyhow?) and laughed our exhausted butts off. Eventually the rest of the group returned, and we drank and socialized until much later than we should have. However, it was a fun final night together before our last day of the show.
SUNDAY:
Our last day at the show saw a later get up time (for me, at least) since everyone was pretty much exhausted. We grabbed what was left of the pizza and doughnuts and headed to the show (after some minor car issues involving the need to jump the battery). Sunday was kids day, and we sold books like crazy fiends. Around 11:15am was the live reading for RWP. I was joined by Beth and Scott for the reading, and we headed over to the large stage. Our crowd started off at around 30 people, and ended with about 150 people. We had some kids come up on the stage to volunteer their reading skills for a chance to win a copy of the anthology signed by all of the contributors at the show. We had some really brave kids come up on that stage, hold a mic, and read some of our funny books – but the kids were fearless, and did an awesome job.
After the reading, we went back to the table and spent the rest of the time selling through as much of our remaining stock as possible before the end of the day. I sold through most of my Albert books (about half of my stock), and we knocked out several kickstarter packages for C2E2 attendees. Overall, Russ and I did a lot of business at the show and had a great time doing it.
After the show ended we said our goodbyes, and parted ways. Beth and I went home, made some dinner, and watched some True Grit and How I Met Your Mother before hitting the hay.
Overall, C2E2 is a great show filled with celebrity comic creators (and celebrities), and a fun venue through which to premiere a new book. Always a great time hanging out with my comic creator friends and meeting new people and fans at a show like this, and I'm looking forward to the next one soon!
Reading with Pictures will be appearing at C2E2 in Chicago, Il, April 13-15. Contributors Russell Lissau and Trevor Mueller will be running booth #211 (near DC Comics), and will have copies of the two-time Harvey Award-nominated anthology available for sale.
They will also be selling copies of their personal all-ages work, including Strawberry Shortcake and Albert the Alien.
There will be celebrity guest signings throughout the weekend at the booth, as well as some big announcements about the future of RWP. Be sure to stop by the table to see who is signing and when.
Additionally, RWP will be putting on the following panels throughout the weekend:
Reading With Pictures: The Future of Comics in the Classroom
Date: Friday, April 13
10:45 AM – 11:45 AM
Location: N426b
Speakers: David Rapp , Josh Elder , Laura Harper , Tim Sarrantonio , Travis White-Schwoch , Trevor Mueller
Description:
Find out how YOU can help get comics into schools and get schools into comics in this informational seminar hosted by some of the biggest names in the world of comics and education. Join Josh Elder of Reading With Pictures and several educational professionals as they unveil their plans for 2012 and beyond.
###
Reading with Pictures – Live Reading
Date: Sunday, April 15
11:15 AM – 11:45 AM
Location: Variant Stage
Speakers: Gabriel Bautisa , Trevor Mueller
Description:
Come learn about how getting comics in the classroom can be fun and educational. There will be live read-alongs of our favorite stories from the Harvey-Award nominated anthology, sessions teaching kids how to draw their favorite characters, and much more! Hosted by Reading with Pictures Marketing Director Trevor Mueller, and Eisner-Award winning contributor Gabriel Bautisa. Come join us for this engaging panel that's fun for all ages!
###
Getting the Most out of Graphic Novels in Your Classroom Library
Date: Sunday, April 15
3:45 PM – 4:45 PM
Location: N426a
Speakers: Jeni Defeo , Josh Elder , Robert Casey
Description:
Josh Elder, Founder and President of Reading With Pictures, leads a panel of experienced educators and librarians in presenting a series of best practices for getting the most out of the graphic novels in your classroom or library. The expert panel will be sharing their proven strategies and answering audience questions and concerns.
Started putting together all of the work for my April shows already, and decided I would put together a showing of the books in one consolidated place. All of these fine books will be available for purchase at my various conventions throughout the year (see sidebar on the right with the full convention list).
NEW THIS YEAR:


@$$hole! Volume 1: No Pants Tuesday:
Ever had a roommate from hell? Well, Trevor has that – literally! His demonic roommate, Susie, only wants to watch TV, be lazy, and capture the souls of every human on the planet. Is it possible for these two to live together, or will their adventures result in one of their untimely demises? Nominated for multiple awards, this tongue-in-cheek series is full of hilarious pop-culture references, kleptomaniac gnome kings, and adolescent humor.
Written and illustrated by Trevor Mueller

Albert the Alien is Using the Hall Pass:
The foreign exchange student from another planet is back! This time, Albert has to use the bathroom, but the school bully has other plans. Can Albert subdue the bully, avoid the hall monitors, and make it to the rest room before the end of class?
Includes the full adventure, a copy of the script, character designs by the artist, several activity pages, and so much more!
Written by Trevor Mueller, Art by Eisner-winner Gabriel Bautista
RETURNING BEST-SELLERS:


@$$hole!: Laura's 21st Birthday:
The story of a slacker so lazy he forgets his girlfriends birthday. Now with the help of his demonic roommate, Susie, he must overcome his fear of shopping to find her the perfect gift to make up for his failings. And where does their adventure take them, but to the most horrific place on the planet: the mall!
Written and illustrated by Trevor Mueller

Junkyard Chase:
When a puppy sneaks into the local scrapyard, it's up to robo-security to escort them out. However, junkyards can be a very dangerous place – even for the robots who work there. Can robo-security perform their duty and get the puppy to safety? In the vein of a Wylie Coyote cartoon, this comic is a fun adventure appropriate for all ages. Also includes a script and the page layouts, so creators can see how a comic is made.
Written by Trevor Mueller, Art by Jeong Mo Yang

Reading with Pictures Volume 1:
Collecting 37 all-ages stories from award-winning talent like Jill Thompson, Raina Telgemeire, Fred Van Lente, and many more. This collection is perfect for educators, parents, or kids who love reading! This anthology benefits the RWP non-profit, working to get comics in the classroom and features the first appearance of Albert the Alien! Bored by learning about dinosaurs in a textbook, Albert wisks his class back in time where the teacher is promptly stolen by a pterosaurs. Can Albert save the teacher and get his class back to the present before they all get in trouble?

Hope: The Hero Initiative:
The only anthology benefiting the Hero Initiative non-profit, which gives money to out of work comic creators. 28 stories in all from many talented comic professionals. My story in the anthology is called "Inspiration," and is about a boy who has been diagnosed with cancer and has been blogging about his experiences. During a "bad day," he receives a series of comments on his blog from dedicated readers, telling stories about how this boys battle with cancer has inspired them to be real-life heroes.