Archive for January, 2014
15 items.
January 31st, 2014
|
by Trevor

Today's Albert the Alien shows the inside of the mysterious Locker #13!!!!
But wait, what's this? It just looks like a normal, empty (dirty and unused) locker! How can that be?
Gabe and I had a funny conversation when he sent me this page, which went a little something like this:
TREVOR: Ha ha ha, I think it's funny that Albert can hack the locker combination when it's not networked – too funny.
GABE: well I figure it's being used by what's his name – maybe he's got some locking mechanism I don't know haha-
GABE: sonic waves created by the computer shifted the keys inside the locking mechanism – hahah
TREVOR: We can easily sum it up like this: it's ALIEN science! The usual laws of physics and logic don't apply.
So, to anyone out there who was wondering how Albert used a holographic computer to hack and unlock / open a physical (and non-networked) locker, there's your explanation.
So what's the real story with Locker #13? We'll find out next week! And please come back every Wednesday and Friday for more Albert the Alien!
January 29th, 2014
|
by Trevor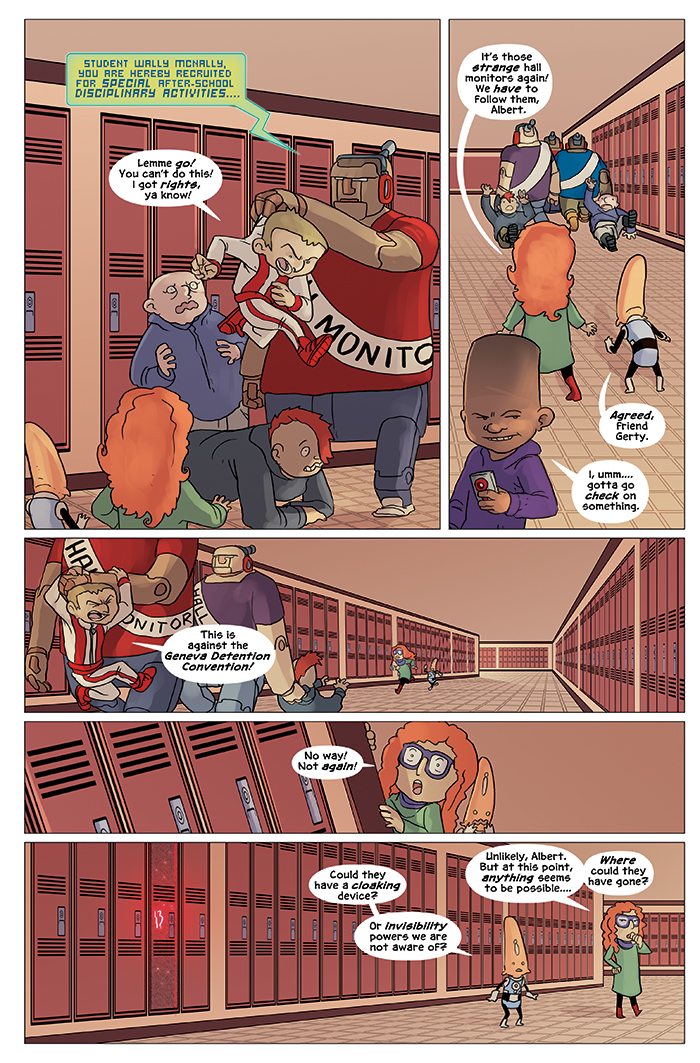 Happy Wednesdays and – wait, where the heck did the robo-hall monitors take Wally and his goons!?!
Something's fishy here in Heston Heights Middle School, and I bet dollars to doughnuts it has something to do with the mysterious Locker 13! We have robotic hall monitors posing as students, we have stuff going missing from kid's lockers, we have a cursed locker – so many elements coming together in this chapter! Should be a fun and wild ride! Come back Friday for another thrilling update!
January 24th, 2014
|
by Trevor
It's Friday, and that means another awesome Albert the Alien update!
It's fun to know that Wally doesn't let his short stature dissuade him standing up to the hall monitors, who are significantly taller than him. Wally can be an entertaining character to write because of these traits. And we'll explore his goons, Lugg and Ugg, in later stories for sure. Why would they follow someone who's so self-centered? So mean? We'll find out those answers for sure, but first we have more important questions for this story arc:
What is going on with the mystery locker?
Who's stealing from the kid's lockers?
Who are these robo-hall monitors, and why are they in the school?
We'll find out all these answers and more, later this chapter! Tune in next time, every Wednesday and Friday, for more Albert the Alien!
January 23rd, 2014
|
by Trevor
These were super easy to make, very tasty (a little spicy, which I like), and taste great when you reheat. Also, anything with bacon is awesome because, let's be honest – bacon is delicious!
INGREDIENTS:
4 strips thick sliced bacon, diced
1 lb boneless, skinless chicken breast, sliced into strips
3 cups shredded romaine lettuce
1/2 cup halved grape tomatoes
1/2 cup seeded, sliced cucumber
1/3 cup ranch dressing
2 tsp diced chipotle in adobo sauce
4 burrito-sized flour tortillas
INSTRUCTIONS:
1) Cook bacon in a saute pan over medium heat until crisp. Transfer bacon to a paper towel lined plate. Drain all but 2 tbsp drippings
2) Saute chicken in drippings in same pan over medium-high heat until browned and cooked through, 8 minutes. Transfer chicken to a plate, tent with foil, and let rest 3 minutes
3) Combine lettuce, tomatoes, cucumber, and bacon in a bowl. Mix together ranch dressing and chipotle; toss with salad mixture and chill until ready to serve
4) Heat tortillas in a large skillet, 1 minute per side
5) To serve, divide chicken among tortillas, top with salad mixture, and roll tortilla over filling. Cut burritos in half on a diagonal and serve
January 22nd, 2014
|
by Trevor
Happy middle of the week day (also known as Wednesday), and welcome to another installment of Albert the Alien!
There's a lot going on in this page, but my favorite part is Wally trying to shift the blame on Albert – and then Gerty getting back at him by saying that Albert has diplomatic immunity. Even though Wally doesn't say the same thing, what he does say "automatic impunity" technically means something similar. I'm sure this was unintentional on Wally's part, but I still found it hilarious. Almost as hilarious as when he finds out what it means, and then he covets it for himself.
Wally is an easy character to write. He's very selfish, and therefore can always be expected to look out for himself. Or try to shift the blame away from himself. That said, there's some large shadows looming in the final panel of this page – and it seems like they may be coming for Wally. The only way to find out for sure is to come back here Friday for the next installment of Albert the Alien!
January 21st, 2014
|
by Trevor
Something that goes great with those burritos we made in the previous entry, and I'm always a fan of guacamole.
INGREDIENTS:
3 avocados, diced
1 cup diced fresh pineapple
1/2 cup diced red onion
1/4 cup fresh lime juice
1/4 cup chopped fresh cilantro
1 jalapeno, minced
Salt and pepper to taste
INSTRUCTIONS:
1) Lightly mash avocados with a pastry blender or fork
2) Stir in pineapple, onion, lime juice, cilantro, and jalapeno; season with salt and pepper. Serve immediately
January 20th, 2014
|
by Trevor
More recipes from the magazine we receive. This pasta went extremely well with the pasta bake I posted last week.
INGREDIENTS:
1/2 cup mayonnaise
3 tbsp milk
1 tbsp red wine vinegar
1 tbsp sugar
2 tsp dried Italian seasoning
1 tsp granulated garlic
1 bag chopped salad mix
1 cup seeded, sliced cucumber
1 cup croutons
1 cup sliced banana pepper rings
Salt and pepper to taste
INSTRUCTIONS:
1) Whisk together mayonnaise, milk, vinegar, sugar, Italian seasoning, and granulated garlic in a large bowl. Season dressing with salt and pepper
2) Add salad mix, cucumber, croutons, and pepper rings to dressing in bowl and toss to coat
January 17th, 2014
|
by Trevor
It's Friday, and that means's the weekend's right around the corner. But before we get there, we get to enjoy another update of Albert the Alien!
Today's comic features a little lesson about history. The Underground Railroad, and the importance it played in American History. No doubt you've learned about it in school, and I wanted to include a little bit of history in Albert the Alien (he did first appear in an educational anthology of comics, after all).
The teacher in today's update is a sponsored appearance by Daniel Wojcik. I met Dan while I was a guest at Anime Iowa, and we had many interesting (and late night) conversations about comics, anime, and yes – teaching! I'm a product of two teachers, so education has always been super important to me, and I was so happy that Dan agreed to support Albert with this appearance.
If you would like to appear in a future issue of Albert the Alien, we will be announcing future appearances soon! Please come back every Wednesday and Friday for another update!
Until then, have a great weekend!

Character design for Daniel Wojcik's sponsored appearance.
January 17th, 2014
|
by Trevor
Another Albert the Alien update featuring — a giant robotic hall monitor!?!
Gerty knows something's not right at Heston Heights middle school, and she quickly follows the suspicious looking "student." But once she turns the corner, the robot has disappeared! Where could it have gone? And what does it have to do with the super secret mysterious locker #13? We're going to find out in this chapter, and it's going to be Albert's wildest adventure yet!
Come back on Friday for another fun update, and another sponsored guest appearance!
January 16th, 2014
|
by Trevor
Beth and I got the latest issue of Cuisine magazine, and started trying some recipes again. Unfortunately I didn't take any photos of the process or the product, but my goodness – these are damn tasty!
INGREDIENTS:
8 oz campanelle pasta
5 oz pepperoni
8 oz bulk Italian sausage
16 oz mushrooms
1/2 cup diced onion
1 tbsp minced garlic
2 tsp dried Italian seasoning
1/2 tsp red pepper flakes
1 can (28 oz) crushed tomatoes
3.8 oz sliced olives (black or green)
8 oz mozzarella, sliced
1/4 cup shredded Parmesan
Fresh basil
salt and pepper to taste
INSTRUCTIONS
1) Cook pasta in a large pot of boiling water according to package directions; drain
2) Preheat broiler to high with rack 6-8 inches from element
3) Saute pepperoni in a large pan (oven safe) over medium-high heat until beginning to crisp; transfer to a paper towel-lined plate
4) Brown sausage in pepperoni drippings, 8 minutes. Transfer sausage to a separate paper-towel-lined plate
5) Saute mushrooms in sausage drippings until browned. Add onion, garlic, Italian seasoning and pepper flakes; cook 1 more minute
6) Stir in tomatoes and cook until slightly thickened, 3 minutes
7) Stir in cooked pasta, sausage, and olives. Layer mozzarella over casserole and top with pepperoni
8) Broil casserole until cheese is browned and bubbly. Sprinkle Parmesan over top of casserole and garnish with basil