Wizard World Madison was my final convention of the year, and the first time I've done a con in Madison. And man, was it a high note to end the year on. The show completely blew my expectations out of the water, and it's a good thing I over-packed for the show…because we practically sold out!
I drove up late Thursday night to the hotel, after tucking my girls in for bed, and made the 2+ hour drive north to this new city. Thankfully, the hotel was easy to find and I checked in without incident. No one else was at the hotel that late the night before the con, so I opted to relax in my room and watch a little Mr. Robot (season 3, very good show, now streaming on Amazon Prime) before going to bed.
FRIDAY:
The hotel gym didn't have any free weights, and since the last time I used a machine at a con I threw out my back, I decided to play it safe and just do some cardio and get some breakfast. I chatted with some of the familiar faces from artist alley – and a few new faces as well – and ran into the guest relations team as I was finishing up my food.
The con didn't start until 4pm that day, but I decided to unpack the car and load up my table right away anyway, just so I would have it done. Plus, it gave me a rare opportunity to walk around the floor and see who all was there and what would be for sale that weekend. Granted, not everyone was moved in yet, but I got the idea. In the time between shopping and setting up, I worked on some sketch cards and chatted up my table neighbor, Tom Cook (animator on classic shows like He-Man, She-Ra, Scooby-Doo, and so many more!).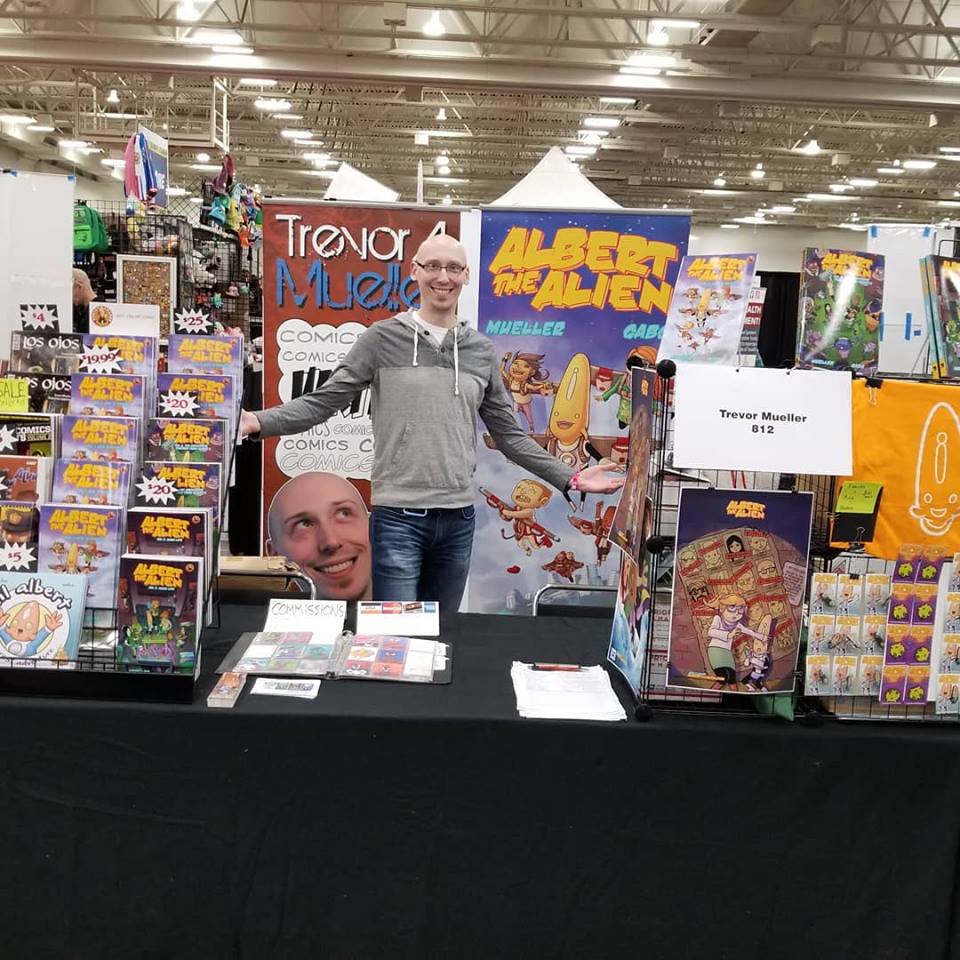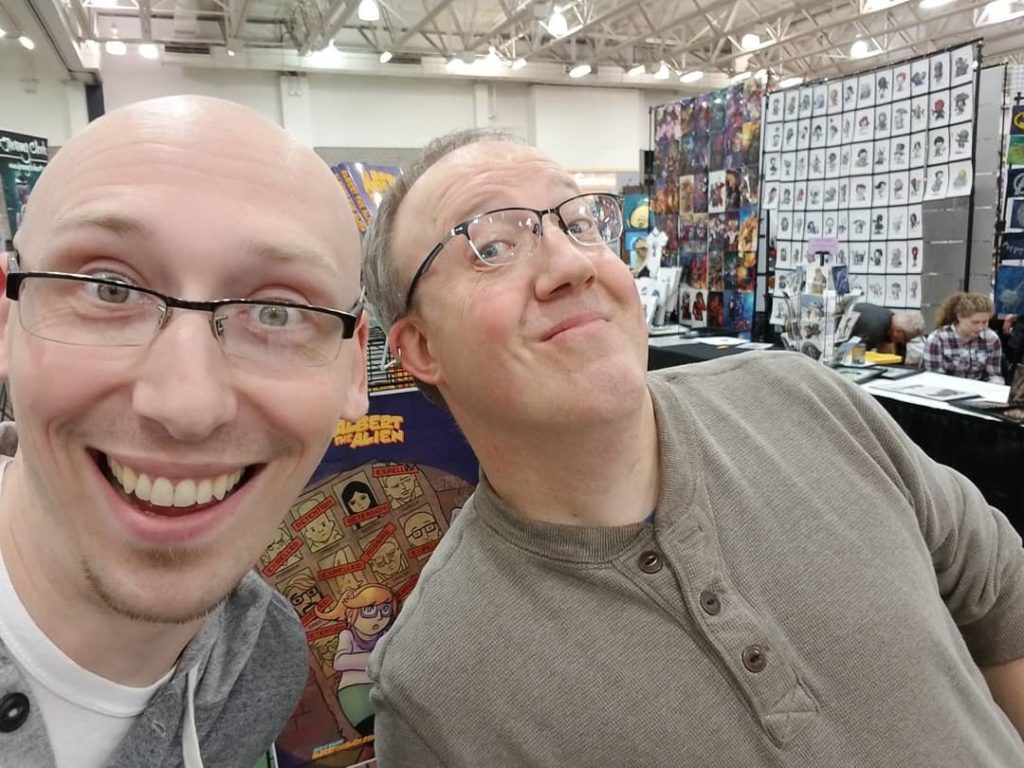 Eventually, I was joined by my pal Mark Stegbauer (Ghoul Scouts), and we had a fun time selling as soon as the doors opened – and man, did they open. It took an hour or so before people really started to pile in (probably because not everyone was out of work yet), but eventually the people did come in and they were shopping.
I also got to meet my volunteer for the weekend, a friend of a friend who agreed to help out at the table during my panels. Roger was his name, and he was a cool dude. Roger popped in early to get the download on the pitches and products, and then I headed to my first panel for the weekend: Crafting Fictional Worlds. This world-building panel was very well attended, with over 40 people in the audience and all asking very engaging questions.
I headed back to the table after the panel, with many attendees following me back to check out my work or buy something that night from me – many of them returning throughout the weekend to get more books, after having gotten the taste for my writing style and various series.
After the show floor ended, I gathered up my stuff and took an Uber with Brad Jones (Cinema Snob) and his wife to grab some dinner in the city. Brad picked his favorite burger joint, and we all dived into shared plates of cheese curds, seasoned fries, and our own tasty burgers, wraps, and sandwiches. It was a fantastic way to end the first night of the show, and great people to spend time with over some delicious food.
SATURDAY:
My morning started with breakfast and meeting Maggie Thompson, who was incredibly pleasant and not someone I had met before. Maggie, a former librarian, has been in the comic industry forever, and started the Comics Buyer's Guide. Plus, we have similar taste in the kinds of stories we enjoy reading.
I headed to the floor and set up, and started my day of sales. I got a lot of repeat visits from people who attended my panel from the previous day, as well as a bunch of buddies who drove up to attend the show for the day.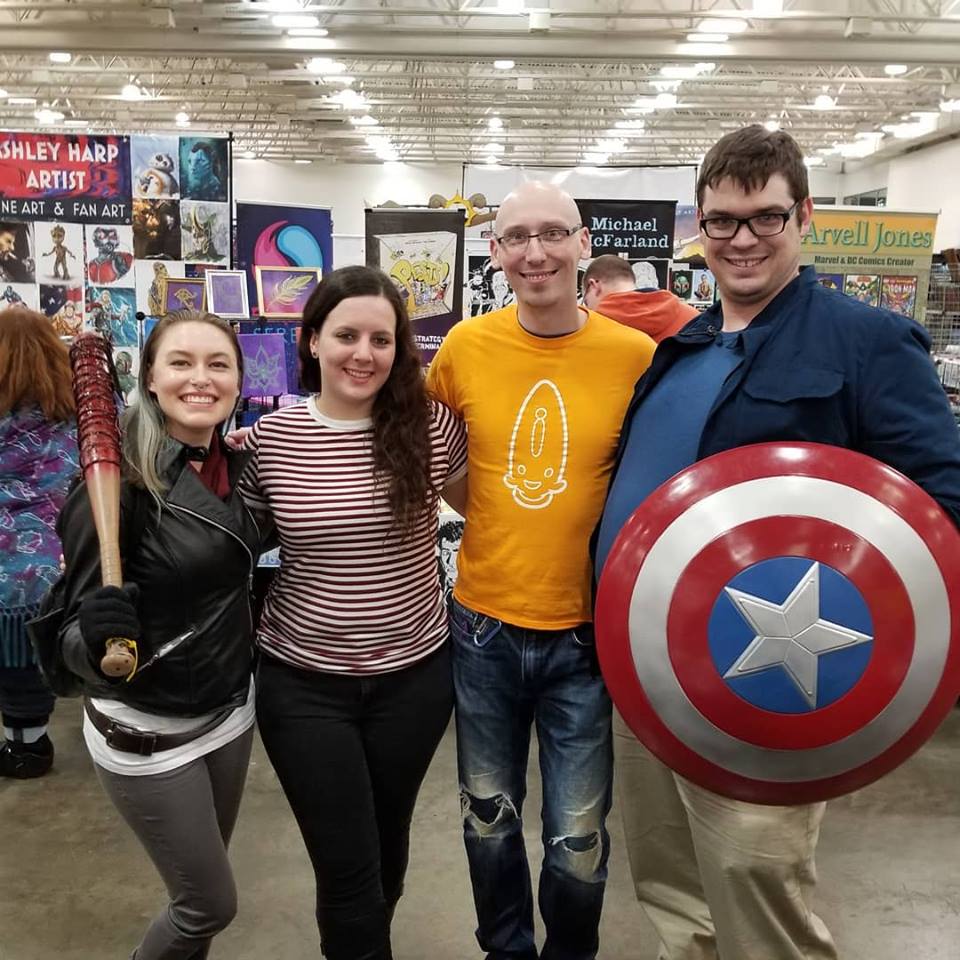 Roger came back to watch my table as I did my panels, the first of which was Self-Publishing 101 and about an hour later we did a Writing for Comics panel. Maggie attended the writing panel, and stopped by my table after to buy copies of all my Albert trades. It was around this time that I realized a trend was occurring that I had already encountered at my previous two shows – I was starting to sell out of product. I had over-packed for this show (on purpose!), and yet somehow I was still selling through all my inventory.
After the panels ended and the show floor closed, I hopped into a car with some buddies and went to dinner at Mark's favorite Mexican restaurant in the city. It was a bit crowded (which is a good indicator the place is popular), and we had some margaritas while we waited for our seats. The guacamole was fresh, the queso dip had just enough kick to be tasty, and the Mexican street corn side dish was excellent. Oh, and my tacos were pretty good, too!
After dinner, I hopped a ride back to the hotel and watched a little downloaded Mr Robot before heading off to bed.
SUNDAY:
The final day of the show is always a mixed emotional experience for me, because on the one end the show is almost over (happy face, I get to go home and see my family), and on the other side…the show is almost over (sad face, I have to leave my friends and don't get to talk about comics 24/7)! Bu I still had some inventory left that needed to be sold, and I wanted to say goodbye to my new fans that had been stopping by the panels and table all weekend.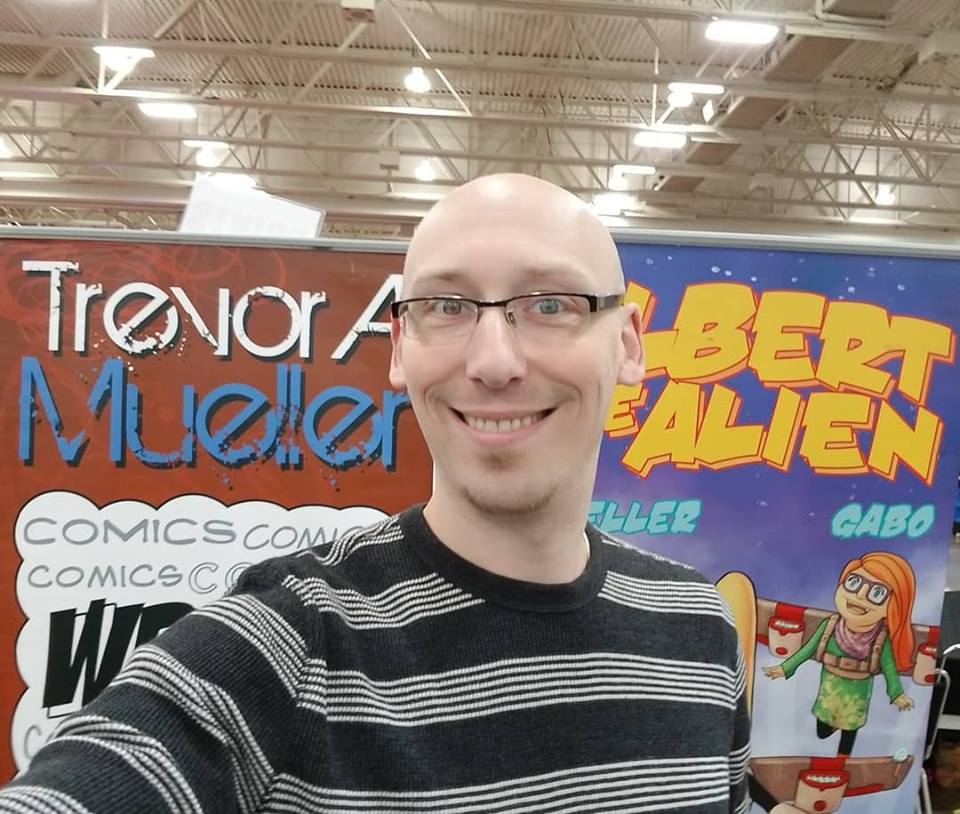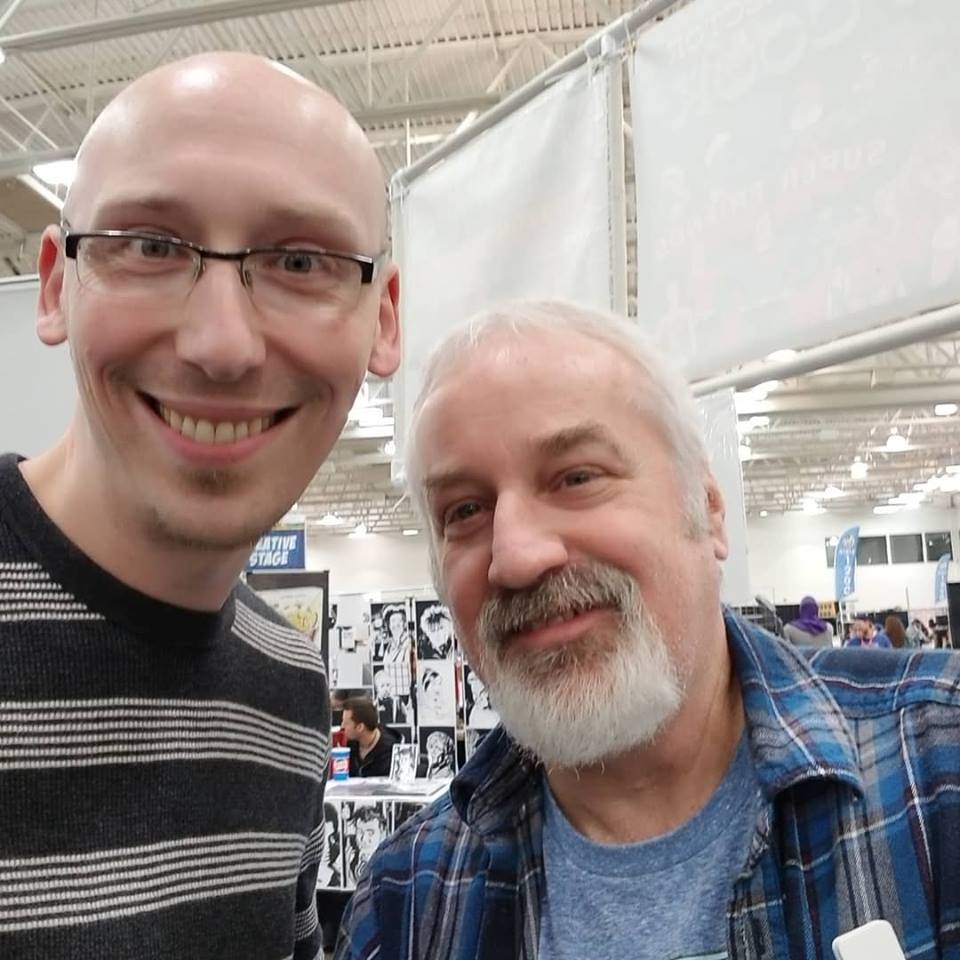 After a few hours I sold out of books, and not long after that the show had ended and it was time to pack up and head home. Wizard World Madison was an unexpected and incredible way to end the year. An amazing surprise in a string of great cons to end the year on. I enjoyed seeing all of my friends in comics, meeting new folks who supported my work, and participating in some riveting and fun panels to inspire and encourage the next generation of creators. I can't wait to go back again next year!