Archive for 'conventions'
124 items.
My first convention of the year is a show I wasn't able to do last year because of the wedding, but I was super looking forward to doing. Not only is it a fun time, low-key with lots of opportunity for us guests to interact with friends and fans on the floor, but the guest roster was also all of my nearest and dearest comic book creator friends that live in the local area!
Seriously, we had Alan Evans (Rival Angels), Sean and Sara Lindsay (Spinnerette), Steve Horton (Amala's Blade), Steve Wallace (Reading with Pictures), Russell Lissau (The Batman Strikes, Will), and my partner in comics, Gabo (Albert the Alien, The Life After). We also got to meet Blake Packard (Will) and his wife, as well as hang out with married partners in comics Comfort Love and Adam Withers (The Uniques, Rainbow in the Dark).
If that's not an impressive line up of talent, I don't know what is. So let's get into the adventures of the weekend!
FRIDAY:
Friday morning I packed up the car with my wife and headed out to Rosemont for a weekend of good times and great people. We got in early so we could set up and say hi to everyone, and check out the convention layout. Being in a new location (but one I am intimately familiar with), I wanted to see how Kollision Con decided to use the space and where they decided to put their rooms. They had a lot of fun activities for their attendees: game rooms, video games / arcades, a room dedicated to cosplay photos, tons of panel rooms – and a room where you could hit other people with padded bats!

The comic book guests of the show – all of them my friends, all of them amazing people!
Before the show started, my friends and I took a quick picture in front of our booths and then got behind them to start selling. Traffic was light but steady (it was Friday, after all). Thankfully with smaller shows like this, there's more opportunity to connect with the fans on a more personal level. And that's exactly what we did. It was awesome to see friends and fans alike coming out to the show, catching up after our holiday breaks and our New Years parties and having an opportunity to chill in a fun and social environment, like a convention.
There were also panels throughout the day. I jumped into the Making Webcomics part 1 panel lead by Alan Evans, and joined by myself and Sean Lindsay. We've given the panel before, and we had a small but interested audience who asked great questions.
After the floor closed, the gang went back to one of our rooms and ordered pizza. We had a fun time unwinding after the day (and enjoying some delicious Chicago-style deep dish), and then left to do more panels. I had my Evening with Trevor Mueller panel, which was populated by a loyal group of friends who know my best stories. They started off by doing a bit of a roast – taking over the panel and coming up to the front to tell their favorite stories of mine from cons or other experiences. It was a fresh take on the panel, and a great opportunity for people to rib me a bit in front of an audience. Because they know all of my stories, they also requested their favorite stories – which I was happy to oblige.
After the panel ended, the group split – with some going to the bar to hang out and others headed back to their rooms for sleep. I went to bed, because I wanted to get up early the next morning and go to the gym. Sadly this meant missing the improv that night (which runs from midnight until 2am, and I've done it every year I've attended Kollision Con), but it was a sacrifice I was willing to make.
SATURDAY:
Saturday morning Beth and I got up early and headed to the gym, where Alan was already hard at work on his cardio. Alan usually starts his day with some DDP Yoga, so he had already warmed up, too. Beth hit the treadmill while Alan and I focused on lifting and dynamic resistance exercises. I was working chest, shoulders and arms, while he was working arms. I don't usually work out my legs or do cardio at a con, since I stand all day at the table, but he also got in a little biking before we were done.
After a quick shower, the group met downstairs for some much needed breakfast. Despite the heavy dinner we had the night before, the group was pretty hungry. After breakfast, we headed to the floor to open our tables and get ready for a day of sales.

Beth and I work the booth
Sales were a little lighter for me on Saturday (which was a strange occurrence I had noticed the last few years, since fans typically find me right away and buy on Fridays), but the fans came out strong and we had a blast. I was even invited to participate in a new panel with Comfort and Adam about creating a character. The two started off by giving a presentation on the elements of a character:
– Personality: Who is this character, and how does their image reflect them?
– Simplicity: Is their design easy to replicate (e.g.: would it look good as a character image)?
– Utility: Is their design functional, and does their design have a purpose to it?
After the presentation, the two engaged myself and Alan (as well as the audience) to make a new character right there in the room. It was a fun exercise that had a lot of audience engagement and participation. While we discuss the character, Adam started drawing a sketch of what the character might look like. It was a fun time.
After the panel, we all returned to the floor to keep selling. After the floor closed, the bulk of the group went to the casino to grab burgers (and try their luck at some games of chance) while I went to the restaurant to grab a quick bite with Blake and his wife before my panel.
My next panel was a self-publishing 101 panel, and since the audience was also interested in digital publishing, we talked about both physical and digital opportunities. My motto has always been "it's never been harder to be published, but it's never been easier to make a comic." As someone who has mostly self-published their work, I wanted to provide an opportunity to how to get started, and more importantly how to finish making a comic.
After my panel Blake did a demonstration on oil painting. It was an interesting look at physical coloring (and there were a lot of engaging questions, especially from audience members who are more versed in digital coloring). The theories and approaches appear to be the same, but the execution is quite different – since oil paints are physical.
Blake even called the audience up to do some of the demonstrations, and to see his paint sets and the tools he uses to turn illustrations into stunning pieces of art.

Blake Packard gives an oil painting demonstration – this is my learning face (the face I make when intently learning something new)
After Blake's panel, I went to grab actual dinner with Beth before her panel. Yes, that's right – the wives of comic book creators panel actually happened at this show, and it was amazing!
Sara Lindsay had requested an opportunity to host a panel along with Tracie Evans and my wife, Beth, to talk about what it's like to be married to someone who works on comics. Each brought an interesting and unique perspective to the table:
Beth and I are newlyweds and comics are very new to her (plus I had told her to give me a good ribbing), so her perspective was more focused on the time commitment and the newness of the world of comics to her.
Sara has been a comic fan for a long time, so she talked about her enthusiasm for being on the selling-side of the table and meeting her favorite celebrity creators.
Tracie, having been married the longest, talked about how comics has played a role in their marriage and how she supports her husband in his comic-making endeavors – or how she just shares similar passions in wrestling and helping him with his art.
All had some very insightful things to say, and then took questions from the audience (which was peppered with their husbands and friends), who challenged the girls with questions like, "If you could change anything about your husband, what would it be and why?" or "What kind of crazy con stories do you have about being at shows?"

The first (hopefully of many) "Wives of Comic Book Creators" panel. From left to right: Tracie Evans, Sara Lindsay, and Beth Mueller
After the panel ended, some of the group went to bed and others went to the hotel bar (which was closing) to meet up with some friends. We had tried to get together for drinks throughout the weekend, but unfortunately timing wasn't on our side. Since the bar was closed, we went our separate ways – they went to hang out with their friends, and I went to the con suite to hang out with some of the staffers and volunteers that made this weekend possible.
It was a fun time in the con suite, hanging out with people who I have known for years (having met them through other shows in other roles), and talking about our future cons we're attending this year. I'm looking forward to seeing most (if not all of them) at my next show in February, Anime Milwaukee!
After hanging out for a bit, I headed back to the room to get some much needed rest.
SUNDAY:
The final day of the show started with packing up and grabbing breakfast, and then heading downstairs to the show to set up for the day. The group was pretty tired after the long weekend (late nights will do that to you), but still in good spirits. The weather had turned for the worse, though, with icy conditions and snowfall making some of the guests need to rebook their flights and some of the local guests wanting to take off a little early.
Sales were still on par with where I figured they would be, and I even participated in Alan's Making Webcomics part 3 panel. It was nice to get to hang out with everyone one last time before going our separate ways, and to get some final last-minute sales in before the end of the weekend.
Kollision Con was a lot of fun, and a great con to start off the year doing. The smaller con allowed for more one-on-one interaction with the attendees, more interactive panels, and the opportunity to hang out with friends and fans (as opposed to everyone feeling rushed to get to their next event or table). The new location was much more convenient and accessible from the city, especially for someone who lives off the train like me. And the new venue is one that I frequented often, so it was just like going home again.
Thank you so much to all of the staff and volunteers at Kollision Con for bringing me out again, to my friends and fans (new and old) for supporting me and my work, and to the attendees for supporting the show and attending my panels.
December 23rd, 2014
|
by Trevor
My final convention appearance of 2014 was a chance to go out in style, and style is exactly what happened this weekend at the show. It's the second year I've been a guest at Con Alt Delete, and the show has experienced some amazing growth and changes in that short period of time. So without further delay, let's check out what happened this weekend:
THURSDAY:
The day before the show, I headed out to Rosemont to check into the show and drop off my stuff. I wasn't going to be able to stay up too late since I had to work a half day on Friday, but I wanted to show my face and say hello to everyone. I went back to my condo to grab my next load, and crashed soon after that. Really it was a short opportunity to say hi to people before the chaos of the weekend had a chance to start.
This year CAD moved to Rosemont's Hyatt hotel, which holds a special place in my heart. I love this venue for cons, and I know it like the back of my hand. When people tell me what room my panel is in (by the room name), I know where that room is located. I know where the hotel rooms are. And I love the atmosphere and accessibility of the hotel. It was a fantastic place to move the show to, and I was very excited for the weekend.
FRIDAY:
Friday morning I headed out to work a half day, but then went straight back to the con to set up. I was there about the time the doors opened, set up quick, and started selling. Albert the Alien artist Gabo was set up next to me, so it was a fun time conversing with him and catching up in between sales.
At one point we were collected for Opening Ceremonies, and got to hang out with some of the other guests of the show including voice actors like Todd Haberkorn, Sonny Strait, and Eric Stuart. We also got to see Samurai Dan and Lady Jillian, two of my favorite convention friends. Gabe and I were some of the last guests called to the stage, so I made sure to poke a little fun at our panels and our status ("We all know who you're here to see: us!" — "The con that's so awesome they got not just one, but two bald guests" — "Watch out, folks, or North Korea will hack your phones this weekend and censor all your anime!"). The audience was in stitches.
The floor was open until 8pm, which only gave us a little time to grab grub before Gabe's first panel (which was right before mine, in the same room). We went up to the Hyatt Red Bar for some food with some of Gabe's friends. This group of girls are students at the college Gabe graduated from, and occasionally goes back to teach at, and they were pretty cool. One even bought us dinner, which I thought was really sweet.
After dinner we bum-rushed down to the room to set up for Gabe's panel, which was on digital coloring. The guy started his career doing coloring, and still does it for a lot of his projects including Albert the Alien and The Life After.
After Gabe's panel was my Evening with Trevor Mueller panel. Since the group was largely unfamiliar with me, I went into some of the fan-favorite jokes and stories – which always get a laugh. I even ended with some fake movie trailers from my wedding, which have gone over really well with audiences at this panel.
After the panel ended, we went to the Green Room to hang out with some of the voice actors. It was a nice way to unwind after the long day, and Sonny and Gabe were able to bond over their mutual "love" of coloring techniques. It was fun to listen to them geek out over something like coloring, which I have a very basic knowledge of how to do, but they went super in-depth together. It was the nerdiest conversation I couldn't contribute to all weekend.
After the relaxing chat, we all headed to bed.
SATURDAY:
Saturday morning Gabe and I got up really early and headed to the Hyatt gym. As expected, no one else was in the place, and so we had our run of the machines. I love working out in the morning of a con since it helps give me a boost in energy. It also gives me an appetite, which is why we quickly met for breakfast after the workout.
The Hyatt has a very tasty (but expensive) breakfast buffet. Thankfully drinks are included, however, so I was able to get some OJ (great after a workout), and carb and protein up for the day. After breakfast, we headed down to artist alley to set up for the day. Saturday traffic was greatly increased over Friday (not uncommon at a convention), but sales were also much higher (always a pleasant thing).
Around 11:30am I had a panel about Making Webcomics, which I combined with some topics on Self-Publishing (since Sonny Strait was doing a few webcomic panels throughout the weekend, and I didn't want to steal his thunder). It was a bit of a Q&A session, with some very insightful questions from people about digital distribution, update schedules, pacing and buffers, best practices, and how to find creative collaborators. It was a fun time, and after I had a few people follow me back to the table and make a few purchases.
The day continued with a few commissions. One person wanted a Raven from Teen Titans, which I knocked out for her pretty quickly. Another fan wanted a Loki, and she was kind enough to let me take a picture and gave permission for me to post them.

Loki commission sketch card

Another satisfied customer
Gabe ordered some Chinese food for the group off GrubHub, which sounded plenty tasty. None of us had brought snacks, so we were pretty hungry as the day went on. The food arrived and we ate at our tables during the last hour of the floor. Since the floor opened a little earlier in the day, it closed a little earlier too. Which was nice, because it gave us a break. We went back to Gabe's room and popped on the TV while we started to doze off a bit.
Around 8pm, we all headed downstairs for Gabe's last panel of the weekend, which was on Time Management. I sat on it with him, providing some advice from my own perspective – as well as my usual brand of informative humor.
After the panel we had a few fans stick around to ask us some questions, and then I met up with my friend Lauren. I met her through a mutual friend (Johnny Young Bosch of Power Rangers and Eyeshine fame – good taste in friends!) a number of years ago, and she came to hang out a bit and check out some of the panels and bands. We were able to catch the last few chords of V is for Villains concert, and then headed over for the Cards Against Humanity panel that Dan and Jillian lead every year. It's seriously my favorite panel, and I look forward to it every convention I do with them.
The panel lasted until 12:30am, and then we all headed over to the Green Room to unwind a bit and chat with staffers and friends. We had some extremely nerdy conversations about How I Met Your Mother, Star Trek, anime, and a number of other topics. After an hour or so in the green room, we dispersed our separate ways and not too long after went to bed.
SUNDAY:
I woke up not feeling quite right, which didn't make sense to me. My stomach hurt a lot, and I couldn't quite figure out why. I took a quick shower and felt worse. I decided to skip breakfast and muscle through it, continuing to hydrate. When I got to the floor, Gabe told me he got hit last night with the same thing (and was still feeling it), and his brother got sick this morning. We had all gotten food poisoning from the Chinese food we had ordered the night before!
As the day went on I kept feeling worse and worse. My wife showed up to hang out, and I got a little food in my system, but as the hours went by my pain increased. It got to the point where I couldn't stand up straight anymore. As much as I hated to do it, I eventually went to find a staffer to ask if it was okay for me to take off early. I was in no shape to participate in my guest duties, much less interact with the fans and attendees of the show. Upon talking to a staffer, I was surprised to hear that several of them had been hit by something similar. "Chinese food?" they asked. We weren't the only ones who got sick.
I went home that night and passed out immediately. It took a good 24-48 hours to fully recover from the food poisoning, which was a bummer.
Despite the unexpected food poisoning, Con Alt Delete was a fantastic show and a lot of fun to go to. We saw a lot of first-time con-goers, a lot of people celebrating their birthdays or being rewarded by their parents for good grades, and just generally awesome people having a fun time. It was a lot of fun to hang out with Gabe and Ren all weekend, to see friends both old and new, and to participate in some seriously fun and informative panels.
If you're looking for a fun low-key con to hit up before the holidays next year, I highly recommend Con Alt Delete! And I hope to see you there!
November 11th, 2014
|
by Trevor
Halloween weekend I had the distinct pleasure of spending at a convention in Columbus, OH, which was Mid-Ohio Con (also called Wizard World Ohio). I wasn't able to attend this show last year (because I was getting married), but it's a fun show with a very positive group of attendees who are eager to listen about your projects. Plus, I have friends I only ever get to see at this show – so it's a very special weekend for me, indeed!
THURSDAY:
While the show doesn't start until Friday, Columbus is quite a distance from Chicago, so my buddy Alan Evans (Rival Angels) and his wife, Tracie, picked me up and we all drove (almost non-stop) straight through to the convention center. The ride was long, but a fun time to catch up and hang out – talk about comic projects, stuff we're doing, and life in general. Alan and Tracie have been close friends of mine for some time now, and it's always great to get to connect with them.
Upon arriving we stopped for lunch at North Market, which is right across the street from the convention center. The place is filled with different small shops and eateries, and is just a cool spot to check out. We grabbed some BBQ at a vendor set up in there, and enjoyed some lunch before unpacking our stuff at the convention center.
After unpacking, we called our local friend Lora Innes (The Dreamer). Lora puts us up every year, and I've been friends with her almost as long as Alan and I have known each other (and they met each other before they met me). We were all webcomic creators on a site called Drunk Duck (now The Duck), which is a collective of independent webcomic creators. They all host their comics on the site, participate in forums and helping each other produce better comics. We all became quick friends.
It was Halloween in Lora's neighborhood, and we handed out candy while her husband (Mike) returned home from work, and while we ran out to grab some pizza for the group for dinner. Mike is a great guy, super friendly, and also incredibly smart. The guy does all of the design and coding work for Lora's website, as well as develops apps and websites in his professional day-job.
We chatted the night away, hanging out and catching up as if no time had passed between the last time we hung out. But eventually we did have to go to bed – there was a convention to go to tomorrow, after all.
FRIDAY:
The first day of the show didn't start until later in the afternoon, so we decided to start our day with some DDP Yoga. Alan is a huge fan of wrestling and MMA, and one of the fighters has their own yoga DVDs called DDP Yoga. I had never done it before, but Alan, Lora, and myself decided to start our day off right with some yoga moves. It was a fun way to warm up (and wake up) in the morning. I often find that exercising before a show helps give me more energy, and since there wasn't a gym nearby this was a great alternative.
After everyone showered and packed up, we headed downtown but didn't go to the show yet. We decided instead to check out the Will Eisner exhibit at the Cartoon Library and Museum. I'm not going to lie – I was wicked jealous that Chicago didn't have a cartoon library when I saw this place. It was pretty awesome.

Ohio has a Cartoon Library / Museum? I want one of these, too!

The Spirit!

An original Will Eisner page
For those of you who don't know who Will Eisner is, I highly recommend reading up on him. Will Eisner was a pioneer in visual narrative and sequential storytelling, and it was incredible to get to see some of his original pages (some of which were never even published). His pencils, his inks, his corrections – all of it helps to better understand his process. And their exhibit is absolutely stunning. I highly recommend going to see it – and did I mention, it's free?
After the library, we headed to the show to set up our tables. Thom Zhaler (Love and Capes), Lora, Alan, and myself were all in a row. I love tabling next to my friends because 1) you get to hang out with your friends, and 2) you have someone to give you some coverage if you need to walk away for a restroom break or something. I always have more fun at a show when I get to exhibit next to friends.

The table is all set up and ready for commerce!
The show floor layout is more like what a comic convention layout should be: with vendors in front, artists in the middle, and celebrities / actors in the far back. This helps to draw traffic through the entire convention floor, instead of putting artists in the back (cough cough Wizard World Chicago) and not placing celebrity artists throughout the alley, where there's nothing to draw the attendees. Mid-Ohio is a much smaller show than Chicago, granted, but this is a layout done right – and thankfully, it worked this weekend!
I expected Friday sales to be pretty low (heck, looking at my numbers from the last time I was there, Friday was pretty low). We had some things working against us:
1) It was Halloween
2) School's in session
3) It was a work day
4) Friday was a shorter con day
Any of these things could be bad, but despite this the sales for the day were pretty solid. Lots of people bought copies of the books (including the new Albert the Alien vol. 1: New in School graphic novel that we premiered at the show), and lots of people were in a very positive mood. Often at a show you'll find people "just looking," who don't even want to be pitched to, but Mid-Ohio had people who were "just looking" but they were still interested in your pitch. This was very refreshing.
After the show ended, the gang broke down and headed to a restaurant for dinner. We met up with some additional friends and ate (what I thought was a very small portion for the price, and I'm from Chicago) some very delicious food. After we headed back to the Innes house for a night of storytelling and hanging out with friends.

Hanging out with President George Washington and the gang at the Innes' household
SATURDAY:
The show opened earlier, so it was a bit of a rush to get out of the house in the morning and get to the show on time. Thankfully, we didn't encounter any issues with traffic on our way in (although parking was a slightly different story), and were able to set up before the VIPs started walking around. The first few hours of the day were pretty slow, and had me a little nervous about the day. But then things turned around – BIG TIME.
Saturday has been a strange outlier for me lately, with Friday sales being stronger than Saturday (not something that's typical in the convention scene). However, this Saturday broke that trend very quickly. In fact, by mid-day I had sold out of almost all of my trades, leaving me with 2 copies of Albert the Alien and 1 copy of Killer Queen (Reading with Pictures was sold out by end of Saturday).
At 11am I went to the panel Thom invited me to, along with Lora and Alan, about self-publishing. It was a fun time, getting to discuss different approaches to publishing your work. With Thom and Lora primarily publishing their work through IDW these days, Alan and I talked about on-going self-publishing options, while they talked about how to migrate your properties to a publisher (and the benefits / detriments of doing so).

At one point I turned to ask what time it was. The answer was visually apparent: Adventure Time!
Around lunch time, Tracie took our orders and ran across the street to grab us some grub so we could keep selling. This is what Saturday at a show should be like – lots of people stopping to check out the books on your table, asking questions about comics (specifically the comics we created), and overall having a great time. People wanted to be there. They wanted to talk to us. And they wanted to buy!
After a killer day of sales, the group broke down and we headed to the Innes' house for some Chinese take out and football. Lora and Mike are big Ohio State fans, and they were playing a game. I don't follow sports at all (and having lived in Ann Arbor, I can't help but feel a certain playful resentment for OSU), but it was a nice way to relax after a day of working hard (and selling out of our stock).
SUNDAY:
The final day of the show is always bittersweet, because we all know the weekend must come to an end. This was no different. It was also bittersweet because, for the first half of the day, no one was buying anything. Now maybe it was because I had pretty much sold out on Saturday (and therefore, wasn't trying as hard), but Sunday is typically buying day. I had some strong deals going to attempt to move some of the smaller books I have, and also to move some of the artwork. I did finally get some commission requests (some of which were a lot of fun, like drawing someone's uncle from a photo on their phone), and that helped make the day pass by.

Sketch card commission: The Flash
About halfway through the day I finally sold out of all of my trades, and most of my floppy comic books. I decided to walk away from the table for a bit and start doing some of my own buying. The crowds were a lot lighter by this time (I think most of the celebrities had taken off by this point), and when I got back to the tables we decided to break down a little early. Most of the floor traffic at this point was exhibitors and dealers looking for things they wanted, anyway.
Before breaking down, however, I did get a pleasant visit from Shelly Block. My second Mid-Ohio Con I was next to Shelly and her husband, Patrick, who both worked at Disney on Duck Tales. They were the sweetest couple, and great table neighbors, and it was awesome to get to catch up with her a bit about their travels and adventures, as well as their experience over the weekend. They also had a stellar time at the show, so hopefully we'll all be returning again next year!
After breaking down, the group loaded up the cars and then headed over to Jenni's Ice Cream, a post-convention tradition that I look forward to every year. Mike and Lora were kind enough to buy me some ice cream as an early birthday gift, and we all hung out for a bit relaxing and decompressing after the weekend. This is the kind of moment that makes shows like this worth it to me. Being able to see people I only get to see once a year, and specifically at this show, and hanging out with them as if no time had passed at all between the last time we hung out. Always a great way to end a show.

Jenni's Ice Cream: a post-convention tradition!
After Jenni's, we said our goodbyes and started our 5+ hour drive back to Chicago.
Mid-Ohio was an absolute blast, and exceeded my every expectation in both fun and sales. It was a great time, and highly recommend coming to the show either as an attendee or as an exhibitor. A smaller artist alley, a strong floor layout, and a great atmosphere and attendee demeanor made for a fantastic weekend. Also, good friends help make for a great weekend, too!
October 30th, 2014
|
by Trevor
No doubt by now you've seen the news that New York Comic Con (NYCC) has become the largest comic convention in the USA! Incredible news, and it would be this happens the same year I return to the show (having taken last year off, for my wedding). So let's get into it!
THURSDAY:
I got up SUPER early in the morning (we're talking 4am here) to catch a cab to the red-eye flight to LaGuardia. However, since I can never sleep the first night of a show (or sometimes even the night before a show), I was pumped. My wife, half asleep, even stumbled out of bed to wish me luck as I ran out the door in the morning.
The flight was easy going, and I enjoyed watching a movie (again, I can't sleep on planes, trains, or automobiles) while watching the Onion editor next to me outline some ideas she was having for stories in the coming months. I didn't snoop, I swear.
Upon landing, I hopped a bus to Pen Station and then hiked over to the convention center. After a brief snafu with the badges (which was thankfully quickly cleared up), I went back and set up the table. I was representing Reading with Pictures this weekend at the show, and we had some choice positioning by some of the other educational vendors. As soon as the door opened, the show was PACKED! Books were flying off the table (I didn't bring a ton, since I was expecting a resupply on Saturday), and people were absolutely loving the new book.

The Reading with Pictures booth!
Josh Elder came by every so often, between his many panels and meetings throughout the day, as well as some of RWPs other friends and guest speakers. We let them put their stuff at our booth because, let's face it, stuff gets heavy after a while.
My buddy Karl Custer (Uncle Yo) showed up not too late in the morning, and it was great to get to catch up with him. I haven't seen the guy since the summer, but he was kind enough to let me crash at his place this weekend – and I always appreciate a place to lay my head when I do eventually get tired during a show.
I also received a fun surprise under the table – my new book, KILLER QUEEN, came out from Red Stylo Media. The editor had left me a gift package at the table, and while I couldn't put it out (since it's a mature readers book), I was able to tell people about it and sign any copies they had or wanted to buy.

Hanging out with Phil Chan, my good friend from the Digital Pimps
After the show floor ended, I packed up and headed out for a quick bite with Karl. We grabbed a sandwich not too far away from the con, and then headed back to the show for a late night panel one of his friends was hosting. After the panel, we headed out for a drink while waiting for his fiancé to get out of her class. The bar was also a Korean restaurant, so it had an interesting variety of drinks to chose from – plus some delicious dishes to sample, which we did after.
After dinner, we all headed back to their place and went straight to bed. It had been a great first day to the show – my best NYCC yet, sales wise – and the weekend was only going to get better!
FRIDAY:
We got up early and headed over to the convention center. Karl was kind enough to make us some sandwiches and grab us some food for breakfast, which is exactly what the belly wants at a show like this. We got over to the convention center a little tardy, but still able to set up before the doors opened (I had wanted to walk around a little before the show opened, but there were still two more days to do that).
I was mostly running the table by myself on Friday, and was starting to run out of most of the stock I had brought. Thursdays sales had been so much higher than anticipated, but that was okay – we still had plenty of information to give away for free once we sold out, until our resupply on Saturday.
Working the table at a show like NYCC, you run into all kinds of big wigs and celebrities – some of which aren't the kind from TV. This year I started chatting with a guy about RWP and asked him questions. He worked for the United Nations, and he was on a committee for global educational reform. This was an incredible opportunity to talk to him about RWP's mission and our products and resources. I also introduced him to Josh, and the two had a lengthy conversation that I think went very positively. Josh has been working as a comic ambassador for the US State Department, and has gone on several trips to other countries spreading the word about the role comics can play in education.
I was eventually joined at the table by previous RWP-intern Aliza joined me at the table. She moved from Chicago to New York a little while back, so it was great to get to catch up with her and hang out at the table for a bit. It was also nice to get a chance to leave the table for a while and stretch my legs, use the restroom, and just walk the floor.

The WETA booth had some amazing pieces in it…like Gollum!

Smaug is watching you (and occasionally sleeping). But seriously, the eye opened up every now and then

This guy was life sized! Seriously, look at the person standing next to him!
I walked through small press and our end of the convention center for about an hour or so, and then headed back to the table to keep selling. By this point I had basically sold out of everything I had brought with me, so Aliza and I were able to take turns handing out free stuff and promoting our panels, as well as asking everyone to come back tomorrow when we get our resupply.
At the end of the show we broke down and I headed to meet some friends for a quick bite of pizza ($2.75 for 2 slices and a pop – nice!), and then we headed over to a bar.

A nice view of the Empire State Building from the street
Karl eventually met up with us at the bar and we ordered some more food (after not eating all day, two slices of pizza wasn't enough), and had a fun time. After a little while, though, we decided it was time to go home and get some sleep. Saturday is always the largest / longest day of the weekend.
SATURDAY:
Saturday morning, Karl and his fiancé took off for a wedding, and I was left in charge of their place (and feeding their cat). I got up a little earlier that usual and headed out to have a quick bite of breakfast at the convention center before the floor opened. It was nice to be able to sit and relax at the booth for a moment, and talk to some of my table neighbors while they set up.
A little before the floor opened I got a call from one of our volunteers who was showing up with our resupply of books. I helped them unload the car and carried some of the books in, set up the table, and then let them run things while I went for my first full walk of the floor – even making it over into Artist Alley.
Artist Alley, for me, is a wonderland of creators and projects (usually created by friends of mine), and I can spend hours just going down a single isle of it saying hi to people I already know (or who I'd like to know). Trying to keep it quick, so I didn't leave the volunteers at the table without any coverage, I only spent about 2-3 hours there this time. Surprisingly, not everyone was at their tables when I walked through. Perhaps some people had too late of a night on Friday?
After making the rounds in AA, I went back to the floor and said hi to some new publisher friends of mine. Around 2pm, Josh had a signing at the booth and I had volunteered to help bring people in and sell them the book so he could sign it. The publisher liked this idea (especially since I had sold through so many of them at the RWP table Thursday and Friday), and put me to work selling the book for the hour Josh was signing. Jim McClain was there, too, helping from the other side of the table to catch people's eye and bring them in so I could pitch. We moved about a dozen copies of the book in the hour or so we were there, and had a fun time working another booth for a little while.
After the signing, I went back to the table and kept helping to sell copies of the book. Aliza had been moving them like crazy, and she had also moved some Mail Order Ninja books on top of it (a $30 hardcover, and a fantastic read).
After several hours, the floor finally closed and I packed up. Josh and I had dinner plans, and headed out to the restaurant. It was a fun night of good food, good drinks, and good company. We also got a surprise visit from some other comic friends of ours, including Chris Giarusso (G-Man), who I haven't had a chance to hang out with outside of conventions before.
After dinner, Josh and I went out to grab drinks at a nearby bar and just download from the day. Talk about what we'd done and seen at the show, and what we wanted to accomplish tomorrow (and moving forward). I enjoy these strategy talks, as it helps keep things in perspective on where we are as an organization and where we want to go next.
After a while it was time to head home and feed the cat. The train was having some construction, so I had to go a stop down and take another train back (which, at the early morning hours after a long / exhausting weekend like this, seemed to take FOREVER). But I got home, fed the cat, and went immediately to bed. Tomorrow would be the final day of the show.
SUNDAY:
The final day of the show started with feeding the cat, dropping off Karl's keys to the doorman, and hiking it out to the Javits for the final day of the show. I arrived at the show a little early for another quick breakfast, and then an opportunity to walk around the floor a bit before the show opened.
We received a text around opening from one of our volunteers saying they couldn't make it in today, which was problematic because they were going to take all of the leftover stock (any unsold books) back and ship them back to us, since neither Josh nor myself had access to a car (and both of us were leaving from the convention straight for the airport to get home).
Before I could deal with this situation, however, I had a panel that morning for Reading with Pictures. The panelists included myself, Janet Lee, Ryan Dunlave, Fred Van Lente, and Jim McClain – and hosted by Josh Elder. It was a fantastic discussion about our stories and what inspired them, how they can be used in an educational setting (regardless of the free downloadable teacher's guide), and why kids will love to read the stories whether they're educational or not. After we did a large signing for the books we were selling, and then headed back to the table to set up for the rest of the day.
Now was the time to find a solution to the leftover inventory problem. Thankfully, I know some people who were attending the show and driving back home, and thankfully they did me a solid favor and were willing to take the boxes of books. Because we didn't want to open those boxes, once we sold out of the books on the table we packed up – but not before I got a pleasant surprise from a fan who had visited the table earlier in the weekend.
She had asked if I was familiar with the show Orphan Black, a BBC series about clones. Of course I was, and she asked if I could commission some of the characters, which I could. She had then walked off and I hadn't though she would return. Well, on Sunday about 2 hours before I was going to break down, she returned and commissioned not one, but several Orphan Black pieces.

One of several Orphan Black commissions I did – all for a single fan!

Another satisfied customer!
It took about an hour and some change, I was able table to knock out all of the commissions for her AND she said she may contact me for some more in the near future. Here's hoping! They were a ton of fun to do!
After the commissions I broke down the table, packed up my stuff, and walked the floor to say my goodbyes. I stopped by the publishers I had met, the friends I already had, some new friends I had made, and anyone and everyone I could think of to say "safe travels," and wish them well on the final hours of the show. I even stopped by some guys who's Kickstarter I had helped promote – and they told me they did the book because they had attended some of the panels I give at other conventions! I love hearing this – it tells me my lectures and stories during panels really do help to motivate and inspire people to go out and tell their stories. And that's what puts a smile on my face at the end of the day – inspiring others to be creative.

Hanging out with the Digital Pimp crew – Irv and Joe!

Taking a photo with the creators of Kirin Rise, one of the Kickstarters I helped promote over the summer. They successfully funded their first book!
I hailed a cab and traveled over to the airport, where I got through security much quicker than I anticipated, and then came the waiting game for my flight to arrive. While waiting I had a quick bite, and had a moment to reflect on the events of the weekend. The great friends I have and have made, the fantastic people in my life, the people who support the work or who find inspiration from it to make their own – all of these wonderful and amazing things came bubbling to the surface.
NYCC was an amazing weekend, and is now the largest comic convention in the country. And while historically it hasn't been a huge sales show for me, this year proved the exception – with excellent sales, great attendees, amazing volunteers and staff running the event, and a lot of fun surprises and opportunities abounding from the weekend's events.
I can't wait to get back again next year!

A much-needed post-con drink at the airport
October 21st, 2014
|
by Trevor
I was invited out as a guest for a show I've never done before, Cincinnati Comic Expo (not to be confused with Cincinnati Comic Con, which is something totally different). The show was a ton of fun, an opportunity to hang out with friends I don't normally get to see and to meet some new friends, and also had some incredible attendance – and some really awesome attendees.
So without further delay, let's get to it!
FRIDAY:
Having spent the night at my buddy's (Justin Castaneda – When I Was Little, Aw Yeah Comics) house, we got up super early and drove all the way from his place to Cincinnati with few stops in between. This worked out well for me, since 1) it saved on hotel costs for a night, and 2) we got to hang out and catch up in the car ride down.
Once there, we checked into our hotel (and met up with his friends, who would also crash with us in the hotel), and then went to the convention center to set up. The floor had a great open feel to it. Instead of artist alley being in rows, it was instead in pods. There were six exhibitors per pod, four on each corner and then two in the middle section. I was lucky enough to land a corner pod over by the Kids Corner. We had amazing placement, and therefore amazing sales and traffic.

Corner booth – an amazing placement!
The first day was a little slower, which wasn't surprising considering school was in session and people were working. After 5pm, however, it started to pick up a bit. Friday was an early day, however, so we broke down and went out to dinner. We traveled across the river to a little outdoor mall, which had a variety of dinning choices. We found a pub that we liked and ordered there, grabbing some drinks and food and enjoying some fun company from our hotel roommates.
After dinner, we went back to the hotel and went to bed, calling it an early night (since it had been an early morning) so we could hit Saturday recharged.
SATURDAY:
I woke before the rest of the group to grab a little breakfast downstairs, and then headed to the con to set up. The morning sun greeted us among the unique countryside of Cincinnati – it kind of reminded me of Seattle a bit.

The view from the hotel room
Another day of strong sales followed, with lots of interest in the new Reading with Pictures book – as well as my pre-orders for Albert the Alien. I also had some awesome table neighbors, chatting them up and telling jokes all weekend.
Traffic was strong throughout the day, with a lot of young families in attendance, but I also noticed a lot of people buying art. More so than buying books. I started to promote my commissions more, but thankfully book sales were still solid throughout the day.
After the floor closed, I was invited to dinner with some good friends of mine: Paul Storrie (Robyn of Sherwood), Thom Zhaler (My Little Pony, Love and Capes), and Chris Jones (Young Justice). It was nice to get to catch up with these guys, since I rarely get to see them – and even when I do, it's usually in a larger group, so conversation can be a bit distracting.
After dinner, we went to the bar to see if we would see anyone else we knew (or run into any celebrities), but unfortunately we did not. We called it an early night (midnight or so), and so I went back to the room and crashed. Justin and our other roommates had gone out to see a movie, and didn't arrive until I was fast asleep. Thankfully, they didn't draw on my face.

SUNDAY:
The final day of the show brought more families, more sales, and even a few commissions. I had skipped breakfast after checking out of the hotel, so I grabbed something at the convention center. Something they had been promoting all weekend, but the line was always super long to get it. Well, thankfully there was no line while we were setting up our tables, so I finally went and got one: a grilled cheese doughnut!

Grilled cheese doughnuts. With bacon! No, seriously.
It was as delicious as it sounds, and probably just as prone to cause a heart-attack. But I ate it anyway.
During the sales of the day, a guy asked me to do some Adventure Time commissions for him. But he actually brought his own sketch cards, which had a semi-glossy finish on them. It was different to draw on someone else's cards (especially when it came time to color them), but sure enough I finished them up and knocked them out.

Adventure Time sketch card commissions!
A little before the close of the show we decided to break down and head home. Mostly to try to beat the traffic from a local sporting event that was going to be letting out around the same time. Thankfully, Justin and I beat the traffic out of the city and he was kind enough to drive me all the way home.
Cincinnati Comic Expo was a ton of fun, filled with a great layout for the show, some amazing guests, and incredible attendees. I absolutely recommend attending this show (costs are low, especially compared to a Chicago show), either as an attendee or an exhibitor.
October 20th, 2014
|
by Trevor
This past weekend was Wizard World Chicago, another local show for me and one of my favorite shows of the year – usually because, in year's past, sales have been so high for me. I'm not a guest at the show, but it's another fun opportunity to sell comics and interact with friends and fans. So without further delay, here's the wrap up for WWC 2014!
THURSDAY:
Preview night has never been a strong sales day for me (plus, I work a day job during the week), so I left work a little early to head over to the convention center and set up (and hopefully sell something). Thankfully, I received a delivery the night before of a critical piece of product that was premiering this weekend at the show.

Reading with Pictures volume 2 arrives just in time!
I got off the train and started walking towards the convention center, and along the way realized I was following a man with a lot of luggage. He had white hair, a black t-shirt, jeans, and looked like he had more luggage than the average con-goer. I'm usually pretty good with identifying people by their posture, and I recognized his.
"Brent?" I asked. The man turned, and sure enough – it was Brent Spiner (Data, from Star Trek The Next Generation).
Apparently no one had picked him up from the airport, and he walked all the way from O'Hare to the convention center. I chatted him up a bit, trying not to fanboy out over meeting someone I had watched on TV (and then in movies!) for 1/3 of my life or more. Brent was pretty easy-going, a little germ-a-phobic (but I can't blame him for that, since con-plague is awful), and generally pleasant to talk to. We parted ways at the entrance and I got my wristband and headed over to the table to set up.
My good friend and fellow partner in comics Russell Lissau was already set up and had sold a few books (I sold some to co-workers earlier in the day). I did a temp table set up, and sold a few books before it was time to break down.
I was staying with Russell for the weekend, and so we popped into his car and headed to a Chinese restaurant over by his house for dinner. My wife was swinging by later in the evening to drop off the rest of my stuff (it's difficult to carry everything on public transit), so we took our time and enjoyed a tasty meal. Back at his place, we arrived at the same time as my wife and unloaded the stuff from the car. She had a chance to come in and chat for a little bit, but she had work the next day so she couldn't stay long.
Russell and I stayed up until about midnight catching up and hanging out, and then went to bed in anticipation of selling boat-loads of comics the next day.
FRIDAY:
Friday morning we had a quick bite of breakfast, and then headed to the convention center. However, traffic kept us at bay. We didn't realize the backlog of cars that would be trying to get to this thing, and so we had to detour around the area to find an exit and a way to get to the parking lot. Suffice it to say, we arrived late.

The new table set up – all ready to sell some comics!
The day was filled with a lot of pitching; a lot of trying to get the books in front of people. However, I received an objection I've never encountered before, specifically surrounding the new book: "Can I buy this on Amazon?"
Well, sure you can buy Reading with Pictures on Amazon (none of my other books are available on there, though). It's published by AMP and they sell it on there. But, you'll have to wait for it to arrive, pay for shipping, and it won't be signed or personalized by myself or any other creators. Where as if you buy it from me directly, you'll get all of these things and more!
Suffice it to say, it was an interesting day for selling. But sell we did.
After the con closed, we headed over to The Ram and had some burgers and drinks. It was nice to unwind a bit (and talk about some of the cosplays we had seen, or any celebrity sightings). After dinner, we went back home and chatted until late in the night before going to bed.
SATURDAY:
We left earlier this time, to try to beat a lot of the traffic. And it's a good thing we did, because we still had to park way back in the lot. Which was fine, because at least we got in and set up in time for the start of the show.
A day of sales and commissions followed. I was approached by a few people for commissions – including a guy who was trying to get a bunch of puppy characters on a sheet from his favorite show. It was an amazing jam piece (and I would totally post the picture, if I could find it).

A super-awesome Chung Li cosplay (and she bought some books to boot, so bonus!)

Amy and Decapitated Dan stopped by the table to say hello!
After a full day of sales on the floor, the group went out to dinner after with several of our friends who weren't even attending (or at least exhibiting) at the show.

Dinner out with friends. On the left: Chris, Tom, Alan; On the right: Jason, Wendy, Sean, Sara; At the head of the table: me; Taking the photo: Russell.
After dinner, we went back to bed for preparation of our final day of sales.
SUNDAY:
The final day of the show still had strong attendance numbers, and the family books sold well like they usually do on Sunday. We were all pretty exhausted, though, and starting to run low on books (although not necessarily the books we thought we would be running low on).

Rachael came back (in a stunning Star Trek cosplay) for more comics! Not only is she awesome at cosplaying, but she's also been a great supporter of the work!
Having made back my table, I eventually decided to break down early. I was pretty tired, and wanted to have a chance to relax before going back to work. So in the afternoon I packed up, said my goodbyes, and headed for home.
This Wizard World was still successful, but less so than it should have been. I've been in several discussions as to why we think that is: higher attendance prices, more focus on celebrities, larger artist alley, etc. But with several new books on the table, there's little reason as to why they weren't moving the way I thought they should have.
While Wizard continues to be a fun show and a strong seller, the increased costs associated with it did hurt profitability a bit, but not the fun factor. I'm debating with my friends about doing the show again next year, but there's a high probability that I'll be back.
I attend a lot of conventions, and I love meeting fans – both long-time and first-time. And I love making new friends at shows, too. But there's something great about being able to do a show with people you already know, too. Which is why I was so glad I was able to get Uncle Yo and Russell Lissau invited to Anime Iowa this year!
Russell and I are long-time friends and do conventions all the time around Chicago, so it was fun to get to travel with the guy to a show that's not too far away. And Uncle Yo and I have been friends for a number of years, but I didn't get to see him at all last year (because I was only doing a handful of shows, focusing on my wedding). And I'm not even mentioning the other awesome guests they have at this show — so let's hop right into it!
THURSDAY:
After working from home in the morning, I grabbed my stuff and road the bus (and then the train) to O'Hare to catch my flight to Cedar Rapids, Iowa. I went to go check my bag, which contained several new books I've never flown with before. To my surprise, my check bag was slightly over weight, and I started to rummage through to lighten the load. However, while I was pulling out books, several of the TSA agents started asking what I did. "Write comics," I told them. "My latest title is an all-ages comic about the first exchange student from space." I pulled out a few copies for them to look at while I stuffed heavier books in my carryon.
The agents got very interested in this title, asking what age it was for. "Recommended for readers 7 or older," I replied. One of the agents then asked if they could buy one from me right there. I said sure, and two more agents wanted copies for their kids as well.
I wasn't even at the show yet, and I had already sold 3 books.
I made the sales, finished the weight shift, and checked my bag and went through security. I quickly grabbed some lunch and waited for my plane – and my traveling companions!
Russell I knew would be traveling with me, being a local here as well. But I was pleasantly surprised once again on this trip to run into Mimi, who I had met last year at this very same show. Her previous flight had been delayed, and so she was moved to our flight.

Shenanigans on the plane to Iowa!
After an hour delay for our flight, we eventually boarded and started the trip to Iowa. Russell wrote a bit, and I relaxed and watched a movie (Mission Impossible 4: Ghost Protocol, if you're curious).
After about an hour in the air, we touched down and were greeted by our handler for the weekend (and my handler from last year), Mel! She made last year a real treat, so it was great to be paired with her again this year.

Guests arrive at the Cedar Rapids airport – Mimyru, Russell Lissau, and Trevor Mueller
Mel drove us to the hotel where we unloaded our stuff, met up with Uncle Yo, and then we went to grab a bite to eat from the local burger place. It was nice for Russell to get to meet Uncle Yo for the first time, and they hit it off swimmingly – and I was glad to get to catch up with him, since we hadn't hung out in person in almost a year.
After food, we got Mel to drive us into town for some supplies. I needed some new stands for my comics (I didn't bring the new vertical rack, because it's so bulky), and we needed snacks and beverages for the weekend.
After shopping, we headed back to the hotel for a quick meeting with the staff and volunteers (and other guests) to go over the agenda, and then were released to go our own ways. We headed to dinner at the hotel restaurant.

Keep those appetizers coming!
Since the show hadn't officially started yet, and wasn't starting until afternoon the next day, we headed up to the room to listen to some tunes and work. I worked on some pre-commissions and some new sketch card designs, Russell worked on some scripts, and Uncle Yo worked on some new jokes for his stand up routines. Sleep soon followed.
FRIDAY:
I got up early to hit the gym, which is normally empty. Russell went for a swim, but after he left something happened that's never happened to me at an anime show before. Someone actually came into the gym who wasn't just a random person staying at the hotel. A con attendee was trying to do some lifting. I gave some advice on a few items he was doing (the guy was going to hurt himself), and then parted to shower and grab some breakfast with the guys.
The hotel has a pretty good restaurant, so we decided to eat there. I was still hungry after we finished, though, and since we had some time to kill, Uncle Yo and I walked to a nearby Mexican place for an early lunch. It was plenty tasty, and filled us up right for the day.
A quick trip back to the hotel had us setting up in Artist Alley, or as this show refers to it: the Marketplace.

This is a man set up to sell some comics!
We skipped opening ceremonies because sales were so strong, and we didn't want to lose the momentum. Like last year, book sales were okay for me here – but what really sold for me were commissions. And boy, did I get a lot of them!

Squirtle sketch card commission!

Game of Thrones sketch card commission – and she dressed up for the part!

Spider-Man vs Deadpool commission – Epic Rap Battles Style!

Someone wanted a commission of the characters from @$$hole! posed in the classic Star Wars IV: A New Hope poster. BEST FAN EVER!
I spent most of the weekend with my head down working on commissions, which could also be why book sales are lower for me at a show like this. But hey, those pictures aren't going to draw themselves, right?

After the floor closed we only had a small window before our panels. Russell and I had a joint 9:30pm panel on writing comics, which – like last year – was extremely well attended, and filled with some amazing questions. The audience at Anime Iowa is very engaged with the educational panels, and they're very knowledgable and enthusiastic about making comics of their own. In fact, I had someone come up to me from last year with their first book – the 4th time this has happened to me in my time as a guest at conventions! Always a satisfying experience, and one I look forward to having more.
It didn't hurt that their book looks gorgeous!
After the panel we had a few drinks and walked around the con to see what was going on. Our room was on the same side as the back patio, so we heard music late into the night (I almost never sleep at conventions as it is, but booming music until 4am certainly doesn't help sleep happen for me).
Around midnight or so, we wondered into the 18+ Cards Against Humanity panel hosted by Samurai Dan and Lady Jillian. I did this for the first time at this show last year, and it was a hoot – but this year took the cake. The guests on the panel were firing on all cylinders, with voice actors performing the cards – or someone taking off their shirt and dancing with tassels on. We even traded cards so we could trump each other and keep the humor building throughout the evening. We really got into it, and it was an absolute blast!
After being energized like that, we headed to the bar for a quick drink and then it was time for bed.
SATURDAY:
Saturday morning came far too early, and I missed my alarm. Thankfully, Uncle Yo kicked me out of bed about 15 minutes before my 9am Self-Publishing panel was going to start. Unfortunately, the room was locked – so we had to find someone to get us into the room just as the panel time started. Thankfully, I was ready to dive right in – and did so – while I was setting up my books on the table.
Some great questions from familiar faces throughout the weekend, as well as new faces trying their hand and making comics for the first time. Attendance was also extremely high for an early morning panel, which was also awesome.
After the panel I bum rushed to the sponsor breakfast to hang out with some of the amazing sponsors of the show. Attendees, businesses, volunteers, staffers, and fans were among the guests at the breakfast, and I got to hang out and joke around with them while enjoying some tasty eggs and bacon and juice.
After breakfast it was quickly to the floor for much selling and more commissions!

Pocky is all kinds of delicious!

My partner in comics – Russell Lissau!

Working hard on more commissions!
We broke down our tables a little early on Saturday night to grab some dinner before I had to go be a guest judge at the masquerade. Uncle Yo was MCing the event, and it was the first time I've even seen a masquerade – much less judged one. I know from people who have worked them that they're extremely well attended – and also tend to run longer than they're supposed to. However, I was very excited for a fun night of costumes, performances, and hanging out with fans.

Maybe 1/3 of the crowd at the Masquerade Saturday night
I was one of the performance judges, and had to fill out sheets of paper on each person who signed up to be in the performance category. Cosplayers show up in their outfits and pose, or perform a scene (or a song, usually lip-synced) from their favorite game / movie / anime / series / whatever. In between acts, Uncle Yo was entertaining the crowd with jokes and stories that were delivered with a professionalism and polish that puts my panels and speeches to shame. The dude is a true artist of his craft – and he does it WELL!
As expected, the events ran late and the performance judges ran off to go tally our votes on who was the best. There were multiple categories, and we needed a 1st-3rd place (and judge's choice) for each of them:
–novice
–experienced
–master
After about 30-40 minutes of tallying, we knew who our picks were to win, but there was an issue – the costume judges still had about 8+ people to judge before we could report on best in show. We were already running super late (the event was supposed to end around 8:30, and it was already after 9:30pm). Eventually, we came up with a solution – Lucas (one of the other guests of the show, and an awesome voice actor) and I would go on stage and announce the performance winners, hand out our prizes, and then we would announce the best in show winners during closing ceremonies the next day (and on social media).
We went up to the stage and did our announcements. Several of our winners were still being judged on costumes, so they weren't able to go up and get their rewards on stage, unfortunately, but Lucas did a good job of MCing the event and keeping spirits high while I looked pretty and interviewed the winners. It was a fun time.
After that, we headed to the room to relax quickly before heading off to bar. Fans were in abundance (coming and going from the rave), and we chatted them up late into the night. After that, we went to bed for some much needed sleep.
SUNDAY:
The final day of the show started with a delicious buffet breakfast in the restaurant, and then we headed to the floor to set up. Russell had sold out of most of his books by this point in the show, but I still had plenty to sell – and sell I did. No more commissions came in on the final day – it was all about selling the books, and they did go quickly. Many box sets and complete collections were purchased by fans who had stopped by earlier in the weekend, or who had attended panels throughout the weekend.
Around the afternoon, the show started to die down and Russell and I packed up and started saying our goodbyes to our friends – both fans and staff. Everyone made this weekend truly an amazing experience, and one that just keeps building year over year. Not just because the con is growing – but because everyone who's attending this show is just so awesome!
We hopped into the van with Mel and grabbed a quick bite at the airport, and then waited for our plane to come in and take us home. On the ride, Russell slept a bit and I was watching another movie (Inception, in case you were wondering).

Something was really bothering me the whole flight home….
After the plane landed and we grabbed our stuff, Russell and I parted ways with a big hug. It's always a pleasure to exhibit at a show with the man – he taught me everything I know about selling at cons – and it was such a fun weekend. I can't wait for our next show together!
I do a lot of local conventions, and many of them happen in the same place: Rosemont. This isn't a problem – this is a convenience. For both me and the convention. Because I do so many shows there as a guest, I know my way around – and therefore don't require a liaison to help me get from place to place. This saves the convention money, and also piece of mind. I'm a professional. I don't need a babysitter. I just need a table (to sell), a room (to sleep), and some water (because, you know…to live).
Anime Midwest is a show that's growing by leaps and bounds year over year, and it's a ton of fun to boot! I was a guest last year along with fellow creators Russell Lissau (Batman Strikes, Aw Yeah Comics), Steve Horton (Amala's Blade), Gabo (Albert the Alien, The Life After), and Sean Lindsay (Spinnerette). And we had fun. So much so, we were invited back again this year!

Check out these handsome guests
THURSDAY:
Thursday before the show I went over to Russell's after work to hang out with him and the Steve's (I will now refer to them as Horton and Wallace), and it was nice to catch up and relax outside of the convention experience. Much food and adult beverages were had. It was great because I hadn't seen Wallace since my wedding (back in October), and Horton and I had primarily been communicating via e-mail. We went to bed with visions of sales dancing in our heads.
FRIDAY:
After a quick breakfast we headed off to the show to check in and set up. We stopped off in con ops to get our badges, and then high tailed it to the floor to find our tables. We had a terrific position – right in the front of the artist alley, on the way to the signing area.

The table set up. Notice that fancy new vertical stand on the right?
We set up our booths and started selling. And sales were good. We premiered one of the new books at the show, and fans both loyal and new were eating it up. But what really made the show for me were commissions!
After a day of selling and making commissions, the group headed to a quick dinner at the hotel bar and then went to our panels. I had a Making Webcomics panel at 7:30, which had a terrific turn out! Lots of engaging questions and lots of good laughs were had.
After the panel I went to Doug Walker's panel about comedy (which was going on during mine), and then after we all headed to the green room. Johnny Young Bosch and the band showed up, but I was mostly talking to one of their good friends who I met at Anime Central years before when Johnny and his band were guests there. We chatted the night away, catching up on trips, vacations, and our latest creative projects. After a while everyone went their separate ways and off to bed.
SATURDAY:
Morning came early, and the group all met downstairs for breakfast. The Hyatt has a fantastic buffet breakfast, and the sales from the previous day had been enough to justify the expense. After breakfast, we all headed over to the floor for another day of sales.
During selling on the floor, I got to meet several of the Channel Awesome people including Tamara and Brad for the first time (great people), and then got to see Rob, Erin, and Robin again. We had just hung out a few weeks ago, which seemed like too long ago. We decided to play a prank and see if we could convince Doug to come to my Evening with Trevor Mueller panel later that night. I was going to tell a story about my first time meeting Doug – a story he's never heard me tell before. The plot was set, now we just had to get through the rest of the day.

Commission sketch card for a fan – Joker's brother

Commission sketch card for a fan – Adam West as Batman

Commission sketch card for a fan – one of their original characters
After the con floor closed, the group headed over to the panel rooms for a Writing Comics panel. We decided to turn it into a moderated panel, with Russell moderating, since the panel consisted of so many people: myself, Sean Lindsay, Steve Wallace and Steve Horton. It was a another great panel with lots of fantastic questions from the audience. After the panel, we all headed to the hotel bar for a quick bite – and then I had to run off to make my Evening with Trevor Mueller panel.
This panel is an hour of me telling goofy stories (embarrassing both myself, as well as some of the people who attend cons with me on a regular basis). I was a little off my game since I was suffering through some allergies, but everyone had a blast – especially when I told the story about my first encounter with Doug at Anime Milwaukee several years ago. I won't recount the story here – but it's a fantastic story about first impressions and misconceptions.
After the panel we all headed to the Cards Against Humanity panel hosted by Samurai Dan and Lady Jillian, which is always a good time. I can't get into details, but essentially we play Cards Against Humanity with the attendees – well, they play and we read the cards. It's a hilarious night of inappropriate jokes and goofing around.
After the final panel, we all headed back to the Green Room to hang out with more of the guests. Johnny showed up with the band and I got to finally connect with them, chatting until late into the night. Around 3am I decided it was time for bed, and headed off to my room for some much needed sleep.
SUNDAY:
The final day of the show was pretty short for me. I wasn't able to set up because I had family obligations (my wife's grandma's 90th birthday party), so I broke down the table and walked around the floor for a bit. It was fun to just walk around and see other people's stuff. Artist alley filled with prints, art, trinkets, and more. The dealer's area filled with manga, anime, toys, and so many more things. And then a chance to just talk to the other guests and attendees. It was a lot of fun.
Anime Midwest is a ton of fun, and a growing show. It's not so large that you get lost in the crowd like an ACEN, but it's large enough to bring in some big name guests and let everyone have a chance to connect and talk to each other. I highly recommended attending this awesome show!

Handsome man selling books
Kids Read Comics is a unique convention in that it's specifically targeted to children and younger readers. It takes place in the Ann Arbor Public Library, right in my hometown, and it's the perfect alignment of literature and visual narrative. There wasn't a lot of cosplay, but there were a lot of kids and a lot of families checking out all of the all-ages offerings, original art and merch, and of course – the comics.
This is the perfect show for first-timers looking to get a feel for comic conventions and not have to worry about anything inappropriate for the younger reader in your house. Heck, since it was in the library, many parents were even just dropping their kids off with money in hand to make purchases.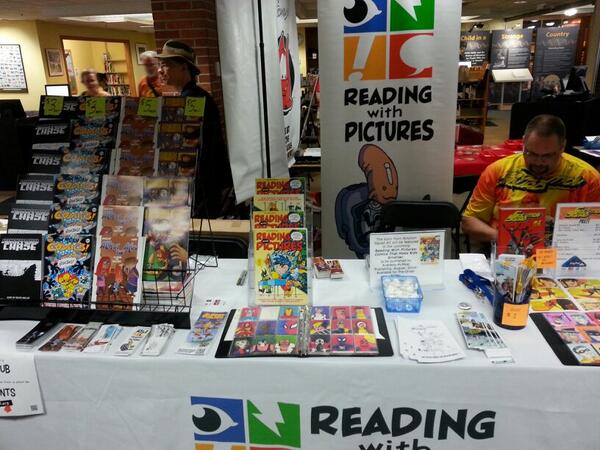 The table is all set up. Check out that new vertical display!
The show lasts for two days, but I was only able to attend for one day this year (I had family obligations), but I definitely plan to come back again next year! During that time I made a lot of new fans for Albert the Alien, as well as for my other all-ages work in general. And since we were in a library, many of the parents and librarians on hand were thrilled with the announcements of Reading with Pictures vol 2 coming out later this year (with a brand new Albert story in it).
Yes, it was a great weekend all around. Plus, the library is only blocks away from my LCS growing up, The Vault of Midnight. I've been going to this comic store for over 18 years, and they just opened their second location in Grand Rapids (I have yet to check that one out). It's an amazing store filled with toys, games, comics and so much more!
I highly recommend Kids Read Comics as the next convention (or the first convention) you attend with your kids.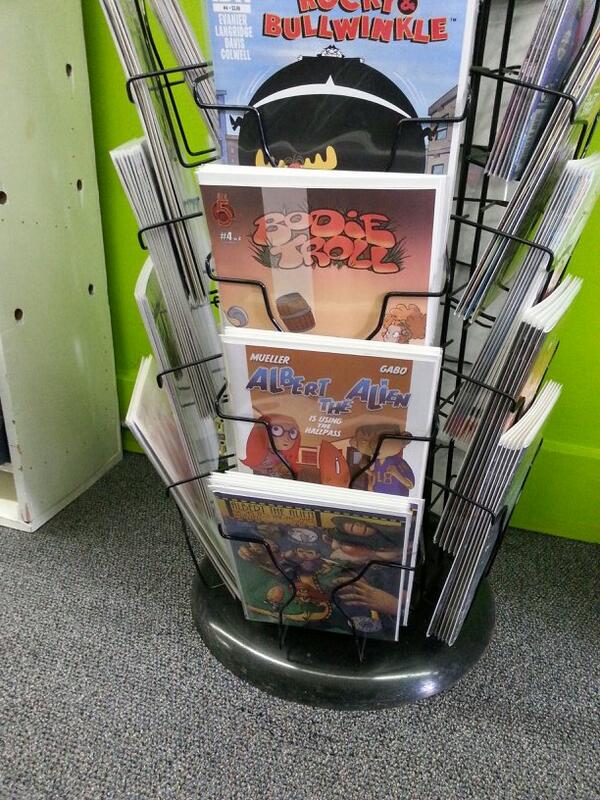 Albert the Alien is in the all-ages spinner rack at the Vault of Midnight
Anime Central (or ACEN, as it's often called) is the 3rd largest anime convention in North America, and I have had the distinct privilege of being a returning guest of honor for 6 years in a row. ACEN is a lot of fun, I call it "the con that never sleeps," and it's set the bar for how well they treat their guests year after year. It's seriously my favorite show, and this year was no different. Let's dive right into the events of the weekend….
THURSDAY:
The day before the show started I headed over the convention center to say hi, get my badges and agenda for the weekend, and to hang out at the Hyatt restaurant and get a little comic work done. I brought along the iPad, which has become my favorite portable tool for working on scripts on the go. It's light, portable, and the keyboard case I bought for it is very easy to use.

Working on the next Albert the Alien script at the bar before the show
I also had a chance to pay a little homage for a friend of mine who isn't with us anymore. My friend Kim brought me to my first ACEN back in college, and after we graduated it was the one time in the year we got to hang out. Unfortunately, Kim passed away from epilepsy several years ago, and so I decided to honor her memory this weekend in a few ways. This was one of them, but the other would happen Friday night during the Panel that Shall Not be Named. More on that in a little bit….

One for me and one for absent friends
I was visited by a lot of friends while I sat the restaurant, and had a few drinks and meals with them as they came and went. I eventually got my room key and checked in, and my wife dropped off the rest of my stuff not long after that (thank you, honey, for driving my heavy stuff so I didn't have to carry it on the train). Towards the end of the evening I went to the Green Room for their industry mixer, meeting all of the guests who had arrived by that point and mingling a bit. However, I also got invited to go see Godzilla opening night in IMAX 3D. I'll post a review about the movie at some point in the near future, but I can say this – DON'T GO SEE IT IN IMAX 3D. Not worth the extra money.
After the movie ended I went back to the hotel and went to bed. ACEN is an exhausting weekend that often results in me losing my voice, and I wanted to get as much rest as I could.
FRIDAY:
Friday morning started off early, with me hitting up the gym with my fellow ACEN workout buddy Jessie Pridemore. Jessie and I have somehow just met in the gym over the last several years at this show, and this year I decided to reach out to her and make it an official meet up. The two of us motivate and push each other, help each other out with spots and whatnot, and ultimately get to hang out and have fun before the show starts. Plus, working out first thing in the morning tends to make me feel energized for the rest of the day. And I had a LONG day ahead of me.
I took a quick shower, went down for breakfast, and met up with fellow comic guest Josh Elder (Scribblenauts, Mail Order Ninja). We were both there representing Reading with Pictures as the educational guests of the show, and after breakfast our handler escorted us to opening ceremonies. We sat through the introductions before we had our chance to go up on stage and give our pitc – the beginning of which I gave Josh a hug and whispered "Hail Hydra" into the microphone. Sadly, I don't know that anyone actually heard the exchange over the applause.
We pitched ourselves and our panels, and then headed straight out to the floor to set up. The convention floor was set up a little differently this year, with an Industry section up front and Artist Alley behind it. This is not unlike how Reed sets up their shows, and it created some good flow overall for the floor. Unfortunately the vendor who set up by us had a 13 foot tall vertical display banner, so our tables were a little obscured and this hurt sales for the first day.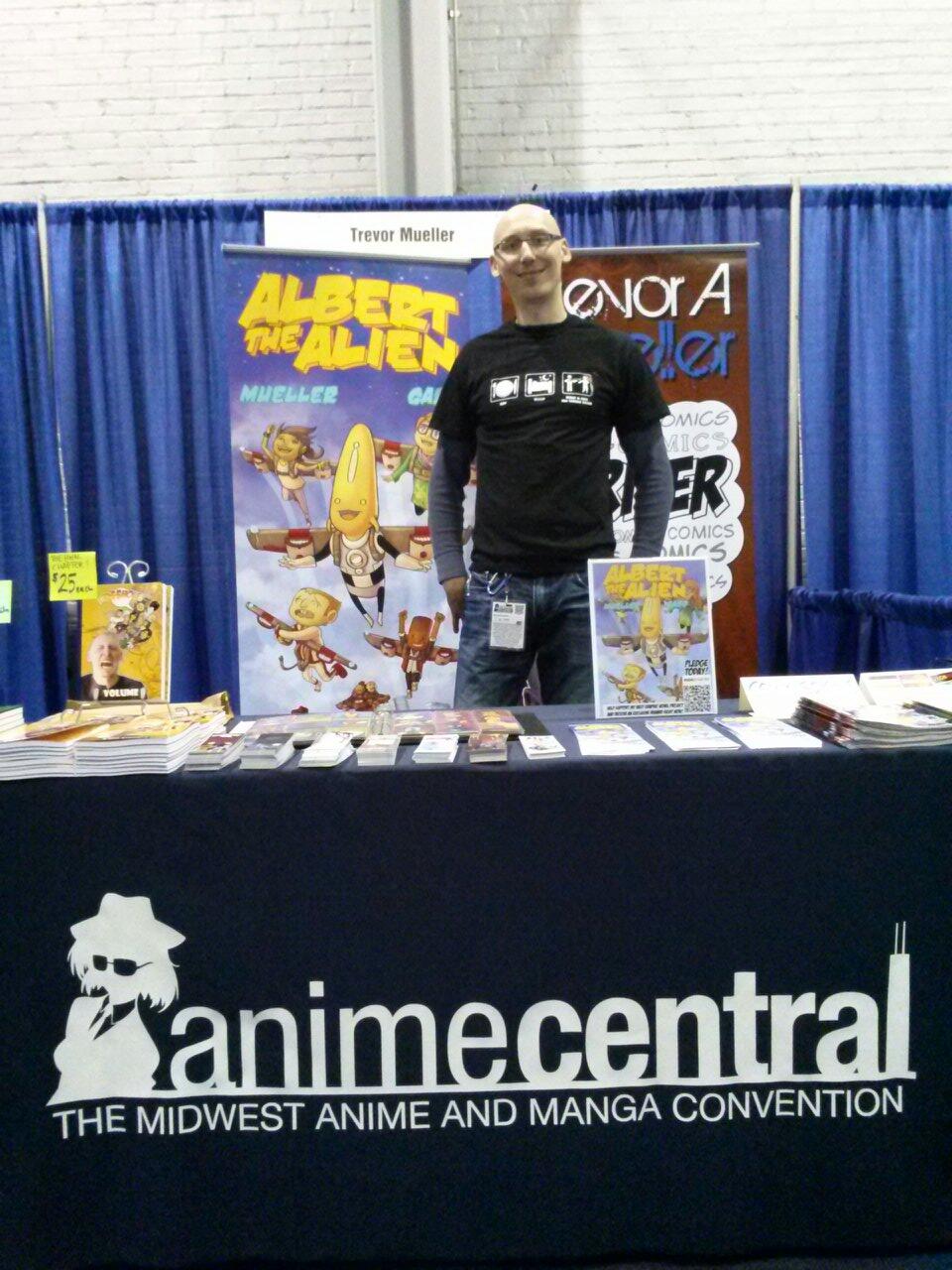 The booth set up (original location)
Josh primarily worked on some comics and I sold to anyone who came by (when they came by), but I spent most of the day trying to figure out how to move us closer to or inside of Artist Alley. Eventually my artist Gabo offered me a half table, and I decided to take him up on it on Saturday.
Our primary goal during the weekend was really to promote the new Kickstarter we had launched for Albert the Alien. Kickstarter campaigns are a lot of work, and being unable to tweet and promote because of the event could have hurt the campaign. But we turned it into a positive by handing out some vertical fliers with QR codes that linked directly to the pledge page, and to incentivize pledges during the weekend by offering an ACEN exclusive reward (which was a mystery prize).

The Albert the Alien Kickstarter promotional handouts given out at ACEN
I also had a few new book products on the table, including the final chapter of @$$hole! and the new limited edition box set.

The limited edition box set
After AA closed, Josh and I headed up to PDR (where they serve guests meals) to grab a quick bite before our panels started. During that time, my wife showed up so she could enjoy a bit of the show with us as well.
All of our panels were in panel room 3, and they were often back to back – so it was very easy to get comfortable in the room and switch off back and forth with each other. Our first panel was an introduction to Reading with Pictures, which was did together. Josh talked more about the organization and it's goals, and how it was founded. I talked more from a content creation standpoint, and what it was like to create stories that contained educational content but also had a fun adventure story. As always, we worked off of each other well and gave a very informative and entertaining panel that the attendees really enjoyed.
After that, Josh gave a panel about working on licensed properties – including his latest work on Scribblenauts for DC. After his panel ended, however, I got to move into the main event – The Panel that Shall Not be Named.
This is a panel ACEN has me do every year, and has a lot of history at the con. It's a ton of fun, but this year I decided to mix it up a bit and make it 100% brand new. I can't say what happens in that room (you have to be there to experience it), and the title alone usually draws about half of the crowd, but I like to mix it up so it's something new for the people who do come back each time. This time I even threw in a few curve balls and told a story about my friend Kim, which had some of the people in the audience in tears. Hell, I was tearing up telling the story. But I recovered with a few additional fun stories about how I met my wife and how I proposed….and then showed them some of the fake movie trailers from our wedding.
After the panel I bum rushed it to the improv panel (the same folks put it on at Con Alt Del, and it was a fun time) and I jumped in for a few quick skits. I was only there for about 10 minutes, however, before the panel ended. I had done some skits with this same troupe during Con Alt Del late last year, and they were a lot of fun. They also offer improv classes, for anyone who's interested to join.
After that, we went back to the hotel room to go to bed. I had been at the gym by 7am that morning, and we went to bed around 1am – and I had to start my day with a 9am press call on Staurday. As I said, the show's a lot of fun – but you do have to work, too.
SATURDAY:
Saturday morning I got up, grabbed a quite bite of breakfast, and ran to the press event. It was a group of about 6-10 people asking questions about Reading with Pictures and educational comics. As the Marketing Director for the organization, I answered their questions well and then met up with Josh to hit up the floor. My friend Anna joined us when Beth went home (her first anime convention), and we relocated to Gabo's half table in artist alley to help increase sales.
Sales were quite a bit stronger in AA, and it was nice to be around other creators for a while. We sold our hearts out, and then went to grab a quick dinner between AA hours and our panels.

One of the ACEN exclusive Kickstarter rewards – these were very popular
Josh started off the evening of panels with his "Case for Comics in the Classroom" panel, talking about the benefit comics bring to education and the unique way they can be leveraged in an academic setting. After that, I jumped straight into my "Making Time for Making Comics" panel, which was essentially about time management. Making time for your creative projects. As someone who has made a career out of planning, project and time management have been critical to me in both comics and my career, so it's something I had a lot to talk about. And it was a great panel with a large audience and a lot of engaging questions – and some strong sales after.
After that, Josh and I both did a "Breaking into Comics" panel talking about our two very unique stories and how we've both walked different paths to getting where we are today. It was a great chance to share some funny and insightful stories from conventions, as well as some more engaging questions from the audience. It ended with a standing ovation and a 45 minute buying and signing line – which I've never had before! Since we were the final panel in the room, though, we were able to go longer, which was great.
We skipped the 18+ Cards Against Humanity panel (which I've done before, and it's a lot of fun, but it was going to end in 10 minutes) and instead dropped our stuff off at the room, said goodnight to Anna, and then headed up to the Green Room to hang out. It was Josh's birthday, so I interrupted everyone and lead them in singing him happy birthday. There was much cake and merriment after, and long conversations late into the morning. Around 3am we all headed back to the room and went straight to sleep.

Another original from Gabo for the Kickstarter promotional exclusive to ACEN
SUNDAY:
The final day of the show was a slightly later start for us. We had some quick breakfast, and then I headed back to my half table to sell my heart out on the final day. Sales were similar to the previous day, but we did have a lot of interest in the Kickstarter from people who had stopped by earlier. They wanted the exclusive, which was a 3-panel strip you could only get at the show, with an area for Gabe to draw an Albert commission on the back. We gave out about 7-10 of these at the show, so it was definitely worth it.
Eventually Beth showed up to help out, we kept selling until the very end, and before I knew it the convention was over. We broke down, said our goodbyes, went into the hotel to validate our parking (and say thank you to all the staff and volunteers who helped make this weekend possible), and then headed home.
ACEN is a convention that never sleeps (and I never sleep at it), and it's a lot of hard work. But it's a really fun weekend, and it's a show I hope to continue to guest at for years to come!