Convention Report: C2E2 2019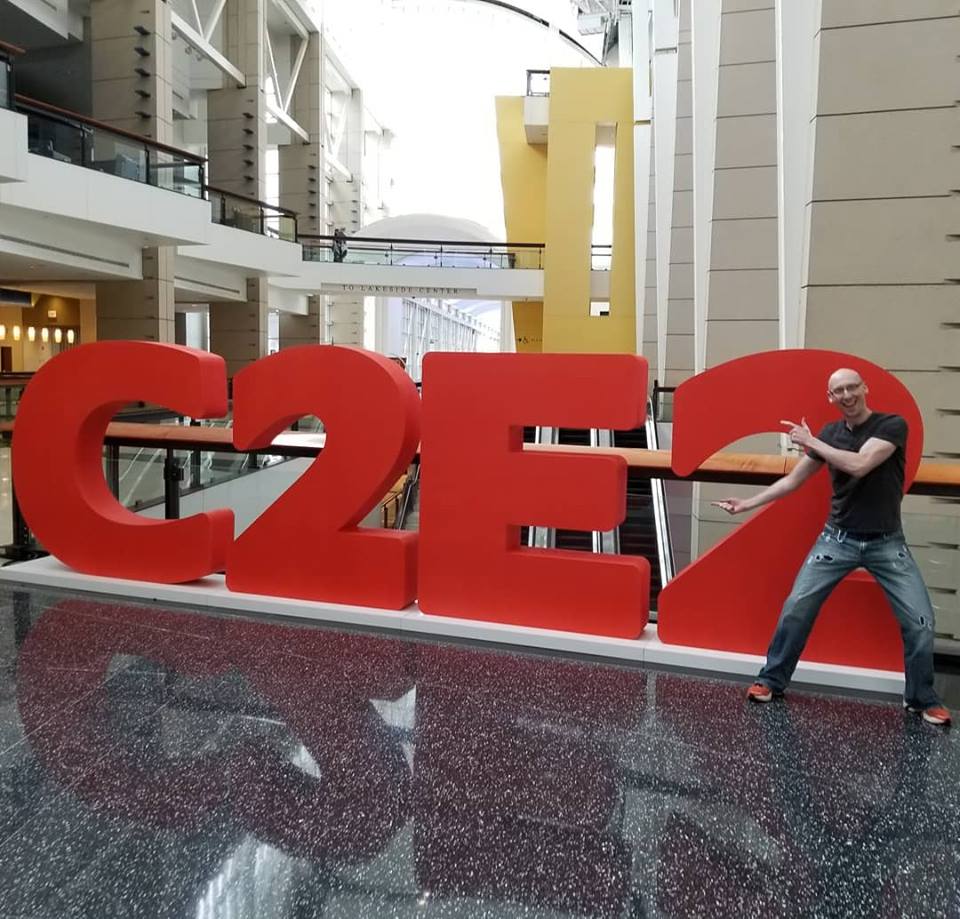 Chicago's own C2E2 continues to be awesome.
My hometown comic convention, C2E2, has always been a favorite of mine and this year was no exception. Running the Reading with Pictures booth, I often get a chance to see the next generation of comic lovers – our young readers – in costume and expressing their love of comics, anime, video games, and so much more. It's always a treat, gives me a lot of creative energy, and also leaves me wanting the weekend to never end.
Taking place at McCormick Place in downtown Chicago, the convention also takes place in an area that's easily accessible by car or public transit, and has a lot of new restaurants in the immediate area (plus, Chinatown is a short walk away). This makes it a fantastic place for people living in the city, commuting from the suburbs, or coming from out of town and staying at a hotel nearby.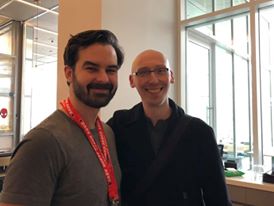 Set up early to avoid traffic.
I usually try to get into the show early to avoid traffic delays, and get a decent parking spot for the weekend. I bring so much inventory to this show now, it's impossible for me not to drive in for it. I can only carry so many boxes of books, after all.
I got in about 11am and got my badges, and started unpacking my stuff. I ran into Lucas Durham, husband to my friend Heather Reus from Channel Awesome, and an incredible painter and artist. Lucas was unloading at the same time, so it was nice to get a little extra help (and give a helping hand).
Lucas knew my table neighbors on the floor – guys with stunning fantasy art and 10+ foot displays that towered over my small little 10×10 booth space. I was also across from my buddy Phil Chan (Digital Pimp), so we were able to help each other out all weekend.
After finishing with set up, I headed off to the hotel and ran into Eric Palicki (No Angel, Fake Empire) and went to grab a quick bite at the hotel restaurant. Once there, we ran into Dan Dougherty, who had his comic class listening to a lecture by Derek Becker about podcast promotion. Derek's wife Melissa joined us for a few drinks.
I have to say one of my favorite parts of cons is never knowing who or when you're going to run into someone, because sitting there for maybe an hour we ran into so many of my friends as they were checking into the con or hotel. Dirk Manning (Nightmare World, Hope), K. Lynn Smith (Plume, Hope), Mike Norton (Battle Pug), and so many more were all about, and it was nice to actually get a chance to see them and catch up without a busy agenda keeping us from hanging out long.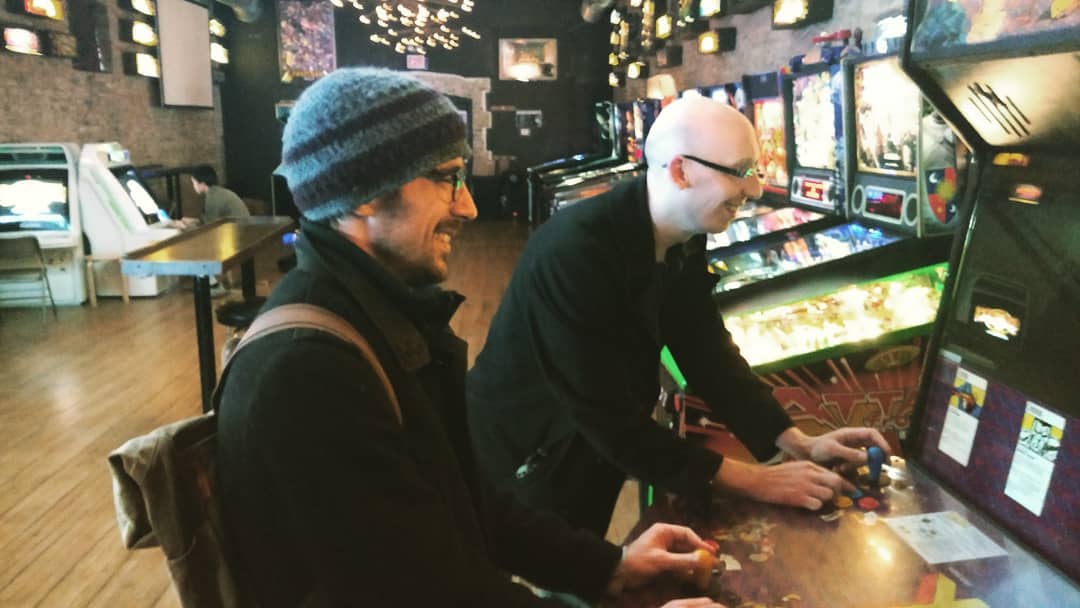 Don't stay out too late on the first night….
While I usually go to bed early on the first night of a con, it's hard to not want to stay out and catch up with friends. This was the case when my buddy John Bivens (Old Wounds, Heavy Metal) and his wife Mallory invited me to hang out with Zander Cannon (Kaijumax) and some friends at a beercade. We grabbed a taxi, and headed to Logan Square to meet up some folks and play arcade video games while doing what we do best: talk comics.
I'm not going to lie: I got very excited when the 2-screen X-Men arcade had 41 lives in it for Wolverine and Cyclopes, and while we didn't beat the game (my wrist started hurting after 2-3 levels), it was fun to hop in and out while others got a chance to enjoy this comic classic as well.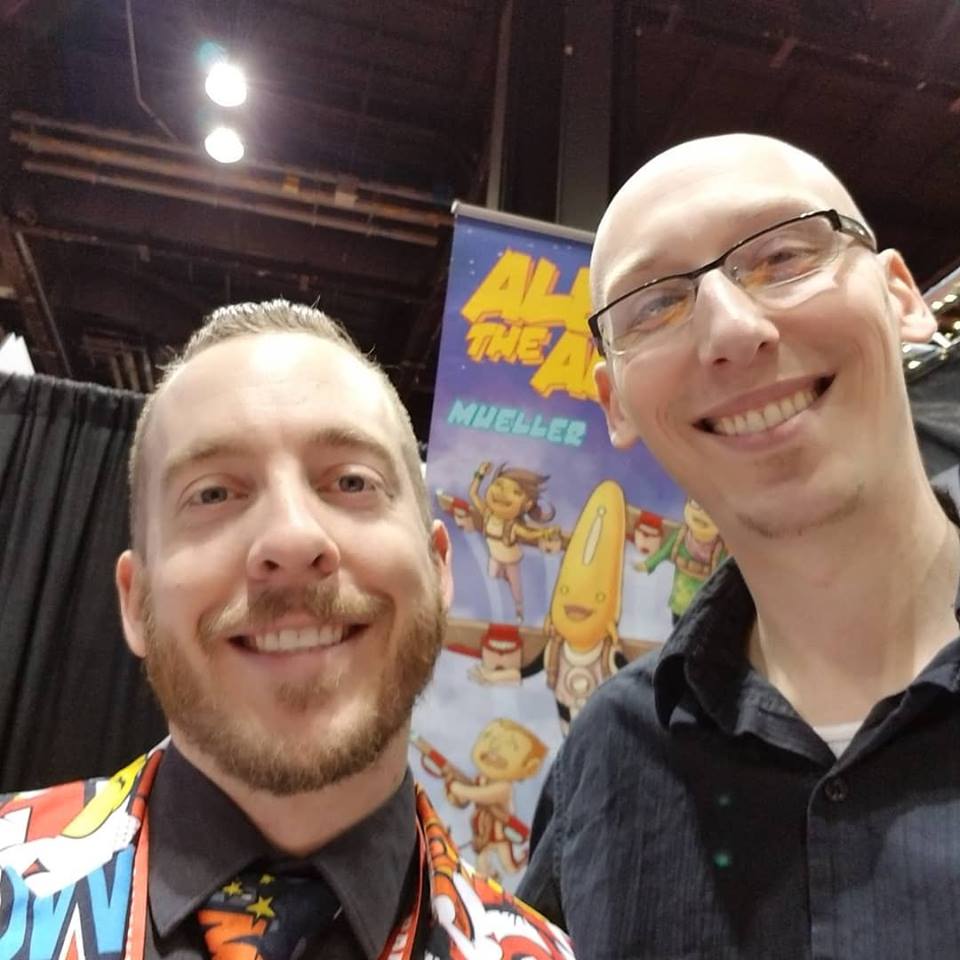 Friday: or how I lost my voice on the first day…
I got up early on Friday to work out with my buddy Josh Elder (Mail Order Ninja, Batman Strikes), and started showing him some kettle bell exercises (because the hotel actually had a set of bells, and also because I haven't really been working out since my daughter was born, so too much weight that early tends to gas me quickly).
After a solid workout, we hiked to the nearby deli and grabbed a very filling (and probably unhealthy) breakfast sandwich, and headed to the convention floor to set up the table.
One of our good friends, Garrett, was helping us out in the morning to help promote the charity event we hosted later that night. Garrett is such a breath of fresh air, and always has an eye-catching outfit on that promotes his love of comics and enthusiasm for all things nerd. Plus, having volunteers helps to save my voice…or at least, it normally does.
I had woken up that morning with an itch in my throat, which, as the day progressed, started to make my voice go hoarse. What normally happens to me by the end of the last day happened to me on the first day – I lost my voice. Almost completely!
This got especially awkward when I had to slip out to do a podcast interview with Chuck Load of Comics, where I talked about webcomics with Mike Norton.
A day of tea (with honey)…
Not having any volunteers in the afternoon or evening didn't help my voice situation at all, so I spent most of the time trying to drink tea with honey, suck on cough drops, or do anything that would help save my voice. Thankfully, Garrett did come back to the table for some extra hours, and had some of his helpers dive in as well, which was a major save for my throat.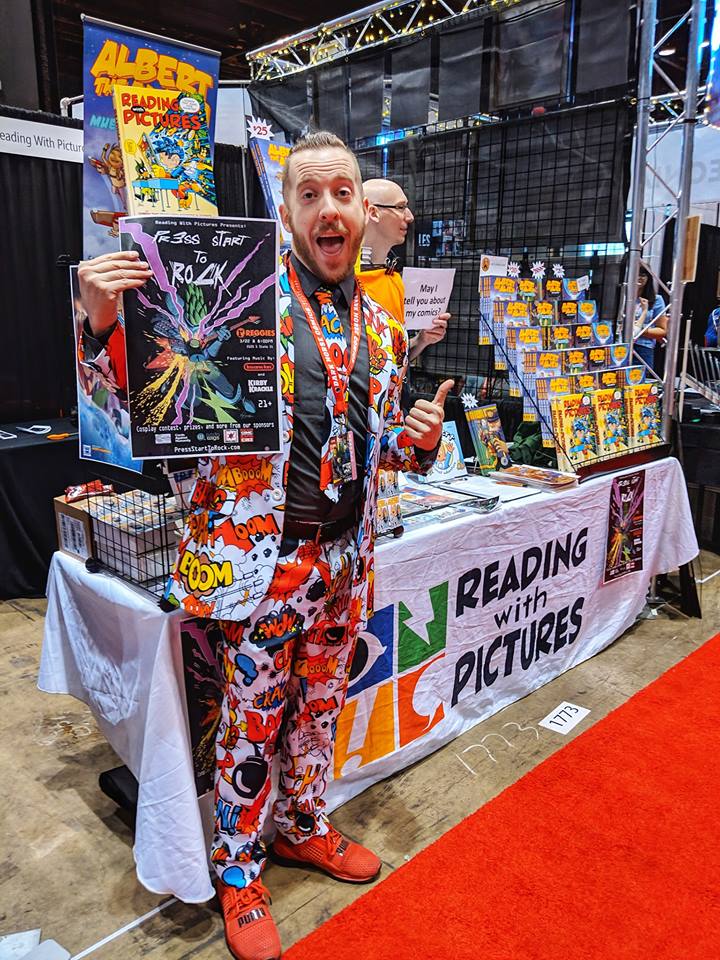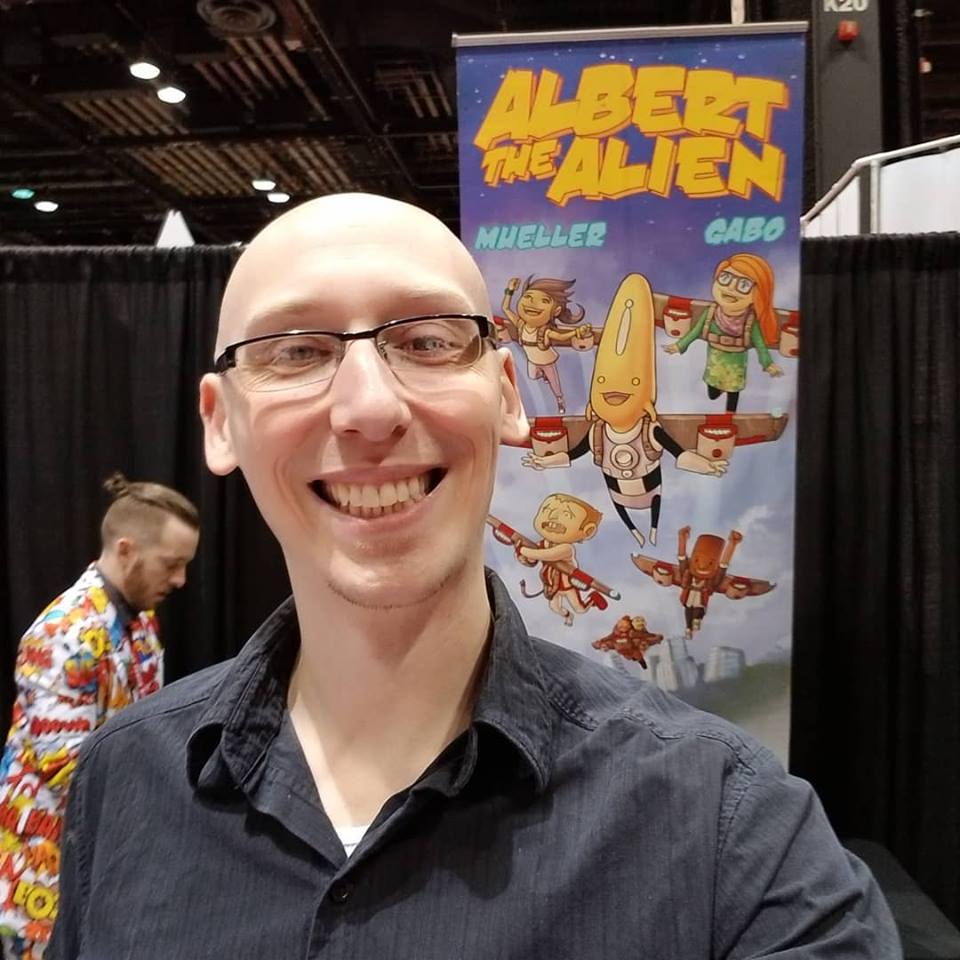 Heeding my own advice again, I decided not to stay out too late on Friday night…although, I did have to stop down at the bar and hang out with Derek and Melissa again, because they're a riot…and also, they take drink selfies.
Before that, however, Derek and I started exchanging music in his room. I can't recall how we got onto the conversation, but we have very similar music tastes, despite listening to different bands. I started introducing him to some of my current favorites, like Skarlett Riot – Feel, Amaranthe, and more.
The con bar was a veritable who's who of comics. Wall to wall with people I know, I had to borrow a menu from Matt Hawkins and Marc Silvestri (Top Cow), had some shots with Talent Caldwell (Superman: Godfall, WildCATS: Nemesis), chatted up my buddy Jason Muhr (Voracious), and yes – took drink selfies with Derek and Melissa (which I had to give bunny ears…because we're adults).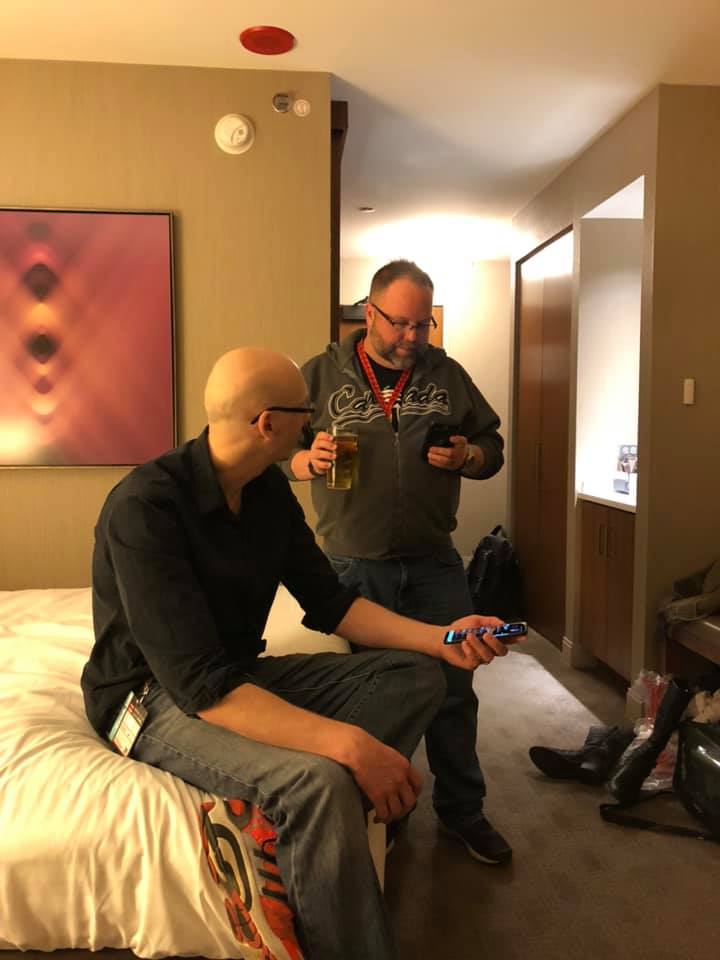 Saturday: The day volunteers helped save my voice
Saturday morning started off with meeting up one of my new volunteers for the weekend, Nikki. I met Nikki at a convention a few years back, where she attended one of my panels about writing comics and world building, and we kept in touch. When I had reached out looking for volunteers on social media, she raised her hand and we coordinated schedules. As an aspiring writer herself, it was an opportunity for her to learn how the sales side of the table works, and for me it was a chance to give my voice a rest and let someone else do some sales for a while.
Saturday: The day volunteers helped save my voice
Saturday morning started off with meeting up one of my new volunteers for the weekend, Nikki. I met Nikki at a convention a few years back, where she attended one of my panels about writing comics and world building, and we kept in touch. When I had reached out looking for volunteers on social media, she raised her hand and we coordinated schedules. As an aspiring writer herself, it was an opportunity for her to learn how the sales side of the table works, and for me it was a chance to give my voice a rest and let someone else do some sales for a while.
Nikki was everything you'd want in a volunteer: eager, enthusiastic, a quick learner, and fearless when it came to doing the actual work: selling comics. It's hard work, can be very repetitive, and with my voice on the out (and two panels later in the day, so I needed to save my voice a bit), I was very dependent on others to help out at the booth. She was even kind enough to come back after her shift ended, helping throughout the rest of the day.
Garrett also returned, with a slew of volunteers to help out with the charity event and getting word out about the organization. All of these helping hands helped me keep my voice for my panels later that day.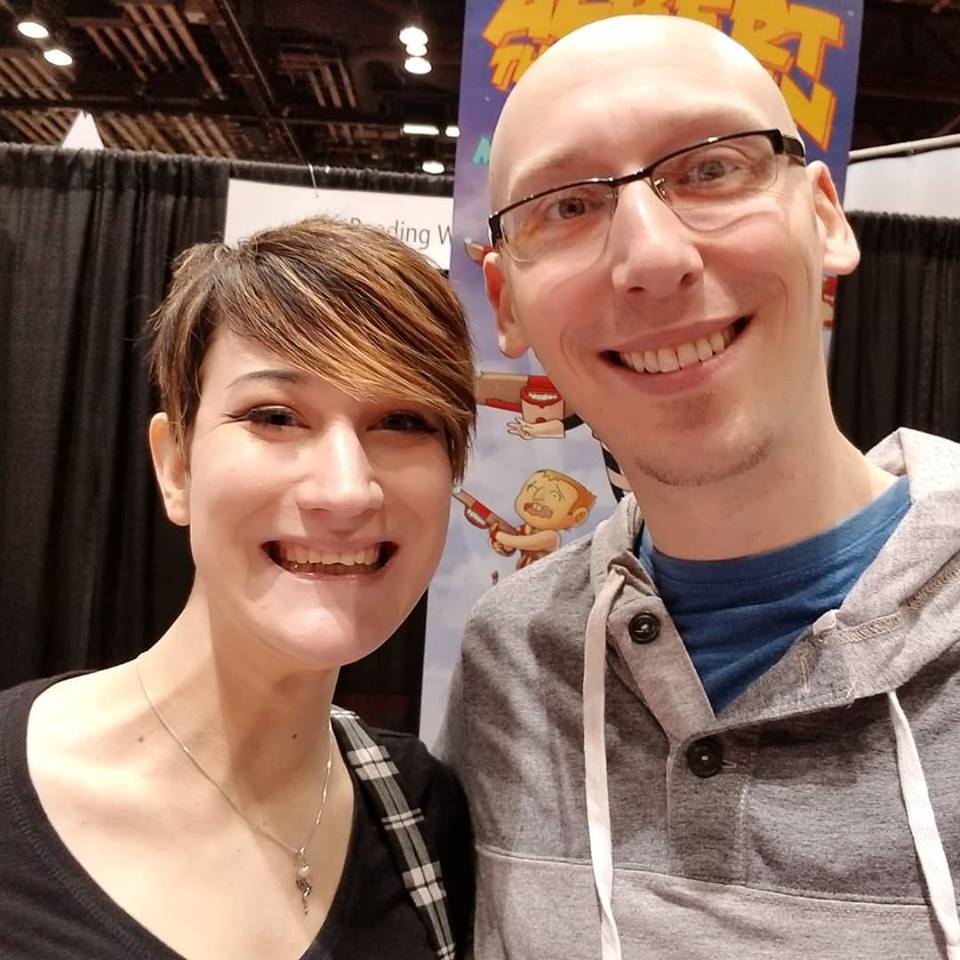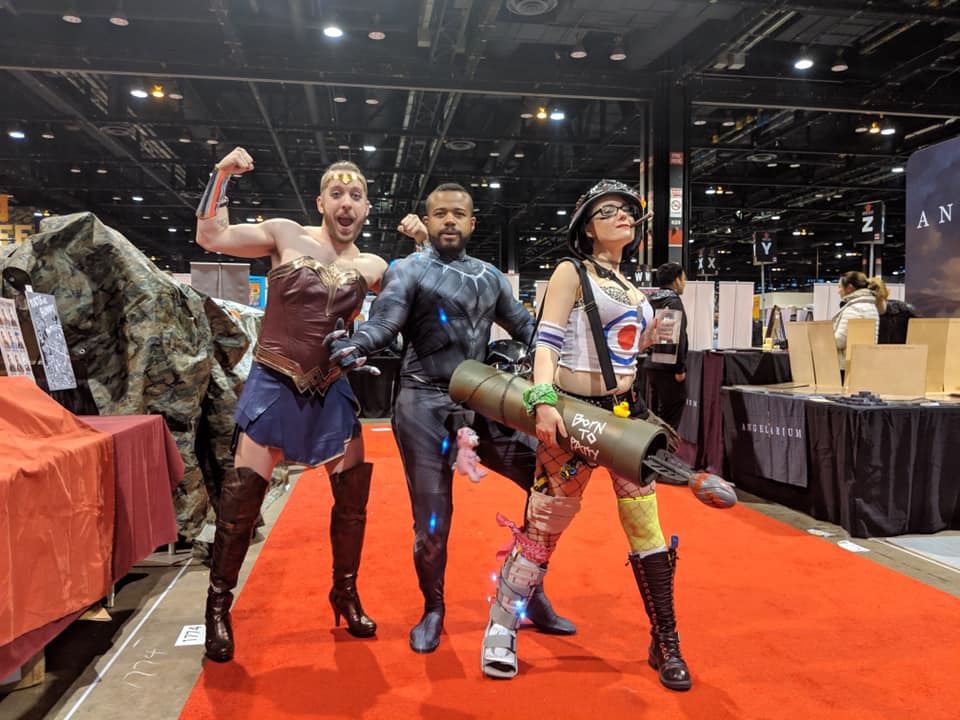 Panels, panels, and more panels
Around noon to ran off to my first panel for the day, which was Reading with Pictures Live! Joined by my friends and fellow anthology contributors, Josh Elder, Jim McClain, and more. We read through some of our favorite stories, shared information about the organization, and Jim even handed out free copies of one of his Solution Squad comics to all the kids in the audience.
After the panel, I returned to the table for a break…but ended up doing more selling, and continued to try to nurse my voice (which I'm pretty sure was better than it had been by the end of Friday). Eventually, it was time for my final panel of the day.
Let's Make a World with Comfort Love and Adam Withers was a fun time, with an incredible turn out filled with people who wanted to learn more about world building in fictional settings. We had coordinated for the past several weeks on best practices and tips and tricks on how to build up fictional worlds, and the two of them had actually scripted the entire panel (while I tend to prefer to go from what I know vs a script, this was their comfort zone and ensured we would cover off on the topics), which we reviewed earlier that morning at my booth.
After the panel ended, I went back to the booth with a few folks who had follow up questions after the panel, answered what they wanted to know, and even sold a few of them some books.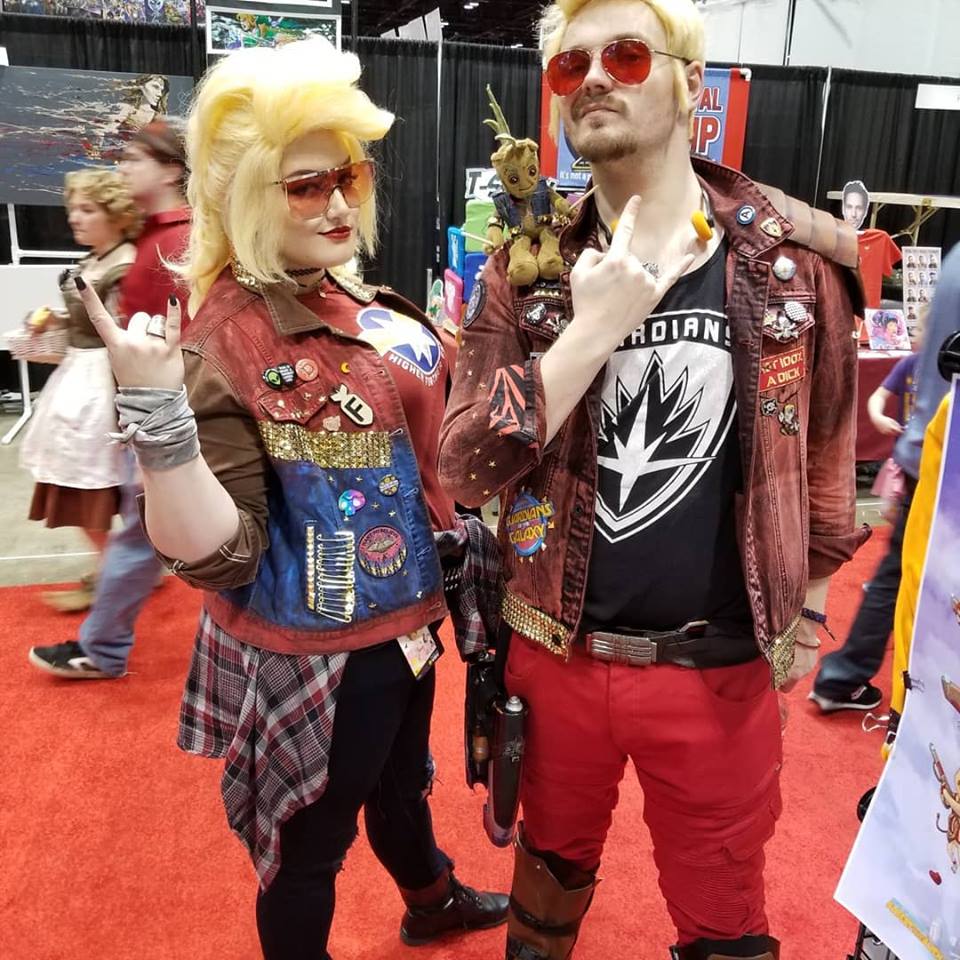 Big Dinner in Little Chinatown
Nikki had stayed with me throughout most of the day, and was kind enough to stay and help break down. As a thank you for her spending the entire day at the booth, I opted to buy her dinner. She had never been to Chinatown before, and it's a short walk from the convention center, so we headed over to the mall and found a restaurant that had a wait time under 45 minutes.
We were soon seated and while we waited for our food, ran into good friends Brent and Seari (who were at the same restaurant for dinner with friends). I hadn't seen them in forever, so it was nice to get to follow up with them while I nursed my voice with some soothing green tea.
After dinner, I walked Nikki back to her car and headed to the convention hotel to see who was at the bar. On my walk back, I ran into Victor Dandridge, who was trying to break up two attendees (one a photographer, and the other a cosplayer – both possibly intoxicated) from getting into a fist fight just outside the bar. I stuck around to help, making sure nothing happened (thankfully, it was uneventful), and walked through the hotel bar to say hi to some folks before going to bed.
Saturday had been a whirlwind, but I had survived (despite my throat's best efforts). I only had one more panel on Sunday, and after that I would be able to rest.
Sunday: the final day of convention-ing (it's a word…now)
After checking out of the hotel and heading over to the convention center, I ran into my volunteers and got them started on the morning set up. Since they had done such a great job in the first two days of the show, I was able to be pretty hands-off and focus more on saving my voice for my final panel of the weekend.
Fantastic Beasts and How to Draw Them with Gene Ha and I was an absolute blast, and we had so many kids in the audience we had to ask the adults to stand off to the side. We taught the basics of how to draw parts of animals, took some recommendations from the crowd about what animals we should learn how to draw, and then walked around helping the kids draw their own fantastic beasts! Gene is such a fun guy – and a highlight for me on the panel was when he stood up on the table and showed the group how his ankle bends, to illustrate how cat legs appear.
When the panel ended, several kids came up to show up their beasts, and also the parents thanked us for a fantastic demonstration and interactive workshop for kids of all ages.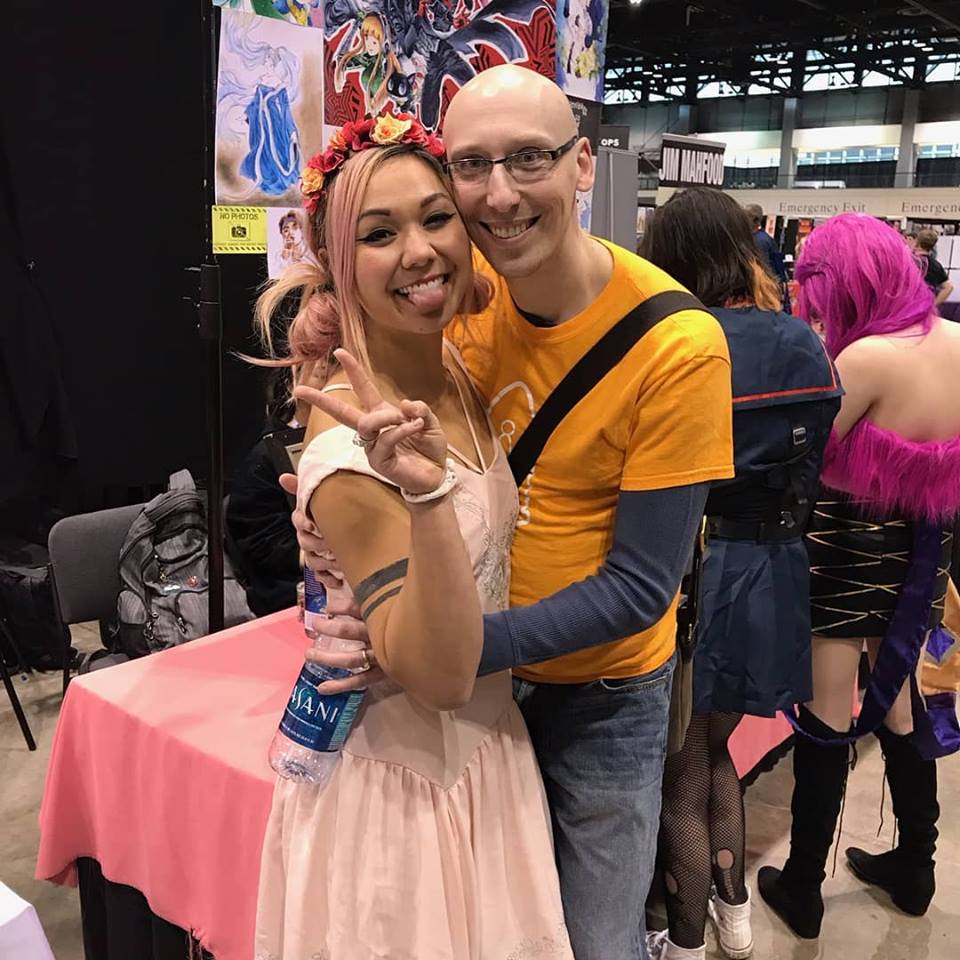 Artist Alley is my favorite place at a convention
After the panel, I had made sure to schedule enough volunteer coverage to be able to walk away from the table (really, for the first time all weekend…that I wasn't at a panel). Nikki joined me, and we walked around artist alley saying hi to friends and fellow creators. I was only able to snap photos with a few of them, but Kat Musni and Jill Thompson (Scary Godmother and Magical Trixie) were among the few I was able to get a quick picture with. All the while, I was trying to introduce Nikki to folks who could help encourage her budding career as a writer, and asking her to point out displays, creators or work that caughter her eye – mostly so she could keep these things in mind if she were to ever start selling at a convention.
At the end of the day, we broke down (with numerous volunteers helping, making this the fastest break down I think I've ever experienced in my 9+ years of setting up at comic conventions), and packed up the car. C2E2 was another fantastic show experience, and something that I continue to recommend to anyone and everyone who has a passion for comics. It's a great time for all ages, with terrific panel programming, top-tier creators in artist alley and throughout the show, and even fun workshops for young kids.
Definitely come to this show in the future, and be sure to look me up while you're there.