Archive for 'writing'
48 items.
November 10th, 2017
|
by Trevor
I was approached by a young writer on Twitter the other day, who was struggling with expanding his career in comics. After several attempts to figure out what he specifically needed help with, we eventually settled on this question: How do you make money as a writer?
This is, of course, the big question on everyone's mind. If writing was easy, everyone would do it. However, it is possible to make a living off writing – at least supplemental income to start, and perhaps eventually your sole income.
Below are my top 5 recommendations for how to make money as a writer.
1) Set expectations
First and foremost, I think we need to set expectations. There is no world that exists where you will make a living as a writer that doesn't involve a lot of blood, sweat, tears, and sacrifice on your part. Writing is not easy – if it were, everyone would do it. It's hard to make it as a writer, and even harder to make it your primary income. Many writers have multiple jobs:
– Charles Soule, for example, writes 7 monthly titles for Marvel AND is a full-time lawyer
– Brian Michael Bendis wrote half of the Marvel books for years and still didn't make enough to support his lifestyle (thankfully, he's married to a woman with a full-time job and benefits); Brian makes most of his income from Marvel Movie consulting, and writing / executive producing for TV shows. Look for his name in the credits for every Marvel cinematic movie since Thor
– Heck, even Doug Walker was writing, producing, editing, and staring in multiple videos every week for the first 5 or so years of his YouTube carreer; now he edits a video every 2 weeks (but also produces and stars in so much more)
I, myself, work a full time day job in global marketing, and support a family at home. Then I do comics projects on top of that: 2 webcomic series, 18+ pitches in the works, 3 regularly published titles, and then all of the marketing – podcast interviews, video interviews, guest appearances on Channel Awesome, and so much more. And that's just the stuff I can talk about.
Writing is not easy. There are three things that make you desirable for a publisher:
1) you're good (eg: talented; like, stupid good at writing)
2) you're fast (eg: always hitting deadlines, without fail)
3) you're cheap (eg: your page rate is lower than the next guy)
You have to be thirsty for it. Thankfully, you already have a body of work you can show off to a publisher or a publicist to get picked up (or, keep self-publishing; more work, but more reward).
You're also unlikely to be writing what you want to all the time. My friend Brianna writes for WatchMojo.com, doesn't really get credit for the clips she writes, but has gained a following from it. Now she's written a teen book about LGBT black magical girls that, in its second week, is in the top 20 books read on amazon and kindle. WatchMojo pays the bills, but it doesn't fill her creative cup.
2) Diversify your writing
There was a time when specializing in a genre was a good thing. It can be argued that being "the horror guy" could still pay off, since you can pitch for those projects. But what happens when those genres fall out of favor? We're seeing a resurgence in horror stories (zombies, in particular) right now with the popularity of The Walking Dead, Z Nation, and more – but that bubble will eventually burst. What do horror writers do when people don't care about reading / watching horror stuff? They fight for the same smaller pool of work.
– Brad Meltzer is a best selling thriller novelist, but you know what he's writing right now? Children's history and educational books (bio-stories)
– Brad Guiger runs webcomics.com as the head editor, plus has a podcast, and also does his webcomic (Evil Inc) and then produces original content for his Patreon…the original content that he does? Porn. Why? Because it took his patreon income from hundreds per month to thousands per month
– Doug Walker, too, gave up on NC in order to try Demo Reel; while it was a failure, he learned new techniques which he uses in his new NC reviews; he used to just do clip reviews, and now does clip-less reviews (his most popular by far, based on views)
– My buddy Josh Elder started off writing children's comics for TokyoPop, then DC; now he works in video games
Diversity is your friend, and it challenges you in your craft. It also gives you a body of work that is more marketable.
3) Build your fanbase
You say fame won't help you, but that's not entirely true. You need fans to sustain an income over time. People who will seek your work out and support you in every project you do, and who will advocate your work to others. This is what sustains me at the cons. Every year I put out a new graphic novel, and I have fans that seek me out at my con appearances. This past year I didn't have a new book out, though, and they didn't have anything to buy. What happened? My con income dropped significantly. And when I calculate the loss vs the number of people who sought me out, guess what: my decrease in sales was even to the number of books I would have sold had I put out a new book.
But maintaining a fan base is only a portion of it. You also need to grow a fan base. I'm on numerous forums where professional creators are talking about how to do this very thing. The biggest topic? newsletters. I have a newsletter that comes out every 2-3 months (sign up today: http://albertthealien.com/newsletter/), and next year I'm taking it monthly. Other writers out there, though, do it weekly. Or more often than that.
How you decide to grow your fanbase is up to you, and something many creators are trying to figure out right now. But most are using platforms with high discoverability (Patreon, for example, has poor discoverability – but if you have a fanbase established, people will support you on there).
4) Marketing is king; DIY or hire someone
Many of my friends who write full time spend about half of their time making the work, and more than half of their time promoting it. How do they do that? They don't sleep!
Stephen King says he has a writing goal of 6-8 pages per day. What does he do with the rest of his time? Promotes, lives life and gets inspiration for writing, does book tours and interviews, etc. Read his book ON WRITING, which is part autobiography, and part "how to write a book" guide. It's brilliant. The beginning of his career, he wasn't who he is today. And he has to diversify his writing to carry on being who he is today. Also, he does a lot with TV (he just had his second TV show on Netflix this year green lit and launched on the platform).
If you don't have the time to do the marketing yourself, then you have to hire a publisher / publicist, or an agent. Heck, if you want to make it in writing professionally, eventually you're going to need one or all of those things anyway. Hollywood won't talk to you if you don't have an agent. Many publishers, too, won't give work to someone without an agent.
How do you get an agent? Having that body of work helps, so you're already halfway there.
5) (most important) KEEP WRITING
Never stop writing. Ever.
Even George RR Martin, who has been writing the Game of Thrones books since 1996. Over a decade later, he hasn't even finished the 6th book in the series – but that doesn't stop him from working. He has multiple short stories, side stories, producing roles, and then all the interviews and marketing he does.
Brian K Vaughn, who writes the insanely popular SAGA series from Image comics right now, says you need to write a minimum of 7 pages per day. Doesn't matter what you write – a letter, an e-mail, a script, a novel, poems, whatever – just write.
Stephen King, again, does 6-8 pages per day.
I knock out 4-8 pages every morning during my commute into the city. Less, if it's something very wordy. On top of a day job.
Always be writing. Never give up. It's not going to be easy, but eventually you can make it happen.
September 4th, 2015
|
by Trevor


Below is the list of the very awesome and supportive people who made Albert the Alien volume 2 a reality, but supporting us on Kickstarter. Without their support, Gabo and I wouldn't be able to do what we love doing – telling stories about a cute little alien student from another planet. From the bottom of our hearts, thank you so much for your support.
Please note these names are in alphabetical order, and based on Kickstarter user names (so some are just first names, or pseudonyms).
Alan Evans
Alicia Vonderharr
Allison Adams
Andrea Laidlaw
Andrew Hernandez
AnimeLover
Ashley Turner
Barry Chapman
Beth Mueller
Beth Camero
Bob Eddy
Bradley Walker
Brandon Viruet
Camilla Zhang
Carl Kloster
Cheryl Fisher
Chris Brown
Cody Dolan
Comfort & Adam
Cornelia Haggart
Crissi & Ed Boland
Dave Swartz
Dianne Noonkester
Donald Ferris
Effie Covganka
Elisabeth Sampon
Eric Beasley
Eric Palicki
Erica Hampton
Erin Walker
Ethan Daniels
Evan Ritchie
Fred Van Lente
gabo
Gene Ha
Gregory Noonkester
Holly Christine Brown
J Kevin Carrier
Jack Gulick
Jackie Healy
Jacob Halton
Jacqueline Lord
Jaroslaw Ejsymont
Jason Crase
Jason O'Connor
Jeff Buckner
Jeff Metzner
Jessica Panza
Jim McClain
John MacLeod
Jon Scrivens
Jorey Worb
Josh Elder
Joshua Todd Crowther
Joyce Vivirski
Julie Kurzawski
Kat Kan
Kate Tilton
Kimen
Madalyn Winans
Marc Fishman
Maria Abdul Hack
Megan Sprecher
Melissa Tidd
Melissa Wong
Marie Hln
Mike Innes
Michael Boeke
Michael Vincent Bramley
Mike Jakubowski
MONICA ATKINS
Nate Mueller
Neal Bailey
Nick Centofante
Nicole Bell
Rachel Ambrozewski
Rene Castellano
Rick Savage
Robert
Robert Jarosinski
Rudy Hernandez
Russell Nohelty
Ryan Kopf
Sally Ransford
Sara Parks
Sasha Arnkoff-Thompson
Scott Heinowski
Sean Gregory
Shawn Pryor
Steve Wallace
Susie Berneis
Taki Soma
Team Kirin Rise
Thomas Atkins
Tom Orr
Tom Stillwell
Wendy Duplechain
Zach Miller
A friend of mine recently posted a link to a list of things to do to overcome writer's block. Upon reading it, however, only one of the 4 things they listed actually involved writing.
It might've been more appropriate to call it "a list of things to do INSTEAD of writing."
Many of my friends and I are of the school of thought that writer's block doesn't really exist. What we call "writer's block" is more a lack of motivation to write, usually coupled by too many distractions keeping you from getting to your story.
And life is full of distractions, or we lose motivation on a project for various reasons. These things happen – but they can be overcome by reigniting that passion for your characters or your story. Usually, they can be overcome by simply writing SOMETHING.
Brian K Vaughn (Runaways, Saga) says that anyone who fancies themselves a writer needs to write a minimum of 7 pages per day. Could be anything, really (HOPEFULLY it's your story), but the point is that writers write.
If someone's having difficulty writing, I would recommend a series of writing exercises to get you going if you're feeling unmotivated or distracted.
Some good exercises for writing would include:
1) Write a scene from a book, movie or comic without referencing the actual work; your favorite scene – something you're passionate about.
Matt Fraction does this from pages from completed comics; he breaks them down and tries to figure out the script. He uses it as a warm up exercise.
2) Write a blog or diary entry, review a movie or event you went to. Something to get you in front of the keyboard. Something to get you started, to get your fingers moving, to get your mind engaged.
3) Dramatize something that happened to you the other day. Make it more interesting, more exciting, or more tragic.
Plot is built up of 4 elements: character, situation, environment, and time (Alan Moore (Watchmen, Swamp Thing) put this observation into some great essays he wrote and later published into a small comic-sized book).
Play with them in a familiar scenario, or (and I recommend this) go outside your comfort zone and write them in a different genre. What would your trip to the grocery store yesterday be like if it were a horror movie? Romantic comedy? Science fiction story? The possibilities are endless.
4) The most important thing you can do: write SOMETHING. An e-mail, a letter, your resume. Anything.
5) DO THE WORK! Is it the current scene that's perplexing you? Skip it! Move onto another scene.
Joss Whedon (Buffy the Vampire Slayer, The Avengers) rewards himself for writing anything, and he always writes his favorite parts first. This way, he's passionate about the work and constantly working on his favorite parts. I call this "eating the frosting first." Hey, if it gets you writing, who cares.
What are some other writing exercises you do to help get you going?
Many of you are aware that Albert the Alien updates on this site every Wednesday and Friday, and also updates on Mark Waid's THRILLBENT site every Tuesday.
For anyone unfamiliar, THRILLBENT is Mark Waid's digital distribution site where he (and other top creators) get to play with digital format and storytelling in new and unique ways. Albert is the only all-ages property on the site currently updating for free (they also have Art and Franco's Aw Yeah Comics series available in their store).
THRILLBENT is a fun way for me to deconstruct and tell Albert's story in a different way, and the reveal of the locker thief was a prime example of that. So we're going to deconstruct that sequence and how it's viewed on the two sites.
SPOILER WARNING – IF YOU HAVEN'T READ ALBERT THE ALIEN CHAPTERS 1-4 YET, WE'RE ABOUT TO GIVE AWAY A BIG MYSTERY HERE.
When we did the big reveal of the locker thief on AlbertTheAlien.com, we did so in a typical comic way. Sure, we could have emphasized even more with a full or half page splash, but we just simply didn't have the room to increase the drama. It looked like this:
ALBERTTHEALIEN.COM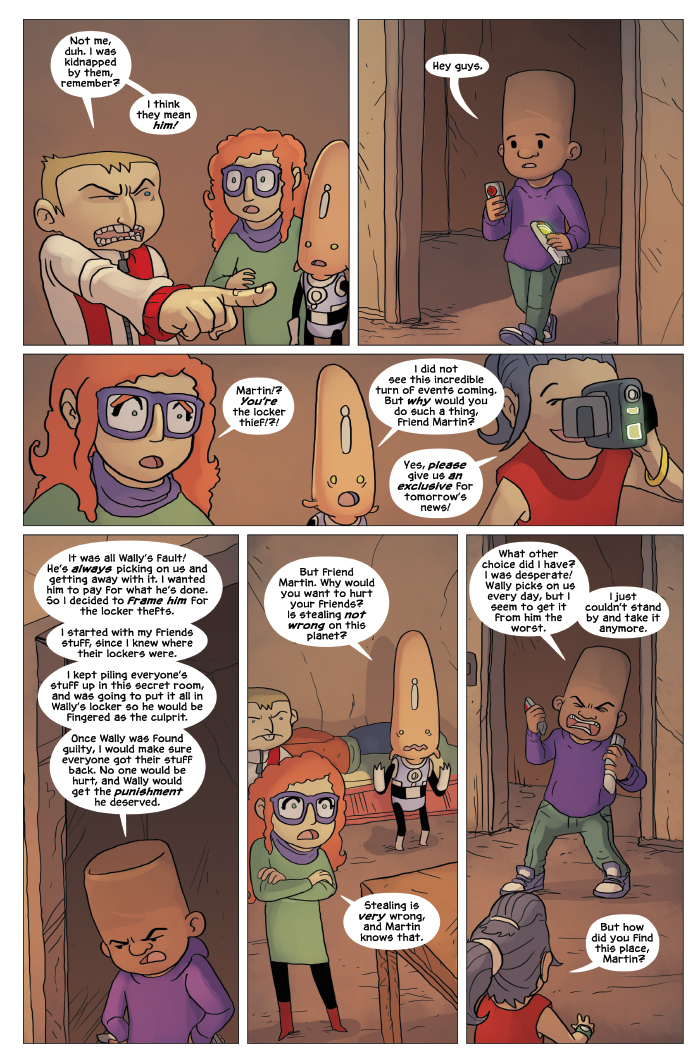 However, when we did the Thrillbent.com update, I wanted to really go all out and increase the tension and drama of the moment. This allowed me to play and be a little creative with the pacing. Thrillbent works kind of like a slideshow – you can reveal as much as you want when you want. This is unlike a comic page where the reader absorbs a page a panel at a time – but let's be honest here, your eye will jump ahead sometimes, which can ruin the reveal.
For Thrillbent's sequence, I wanted to really blow this up. So I took some assets from earlier pages and edited them into the sequence, and then chopped up other panels to make the reveal more like a slow pan up the character – like in a movie.
This is what the sequence looked like for Thrillbent:
THRILLBENT

The extra shot of Wally came from a panel on Page 5 of this chapter, but I just edited the background to match the new scene. The other assets came from the same page, but were chopped up into smaller panels that revealed just a little bit each time. A little teaser, if you will. Until the final reveal of who the character is – and then we go back to the shocked expressions of Albert the Gerty.
This was a big moment for them – this is their best friend! It's a betrayal, and something I really wanted to drive home. And it's also one of the things I love about Thrillbent – it gives me an opportunity to play with the pacing and the reveals a little bit in this way.
So which sequence did you prefer? Are you a fan of Albert on his own site, or on Thrillbent – or both? Let me know in the comments below.
POW! BANG! SMACK!
How's it going? It's been an action-packed couple of weeks for me, with little sign of letting up soon. But it's a good thing – we like it busy. Better busy than bored, right?
I've been hard at work on "the work," and the press has gotten wind. Below are two interviews I did recently with some awesome peeps.
First up is Anime on Location, who interviewed me at ACEN this year. They have interviewed me a few years in a row, in fact, and there are some fun and exciting things revealed in this interview – so definitely check it out.

Additionally a few weeks back I did an interview with my good friend Uncle Yo on his hilarious and insightful podcast We Are the Geek. It's my second appearance on the show, and Uncle Yo and I have great rapport – and he's such an easy guy to talk to.
Definitely be sure to check out these interviews, and be on the lookout for more because there;s plenty more to come! Now if you'll excuse me, I have some more comics to write!
BOOM! WHACK! THUD! type type type….
Here's some fun bonus materials for the making of junkyard chase: the designing of the logo.
I knew I wanted to use two different fonts: one for each word in the title. The word "Junkyard" I wanted to be textured, rusty, or something that kind of visually suggested the location. The word "Chase" I wanted to be kind of fast looking or cybernetic, to imply the action and the fact that it's a sci-fi story (one of the main characters is a robot, after all).
So I came up with a concept page, like below.
I submitted these to my group of friends to see their thoughts. Ultimately there were a few combinations I hadn't thought of before, and I made adjustments accordingly.
The collaborative process of comics doesn't have to be limited to the writer / artist relationship. There are several blogs of professionals out there where you can bounce designs off and receive some constructive feedback. However, you always need to be careful when putting your work out there to make sure no one steals it.
While your fellow writing buddies may be your good friends and best critics, they're also the competition. It's a tricky balance to know what to let them know and what to get their feedback on, and what to keep from them entirely.
I won't begin to say what you should and should not give away to them, but use your best judgment.
Anyway, this finishes up the blog series for this particular story. Should be updating web comics again now, so be on the lookout for those.
Later!
After submitting the files to the printer you wait to receive the box. That glorious box filled with your sweat and hard work. And when it arrives you take it upstairs and it's like your birthday. A big smile falls over your face. And you open the thing like a kid in a candy store and hold aloft over your head in triumph.
I've talked to many of my other professional writers friends and asked, "Is there a more satisfying feeling than holding your own work in your hand?" My buddy Russell Lissau had a great response to this:
"Yes. Going into a comic store and seeing your book in someone else's hands."
So the book is finished and available at local Chicago comic stores and conventions I'm attending (see the convention and signing schedule in the upper right corner of this website). I'm working on getting a store up on this site so it can be purchased over the internet as well.
Be sure to tell your friends to check out this awesome book. It's a fun short story with a full copy of the script and Jeong's original pencils in the back, so creators can see how the comic was made and use it as a template for their own comic-making.
There are a few things I neglected to talk about in this blog series that I may go into in the next few posts, such as designing the logo and creating the cover.
I hope you've all enjoyed the making of junkyard chase blog series so far, and if there's enough of a response I may do another one for the next book I do. Thanks for all of your continued support, and I look forward to making many more comics in the years to come.
-T
So now that we've selected a printer, we sometimes find that each of them have some different requirements. In Minute Man's case, they requested that I pre-press my .pdf documents (the final file I send to them for printing) to account for the fact that the book will be saddle stitch and not perfect bound.
"Wait a second, bald man…you lost me."
If some of you are saying this while scratching your heads right now, let me back up a second.
There are several kinds of binding for your print books, and I'll talk about the two most common to the comics industry below:
1) Saddle Stitch: This is the staple format you see with your monthly comic floppies. No doubt many of you have recreated this binding at home with homemade comics back when you were little (or are still doing it today – some people I know do this with their convention sketch books to save money).
The trick with Saddle Stitch binding is that you're not printing on a single page (front and back), but you're actually printing on 4 pages at once. So you have the following pages all in one:
Front:
First page, last page
Back:
Second page, second to last page
The trick here is to make sure the odd numbered pages are always on the right when submitting your final document to the printer. Numbering your pages may help with keeping them in order (which, for this project, I didn't do).
2) Perfect Bound: This is the format of graphic novels, which have pages that are two sided glued into a center binding. This format I find to be a little easier to pre-press because you just have to account for the front and back of a page. However, trying to do something fancy like spreads can get tricky, especially since sometimes your artwork can get buried in the gutter of the binding.
There are a ton of resources on the internet on binding and pre-pressing your materials if you want more detail, or feel free to ask a question in the comments below.
Suffice it to say, since Junkyard Chase is such a short story, doing the saddle stitch pre-press work didn't take very long. Since Jeong had already sized the pages to meet the print specs (remember, we looked these up a few posts back), all I had to do was make sure they were to spec, then align them so they would print correctly.
First and last page on the front, second and second to last page on the back, etc….
After you get the files in the format the printer wants, send them off via whatever method they prefer to receive them (Minute Man has an FTP site for larger files like this), and they send a confirmation e-mail with approximately how long the job should take.
And then four weeks later, we have…well, we'll talk about that next time.

So we have our final pages (and boy do they look spiffy). Now it's time to find someplace to print them. Being new to the production side of things, this was kind of a new process for me…but thankfully one that was easy enough to pick up on.
Knowing that I wanted to print this piece from the start, I went and got a standard comic size dimensions and sent those to Jeong early on while he was building the pages. An easy access (and free) template for various standard page sizes can be found here.
I knew I wanted to make a standard comic size book (as opposed to a manga book), so I put those dimensions into my favorite program and made sure the pages Jeong sent to me fit. Then I got to lettering.
I won't bore you with the details of lettering, as this is a very important process and one that you would typically use a professional letterer for your books. For this project, I took on the task myself. If you're interested in some lettering tips, let me know and I can make another series of blogs about that later.
So for self publishers there are a few default places to go for printing. I like to get quotes from several printers, figure out who can give me the most competitive pricing, and go with them. Some places will give you discounts the larger quantity you order. More copies of the book mean bigger discounts, but you don't want to sit on inventory for a long time, so it doesn't make sense to order thousands of copies just so you make more money per copy of the book.
I knew I wanted the book to be around $3 per copy – cheap, so kids could buy it with their own money if they wanted to. So I had a cost per book in mind while reaching out to these sources. Below is a list of the printers, and some of my experiences with them.


Ka-Blam: Typical first place print on demand people go. They're helpful and make a quality product. Their pricing is pretty flat, however, so your cost per unit is going to be the same if you order 1 or 100 copies of your book. My first @$$hole! book had a small print run from Ka-Blam.


Minute Man Press: A chain of stores that have some pretty good turn arounds and negotiable pricing options. They'll work with you to get the quality you need at the price you want – although sometimes it means doing some more pre-production work yourself. My second run of @$$hole! was printed through them, and they were the printer I finally selected for this project due to bulk order discounts and quality printing.

Lulu: Lulu's really used more for books, but can be used for comics. Back when I lived in Ann Arbor I knew several people who used lulu for their own POD projects, and the quality was very high.

Cafe Press: Lots of people use cafe press, perhaps a little less now than they used to. Not because there's anything wrong with them, but because there are so many other options out there. I encourage you to include them in your bidding process, though, since they do make good stuff.

Lightning Source: A buddy of mine uses Lightning Source for all of his printing. What's nice about them is they 1) include a UPC (bar code) in the purchase order, 2) put your books on amazon.com for you, and 3) offer discounts for repeat business. I found their specs to be a little confusing, so I haven't used them yet, but I do agree the quality of their product is high and you get some great benefits if you print with them.
So how do you select a printer? I look for a few qualities:
1) Competitive pricing. If a printer is less expensive (or is offering bulk discounts), chances are they're at the top of my consideration set.
2) Turn-around times: How fast can they print and deliver this project to me? This is important, especially if you're trying to restock between shows or signings. If a printer takes 18 days to turn something around, and another only takes 14, then I don't have to do the math for you to say who's better in my mind. (Hint: it's the 14 days…less is more).
3) Flexibility: What kind of additional offers or benefits does the printer allow, such as discounts for reprint printing jobs? Chances are my initial print run isn't going to last me until the end of time and I'm going to need to print again, but some printers charge a "set up fee" for repeat business. This has never made sense to me, and printers who do this are almost instantly off my consideration list.
Once you've selected a printer, you then have to prep your files a bit to send. Each printer has a different set of requirements for their files, so we'll go over some pre-press information next time.
So Jeong and I agreed on the layout pages, and now was the time for him to move onto the pencils (and eventually, the finished pages).
So Jeong went to work, and this is where the role of writer changes slightly to the role of "project manager." You check in with Jeong, see if there are questions, review the work as it comes in and provide any feedback – but at this point, changes should be pretty minimal, since we've already done our heavy lifting changes in the earlier stages.
Since our earlier conversations had been detailed and Jeong understood exactly what I was going for in the story, getting to the final pages was very quick and easy.
So after all of this work is compiled, he sent over the .jpgs to check out and approve the final artwork. Upon approval, he sent the finished hi-res files ready for me to take to the printer. Below is an example of Page 3 in it's final form.
Now that I had received the final pages, since I was self-publishing this comic, it was time for me to get to work on finding a place to print this thing. There are several places to look (a few defaults I have that make the process quicker for me), and we'll be reviewing that next time.